Axios Pro Rata
June 02, 2023
What say you? Please take Axios Pro's 2023 Deals Industry Survey to help us understand how you're thinking about the market. Respondents will get early access to our forthcoming report, where we'll distill and analyze the results.
Top of the Morning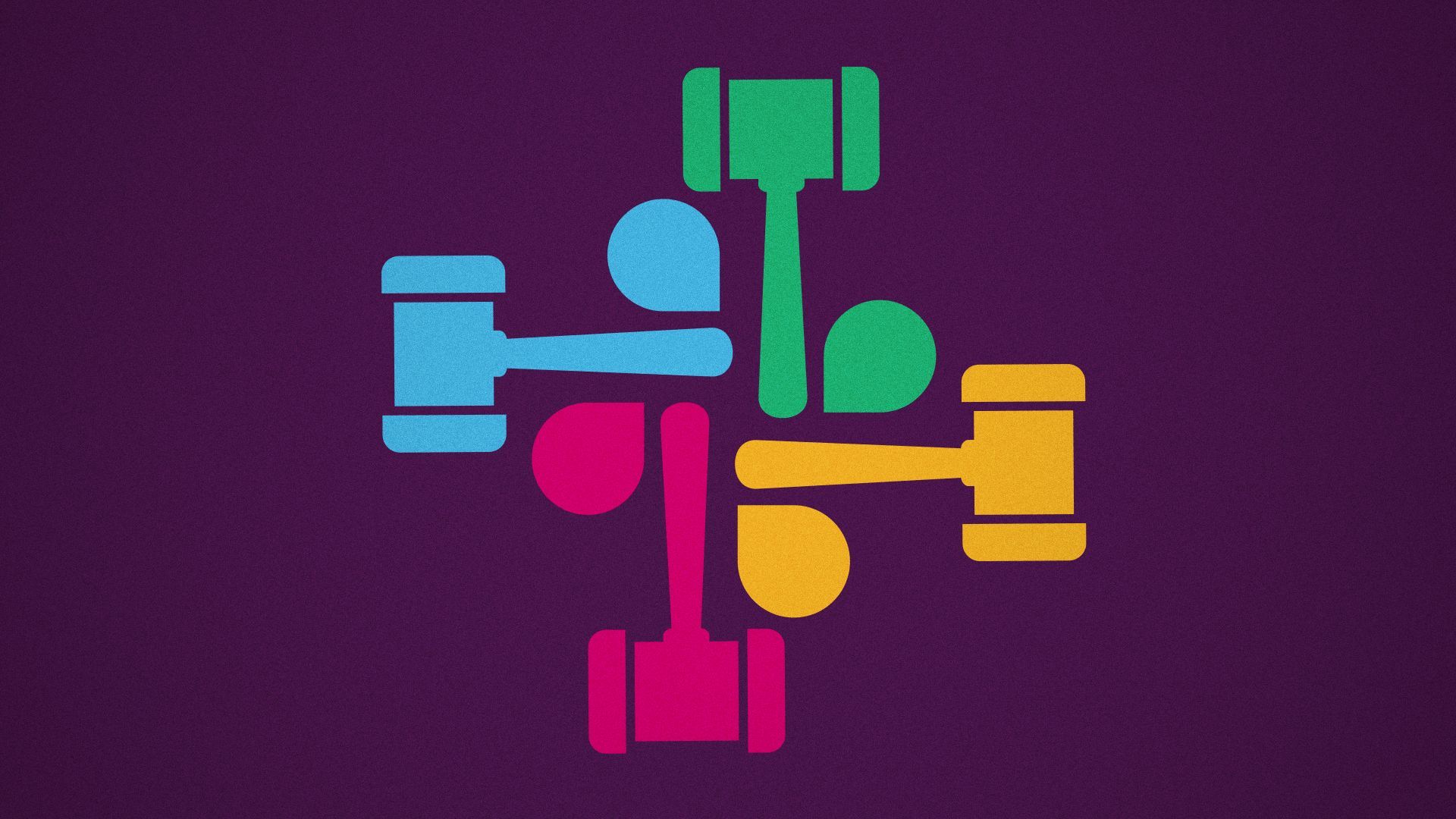 The Supreme Court yesterday ruled unanimously in favor of Slack, in its appeal of a shareholder lawsuit over the company's 2019 direct listing.
Why it matters: This raises major questions about the future viability of direct listings, which some companies believe are a more efficient alternative to IPOs.
In practice, SCOTUS told investors in direct listings that they should not rely upon information contained within stock registration statements.
Given that giant warning sign, it's unclear why anyone would buy into a direct listing, and thus why any company would attempt one.
Details: Slack, now owned by Salesforce, was sued in a prospective class action by Fiyyaz Pirani, who alleged misstatements in the company's stock registration statement and prospectus.
Slack's defense was that Pirani's claim was invalid under Sections 11 and 12 of the Securities Act of 1933, because he couldn't prove that the 250,000 shares he purchased were registered.
In its direct listing, Slack had offered 118 million registered shares and 165 million unregistered shares. But in a direct listing there's no way for most investors to know which type of share is being purchased.
The 9th U.S. Circuit Court of Appeals found for the plaintiff, favoring the law's spirit over its letter, but SCOTUS yesterday told the lower court to reconsider.
SCOTUS did not take any position on the veracity of Slack's registration statement.
What Pirani is saying: "I am profoundly disappointed with this ruling, which I believe fails to adequately protect the interests of investors. While I respect the Court's authority, I maintain that all investors, whether in registered shares or not, deserve transparency and accountability. I will continue to explore all available legal avenues."
What Slack is saying: Crickets.
What SCOTUS is saying, in the opinion written by Justice Neil Gorsuch: "Naturally, Congress remains free to revise the securities laws at any time, whether to address the rise of direct listings or any other development. Our only function lies in discerning and applying the law as we find it."
What's next: The case gets kicked back down, but the big question has been answered.
The bottom line: Someone with unregistered shares can't say they relied on a registration statement. But because direct listing investors have no way to know which type of share they're purchasing, the entire enterprise collapses into a legal black hole.
The BFD
BJC HealthCare of St. Louis and Saint Luke's Health System of Kansas City said that they are exploring a merger that could create a 28-hospital academic health system valued at around $10 billion.
Why it's the BFD: The combined company wouldn't have geographic overlap, which seems to be key for U.S. hospital operators that want to expand (and cut costs) without attracting antitrust attention.
The most recent example was California-based Kaiser reaching into Pennsylvania for Geisinger, although that merger has not yet closed.
The bottom line: "Larger, cross-market deals like BJC and Saint Luke's have become more common in the past year ... Multiple health policy researchers have warned that these deals are relatively understudied and, according to some prior analyses, very rarely translate to the quality and consumer cost savings often touted by health systems." — Dave Muoio, Fierce Biotech
Venture Capital Deals
⚡ NexWafe, a German solar wafer manufacturer, raised €30m from Keshik Capital, Malcolm Turnbull and insiders Reliance New Energy, Aramco Ventures and Arthos Venture. www.nexwafe.com
🚑 Sami, a Brazilian health insurance startup, raised $18m in Series B funding. Redpoint eventures and Mundi Ventures co-led, and were joined by Alumni Ventures, Endeavor Catalyst, Digital Horizon, Tau Ventures and insiders Monashees and Valor Capital. www.samisaude.com/br
🚑 Modulo, a San Diego-based biotech focused on neurodegenerative diseases, raised $8m from Initialized Capital, Cantos, Bioverge, Spacecadet, Builders VC, Refactor Capital and Hawktail. www.modulo.bio
• Aplós, a Miami-based maker of non-alcoholic spirits, has raised $5.5m in Series A funding, led by McCarthy Capital. www.aplos.world
• Canopus Networks, an Australian network analytics startup, raised A$4.5m from Konvoy Ventures. www.canopusnetworks.com
• Klearly, a Dutch mobile payments app for SMEs, raised €2.1m in pre-seed funding co-led by Antler and Global PayTech Ventures. https://axios.link/3N5Wgfh
Private Equity Deals
⚡ Brookfield agreed to invest $360m for a control stake in CleanMax, a Mumbai-based renewable energy company. https://axios.link/3oIKQ7O
• CPP Investments is shopping up to $2b in private fund positions and around $1b in direct private company stakes, per the WSJ. https://axios.link/3OXqdQ5
🚑 EQT agreed to buy British veterinary drugmaker Dechra (LSE: DPH) for around $5.6b. BFD flashback.
• Flagstone Foods, a Minneapolis-based portfolio company of Atlas Holdings, acquired Emerald Nuts, which generated $66m in fiscal 2022 sales, from Campbell Soup (NYSE: CPB). https://axios.link/45FiZpw
• Kian Capital Partners acquired Team Air, a Nashville-based wholesale distributor of HVAC equipment. www.teamairdist.com
• Madison Dearborn completed its $1.8b take-private buyout of Dallas-based money transfer company MoneyGram International. https://axios.link/43l5Qk0
• United Structural Systems, a Pleasant View, Tenn.-based portfolio company of Summit Park, acquired Ox Foundation Solutions, a provider of residential foundation repair and basement waterproofing services in Alabama. www.ustn.com
Liquidity Events
• Aurum Proptech of India agreed to buy Indian home rental platform NestAway for less than $11m. NestAway had raised around $115m from firms like Sequoia Capital India, Goldman Sachs, IDG India, Tiger Global, UC-RNT Fund and Chiratae Ventures. https://axios.link/3oIK7DC
• EQT hired Morgan Stanley to find a buyer for Ellab, a Danish maker of thermal validation and other industrial tech products that could fetch around €1b, per Bloomberg. https://axios.link/3WJnoE3
• Stripe acquired Okay, an SF-based provider of engineering workflow management software that had raised over $6m from firms like Sequoia Capital and Kleiner Perkins. https://axios.link/3C6QELe
More M&A
• Adamas One (Nasdaq: JEWL), a maker of lab-grown diamonds, acquired nearly a 10% stake in business ops AI company NexGenAI. www.adamasone.com
🚑 Getinge (STO: GETI), a Swedish medical device maker, agreed to buy High Purity New England, a Smithfield, R.I.-based provider of custom single-use solutions for bioprocessing applications. for upwards of $290m ($120m upfront). https://axios.link/45MnnDd
🎵 Hybe, the listed South Korean music agency whose artists include BTS, is raising up to $380m to fund U.S. acquisitions, per Bloomberg. https://axios.link/43hNZdN
• Marsh McLennan Agency, a unit of Marsh McLennan (NYSE: MMC), acquired SOLV Risk Solutions, an Austin, Texas-based risk management advisory. www.marshmma.com
• NatWest (LSE: NWG) and Ireland's Finance Ministry jointly divested 10% of Irish lender Permanent TSB (Ireland: PTSB) for around €110.5m, after having originally planned to only sell a combined 6% stake. https://axios.link/42iFZb5
• PureTech Scientific, a portfolio company of Iron Path Capital, agreed to buy the glycolic acid business of Chemours (NYSE: CC) for $137m in cash. www.chemours.com
• Unbabel, an SF-based provider of translation software for customer service messages, acquired Bablic, an Israeli provider of website localization and translation management solutions. Unbabel has raised nearly $90m from firms like Point72 Ventures, Scale Venture Partners and Headline. www.unbabel.com
It's Personnel
• Ed Garden is stepping down as chief investment officer of Trian Fund Management, the activist investment firm led by Nelson Peltz. Garden is co-founder of Trian, and Peltz's son-in-law. He'll be succeeded by new co-CIOs Josh Frank and Matt Peltz (Nelson's son). https://axios.link/3WOVtTi
• Yana Watson Kakar is joining Caisse de dépôt et placement du Québec as head of Americas. She leads a SPAC that agreed to merge with EV tech company Zero Nox, and before that spent more than a decade with Dalberg. https://axios.link/3N7wDdS
• David Nevas joined Philadelphia-based Rittenhouse Ventures as a general partner. He previously was with Razorhorse Capital and Edison Partners. https://axios.link/43g0O8d
Final Numbers
The U.S. economy added 339k jobs in May, smashing economist estimates.
The unemployment rate rose to 3.7% from 3.4%, and average hourly earnings rose by 0.3% from April and 4.3% from a year ago.
Thanks for reading Axios Pro Rata, and to copy editors Mickey Meece and Bryan McBournie! Please ask your friends, colleagues and Supreme Court justices to sign up.