Axios Pro Rata
June 20, 2019
Good morning, readers! Dan is going to Six Flags today while I'll be riding my own roller coaster — that of the Slack direct listing news cycle. Send me your tips by hitting reply or via Twitter DM.
⚽️ Reminder: Last chance to refer a friend to Axios Pro Rata using your unique link and both of you will secure spots in our Women's World Cup Group Stage bracket, which begins later this week.
Top of the Morning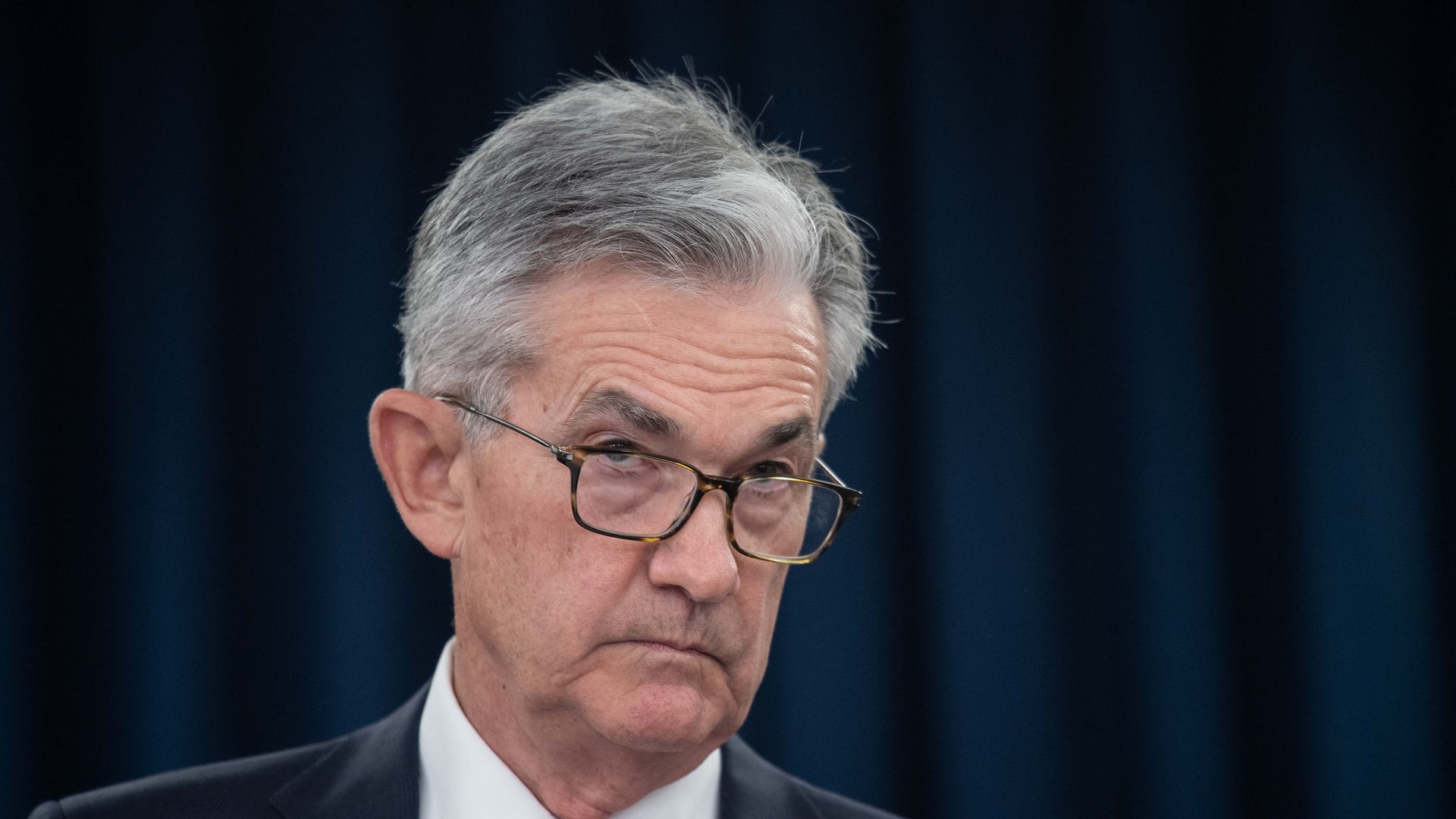 🚨 Situational awareness: Slack will begin trading later this morning on the New York Stock Exchange via a direct listing. Follow along on Axios.com and we'll discuss how it went in tomorrow's newsletter as well.
The Facebook-Libra cryptocurrency saga continues: Yesterday, Chairman Jerome Powell said during an open meeting that the company has discussed its plans with the Fed.
"It's something we're looking at ... we would wind up having quite high expectations from a sort of safety and soundness and regulatory standpoint if [Facebook does] decide to go forward with something," he said.
Yes, but: Powell also clarified that the Fed doesn't have plenary authority over cryptocurrencies, though it does have input into the payments system in the U.S. and abroad.
Meanwhile, the Senate Banking Committee has scheduled a hearing for July 16 on the project, and sources tell Reuters that Facebook exec David Marcus will testify.
• More Fed: The Federal Reserve kept interest rates on hold on Wednesday, but signaled that rate cuts could be coming down the road. It removed the key word "patient" from its policy statement, while noting that "uncertainties" about its previously rosy economic outlook have increased, reports Axios' Courtenay Brown.
Why it matters: This marks a significant shift in tone for the central bank. Fed Chairman Jerome Powell is facing pressure with roaring markets pricing in a number of rate cuts before the end of the year and an economy that's thought to be on shaky ground.
In the meantime, President Trump has been trying to strong-arm the Fed to put the U.S. on a "level playing field" by lowering interest rates.
Read Courtenay's full story, and our colleague Dion Rabouin's take too.
• Dodged: Also yesterday, Google parent company Alphabet held its annual shareholder meeting, and there were protests (of course).
Yes, but: Every proposal was defeated, including one that called for Alphabet to prepare a report about sexual harassment complaints and handling, and another asking it to prepare a "human rights impact assessment" about its plans to build a search engine for China (whose government has strong censorship requirements). Read more from CNET.
🎙Podcast: Axios editor-in-chief Nicholas Johnston guest hosts for Dan and talks to Axios' Scott Rosenberg about the changing conversation around Big Tech amid growing privacy and harassment concerns. In the "Final Two," Trump's re-elect rally tech strategy and tech CEO rankings. Listen here.
The BFD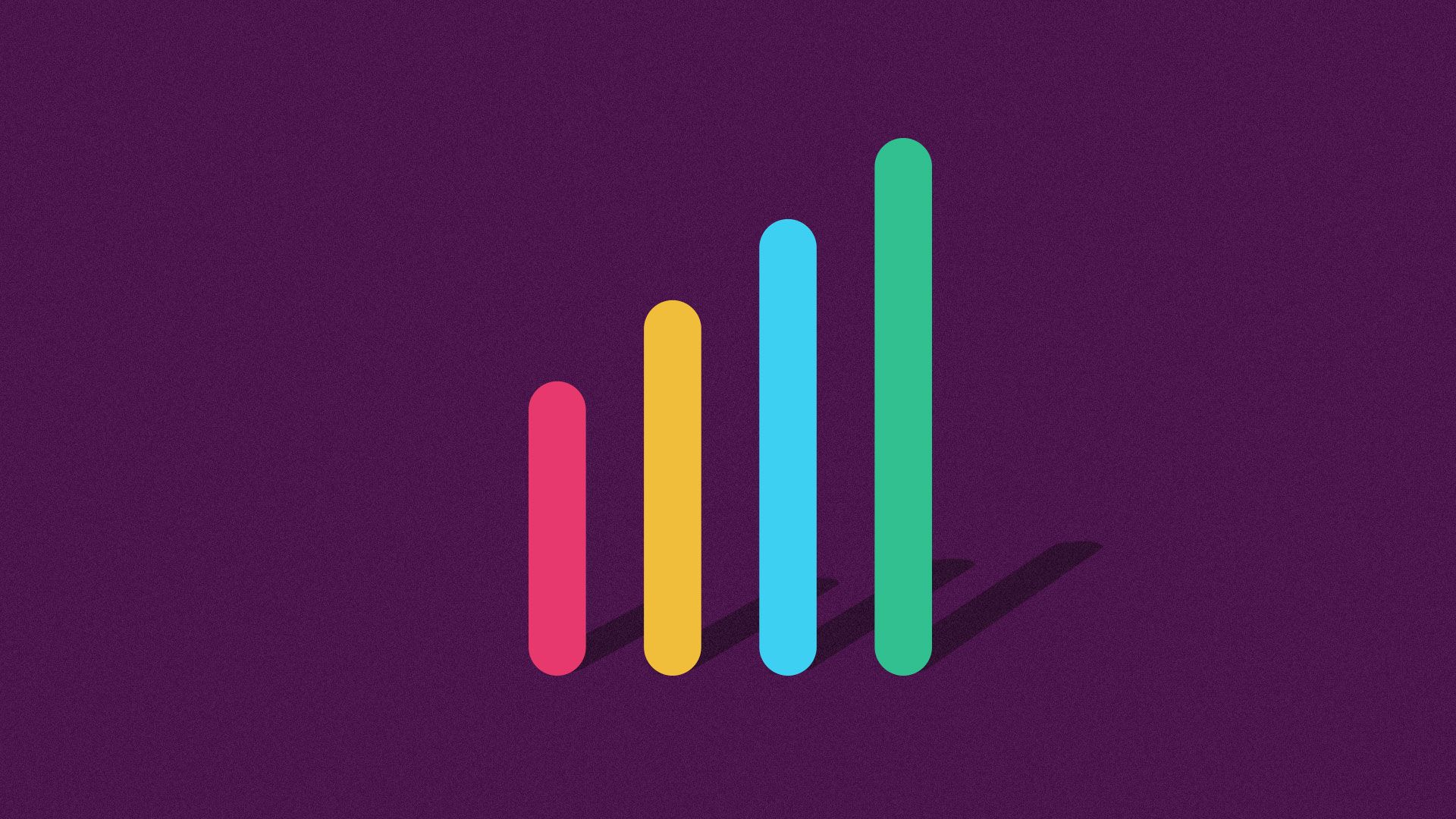 Slack Technologies, the workplace chat service, will go public on the New York Stock Exchange today via a direct listing. The NYSE issued a $26 per share reference price last night, which would give the company a valuation of $16 billion, though it's just a suggestion and could ultimately start trading at a lower or higher price.
Why it's the BFD: It's only the second direct listing from a major tech company and the first from a non-consumer service (Spotify blazed the trail last year). And if it's a success, it could push Airbnb closer to taking the same path.
The bottom line: "As with Spotify, the success/failure here is all about volatility (or lack thereof)." —Dan Primack, Axios
Venture Capital Deals
🚙 Haoqipei, a China-based business-to-business auto parts trading marketplace, has raised $60 million in Series D funding led by Access Technology Ventures, with XVC Venture Capital, Jeneration Capital, DCM and SIG also participating. http://axios.link/nVdP
• Unily, a UK-based provider of workplace software, has raised $68m (£53.9m) in new funding from Silversmith Capital Partners and Farview Equity Partners. http://axios.link/hhHY
🚑 Comet Therapeutics, a Cambridge, Mass.-based based company developing drugs to treat diseases marked by metabolic irregularities from multiple sclerosis to rheumatoid arthritis, has raised $28.5 million in Series A funding led by Canaan and Sofinnova Partners. http://axios.link/cm1L
• Bitwise Industries, a Fresno, Calif.-based company that teaches coding in disadvantaged communities, has raised $27 million in Series A funding led by Kapor Capital and New Voices Fund, with Quality Jobs Fund also participating. http://axios.link/GBB8
• DouxMatok, an Israel-based startup developing tech that enhances the sweetness of sugars and the saltiness of salt, has raised $22 million in Series B funding led by BlueRed Partners. www.douxmatok.com
• Bitrise, a Hungary-based startup that makes software development automation tools, has raised $20 million in Series B funding led by Partech, with Zobito, Y Combinator, OpenOcean and Fiedler Capital also participating. http://axios.link/X1Dk
• Aunt Bertha, an Austin-based online hub for applying to social services, has raised $16 million in Series C funding led by Noro-Moseley Partners, with Digitalis Ventures, Techstars Ventures, Techstars Impact, and Capital Factory also participating. http://axios.link/uEid
• Rhumbix, a San Francisco-based startup developing mobile tech for construction sites, has raised $14.3 million in Series B funding led by Blackhorn Ventures and Tenfore Holdings, with Greylock Partners, S28 Capital, South Park Ventures, and Glynn Capital also participating. www.rhumbix.com
• EV Hive, an Indonesia-based co-working startup, has raised $13.5 million in a first close for a Series B round led by Stonebridge Ventures. http://axios.link/r44S
• Text IQ, a New York-based company providing machine learning tools for parsing sensitive corporate data, has raised $12.6 million in Series A funding from FirstMark Capital and Sierra Ventures. http://axios.link/8M9a
🚙 MAX.ng, a Nigeria-based startup providing delivery vehicle management tools, has raised a $7 million in new funding led by Novastar Ventures, with Yamaha also participating. http://axios.link/sQNx
🚙 Humanising Autonomy, a London-based startup developing tech for autonomous cars to analyze pedestrian behavior, has raised $5.3M in seed funding led by Anthemis Group, with Global Brain Corporation, Germany-based Amplifier and Silicon Valley-based Synapse Partners also participating. http://axios.link/tT3L
• Whitebox, a Baltimore, Md.-based e-commerce automation and fulfillment technology company, has raised $5 million in Series A financing from TDF Ventures, with angel investors also participating. http://axios.link/3Z17
🚑 Xealth, the leading platform for connecting digital health, today announced that it has secured an additional $3 million in Series A funding from Atrium Health, Cleveland Clinic, and MemorialCare Innovation Fund. www.xealth.com
• Coplex, a Phoenix-based corporate venture program, has raised $2.5 million in funding from DFE and AZ Crown. www.coplex.com
• Defendify, a Portland, Maine-based cybersecurity startup, has raised $1.6 million in new funding from Maine Technology Institute and 3dot6 Ventures. www.defendify.io
• Sendoso, a San Francisco-based startup providing sending and shipping management tools for businesses, has raised an undisclosed amount of funding from Stage 2 Capital. www.sendoso.com
Private Equity Deals
• Thomas H. Lee Partners has agreed to acquire AutoStore, a Norway-based robotics and software company, with EQT retaining a minority stake in the company. www.autostoresystem.com
• Wynnchurch Capital has acquired MPL, a Fairland, Ind.-based provider of cultured marble products for the hospitality and multifamily housing markets. www.mplcompany.net
• Brightstar has acquired Gateway Bobcat, a St. Louis, Mo.-based provider of industrial equipment. www.bobcatofstl.com
🚑 Abris Capital Partners has agreed to buy Dentotal Protect, a Romania-based distributor of dental consumables, instruments and equipment, from the Dogariu family, which will remain an investor. www.dentotal.ro
• Sycamore Partners has lowered its unsolicited bid for Chico's FAS Inc, a Fort Myers, Fla.-based women's apparel retailer, to $3 per share ($350 million). http://axios.link/GQQN
🚙 TDR Capital is in advanced talks to acquire BCA Marketplace Plc, a UK-based used car auctioneer, for £1.91 billion ($2.43 billion). http://axios.link/7whP
• Damac has reportedly made a bid to acquire Roberto Cavalli, an Italian fashion group, from Clessidra, according to Reuters. http://axios.link/qtOx
• Casdin Capital, has invested approximately $50 million in Codexis, a Redwood City, Calif.-based synthetic biology company, through the purchase of shares of Codexis' common stock in a private placement. www.codexis.com
Public Offerings
• Slack! (Follow our coverage on Axios.com and tomorrow's newsletter.)
• South Mountain Merger, a blank check company focused on the fintech industry, raised $225 million by offering 22.5 million shares at $10. It initially planned to raise $200 million. South Mountain Merger plans to list on the Nasdaq under the symbol SMMCU. Citi acted as a lead manager on the deal. http://axios.link/MFHI
🚑 Dermavant Sciences, a Phoenix-based Phase 3 biotech company developing in-licensed therapies for dermatological diseases, has postponed its IPO. It had filed to raise $100 million by offering 7.7 million shares at a price range of $12 to $14, and planned to list on the Nasdaq under the symbol DRMT. Jefferies, SVB Leerink and Guggenheim Securities were set to be the joint bookrunners on the deal. http://axios.link/HCMY
Liquidity Events

• Fluent is acquiring AdParlor, a Toronto-based company that provides social media ad buying tools, for $10 million. http://axios.link/V6ou
• iRobot has acquired Root Robotics, a Cambridge, Mass.-based maker of educational robots. http://axios.link/BUI2
More M&A
🚑 GlaxoSmithKline is reportedly seeking to sell some consumer health brands to raise about £1 billion ($1.26 billion) before spinning off its consumer health care business, according to Reuters. http://axios.link/Ea5I
• Vivendi-owned Havas has agreed to acquired Battery, a Los Angeles-based advertising company. http://axios.link/Fddr
• Mondelēz International has agreed to acquire a majority interest in Perfect Snacks, a San Diego-based maker of refrigerated nutrition bars. http://axios.link/Rs2h
• First Financial Bancorp has agreed to acquire Bannockburn Global Forex, a Cincinnati-based capital markets firm. http://axios.link/w94v
• FAT Brands has acquired Elevation Burger, a Falls Church, Va.-based chain specializing in grass-fed, free-range food, for $10 million, funded through a combination of sellers' notes and cash. http://axios.link/L3rG
Fundraising
• Jumpspeed Ventures has raised $17.7 million for a new VC fund focused on early-stage startups in Jerusalem. www.jumpspeed.co
• Dawn Capital has raised $125 million for a venture capital opportunities fund. http://axios.link/T44P
• Higher Ground Labs has raised a new $10 million fund to invest in political and campaign tech. www.highergroundlabs.com
It's Personnel

• Union Square Advisors has named Michael Meyer as a partner and head of capital structure advisory in its New York office, and Emily Todd Anderson as director and head of sponsor coverage. www.usadvisors.com
• Ann O'Halloran has joined Maranon Capital LP as a controller. She was previously vice president and controller at Kramer Van Kirk Credit Strategies. www.MaranonCapital.com
• Matthew Nacier rejoins Lincolnshire Management as a senior associate, Nicolas Vega Llona joins as a senior associate, and Yashna Ginodia and Georg Stolt-Nielsen join as analysts.
Final Numbers