April 15, 2022
I, Dan Primack, do solemnly swear to not write about Elon or Twitter in Monday's newsletter. OK, here we go...
Top of the Morning
When big takeover bids are announced, they usually make more sense as time progresses and we learn more. But yesterday the opposite was true, in terms of Elon Musk's $43 billion hostile offer for Twitter.
By dark, it felt like Musk should audit an M&A 101 course.
Before continuing, a note to the reflexive fanboys: I have no dog in this fight. Sure I think it's likely best for Twitter to have internal checks and balances, like independent directors and no controlling shareholder, but I also view Musk as one of the most visionary and consequential entrepreneurs in American history.
For the reflexive gaggers: Yes, Musk can be maddeningly childish at times. But this morning I started a Twitter beef over Peeps candies, so glass houses and all...
The first head-scratchers came when Musk was interviewed live at the TED conference.
Musk's primary strategic thesis appears to be about enabling more "free speech," within legal bounds, and open-sourcing the Twitter API. But, when pushed just a little, it was clear that he hasn't given much thought to the pragmatic aspects of content moderation. Nor was there even passing mention of Twitter's core advertising business, which could be negatively impacted by an increase in edge case controversies.
"I don't care about the economics at all." That's what Musk said, just minutes before proposing to partially finance the bid by having big existing shareholders roll over their stock. But why would ROI-focused firms like Vanguard roll over stock into a company whose new owner doesn't care about the company's financial future?
Musk's potential stewardship of Twitter feels akin to the mission of many pro sports team owners. He doesn't want it to tank, but he's not in it for the financial performance. The game itself is paramount. Maybe he can pull a few likeminded billionaire pals into that fold, but institutional investors will pass.
After the market closed and Twitter's share price barely budged, let alone got near his $54.20 per share offer price, Musk launched a Twitter poll asking if his bid should be up to shareholders or the board.
Forget the results. Focus on the question.
It would be up to shareholders had Musk launched a stock tender offer. But he didn't. He asked the board to accept his bid (which then, of course, would go to a shareholder vote).
This is a bit reminiscent of "funding secured," in terms of the difference between a verbal agreement and a signed, written agreement.
The bottom line: Musk claims he has a "Plan B" if Twitter's board says no, which it likely will do. The big question is if he'll give that backup plan more thought than he did his primary one.
The BFD
Steinway, an Astoria, New York-based piano maker taken private by Paulson & Co. in 2013, filed for an IPO.
Why it's the BFD: IPO filings are few and far between these days, let alone from a company founded 169 years ago in Queens.
Details: Steinway reports $59 million of net income on $538 million in revenue for 2021, compared to $52 million on $415 million for 2020. It plans to list on the NYSE (STWY).
The bottom line: "The Steinway piano was the instrument of choice for approximately 97% of concert pianists when performing with orchestras across the globe during the 2018–2019 concert season, none of whom are compensated to use or endorse Steinway ... For decades, we have cultivated relationships with the most talented pianists from nearly every genre, including Jon Batiste, Billy Joel, Lang Lang and Regina Spektor." — Steinway IPO prospectus
Venture Capital Deals
• Rapido, an Indian bike taxi startup, raised $180m in Series D funding. Swiggy led, and was joined by TVS Motor Co. and insiders Westbridge, Shell Ventures and Nexus Ventures. http://axios.link/zEGv
• Obsidian Security, a Newport Beach, Calif.-based SaaS security and posture management startup, raised $90m in Series C funding from Menlo Ventures and Norwest Venture Partners, IVP and insiders Greylock, Wing and GV. http://axios.link/hqet
⚡ GridX, a Milpitas, Calif.-based enterprise rate platform provider to utilities and energy tech companies, raised $40m in Series C funding. Energy Impact Partners led, and was joined by Moore Strategic Ventures, Sunfox Capital and NGP ETP. www.gridx.com
🚑 Iris Telehealth, an Austin, Texas-based telepsychiatry startup, raised $40m in Series B funding co-led by Concord Health Partners and Columbia Pacific Advisors, per Axios Pro. http://axios.link/OaeA
• Itilite, an Indian corporate travel and expensing software provider, raised $29m in Series C funding. Tiger Global and insider Dharana Capital co-led, and were joined by Matrix Partners and Tenacity Partners. http://axios.link/ksVr
• Context, maker of a social crypto wallet, raised $19.5m in seed funding co-led by Variant Fund and Sam Altman. http://axios.link/gfX0
• Beanstock.fr, a French buy-to-let investment marketplace, raised €12m in Series A funding. 360 Capital led and was joined by Entrée Capital, PropTech1 and FJ Labs, Axeleo and Realty Corp. http://axios.link/OhVM
• Greymatter.io, an Alexandria, Va.-based enterprise microservices platform provider, raised $7.1m in Series A funding led by Elsewhere Partners. www.greymatter.io
• NexWafe, a German maker of silicon wafers, raised €7m in new Series C funding led by Ecosummit. www.nexwafe.com
• Blueshift, a Fort Myers, Fla.-based XDR cybersecurity startup, raised $6m from WestWave Capital and CyberJunction. http://axios.link/Y5ru
• Opus, a New York-based mobile learning platform for frontline workers, raised $2m. Gutter Capital led, and was joined by Metrodora Ventures. http://axios.link/crCp
• Ava Labs, the developer behind the Avalanche blockchain, is raising $350m at a $5.25b valuation, per Bloomberg. http://axios.link/BAbb
Private Equity Deals
• Advent International agreed to buy Italian food ingredients company IRCA from Carlyle for a reported €1b. http://axios.link/6svu
• Apollo Global Management is in talks to buy part of Australia-based AMP Capital's infrastructure equity unit, which could include between $5b and $7b of assets, per Bloomberg. http://axios.link/4Grm
• CICC Capital is exploring a management buyout of Chinese hotel chain GreenTree Hospitality Group (NYSE: GHG), which has a $527m market cap, per Bloomberg. http://axios.link/2jan
• Fortis Solutions Group, a Virginia Beach, Va.-based portfolio company of Harvest Partners, bought Profecta Labels, a Quebec-based flexographic and digital manufacturer of labels and packaging. www.fortissolutionsgroup.com
• RoadSafe Traffic Systems, a Romeoville, Ill.-based portfolio company of Trilantic North America and Investcorp, acquired North Valley Barricade, a Yuba City, Calif.-based retailer of traffic control products. www.roadsafetraffic.com
🚑 Specialty Networks, an Ohio-based portfolio company of Linden Capital Partners, bought United Rheumatology, a Hauppauge, N.Y.-based rheumatology group purchasing organization. www.unitedrheumatology.com
• Vitrek, a Poway, Calif.-based portfolio company of Branford Castle Partners, bought MTI Instruments, an Albany, N.Y.-based provider of jet engine balancing systems, signal generators and precision metrology devices. www.vitrek.com
Public Offerings
• ClubCorp, the Dallas-based country club operator Apollo Global Management took private in 2017, is considering an early 2003 IPO, per Bloomberg. http://axios.link/ZJyN
Liquidity Events
🚑 Dialogue (TSX: CARE) will pay up to C$56m to buy Tictrac, a British digital health startup that had raised funding from firms like Puma Investments. http://axios.link/VFCg
More M&A
⚽ The Ricketts family, owners of the Chicago Cubs, withdrew their bid for Chelsea FC. http://axios.link/u64f
Meanwhile, Reuters reports that Investcorp has entered into exclusive talks to buy AC Milan.
• First Abu Dhabi Bank withdrew its $1b bid for investment bank EFG Hermes. http://axios.link/X9qR
Fundraising
• Adams Street Partners raised more than $2.1b for its second private credit fund ($3b of capacity, including leverage). www.adamsstreetpartners.com
🌎 Lowercarbon Capital, Chris Sacca's climate VC fund, raised a $350m fund dedicated to carbon removal startups. www.lowercarboncapital.com
It's Personnel
⚡ Charles Baillie is leaving Goldman Sachs after nearly 30 years to join Quantum Energy Partners as co-president, alongside managing partner Ajay Khurana. Wil VanLoh remains CEO of Houston-based QEP. http://axios.link/XE5K
• CPP Investments promoted Priti Singh to senior managing director and global head of capital markets and factor investing. She succeeds the retiring Poul Winslow. www.cppinvestments.com
Final Numbers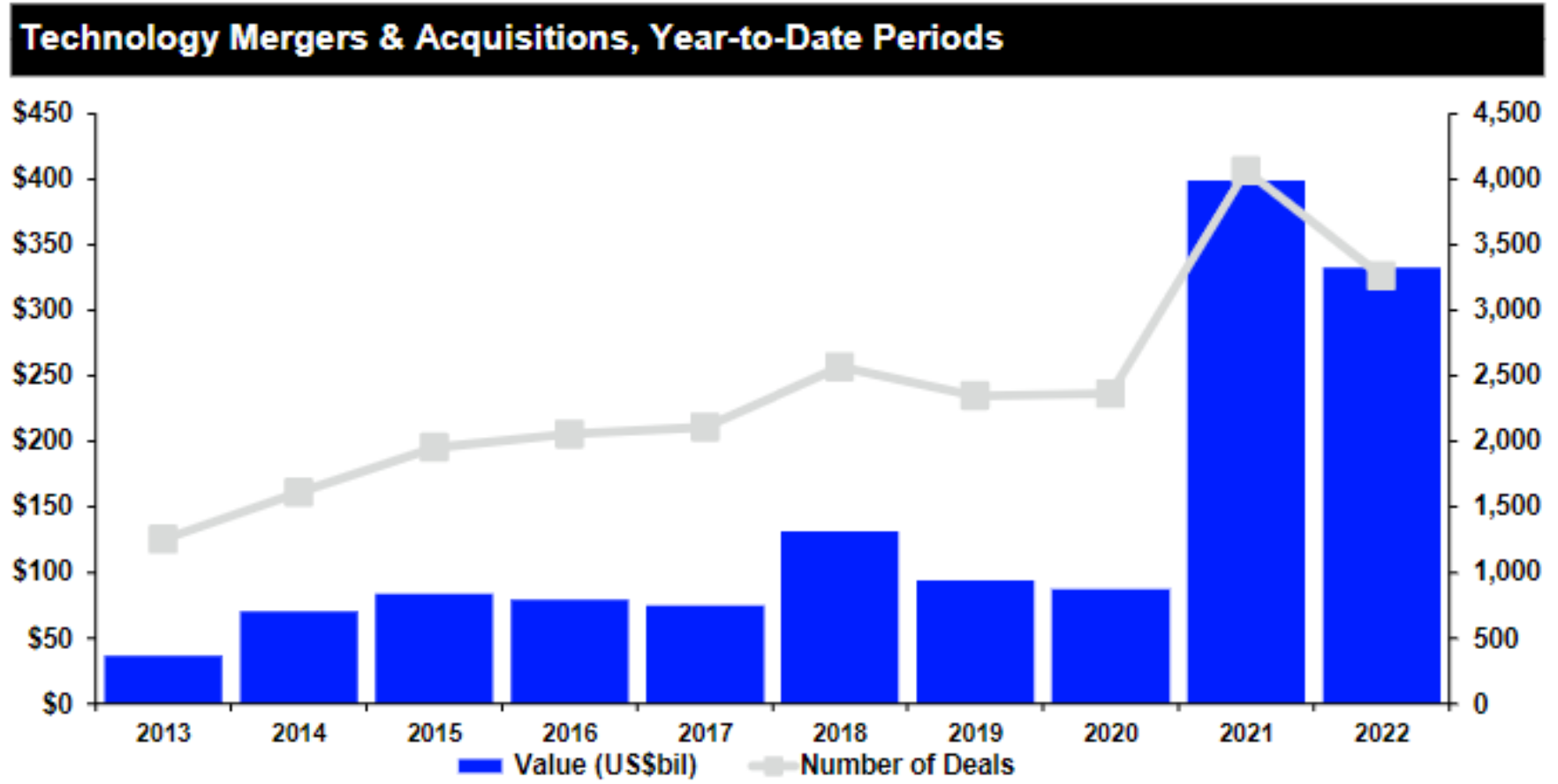 Tech M&A is down 17% year-to-date, per Refinitiv, although that gap would be nearly erased were Twitter to accept Musk's offer.
✅ Thanks for reading Axios Pro Rata! Please ask your friends, colleagues and Seder hosts to sign up. And happy birthday to M (aka the girl next door)!