June 25, 2018
Top of the Morning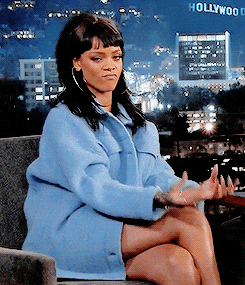 The IPO window is no longer just open. It's been shattered, had its frame removed and is now a chasmal cavity for capital.
This is expected to be the busiest IPO week of 2018, with a dozen companies set to price. And it's a diverse group, including VC-backed biotechs, an LBO-backed retailer and a hairy under-corn.
Ten priced last week (not including three SPACs), many after increasing their number of offered shares.
Six companies filed for IPOs last Friday, and Hong Kong this morning got official paper work for Meituan-Dianping, which could be valued at $60 billion.
U.S. IPO pricings are up 35% over last year, per Renaissance Capital, while proceeds raised and filings are up 33% and 31%, respectively.
IPO insiders are a bit flummoxed as to why this is happening now as opposed to, say, 12 months ago. After all, it's not like there's been a pullback of private capital alternatives for later-stage companies. But they do offer three drivers:
Strong pricing and aftermarket activity so far in 2018. Renaissance's U.S. IPO index was basically even with the S&P 500 last June, but has easily outpaced it since this past March.
Increased M&A activity, which prompts companies to at least file for IPOs. Or, put another way, chumming the water.
Growing uncertainty about what the 2018 midterms may mean for markets, which is being exacerbated by concerns over trade wars and new restrictions on Chinese investments. There is usually a mini-boom this time of year (getting ahead of August vacations), but this one is more pronounced.
• Today in tariffs: Milwaukee's Harley-Davidson disclosed in an SEC filing that it will move manufacturing of Europe-bound motorcycles outside of the U.S., after the EU retaliated against new U.S. tariffs on steel and aluminum. Also, the country's largest nail manufacturer, based in Missouri but owned by a Mexican company, laid off 12% of its 500 workers due to the tariffs and says it's at risk of shutting down.
• AT&T has agreed will buy AppNexus, a New York-based provider of ad management software. No financial terms were disclosed, although reports put the price between $1.6 billion and $2 billion.
AppNexus raised over $340 million in VC funding, most recently at a $1.6 billion valuation. Backers include TCV, Venrock, Fidelity, WPP, News Corp and First Round Capital. It also had confidentially filed for an IPO.
Venrock's Mike Tyrrell tells me that AT&T's ability to close its Time Warner acquisition was key strategically, and that AppNexus is comfortable with the cultural fit because AppNexus will be slotted into a division headed by former director Brian Lesser (who left WPP for AT&T last fall).
• On the docket: Hearings begin in London today on Uber's appeal of a September decision by the city's transport authority not to renew its operating license. Uber will be allowed to continue operating throughout the legal fight, which could take years (i.e., past Uber's IPO).
The BFD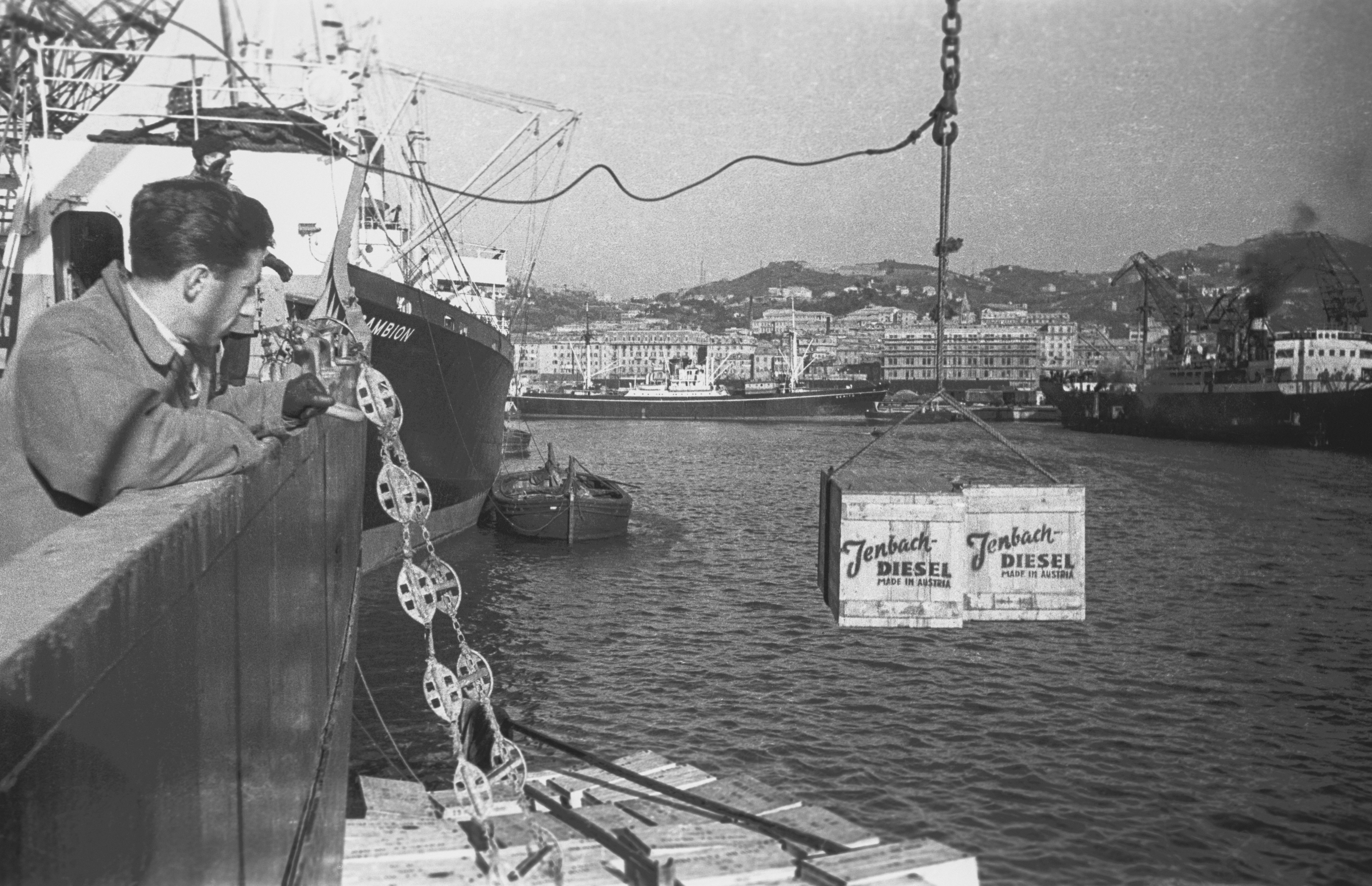 Advent International has agreed to buy the distributed power business of General Electric (NYSE: GE), which makes Jenbacher and Waukesha industrial gas engines, for $3.25 billion.
Why it's the BFD: Because this would be the next major piece of GE's $20 billion diet plan, and its first since being expelled from the Dow Jones Industrial Average after a century-plus run.
Competition: Advent appears to have beaten out Cummins Inc. (NYSE: CMI).
Bottom line: "The deal unwinds two acquisitions by former CEO Jeff Immelt, who left last summer after 16 years at the helm... GE acquired Jenbacher, based in Austria, in 2003. Waukesha, which dates back to 1906, came as a part of GE's purchase of oil-and-gas equipment maker Dresser Inc. for $3 billion in 2010." — WSJ's Ben Dummett & Dana Mattioli
Venture Capital Deals
• PolicyBazaar, an Indian lending marketplace and digital insurer, raised over $200 million in new funding led by SoftBank Vision Fund. http://axios.link/iFUX
🚑 Nodthera, a British drug startup focused on diseases characterized by chronic inflammation, raised £28 million in Series A funding from Epidarex Capital, F-Prime, Sofinnova Partners and 5AM Ventures. http://axios.link/I2hO
• BigID, an Israeli private customer data identification startup, raised $30 million in Series B funding. Scale Venture Partners led, and was joined by ClearSky Security, Comcast Ventures, Boldstart Ventures, Information Venture Partners and SAP. http://axios.link/DYWS
🚑 Vium, a San Mateo, Calif.-based living informatics platform, raised $24 million in Series B funding. Existing backers Lux Capital and DCVC co-led, and were joined by Dolby Family Ventures, Founders Fund and Future Shape. www.vium.com
• Drip Capital, a Palo Alto-based provider of working capital finance to SMEs involved in cross-border trade, raised $15 million in Series A funding from Accel India, Sequoia Capital India and Wing VC. http://axios.link/QDSQ
Private Equity Deals
• Advent International received Brazilian antitrust approval for its $4.5 billion purchase of an 80% stake in Walmart's Brazil operations. http://axios.link/fsot
• DCS Global, a Dallas-based provider of revenue cycle management software, raised an undisclosed amount of growth equity funding from Tritium Partners. www.dcsglobal.com
• KKR is in exclusive talks to buy Open Office, an Australian provider of management and compliance SaaS solutions, per The Australian. www.openoffice.com.au
• Steele Compliance Solutions, a San Francisco-based portfolio company of Bregal Sagemount, acquired TransparINT, a Little Falls, N.J.-based developer of financial crime compliance tools. www.transparint.com
• Terra Firma is considering a takeover offer for IWG (LSE: IWG), a provider of office outsourcing services that has a market cap of £2.88 billion, according to Reuters. http://axios.link/uDXJ
Public Offerings
🚑 Allakos, a San Carlos, Calif.-based developer of antibody therapeutics for allergic and inflammatory diseases, filed for a $75 million IPO. It plans to trade on the Nasdaq (ALLK) with Goldman Sachs as lead underwriter. The pre-revenue company has raised around $140 million from Alta Partners (34.06% pre-IPO stake), Roche (13.94%), RiverVest (21.94%), NEA (6.1%) and Capital Research & Management (6.1%). www.allakos.com
• Cango, a Chinese used car marketplace, filed for a $300 million IPO. It plans to trade on the NYSE (CANG) with Morgan Stanley as lead underwriter, and reports on $56 million of net income on $168 million in revenue for 2017. Shareholders include Warburg Pincus (18.2% pre-IPO stake), Didi Chuxing (14.8%) and Tencent (10.7%).
• China Renaissance Group, a Beijing-based investment bank, may seek to raise $800 million in a Hong Kong IPO, per Reuters. http://axios.link/tlaK
🚑 Constellation Pharma, a Cambridge, Mass.-based developer of treatments for cancer-related gene abnormalities, filed for an $86 million IPO. It plans to trade on the Nasdaq (CNST) with JPMorgan as lead underwriter. The pre-revenue company raised over $360 million from firms like Column Group (21.7% pre-IPO stake), Third Rock Ventures (12.7%), Venrock (11.1%), UC Regents (10%), Topspin Partners (8.2%) and Cormorant Asset Management (5.9%). www.constellationpharma.com
🚑 Crinetics Pharma, a San Diego-based drug company focused on endocrine diseases, filed for an $86 million IPO. It plans to trade on the Nasdaq (CRNX) with JPMorgan as lead underwriter. The company raised over $100 million from firms like Vivo Capital (20% pre-IPO stake), 5AM Ventures (19.7%), Versant Ventures (19.7%), Perceptive Advisors (10.9%), OrbiMed (10.1%), RA Capital (5.5%). www.crinetics.com
🚑 Replimune, a Woburn, Mass.-based oncolytic immunotherapy company filed for a $100 million IPO. It plans to trade on the Nasdaq (REPL) with JPMorgan as lead underwriter. The pre-revenue company raised $87 million in VC funding from Omega Funds (19.8% pre-IPO stake), Forbion (19.8%), Atlas Venture (18.4%), Bain Capital Life Sciences (9.7%), Forbion (19.8%) and Foresite Capital (6.5%). www.replimune.com
🚑 Rubius Therapeutics, a Cambridge, Mass.-based developer circulating red blood cell therapies, filed for a $200 million IPO. It plans to trade on the Nasdaq (RUBY) with JPMorgan as lead underwriter. The pre-revenue company raised over $240 million from Flagship Pioneering (57.3% pre-IPO stake) and Fidelity (5.3%). www.rubiustx.com
Liquidity Events
• Abraaj Group has agreed to sell its stake in Middlesex University's Dubai campus for around $100 million to Amanat Holdings. http://axios.link/2Bii
• Enel (BIT: ENEL) has agreed to buy a 21% stake in Latin American networking company Ufinet International from Cinven for €150 million, with an option to buy the remainder. http://axios.link/Zkg7
More M&A
• Andritz, an Austria-listed engineering firm, has agreed to acquire Youngsville, N.C.-based Xerium Technologies (NYSE: XRM) for $833 million in cash, or $13.50 per share (104% premium over Friday's close). http://axios.link/pp2n
• BlackRock (NYSE: BLK) is seeking to buy a 30% stake in the asset management unit of Intesa SanPaolo (Milan: ISP), per Reuters. http://axios.link/Eeeo
• EchoStar (Nasdaq: SATS) disclosed an equity stake in British satellite operator Inmarsat (LSE: ISA), which already has rejected a takeover offer from EchoStar. http://axios.link/Oo4E
• Gold Coin, a Singapore-based animal feed maker, is on the block for around $500 million, per Bloomberg. http://axios.link/lVtA
• Gray Television (NYSE: GTN) agreed to buy Alabama-based broadcaster Raycom Media for $3.65 billion in cash and stock. http://axios.link/sUru
• Greystar Real Estate Partners has agreed to acquire student housing company Education Realty Trust (NYSE: EDR) for around $4.6 billion (including debt). http://axios.link/vBCa
• JPMorgan Chase (NYSE: JPM) agreed to sell its minority stake in Saudi Investment Bank back to the company for $203 million. http://axios.link/ekTa
• Ooh!Media (ASX: OML) is buying fellow Australian outdoor advertising company Adshel for A$424 million. http://axios.link/sIbQ
Fundraising
• Beijing's government has formed a $4.6 billion venture capital fund-of-funds focused on core tech innovation as opposed to business model innovation. http://axios.link/0aZr
• The Dementia Discovery Fund, a London-based VC firm focused on early-stage developer of therapeutics for treating dementia, closed with £250 million, including $60 million from AARP. www.theddfund.com
• Fifth Wall Ventures, a VC firm focused on startups at the intersection of tech and real estate, is raising $400 million for its second fund, per an SEC filing. http://axios.link/0Nae
• RRE Ventures raised $265 million for its seventh fund. http://axios.link/oqEh
• TowerBrook Capital raised $4.25 billion for its fifth flagship buyout fund and another $1.03 billion for a new "structured opportunities" fund. http://axios.link/kLVD
• Upper90, a New York-based firm that focuses on :niche markets in alternative asset classes," has secured $46 million for a $75 million-targeted private equity fund, per an SEC filing.
It's Personnel
🚑 Jim Brady joined Frazier Healthcare Partners as an operating partner. He previously served in a similar role with Marlin Equity Partners, and also was founder and CEO of Payerpath. www.frazierhealthcare.com
• Brian O'Malley has stepped down as a partner with Accel to join Forerunner Ventures. http://axios.link/dbnv
🚑 Sarah Sossong joined Flare Capital Partners as a principal. She previously was senior director for the Center for Telehealth at Massachusetts General Hospital. www.flarecapital.com
🚑 Ian Woo, a former healthcare investment banker with Lazard, is joining Shanghai-based private equity firm C-Bridge Capital as a managing director. http://axios.link/neyO
Final Numbers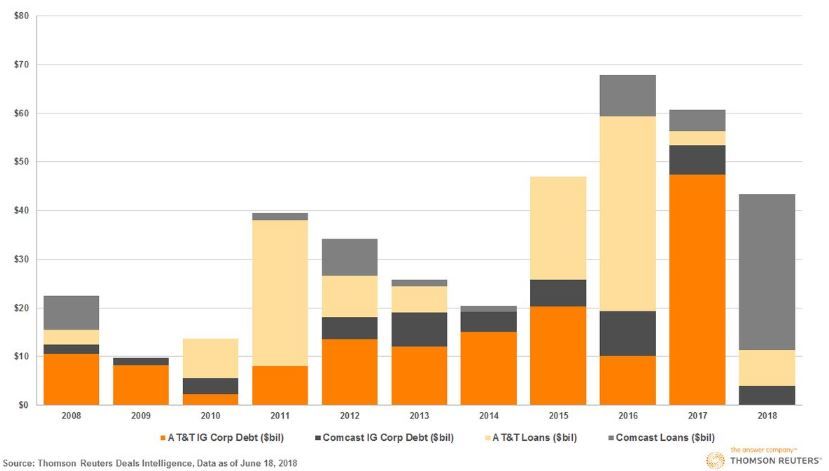 Per Thomson Reuters, AT&T and Comcast have raised nearly $385 billion from global debt capital markets.