August 01, 2022
Monday morning greetings from the home office, where it's good to be back after a couple of weeks off (and getting robbed). Big thanks to Kia Kokliatcheva for filling in. OK, here we go...
Top of the Morning
Chuck Schumer again has punted on antitrust reform, a scant five years after declaring it to be a Democratic Party priority.
Driving the news: The bipartisan bill most likely to succeed, the American Innovation and Choice Online Act (AICO), had been expected to get a floor vote before the August recess. But that's no longer going to happen, per Saturday confirmation from lead sponsor Sen. Amy Klobuchar (D-Minn.).
Schumer reportedly has told people that the bill doesn't yet have the 60 votes necessary to pass, although the more pertinent issue is limited floor time with the CHIPS bill and giant reconciliation package coming in just under the wire.
Axios' Ashley Gold previously scooped that the summer vote was in peril.
Be smart: The period between August recess and midterm elections is typically viewed as a legislative limbo. Klobuchar's bill could still pass in the fall, but the odds are long.
Why it matters: The bill doesn't explicitly address corporate acquisitions, unlike several other tech antitrust proposals, but is considered something akin to gateway legislation. Get this through, and more expansive ones may follow.
What it does: AICO is specifically focused on Big Tech, and would have blocked several companies from prioritizing their services over those of rivals. Advocates believe this could expand competitive opportunities, while opponents argue it could negatively impact user privacy and convenience.
Alphabet, Amazon, Apple and Microsoft likely would be impacted.
So too Meta, at least for now. Covered companies must have market caps in excess of $550 billion, but the calculation is for 180-day averages over the prior two-year period. Meta meets that requirement, despite its current $424 billion market cap.
The bottom line: Antitrust regulators today are where they were yesterday and the day before that and the year before that. On their own.
Elsewhere in antitrust: DOJ today begins to present its case against UnitedHealth, tied to its proposed $13 billion purchase of Change Healthcare. Plus, Trump's top antitrust cop Makan Delrahim wrote a WSJ op-ed arguing against increased antitrust scrutiny on private equity.
The BFD
Virgin Media O2, a British fiber-building venture formed by Telefónica and Liberty Global, secured £700 million in new equity commitments from its parent firms and InfraVia Capital Partners, plus £3.3 billion in new debt financing.
Why it's the BFD: The goal is to build a viable rival to BT, which dominates British broadband, while also outpacing a growing number of "altnets" that have raised billions of pounds from private equity.
The bottom line: "Britain, which has lagged most other European countries in the super-high-speed network race, is aiming for nationwide full-fibre broadband coverage by 2033 in an attempt to boost economic growth." — Paul Sandle, Reuters
Venture Capital Deals
• Boatsetter, a Miami, Fla.-based boat rental marketplace, raised $38m in Series B funding from backers like Level Equity and Alexis Ohanian. www.boatsetter.com
🚑 Ozette, a Seattle-based single-cell immune monitoring platform, raised $26m in Series A funding. Madrona Venture Group led, and was joined by Cercano Management, M12, Alexandria Venture Investments, OCV Partners and Duke University. https://bit.ly/3Bqe7Il
• Peech, an Israeli video-editing AI for brands, raised $8.3m in seed funding. Ibex Investors led, and was joined by Cardumen Capital and Fresh Fund. www.peech-ai.com
• Smarter Sorting, an Austin, Texas-based circular commerce data startup, raised $7m in Series A extension funding from Regeneration.VC, per Axios Pro. https://axios.link/3zMH8g9
• FeatureByte, a Boston-based AI for feature engineering and management, raised $5.7m in seed funding co-led by Glasswing Ventures and Tola Capital. www.featurebyte.com
• MakersHub, an SF-based order flow management startup focused on manufacturers, raised $4.5m in seed funding led by TTV Capital, per Axios Pro. https://axios.link/3zPiUSy
• B9, an SF-based provider of payroll advances to the underbanked, raised $2.6m in seed funding led by Sky Light Invest, per Axios Pro. https://bit.ly/3POPv0g
Private Equity Deals
• Advent International and Carlyle each will buy up to 10% stake in listed Indian private sector lender Yes Bank, for a total of $1.1b. https://bloom.bg/3zmV7aS
⚡ Apollo Global Management, BTG Pactual and Unipar Carbocloro each made takeover offers for Brazilian petrochemical company Braskem, per a local media report. https://axios.link/3zHlt7Z
• Aurelius Group agreed to buy British retailer Footasylum from JD Sports (LSE: JD) for around €45m. https://axios.link/3vyALKL
• Global Payments (NYSE: GPN) will pay $4b to acquire payment tech integration firm EVO Payments (Nasdaq: EVOP), and also will secure $1.5b in convertible note investment from Silver Lake. https://axios.link/3cZ3JgA
• Gryphon Investors acquired Rootstock, a San Ramon, Calif.-based provider of enterprise resource planning software. www.rootstock.com
🚑 H.I.G. Capital acquired Barton & Associates, a Peabody, Mass.-based health care staffing firm focused on locum tenens. www.bartonassociates.com
🚑 New Mountain Capital agreed to carve out the applied, food and enterprise services businesses of PerkinElmer (NYSE: PLI) for up to $2.45b. www.perkinelmer.com
• NTX, a Singapore-based textile tech solutions provider to brands like Adidas, raised nearly $200m. Centurium Capital led, and was joined by NRL Capital. https://axios.link/3JkJJRr
• Permira agreed to buy a majority stake in Reorg Research, a New York-based financial data vendor focused on debt restructuring, from Warburg Pincus. No financial terms were disclosed, but Reuters previously reported that the deal could value Reorg north of $1.3b. https://reut.rs/3zmUzlk
• Rackmount Solutions, a Plano, Texas-based portfolio company of Baymark Partners, bought Newbart Products, a Houston-based distributor of identification card equipment and supplies. www.rackmountsolutions.net
• Vertex, a Weymouth, Mass.-based portfolio company of Wind Point Partners, acquired Fulcrum, an Atlanta-based construction management consulting services firm. www.vertexeng.com
🚑 Zelis Healthcare, a Bedminster, N.J.-based portfolio company of Bain Capital and Parthenon Capital, agreed to buy Payer Compass, a Plano, Texas-based health care cost containment and price transparency firm, for around $180m, per Axios Pro. Sellers are Spectrum Equity and Health Enterprise Partners. https://axios.link/3JlOSZE
SPAC Stuff
• Marti, a Turkish e-bike and scooter rental platform, agreed to go public at an implied $532m enterprise value via Galata Acquisition Corp. (NYSE: GLTA), a SPAC formed by Callaway Capital. The company has raised over $25m from firms like BECO Capital, Endeavor Catalyst and Autotech Ventures. www.marti-tech.com
• Playtech (LSE: PTEC) ended efforts to help Mexican sports betting firm Caliente Interactive go public via SPAC. Playtech has an option to buy a 49% stake in Caliente, as part of a strategic partnership, plus the right to buy additional shares. https://reut.rs/3QaSGyT
• W3BCLOUD, an Irish storage and compute infrastructure provider for web3, agreed to go public at an implied $1.25b valuation via Social Leverage Acquisition Corp I (NYSE: SLAC), a SPAC co-led by Howard Lindzon. www.w3bcloud.com
Liquidity Events
⚡ Bain Capital is in talks to sell EnVen Energy, an oil and gas E&P focused on the U.S. Gulf of Mexico, to Talos Energy (NYSE: TALO) for around $1b, per Reuters. https://reut.rs/3oK5rVu
🚑 H.I.G. Capital is seeking a buyer for Taconic Biosciences, a Rensselaer, N.Y.-based pre-clinical research development company with around $30m in EBITDA, per Axios Pro. https://axios.link/3vtHsh2
• Falcon House Partners is seeking a buyer for its control stake in Indonesian bakery chain Mount Scopus, which could be valued at around $200m, per Reuters. https://axios.link/3zJ37EB
• Vice Media is in talks to sell itself to Greece-based Antenna Group, per the NY Times. Vice once was valued by VCs at $5.7b, and more recently scrapped a deal to go public via SPAC. https://axios.link/3SiXBjq
More M&A
Elon Musk on Friday filed his response to Twitter's lawsuit and also countersued, asking for both documents to remain under seal.
• Bcube, an Italian logistics firm, hired JPMorgan to find a minority equity stake buyer at around a €1b enterprise value, per Bloomberg. https://bloom.bg/3Sf8rGT
🚑 BD (NYSE: BDX) bought MedKeeper, a Lakewood, Colo.-based provider of drug compounder management software, for $93m. Sellers include Grifols (Madrid: GRF). https://bit.ly/3zM0T7C
• Hyundai Motor is considering an investment in, or acquisition of, South Korean autonomous mobility platform 42dot, per TechCrunch. 42dot has raised nearly $90m from firms like LOTTE Rental, Timewise Investments, Winvest VC, STIC Ventures and Shinhan Bank. https://axios.link/3zLYlWU
• Lemonade (NYSE: LIMD) completed its all-stock purchase of Metromile (Nasdaq: MILE), which originally was valued at around $500m net of cash but ended at just $145m. Around 20% of MetroMile staff was subsequently laid off. https://tcrn.ch/3oFZ19R
• NatWest Group (LSE: NWG) is considering a bid for British wealth management firm Quilter, per The Daily Mail. https://bit.ly/3zN2I4d
⚡ Nikola (Nasdaq: NKLA) agreed to buy Romeo Power (NYSE: RMO), a Vernon, Calif.-based provider of electrification solutions for commercial vehicle applications, in an all-stock deal valued at around $144m. www.romeopower.com
• Swvl (Nasdaq: SWVL) terminated its agreement to acquire smart-bus startup Zeelo. https://tcrn.ch/3Q98gLK
• Vinci (Paris: SGEF) agreed to buy a 29.9% stake in Mexican airport operator OMA (MX: OMAB) for around $815m from Fintech Advisory Inc. https://axios.link/3Q2F0Gw
• Vodafone (LSE: VOD) agreed to sell its Ghana operations to Telecel Group. https://bloom.bg/3PNUOgq
It's Personnel
• Geraldine Alias joined climate-focused Three Cairns Group as a managing director. She previously was a senior portfolio manager with Choate Investment Advisors. https://bit.ly/3BsLfz0
• Andrew Chen, a partner with Andreessen Horowitz, will focus full time on the firm's new gaming fund. He will maintain his consumer-focused board seats at companies like Clubhouse and Substack. www.a16z.com
• John Goldasich joined Lazard as a managing director focused on franchising, consumer services and restaurants. He previously was an MD with Arlington Capital Advisors. https://bit.ly/3JgFgiT
• Barry Griffiths joined Ares Management as a partner. He spent the past 13 years with Landmark Partners, most recently as director of quant research. https://bit.ly/3vorkgU
Final Numbers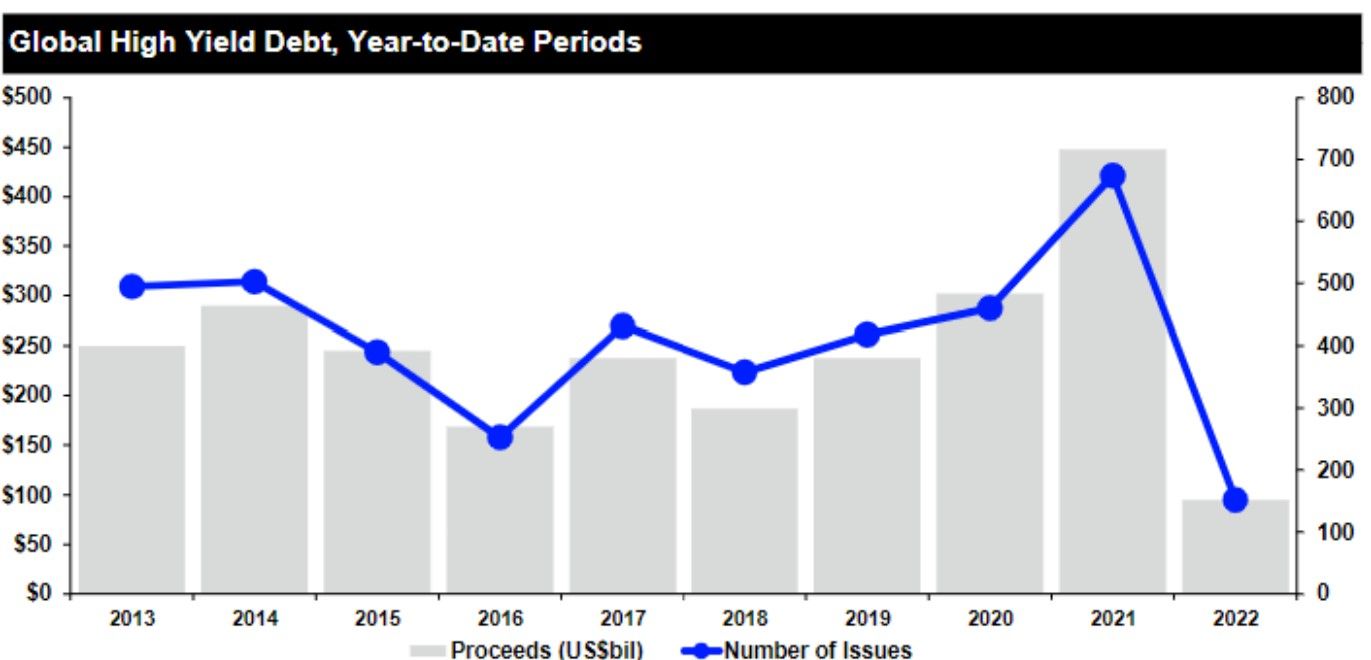 The junk bond boom of 2021 isn't just over. It's been slammed by a semi, which then backed up to run it over again, with annual dollar issuance off 79% from the year-earlier period.
✅ Thanks for reading Axios Pro Rata! Please ask your friends, colleagues and consulate office workers to sign up.