Axios Pro Rata
August 19, 2020
🎧 Axios Re:Cap digs into the state of opioids industry litigation, and the epidemic's acceleration in the pandemic. Listen via Apple or Axios.
🖥️ You're invited: Axios tomorrow at 12:30pm ET hosts a live virtual event on the future of broadband access, featuring interviews with Microsoft president Brad Smith, Sen. Amy Klobuchar (D-Minn.), and American Federation of Teachers president Randi Weingarten. Register here.
Top of the Morning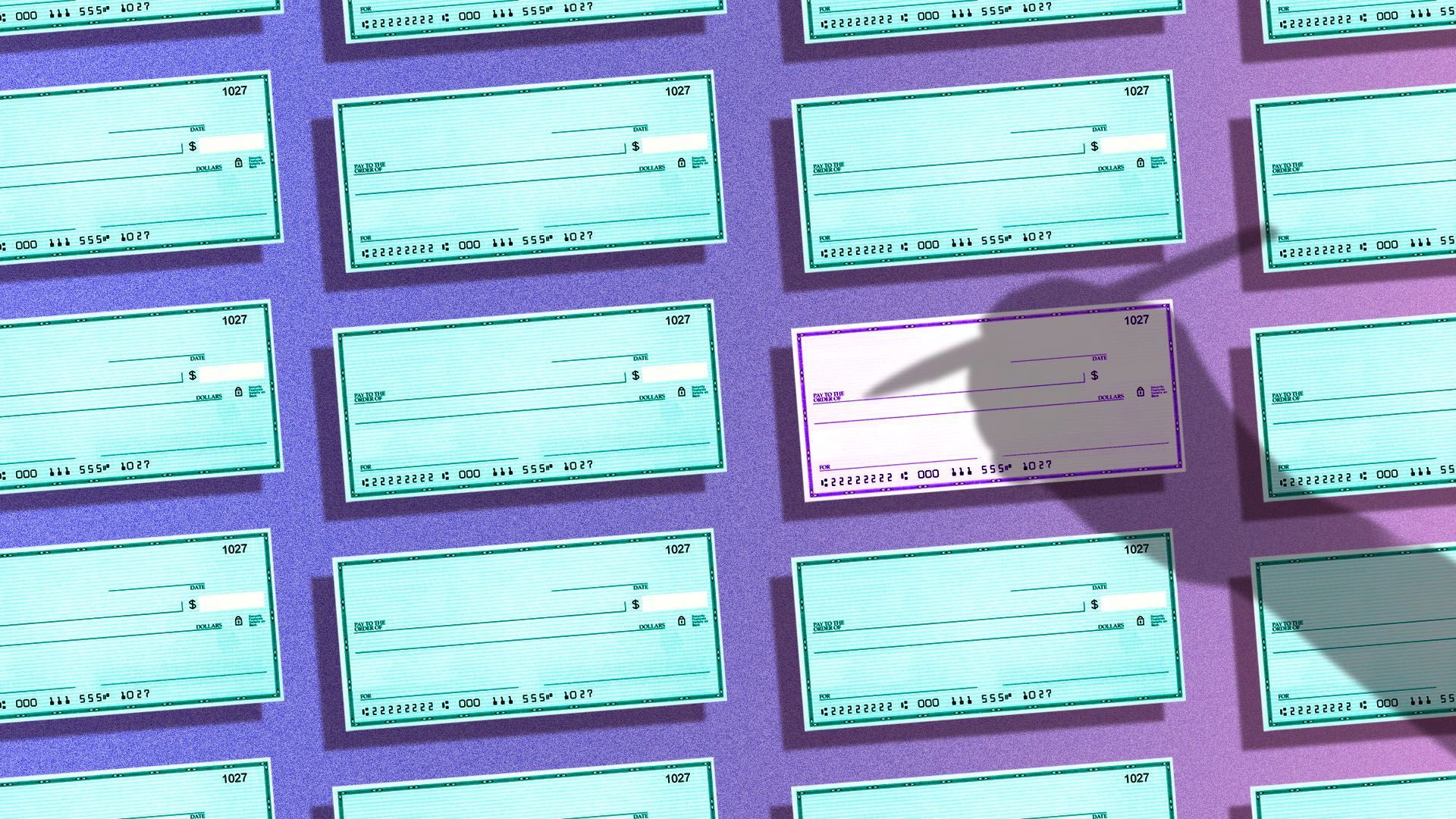 Special purpose acquisition companies, or SPACs, are all the capital market rage right now, easily outpacing traditional IPOs. But, with great volume comes great pressure.
Why it matters: SPAC structures, which had remained stable for more than a decade, are quickly changing.
Background: SPAC sponsors traditionally get two things upfront...
Around 20% of the SPAC's common stock, post-IPO, known as founder shares.
Warrants to purchase more common stock, exercisable at a fraction of a common share.
Quick take: This has obviously been a pretty sweet deal for the sponsors, assuming they eventually consummate an acquisition. Not quite money for nothing, but not too far off.
Yes, but: What's happening now is downward pressure on those terms.
Most of this has been on the warrant side, where sponsors once were able to redeem for upwards of 2/3 of a common share. Goldman Sachs, for example, recently dropped warrant coverage on a sponsored SPAC from 1/3 to 1/4, and Kevin Hartz's new SPAC began at 1/4.
Bill Ackman's recent SPAC, which raised a record $4 billion, did away the upfront founder shares concept altogether. Instead, it gets paid more like private equity carried interest, inclusive of a hurdle rate. It's hard to see too many others following him down to zero, but don't be surprised to see 20% become an artifact.
Why is this happening? Part of it is simple supply-and-demand competition, given the SPAC spike. But part of it is an influx of a new class of sponsor, including investors who view the SPAC landscape as if it were an orchard in what would later become Silicon Valley.
"I think this is a revolution, and [changing the terms] could break the backs of lots of these opportunistic carpetbaggers," Hartz says.
He adds that SPACs are "just in the top of the 1st inning," and that many well-known Silicon Valley venture firms are exploring sponsored SPACs.
Bottom line: If you don't like what you see from SPACs right now, just wait a couple months.
Also...
Google Ventures quietly laid off seven employees yesterday, representing around 8% of its staff. The affected employees were focused on "investor operations," which are some of the value-added portfolio services that GV helped to pioneer.
GV CEO David Krane tells Axios: "In this rapidly changing market, we're constantly evolving GV's operational services to best meet our portfolio's needs. Reinvesting in how we work with founders at scale is essential as we continue into the next decade."
TikTok Watch: There are multiple reports that Oracle has entered the fray, although it remains unclear if Oracle is serious or if Larry Ellison and Safra Katz are just trying to help their presidential pal exert some pressure on Microsoft.
On Friday night, CFIUS formally announced that ByteDance must divest its U.S. TikTok assets within 90 days. My understanding is that Trump's 45-day clock for an initial agreement remains, with the 90 days being the time by which the deal must close.
The BFD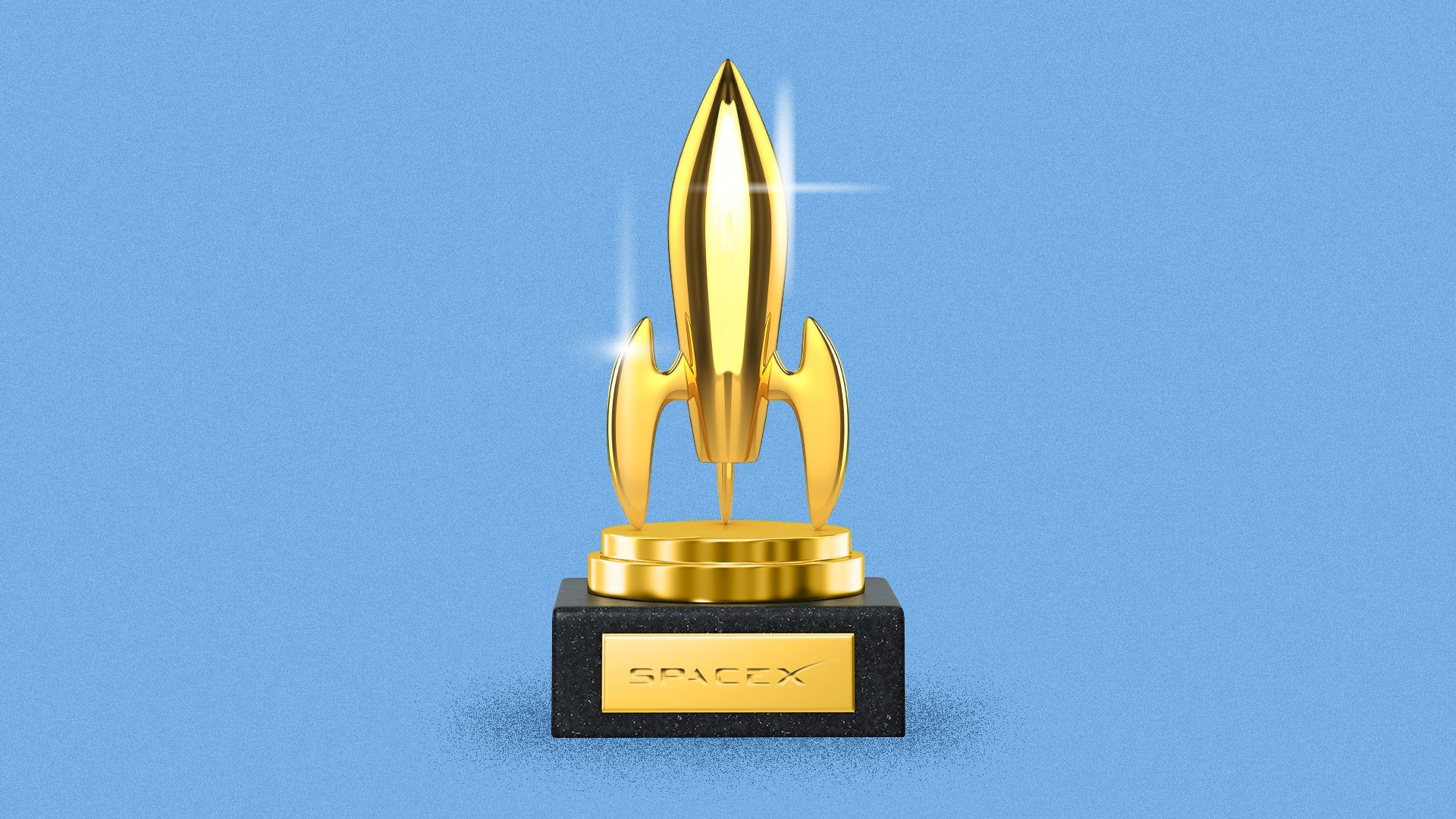 SpaceX, the aerospace company led by Elon Musk, raised $1.9 billion in new equity funding, per an SEC filing.
Why it's the BFD: This reflects the immense costs of space travel, particularly when the ultimate destination is Mars.
Details: No new investors were disclosed. Bloomberg previously reported that the round, which could still grow, would value SpaceX at around $44 billion.
The bottom line: "Instead of remaining the young upstart breaking all the rules, SpaceX is now creating the rules for the other companies involved in the industry." — Miriam Kramer, Axios Space
Venture Capital Deals
🚑 Chinook Therapeutics, a Canadian drug startup focused on kidney disease, is raising $106 million in new private funding ahead of its planned reverse merger with Aduro Biotech (Naddaq: ADRO). OrbiMed and EcoR1 Capital will be joined by return backers Versant Ventures, Apple Tree Partners and Samsara BioCapital. http://axios.link/CSVQ
• Omio (fka GoEuro), a Berlin-based travel planning platform, raised $100 million in convertible note funding from return backers Temasek, Kinnevik, Goldman Sachs, NEA, and Kleiner Perkins. http://axios.link/SCBK
• Buildkite, an Australian CI/CD platform for software developers, raised A$28 million in Series A funding. OpenView Venture Partners led, and was joined by General Catalyst. http://axios.link/eZMo
• DayDayCook, a Hong Kong-based food e-commerce startup, raised $20 million. Talis Capital led, and was joined by Ironfire Ventures. http://axios.link/uO6a
• Xos Trucks, a Los Angeles-based commercial electric trucks startup, raised $20 million from firms like Proeza Ventures and Build Capital Group. http://axios.link/SJWQ
• iKala, a Taiwanese customer acquisition and engagement platform, raised $17 million in Series B funding. Wistron Digital led, and was joined by Hotung Investment and Pacific Venture Partners. http://axios.link/wORf
• Pixxel, an India-based Earth imaging startup, raised $5 million in seed funding from Blume Ventures, Lightspeed India Partners, and GrowX Ventures. http://axios.link/CU5H
Private Equity Deals
🚑 The Blackstone Group is in pole position to buy the Japanese OTC business of Takeda Pharma (Tokyo: 4502), per Kyodo News. The deal could be worth around $2.85 billion. http://axios.link/U1OI
🚑 Centauri Health Solutions acquired the assets of HCFS, a Texas-based provider of self-pay management solutions. Scottsdale, Ariz.-based Centauri is a portfolio company of Abry Partners, Silversmith Capital Partners and SV Health Investors. www.centaurihs.com
• Fathom, a portfolio company of Core Industrial Partners, acquired GPI, a Lake Bluff, Ill.-based metal additive manufacturing services provider. www.studiofathom.com
• Goldman Sachs Merchant Banking and Everstone Group acquired a "significant stake" in Infostretch, a Santa Clara, Calif.-based provider of digital engineering services. www.infostretch.com
🚑 JD Health, a Chinese health care services platform owned by JD.com (Nasdaq: JD), raised $830 million from Hillhouse Capital. http://axios.link/DxeG
• Nautic Partners formed HES Facilities, a Knoxville, Tenn.-based provider of custodial and maintenance services to K-12 and higher ed. www.hesfacilities.com
• Serent Capital invested in Quorum, a Washington, D.C.-based public affairs software platform. www.quorum.us
• SpottedRisk, an entertainment insurance company backed by Schooner Capital, acquired Media Guarantors, a West Hollywood, Calif.-based underwriter focused on completion bonds, from Cast & Crew, a portfolio company of EQT Partners. www.spottedrisk.com
Public Offerings
🚑 Inhibrx, a La Jolla, Calif.-based developer of biologic immunotherapeutics, raised $119 million in its IPO. The company priced 7 million shares at $17 (middle of range), plans to list on the Nasdaq (INBX) and is backed by such firms as RA Capital. http://axios.link/Bu4Y
SPAC Stuff
• Foley Trasimene Acquisition II, the fourth SPAC led by Bill Foley (chairman of Fidelity National Financial), raised $1.3 billion in its upsized IPO. http://axios.link/vu7Z
• Forum Merger III, the third SPAC co-led by David Boris (MK Capital) and Marshall Kiev (Pali Capital), raised $250 million in an IPO. http://axios.link/ftOZ
• Tailwind Acquisition, a tech-focused SPAC formed by Casper CEO Philip Krim, filed for a $300 million IPO. http://axios.link/RrGf
Liquidity Events
🚑 Berkshire Partners and TPG Growth are seeking a buyer for Precision Medicine Group, a Bethesda, Md.-based pharma services company, per PE Hub. http://axios.link/ttq3
• Red Ventures, a media holding company, is in talks to buy tech media site CNET from ViacomCBS (Nasdaq: VIAC) for around $500 million, per the WSJ. http://axios.link/wPhf
• Reliance Industries bought a 60% stake in the parent company of Indian drug marketplace Netmeds, for $83.2 million. NetMeds had raised over $100 million in VC funding from firms like Tanncam Investment and Sistema Asia Fund. http://axios.link/XODz
• Take-Two Interactive (Nasdaq: TTWO) agreed to buy New York-based mobile games developer Playdots for $192 million, including $90 million in cash. Playdots had raised around $20 million from firms like Greycroft, Tencent, Slow Ventures, Northzone, and CrunchFund. http://axios.link/ElgS
More M&A
🚑 Johnson & Johnson (NYSE: JNJ) agreed to buy Momenta Pharma (Nasdaq: MNTA), a Cambridge, Mass.-based autoimmune disease specialist, for $6.5 billion in cash (70.4% premium on yesterday's closing price). http://axios.link/ZmPe
• CMC Holdings is seeking a buyer for skin care brand FANCL (Asia, ex-Japan), which could fetch $1 billion, per Reuters. http://axios.link/PeXQ
• Dufry (Swiss: DUFN) agreed to buy the 42.6% stake it doesn't already own of airport retailer Hudson (NYSE: HUD) for around $311 million. http://axios.link/zu1W
• Evertec (NYSE: EVTC), a Puerto Rico-based payments processor, saw its market cap rise to $2.4 billion on a report that it's exploring a sale process. http://axios.link/fZH8
🚑 Tahoe Investment Group of China is seeking a buyer for its U.S. health unit, called Alliance Healthcare Services, which could fetch upwards of $400 million, per Bloomberg. http://axios.link/SAVE
Fundraising
⛽ Andros, an energy-focused private equity and debt firm, raised $250 million for its debut fund. www.androscapital.com
• Hangar, a venture studio for gov-tech startups, raised $15 million. LPs include the Kresge Foundation endowment and Michael Bloomberg. http://axios.link/f15c
It's Personnel
• Kieran Doran joined Barclays as a managing director of aerospace and defense investment banking. He previously was with Rothschild & Co. www.barclays.com
• Gordon Hargraves joined Novacap as a senior partner of investor relations and strategy. He previously was a partner with PA Capital. www.novacap.ca
• Charles Pesant joined law firm Paul, Weiss as a partner in its securitization group. He previously was with White & Case. www.paulweiss.com
Final Numbers
🙏 Thanks for reading Axios Pro Rata! Please ask your friends, colleagues, and space cowboys to sign up.