Axios Pro Rata
November 29, 2022
Axios will be at the 2023 World Economic Forum in Davos, Switzerland. Want to attend one of our events? Request an invite.
Top of the Morning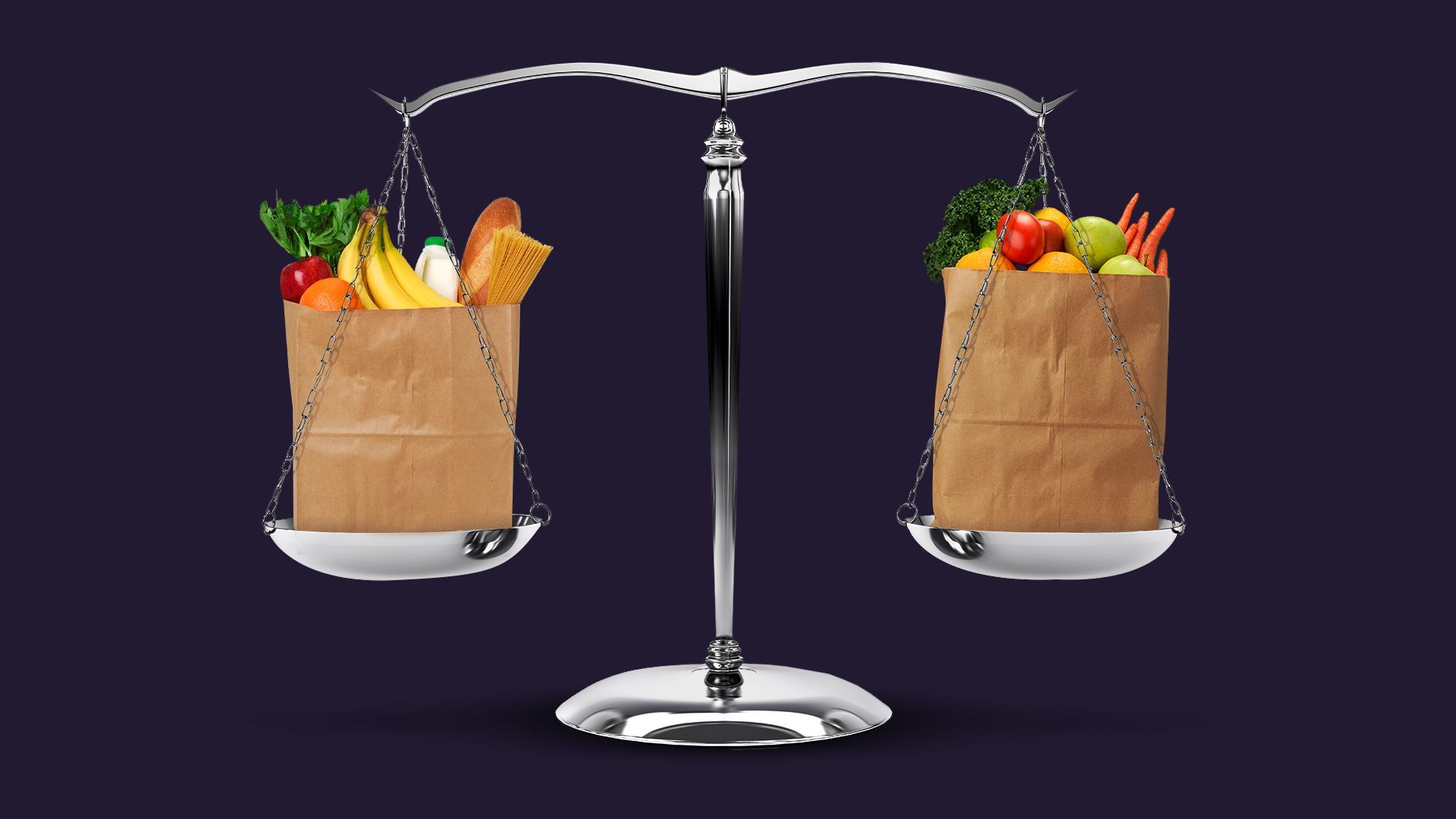 The U.S. Senate this afternoon will hold an antitrust subcommittee hearing on Kroger's proposed $24.6 billion purchase of rival Albertsons, including testimony from each company's CEO.
Why it matters: This is where Kroger and Albertsons will flesh out, and defend, their arguments in favor of a merger that could directly impact tens of millions of Americans.
The Federal Trade Commission, which is said to already have begun private conversations with Kroger, will keep a close eye on the proceedings.
It's a high wire act for the CEOs, who must persuasively parrot their antitrust attorneys' talking points without stumbling. And they're unlikely to get much breathing room from either political party, as food security is a bipartisan issue.
What to expect from the CEOs: More details on some of the top-line promises made in the original merger announcement, particularly around store closures and jobs. Plus a data-driven argument that their industry is undergoing rapid change, with independent grocers and online platforms taking increased market share.
Kroger also will emphasize that its gross margins have remained relatively stable, and narrow, despite its significant revenue ad store footprint growth.
It also may mention inbound acquisition interest for stores it plans to divest.
What to expect from Senators: Lots of questions about pricing power. If margins haven't increased as Kroger has grown, why are the companies pledging lower product prices for consumers? And won't there be an anticompetitive impact on vendors, let alone on rival grocers who can't exert the same sort of pricing leverage?
There also could be discussion of that $4 billion dividend that Albertsons is seeking to pay shareholders like Cerberus, which the companies said was related to the merger until they said it wasn't.
Other hearing witnesses will include a tech competition researcher for Consumer Reports, a University of Maryland economist and the CEO of a small Ohio grocer.
Elsewhere today, labor unions representing over 100,000 Kroger and Albertsons workers will hold a Capitol Hill press conference to detail what they describe as the merger's "devastating" consequences.
The bottom line: The fate of Kroger-Albertsons will be determined by regulators, not legislators. But today's hearing will help set the stage for those future deliberations.
The BFD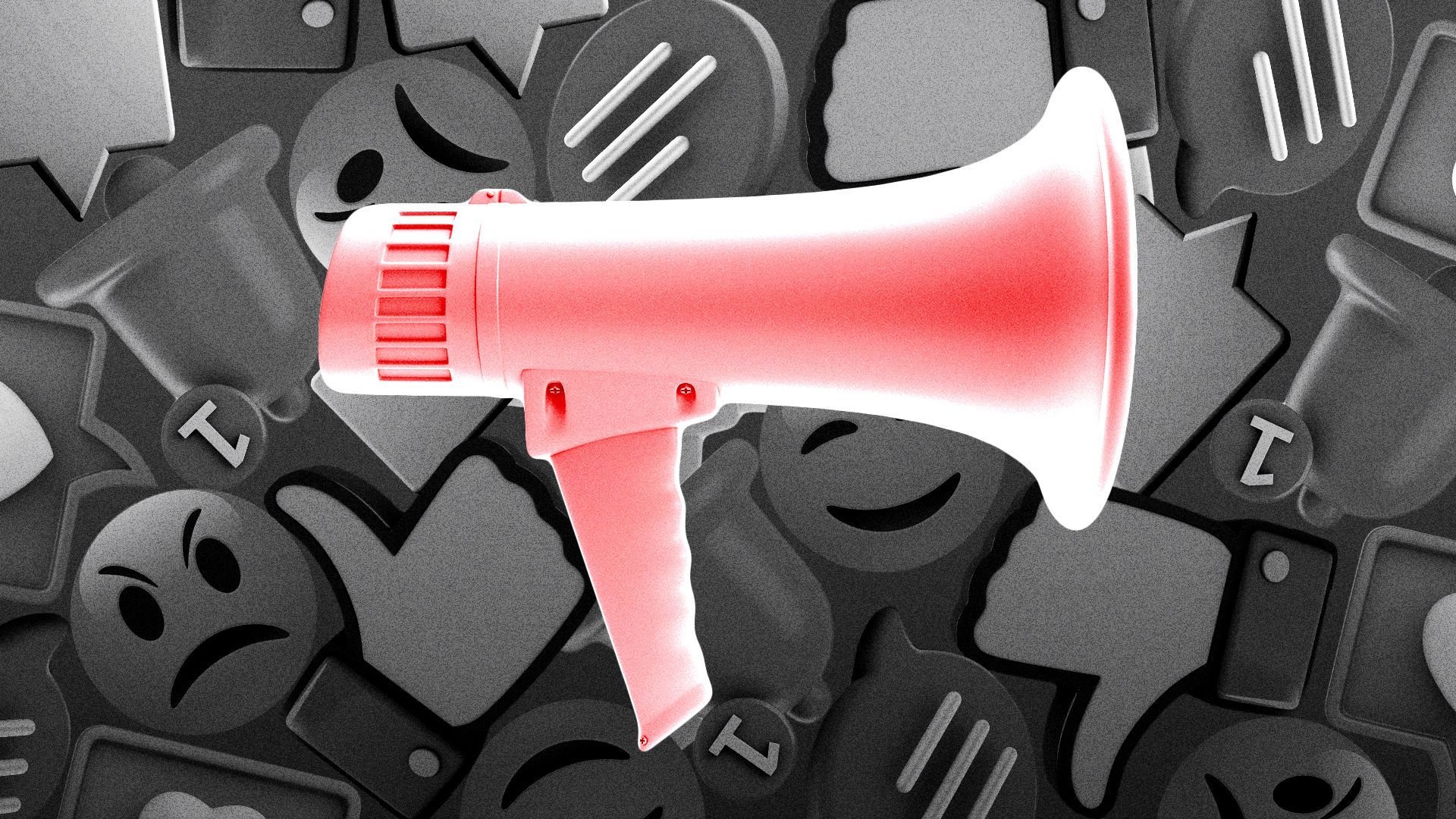 Post, a news-focused Twitter alternative founded by Noam Bardin (CEO of Waze from 2009-2021), raised an undisclosed amount of seed funding led by Andreessen Horowitz.
Why it's the BFD: Andreessen Horowitz is playing several sides of the social media maelstrom. It invested $250 million into Elon Musk's Twitter takeover and firm co-founder Marc Andreessen continues to serve on Meta's board of directors.
Word is that the Post deal was struck in late April or early May, which is the same time period during which Andreessen Horowitz began talking with Musk.
Andreessen Horowitz's bet was primarily on Bardin, who was still mulling several different ideas, although potential conflicts were cleared by Bardin, the firm's Post deal lead (Andrew Chen) and its Twitter deal lead (Marc Andreessen).
By the numbers: Post so far has approved around 65,000 users for its beta, with a 340k waitlist, and Bardin is in early talks with investors about a Series A round.
The bottom line: "Post News is trying to capitalize on the 'virtual watercooler for journalists' side of Twitter ... News publishers and independent writers are encouraged to share their articles on Post News under a paywall. The idea is that this would allow users to pay for individual articles from a variety of news sources. It's an alternative, or a supplement, to paying for individual subscriptions to specific news sources." — Amanda Silberling, TechCrunch
Venture Capital Deals
🚑 Escient Pharmaceuticals, a San Diego-based biotech focused on neurosensory-inflammatory disorders, raised $120m in Series C funding. NEA, Abingworth and Forge Life Science Partners co-led, and were joined by Avego, PFM Health Sciences, The Eleven Fund and insiders Column Group, 5AM Ventures, Redmile Group, Cowen Healthcare Investments, Sanofi Ventures, Osage University Partners and Altitude Life Science Ventures. https://axios.link/3GSN76P
• Locus Robotics, a Wilmington, Mass.-based warehouse robotics developer, raised $117m in Series F funding. Goldman Sachs, G2 Venture Partners and Slack co-led, and were joined by insider Scale Venture Partners. https://axios.link/3ile88S
🚑 Cajal Neuroscience, a Seattle-based biotech focused on neurodegenerative disease, raised $96m in Series A funding. The Column Group and Lux Capital co-led, and were joined by Two Sigma Ventures, Evotec, Bristol Myers Squibb, Alexandria Venture Investments and Dolby Family Ventures. www.cajalneuro.com
• Modern Milkman, a British sustainable grocery delivery startup, raised £50m in Series C funding. Insight Partners and ETF Partners co-led, and were joined by Praetura Ventures and Avery Dennison. https://axios.link/3u7kJq1
• Deepgram, an SF-based speech-to-text platform, raised $47m in Series B extension funding. Madrona led, and was joined by Alkeon. Insiders include Tiger Global, Wing VC, Citi Ventures, SAP.io and Nvidia. www.deepgram.com
• XanPool, a Hong Kong-based cross-border payments infrastructure startup, raised $41m at a $400m valuation from Target Global and Antler Elevate. https://axios.link/3XFnUDa
• Saltbox, an Atlanta-based coworking and warehouse space startup, raised $35m in Series B funding co-led by Cox Enterprises and Pendulum Holdings. https://axios.link/3ub6Sze
• V7 Labs, a London-based computer vision platform for AI teams, raised $33m. Radical Ventures and Temasek co-led, and were joined by insiders Air Street Capital, Amadeus Capital Partners and Partech. https://axios.link/3AVGblJ
• Zylo, an Indianapolis-based SaaS management startup, raised $31.5m in Series C funding. Baird Capital led, and was joined by Spring Lake Equity Partners and insiders Bessemer Venture Partners, Menlo Ventures and High Alpha. www.zylo.com
• Atom Bank, a British digital lender, raised £30m from BBVA, Toscafund, and Infinity Investment Partners. https://axios.link/3gGf7zZ
• Igloo, a Singapore-based consumer insurance startup, raised $27m in Series B extension funding from KfW, Women's World Banking Asset Management and insider Cathay Innovation. https://axios.link/3Vr8hNE
• GoFreight, an LA-based freight forwarding startup, raised $23m in Series A funding. Headline led, and was joined by LFX Venture Partners, Palm Drive Capital and insiders Mucker Capital, Cornerstone Ventures and Red Building Capital. https://axios.link/3EutYGZ
🚑 Nyra Medical, an Atlanta-based developer of medical devices for mitral heart valve repair, raised $20m in Series A funding. Vensana Capital and an undisclosed strategic co-led, and were joined by Broadview Ventures, Epidarex Capital and the Georgia Research Alliance Venture Fund. www.nyramed.com
• Pearpop, an LA-based creator marketing and collaboration startup, raised $18m in Series A funding at a $300m valuation from Sound Ventures, Seven Seven Six, Blockchange Ventures, Avalanche's Blizzard Fund and C2 Ventures. https://axios.link/3GZ2HOq
• Kiln, a Paris-based crypto staking startup, raised €17m. Illuminate Financial led, and was joined by Consensys, GSR, Kraken Ventures, Leadblock Partners, Sparkle Ventures, XBTO, 3KVC, Blue Yard Capital, SV Angel and Alven. www.kiln.fi
🚑 Medical Informatics, a Houston-based provider of virtual care and analytics, raised $17m in Series B funding co-led by Catalio Capital Management and Intel Capital. www.michealthcare.com
• Fizz, an SF-based social media network for college students, raised $12m in Series A funding. NEA led, and was joined by Lightspeed Venture Partners, Rocketship VC, Owl Ventures, Smash Ventures and New Horizon. www.fizzsocial.app
• Torr FoodTech, an Israeli startup that's using ultrasonic energy to "weld" snack bars together and eliminate sugar-based binders, raised $12m. Harel Insurance Investment & Financial Services led, and was joined by Mondelez International, the Kitchen Hub and Strauss Group. https://axios.link/3u7VDY6
• Ejara, a Cameroonian decentralized wallet startup, raised $8m in Series A funding. Anthemis and Dragonfly Capital co-led, and were joined by Mercy Corps Ventures, Coinshares Ventures, Lateral Capital, Circle Ventures, Moonstake, Emurgo, Hashkey Group and BPI France. https://axios.link/3ANe9ZC
🚑 Almond, an LA-based virtual and in-person reproductive health care startup, raised $7m in seed funding led by True Ventures. https://axios.link/3iayEc7
• BigSis, a British developer of chemical-free insect control products for agriculture, raised £4.5m in Series A funding led by Regenerate Ventures. https://axios.link/3FaxtTq
• Orda, a Nigerian restaurant digitization startup, raised $3.4m in seed funding. Quona Capital and FinTech Collective co-led, and were joined by LoftyInc Capital, Enza Capital, Norrsken Foundation, Outside VC and Far Out Ventures. https://axios.link/3ARGhL2
• Bright Biotech, a British cultivated meat materials developer, raised $3.2m in seed funding. Food Lab led, and was joined by Big Idea Ventures, CPT Capital and the FoodHack syndicate. https://axios.link/3Ueoogx
🚑 The Lanby, a New York-based concierge primary care startup, raised $2.7m in seed funding. Female Founders Fund led, and was joined by Launch, Goodwater Capital and Magic Fund. www.thelanby.com
• XDao, a multichain DAO builder, raised $2.3m in seed funding at a $50m valuation from DWF Labs, Telos Foundation and Grizzly Capital. https://axios.link/3u1da4p
• Upollo, an Australian trial customer conversion startup, raised US$2.75m in seed funding led by Index Ventures. www.upollo.ai
• Atoa Payments, a London-based payments startup, raised $2.2m in pre-seed funding co-led by Leo Capital and Passion Capital. https://axios.link/3Vtpd64
Private Equity Deals
🚑 Amulet Capital Partners acquired UVVC, a Tampa, Fla.-based operator of vascular care treatment centers. www.unitedveincenters.com
🚑 Audax Private Equity acquired Medi-Weightloss, a Tampa, Fla.-based operator of around 100 franchised and company owned weight-loss and wellness clinics. Buzz Franchise Brands participated as a minority co-investor. www.mediweightloss.com
⚡ Bridgepoint is in talks to buy Energy Capital Partners for around $1b, per Bloomberg. https://axios.link/3VmiF9W
🚑 Cloud 9 Software, a Roswell, Ga.-based portfolio company of Accel-KKR, acquired dental practice management platform Focus Ortho. https://axios.link/3u5lIr1
🚑 CloudWave, a Marlborough, Mass.-based health data security company backed by ABRY Partners, acquired Sensato, an Asbury Park, N.J.-based managed cybersecurity services company focused on health care providers. https://axios.link/3UaNLjb
• Concentric Equity Partners and Summer Street Capital Partners acquired Frontier Waste Solutions, a Dallas-based non-hazardous solid waste and recycling collection firm, from Blue Sage Capital. www.frontierwaste.com
• CVC Capital Partners, Shiseido (Tokyo: 4911) and L'Occitane (HK: 00973) are among the bidders for Australian skin care brand Aesop, an Australian skin care brand owned by Brazil's Natura Cosmetics, per the Mail. A deal could be worth more than £1b. https://axios.link/3gL1i3q
• EQT is in talks to buy a majority stake in Trescal, a French calibration services company, from OMERS Private Equity, per Bloomberg. https://axios.link/3gPyOp0
• Hyperion Capital Partners and Mereo Capital Partners acquired Algus Packaging, a Dekalb, Ill.-based maker of thermoformed blister and clamshell packaging, plus blister seal machines. www.algus.com
• Novvia, a portfolio company of Kelso & Co., acquired Innovative Container, a Huntington Beach, Calif.-based distributor of plastic, metal, glass and corrugated containers. www.novviagroup.com
• Oxford Global Resources, a portfolio company off H.I.G. Capital, acquired Hale International, a New York-based staffing solutions firm focused on Workday professionals. www.haleinternational.com
• PAG and Platinum Equity are among those bidding on The Learning Lab, a Singaporean tutoring chain owned by Advent International, per Reuters. A deal could fetch up to $500m. https://axios.link/3XKGvxp
• The Riverside Company acquired Italian frozen pasta maker Canuti, which it will merge with existing portfolio company Il Pastaio. www.ilpastaiodibrescia.it
• Sparus, a Peachtree Corners, Ga.-based portfolio company of Ridgemont Equity Partners, acquired United Locating Services, a Missoula, Mont.-based underground utility locating and damage prevention service provider. www.sparusholdings.com
🌎 TPG Rise Climate is investing $300m to launch Rubicon Carbon, a carbon credits business whose CEO will be Tom Montag (ex-Goldman Sachs) and whose chair will be Anne Finucane (ex-BofA), as first reported by Axios Pro. https://axios.link/3Vo48uo
Liquidity Events
🚑 Everstone Capital is seeking a buyer for Everlife Holdings, a Singapore-based health platform that could fetch over $500m, per Bloomberg. https://axios.link/3XE9xig
• LVMH (Paris: MC) acquired Italian jewelry retailer Pedemonte Group from Equinox III SLP SIF. https://axios.link/3VsOdKA
⚡ Shell (NYSE: SHEL) agreed to buy Danish biogas producer Nature Energy for nearly $2b from Pioneer Point Partners, Davidson Kempner and Sampension. BFD flashback.
More M&A
• Royal Bank of Canada (TSE: RY) agreed to buy the Canadian banking business of HSBC (NYSE: HSBC) for C$13.5b in cash. The deal would include 130 branches and more than 780,000 retail and commercial customers. https://axios.link/3ik3u2b
• Boohoo (LSE: BOOH) increased its stake in British cosmetics group Revolution Beauty (LSE: REVB) to around 26%. https://axios.link/3AS4otc
🚑 Shanghai Fosun Pharmaceutical Group is considering a sale process for listed Indian drugmaker Gland Pharma, which has around a $3.6b market cap, per Bloomberg. https://axios.link/3ViqsoZ
It's Personnel
• Vicki Peng stepped down as a principal with Omega Venture Partners, which she joined in 2020. No word yet on future plans.
• Shawn Wooden will join Apollo Global Management as a partner and chief public pension strategist, effective in January when his term as Connecticut State Treasurer ends.
Final Numbers: Global M&A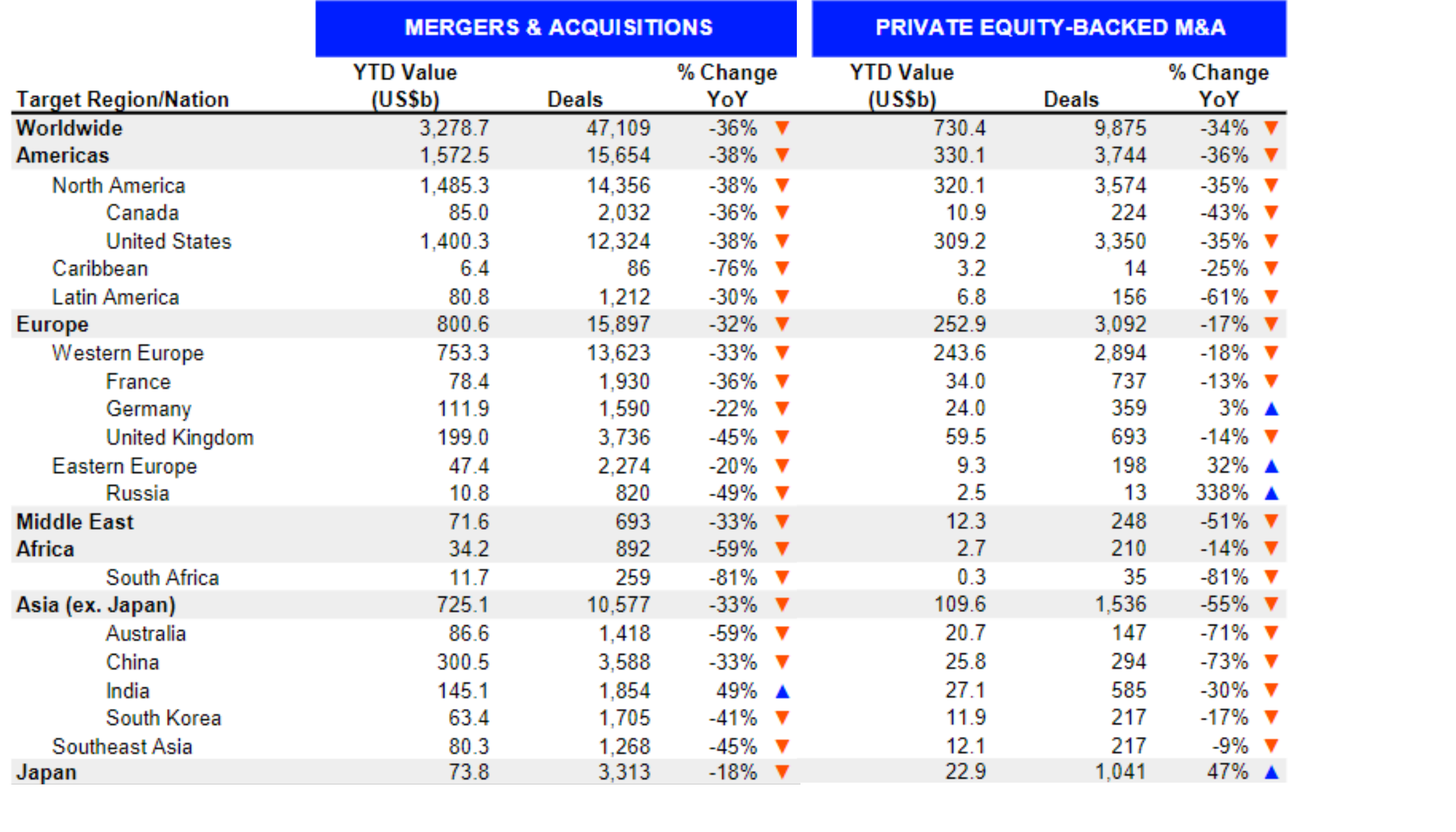 ✔️ Thanks for reading Axios Pro Rata, and to copy editors Mickey Meece and Nick Aspinwall! Please ask your friends, colleagues and social media power users to sign up.