Axios Pro Rata
February 24, 2022
In light of the dramatic turn of events between Russia and Ukraine, we're taking a look at the implications in today's edition.
Reminder: Feel free to send me tips or comments by replying to this email or on Twitter @imkialikethecar.
📺 Note: Join Axios' Erica Pandey today at 12:30pm ET for a virtual event on the future of the workforce for the next generation. Guests include Chipotle chief diversity, inclusion and people officer Marissa Andrada and LinkedIn chief economist Karin Kimbrough. Register here.
Top of the Morning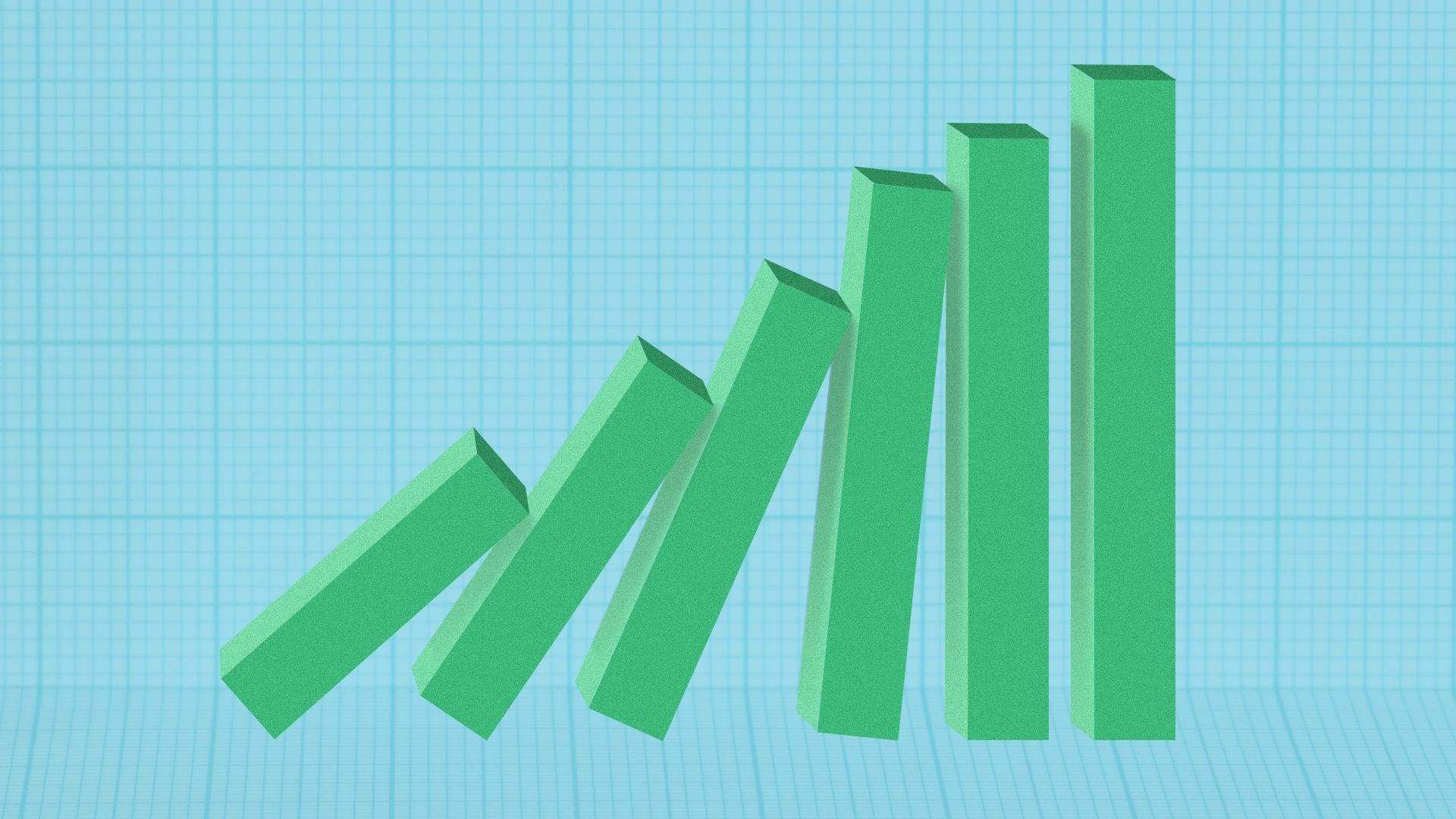 Last night, Russian President Vladimir Putin announced a "special military operation" in Ukraine during a speech. Since then, attacks have killed dozens of Ukrainian soldiers and a few civilians.
Why it matters: Putin effectively declared war on Ukraine, despite specifying that he wants to "demilitarize" the country without occupying it.
He also warned the rest of the world not to interfere, or it "will face consequences greater than any you have faced in history."
So for Ukrainians (and the rest of the world), today is not business as usual at all.
Market reactions: Even before last night's events, markets had been shifting in anticipating of escalating conflict.
The ruble is down, even more since last night's attacks, Russian stocks took a dive as investors braced for even more sanctions, and Moscow's stock exchange suspended trading. European banks with Russian operations also took a hit as the market opened.
Energy prices soared this morning, especially driven by concerns that sanctions would constrain the supply of oil and gas from Russia.
Bitcoin and ether are down, with more than $150 billion wiped out of the cryptocurrency market in the last 24 hours. (Actual gold, meanwhile, is up.)
Economic sanctions: The U.S., as well as the U.K., EU and other countries imposed economic sanctions throughout the week on certain Russian banks and individuals.
Germany halted certification for the Nord Stream 2 pipeline, operated by the Russian state-owned Gazprom.
President Biden warned that the administration is prepared to ratchet up the sanctions, including on Russia's biggest banks, like SberBank and VTB, which collectively hold almost $750 billion in assets, more than half of Russia's total.
Other potential sanctions like export controls are on the table, though U.S. and European leaders also seem hesitant to impose the harshest restrictions like banning Russia from payments system SWIFT.
Private markets: There could be impacts both on Russia's and Ukraine's private capital, as investors monitor the situation.
Disinformation: Experts predicts disinformation campaigns will proliferate right now as part of Russia's warfare.
Social media companies like Facebook and Twitter will be on high alert, and under tons of scrutiny for how they handle this.
The bottom line: Brace yourselves.
The BFD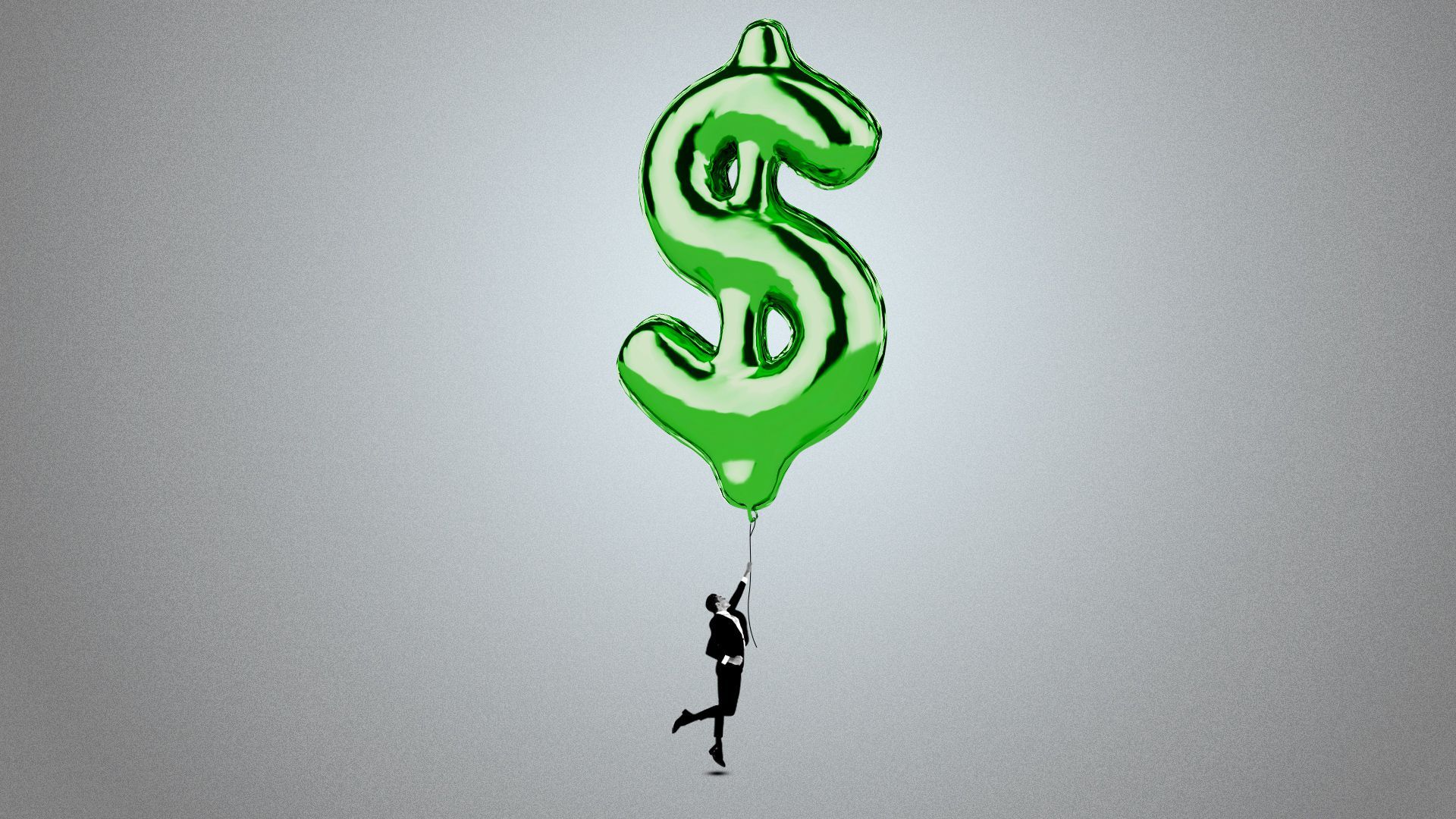 Insight Partners, a New York-based tech-focused venture capital and private equity firm, raised $20 billion for its largest flagship fund yet.
Why it's the BFD: The new fund from Insight, one of the most active venture investors last year, adds to the flood of capital pouring into private companies, but comes at a time when public market investors are souring on growth stocks, writes Lucinda Shen in Axios Pro.
Details: The firm completed more Series A and buyout deals last year than pre-IPO rounds, says managing partner Deven Parekh — meaning its portfolio so far has been largely insulated from the public market selloff.
Insight is looking at public companies in the fintech and software space that are feeling the brunt of the market's volatility, though executives and founders are still hesitant to sell.
The bottom line: "Insight isn't calling this moment the market's top, but it is insuring itself against a long-term selloff. And in either scenario, it has one of the largest funds out there to deploy." — Lucinda Shen, Axios
Venture Capital Deals
• BlueVoyant, a New York-based cybersecurity company, raised $250m in Series D funding led by Liberty Strategic Capital. http://axios.link/XUFD
• Gousto, a U.K.-based meal-kit company, raised $230m in new funding led by SoftBank Vision Fund 2. http://axios.link/RP8a
• RightHand Robotics, a Boston-based maker of warehouse picking robots, raised $66m in Series C funding led by Safar Partners, Thomas H. Lee Partners, and SoftBank Vision Fund 2, with Zebra Technologies, Epson Global Brain GV, F-Prime Capital, Menlo Ventures, Matrix Partners and Future Shape also participating. www.righthandrobotics.com
• Red Sift, a U.K.-based email security company, raised $54m in Series B investment led by Highland Europe. www.redsift.com
• AnyRoad, a San Francisco-based customer experience management startup, raised $47m in Series B funding led by BlackRock, with Andreessen Horowitz, Runa Capital, Kaiser Permanente, Rally Ventures, Precursor Ventures and Day One Ventures, Commonfund and Corner Ventures also participating. www.anyroad.com
• GLO Pharma, a New York-based beauty biotech startup, raised $30m in funding from Lightspeed Venture Partners, First Round Capital, and the company's founder and chairman, Scott Glenn.http://axios.link/Ocga
• RIOS Intelligent Machines, a Menlo Park, Calif.-based developer of assembly line robots, raised $28m in Series A equity and debt led by Main Sequence, with Yamaha Motor Ventures, Orbit Venture Partners, Hypertherm Ventures, and others also participating. http://axios.link/Twnb
• RouteThis, a Canada-based provider of in-home WiFi support, raised $25m in Series A funding led by Inovia Capital, with Intel Capital, Round13, Garage Capital and Ken Miller Capital also participating. www.routethis.com
• CoProcure, a San Francisco-based marketplace for government contracts, raised $22m in Series A funding led by Forerunner Ventures, with Leadout Capital, Neo, Marco Zappacosta, Katrina Lake and Dan Lewis also participating. http://axios.link/o8Zp
🚙 Nirvana Insurance, a San Francisco-based commercial fleet insurance company, raised $22m in Series A funding led by Lightspeed Venture Partners, with General Catalyst, Elad Gil, Fidji Simo, Sam Hodges, Spike Lipkin and others also participating. www.nirvanatech.com
• Vymo, a San Francisco-based maker of sales engagement tools, raised $22m in Series C funding from Bertelsmann Investments, Emergence Capital and Sequoia Capital. http://axios.link/rObB
• Foxbit, a Brazil-based exchange, raised $21m in Series A funding led by OK Group. http://axios.link/7QX6
• OpenComp, a San Francisco-based provider of compensation data, raised $20m in Series A funding led by K5 Global and J.P. Morgan, with TIME Ventures, 8VC, Circle Ventures and Mantis Ventures also participating. www.opencomp.com
• Depict.ai, a Sweden-based maker of recommendation tools for e-commerce, raised $17m in Series A funding led by Tiger Global, with Initialized Capital, EQT Ventures, Y Combinator and angels also participating.
⛽️ Living Carbon, a San Francisco-based startup developing fast-growing trees for decarbonization, raised $15m in funding from Aydin Senkut, Lowercarbon Capital, Goat Capital, Prelude Ventures, Floodgate, MCJ Collective, Homebrew Ventures, EQT Foundation, and others. www.livingcarbon.com
• WorkWhile, a San Francisco-based maker of worker shift management software, raised $13m in Series A funding led by Reach Capital, with Khosla Ventures, F7 Ventures, Chamaeleon, Position Ventures, and Gaingels, and others also participating. www.workwhilejobs.com
• Emi, a San Francisco-based maker of automated hiring tools for frontline workers, raised $11m in Series A funding led by Merus Capital and Khosla Ventures, with Flexport Ventures and others also participating. www.emilabs.ai
• Chronicled, a San Francisco-based provider of transaction settlements via blockchains, raised $8.3m in funding from True Global Ventures. www.chronicled.com
• Catalog, a cross-blockchain decentralized exchange, raised $7.5m in seed funding from Amber Group, Multicoin Capital, Alameda Research and others. www.catalog.fi
• Teller, a San Francisco-based decentralized protocol, raised $6.85m in new funding from Blockchain Capital, Franklin Templeton, Toyota Ventures, Bessemer Venture Partners, Upstart, Signum Capital and angels. www.teller.finance
• Signadot, a San Mateo, Calif.-based maker of Kubernetes-focused tools, raised $4m in seed funding led by Redpoint Ventures, with Y Combinator, Adam Gross, Jason Warner, John Kodumal, Timothy Chen, Chris Golda and others also participating. www.signadot.com
Editor's note: This story has been corrected to note that Vymo is based in San Francisco (not in New York).
​​
Private Equity Deals
• TELEO Capital Management acquired Western Principles Consulting, a Canada-based project portfolio management consulting firm, to merge it with UMT360. www.westernprinciples.com
🚙 Greenbriar Equity Group acquired a majority stake in JEGS Automotive, a Delaware, Ohio-based online national retailer and distributor of high-performance aftermarket auto parts and accessories. https://www.jegs.com/
Public Offerings
• Hanover Bancorp, a Mineola, N.Y.-based community bank with seven branches in New York City and western Long Island, filed to raise up to $35 million in an IPO.http://axios.link/zjPL
⛽️ FlexEnergy Green Solutions, a Portsmouth, N.H.-based maker of turbine systems and heat exchangers, withdrew its plans for an IPO. http://axios.link/ezi5
SPAC Stuff
⛽️ Clean Earth Acquisitions, a blank check company targeting the clean and renewable energy industry, raised $200 million by offering 20 million units at $10. http://axios.link/xqBm
• Jaws Wildcat Acquisition, the fifth blank check company led by Starwood Capital founder Barry Sternlicht, withdrew its plans for an IPO. http://axios.link/dxK9
Liquidity Events
• Cloudflare agreed to acquire Area 1 Security, a Redwood City, Calif.-based email security company, for about $126m mostly in cash. http://axios.link/fu3a
• Haivision Systems agreed to acquire AVIWEST, a France-based provider of IP-based mobile video contribution systems, for about €20.5m. www.aviwest.com
More M&A
• Vendr acquired Blissfully, a New York-based maker of supplier management software. www.blissfully.com
• Clutter acquired Makespace, a New York-based storage company. www.clutter.com
Fundraising
• ​​Lavrock, a McLean, Va.-based early-stage VC fund focused on enterprise and deep tech, raised $83m for its second fund. www.lavrockvc.com
• Camber Creek, a Washington, D.C.-based real estate tech VC firm, raised $325m for its fourth fund. http://axios.link/GjoQ
• Prime Venture Partners, an India-based early-stage VC fund, raised $120m for its fourth fund. www.primevp.in
⛽️ Aspen Power Partners, a Dallas-based financing firm for small scale solar projects, raised $120m in new capital, the firm tells Axios' Alan Neuhauser. http://axios.link/LXel
It's Personnel
• Elsewhere Partners, an Austin-based growth-stage VC firm, has hired Meaghan Mahoney and Cody Younkin as associates. www.elsewhere.partners
• Triago has added Theresa Whitmarsh, Pierre Sauvagnat, Roger Gray and Dave Brown to its advisory board. www.triago.com
• The Rohatyn Group, a New York-based asset management firm, hired Doug Meyer as executive committee partner and head of business development. He was previously head of global institutional distribution at First Eagle Investments. www.rohatyngroup.com
Final Numbers
State of play: Russian forces crossed the Ukrainian border by land, air and sea from Russia, Belarus and Crimea and launched a ground offensive in the eastern part of Ukraine.
🙏 Thanks for reading Axios Pro Rata! Please ask your friends, colleagues and neighbors to sign up.