Welcome to the one-year anniversary issue of Pro Rata. It's kind of like the original issue of Pro Rata, except I'm more tired. Big thanks for reading and, as always, please send feedback (or scoop) to dan@axios.com. Okay, here we go...
https://www.axios.com/newsletters/axios-pro-rata-d022ead4-a205-4b67-96cb-a8479f70067c.html?chunk=0#story0
Top of the Morning
AllScripts yesterday said that it will pay $100 million in cash to acquire Practice Fusion, an early electronic health records company that raised over $200 million in VC funding (including at a $700m post-money in 2014).
Key here may have been a settlement last May between Practice Fusion rival eClinicalWorks and the State of Vermont, whereby eClinicalWorks paid $155 million for allegedly misrepresenting the capabilities of its software and paying kickbacks to certain customers in exchange for product promotion. AllScripts notes in an SEC filing that Practice Fusion last March "received a request for documents and information from the U.S. Attorney's Office for the District of Vermont pursuant to a civil investigative demand."
But Practice Fusion was having unrelated troubles beforehand, having booted its founding CEO in mid-2015 and focusing on SMB customers that kept getting scooped up by larger systems that didn't integrate with Practice Fusion (i.e., they sold to the least sticky customers).
• Can you spare a dime? Jeff Bezos is now the richest person in history, with personal wealth topping $105 billion. Axios also has learned that his Washington Post was profitable in 2017, per an internal memo.
• Schwarzman bait: Goldman Sachs just added KKR to its "conviction buy list," sending the firm's shares up more than 3% in early Tuesday trading.
• Crickets: Intel still hasn't provided an explanation for why CEO Brian Krzanich sold nearly $40 million worth of stock and options last November, months after he learned of a critical security flaw in Intel chips and months before that flaw was publicly disclosed. Here's a quick refresher.
Krzanich discussed the security hole during a keynote speech yesterday at CES, but obviously didn't make mention of his personal windfall.
More from CES: Peloton, the "unicorn" maker of those connected at-home spin bikes, today unveiled a treadmill product. I'm already hearing IPO bankers speculate about a late-year offering for the company, which generated nearly $400 million in 2017 revenue (up from $170m in 2016).
• Trumpland: Mike Allen reports that the White House has "cooled" on getting welfare reform done in 2018, taking its cue from Mitch McConnell. Remember that the Treasury Dept claimed the tax plan wouldn't pay for itself without passage of both welfare and infrastructure plans.
More from Jonathan Swan: "Republicans now mostly agree that major entitlement reform won't happen this year but they're determined to push for work requirements for welfare recipients."
• Stop it: No, ICOs are not replacements for IPOs.
• Investment thesis: Axios' Sara Fischer digs into why Chinese Internet giants like Tencent, Alibaba and Baidu have been ramping up investment in U.S. tech and media companies:
There's a misconception that the Chinese push into the Western media tech market is to target new American users or to compete directly with U.S. tech companies. In reality, they're looking to expand their Chinese user base abroad and make money from Chinese expats who would rather use their own social, messaging, and commerce apps in the U.S.
https://www.axios.com/newsletters/axios-pro-rata-d022ead4-a205-4b67-96cb-a8479f70067c.html?chunk=1#story1
The BFD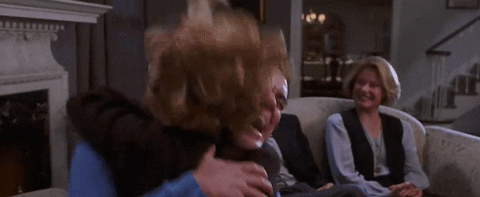 Altice NV (Amsterdam: ATC) plans to spin-off its U.S. unit, which owns both Cablevision and Suddenlink, saying it will distribute its 67% stake to Altice USA (NYSE: ATUS) shareholders by the end of Q2. Prior to the divestiture, Altice USA will pay a $1.5 billion dividend to its (about to be former) parent company.
Why it's the BFD: Because Altice USA went public last summer, largely to give it a public currency to make acquisitions. But those ambitions have been slowed by its parent's balance sheet brambles, and today's move could finally clear its path.
Bottom line: "The split lets Altice USA continue on its expansion path unfettered by its parent company's struggles in Europe, where [founder Patrick] Drahi is seeking to appease investors worried about group debt that tops $50 billion. The billionaire has indicated he'd like to participate in consolidation in the U.S. pay-TV market and perhaps enter the wireless business there." — Bloomberg
https://www.axios.com/newsletters/axios-pro-rata-d022ead4-a205-4b67-96cb-a8479f70067c.html?chunk=2#story2
Venture Capital Deals
• Alkami, a Plano, Texas-based white-label service for power mobile services for banks and credit unions, has raised $70 million in Series D funding. General Atlantic led, and was joined by return backers S3 Ventures and Argonaut Private Equity. http://axios.link/kPYC
• Collibra, a New York-based provider of data governance software for business users, has raised $58 million in Series D funding. Iconiq Capital and Battery Ventures co-led, and were joined by return backers Dawn Capital, Index Ventures and Newion Investments. http://axios.link/DXR6
🚑 Neurogastrx, a Campbell, Calif.-based developer of treatments for gastrointestinal diseases by targeting the enteric nervous system, has raised $45 million in Series A funding from 5AM Ventures, OrbiMed and VenBio Partners. http://axios.link/rYfc
• Canva, an Australian graphic design-as-a-service company, has raised US$40 million in new VC funding at a $1 billion valuation. Sequoia China led, and was joined by return backers Blackbird Ventures and Felicis Ventures. http://axios.link/mGNo
🚑 Cityblock, an urban healthcare services startup focused on low-income patients, has raised $22 million in new funding. Maverick Ventures led, and was joined by Thrive Capital and former parent Sidewalk Labs. http://axios.link/hlWd
• ElliQ, an Israeli maker of social robots for older adults, has raised $20 million in Series A funding from Samsung NEXT, SPARX Group and Glory Ventures, Toyota AI Ventures, iRobot and Bloomberg Beta. http://axios.link/n0Ue
• Red Points, a Barcelona-based provider of SaaS for IP infringement detection and removal, has raised $12 million in Series B funding. Northzone led, and was joined by Mangove Capital Partners and Sabadell Venture Capital. http://axios.link/a7eE
• Inocucor, a Denver-based developer of biological crop inputs, has raised $9.5 million in new Series B funding (bringing round total to $38.5m). Pontifax AgTech led the extension, and was joined by return backers Cycle Capital Management, Desjardins Innovatech and Cairn Investments. www.inocucor.com
• FinMkt, a New York-based provider of online marketplace solutions for financial services, has raised $5 million in VC funding. ManchesterStory Group led, and was joined by Perot Jain LP and Vectr Ventures. www.finmkt.io
• eFounders, a French developer of an "SaaS universal admin interface," has raised €3 million co-led by Connect Ventures and Xavier Niel.
• Citiesocial, a Taipei-based provider of consulting for young brands seeking to break into Asian e-commerce, has raised $2.75 million in new VC funding. Alibaba Taiwan Entrepreneurs Fund led, and was joined by CDIB Capital and return backer Cherubic Ventures. http://axios.link/JJVy
• Voatz, a Boston-based mobile platform for election voting and citizen engagement, has raised over $2.2 million in seed funding. Medici Ventures led, and was joined by Urban Innovation Fund and Oakhouse Partners. www.voatz.com
• Wonderschool, a New York-based network on in-home daycares and preschools, has raised $2.1 million in new VC funding from Omidyar Network, Be Curious Partners, Rethink Education, Edelweiss Partners and Learn Capital. http://axios.link/gskW
https://www.axios.com/newsletters/axios-pro-rata-d022ead4-a205-4b67-96cb-a8479f70067c.html?chunk=3#story3
Private Equity Deals
🚑 The Carlyle Group and Level Equity have completed their purchase of NetHealth, a Pittsburgh-based provider of software for healthcare professionals, from Spectrum Equity. www.nethealth.com
🍰 Dessert Holdings, a St. Paul, Minn.-based portfolio company of Gryphon Partners, has acquired frozen food company Atlanta Cheesecake Co. www.atlantacheesecakeco.com
• Family RV Group, a Cincinatti-based RV retailer owned by Kidd & Co., has acquired Dunlap RV Centers, an RV dealer with four locations in Kentucky, Tennessee and Georgia. www.familyrvgroup.com
• GAL Manufacturing, a Bronx-based elevator parts maker owned by Golden Gate Capital, has acquired Courion, a St. Louis-based provider of door systems for freight elevators. www.gal.com
• Grey Mountain Partners has agreed to acquire CHEP Recycled, an Orlando, Fla.-based recycled wood pallets business, from Australia's Brambles (ASX: BXB) for US$115 million. http://axios.link/vW6D
• HgCapital has invested in MeinAuto, an online new car sales platform in Germany. www.meinauto.de
• Incline Equity Partners has acquired P.T. International, a Charlotte-based supplier of mechanical power transmission products and replacement parts, from Tonka Bay Equity Partners. www.ptintl.com
• Midwest Wholesale Hardware, a Kansas City-based portfolio company of High Roads Capital Partners, has acquired the assets of Strauss Lock Distributors, a Des Moines, Iowa-based wholesale distributor of residential door hardware and security products. www.midwestwholesale.com
• Oak Hill Capital Partners has agreed to acquire Safe Fleet, a Belton, Mo.-based provider of safety and productivity solutions for fleet vehicles, from The Sterling Group. www.safefleet.net
• ProAmpac, a Cincinnati-based packaging company owned by Pritzker Group Private Capital, has acquired Portland, Ore.-based Bonita Pioneer Packaging Products. www.bonitapioneer.com
• Rhône Capital has bid to acquire Nestle's U.S. confectionary business, putting it in competition with Italy's Ferrero Group and The Hershey Co., according to the FT. http://axios.link/3iIr
• Starr Investment Holdings has agreed to acquire ACA Compliance Group, a New York-based provider of risk management technology to the financial services industry, from New Mountain Capital.
www.acacompliancegroup.com
https://www.axios.com/newsletters/axios-pro-rata-d022ead4-a205-4b67-96cb-a8479f70067c.html?chunk=4#story4
Public Offerings
• Alibaba Group will "seriously consider" listing in Hong Kong, which is preparing to permit dual-class stock listings, according to Alibaba's Jack Ma. http://axios.link/8240
• Aston Martin plans to seek a valuation of around £5 billion in an upcoming IPO, per Bloomberg.
• Bioceres, an Argentine developer of crop productivity traits for genetically-modified seeds, has filed for a $100 million IPO. It plans to trade on the NYSE under ticker BIOX, with Jefferies serving as lead underwriter. The company had previously filed for an IPO in 2015, but later pulled the registration.
🚑 Dermapharm, a German non-prescription drugmaker, is prepping a Frankfurt IPO for March that could value the company north of €1 billion, per Reuters. http://axios.link/dauo
https://www.axios.com/newsletters/axios-pro-rata-d022ead4-a205-4b67-96cb-a8479f70067c.html?chunk=5#story5
Liquidity Events
• Monomoy Capital Partners has sold Katun, a Minneapolis-based maker of printer and copier parts, to General Plastic Industrial (Taiwan: 6128). http://axios.link/7bs5
• Salesforce (NYSE: CRM) has acquired Attic Labs, creator of the Noms open-source decentralized database. San Francisco-based Attic Labs had raised an $8.15 million Series A round in mid-2016, led by Greylock. http://axios.link/Ev1z
https://www.axios.com/newsletters/axios-pro-rata-d022ead4-a205-4b67-96cb-a8479f70067c.html?chunk=6#story6
More M&A
⛽ E.ON has agreed to sell its remaining 46.65% stake in listed German power company Uniper to Finland's Fortum for around $4.5 billion. http://axios.link/Z56e
• GoPro (Nasdaq: GPRO) has hired J.P. Morgan to explore a possible sale, following disappointing holiday sales and a decision to shutter the company's drone division. http://axios.link/UmpO
• Ring, a Santa Monica, Calif.-based based maker of connected video doorbells, has acquired Mr. Beams, a Mayfield, Ohio-based maker of connected and motion-sensing LED lighting devices. Ring has raised over $200 million in VC funding. http://axios.link/KrRM
• Spartoo, a French shoe and fashion e-commerce company, has agreed to acquire rival shoe brand Andre from Vivarte, according to Reuters. Spartoo has raised over $55 million in VC funding from firms like Sofina, A Plus Finance, CM-Cic Capital Prive, Highland Capital Partners and Endeavour Vision. http://axios.link/JkLl
https://www.axios.com/newsletters/axios-pro-rata-d022ead4-a205-4b67-96cb-a8479f70067c.html?chunk=7#story7
Fundraising
🚑 Alexandria Venture Investments, the VC unit of Alexandria Real Estate Equities (NYSE: ARE), has launched a life sciences-focused seed investing platform. www.are.com
• KKR has closed its second private credit fund with $2.24 billion in capital commitments. www.kkr.com
• MathCapital has been launched as an early-stage VC firm focused on marketing and ad-tech startups. Its principals are Joe Zawadzki (founder and CEO of MediaMath) and Eric Franchi (co-founder of Undertone). www.mathcapital.ventures
• Morgan Stanley has held a $425 million first close for its first stand-alone private equity co-investment fund.
• Neo, a new venture platform led by Ali Partovi, has raised $37 million for its debut fund, per Backchannel.
• Signia Venture Partners is raising up to $100 million for its third fund, per an SEC filing. www.signiaventurepartners.com
• Sonoma Brands has closed its second consumer brand-focused growth equity fund with $60 million. www.sonomabrands.com
https://www.axios.com/newsletters/axios-pro-rata-d022ead4-a205-4b67-96cb-a8479f70067c.html?chunk=8#story8
It's Personnel
• Goldman Sachs named David Friedland as global head of financial and strategic investor M&A. He succeeds Stephanie Cohen, who was named chief strategy officer last November. http://axios.link/D1My
• Campbell MacColl has joined buyout firm Harvest Partners as a partner focused on business development and investor relations. He previously was a managing director in Credit Suisse's private funds group. www.harvestpartners.com
• Lynette Vanderwarker has joined Angel Island Capital, a credit manager affiliated with Golden Gate Capital, as chief strategy officer. She previously was a managing director with KKR. www.aicap.com
• Teddie Wardi has joined Insight Venture Partners as a New York-based principal. He previously was a partner with Atomico. www.insightvp.com
https://www.axios.com/newsletters/axios-pro-rata-d022ead4-a205-4b67-96cb-a8479f70067c.html?chunk=9#story9
Final Numbers: U.S. Venture Capital Activity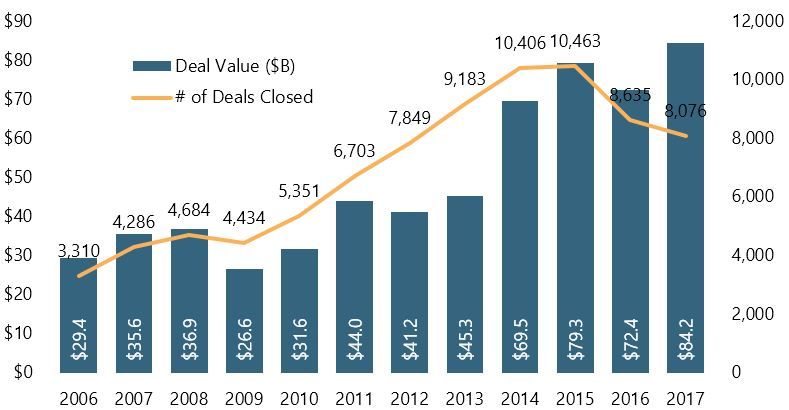 Source: PitchBook-NVCA Venture Monitor