Axios Pro Rata
September 26, 2022
🌎 You're invited: Please join Axios Pro Climate Tech reporter Alan Neuhauser tomorrow at 12:30pm ET for a conversation with Jigar Shah, director of the U.S. Department of Energy Loan Programs Office.
Top of the Morning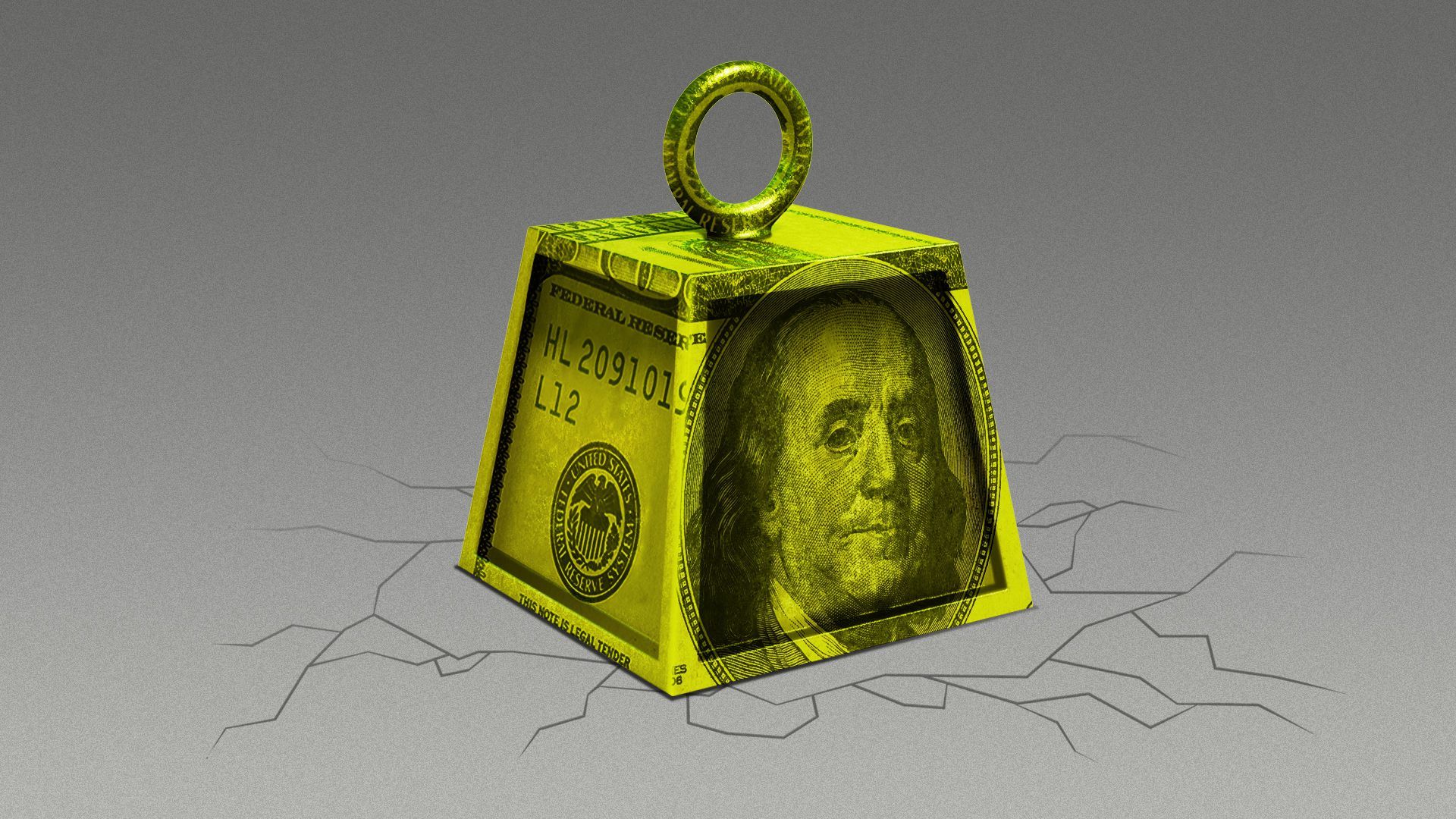 Private equity anxiety is peaking over a debt ceiling that has nothing to do with Congress and everything to do with Citrix.
Driving the news: Banks last week lost between $600 million and $700 million, after they were forced to discount junk bonds tied to the $16.5 billion acquisition of Citrix by Elliott Management and Vista Equity Partners.
And that doesn't account for the $6 billion+ of debt that the banks were unable to sell, even after Elliott itself helped plug part of the demand hole with a $1 billion bond purchase.
In short, prospective buyers fear that rising rates will vacuum up Citrix's cash flow.
The big picture: Corporate acquirers already were struggling to get Wall Street underwriting for leveraged buyouts, particularly the larger ones that are beyond the reach of most private credit funds. Now, the situation is deteriorating even further.
Citrix is an outlier in terms of size, as it's the year's largest corporate junk bond issue, but banks have plenty of other outstanding LBO loans on their books.
Examples include Lumen Technologies (ILEC assets), Nielsen, Tegna, Tenneco and (in theory) Twitter.
Some of those debt packages may prove easier to sell than was Citrix, but there are no guarantees, and banks are unlikely to keep diving when they're worried about being pushed further underwater.
The bottom line: Private equity is sitting on record amounts of dry powder, at a time when stock market declines have created new acquisition targets. But there's no LBO party if Wall Street won't RSVP.
The BFD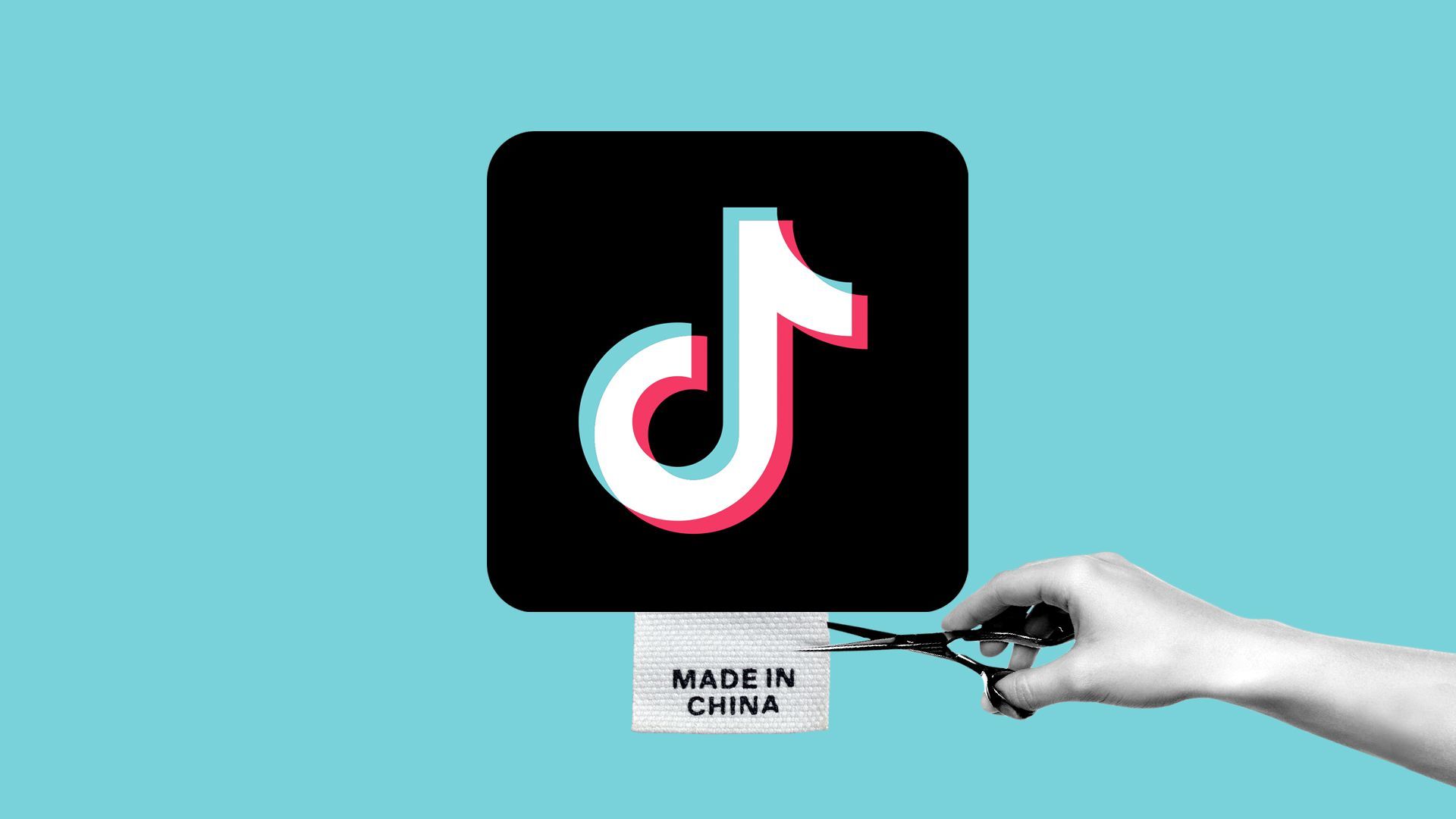 The Biden administration and TikTok have "drafted a preliminary agreement" that would let the app keep operating in the U.S., without requiring China's ByteDance to divest, per the New York Times.
Why it's the BFD: We're now more than two years into the CFIUS slog on TikTok, kickstarted when former President Trump fruitlessly tried to ban it, but negotiations appear to have intensified after a BuzzFeed report in June that some China-based TikTok employees had access to U.S. user data.
Details: Draft terms reportedly would leverage Oracle, which first emerged as a key "technology partner" (and possible equity partner) in 2020, by hosting TikTok's U.S. data on domestic servers and monitoring thr app's algorithm. TikTok also would create a board of security advisers that report to the U.S. government.
The bottom line: "If completed, an agreement with the Biden administration is likely to be highly scrutinized, as TikTok has become a symbol of the Cold War-like atmosphere in relations between Beijing and Washington. As part of the tit-for-tat, the nations are battling over primacy in technology and digital data." — NY Times
Venture Capital Deals
• Not So Dark, a French restaurant meal delivery startup, raised $80m in Series B funding. Kharis Capital and Verlinvest co-led, and were joined by Convivialité Ventures. https://axios.link/3r9k4CZ
• Deep Instinct, a malware protection startup, raised $62.5m. BlackRock led, and was joined by Chrysalis Investments, Millennium and Unbound. https://axios.link/3SfaRFl
🚑 Ceribell, a Sunnyvale, Calif.-based developer of portable EEG headsets for detecting seizures, raised $50m in new Series C funding led by insider Ally Bridge Group. The round total is now $103m, including investment from Longitude Capital and Rise Fund. https://axios.link/3xTJ9Wy
⚡ Solfacil, a Brazilian solar energy fintech startup, raised $30m led by Fifth Wall Climate. www.solfacil.com.br
• Vendease, a Nigerian food procurement platforms for restaurants, raised $20m in Series A equity funding (plus $10m in debt) co-led by TLcom Capital and Partech Africa. https://axios.link/3BSe2fg
• Disperse, a British construction project data tracking startup, raised $16m. 2150 led, and was joined by Northzone and Kindred Capital. https://axios.link/3xSImFl
🚑 TAU Systems, an Austin, Texas-based developer of small-scale particle accelerators for biotech researchers, raised $15m from Team Global. www.tausystems.com
• PlanetWatchers, a London-based crop monitoring startup, raised $11m in Series A funding. Seraphim Investment Trust and Creative Ventures co-led, and were joined by Trendlines Agrifood Fund, BIG Capital and Ridgeline Partners. www.planetwatchers.com
• Checkmate, an SF-based personalized smart shopping tool, raised $5m in seed funding led by Fuel Capital. www.joincheckmate.com
🚑 Leuko, a Boston-based at-home white blood cell monitoring startup, raised $5m in Series A funding from HTH VC, Good Growth Capital, IAG Capital Partners and Nina Capital. www.leuko.com
🐝 Dalan Animal Health, an Athens, Ga.-based developer of an oral vaccine for honeybees, raised $3.55m in seed funding co-led by At One Ventures and Veterinary Angel Network, per Axios Pro. https://axios.link/3USBZvF
• Chiru Labs, a Los Angeles-based creator of the Azuki NFT collection, is in talks to raise $30m in Series A funding, per The Block. https://axios.link/3LIFUXJ
Private Equity Deals
• Baring PE Asia may merge portfolio companies Tricor and Vistra, both Hong Kong-based business services firms, per Bloomberg. https://axios.link/3fiklkx
• Ironbridge Equity Partners acquired a control stake in Handi Foods, a Toronto-based private-label manufacturer of pita snacks. https://axios.link/3BPw9m1
⚡ M6 Midstream, a Houston-based portfolio company of Ridgemont Equity Partners, agreed to buy Dallas-based Align Midstream Partners II from Tailwater Capital. https://axios.link/3xTLzUT
• One Equity Partners acquired the core operating assets of Muehlhan (ETR: M4N), a German provider of surface protection solutions for the marine, infrastructure and offshore wind energy industries. www.muehlhan.com
🚑 Ramsay Health Care (ASX: RHC), an Australian hospital operator, ended buyout talks with KKR after a series of proposals. https://axios.link/3fkXcxU
• Stirling Square Capital Partners agreed to buy the digital testing unit of Eurofins Scientific (Paris: EUFI) for €220m. www.eurofins.com
• Thompson Street Capital Partners and Endicott Capital invested in MediaRadar, a New York-based provider of cross-media advertising intelligence solutions. www.mediaradar.com
SPAC Stuff
• Cohn Robbins Holdings (NYSE: CRHC), the SPAC led by former WH economic adviser Gary Cohn and private equity veteran Clifton Robbins, and European lottery operator Allwyn Entertainment terminated their $9.3b merger, despite getting shareholder approval earlier this month. https://axios.link/3fkXTaw
⚡ Hammerhead Resources, a Calgary-based upstream oil and gas company aiming toward net-zero emissions by 2030, agreed to go public at an implied C$1.39b valuation via Decarbonization Plus Acquisition Corp. IV (Nasdaq: DCRD), a SPAC formed by Riverstone. https://axios.link/3dK8Amk
• NioCorp Developments (TSX: NB), a rare earth miner, agreed to co-list on the Nasdaq at an implied $313.5m enterprise value via GX Acquisition Corp. II (Nasdaq: GXII), a SPAC formed by Trimaran Capital Partners. https://axios.link/3rbdnAC
More M&A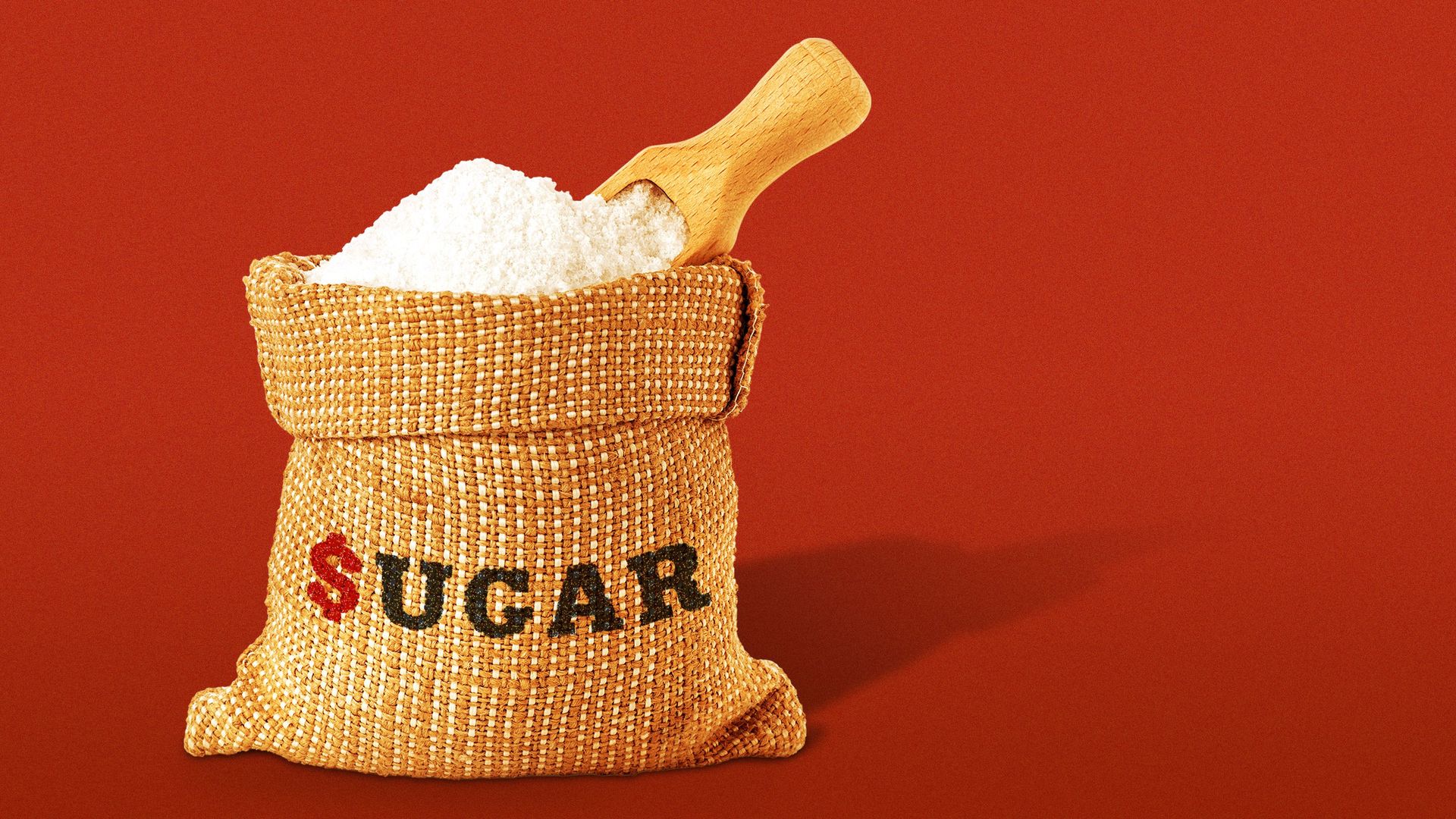 • A federal judge ruled that U.S. Sugar can proceed with its $315m acquisition of rival Imperial Sugar, rejecting a DOJ antitrust lawsuit.
• BNP Paribas, Crédit Agricole and Deutsche Bank agreed to provide a €420m loan to finance the take-private of Italian luxury shoemaker Tod's (Milan: TOD) by its founding Della Valle family. https://axios.link/3UB3OZ3
• Citigroup (NYSE: C) is seeking second-round bids for its Mexican retail arm Banamex by the end of October, per Bloomberg. It may be the final bidding round, with expectations in the $7b-$8b range. https://axios.link/3dOEI8m
⚡ Mubadala submitted the richest offer to buy Brazilian ethanol joint venture BP Bunge Bioenergia, topping a bid from Raizen, per Bloomberg. https://axios.link/3BLc687
• PT Astra International, a Jakarta, Indonesia-listed conglomerate, is considering a sale of its life insurance unit that could fetch up to $500m, per Bloomberg. https://axios.link/3dH3esi
Fundraising
• Further, a Dubai-based VC firm, raised $200m for a fund focused on digital assets, fintech and supply chain startups. https://axios.link/3Cd1d0s
• Horizon Capital, a Kyiv-based VC firm, held a $125m first close on a new fund to back Ukrainian and Moldovan startups. It's targeting a total of $250m, with IFC as its anchor LP. https://axios.link/3flhmI6
It's Personnel
• Bregal Partners hired Thomas Perkins (ex-Monitor Clipper Partners) as managing director of portfolio services, Kaitlin Sasson (ex-Sightway Capital) as a principal and Daniel Ayeroff (CIP Capital) as a VP. www.bregalpartners.com
• James Charalambides joined Adams Street Partners as a partner and head of a new European private credit group. He previously was with Sixth Street Partners. www.adamsstreetpartners.com
• Nitin Chopra joined Neotribe Ventures as a managing director. He previously was with Shasta Ventures. www.neotribe.vc
• Hart Lambur joined crypto-focused Robot Ventures as a partner. He's a former Goldman Sachs trader who co-founded crypto project UMA. https://axios.link/3rbSiWo
• Mark Tyndall and Alex McCann, both former Dialog Semiconductor execs, joined London-based M&A advisory Alexa Capital as head of a new semiconductor group. www.alexa-capital.com
• TA Associates hired Jennifer Barbetta (ex-Starwood Capital Group) as chief operating officer and Lori Stachelski (Abry Partners) as chief talent officer. It also promoted Darlene Karis to global HR head. www.ta.com
• Jean-Baptiste Wautier is stepping down as chief investment officer of BC Partners, with partners Chris Mogge and Pascal Heberling also leaving, per Bloomberg. https://axios.link/3r4dldB
• Justin Yek is stepping down as head of Southeast Asia tech banking with Morgan Stanley to join Australian payments startup Airwallex, per Bloomberg. https://axios.link/3LHqC5s
• 17Capital promoted Raj Shah to CFO. www.17capital.com
• Triago formed an EMEA primary directs team, including Morgan Stanley vet Julian Becker. www.triago.com
Final Numbers: Global high-yield corp debt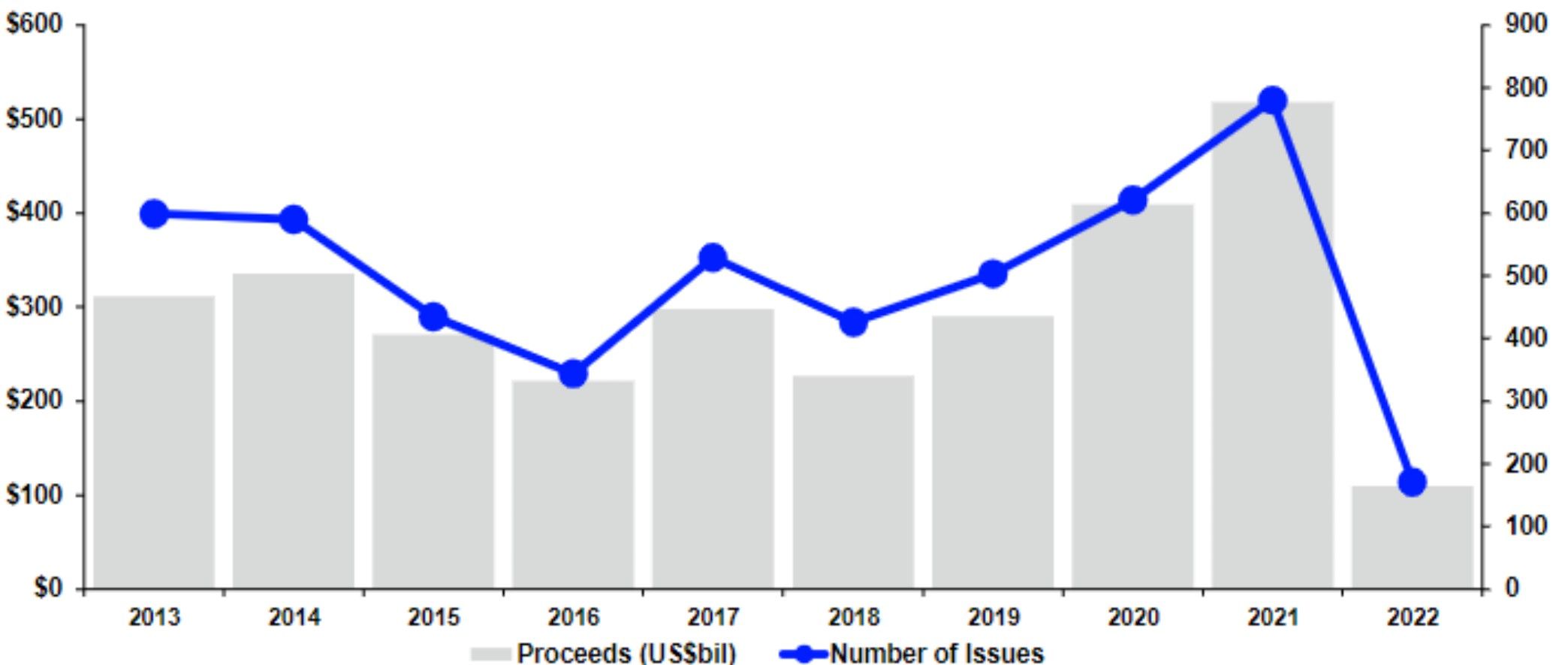 Global high-yield corporate debt is at $111 billion year-to-date, down 79% from the year-earlier period, per Refinitiv.
✔️ Thanks for reading Axios Pro Rata, and to copy editors Mickey Meece and Bryan McBournie! Please ask your friends, colleagues and TikTok influencers to sign up.