Axios Pro Rata
July 28, 2021
Top of the Morning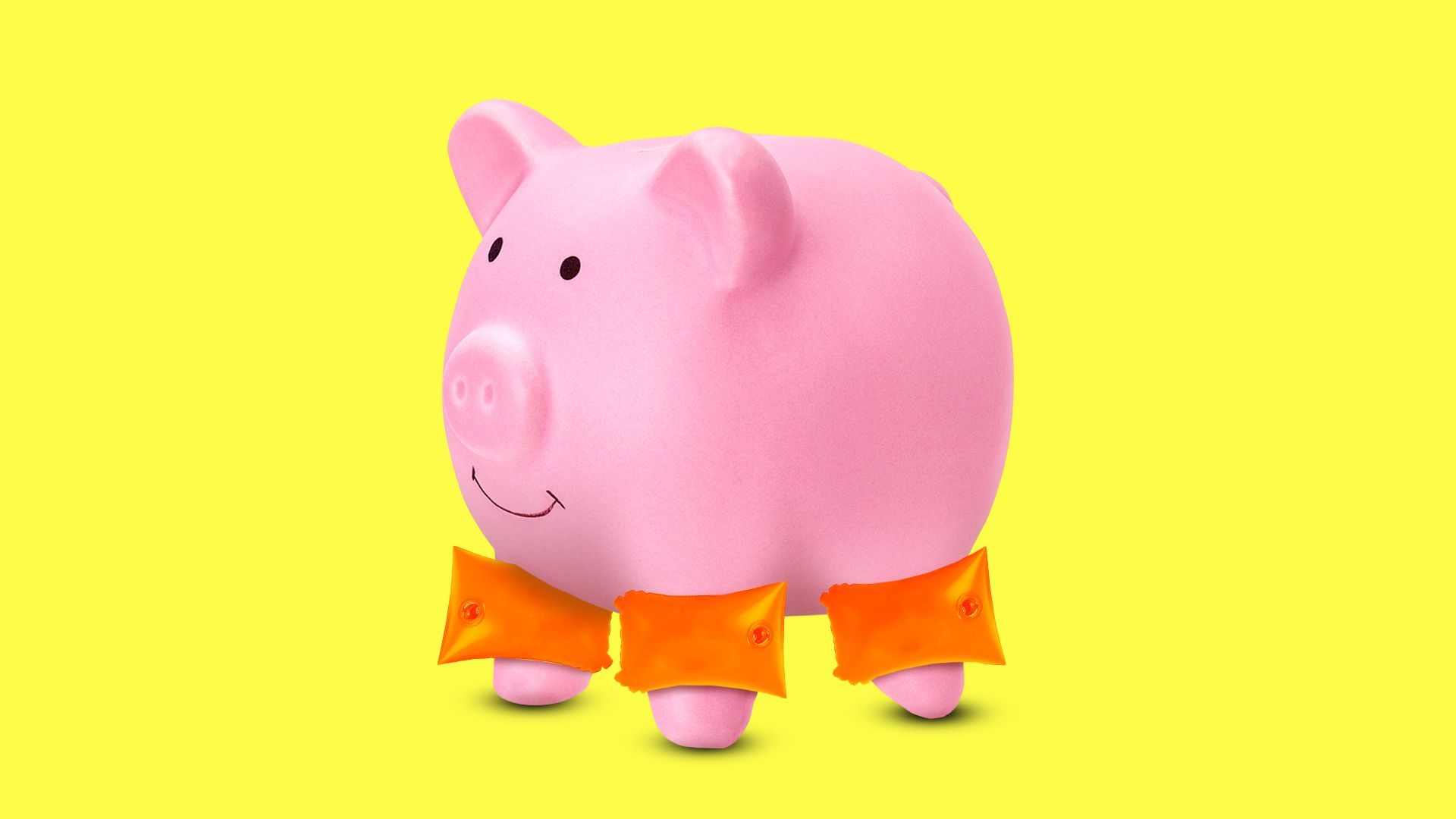 Bankers have a reputation for being coin-operated — eager to bend reality on behalf of high-paying clients. Unlike in past boom times, however, they're currently holding the line on contortion.
Why it matters: Private equity-owned businesses are more likely to weather an economic downturn than they were before the Great Recession, which protects both jobs and limited partner investments.
By the numbers: Average debt multiples for U.S. leveraged buyouts were 5.9x for the first half of 2021, according to S&P Global Market Intelligence's LCD. That's slightly higher than the 5.7x mark for 2020, but still below the recommended ceiling set by the Treasury in 2013.
Average interest coverage ratios, which refer to EBITDA vs. interest, were 3.5x for both 2020 and the first half of 2021. They were only 2.1x back in 2007.
If you look at fixed charge coverage ratios, which subtract capital expenditures from EBITDA, multiple sources say it's been sticking close to 2:1. Before the Great Recession, it was 1:1 (or sometimes even less), which meant companies had virtually no wiggle room if things went south.
Caveats: There can be a tendency to play fast and loose with earnings calculations, creating what my colleague Kate Marino refers to as "fake EBITDA." It's also true that banks continue to give very loose leveraged loan terms, particularly when it comes to covenants.
The bottom line: Lenders are saving private equity from itself, and that could pay off for everyone in the end.
The BFD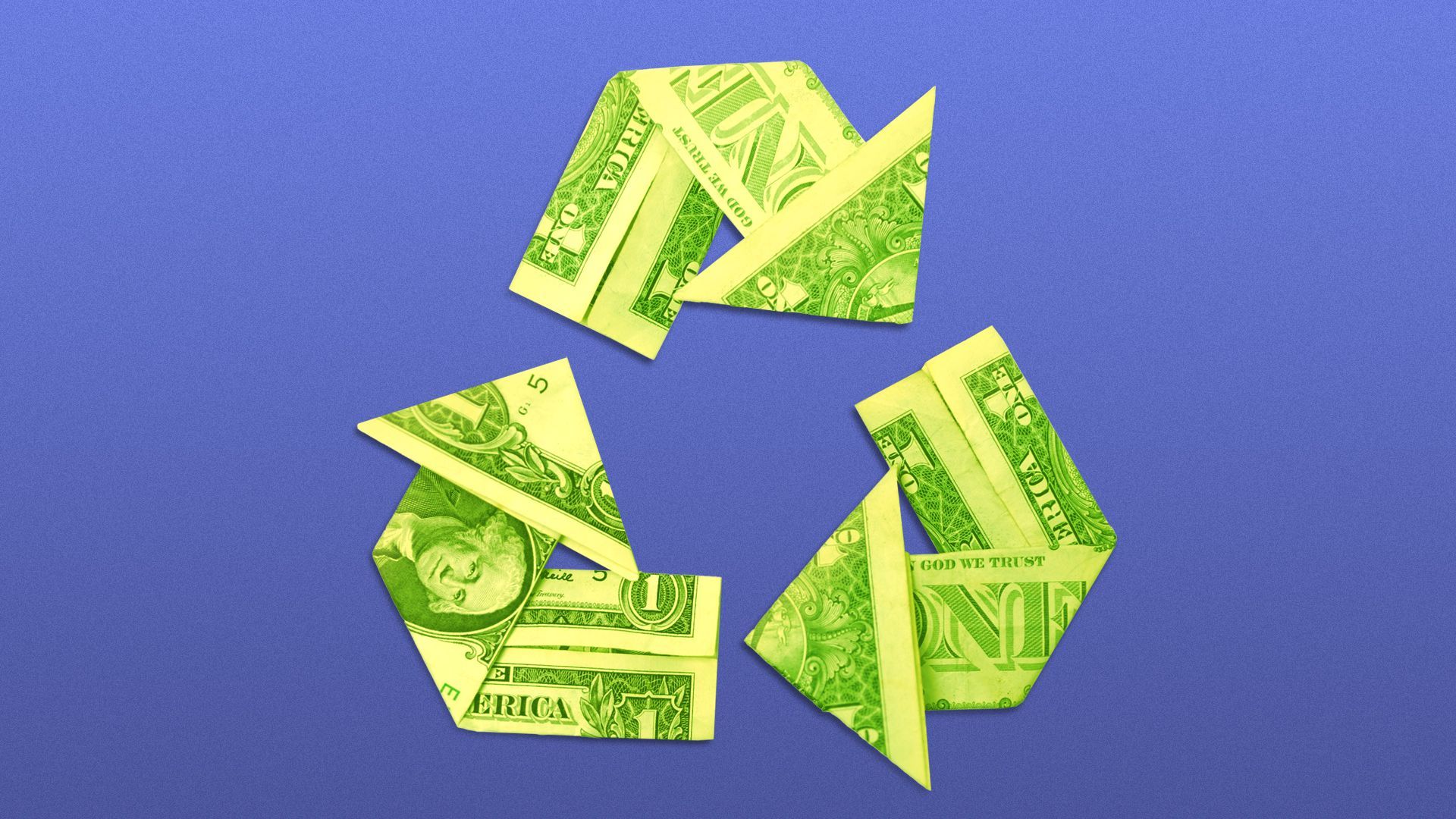 Redwood Materials, a Reno, Nev.-based battery recycling startup founded by Tesla co-founder JB Straubel, raised $700 million at a $3 billion pre-money valuation led by T. Rowe Price.
Why it's the BFD: Battery supply chains are coming under pressure from growing public acceptance of electric vehicles and automaker promises to switch away from gasoline engines.
Other investors include: Goldman Sachs, Baillie Gifford, CPPIB, Fidelity, Capricorn, Breakthrough Energy Ventures, Amazon's Climate Pledge Fund, Valor Equity Partners, Emerson Collective and Franklin Templeton.
The bottom line: "Mining for nickel, cobalt and other battery materials is expensive and time-consuming, plus harmful for the environment. Redwood's goal is to create a closed-loop supply chain for electric vehicles and energy products, harvesting metals from junked electronics, scooters, lawnmowers and, eventually, old EVs." — Joann Muller, Axios
Also...
Spy stuff: Novalpina, the London-based PE firm that owns controversial spyware maker NSO Group, is about to lose control of its €1 billion fund. Limited partners voted out the general partner and have until the end of next week to decide if they want to sell the assets, including NSO, or find a third-party administrator.
Speaking of NSO, former owner Francisco Partners sent over a statement after last week's item: "Promptly following our investment in NSO Group, we worked with the company to implement a Business Ethics Committee comprised of independent experts to review all sales. As a result, during our ownership, the company rejected tens of millions of dollars in potential sales and terminated customers who misused its product.
During our ownership, the technology sold by NSO Group saved tens of thousands of lives, returned kidnap victims to their loved ones and assisted government agencies in apprehending the world's most notorious criminals."
One to watch: The Chinese government's latest business crackdown is in the private education sector, where foreign investment, stock exchange listings and profit are to become forbidden. No, I'm really not exaggerating, and it could cause major problems for U.S. investors who've backed Chinese curriculum companies.
Per the FT: "The changes are part of the Chinese Communist party's drive to make raising children and education more affordable and combat a looming population decline that threatens the country's economic future.
Comps: We sometimes wring our hands about the amount of private equity dry powder, but it's growing at a slower rate than are public equities.
U.S. private equity dry powder increased by around 102% between 2011 and the end of 2020, according to PitchBook. During that same period, the S&P 500 grew by more than 194%.
Venture Capital Deals
• PsiQuantum, a Palo Alto-based quantum computer developer, raised $450 million in Series D funding. BlackRock led, and was joined by Blackbird Ventures, Temasek and insiders Baillie Gifford and M12. http://axios.link/L7Ih
• Fireblocks, a New York-based infrastructure provider for digital assets, raised $310 million in Series D funding at a $2.2 billion valuation. Sequoia Capital, Stripes and Spark Capital co-led, and were joined by Coatue, DRW VC and SCB 10X. http://axios.link/gFnX
• Gupshup, an Indian business messaging platform, raised $240 million in new Series F funding (round total now $340m) from Fidelity Management, Tiger Global, Think Investments, Malabar Investments, Harbor Spring Capital, Neuberger Berman and White Oak. http://axios.link/XRud
• At-Bay, a Mountain View-based cyber insurance company, raised $185 million in Series D funding at a $1.35 billion valuation co-led by Icon Ventures and Lightspeed Venture Partners. http://axios.link/vBpG
• Algolia, a San Francisco-based search-as-a-service startup, raised $150 million in Series D funding at a $2.25 billion post-money valuation. Lone Pine Capital led, and was joined by Steadfast Capital Ventures, Fidelity, Glynn Capital, Twilio and insiders Accel, Salesforce Ventures, DAG, Owl Rock and World Innovation Lab. http://axios.link/uHdU
• Pendo, a Raleigh, N.C.-based customer analytics platform, raised $150 million at a $2.6 billion valuation. B Capital Group led, and was joined by Silver Lake Waterman and insiders Battery Ventures, General Atlantic, Tiger Global and Sapphire Ventures. http://axios.link/ylbi
🚑 SonderMind, a Denver-based behavioral health startup, raised $150 million in Series C funding. Drive Capital and Premji Invest co-led, and were joined by General Catalyst, Partners Group, Smash Ventures, Kickstart Fund and F-Prime Capital. www.sondermind.com
• Class, a Washington, D.C.-based provider of virtual classroom software built on top of Zoom, raised $105 million. SoftBank Vision Fund II led, and was joined by GSV Ventures, Emergence Capital, Reach Capital, Owl Ventures, Insight Partners and Learn Capital. http://axios.link/UPyc
• Dixa, a Denmark-based customer engagement platform, raised $105 million in Serie C funding. General Atlantic led, and was joined by insiders Notion Capital, Project A and Seed Capital. http://axios.link/EsgA
🚀 Isar Aerospace, a Munich-based rocket launch startup, raised $75 million at around a $550 million valuation from Porsche, HV Capital and insiders Airbus Ventures, Earlybird Venture Capital and Lakestar. http://axios.link/PseU
• Replicated, a Culver City, Calif.-based multi-prem software delivery startup, raised $50 million in Series C funding. Owl Rock led, and was joined by Lead Edge Capital, Headline and insiders Two Sigma Ventures, Amplify Partners, BoldStart, Ridgeline and Heavybit. www.replicated.com
🌼 Colvin, a Spanish B2C and B2B flower marketplace, raised €45 million in Series C funding. Eurazeo led, and was joined by Capagro, and AgTech and FoodTech VC. http://axios.link/5ZCy
• Trade X, a Toronto-based B2B cross-border automotive trading platform, raised C$44 million from Aimia. www.tradexport.com
🚑 Signifier Medical Technologies, a London-based maker of sleep apnea treatment products, raised $35 million in Series D funding from Segulah Medical Acceleration, Angelus, Pioneer Healthcare Partners and Alan Howard. http://axios.link/nA0K
• Blameless, a Palo Alto-based site reliability engineering platform, raised $30 million in Series B funding. Third Point Ventures led, and was joined by Accel, Decibel and Lightspeed Venture Partners. http://axios.link/3P93
• Treeverse, a startup focused on lifecycle management of data lakes, raised $23 million in Series A funding from Dell Technologies Capital, Norwest Venture Partners and Zeev Ventures. www.treeverse.io
🚑 Pipo Saude, a Brazilian healthcare benefits management startup, raised $20 million in Series A funding. Thrive Capital led, and was joined by insiders Monashees, Kaszek and OneVC. http://axios.link/54cG
• Valora, digital wallet native to the Celo DeFi platform, raised $20 million in Series A funding from Andreessen Horowitz, Polychain Capital, SV Angel, Nima Capital, NFX and Valor Capital. www.valoraapp.com
• Agentero, a Berkeley, Calif.-based digital insurance network, raised $13.5 million in Series A funding. Alma Mundi Ventures led, and was joined by insiders Foundation Capital, Union Square Ventures, Financial Venture Studio, and Two Culture Capital. www.agentero.com
• Spark, a Canadian software platform for real estate developers, raised C$6.3 million in Series A funding. BDC Capital and Pender Ventures co-led, and were joined by Groundbreak Ventures. www.spark.re
🚑 Patchwork Health, a British hospital staff scheduling startup, raised £3.5 million from Praetura Ventures and BMJ New Ventures. http://axios.link/UQha
Private Equity Deals
• Arcline Investment Management acquired a control stake in Dwyer Instruments, a Michigan City, Ind.-based maker of sensors and instrumentation for process automation, HVAC and building automation.
• The Blackstone Group agreed to buy a passive minority stake in Chicago-based buyout firm GTCR. http://axios.link/Zgx6
🍔 Cinven agreed to acquire a majority stake in Restaurant Brands Iberia, a master franchisor of Burger King, Tim Hortons and Popeyes restaurants, with Burger King retaining a minority stake. The deal values RRI at more than €1 billion. www.cinven.com
• GIC is partnering with Fortress Investment Group on a £6.3 billion takeover bid for British supermarket chain Morrisons (LSE: MRW). Rival bidder Clayton Dubilier & Rice reportedly is continuing to search for an investment partner of its own. http://axios.link/Fkxz
🚑 NewQuest Capital Partners acquired a minority stake in Cloudnine, a chain of pediatric hospitals in India. www.cloudninecare.com
• Partners Group agreed to buy Reedy, a Deerfield, Ill.-based HVAC service provider, from Audax Private Equity. http://axios.link/8VpV
⚡ Spark Infrastructure (ASX: SKI), an Australian electricity distributor, agreed to open its books to KKR and Ontario Teachers' Pension Plan Board, after the firms sweetened their takeover offer to A$5.13 billion from A$4.91 billion. http://axios.link/sWqU
• Uptick, an Australian provider of field-serving software for building compliance, raised funding from Accel-KKR. www.uptickhq.com
Public Offerings
• Cadre Holdings, a Jacksonville, Fla.-based provider of safety and survivability equipment for first responders, set IPO terms to 7.1 million shares at $16-$19. It would have a $606 million market value, were it to price in the middle, and plans to list on the NYSE (CDRE). http://axios.link/o1W5
🍍 Dole, the branded fruit and vegetable company, cut its proposed IPO terms to 30.3 million shares at $16-$17 from 26 million shares at $20-$23. It plans to list on the NYSE (DOLE). http://axios.link/BgDj
• Duolingo, a Pittsburgh-based language learning platform, raised $521 million in its IPO. It priced at $102 (above original and revised ranges), for a $3.66 billion market value. It will list on the Nasdaq (DUOL) and had raised $183 million in VC funding, most recently at a $2.4 billion valuation, from firms like NewView Capital (20.1% pre-IPO stake), USV (14.2%), CapitalG (13.7%), Kleiner Perkins (10.5%), General Atlantic (7.1%) and Durable Capital Partners. http://axios.link/kkc4
• Snap One, a Charlotte-based connected home company owned by Hellman & Friedman, raised $249 million in its IPO. It priced at the low end of its $18-$20 range, will list on the Nasdaq (SNPO) and reports a $6 million net loss on $220 million in revenue for Q1 2021. http://axios.link/SFjj
• Stronghold Digital Mining, a New York-based crypto asset mining company, filed for an IPO. It plans to list on the Nasdaq (SDIG). http://axios.link/0uub
SPAC Stuff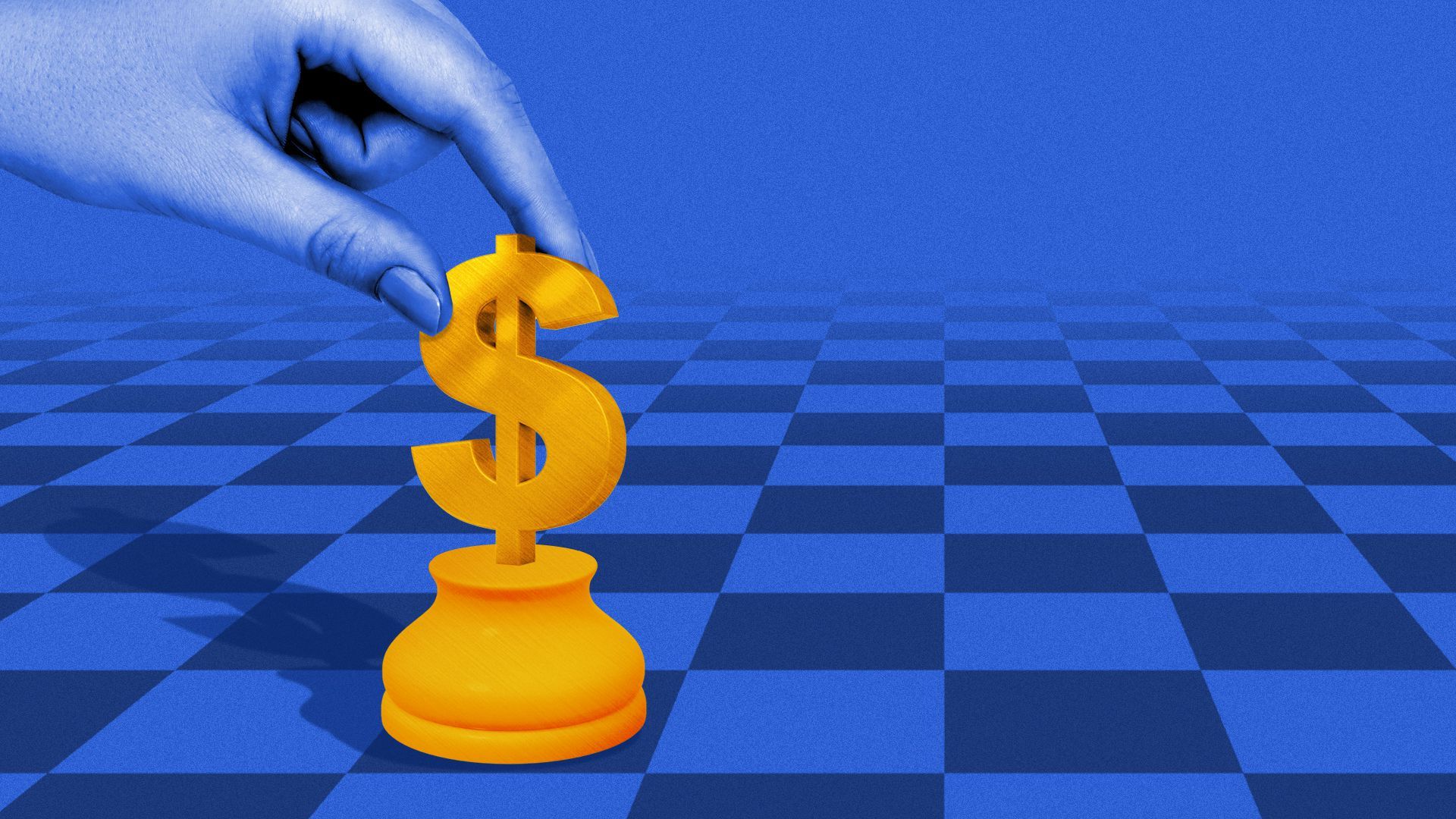 • Swvl, an Egypt-based on-demand bus service focused on emerging markets, agreed to go public at an implied $1.5 billion equity value via Queen's Gambit Growth Capital (Nasdaq: GMBT). It had raised over $90 million from firms like BECO Capital and Vostok New Ventures. www.swvl.com
⚡ Allegro, a pan-European vehicle charging network backed by Meridiam Infrastructure, agreed to go public at a pro forma equity value of $3.14 billion via Spartan Acquisition Corp. III (NYSE: SPAQ), a SPAC sponsored by Apollo Global Management. www.alllego.eu
• Singularity Acquisition, an Asia tech SPAC, filed for a $100 million IPO. http://axios.link/MHjY
Liquidity Events
🚑 Amgen (Nasdaq: AMGN) agreed to buy Teneobio, a Newark, Calif.-based oncology biotech, for up to $2.5 billion (including $900m upfront). Teneobio raised around $13 million from firms like Lightspeed Venture Partners and Sutter Hill Ventures. http://axios.link/ofkP
More M&A
• Adecco Group (Swiss: ADEN) agreed to buy Belgian engineering staffing firm AKKA Technologies for €2 billion. http://axios.link/IdIP
• Cards Against Humanity, a Chicago-based game maker, hired Moelis & Co. to explore a possible sale, per Bloomberg. http://axios.link/ZX1i
• Citizens Financial Group (NYSE: CFG) agreed to buy Investors Bancorp (Nasdaq: ISBC) for $3.5 billion in cash and stock. http://axios.link/5Ifn
🚑 Fluidigm (Nasdaq: FLDM), a San Francisco-based med tech company valued at around $337 million, is seeking a buyer, per Bloomberg. http://axios.link/o5gk
• Fosun Sports Group of China agreed to buy a minority stake in pro e-sports team Evil Geniuses at around a $250 million valuation, per NY Times Dealbook.
• Ringier, a Swiss publisher, is buying out Germany's Axel Springer from their joint ventures in Hungary, Serbia, Slovakia, Estonia, Latvia and Lithuania. http://axios.link/9mjNeed
Fundraising
• Blue Owl closed its first Owl Rock Opportunistic Fund, which will provide both debt and equity, at $2 billion. www.blueowl.com
• Magnify Ventures of Santa Monica, Calif. is raising $50 million for its debut fund, per an SEC filing. www.magnify.vc
• Pritzker Private Capital raised $2.7 billion for its third fund. www.ppcpartners.com
It's Personnel
• Timm Degenhardt (ex-Bain & Co.) and Bruce Schlein (Citi) joined OMERS Infrastructure as a managing director of asset management and head of ESG, respectively. www.omersinfrastructure.com
• Alex Lim is joining London-based VC firm Blossom Capital as co-managing partner. He previously was with IVP. http://axios.link/4T9I
Final Numbers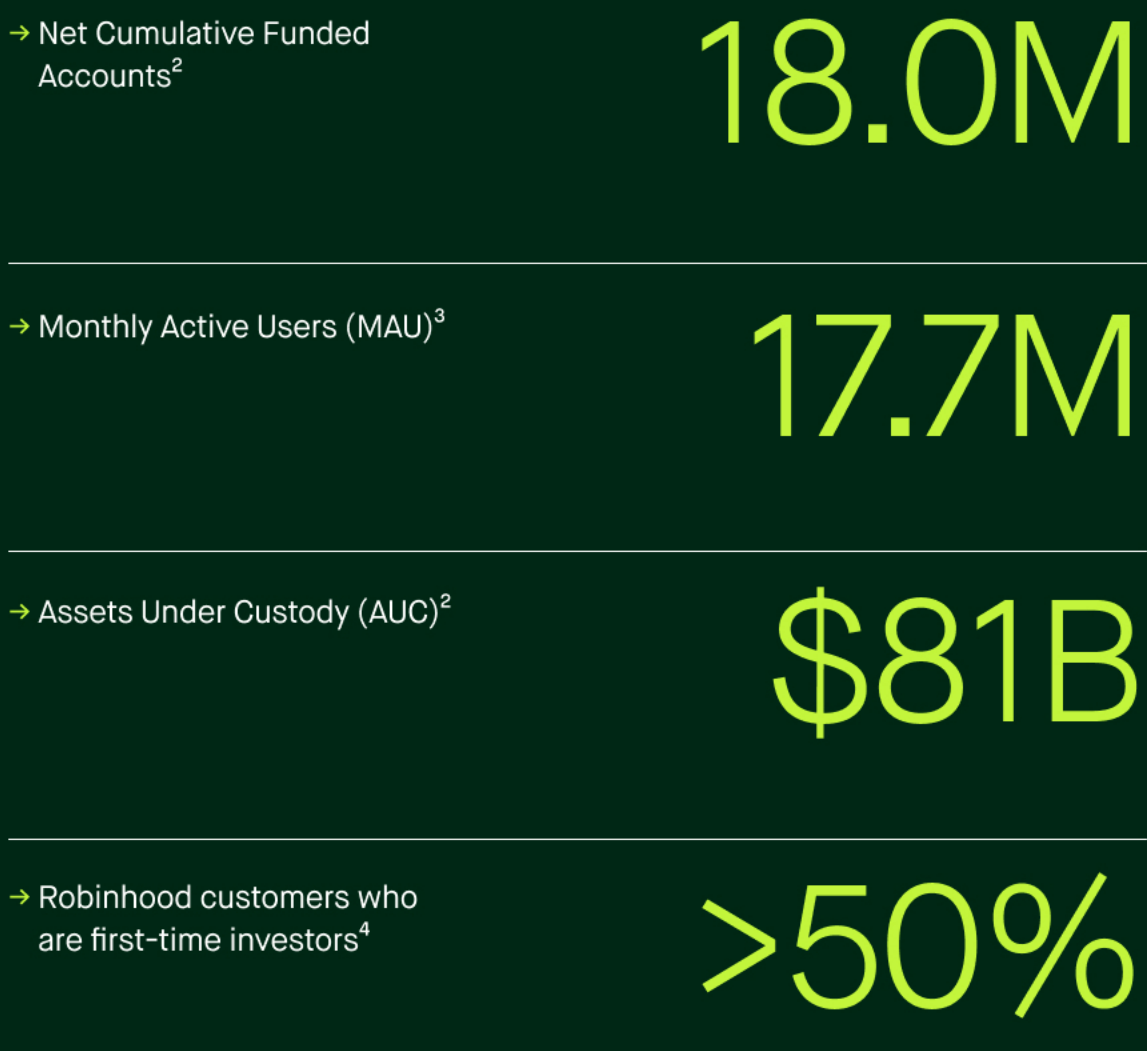 Robinhood is expected to price its IPO tonight, with plans to raise more than $2 billion.
🙏 Thanks for reading Axios Pro Rata! Please ask your friends, colleagues and leveraged lenders to sign up.