March 11, 2022
Top of the Morning
TikTok's national security clash with the U.S. government may be nearing its conclusion, without the sort of shareholder overhaul that was previously proposed.
Driving the news: The social media company is in advanced talks with the Committee on Foreign Investment in the United States (CFIUS) to store all of its U.S. user information with Oracle, without Chinese owner ByteDance being able to access it, as first reported by Reuters and confirmed by Axios.
Data sovereignty has been the core regulatory concern since this all began in mid-2020, at least for career staff.
Certain political appointees of the Trump administration also expressed fears that the Chinese government could use TikTok to influence U.S. political or social sentiment, but content moderation seems outside the scope of current talks.
Oracle itself has not been party to the current negotiations.
Backstory: Former President Trump in mid-2020 issued an executive order that would have banned TikTok were the company not almost immediately sold to a U.S. buyer.
The social media app succeeded in getting some court injunctions, in part because the EO was written with the sophistication of a 4th grade book report, and it also rejected a takeover offer from Microsoft.
TikTok instead supported a deal that would have included both Oracle and Walmart becoming minority shareholders and its entire board consisting of U.S.-based directors. But that proposal, which Trump accepted "in principle" and then incorrectly explained in public statements, remained on hold.
Meanwhile, CFIUS continued to insist that ByteDance unwind a 2018 merger that effectively created TikTok in the first place. Things got put on the back burner early last year due to political considerations in both the U.S. and China, but never really went away.
Fast forward: If an agreement with CFIUS is indeed reached, TikTok would then need to transfer physical control of its U.S. user data to Oracle's cloud. There also would need to be a system created whereby Oracle could provide national security assurances to government agencies.
Once completed, all of this could set TikTok up for an IPO.
The bottom line: For a company known for short-form content, this sure has taken a very long time.
The BFD
TPG Rise invested in Monarch Bioenergy, a St. Louis-based renewable natural gas producer formed in 2018 by pork processor Smithfield Foods.
Why it's the BFD: This is an effort to combat (and monetize) the immense amount of carbon emissions produced by animal farming, and also to cut down on the use of inorganic fertilizers. Plus, I'm juvenile enough to be amused by the idea of investing in pig poop.
Details: TPG will own a one-third stake in the business, with Smithfield and partner Roeslein Alternative Energy each also owning one-third. No financial terms were disclosed.
The bottom line: Monarch's long-term goal is to create a closed-loop system whereby it converts methane and prairie grasses into natural gas, and then uses that natural gas as both prairie fertilizer and feedstock.
Venture Capital Deals
• Byju's, an Indian online learning platform that reportedly had been in talks to go public via SPAC, raised $800m in new funding. Company co-founder and CEO Byju Raveendran provided half the total, while the remainder came from Sumeru Ventures, Vitruvian Partners and BlackRock. http://axios.link/GMIk
• Capchase, a New York-based provider of non-dilutive capital for recurring-revenue businesses, raised $80m in Series B funding from 01 Advisors. QED, Caffeinated Capital, Bling Capital, ScifiVC, Thomvest Ventures, Tusk Venture Partners, Invesco and Gaingels. www.capchase.com
• AiFi, a Santa Clara, Calif.-based provider of autonomous shopping solutions to retailers, raised $65m in Series B funding from ALDI South Group, Żabka Group, REWE, Verizon Ventures and Qualcomm Ventures. www.aifi.com
• Diamond Age, a Phoenix-based home construction robotics startup, raised $50m in Series A funding. Prime Movers Lab led, and was joined by insiders Alpaca VC, Dolby Family Ventures, Timber Grove Ventures and Gaingels. www.diamondage3d.com
• Propel, a fintech startup that helps users keep track of food assistance and other government benefits, raised $50m in Series B funding. Nyca Partners led, ad was joined by JPMorgan Chase, Salesforce Ventures, Mischief and insiders Andreessen Horowitz, Kleiner Perkins and Flourish Ventures. http://axios.link/TaCj
• Lendai, an Israeli cross-border financing startup, raised $35m in equity and debt funding. Meron Capital and Cardumen Capital co-led, and were joined by Discount Capital, Skywell Capital Partners, Mindset Ventures and Viola Credit. http://axios.link/AYBl
🚑 Scenic Biotech, a Dutch biotech focused on genetic modifiers, raised €31m in Series A funding from Eir Ventures, BioMedPartners, Vesalius Biocapital and insiders Inkef Capital, BioGeneration Ventures and Oxford Science Enterprises. http://axios.link/GYJZ
🚑 Nice Healthcare, a Minneapolis-based provider of in-home and virtual primary care services, raised $30m in Series A funding. DNA Capital led, and was joined by Waterline Ventures, Conductive Ventures, Santa Barbara Venture Partner, Brown Venture Group and F.R. Bigelow Foundation. http://axios.link/mnAK
• 100ms, a live video conferencing infrastructure startup, raised $20m in Series A funding. Alpha Wave led, and was joined by Matrix Partners India, LocalGlobe and insiders Accel and Strive.vc. http://axios.link/fNFW
🚑 SmithRx, an S.F.-based pharmacy benefits management startup, raised $20m in Series B funding. Venrock led, and was joined by Founders Fund. Axios had it first.
• Safebase, an S.F.-based vendor security auditing startup, raised $18m in Series A funding. NEA led, and was joined by YC and Comcast Ventures. http://axios.link/XwhK
• Milo, a Miami-based cross-border crypto mortgage startup, raised $17m in Series A funding. M13 led, and was joined by QED Investors and MetaProp. www.milolender.com
🚑 Medway, a Brazilian medical education tech startup, raised $14.8m in Series A funding. SoftBank led, and was joined by GFC, EquitasVC, Aggir Ventures, Scale-Up Ventures, Neuron Ventures, Allievo Capital and GrãoVC. www.medway.com.br
• Stilt, an S.F.-based provider of fintech services for immigrants, raised $14m in Series A funding led by Link Ventures. It also secured a $100m debt facility. http://axios.link/Ohxj
• A-Frame Brands, an L.A.-based developer of celebrity-led personal care products, raised $11.2m in seed funding co-led by Forerunner Ventures and Initialized Capital. www.aframebrands.com
• CaliberMind, a Denver-based B2B revenue analytics platform, raised $8m in Series A funding co-led by IAG Capital Partners and Lavrock Ventures. http://axios.link/aA5F
• Creatively, a New York-based jobs platform for creatives, raised $8m co-led by Thirty Five Ventures and Tornante Co. http://axios.link/j6IN
• Chipper, an Austin-based app for student loan borrowers, raised $5.6m in seed funding from Freestyle Capital, Slauson & Co., and Propel Venture. http://axios.link/skUj
🚑 Zeta Surgical, a Boston-based image-guided surgery startup, raised $5.2m in seed funding led by Innospark Ventures. http://axios.link/DEZ8
🚑 Behavidence, a New York-based developer of AI tools to monitor psychiatric and neurological disorders, raised $4.3m in seed funding. Welltech Ventures led, and was joined by Arc Impact and Longevity Ventures. http://axios.link/x9qK
Private Equity Deals
• Apollo Global Management is exploring a takeover bid for Pearson (LSE: PSON), an educational publisher whose market cap soared to £5.9b on the news. http://axios.link/Y4ZL
• Auxo Investment Partners bought Golden State Assembly, a Fremont, Calif.-based wire/cable assembly and harness manufacturer. www.auxopartners.com
• Carlyle agreed to buy Italian motorcycling clothing brand Dainese from Investcorp for €630m. http://axios.link/3778
• CVC Capital Partners agreed to buy RGI, an Italian provider of software to insurers, from Corsair. www.rgigroup.com
🚑 Emmes, a Rockville, Md.-based portfolio company of Behrman Capital, acquired Casimir, a Plymouth, Mass.-based contract research organization. www.emmes.com
Nyet News
Goldman Sachs yesterday became the first major bank to say it will stop doing business in Russia, with JPMorgan Chase following soon after.
Public Offerings
• Savage X Fenty is working with Goldman Sachs and Morgan Stanley on an IPO that could value the Rihanna-founded lingerie company at $3b, per Bloomberg. http://axios.link/P2fK
SPAC Stuff
⚡ Redwoods Acquisition, a carbon neutral and energy storage SPAC led by Jiande Chen (ex-CEO of IMAX China), filed for a $100m IPO. http://axios.link/u0N8
• Patria Latin American Opportunity Acquisition, a SPAC formed by Patria, raised $200m in its IPO. http://axios.link/1tuc
• Yotta Acquisition, a tech SPAC, filed for a $60m IPO. http://axios.link/4Nc7
Liquidity Events
• Visa (NYSE: V) completed its €1.8b purchase of Tink, a Stockholm-based open banking platform that had raised around $250m from firms like Insight Partners, Eurazeo, Dawn Capital, Heartcore, ABN AMRO Ventures, Nordea Funds and Sunstone Capital. http://axios.link/5ZRL
More M&A
• Deutsche Telekom has launched the sale of its towers unit, which could fetch $20b, per Reuters. http://axios.link/iLK1
Fundraising
• Andreessen Horowitz is raising $600m for a gaming fund, per an SEC filing.
• Curated, an NFT-focused firm, raised $30m for its debut fund. http://axios.link/Ddq8
• New Stack Ventures of Chicago raised $43m for its second fund. http://axios.link/sQWK
• Sorenson Ventures, a VC firm with offices in Salt Lake City and Palo Alto, raised $150m for its second fund.
It's Personnel
• Dev Kapadia stepped down as a senior managing director and head of industrials with Cerberus Capital Management, where he'd worked since 2003, per Bloomberg. http://axios.link/zB15
Final Numbers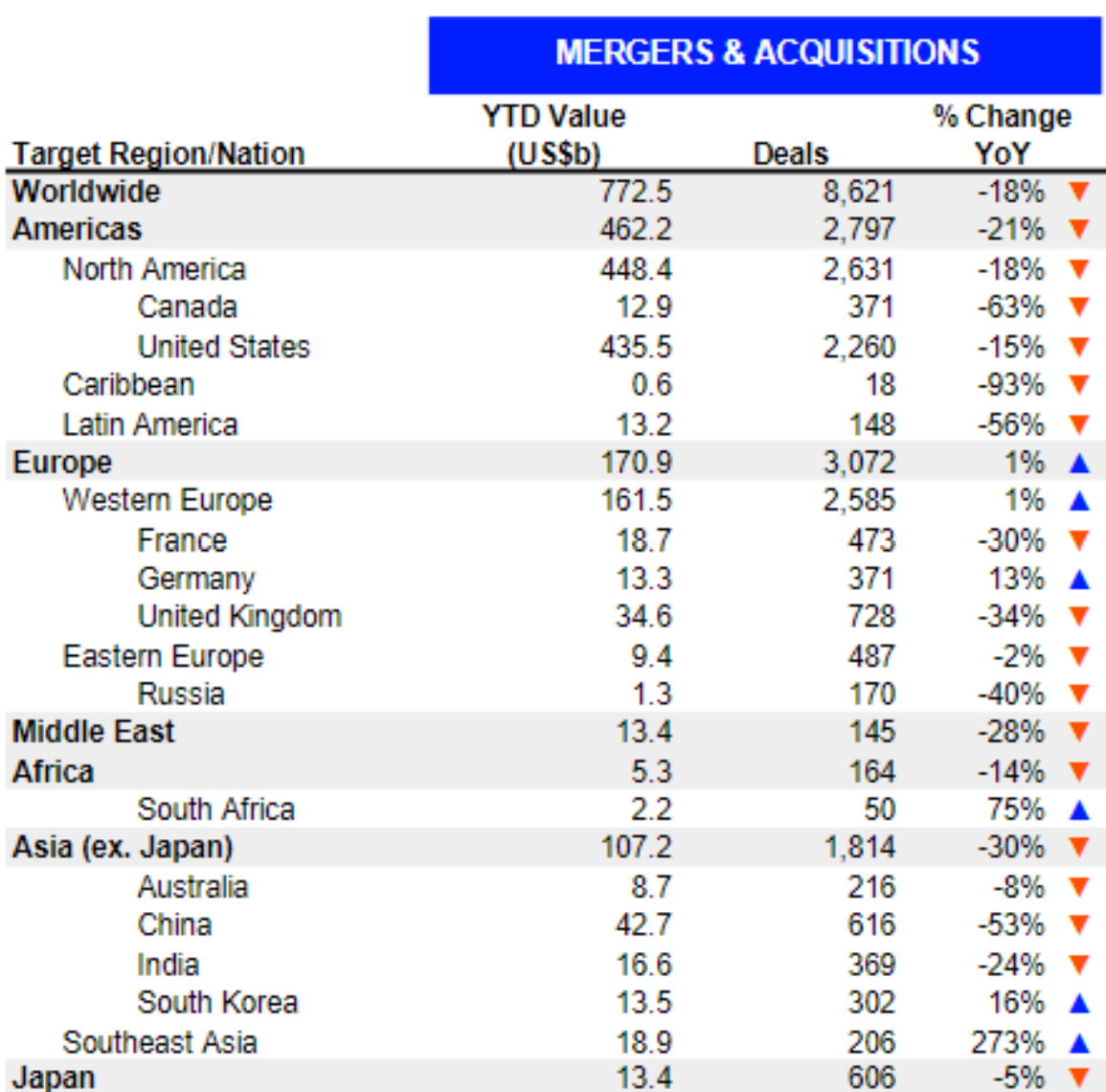 ✅ Thanks for reading Axios Pro Rata! Please ask your friends, colleagues and TikTok influencers to sign up.