An early edition, as I've got a poorly-timed flight back to Boston from LA. Great seeing so many Pro Rata readers over the past few days, and hello to the new folks who signed up. Okay, here we go...
https://www.axios.com/newsletters/axios-pro-rata-c2639947-b9d5-4be1-bfee-1cdb2f78472f.html?chunk=0#story0
Top of the Morning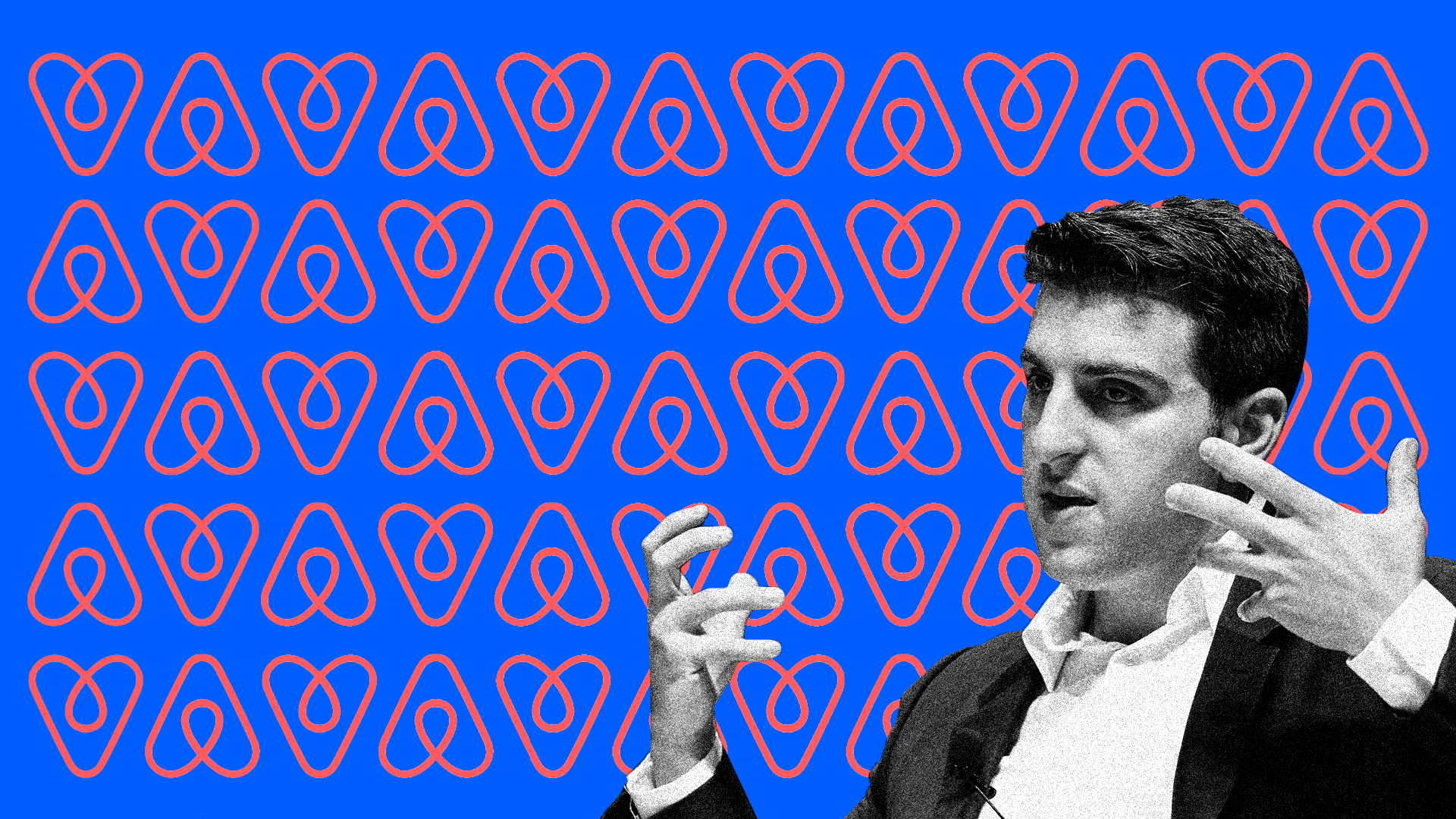 Photo illustration: Axios Visuals
Airbnb made two major announcements yesterday: It's not going public in 2018, and chief financial officer Lawrence Tosi is out.
Obviously the two announcements are related, although one company investor stresses that talk of as 2018 IPO had been a bit overstated: "They just added Ken Chenault to the board, which is a good start, but it's still mostly an insider board that doesn't have an audit chair yet."
Background: Tosi stepped down as CFO at Blackstone Group in mid-2015 to join Airbnb, ostensibly to help the company prep for IPO. It was a huge get, given that Steve Jobs had previously failed to recruit Tosi to Apple.
Reports of tension between Tosi and CEO Brian Chesky first emerged last week, and appears to boil down to two things: (1) An inability to get on the same page in terms of strategy, particularly when Wall Street-bred Tosi (data guy who talks vision) and Valley-imbued Chesky (vision guy who uses data) each felt they had the clearly compelling argument. (2) Tosi took the CFO role believing it would soon morph into something more like a president position (at least in practice, if not in title), particularly when it came to making major financial decisions. Chesky seemed to feel such a role was to be earned, and ultimately wasn't.
• Ex-T-Sec: Tim Geithner said on stage last night that he's not surprised by recent labor market gains or "animal spirits" in public equities, arguing that it typically takes economies around a decade to recover from major crises.
No, he doesn't own any Bitcoin or other type of cryptocurrency. He also believes in the long-term centrality of fiat currency, at least in developed democracies.
He declined to say if he would have voted for the tax plan, instead saying he has long felt corporate tax reform was needed but that he would have written the bill much differently.
His current role at Warburg Pincus is really one of organizational management, rather than fundraising or investing.
He doesn't think he ever brought his wife to the U.S. Bureau of Engraving and Printing, let alone snapped a photo there. He also seems to still support the "strong dollar is good for America" mantra.
Geithner endorsed the generic idea of an infrastructure plan and argued that the rumored $200 billion federal outlay is "modest," but wanted to withhold final judgment until he sees the specifics.
• It's not me, it's PitchBook: In each of the past four Super Bowls, the winning team has been the one whose area raised the most VC funding in the prior year.
Boston: $8.8 billion into 573 companies
Philly: $1.2 billion into 165 companies
• Mega-M&A update: It appears the board meetings went well yesterday, as CBS and Viacom said that they have formed special committees to explore a merger.
Reuters reports that Dell plans to announce as early as this morning that it is reviewing strategic options, including a possible reverse merger with VMWare.
• Market mover: Lots of LP buzz about a Reuters report that Sequoia "aims to raise up to $8 billion" for its third global growth fund, particularly from Sequoia LPs who say formal marketing hasn't yet begun.
The real question (or, perhaps, concern) is that this could spark broader VC fund size growth... even if Sequoia ultimately settles on a $5 billion to $6 billion figure (which is the range I had been hearing).
• Missing line: Yesterday's lead item on SoftBank mistakenly left out an important line, so let's try this part again:
SoftBank CEO Masa Son's believes that the world is in a rare technological inflection point, and that large deal sizes are justifiable if you're thinking well beyond a 10-year investment horizon. More like a 30-year to 3oo-year horizon. (Yes, that 300 figure was said repeatedly, so it wasn't just a tongue slip.)
• Have a great weekend... Go Pats!
https://www.axios.com/newsletters/axios-pro-rata-c2639947-b9d5-4be1-bfee-1cdb2f78472f.html?chunk=1#story1
The BFD Moderna Therapeutics, a Cambridge, Mass. mRNA drug discovery and development company, has raised $500 million in new VC funding at a reported valuation of $7.5 billion. Abu Dhabi Investment Authority, BB Biotech, Julius Baer, EDBI and Sequoia Capital China were joined by return backers Fidelity, Pictet, Viking Global Investors, ArrowMark Partners and Alexandria Venture Investments.
Why it's the BFD: Because Moderna already was the biotech world's most ambitious and most controversial startup. Now it's also its most highly-valued.
Bottom line: "Moderna creates synthetic mRNA—the strands of information inside cells that direct the production of proteins. The company's idea is to inject its synthetic mRNA into patients and prompt their cells to produce their own therapeutic proteins. It would be an entirely new way of making drugs, and since 2017 Moderna has begun to make public its early clinical data." — Ben Fidler, Xconomy
https://www.axios.com/newsletters/axios-pro-rata-c2639947-b9d5-4be1-bfee-1cdb2f78472f.html?chunk=2#story2
Venture Capital Deals
• BigBasket, an India-based online grocery, has raised $300 million in new funding at a $950 million post-money valuation from Alibaba Group, Abraaj Group and Bessemer Venture Partners. http://axios.link/gsfo
• Joby Aviation, a Santa Cruz, Calif.-based maker of flying taxis, has raised $100 million in Series B funding. Intel Capital led, and was joined by based EDBI, JetBlue Technology Ventures, Toyota AI Ventures, Allen & Co., AME Cloud Ventures, Ron Conway, Capricorn Investment Group, 8VC, Sky Dayton and Paul Sciarra. http://axios.link/HCZk
🚑 Avrobio, a Cambridge, Mass.-based developer of gene therapies for rare conditions like Fabry disease, has raised $60 million in Series B funding. Cormorant Asset Management and Surveyor Capital co-led, and were joined by Aisling Capital, Brace Pharma Capital, Eventide Asset Management, Morningside Ventures and return backers Atlas Venture, SV Health Investors and Clarus Ventures. http://axios.link/eXpr
• Platterz, a Toronto-based corporate catering startup, has raised US$15 million in Series A funding. Aleph led, and was joined by return backers AltaIR Capital and Globalive Capital. http://axios.link/0H4i
• Wildmoka, a French provider of video editing software for live events, has raised $8 million in Series A funding from Alven Capital and seed backer Apicap. http://axios.link/ceqx
• CanvasPop, a Canadian company that prints photos onto various surfaces, has raised C$3.3 million in its first round of outside funding. Celtic House Venture Partners and BDC co-led. http://axios.link/aILN
https://www.axios.com/newsletters/axios-pro-rata-c2639947-b9d5-4be1-bfee-1cdb2f78472f.html?chunk=3#story3
Private Equity Deals
• Audax Private Equity has acquired Protective Industrial Products Global, a maker of hand-protection product, in partnership with the co-founding families. http://axios.link/3aZj
• Oak Hill Capital Partners has completed its previously-announced purchase of Safe Fleet, a Belton, Mo.-based provider of safety and productivity solutions for fleet vehicles, from The Sterling Group. www.safefleet.com
https://www.axios.com/newsletters/axios-pro-rata-c2639947-b9d5-4be1-bfee-1cdb2f78472f.html?chunk=4#story4
Public Offerings
✈ Corporación América Airports, an Argentina-based operator of 52 airports, raised $486 million in its IPO. It priced 28.6 million shares at $17 (below $19-$23 range), and closed its first trading day at $16.40. The company now trades on the NYSE under ticker CAAP, while Oppenheimer & Co. served as lead underwriter. http://axios.link/520r
⛽ FTS International, a Fort Worth, Texas-based provider of hydraulic fracturing services for the oil and gas industry, raised $351 million in its IPO. The company priced 19.5 million shares at $18, compared to original plans to offer 15.2 million shares at $15-$18. It will trade on the NYSE under ticker FTSI, with Credit Suisse serving as lead underwriter. Shareholders include Chesapeake Energy, RRJ Capital and Temasek. www.ftsi.com
https://www.axios.com/newsletters/axios-pro-rata-c2639947-b9d5-4be1-bfee-1cdb2f78472f.html?chunk=5#story5
Liquidity Events
• Sun Capital Partners is seeking a buyer for Spanish toymaker Famosa, according to Dow Jones. www.famosa.es
https://www.axios.com/newsletters/axios-pro-rata-c2639947-b9d5-4be1-bfee-1cdb2f78472f.html?chunk=6#story6
More M&A
• AT&T (NYSE: T) has hired BofA to consider a sale of its data center business, which generates around $135 million in annual EBITDA, according to the WSJ. http://axios.link/uaEj
• Motorola Solutions (NYSE: MSI) has agreed to acquire Canadian security camera maker Avigilon (TSX: AVO) for C$1.2 billion in cash, or C$27 per share (18.3% premium over yesterday's closing price). http://axios.link/rW6U
https://www.axios.com/newsletters/axios-pro-rata-c2639947-b9d5-4be1-bfee-1cdb2f78472f.html?chunk=7#story7
Fundraising
• 8VC, the San Francisco-based venture firm led by Joe Lonsdale, is raising $640 million for its second fund, per an SEC filing. A source says that a final close is expected shortly.
• Baidu Venture Capital held a first close for its second RMB-denominated fund, bringing in the equivalent of around $317 million. http://axios.link/MaP7
• Science Inc., a Santa Monica, Calif.-based tech incubator, has raised $75 million for a new fund, per an SEC filing. http://axios.link/6H8C
https://www.axios.com/newsletters/axios-pro-rata-c2639947-b9d5-4be1-bfee-1cdb2f78472f.html?chunk=8#story8
Final Photo