Axios Pro Rata
October 27, 2022
Good morning from LaGuardia Airport, where form now trumps function. Here we go...
Top of the Morning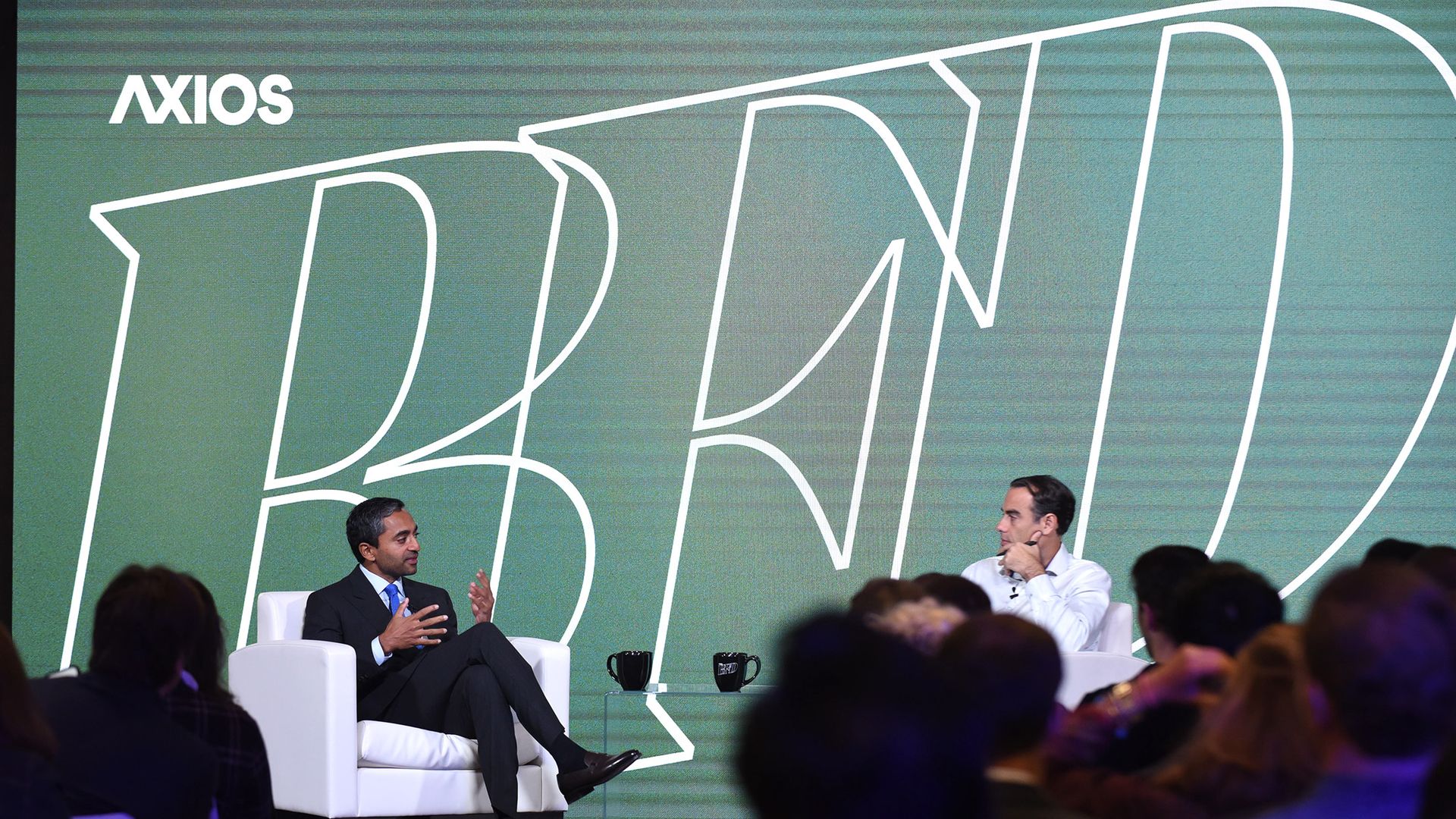 A huge thanks to the hundreds of you who came out yesterday to our inaugural dealmakers event, and to the tens of thousands of you who tuned in virtually (full event video here, and tons of coverage at Axios.com and via Axios Pro).
A few readers asked if the event had an official "theme."
It didn't, but one clearly emerged: Change.
Yes, I know that sounds a little squishy. Change is the only constant, uncertainty is eternal, etc.
But for so long, most of that was around the margins (save for the occasional macro shock, like COVID). Deal sizes, fund sizes, and valuations kept rising. Pattern matching reigned supreme. Companies of all stages kept moving toward mobile and the cloud and everything-as-a-service. If you weren't a growing "platform," you had the wrong PR firm.
Some of the change displayed yesterday was in perspective. Such as a chastened, albeit still confident, Chamath Palihapitiya talking about how much of his past success was thanks to Jay Powell.
Some was about brand new areas of investment, like private equity's rush into U.S. pro sports.
Some was about what now happens when the cameras are off, with climate tech investor Chris Sacca explaining how his "planet is f'd" thesis is rarely questioned during private meetings with Republican elected officials and fossil fuel company executives.
And some, like Mark Cuban's generic medicines effort, was about fixing a problem that's vexed the entire country for decades.
The big picture: Dealmakers all acknowledge that the macro downturn is challenging for both their investors and portfolio companies, but they also seem to feel more free to test new ideas and forge new paths. The death of FOMO.
If this sentiment survives the next mania, whatever it may be, that would be a BFD indeed.
The BFD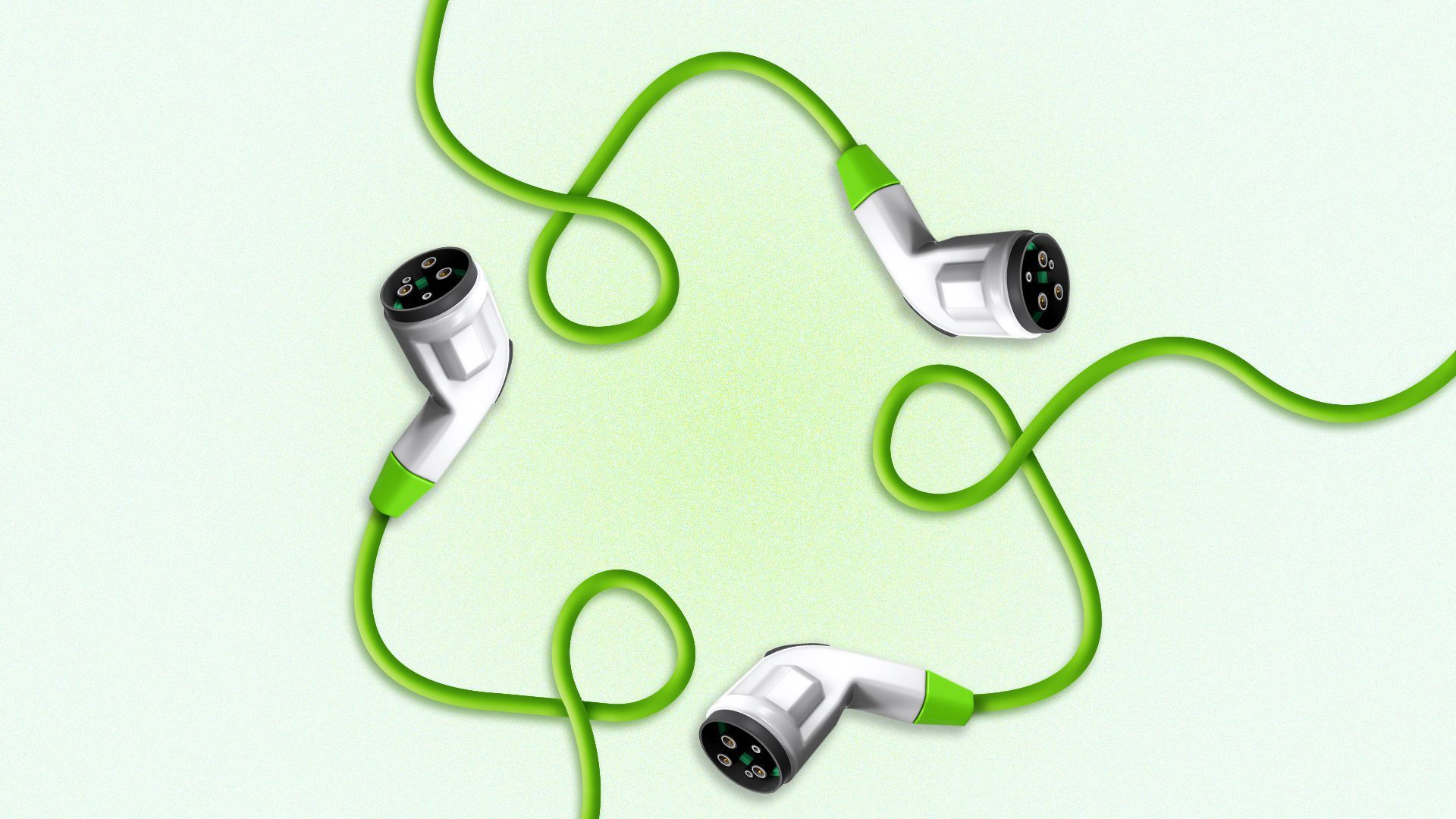 Ascend Elements, a Westborough, Mass.-based lithium-ion battery recycler, raised $200 million in Series C funding led by Fifth Wall Climate.
Why it's the BFD: Recycling could be key to helping electric vehicle manufactures meet rising demand. Battery supply chains already are under strain from raw material shortages, and the Inflation Reduction Act tied EV tax credits to raw materials sourcing. Plus the obvious environmental benefits.
Other investors include SK Ecoplant, Oman Investment Authority, Lithium Americas, GLy Capital Management, Mirae Asset Capital, Shinhan GIB and insiders Hitachi Ventures, InMotion Ventures, TDK Ventures, Orbia Ventures, At One Ventures, TRUMPF Venture, and Doral Energy-Tech Ventures.
More $$: Ascend also secured $100 million in debt, and recently received $480 million via two Energy Department grants.
The bottom line: A study by UC Davis researchers found that recycling could meet up to 11% of lithium demand by 2035. Plus up to 18% for cobalt and 17% for nickel. Another white paper, from the International Council on Clean Transportation, concluded that 90% of critical materials needed for EV batteries could be sourced via recycling by 2040.
Venture Capital Deals
🚑 HealthJoy, a Chicago-based health care navigation platform, raised $60m in Series D funding. Valspring Capital led, and was joined by Endeavour Vision, CIBC and insiders USVP, Health Velocity Capital, Nueterra Capital, Epic and GoHealth co-founders Brandon Cruz and Clint Jones. https://axios.link/3Dd1M9M
• OTI Lumionics, a Toronto-based developer of OLED display materials, raised C$55m from LG Technology Ventures, Samsung, United Display, Anzu Partners and the Lee Lau's family office. https://axios.link/3U3Y2OK
• Reap, a Hong Kong-based web3 payments startup, raised $40m. Acorn Pacific Ventures, Arcadia Funds and HashKey Capital co-led, and were joined by Payment Asia, Hustle Fund and Fresco Capital. https://axios.link/3SJ14GV
⚡Ionblox, a Fremont, Calif.-based lithium-ion cell company, raised $24m in Series B funding from Lilium, Applied Ventures and Catalus Capital. www.ionblox.com
🚑 Navina, an Israeli provider of assistant software for physicians, raised $22m in Series B funding. Alive led, and was joined by Grove Ventures, Vertex Ventures Israel and Schusterman Family Investments. https://axios.link/3TIOJUi
• SwiftConnect, a Stamford, Conn.-based provider of flexible work management software, raised $17m in Series A funding. JLL Spark and Navitas Capital co-led, and were joined by Bridge Investment Group, Crow Holdings, Cushman & Wakefield, Jamf, Nuveen, World Trade Ventures and 1414 Ventures. www.swiftconnect.io
• SGNL.ai, a Palo Alto, Calif.-based developer of enterprise authorization software, raised $12m in seed funding. Costanoa Ventures led, and was joined by Fika Ventures, Moonshots Capital and Resolute Ventures. https://axios.link/3DCGWlp
• Joro, an Oakland, Calif.-based personal carbon emissions tracking app, raised $10m in Series A funding co-led by Sequoia Capital and Amasia. https://axios.link/3zmXlb7
• Mattilda, a payments startup focused on private schools in Latin America, raised $10m in seed funding. FinTech Collective led, and was joined by DILA Capital, QED Investors, GSV Ventures, Picus Capital, Emerge Education, SMP and Xochi Ventures. https://axios.link/3U0fbIR
• Neat, a Paris-based embedded insure-tech for retailers, raised €10m. Octopus Ventures led, and was joined by New Alpha, Founders Future and Mundi Ventures. www.neat.eu
• Bit.io, an SF-based sharable cloud database, raised $7.5m from Battery Ventures and GreatPoint Ventures. www.bit.io
• Mason, a commerce engine for sellers that helps them avoid Amazon, raised $7.5m in seed funding. Accel and Ideaspring Capital co-led, and were joined by Lightspeed India, Mana VC, Gaingels, Core91 and VH Capital. https://axios.link/3sAGr5a
• Pixaera, a London-based gamified learning platform, raised $5.7m led by LocalGlobe. www.pixaera.com
• SideKick, a London-based digital active investment manager, raised £3.3m. Octopus Ventures led, and was joined by Seedcamp and Semantic. www.sidekickmoney.com
• Udaan, an Indian B2B marketplace, raised $120m in convertible notes and debt, per TechCrunch. Existing backers include Lightspeed India Partners and GGV Capital. https://axios.link/3gQUAs4
• Money View, an Indian lender to underserved customers, is in talks to raise between $125m and $150m in Series E funding led by Apis Partners at a $1b valuation, per TechCrunch. https://axios.link/3gLH09w
Private Equity Deals
• Amundi, CVC Capital Partners and TPG have been shortlisted to buy a stake in the asset management unit of Thailand's KBank, per Bloomberg. https://axios.link/3gP85IP
• Apollo Global Management and Pimco are nearing an agreement to buy Credit Suisse's securitized products unit, per multiple reports. https://axios.link/3Ndupbb
• KKR agreed to buy Ness, a Teaneck, N.J.-based digital services transformation company, from The Rohatyn Group. www.ness.com
• Long Ridge Equity Partners acquired a majority stake in Acqueon, a Dallas-based provider of omnichannel customer engagement software, from Everstone Capital (which retains a minority stake). www.acqueon.com
• MSP Sports Capital is buying a majority stake in the X Games from ESPN, a unit of Walt Disney Co. Skateboarder Tony Hawk also is participating on the buyside. https://axios.link/3sxsZPo
• NovaQuest Private Equity acquired AutoCruitment, a New York-based digital patient recruitment company. www.autocruitment.com
• RidgeLake Partners and Bonaccord acquired a passive minority stake in Shamrock Capital, an LA-based private equity firm focused on the media, entertainment and communications sectors. www.shamrockcap.com
• Seaway Plastics Engineering, a Port Richie, Fla.-based portfolio company of ICG, acquired MME Group, a St. Paul, Minn.-based medical products contract manufacturer. www.seawayplastics.com
⚡Shorelight reportedly is in advanced talks to buy the German oil and gas assets of Neptune Energy, a London-based company whose backers include China Investment Corp., Carlyle and CVC Capital Partners. https://axios.link/3zmgYjL
Public Offerings
• Mobileye, the Israeli self-driving software company owned by Intel, saw its shares spike as much as 37% in their market debut (closing 29.6% above the $21 IPO price).
Mobileye raised $861m in the year's third-largest IPO.
SPAC Stuff
• Chijet Motor, a Chinese electric vehicle maker, agreed to go public via Jupiter Wellness (Nasdaq: JWAC), which had been billed as a health SPAC. https://axios.link/3TKQWyS
• Atlas Crest Investment III, the fifth SPAC formed by Moelis & Co., withdrew registration for a $200m IPO. https://axios.link/3Fmv60f
More M&A
Elon Musk continues to move toward tomorrow's close of his Twitter takeover, this morning tweeting out a message to advertisers. Still no word on how the entire $44 billion will be financed.
• Aegon (Ams: AGN) is merging its Dutch operations with insurer ASR Nederland (Ams: ASRNL), in exchange for a 30% stake and €2.5b in cash. https://axios.link/3TJpL7i
• Dabur India agreed to buy a majority stake in Badash Masala, an Indian maker of spices and seasonings, for around $71m. https://axios.link/3sABUQ1
• Ford Motor Co. (NYSE: F) sold its remaining Russia asset, a 49% stake in the Sollers Ford joint venture. The deal is valued at just $1, but Ford has the right to buy back the shares within five years "should the global situation change." https://axios.link/3zksX12
Fundraising
• KKR secured nearly $1.9b for its debut impact fund, per an SEC filing. The total target isn't disclosed. https://axios.link/3WiJXyO
🌎 Satgana, a Paris-based climate tech VC firm, is raising €30m for its debut fund. https://axios.link/3feepcI
• Streamlined Ventures, led by Ullas Naik, raised $102m for its fifth seed fund and $36m for its third opportunities fund. https://axios.link/3Nfx0BM
It's Personnel
• Evan Neu joined venture firm Venrock as a partner and general counsel. He previously was with TPG. www.venrock.com
• Pamela Pavkov joined TPG as a partner and head of TPG NEXT, a fund-of-funds focused on diverse alt asset managers. www.tpg.com
• Ryan Simonetti joined Revolution Growth as a venture partner focused on proptech investments. He's currently CEO of Revolution-backed Convene. www.revolution.com/growth
Final Numbers
The U.S. economy grew by 2.6% in the third quarter, better than economist expectations and the first positive quarter of 2022.
Axios' Courtenay Brown writes: "Gross domestic product got a boost from trade dynamics, but the underlying details — including weaker housing and decelerating consumer spending — point to an economy that's slowing."
Elsewhere: The European Central Bank raised interest rates by 75 basis points.
✔️ Thanks for reading Axios Pro Rata, and to copy editors Mickey Meece and Bryan McBournie! Please ask your friends, colleagues and recyclers to sign up.