Axios Pro Rata
January 12, 2021
🖥️ You're invited: Please join me and Axios' Dion Rabouin tomorrow at 12:30pm ET for a virtual event about the pandemic's impact on small businesses, including conversations with World Central Kitchen founder José Andrés and Rep. Ro Khanna (D-Calif.). Register here.
Top of the Morning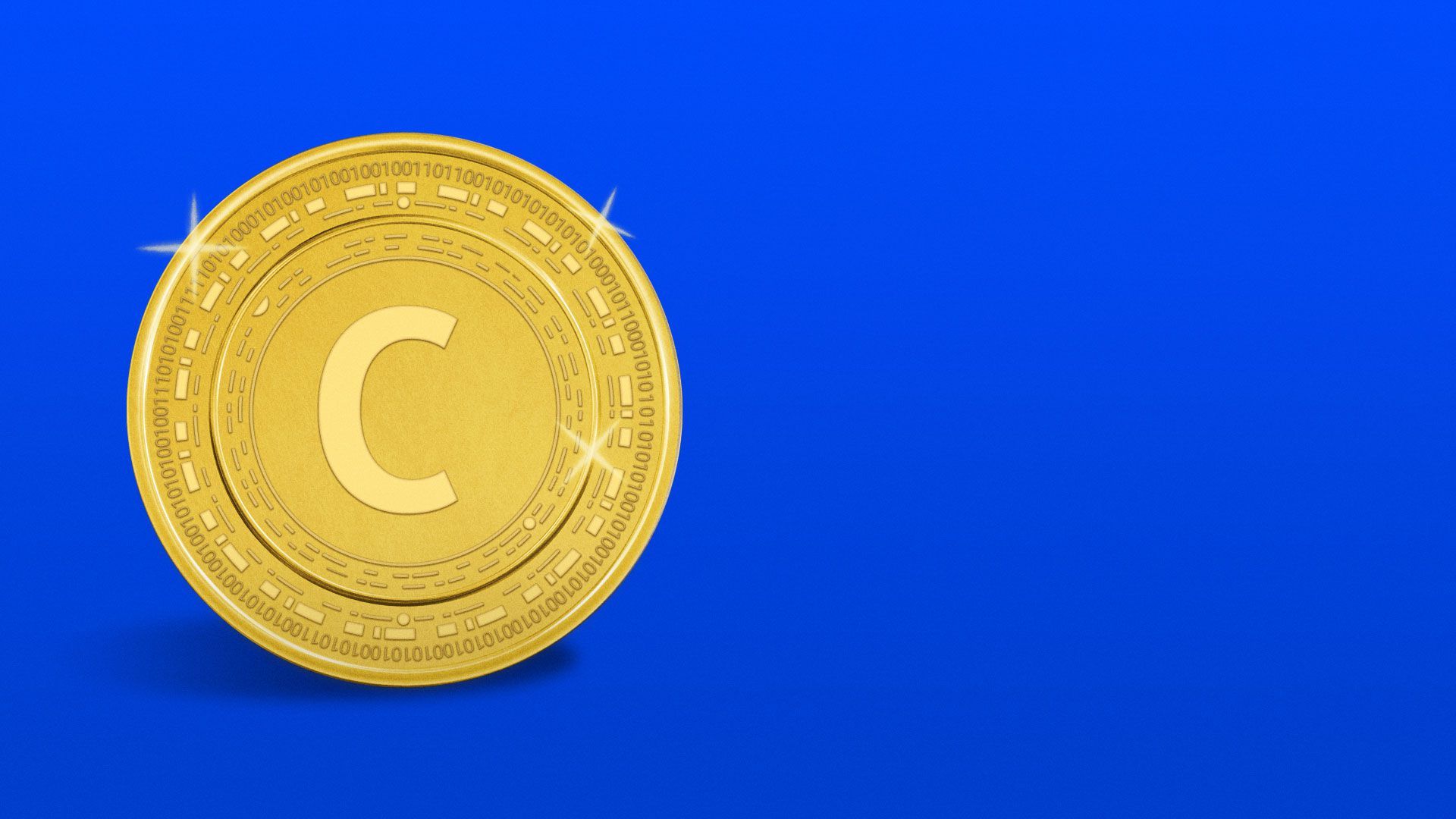 The past year's Bitcoin boom has been largely driven by Wall Street. A few big-name banks and fund managers bought in, causing others to buy in. You know, because sheep.
What's new: The remaining holdouts are about to get their shot at what might be a more familiar and less volatile form of exposure, in the form of publicly-listed corporate stock.
Bakkt, a Bitcoin futures exchange and digital asset wallet formed by the New York Stock Exchange's parent company, agreed yesterday to go public via a SPAC at a $2.1 billion valuation.
Coinbase, the largest U.S.-based crypto exchange, has already filed confidential IPO paperwork. Its most recent private valuation was $8 billion, but that was back in 2018. Expectations are it could be valued at more than twice that figure.
What they're saying: Axios' Kia Kokalitcheva writes that publicly-traded crypto companies — as opposed to more niche, index-like products — will "double as validation for a technology that's still seen by many as lawless and experimental."
Coinbase's IPO "is basically the 'Netscape moment' of crypto," argues Electric Capital's Avichal Garg, harkening back to the Internet browsing company whose 1995 IPO helped usher in the modern Internet industry.
Price talk: Bitcoin hit a record $40,000 last week, although has since pulled back. As of this writing, it's around $33,375.
D.C. intrigue: All of this also comes against the backdrop of the Treasury Department's proposed rules that would apply many traditional banking standards to self-hosted crypto wallets.
The rules are opposed by most major crypto companies, in part because they would arguably infringe on the technology's decentralized raison d'être.
Bakkt CEO Gavin Michael declined to offer an opinion when I asked him (repeatedly) yesterday on the podcast.
A source close to the White House said that there was momentum behind finalizing the rules before Trump leaves office, in part due to intense lobbying, but it's unclear if last Wednesday's events slowed that momentum.
Go deeper: Bakkt CEO Gavin Michael joins the Axios Re:Cap podcast. Listen via Apple, Spotify or Axios.
The BFD
Silver Lake is in advanced talks to acquire a minority stake in the commercial activities of New Zealand Rugby, parent company of the All Blacks team.
Why it's the BFD: It's impossible to overstate the importance of the All Blacks in New Zealand, where it's as much an icon as a rugby team.
Details: Sky News reports the deal could be for up to a 15% stake at around a US$2 billion valuation.
Anecdote: I was fortunate enough to be in New Zealand when it hosted the Rugby World Cup in 2011, which the All Blacks won. After attending a match in Auckland, I was at a bed-and-breakfast for the night of the finale. At check-in, the innkeeper was very clear and unapologetic: "There won't be breakfast tomorrow. If we win, I'll be too hungover. If we lose, I won't care about anything anymore."
Bottom line: "If completed, it would be the latest — and arguably most prominent — example of a major sports rights-owner seeking to raise capital after a year in which the coronavirus pandemic has wreaked havoc with the global sporting schedule." — Mark Kleinman, Sky News
Venture Capital Deals
• Checkout.com, a London-based online payments platform, raised $450 million in Series C funding at a $15 billion valuation. Tiger Global led, and was joined by Greenoaks Capital and return backers like Coatue, Insight Partners. DST Global, Blossom Capital and GIC. http://axios.link/dS5x
🚑 Tessera Therapeutics, a Cambridge, Mass.-based programmable genetics startup founded by Flagship Pioneering, raised $230 million in Series B funding from Alaska Permanent Fund, Altitude Life Science Ventures, and SoftBank Vision Fund 2 and QIA. http://axios.link/vQnz
• Prodigy, a Canadian educational gaming company, raised C$159 million in Series B funding. TPG Growth led, and was joined by Canadian Business Growth Fund. www.prodigygame.com
• Cockroach Labs, a New York-based distributed SQL database, raised $160 million in Series E funding at a $2 billion valuation. Altimeter Capital led, and was joined by Greenoaks, Lone Pine and return backers Benchmark, Bond, FirstMark, GV, Index Ventures, and Tiger Global. www.cockroachlabs.com
• Workato, a Mountain View, Calif.-based business automation integration platform, raised $110 million in Series D funding. Altimeter Capital led, and was joined by Insight Partners. www.workato.com
• Jedox, a German provider of financial modeling and analytics software, raised over $100 million. Insight Partners led, and was joined by insiders Iris Capital, eCAPITAL and Wecken & Cie. http://axios.link/mu1o
• Curve, a London-based smart payments card and app, raised $95 million in Series C funding from IDC Ventures, Fuel Venture Capital, Vulcan Capital, OneMain Financial and Novum Capital. http://axios.link/vMMx
• M-Files, a Plano, Texas-based information management company, raised $80 million. Bregal Milestone led, and was joined by insiders Partech, Tesi and Draper Esprit. http://axios.link/ga7x
• Clark, a German digital insurance platform, raised €69 million in Series C funding. Tencent led, and was joined by Portag3 Ventures, White Star Capital and Yabeo. http://axios.link/qxPR
🐶 Open Farm, a Canadian pet food brand, raised US$65 million. General Atlantic led, and was joined by insider Encore Consumer Capital. www.openfarmpet.com
• Jobber, a Canadian provider of business management software for home services pros, raised US$60 million. Summit Partners led, and was joined by Tech Pioneers Fund and return backers OMERS Ventures and Version One Ventures. http://axios.link/N6a8
• AirSlate, a Boston-based no-code business automation startup, raised $40 million from Morgan Stanley Expansion Capital, General Catalyst and HighSage Ventures. www.airslate.com
• Landing, a membership-based flexible living startup, raised $45 million in Series B funding. Foundry Group led, and was joined by Greycroft and Maveron. It also secured a $55 million debt facility. www.hellolanding.com
🚑 Earli, a South SF-based bioengineering startup focused on cancer, raised $40 million in Series A funding. Khosla Ventures led, and was joined by Perceptive Advisors, Casdin Capital, Andreessen Horowitz, Sands Capital, Jim Breyer, Rahul Mehta, Marty Chvez and Shlomo Ben-Haim. www.earli.com
• Modern Treasury, a San Francisco-based provider of payment operations software, raised $38 million in Series B funding. Altimeter Capital led, and was joined by return backers Benchmark and YC. www.moderntreasury.com
• Employee Navigator, a Bethesda, Md.-based benefits admin and HR software provider, raised $34 million from JMI Equity. www.employeenavigator.com
• JumpCloud, a Louisville, Colo.-based cloud directory platform provider, raised $25 million in new Series E funding (round total over $100m). BlackRock led, and was joined by H.I.G. Growth, OurCrowd and insider General Atlantic. www.jumpcloud.com
• Snowplow, a London-based behavioral data management platform, raised $10 million in Series A2 funding. Atlantic Bridge led, and was joined by insider MMC Ventures. http://axios.link/6Q2l
• Gtmhub, a Denver-based provider of OKR-focused business orchestration software, raised $30 million in Series B funding. Insight Partners led, and was joined by Singular and return backers CRV and LaunchHub Ventures. http://axios.link/vyHa
• CropIn, an Indian agricultural data startup, raised $20 million in Series C funding. ABC World Asia led, and was joined by Chiratae Ventures, Invested Development and Ankur Capital. http://axios.link/1VSw
• Dable, a South Korean content discovery platform, raised $12 million in Series C funding at a $90 million valuation. SV Investment led, and was joined by KB Investment, K2 Investment and return backer Kakao Ventures. http://axios.link/d0cA
• BukuKas, an Indonesian software stack for local SMEs, raised $10 million in Series A funding led by Sequoia Capital India. http://axios.link/47Ti
• Zipmex, a Singapore-based digital assets exchange, raised $6 million led by Jump Capital. http://axios.link/e121
🚑 Alula, a platform for cancer survivors, patients and caregivers, raised $2.2 million from BBG Ventures, Andy Dunn, Metrodora Ventures, Thrive Capital, Village Global, Homebrew, Shrug Capital, Basement Ventures, Company Ventures, K5 Global and K50 Ventures. http://axios.link/ke4j
• SoleSavy, an online sneaker enthusiasts community, raised $2 million from firms like Panache Ventures, Bedrock Capital, Launch and Tiny Capital. http://axios.link/RXWi
Private Equity Deals
🚑 ArchiMed acquired Zyto, a German developer and manufacturer of cancer diagnostic tests. www.zytomed-systems.com
• Bain Capital Double Impact invested in TeachTown, a Woburn, Mass.-based provider of hybrid-learning software for students with special education. www.teachtown.com
• CVC Capital Partners agreed to buy Stark Group, a Denmark-based distributor of heavy building materials, from Lone Star Funds. http://axios.link/1Wjn
• EDSCO Fasteners, a Denton, Texas-based portfolio company of MiddleGround Capital, acquired Attala Steel Industries, a Kosciusko, Miss.-based maker of steel foundation products for utility-scale solar power infrastructure. www.edsco.com
• Eminence Capital, which holds a 5% stake in Pluralsight (Nasdaq: PS), said it opposes a $3.5 billion buyout by Vista Equity Partners. http://axios.link/HcNh
• GS Foods, an Ontario, Calif.-based portfolio company of Highview Capital and A&M Capital Partners, acquired Hayes Distributing, a Benicia, Calif.-based provider of food products to schools and vending companies. www.hayesdist.com
• Hornetsecurity, a German portfolio company of Providence Strategic Growth and Verdane, agreed to buy Altaro, a Raleigh, N.C.-based cloud email security platform. www.hornetsecurity.com
• Investment Metrics, a portfolio company of Resurgens Technology Partners, acquired Style Analytics, a provider of investor factor and ESG exposure analytics SaaS, from Horizon Capital. www.invmetrics.com
• Kith Kitchens, a Haleyville, Ala.-based portfolio company of Pfingsten, acquired Mouser, an Elizabethtown, Ky.-based manufacturer of kitchen and bath cabinetry. www.kithkitchens.com
🎵 KKR acquired a majority stake in the music catalog of Ryan Tedder, songwriter and lead vocalist of the band OneRepubic. http://axios.link/IOFk
• MountainGate Capital invested in BioDerm, a Largo, Fla.-based provider of disposable medical devices and wound care supplies to patients with chronic conditions. www.bioderminc.com
🍔 Oak Hill Capital Partners invested $20 million in existing portfolio company Checkers Drive-In Restaurants. http://axios.link/F3Pz
• SilverTree Equity acquired Orbus Software, a London-based provider of enterprise architecture software. http://axios.link/50hA
🚑 Solaris Health, a Fort Lauderdale, Fla.-based portfolio company of Lee Equity Partners, acquired Philadelphia-based MidLantic Urology Partners. www.solarishealthpartners.com
🚑 TA Associates acquired a stake in OmniActive, a provider of natural nutraceutical ingredients with offices in India and New Jersey. www.omniactives.com
• TriSpan acquired a majority stake in Prestige PEO, a Melville, N.Y.-based professional employer organization. www.prestigepeo.com
Public Offerings
• LoanDepot, a Foothill Ranch, Calif.-based nonbank mortgage lender backed by Parthenon Capital, filed for an IPO that Renaissance Capital estimates could raise up to $1.5 billion. It plans to list on the NYSE (LDI) and reports $1.47 billion in net income on over $3 billion in revenue for the first nine months of 2020. http://axios.link/3WbC
• Moonpig, a British online greetings card company backed by Exponent Private Equity, is prepping a London IPO at around a £1 billion valuation, per Reuters. http://axios.link/GBrX
SPAC Stuff
• Proterra, a Burlingame, Calif.-based electric bus-maker, agreed to go public via a reverse merger with ArcLight Clean Transition (Nasdaq: ACTC), a SPAC formed by energy-focused private equity firm ArcLight. The deal valued Proterra at around $1.6 billion, including a $415 million PIPE.
Proterra had raised over $700 million from firms like Kleiner Perkins, Cowen, Soros Fund Management, Generation Investment Management and Broadscale Group. http://axios.link/OPrn
• Lucid Motors, a Newark, Calif.-based electric car maker, is in talks to go public with one of Michael Klein's SPACs at a valuation of up to $15 billion, per Bloomberg. Lucid has raised over $1.1 billion from backers like Saudi Arabia's Public Investment Fund. http://axios.link/fkO6
• Adit EdTech Acquisition, an education-focused SPAC, raised $240 million in an upsized IPO. http://axios.link/lu4K
• Astrea Acquisition, a hospitality and financial services-focused SPAC, filed for a $150 million IPO. http://axios.link/Zluz
🚑 Athlon Acquisition, a health/wellness SPAC formed by Causeway Media Partners, raised $240 million in an upsized IPO. http://axios.link/xa9k
🚑 Big Cypress Acquisition, a life sciences-focused SPAC led by biotech vet Samuel Reich, raised $100 million in an upsized IPO. http://axios.link/PKiq
• Global Partner Acquisition II, a consumer and commerce-focused SPAC led by Paul Zepf (ex-TowerBrook Capital Partners, Golub Capital), raised $275 million in an upsized IPO. http://axios.link/in37
🚑 Ignyte Acquisition, a life sciences-focused SPAC formed by Ladenburg Thalman execs, filed for a $50 million IPO. http://axios.link/tEwE
• TPG Acquisition One, a SPAC led by former DXC Technology CEO John Michael Lawrie, filed for a $300 million IPO. http://axios.link/zs8j
Liquidity Events
• Sverica sold 7Summits, a Milwaukee-based Salesforce consultancy, to IBM (NYSE: IBM). www.7SummitsInc.com
More M&A
🚑 Steris (NYSE: STE) agreed to buy Cantel Medical (NYSE: CMD), a Little Falls, N.J.-based provider of infection prevention products, in a cash-and-stock deal that values Cantel at around $4.6 billion (including $1B of assumed debt). http://axios.link/KjT3
Fundraising
• Brightstar Capital Partners, a New York-based private equity firm, raised $1.1 billion for its second fund, per Buyouts. http://axios.link/3LOr
• LaunchHub Ventures, an early-stage VC firm focused on Central and Southeastern Europe, held a €44 million first close for its latest fund (total target of €70m). http://axios.link/a3ua
• Orange, the French telecom giant, is spinning out its VC unit into an independent entity. Orange Ventures will receive an initial €350 million allocation from its former parent, but will be able to raise third-party capital for the first time. http://axios.link/PrN5
It's Personnel
• Glenn Youngkin, who stepped down last summer as co-CEO of The Carlyle Group, plans to run for Governor of Virginia. http://axios.link/l3GS
• Joe Dowling, former CEO of Brown University's investment office, joined The Blackstone Group as global co-head of its hedge fund unit. http://axios.link/ic8u
• Kristie Goodman joined ICV Partners as director of IR and strategic partnerships. She previously launched and led Inner City Consulting, and before that was at Wind Point Partners, Fisher Lynch Capital and Paris Capital. www.icvpartners.com
• HKW, an Indianapolis-based private equity firm, promoted Tom Shaw to principal. www.hkwinc.com
• Tom Lister stepped down as co-managing partner at Permira, per PE International. That leaves Kurt Björklund as the London-based private equity firm's sole managing partner. http://axios.link/Ef9o
• Jackie Roberts joined Hunter Point Capital as head of its ESG practice. She previously was The Carlyle Group's chief sustainability officer. www.hunterpointcapital.com
Final Numbers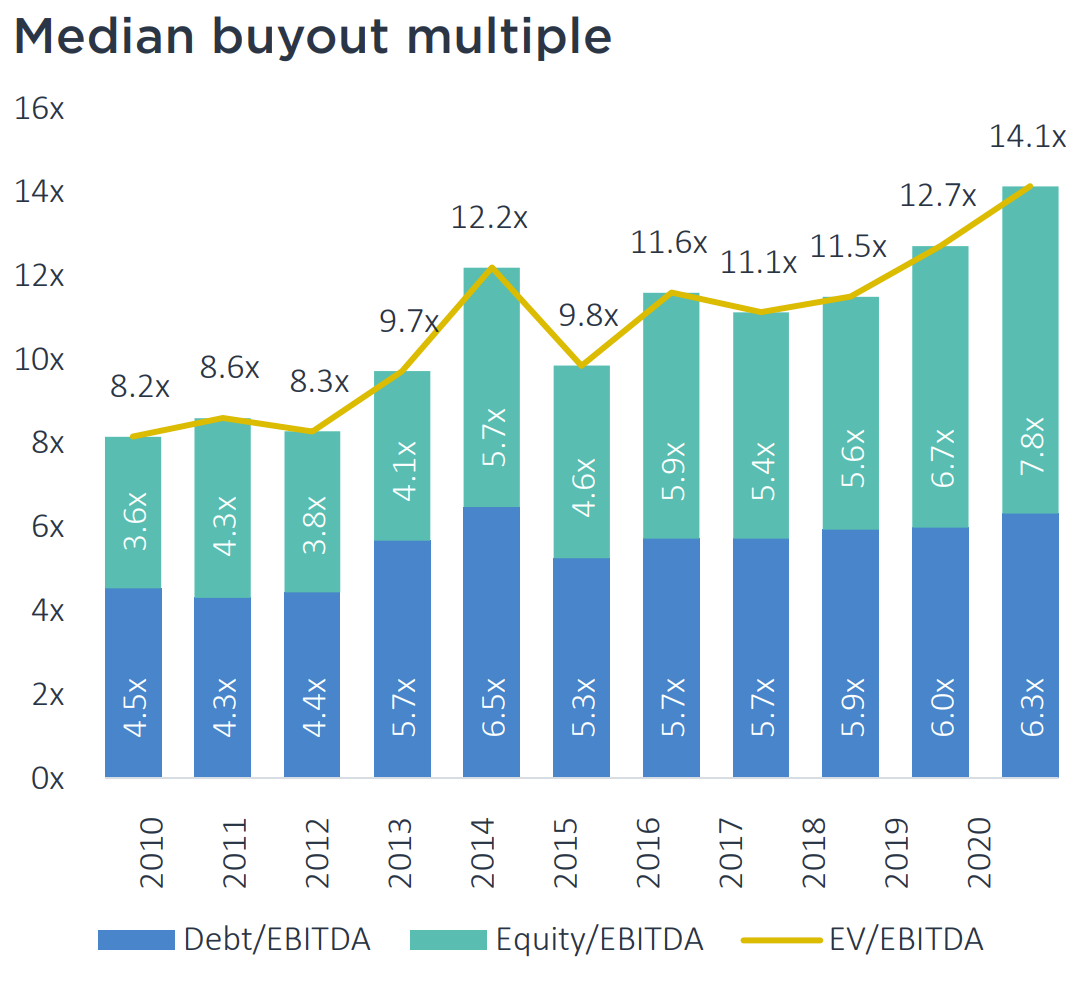 PitchBook analysts predict that 20% of 2021 buyouts will come at multiples north of 20x EBITDA, for two reasons:
"First, price multiples in both public and private markets have been elevated for some time, and we see no reason for this to change in 2021... Although debt/EBITDA multiples were slightly lower in 2020, we expect the use of leverage in 2021 to be propelled by low interest rates, strong demand for high-yield debt, and a surfeit of dry powder in direct lending funds.
Second, buyout funds are increasingly targeting growth-stage tech companies that tend to trade at much higher multiples of earnings than the traditional PE target... Even if pricing stays the same for most businesses, a higher proportion of buyouts taking place in sectors such as software and biotech should boost the proportion of deals taking place in this pricier range."
✔️ Thanks for reading Axios Pro Rata! Please ask your friends, colleagues and rugby fans to sign up.