Axios Pro Rata
October 06, 2022
Top of the Morning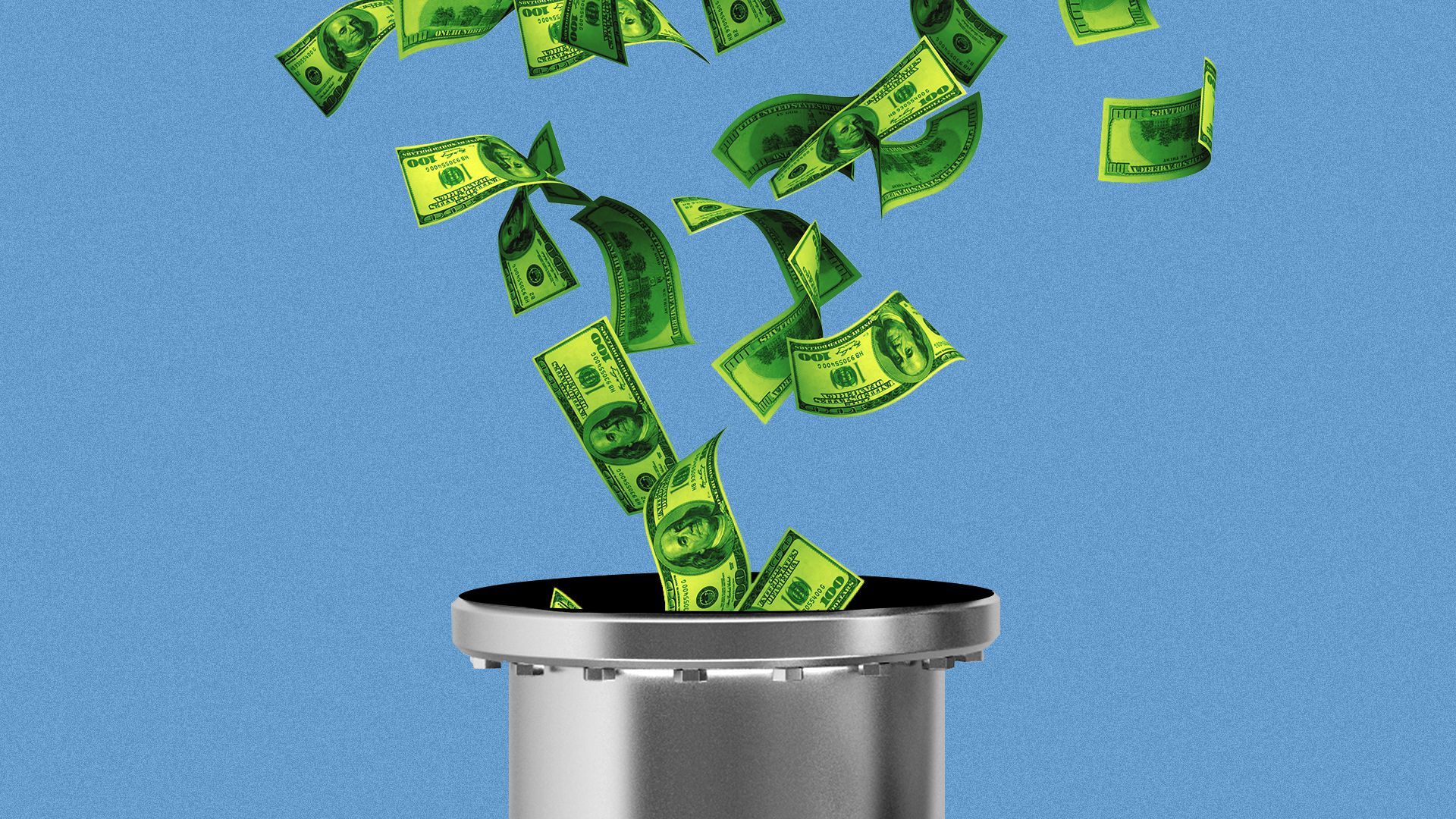 General partners in private equity and venture capital funds have increased their commitments beyond the customary 2%, according to new research from MJ Hudson.
Why it matters: Fund managers having more skin in the game is generally viewed as a net positive, since it better aligns investor interests.
On the downside, however, this trend can cause additional complications for first-time managers who don't have much personal wealth.
By the numbers: Around 81% of 2021-vintage funds reviewed by MJ Hudson included GP commits in excess of 2%.
That's up from a 75% average over the prior three years, with the 2021 figure including 38% with a GP commit above 3%.
Meanwhile, many other top-line terms remained stable per the study. The majority of fund management fees, for example, remained in the 1.76%–2% range (caveat, the fee percentage shrinks if viewed in relation to committed capital as opposed fund number of funds, as larger funds often have lower fees).
What to watch: Tiger Global today is expected to begin raising its next flagship VC/growth equity fund. It should be interesting to see the GP commit, as Tiger typically is an outlier on the very high side.
One reason the firm historically has targeted less money than it could raise, with shorter investment cycles, is to better enable partners to roll returns into the next fund. But it also comes against the backdrop of difficulties at the hedge fund side of Tiger's house, due to falling public tech stock prices.
Given that returns are also under pressure in the private markets, particularly with the IPO window mostly closed, it wouldn't be surprising to see industry-wide GP commitment trends begin to reverse course.
The BFD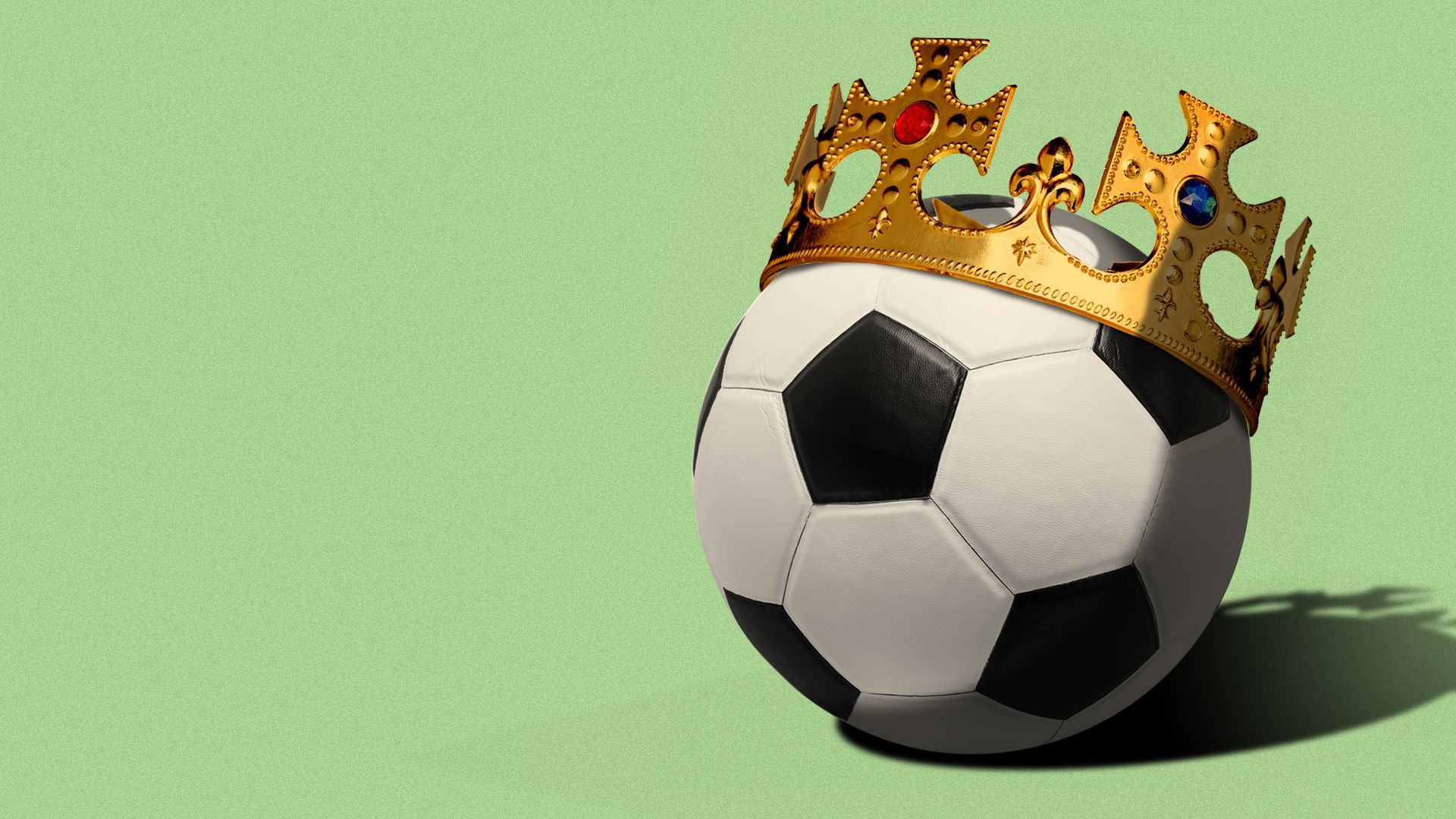 Everton FC, a Premier League club based in Liverpool, has held preliminary talks to be acquired by LAMF Global Ventures Corp. I (Nasdaq: LGVC), a SPAC formed by LA-based producers Jeffrey Soros and Simon Horsman, per Bloomberg.
Why it's the BFD: This would combine one of 2022's top deal trends (pro sports team purchases) with one of 2021's top deal trends (SPAC mergers).
Details: Yes, Jeffrey Soros is related to George Soros; Jeffrey is George's nephew. His SPAC raised $253 million in its IPO last November.
Everton currently is owned by Farhad Moshiri, who in July said the club was not for sale.
The bottom line: "Everton stands among England's most historic clubs and is one of just a few to have never been relegated from the EPL, the world's richest football league. It came perilously close to losing that status last season, only to survive relegation with a game to spare." — Gillian Tan & David Hellier, Bloomberg
Today in Twitter
The judge overseeing Twitter's lawsuit against Elon Musk yesterday wrote that she will "continue to press on toward our trial," as neither party had yet requested a stay.
Sources say that Musk and Twitter are negotiating a resolution to their dispute, with the social media company wanting legal assurances that Musk will complete the deal were Twitter to drop litigation. Or, put another way, his letter is not enough.
They reportedly have agreed to postpone Musk's deposition, which had been scheduled to begin today.
Elsewhere: The NY Times reports that Musk in recent months sought to renegotiate the deal —seeking up to a 30% discount — but to no avail. And there's a Reuters story about how neither Apollo Global Management nor Sixth Street are still in talks to provide preferred financing to Musk's bid.
Go deeper: Elon Musk's super app vision
Venture Capital Deals
🚑 Nested Therapeutics, a Cambridge, Mass.-based precision medicine startup focused on cancer, raised $90m in Series A funding. Goldman Sachs led, and was joined by Foresite Capital, Avidity Partners, Cowen Healthcare Investments, Section 32 and founding investor Versant Ventures. https://axios.link/3T5njrf
• Jiko, an Oakland, Calif.-based fintech that automates T-bill investments and storage, raised $40m in Series B funding. Red River West led, and was joined by Trousdale Ventures, Owen Van Natta, Temaris & Associates, La Maison Partners, BPI France, Airbus Ventures, Anthem Ventures, Upfront Ventures and Radicle Impact. https://axios.link/3CCZfGD
• The Rounds, a Philadelphia-based provider of e-commerce restocking solutions, raised $38m in Series A funding. Andreessen Horowitz and Redpoint Ventures co-led, and were joined by Construct Capital and First Round Capital. https://axios.link/3ygx6CP
• Clearspeed, a San Diego-based provider of voice analytics for detecting fraud risk, raised $27m in Series C funding. Sanida Holdings and PilotRock co-led, and were joined by King Philanthropies. www.clearspeed.com
• Korea Credit Data, a Seoul-based fintech for SMEs, raised $24.7m in Series D extension funding from Fiserv and LG Uplus. https://axios.link/3Ej91in
• Typhur Technology, a San Jose, Calif.-based maker of a sous vide device, raised $20m in seed funding from co-led by Jiupai Capital and Bright Future Technology Holdings. https://axios.link/3Eo0Yku
🍕 Stellar Pizza, a Hawthorne, Calif.-based developer of pizza-making robots, raised $16.5m led by Marcy Venture Partners. https://axios.link/3fyjvA6
• EcoCart, an LA-based developer of sustainable infrastructure for e-commerce, raised $14.2m in Series A funding. Fifth Wall Climate led, and was joined by Capital One Ventures, SVB Capital, Ryder Ventures and Sephora CTO Sree Sreedhararaj. https://axios.link/3EAUWNJ
• Oort, a Boston-based identity threat detection and response startup, raised $11.5m in Series A funding. 406 Ventures and Energy Impact Partners co-led, and were joined by Cisco Investments. https://axios.link/3SWha0i
• Lightdash, an SF-based open-source business intelligence platform, raised $8.4m in seed funding. Accel led, and was joined by Moonfire and YC. https://axios.link/3CDTloX
• Pulp Culture, an LA-based maker of fermented alcoholic beverages, raised $7 million in Series A funding led by The Kale Fund. https://axios.link/3Ej0cFf
• Yummers, a maker of pet food mix-ins, raised a $6.3m in seed funding from L Catterton, per Axios Pro. https://axios.link/3rypesw
⚡Halo.Car, an EV-share startup, raised $5m. At One Ventures led, and was joined by T-Mobile Ventures, Earthshot Ventures and Boost VC. www.halo.car
⚡ Raise Green, a retail investing platform for renewable energy projects and companies, raised $1.2m in seed funding from such backers as TechStars, per Axios Pro. https://axios.link/3fMBAuj
Private Equity
• Arctic Wolf Networks, a Sunnyvale, Calif.-based security operations center-as-a-service company valued by VCs at $4.3 billion, raised $401m in convertible notes financing. Existing backer Owl Rock led, and was joined by Viking Global Investors, Ontario Teachers' and Neuberger Berman. https://axios.link/3Eo2nHM
• Bregal Investments acquired a majority stake in PUR, a French provider of regenerative environmental services. www.purproject.com
• Cadrex, a Romeoville, Ill.-based portfolio company of Core Industrial Partners, acquired EPMP, a Seguin, Texas-based provider of precision sheet metal fabrication services. www.cadrex.com
• CenterOak Partners acquired Palmetto Exterminators, a Charleston, S.C.-based pest control company. www.palmettoexterminators.net
• Greenbelt Capital Partners led a recapitalization of Unirac, an Albuquerque, N.M.-based maker of PV mounting solutions. www.unirac.com
🚑 Harrow (Nasdaq: HROW) sold its non-ophthalmic compounding business to an affiliate of Revelation Pharma, a Greenwood Village, Colo.-based portfolio company of Osceola Capital. www.revcustomrx.com
• Ipackchem Group, a French plastics manufacturer owned by SK Capital Partners, acquired a majority stake in TPG Plastics, a Kentucky-based maker of engineered plastic blow molded products like fuel containers. www.ipackchem.com
• KKR agreed to buy a majority stake in Boasso Global, a Tampa, Fla.-based provider of services to the ISO tank container industry, from Apax Partners. www.boassoglobal.com
🚑 TPG and Johor Corp. have suspended talks to acquire JPJ Healthcare, Malaysia's largest private hospital operator, after failing to agree to terms with state government officials, per Bloomberg. https://axios.link/3SF1ChK
Public Offerings
• Calvera, a Spanish hydrogen solutions firm, hired Banco Santander to manage a Madrid listing that could raise up to €150m, per Bloomberg. https://axios.link/3EjfsC3
• Porsche, which went public last month in the year's largest European IPO, today overtook parent company Volkswagen as Europe's most valuable automaker. https://axios.link/3VjYiur
SPAC Stuff
🚑 American Oncology Network, a Fort Myers, Fla.-based oncology practice network, agreed to go public at an implied $500m valuation via Digital Transformation Opportunities Corp. (Nasdaq: DTOC). https://axios.link/3CcxymE
• Plutonian Acquisition, a SPAC led by Wei Kwang Ng (Singapore Post), filed for a $50m IPO. https://axios.link/3CziTmU
Liquidity Events
• Centerbridge Partners is seeking a buyer for Kik Consumer Products, a Lawrenceville, Ga.-based maker of household and pool-cleaning products (brands include Comet and Prestone) that could fetch $4b, per Bloomberg. https://axios.link/3e9gypl
• RoadRunner Recycling, a Pittsburgh-based waste management company that recently raised $70m from General Atlantic, acquired Compology, an SF-based provider of waste and recycling smart metering tech that had raised over $30m from firms like 001 Ventures, August Capital, Draper Venture Network and Winklevoss Capital Management. www.roadrunnerwm.com
• SoftBank is considering a sale of its % stake in broadcaster TelevisaUnivision, per Bloomberg. https://axios.link/3CksdKi
• Spotify (NYSE: SPOT) bought Kinzen, an Irish content moderation tech startup that had raised nearly $10m from FST Growth, Enterprise Ireland, Business Venture Partners, DK Investments and Bessemer Venture Partners. https://axios.link/3SUGGTK
🚑 Trivest Partners is seeking a buyer for ScanSTAT, an Alpharetta, Ga.-based provider of release-of-information solutions, per Axios Pro. https://axios.link/3ehzVMZ
Fundraising
• Amazon is launching a $150m fund-of-funds for VC firms that back underrepresented founders. https://axios.link/3V6FSNg
• Antin Infrastructure Partners held a €5b first close on its fifth flagship fund, which is targeting €10b with a €12b hard cap. www.antin-ip.com
• CRV raised $1b for its 14th flagship VC fund, and $500m for its second growth-stage fund. www.crv.com
• MassMutual said it would commit another $100m to invest in first-time funds led by Black, Latinx and Indigenous managers.
• Matrix Partners raised $800m for its 12th flagship fund. www.matrixpartners.com
It's Personnel
• Adams Street Partners promoted Brijesh Jeevarathnam to partner and global head of fund investments, succeeding the retiring Kelly Meldrum. www.adamstreetpartners.com
• Barclays promoted Luca Maiorana to head of its EMEA financial institutions group. https://axios.link/3Ejfhqn
• Christopher Chua stepped down as deputy head of Asia-Pacific M&A at Credit Suisse, to lead Asia-Pacific M&A at HSBC. https://axios.link/3T0IAlP
• T. Michael Johnson joined CIFC as a managing director and co-head of business development. He previously led investor relations for Carlyle Global Credit. www.cifc.com
Final Numbers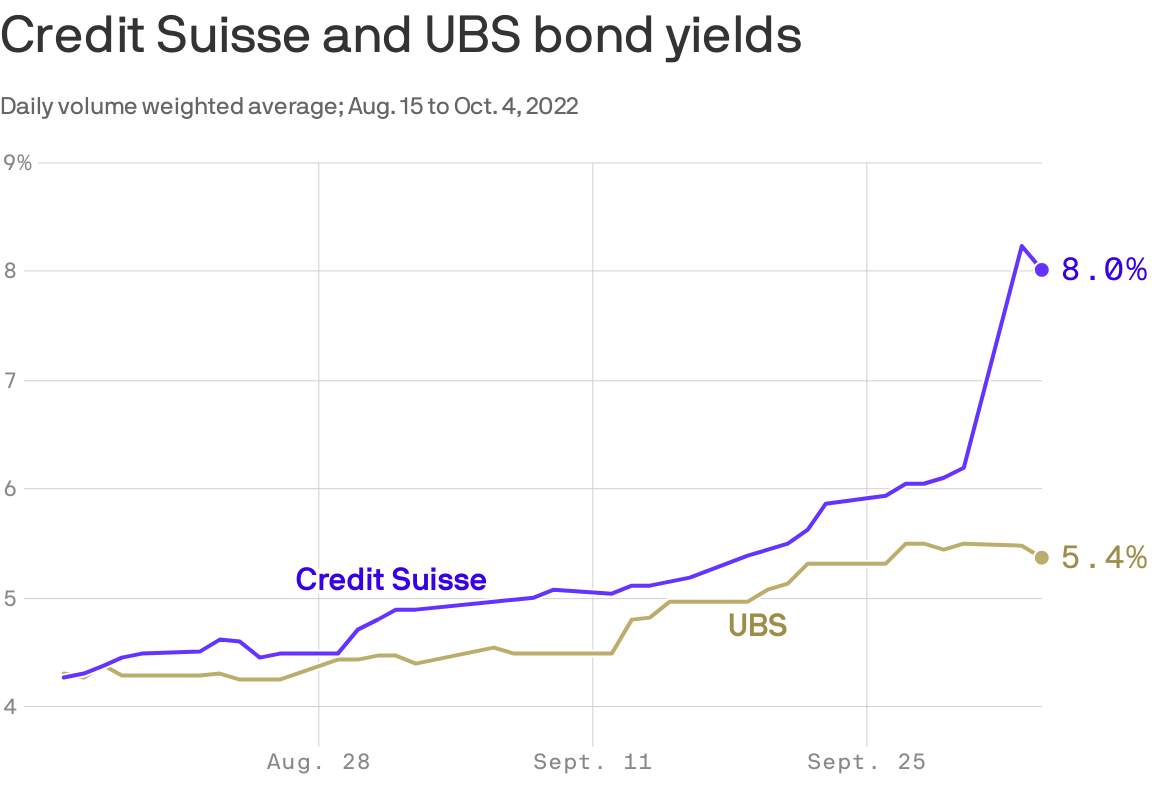 Credit Suisse wants an outside investor to help finance the spinoff of its advisory and investment banking business, according to Bloomberg.
No final decisions have been made yet on the spinoff, which likely would include the bank's deal-making and leveraged finance team and operate under the revived First Boston name.
Go deeper: Credit Suisse has a strong capital position — but the markets are behaving as though it doesn't, Axios' Felix Salmon writes. And, in banking, perception can quickly become reality.
🙏 Thanks for reading Axios Pro Rata, and to copy editors Mickey Meece and Bryan McBournie! Please ask your friends, colleagues and soccer stars to sign up.