September 06, 2022
🚑 Situational awareness: The European Commission blocked Illumina's completed takeover of early cancer detection firm Grail, just days after Illumina bested the FTC in court. Illumina says it will appeal, but also said it will explore divestiture options in case it doesn't prevail.
Top of the Morning
Truth Social, the Twitter clone launched by former President Trump, may need to find a new path to the public markets.
Driving the news: Reuters reports that blank check company Digital World Acquisition Corp. didn't secure enough shareholder approval to extend the merger closure deadline with Truth Social by one year, with the current deadline set to expire this Thursday.
There has not been any formal announcement yet from DWAC, which will announce the vote results later today at a special shareholder meeting.
CEO Patrick Orlando has been quiet on Truth Social for several days, after a flurry of "truths" and media appearances last week — all aimed at hitting the 65% shareholder approval threshold
To some extent, the vote failure was to be expected.
But there was plenty of reason to think the extension might pass.
The majority of DWAC shareholders are retail investors, many of whom likely bought in when the price was many multiples above the $10 liquidation mark. Sunk cost theory and all.
Plus, many DWAC backers view Truth Social more as a cause than as a company.
What next: DWAC still has a few levers it could pull. One would be to extend the vote deadline by a day or two, particularly if it's within striking distance of that 65%.
It also has the right to unilaterally extend the SPAC life by up to six months, via a pair of three months extensions. This could let it continue to work on the Truth Social deal, hoping the investigations dissipate and that the PIPE investors also extend, or search out new targets.
But... were it to enact the extensions, DWAC's sponsor would be required to invest over $6 million that wouldn't be recoverable in the absence of a completed deal.
The bottom line: This merger was always a volatile mix of grievance politics, SPACs and memes. Not surprising that it's been a bumpy ride.
The BFD
UBS (NYSE: UBS) no longer will pay $1.4 billion in cash to buy Palo Alto, Calif.-based robo-adviser Wealthfront. The mutual termination comes eight months after the merger was announced, with UBS now to invest $69.7 million via a convertible note deal at around the same valuation.
Why it's the BFD: It's a big setback for the Swiss lender's efforts to broaden its client base, particularly in the U.S.
Cap table: Prior to the new investment from UBS, Wealthfront had raised around $200 million from Index Ventures, Ribbit Capital, Launch Fund, Social Capital, Tiger Global, Spark Capital, Dragoneer, DAG Ventures and Greylock.
Backstory: A source familiar with the situation says the deal collapse came suddenly, as reflected by Friday night's terse announcement, with unspecified regulatory concerns being raised in just the past several weeks.
The bottom line: A merger collapse is hardly novel in 2022, but this one is a bit surprising in that Wealthfront is the rare tech company whose business benefits from rising interest rates. A unicorn, if you will....
Venture Capital Deals
• Bitwarden, a Santa Barbara, Calif.-based open-source password manager, raised $100m led by PSG. https://axios.link/3x1ehTk
• Lightyear, a Dutch developer of long-range solar cars, raised €81m from Invest-NL, regional development agencies, SHV and DELA. https://axios.link/3qgPabm
• Cymulate, an Israeli extended security posture management startup, raised $70m in Series D funding. One Peak led, and was joined by Susquehanna Growth Equity, Vertex Ventures Israel, Vertex Growth and Dell Technologies Capital. https://axios.link/3cNHA59
⚡ Bridger Photonics, a Bozeman, Mont.-based provider of methane mapping lidar solutions for the oil and gas industry, raised $55m from Madison Valley Partners, Carica Sustainable Investments and Next Frontier Capital. https://axios.link/3cWFRu6
• Edda, a Wilmington, Del.-based provider of software for professional investors, raised $5.8m from Mucker Capital, Plug&Play, FJ Labs and Future Shape. www.edda.co
• Raftt, an Israeli cloud platform for creating and sharing development environments, raised $5m in seed funding co-led by Aleph VC and Cardumen Capital. https://axios.link/3RBOIjI
• Tailor, a Japanese ERP platform, raised $4.3m in seed funding from YC and Global Brain. https://axios.link/3cO0jgV
🌎 Ceezer, a German carbon credits marketplace, raised €4.2m from Carbon Removal Partners and Norrsken VC. www.ceezer.earth
Private Equity Deals
• CommerceHub, a Latham, N.Y.-based e-commerce supply chain software firm majority owned by Insight Partners, agreed to buy Morrisville, N.C.-based ChannelAdvisor (NYSE: ECOM) for $23.10 per share. www.channeladvisor.com
• HKW acquired Golden Country, a Chicago-based distributor of ethnic foods to the grocery, foodservice and wholesale channels. www.goldencountry.com
• Kudu Investment Management made a minority investment in Escalate Capital Partners, an Austin, Texas-based private credit and equity investor. www.escalatecapital.com
• MRH Trowe, a German portfolio company of AnaCap, acquired AFM Holding, a German industrial insurance broker. www.mrh-trowe.com
🚑 Fountainvest Capital, TPG and Warburg Pincus are among final round bidders for AmbioPharm, a North Augusta, S.C.-based peptide active pharma ingredient contract development and manufacturing firm being sold by Carlyle, per Reuters. https://axios.link/3CZlGGy
Public Offerings
🚑 Candela Medical, a Marlborough, Mass.-based maker of medical devices for aesthetic procedures, withdrew registration for a $250m IPO that had previously been postponed. Owner Apax Partners reportedly has been considering a sale process. https://axios.link/3wYXL6t
• Chobani, a Berlin, N.Y.-based Greek yogurt maker, formally withdrew registration for an IPO that had been expected to raise up to $1.5b. Backers include Healthcare of Ontario Pension Plan. https://axios.link/3x1qqHX
SPAC Stuff
• Digerati Technologies, a San Antonio-based provider of cloud communications solutions to SMBs, agreed to be acquired by Minority Equality Opportunities Acquisition (Nasdaq: MEOA) at an implied equity value of $228m. https://axios.link/3enDGAg
Liquidity Events
🚑 CVS (NYSE: CVS) agreed to buy Signify Health (NYSE: SGFY), a Dallas-based health tech company, for around $8b, or $30.50 per share in cash. Sellers include New Mountain Capital. https://axios.link/3QesVgU
• HappyFresh, an Indonesian grocery delivery startup, hired turnaround firm Alvarez & Marsal to explore options after struggling to raise new capital, per Bloomberg. The company has raised over $140m from firms like Gafina, Samena Capital, Neventa Capital, Naver Financial and Line Ventures. https://axios.link/3TIT5vb
🍺 KKR reportedly hired Jefferies to explore a sale of pub operator Australian Venue Co. https://axios.link/3KQKnXB
• Prosus received Indian regulatory approval for its $4.7b purchase of Indian digital payments company BillDesk for $4.7b, which will then be combined with PayU. BillDesk had raised around $92m from firms like General Atlantic, March Capital and TA Associates. https://axios.link/3QikS2D
⚡ Reliance Industries of India will pay $32m to buy a 79.4% stake in SenseHawk, a Saratoga, Calif.-based solar energy software developer that had raised over $7m in VC funding from firms like Falcon Edge Capital, Alpha Wave Global and Elevation Capital. https://axios.link/3CXxcCx
More M&A
⚡ EQT (NYSE: EQT), a Pittsburgh-based natural gas producer, is in advanced talks to buy rival THQ Appalachia I for around $4b (including debt) from Quantum Energy Partners, per Reuters. https://axios.link/3ARKe1B
⚡ Sitio Royalties (NYSE: STR) agreed to buy Austin, Texas-based oil and gas rights firm Brigham Minerals (NYSE: MNRL) in a $4.8b deal. https://axios.link/3qea7DX
It's Personnel
• Timothy Donahue joined Lazard as vice chair of U.S. investment banking, with a particular focus on private credit. Hr previously was vice chair of capital markets at JPMorgan Chase. https://axios.link/3KNNorM
• Sue Gentile joined Advent International as CFO and a managing director. She previously was with H.I.G. Capital. www.adventinternational.com
• Irina Hemmers is joining Thoma Bravo as a partner and head of a new London office. She previously was with Inflexion Private Equity. www.thomabravo.com
• Irini Kalamakis joined OMERS Infrastructure as a senior managing director and global head of strategic partnerships. She previously was with IFM Investors. www.omersinfrastructure.com
• Paola Retes joined LiveOak Venture Partners as a VP. She recently got her MBA from Stanford, was a founding board member of startup incubator Galvanize and was an early employee of Ironspring Ventures. www.liveoakvc.com
• Bruce Nsereko-Lule joined Seedstars Africa Ventures as a general partner. He previously was with Chandaria Capital. https://axios.link/3KQOByL
Final Numbers: M&A advisors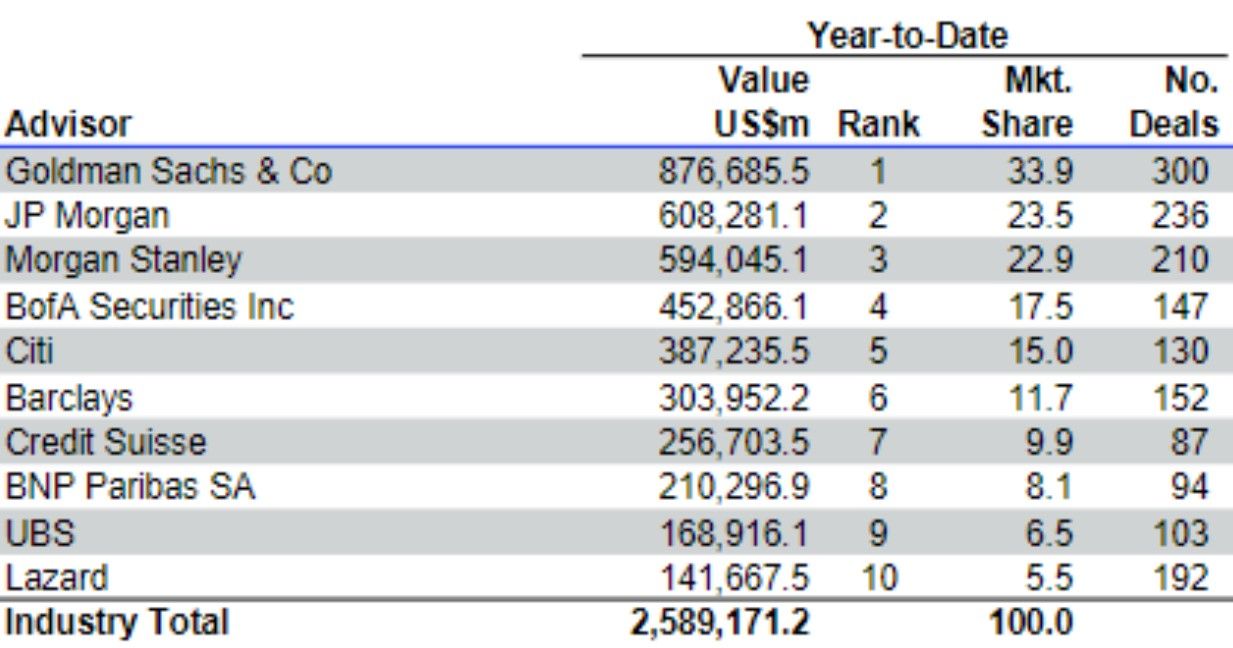 ✔️ Thanks for reading Axios Pro Rata! Please ask your friends, colleagues and wealth advisors to sign up.