Axios Pro Rata
March 10, 2023
The Axios BFD hits San Francisco in two months from today. Lineup details coming in a few weeks. Request an invite.
Top of the Morning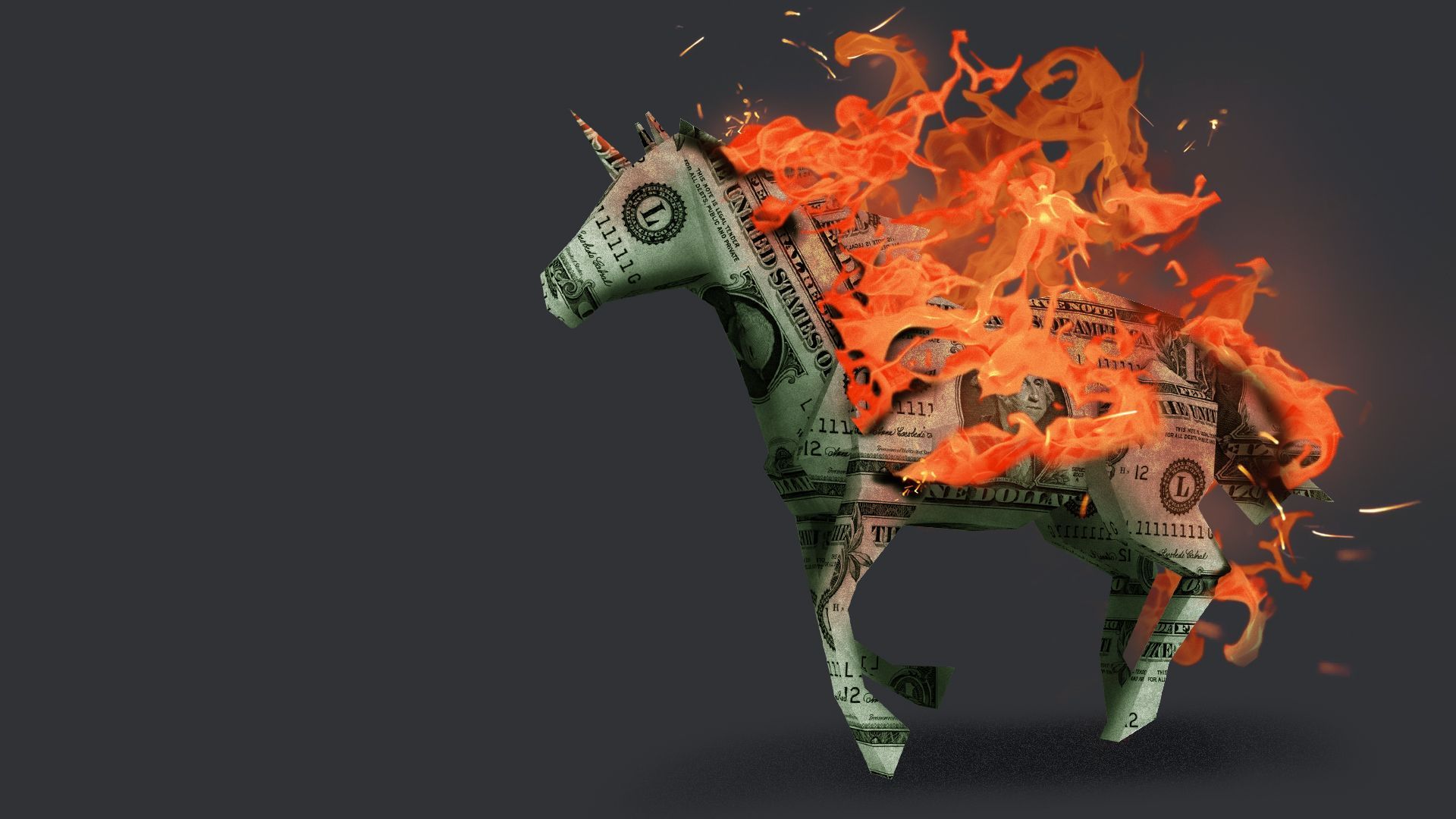 Well, that escalated quickly.
Yesterday morning, Silicon Valley Bank announced a $2.25 billion balance sheet bolstering plan, after rising interest rates had sparked losses on its Treasury and mortgage-backed securities portfolios. It all felt fairly orderly.
Traders reacted very badly, wiping out more than 60% of SVB's market value.
Depositors, and many of their venture capital backers, panicked. This led to a bank run, the exact extent of which we still don't know.
To complete the unvirtuous cycle, SVB shares kept swooning in today's premarket (before trading was halted). Within the past hour, CNBC reported that the share sale had failed and SVB is actively seeking a buyer.
The big picture: SVB is a cornerstone of the tech and life sciences startup economy. It's also America's 16th largest bank, and its failure would be the biggest since Washington Mutual.
Yes, failure feels like a real option right now. Banks rely as much on confidence as on capital. Fairness has nothing to do with it.
A more likely scenario is that a large bank like JPMorgan, or even Bank of America, steps up to buy or backstop SVB at a firesale price.
Behind the scenes: We're still in the war fog phase, but there seems to be plenty of blame to go around:
SVB appears to have not fully appreciated the diverging dangers of rising rates and falling venture capital investment levels. But, more importantly, its response yesterday was miserable.
It mostly kept quiet, citing restrictions around the planned stock sale, but when Greg Becker spoke, he conceded that some clients are "starting to panic." Moreover, it emboldened liquidity concerns by being very slow in processing certain wire requests.
Speaking of silence, General Atlantic refused to say a word, just hours after announcing an agreement to invest $500 million.
Several VC firms, including Coatue and Founders Fund, told portfolio companies that they should consider pulling their money. Others, like Sequoia Capital, urged diversification.
It was understandable prudence — FDIC insurance only covers $250,000 of a client's deposits — but also fed the hysteria.
Some critics of those firms note that the U.S. government would never let depositors lose their money (welcome back, too big to fail), although the counter is that even a bailout could involve disruptions to expenditures like payroll.
Also worth noting that the run appears to mostly have been on deposits, as credit line covenants would discourage terminations.
SVB rivals, and wannabe rivals, pounced. Some publicly, but most privately. Several founders tell me about how bankers were lighting up their inboxes with incentives to move money.
That said, there is still some contagion fear (even if that doesn't seem to make much sense). First Republic Bank, for example, saw its shares fall 16.5% yesterday, and were off another 31% at this morning's open.
The bottom line: The past 24 hours has reshaped the tech and life sciences ecosystem. Imagine what it might look like by tomorrow.
The BFD
The Federal Trade Commission will sue to block Intercontinental Exchange's (NYSE: ICE) proposed $13 billion takeover of home mortgage software provider Black Knight (NYSE: BKI).
Why it's the BFD: Antitrust regulators are filing merger lawsuits at a brisk pace; in part because of the perceived merits, and in part to dissuade new deals from emerging.
Details: ICE and Black Knight announced their agreement last May. Earlier this week, ICE had offered to sell the Empower loan origination of Black Knight, in what apparently was a futile effort to secure regulatory approval.
The bottom line: The FTC may seek to make both horizontal and vertical merger arguments, as previewed earlier this week by Axios Pro. The horizontal case could be about direct competition in loan originations, while the vertical would be systemic risks posed by one company controlling so much of the entire mortgage lifecycle.
Venture Capital Deals
🚑 Ring Therapeutics, a Cambridge, Mass.-based gene therapy startup, raised $86.5m in Series C funding from Alexandria Venture Investments, Altitude Life Science Ventures, CJ Investment, Flagship Pioneering, Invus, Kyowa Kirin Co., T. Rowe Price and UPMC Enterprises. www.ringtx.com
• MentorShow, a French online learning platform, raised €15m. Educapital and Crédit Mutuel Innovation co-led, and were joined by insiders Left Lane Capital and All Iron Ventures. https://axios.link/3T43PnQ
• Mythic, a Round Rock, Texas-based AI chip startup, raised $13m from Catapult Ventures, Hermann Hauser Investment and insiders Atreides Management, DCVC and Lux Capital. https://axios.link/3JoSo67
• Bach, a Philadelphia-based group trip planning app focused on bachelorette and bachelor parties, raised $9m in Series A funding led by Pritzker Group VC. https://axios.link/3J3ZVae
• Cubist, a New York-based developer of web3 dev tools, raised $7m in seed funding. Polychain Capital led, and was joined by dao5, Amplify Partners, Polygon, Blizzard and Axelar. https://axios.link/3YDze1E
• Gyroscope, a London-based decentralized stablecoin developer, raised $4.5m in seed funding. Placeholder VC and Galaxy Ventures co-led, and were joined by Maven 11, Archetype, and Robot Ventures. https://axios.link/3LaTLI0
🚑 SimConverse, an Australian health care simulation education startup, raised A$1.5m in seed funding. Folklore Ventures led, and was joined by Artesian. www.simconverse.com
• Railsr, a London-based embedded finance startup that raised over $180m in VC funding, filed for administration as part of an agreement to be acquired by a shareholder consortium that includes D Squared Capital and Moneta. https://axios.link/425xb9Q
Private Equity Deals
• Aetos Capital acquired WestWater Research, a Boise, Idaho-based water consultancy, and announced plans to launch an investment fund focused on water assets in the western U.S. www.aetoscapital.com
🚑 Archimed acquired WiQo, an Italian developer of a needle-free chemical stimulation treatment for skin rejuvenation. www.wiqo.com
• ASMPT (HK: 00522), a Singapore-based chip and equipment maker with a market cap of around US$3.8b, is receiving private equity takeover interest from firms like PAG, per Bloomberg. https://axios.link/3ZE4Mps
• Brookfield, KKR and MBK Partners are among those expressing interest in a $1b minority stake deal for South Korean industrial gas company AirFirst, owned by IMM Private Equity, per Reuters. First round bids are due March 16. https://axios.link/3lb2ZsW
⚡ Copenhagen Infrastructure Partners acquired a majority stake in South African renewable energy developer Mulilo Energy. www.mulilo.com
• Marlin Equity Partners acquired a majority stake in Tennaxia, a French provider of corporate social responsibility and sustainability data management software. www.tennaxia.com
• Republic First Bancorp (Nasdaq: FRBK) agreed to raise $125m via a private placement led by Castle Creek Capital. www.myrepublicbank.com
🚑 Lifepoint Health, a Brentwood, Tenn.-based portfolio company of Apollo Global Management, acquired four inpatient rehabilitation facilities from Everest Rehabilitation Hospitals. www.lifepointhealth.net
• RMA, a Rancho Cucamonga, Calif.-based portfolio company of OceanSound Partners, acquired PRI Group, a provider of testing and other services to the asphalt, transportation and building materials markets. www.rmacompanies.com
More M&A
• Michelin (Paris: MICP) is in talks to sell its Russia business to a local rival, after previously discussing a sale to the unit's management team. https://axios.link/40cm11h
⚽ Paris Saint-Germain, the French soccer club, is interested in buying Stade de France, the country's largest sports stadium with a value of around €600m. https://axios.link/3ZYTEmK
• Powerfleet (Nasdaq: PWFL) agreed to buy Movingdots, a German provider of insurance telematics and sustainable mobility solutions, from Swiss Re. www.movingdots.com
• Prosus (Ams: PRX) is in talks to sell its Olx Autos classifieds business, per TechCrunch. https://axios.link/3Tky9Lr
• Sierra Nevada Brewing acquired a minority equity stake in Riot Energy, a Marina del Rey, Calif.-based energy drink maker. https://axios.link/3J6EvJh
Fundraising
• BlackRock is targeting €1b each for a pair of private equity funds, seeking an LP base of wealthy European individuals, per Bloomberg. https://axios.link/3YF6xBz
• FTX liquidators asked a judge to approve the sale of a $45m million stake in Sequoia Capital funds to Abu Dhabi-based Al Nawwar Investments. https://axios.link/3LlrFcS
It's Personnel
• Bank of America named Alexandre Gafsi and Emmanuel Hibou as co-heads of TMT banking in the EMEA region, per Reuters. https://axios.link/3J4Gle0
• HGGC promoted Colin Phinisey to partner. www.hggc.com
• Moelis & Co. said Elizabeth Crain will become vice chair and Kate Pilcher Ciafone will become COO, both effective in October. www.moelis.com
• Prysm Capital promoted Lauren Moffatt to partner. www.prysmcapital.com
• Adams Street Partners opened an office in Sydney, Australia, led by new IR principal Shaun Thomas. www.adamsstreetpartners.com
Final Numbers
The U.S. economy added 311k jobs in February, while the unemployment rate rose to 3.6% from 3.4%.
Average hourly earnings rose 0.2%, and are up 4.6% year-over-year.
The labor force participation rate rose to 62.5% from 62.4%.
Thanks for reading Axios Pro Rata, and to copy editors Mickey Meece and Bryan McBournie! Please ask your friends, colleagues and venture lenders to sign up.