Axios Pro Rata
October 21, 2022
Top of the Morning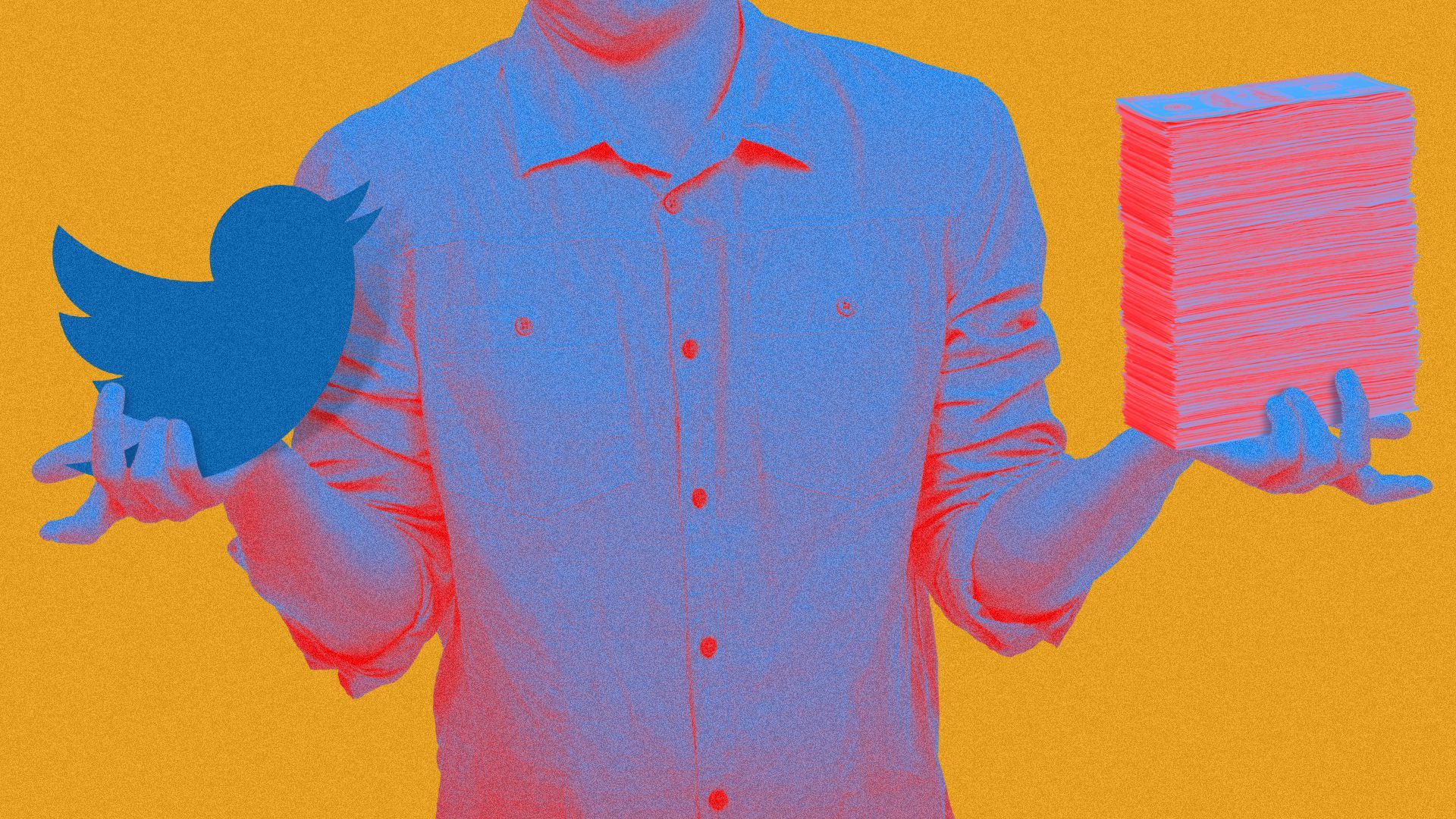 Elon Musk's $44 billion Twitter takeover is expected to close one week from today, with both sides privately expressing confidence. But of course, it can't be quite that straightforward.
State of play: Twitter shares this morning opened at $50 per share, which is more than $4 below the price Musk agreed to pay. That means either my sources' confidence is misplaced, or there is some very easy money to be made right now.
The stock dive seems tied to a Bloomberg report from late yesterday, claiming that the Biden administration may launch a national security review of certain Musk ventures. Included could be Twitter, ostensibly due to equity co-investments from foreign entities.
National Security Council spokesperson Adrienne Watson tells Axios that "we do not know of any such discussions." In theory, CFIUS could be working independently on this, but Biden himself would have to approve any pre-merger block, and time is running short.
Elsewhere: There's also a Washington Post story about Musk planning massive Twitter layoffs. This tracks with what I'm hearing about Musk operating as if he's about to own the company.
WaPo also reported that Twitter would implement big cuts of its own were it to remain independent, although a subsequent company memo says that it hasn't developed any layoff plans since the Musk deal was signed in May.
The bottom line: No deal is ever over until it's over. But that maxim is even more acute in this case.
The BFD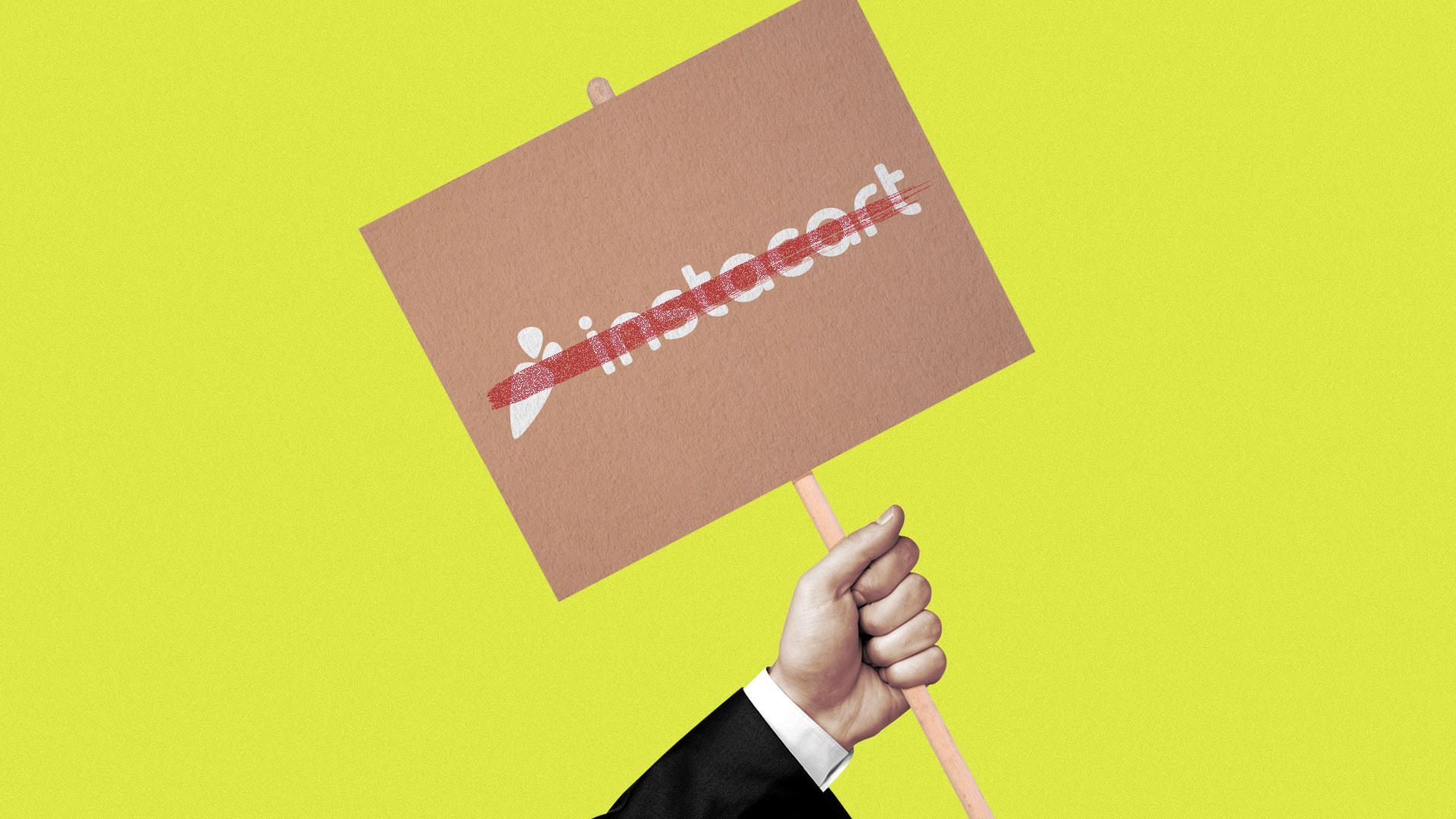 Instacart has postponed its IPO, which had been expected to occur in 2022, as first reported by the NY Times and confirmed by Axios.
Why it's the BFD: This is a paper bag full of broken eggs for Instacart employees. Yes, the grocery delivery company has enabled some stock tender offers since its founding more than a decade ago, but it had been hyping plans to let employees sell directly into the IPO.
The big picture: Only 65 companies have gone public on U.S. exchanges this year, which represents an 80.7% decline from 2022, per Renaissance Capital. U.S. IPO proceeds are down a whopping 94.1%.
Prime Medicine, which we highlighted in this space yesterday, closed its first day of trading down nearly 10%.
The only major U.S. listing left on the calendar is Mobileye, which already has slashed its anticipated valuation.
The bottom line: This is all about market volatility, which has seen a significant uptick over the past month. There's no indication that Instacart needs to raise outside cash any time soon, but there's also no new IPO timetable (save for some time in 2023).
Venture Capital Deals
• Breezeway, a Boston-based vacation rental property management platform, raised $15m in Series B funding. Catalyst Investors led, and was joined by insider Schooner Capital. www.breezeway.io
• Mercury, a Boston-based college sports fan experience platform, raised $7.5m in seed funding. Multicoin Capital led, and was joined by North Island Ventures, Crosslink Capital and Brevan Howard Digital. www.teammercury.io
• Spindl, a Miami-based web3 attribution management startup, raised $7m co-led by Dragonfly and Chapter One. https://axios.link/3VL0uu
🌎Lithos, a Seattle-based farmland decarbonization startup, raised $6.3m in seed funding from Union Square Ventures, Greylock Partners, Bain Capital Ventures, Carbon Removal Partners, the Carbon Drawdown Initiative, Fall Line Capital and Cavallo Ventures participated. https://axios.link/3Tkcr9o
• ByteBrew, a San Diego-based mobile game analytics platform, raised $4m in seed funding led by Konvoy. www.bytebrew.io
• Super Advisor, a Toronto-based platform for financial advisors, raised C$2m in seed funding from Rhino Ventures. www.superadvisor.ai
• Mintify, a New York-based digital collectibles analytics startup, raised $1.6m in seed funding led by Arca. https://axios.link/3TpeGsc
Private Equity Deals
• Authentic Brands Group, the PE-backed consumer brand platform, completed its acquisition of British fashion retailer Ted Baker. www.authenticbrands.com
• Bain Capital invested in CitiusTech, a Princeton, N.J.-based health care tech consultancy also backed by BPEA EQT. https://axios.link/3CTTW4I
• BrightPet, a Lisbon, Ohio-based portfolio company of A&M Capital Partners, acquired Bravo Pet Food, a Manchester, Conn.-based maker of frozen raw and freeze-dried pet foods. www.brightpetnutrition.com
⚡ CVC Capital Partners agreed to buy a 50% stake in the grid services unit of Italian utility Enel (Milan: ENEL) for around €300m. https://axios.link/3TwireW
• HomeTown Ticketing, a Columbus, Ohio-based portfolio company of Nexa Equity, acquired Ticket Spicket, a Richmond, Va.-based provider of digital ticketing for the K-12 market. www.hometownticketing.com
• KKR agreed to invest $300m for a 13.33% stake in Advanta, an Indian seed producer and subsidiary of UPL. www.kkr.com
• Outdoor Living Supply, a Rochester, Minn.-based portfolio company of Trilantic Capital Management, acquired Bedrock Landscape Supply, a distributor of natural stone, pavers and related product in Nevada. www.outdoorlivingsupply.net
• Strata Information Group, a San Diego-based portfolio company of Fort Point Capital, acquired akaCRM, a Colorado Springs, Colo.-based Salesforce partner focused on Salesforce and Conga. www.akacrm.co
🚑 Webster Equity Partners is investing $100m to help carve out the manufacturing business of Corium, a Grand Rapids, Mich.-based drug delivery firm owned by Gurnet Point Capital (which would jointly own the spinout with Webster). www.corium.com
SPAC Stuff
Quality Gold, a Fairfield, Ohio-based jewelry distributor, agreed to go public at an implied $989m enterprise value via Tastemaker Acquisition Corp. (Nasdaq: TMKR).
Tastemaker originally had planned to seek a target in the hospitality space. It was formed by David Pace (ex-CEO of Jamba and current chair of Red Robin) and Andy Pforzheimer (co-founder of Barcelona and Bartaco).
• Henley Park Acquisition, a SPAC led by Miguel Payán (ex-Ford Motor), withdrew registration for its $175m IPO. https://axios.link/3sdgDf0
Liquidity Events
🚑 AbbVie (NYSE: ABBV) agreed to buy DJS Antibodies, a British biotech targeting transmembrane proteins, for $255m in cash. DJS had raised around $17m from firms like LifeArc and Sedgwick Yard. https://axios.link/3sasLgX
⚡ Morgan Stanley Infrastructure Partners is in early talks to sell a 40% stake in PNE, a German wind and solar energy project developer, per Reuters. https://axios.link/3TnXjYH
More M&A
• India and state-owned Life Insurance Corp. are seeking a $7.7b valuation for lender IDBI Bank, in their efforts to sell a combined 60.72% stake. That represents a 33% premium to where IDBI has been trading, per Reuters. https://axios.link/3DiQgei
• Kushner Cos. offered to buy Veris Residential, which mostly owns New Jersey rental apartments, for $4.3b (including debt), per the WSJ. https://axios.link/3VPmFQT
• Thirty Five Ventures, the firm run by Kevin Durant and Rich Kleiman, has purchased a Major League Pickleball expansion team. Call me a curmudgeon, but I really preferred "classic MLP," before the talent pool got diluted by expansion.
Fundraising
• Factorial Capital of New York is raising $10m for its debut fund, per an SEC filing. It's led by Matt Hartman, who's been a partner for six years with Betaworks (he'll transition into a venture partner role, per a source).
Word is that Factorial plans to back successful founders who like to angel invest but who don't want to raise their own funds (i.e., upsize their checks, and share carry from follow-on rounds).
• Ares Management raised $7.1b for its second special opportunities fund, which will make non-control equity and public and private market debt investments. www.aresmgmt.com
• Operator Collective, an enterpriser and B2B venture firm, raised $92m for its second fund. https://axios.link/3EYLljH
It's Personnel
• Jeff Farrah has stepped down as general counsel at the National Venture Capital Association, after more than six years with the trade group.
• Mike Smeed joined InMotion Ventures, the corporate VC arm of Jaguar Land Rover, as a managing director. He previously was with the Chinese joint venture between Jaguar and Chery. www.inmotionventures.com
Final Numbers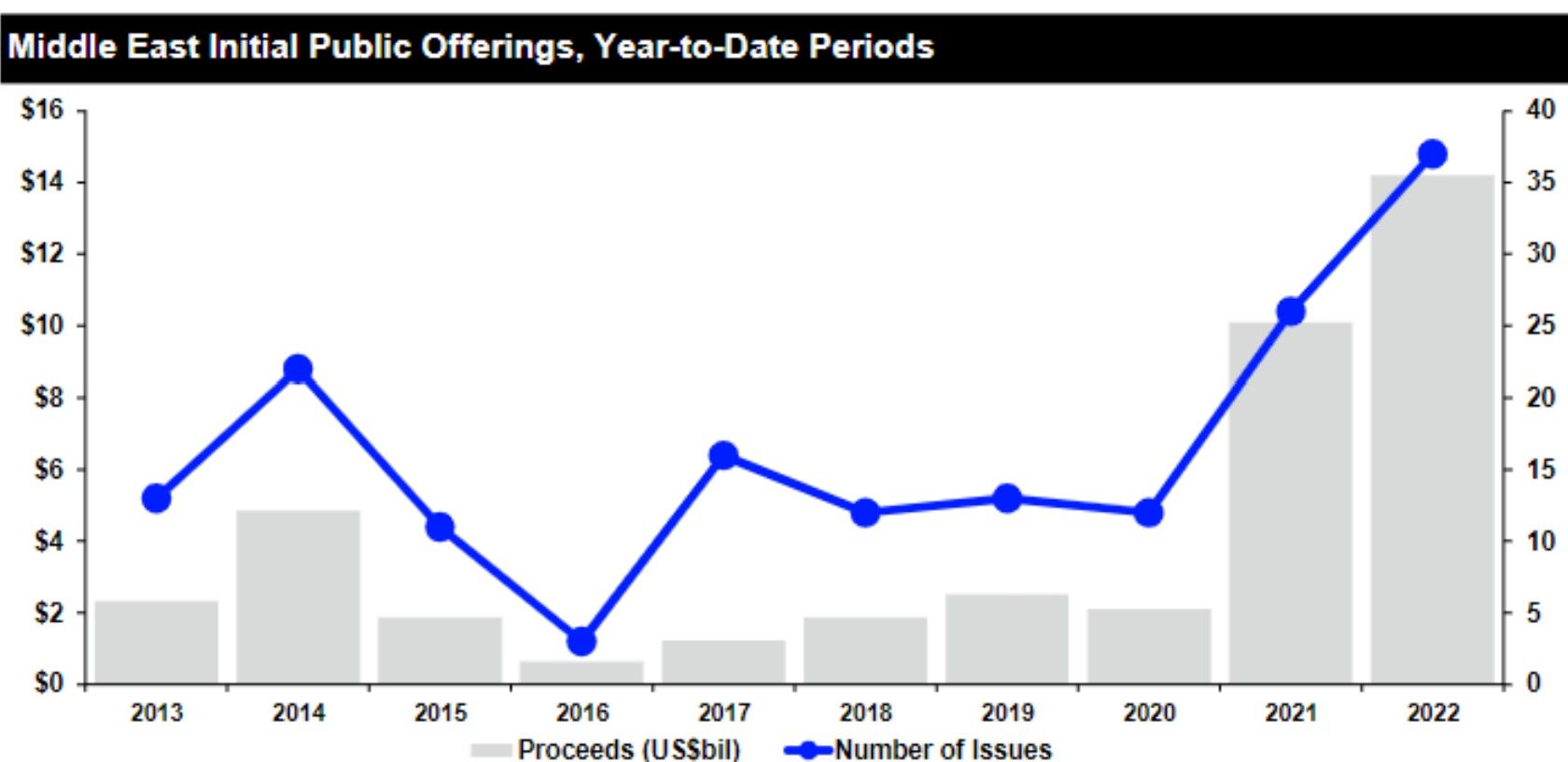 The Middle East is defying the global IPO slump, with both the number of offerings and proceeds up for the second consecutive year.
Driving the news: Bayanat, a Saudi geospatial and data analytics company, is planning to raise $171 million in a local listing whose anchor investors will include Silver Lake.
Bayanat will continue to be majority owned by Abu Dhabi-based AI firm G42. Trading is expected to begin on Oct. 31.
✔️ Thanks for reading Axios Pro Rata, and to copy editor Mickey Meece! Please ask your friends, colleagues and Instacart shoppers to sign up.