August 17, 2020
🖥️ You're invited: Axios tomorrow at 3:30pm ET will host a live virtual event on Gen Z's political engagement, including interviews with Beto O'Rourke and Rep. Will Hurd (R-Texas). Register here.
🎧 Axios Re:Cap on Saturday posted four mini-episodes on the unique challenges of back-to-school in 2020, tied to our Deep Dive on the same topic. Check them out via Apple or via Axios.
Top of the Morning
Deal-makers always pay attention to presidential elections, but in 2020 they're no longer claiming that the outcome won't significantly affect transactions.
In the past: Newsletter readers have gotten very upset when I've mentioned politics, insisting that it's separate from "business." That was even true when the candidate was private equity veteran Mitt Romney.
In the present: Crickets.
Between the lines: This isn't to say that one candidate is better or worse for deal-makers, or for particular industries. It's to say that the winner won't be a passive bystander, particularly as the wall between regulated and non-regulated industries has decayed.
Just take the escalating U.S. Postal Service fight. Most coverage has focused on ballots, but it also has a more immediate impact on the ever-increasing number of direct-to-consumer companies, including everything from digital pharmacies to online consignment shops. If USPS is no longer a reliable constant, then the economics and viability of these companies change.
Or the ongoing TikTok dispute, which is really a proxy for all tech companies that either originate in China or receive investment from China. The White House is now explicitly and unapologetically picking winners and losers.
Or disputes over how to classify gig economy workers, which at some point soon will leapfrog from state courts to D.C.
Then add in all of the more obvious issues that could reshape and revalue entire industries.
For example, look at tax policy (corporate tax rate rollbacks or carried interest?), health care policy (Medicare for All or drug price caps?), energy policy (fracking bans?), and antitrust policy (new laws or increased enforcement?).
Not to mention policies related to COVID-19, including everything from contact tracing to vaccine procurement/deployment to what is likely to be a continuing series of stimulus and bailout plans.
The bottom line: Every election feels like the most consequential of our lifetimes. For deal-makers, it's finally true.
The BFD
Sanofi (Paris: SASY) agreed to buy Principia Biopharma (Nasdaq: PRNB), a South San Francisco-based developer of drugs for multiple sclerosis and pemphigus, for around $3.7 billion in cash.
Why it's the BFD: It's the year's second-largest pharma merger so far, and is part of the same cash-reliant, bolt-on playbook that CEO Paul Hudson employed while helming Novartis' drugs division.
Details: Sanofi will pay $100 per Principia share, which represents a 10% premium to Friday's closing price. It plans to complete the deal by year-end.
The bottom line: "The deal shows how drug companies like Sanofi need to keep hunting for new drivers of growth even as they race to find vaccines and therapies to try to defeat Covid-19." — Bloomberg
Venture Capital Deals
• Wildlife Studios, a Brazilian mobile games publisher, raised $120 million in Series B funding. Vulcan Capital led, and was joined by return backer Human Capital. http://axios.link/n30N
• Help Lightning, a Birmingham, Ala.-based remote training platform, raised $8 million from Resolve Growth Partners. http://axios.link/jzHg
• Torre Labs, a San Francisco-based jobs platform for remote work, raised $5 million in seed funding from MatterScale Ventures and individual angels. http://axios.link/d6SE
Private Equity Deals
• Advent International completed its $1.4 billion tender offer for cybersecurity company Forescout Technologies (Nasdaq: FSCT), with Crosspoint Capital Partners also participating on the buyside. http://axios.link/IS6p
⛽ Apollo Global Management agreed to invest $265 million into offshore wind developer US Wind, via a combination of debt and equity. http://axios.link/Feei
🚑 Baring Private Equity Asia offered to buy listed Japanese nursing home company NichiiGakkan for $1.37 billion, topping an existing $1.2 billion deal with Bain Capital. http://axios.link/j6Hy
🚑 Capsa Healthcare, a Portland, Ore.-based portfolio company of Levine Leichtman Capital Partners, acquired RoboPharma, a Dutch developer of pharmacy automation solutions. www.capsahealthcare.com
🚑 Permira and Australia's I-Med Radiology are considering takeover offers for QScan, an Australian radiology business owned by Quadrant Private Equity, per The Australian. www.qscan.com.au
• Rusmar, a West Chester, Penn.-based portfolio company of Palo Duro Capital, acquired NCM, a Broadheadsville, Penn.-based maker of odor neutralizers and perimeter control systems. www.rusmarinc.com
• Vehicle Accessories, a Sunnyvale, Texas-based portfolio company of Kinderhook Industries, acquired Socks, a provider of OEM accessories sales software for auto dealerships. www.vehicleaccessorygroup.com
🚑 Waystar Health, a Louisville, Ky.-based portfolio company of EQT and CPPIB, agreed to buy eSolutions, an Overland Park, Kansas-based provider of revenue cycle management software, for around $1.3 billion from Francisco Partners, per the WSJ. http://axios.link/x1Lf
Public Offerings
• Three companies and three SPACs plan to price IPOs on U.S. exchanges this week. http://axios.link/YMJz
🚑 Kymera Therapeutics, a Watertown, Mass.-based biotech focused on protein degredation, set IPO terms to 7.4 million shares at $16-$18. It would have a fully-diluted market value of $772 million, were it to price in the middle, and plans to trade on the Nasdaq (KYMR) with Morgan Stanley as lead underwriter. The company has raised over $200 million in VC funding from Atlas Venture (26.7% pre-IPO stake), Vertex Pharma (7.3%), Lilly Ventures (6.5%), Pfizer (5.2%), 6 Dimensions (5.2%), Bessemer Venture Partners (5.2%), Redmile Group, Bain Capital Life Sciences, Wellington Management, Janus Henderson, BlackRock, and Rock Springs Capital. http://axios.link/RwcO
SPAC Stuff
🚑 Brookline Capital Acquisition, a life sciences-focused SPAC formed by Brookline Capital Markets, filed for a $50 million IPO. http://axios.link/CpSu
🚑 CM Life Sciences, a life sciences-focused SPAC formed by Casdin Capital and Corvex Management, filed for a $350 million IPO. http://axios.link/mfeM
• North Mountain Merger, the second fintech-focused SPAC led by ex-CardConnect executives, filed for a $115 million IPO. http://axios.link/oJdE
Liquidity Events
• HgCapital, Montagu Private Equity, and CPPIB are considering a sale of up to 20% of Norwegian enterprise software company Visma, at an enterprise value north of $10 billion, per Bloomberg. http://axios.link/olVO
• Reliance Industries, an Indian conglomerate, is in talks to buy both furniture e-commerce company Urban Ladder and milk delivery startup Milkbasket, per the Times of India. Urban Ladder could sell for $30 million, despite having raised over $100 million from firms like Kalaari Capital, SAIF Partners and Sequoia Capital India. Milkbasket has raised nearly $40 million from firms like Mayfield and Inflection Point Ventures. http://axios.link/3XdU
More M&A
⛽ Chaparral Energy (NYSE: CHAP), an Oklahoma City-based shale driller, filed for Chapter 11 bankruptcy protection. http://axios.link/wHH9
• Tencent acquired a minority stake in French casual games publisher Voodoo, at a $1.4 billion valuation. http://axios.link/mEn1
• Warner Music (Nasdaq: WMG) agreed to buy IMGN Media, a social media publishing platform with offices in Israel and New York. TechCrunch puts the price-tag south of $100 million. http://axios.link/F7l3
Fundraising
• Berkshire Partners, a Boston-based buyout firm, is targeting $6.5 billion for its tenth flagship fund. http://axios.link/PdaG
• Initialized Capital raised $230 million for its fifth flagship VC fund. http://axios.link/oPUG
🚑 Patient Square Capital has been launched as a health care-focused private equity firm by Jim Momtazee (ex-KKR head of health care) and Maria Walker (ex-senior partner at KPMG). www.patientsquarecapital.com
It's Personnel
• Bessemer Venture Partners promoted Connor Watumull to vice president. www.bvp.com
• GTCR promoted Stephen Jeschke to managing director. He joined the buyout firm in 2016, and sits on the boards of portfolio companies Mega Broadband and CommerceHub. www.gtcr.com
Final Numbers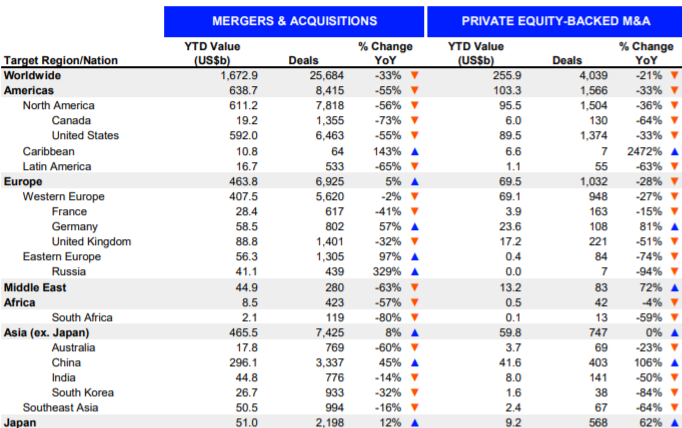 🙏 Thanks for reading Axios Pro Rata! Please ask your friends, colleagues, and regulators to sign up.