Axios Pro Rata
June 26, 2023
Top of the Morning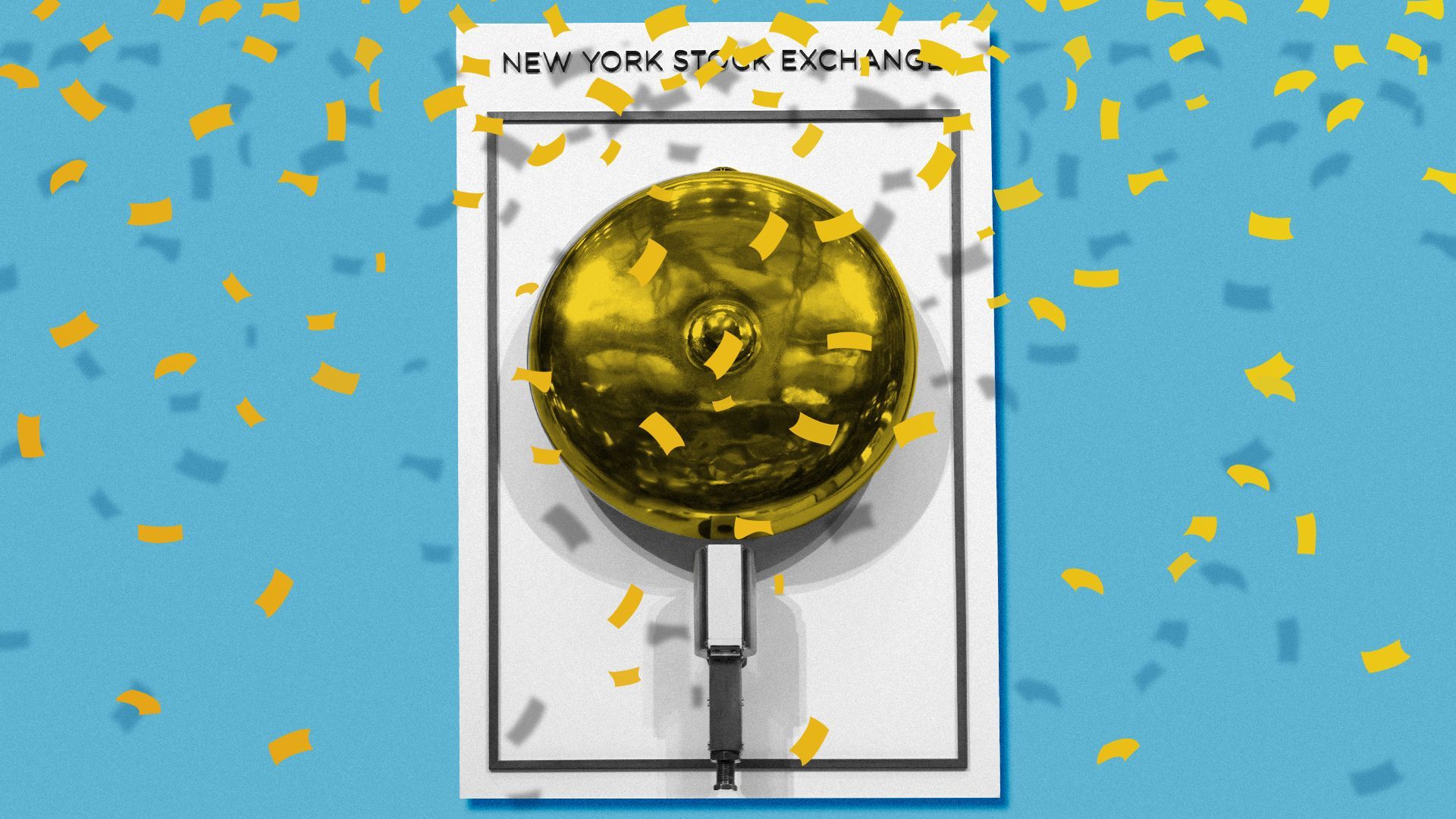 Time to call it: The IPO market is back.
Driving the news: Three large U.S. listings are scheduled for this week, each from a different industry sector.
We also got a pair of new filings on Friday, again from companies operating in different markets, including a refiling for a biotech that had pulled its original S-1 in March 2022.
The big picture: Cava's successful IPO appears to have been a confirming catalyst for issuers and bankers, even if its demand was partially driven by limited supply.
The restaurant chain maintained its pop throughout its first week of trading, and is up again at today's open.
Coming attractions: This week's largest expected offering is from Kodiak Gas Services, a Texas natural gas compression services firm owned by EQT, which is seeking to raise $328 million at a $1.54 billion market cap (were it to price in the middle).
Also on tap is Savers Value Village, an Ares Management-owned thrift store operator that's seeking to raise $300 million at a $2.8 billion market cap. Plus a Bermuda-based insurer and reinsurer called Fidelis, which hopes to raise $298 million at a $2.1 billion market cap.
All three are set to list on the New York Stock Exchange.
The new filings were for cosmetics brand Oddity and liver disease and cancer therapeutics maker Sagimet Biosciences.
What's happening: For much of 2022, hedge fund and mutual fund managers shunned the possibility of new issues, preferring instead to buy discounted shares for companies that went public in 2020 or 2021.
Now it seems a lot of that bargain bin shopping is done, in part due to resurgent public equity values, thus creating an appetite for novel names.
What we're watching: Some enterprise SaaS companies to take the plunge. There's a glut of them inside of VC fund portfolios, and a few early-movers could create a pattern-matched parade.
Plus the expected offering from Instacart, and what Reddit plans to do about its own IPO plans in the midst of its moderator revolt.
The bottom line: We're still nowhere close to 2021 IPO levels, nor is that likely, but the window is open wide enough for everyone to feel a decent breeze. Finally.
The BFD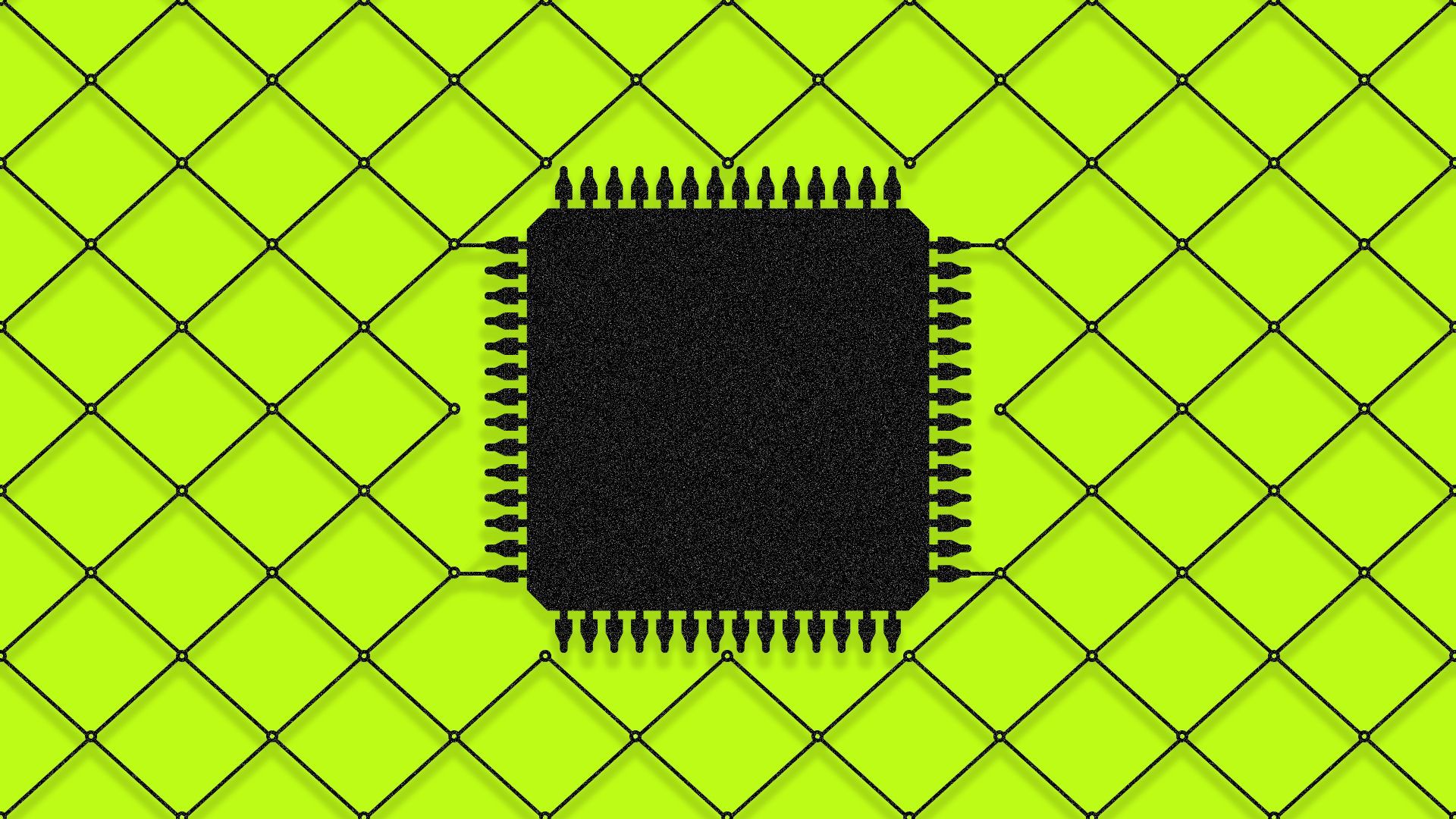 Japan Investment Corp., a state-backed group, agreed to buy and privatize chipmaking materials provider JSR (Tokyo: 4185) for $6.3 billion.
Why it's the BFD: This is part of a global trend of governments seeking to safeguard their semiconductor supply chains.
By the numbers: Japan Investment Corp. will offer around $30.40 per JSR share via a tender, representing a 35% premium to Friday's closing price.
JSR has around a 30% global market share share for photoresists, light-sensitive polymers that are used as coatings on semiconductor substrates.
The bottom line: "Those compounds are needed to make semiconductors used in supercomputers, AI-harnessing data centers and missile control systems, not to mention gadgets including iPhones. Government control over the materials critical to powerful chips would grant Japan greater leverage in a world increasingly divided by an escalating US-China technological rift." — Bloomberg
Venture Capital Deals
• Omeat, an LA-based cultivated meat developer, raised $40m from S2G Ventures, GV, Bold Capital Partners, Tyson Ventures, Rethink Food, Trailhead Capital and Cavallo Ventures.
U.S. regulators last week approved two companies, Upside Foods and Good Meat, to begin selling cultivated poultry products. It was the first such approval anywhere outside of Singapore, as we discussed in a BFD earlier this month.
• Utu, a Singapore-based tax-free shopping fintech for travelers, raised $33m in Series B funding from firms like SC Ventures. It also acquired CardsPal, a Singaporean provider of commerce deals and promotions. https://axios.link/3r5ReGO
🚑 NVision Imaging, a German developer of MRI technology, raised $30m in Series A funding. Playground Global led, and was joined by B-to-V, Pathena Investments, Entree Capital, Lauder Family, ES Kapital and Sparkassenkapital Ulm. www.nvision-imaging.com
• TreasurySpring, a London-based corporate cash management platform, raised $29m in Series B funding. Baldteron Capital led, and was joined by Mubadala Capital and insiders ETFS Capital, MMC Ventures and Anthemis Group. https://axios.link/44hEk71
• Mypinpad, a Wales-based payments startup, raised €11.9m led by Crossfin Holdings. https://axios.link/3NMSUhG
🚑 SOS, a Boston-based maker of smart vending machines for wellness products, raised $7.6m from Wasserman Ventures and Urban Us Capital. www.worldofsos.com
🌎 Raincoat, a Puerto Rico-based weather insurance startup, raised $6.5m co-led by TwoSigma and Mundi Ventures, per Axios Pro. https://axios.link/3Pu0VZW
🚑 Nyra Health, an Austrian developer of digital therapy tools for neurology patients, raised €4.5m in seed funding co-led by MassMutual Ventures and Wellington Partners. https://axios.link/3Xnn4Ln
• Adamo Foods, a British developer of whole-cut steak made from mycelium, raised £1.5m from SFC Capital and Innovate UK. https://axios.link/3pgZXpj
🌎 1MT Nation, an Estonian carbon removal startup, raised €1m from Warmeston OÜ and Margus Kohava. https://axios.link/3r2YZ0c
Private Equity Deals
🎾 The ATP Tour, the top men's tennis tour, has held talks with Saudi Arabia's Public Investment Fund about possible joint ventures. It's also held talks with CVC Capital Partners, which last year invested $150m into the Women's Tennis Association. https://axios.link/43YZMOn
⚡ Blackstone, KKR and Clayton Dubilier & Rice each abandoned talks to buy a stake in Siemens Energy, ahead of last Thursday's earnings warning from the company, per Bloomberg. https://axios.link/3NsnETp
• General Atlantic invested around €150m into Odoo, a Belgian provider of SME productivity software. www.odoo.com
• Goldman Sachs is likely to take a major write-down on GreenSky, the Atlanta-based installment lending platform it bought for $2.24b in 2021, after takeover bids have been coming in lower than expected, per CNBC. Suitors reportedly have included Apollo, Sixth Street and Warburg Pincus. https://axios.link/3Pv283b
🚑 iNova Pharma, an Australian portfolio company of TPG, agreed to buy the OTC business of Mundipharma, the French drugmaker owned by the Sackler family (which is selling to help cover its opioid-related legal claims), for $540m. https://axios.link/3PvHyzO
• RedBird Capital Partners is leading a 200m investment for a 24% stake in Renault SA's Alpine Formula 1 team (Alpine Racing Ltd.). Other backers include Otro Capital and Ryan Reynolds' Maximum Effort Investments. https://axios.link/430CHtx
🚑 Sverica Capital Management invested in First Stop Health, a Chicago-based provider of digital health services. www.fshealth.com
Liquidity Events
• Blackstone agreed to sell 14 million square feet of industrial properties to Prologis (NYSE: PLD) for $3.1b in cash. https://axios.link/3Juggpq
• IBM (NYSE: IBM) agreed to buy Apptio, a Bellevue, Wash.-based business management software provider, for $4.6 billion from Vista Equity Partners. https://axios.link/3NleHeK
• Properly, a Toronto-based real estate brokerage startup, hired Raymond James to explore strategic options that could include a sale, per The Globe & Mail. It's raised over US$150m in VC funding from firms like Bain Capital Ventures, Golden Ventures, Interplay Ventures, AlleyCorp, FJ Labs and Prudence Holdings. https://axios.link/3XtSfoy
More M&A
• Databricks, an SF-based unified data analytics platform valued by VCs at $38b, will pay $1.3b in stock to buy MosaicML, an SF-based OpenAI competitor that had raised $34m from firms like DCVC, Lux Capital, Frontline Ventures, Playground Global, Future Ventures, Correlation Ventures, Samsung Next and AME Cloud Ventures.
According to PitchBook, MosaicML was valued at $136m post-money in its 2021 Series A round.
🚑 Abcam (Nasdaq: ABCM), a British provider of biological reagents, said it's exploring strategic options including a possible sale. Shares climbed more than 13% on the news, giving Abcam nearly a $4b market cap. https://axios.link/3CLnnpR
• Ares Management acquired a $3.5b specialty finance loan portfolio from PacWest Bancorp (Nasdaq: PACW). www.pacwest.com
🍺 Carlsberg, a Danish brewer, agreed to sell its Russia operations to an undisclosed buyer. https://axios.link/3Prix8H
• The Lede Co., a Hollywood publicity firm, acquired Paris-based PR agency Olivier Bourgis Communication and Marketing (OBCM). https://axios.link/3Xlohmy
• Mitsubishi UFJ Financial Group (Tokyo: 8306) agreed to buy Indonesian auto lender Mandala Finance for around $467m, per Nikkei. https://axios.link/44ga2Bv
🚑 Nomi Health, an Orem, Utah-based health benefits startup valued by VCs at $1.37b, acquired I am Wellness, a Phoenix-based primary care clinic operator. https://axios.link/3Xrg1Bl
• Shift, a London-based logistics startup that's raised over $25m in VC funding, agreed to buy the brand and IP assets Tuffnells, a British parcel delivery service that collapsed earlier this month, per Sky News. https://axios.link/44lx767
• Warner Bros. Discovery (Nasdaq: WBD) is in talks to sell half of the studio's film and TV music-publishing assets for roughly $500m, per multiple reports. https://axios.link/3NhdEwm
Fundraising
🚑 3 Boomerang Capital, a Greenwich, Conn.-based midmarket health care PE firm co-founded by Adam Dolder (ex-Great Point Partners), is raising its debut fund, per an SEC filing.
• Ardian raised more than $20b for a new PE secondaries fund that's targeting a total of $25b, per the FT. https://axios.link/46pVVvm
• Frst, a Paris-based VC firm, held a €72m first closing for its second fund. https://axios.link/44f30Ny
• Offline Ventures, co-founded by Dave and Brit Morin, is raising up to $100m for its second fund, per an SEC filing.
🚑 Oaktree Capital Management raised more than $2.3b for a life sciences-focused private credit fund. https://axios.link/3NoICTf
🌎 Planeteer, a new climate tech VC firm co-led by Sophie Purdom and Hanna Friedman, is around one-third toward its $100m target, per Axios Pro. https://axios.link/3CMQPfe
• Springbank, a New York-based VC firm, raised $35m for a fund focused on infrastructure serving women and working families. https://axios.link/3NLK5Et
• TechStars is raising up to $150m for its next accelerator fund, per an SEC filing.
🌎 TiLT Capital, a French growth equity firm focused on energy transition, raised €250m for its debut fund. www.tilt-capital.com
🌎 VoLo Earth Ventures, a Snowmass Village, Colo.-based impact investing firm, is raising its second fund, per an SEC filing.
It's Personnel
🌎 NextEnergy Capital made three hires on its investor relations team: Craig Watkins (ex-AMP Capital) as director of Americas fundraising; Hasmeen Deol (Capital Dynamics) as director; and Marisa Fatouros (AMP Capital) as a senior associate. www.nextenergycapital.com
Final Numbers: U.S. IPO filings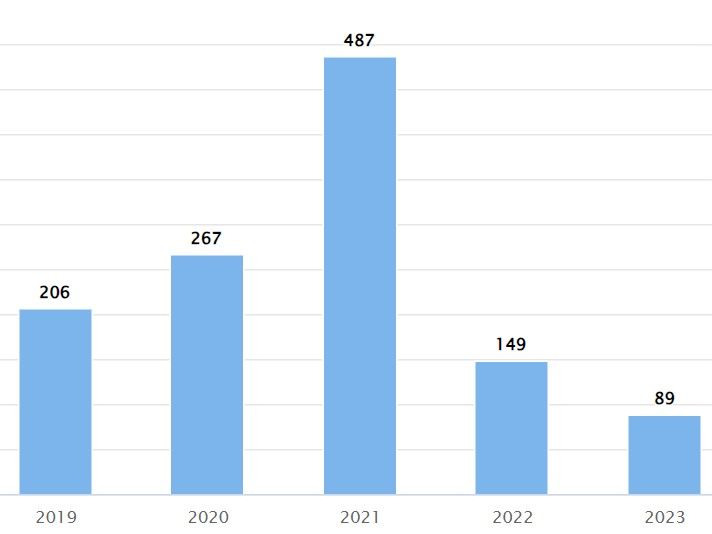 U.S. IPO filings are up 15.6% over this point on 2022, excluding SPACs, per Renaissance Capital.
Thanks for reading Axios Pro Rata, and to copy editors Mickey Meece and Bryan McBournie! Please ask your friends, colleagues and IPO bankers to sign up.