April 05, 2022
🚨 Situational awareness: Elon Musk is joining Twitter's board of directors. He's also agreed to not buy more than a 14.9% stake in the company, including as part of a group, while on the board and for 90 days thereafter.
🏀 Congrats to heelsfan1218, who picked Kansas despite the username. You're the winner of our March Madness contest. Also, who are you?
🎟️ The Axios What's Next Summit is today in D.C.. Register here to watch virtually, including my 2pm conversation with Bolt Financial's Ryan Breslow, who graces the cover of Forbes' new billionaires list issue.
Top of the Morning
A member of the PayPal Mafia will soon lead venture capital's most successful firm.
Driving the news: Sequoia Capital yesterday announced that Roelof Botha will take the reins as "senior steward" on July 5, one day after the 65th birthday of current firm chief Doug Leone.
Botha came to Sequoia straight from PayPal in 2003, and led the firm's investments in such companies as Bird, Instagram, Square and YouTube.
Backstory: When Sequoia founder Don Valentine retired in 1996, he asked Leone and fellow Sequoia partner Mike Moritz to assume firm leadership. He'd seen many of his peers stay around too long and retain too much fund economics in exchange for too little contribution. The reason the firm was named Sequoia, rather than Valentine Ventures, was because it was supposed to outlast him and his influence.
Leone and Moritz served as senior stewards until 2012, when Moritz stepped back for health reasons. Leone then served in the role alone, with Jim Goetz and Neil Shen as stewards (kind of seconds in command). Goetz was succeeded in 2017 by Botha, who now will take Leone's role. Shen will continue to lead China operations.
Sequoia began planning for this transition a few years back, including the hiring of several new roles (global CFO, global COO, etc.) so that Botha would have a limited number of direct reports.
Leone will remain on funds where he's a general partner, and retain his current portfolio company board seats. He tells me he then wants "to be a model retired partner, which means I'm there when asked to be there but not someone who volunteers opinions."
Speaking of retirement: Leone insists that he won't be Tom Brady. "I have four kids and seven grandchildren in the Bay Area, picked up golf during COVID and want to spend time doing, as I promised my wife, the little things that sometimes you don't do when you're busy fighting fires at work... those little things can be very important things."
He adds that he "finds the word legacy to be dangerous." Instead, Leone says: "I hope my epitaph is that I brought it every day and died a young man, in the sense that I was always open-minded to the next idea."
The BFD
Climeworks, a Swiss carbon removal startup, raised $650 million co-led by Partners Group and GIC.
Why it's the BFD: There's an emerging consensus that carbon emissions removal, in addition to reduction, is key to stemming climate change. But there's little agreement on if it can really be done at scale. This money, the most ever raised for a carbon removal startup, could help answer that question, as Climeworks currently operates the world's largest direct-air capture facility.
Other investors include Baillie Gifford, Carbon Removal Partners, Global Founders Capital, John Doerr, M&G, Swiss Re and BigPoint Holding.
Axios Pro plug: Start your 14-day free trial to our Climate Deals newsletter.
The bottom line: "Climeworks' technology works by moving large quantities of air over a special chemical that is able to filter out CO₂, similar to a magnet attracting iron fillings. The new compound is then heated to high temperatures to release a pure stream of CO₂ which can be injected underground. The entire process is quite energy intensive and only makes sense for the planet if the main source of energy is carbon-free." — Akshat Rathi, Bloomberg
Venture Capital Deals
• Remote, an SF-based distributed workforce management company, raised $300m in Series C funding. SoftBank led, and was joined by insiders Accel, Sequoia, Index Ventures, Two Sigma Ventures, General Catalyst, 9Yards, Adams Street and Base Growth. http://axios.link/52nr
• LinkSquares, a Norwalk, Conn.-based contract management software provider, raised $100m in Series C funding at an $800m valuation. G Squared led, and was joined by G2 Venture Partners and insiders like Xerox Ventures. www.linksquares.com
• Built Robotics, an SF-based maker of trenching robots for heavy construction projects, raised $64m in Series C funding led by Tiger Global. www.builtrobotics.com
• Labster, a Copenhagen-based virtual learning startup, raised $47m. Sofina Group and Pirate Impact co-led, and were joined by Owl Ventures, Andreessen Horowitz and Balderton Capital. http://axios.link/h7wd
• Tinybird, a Spanish real-time data productization startup, raised $37m in Series A funding. CRV and Singular Ventures co-led, and were joined by Crane Ventures. www.tinybird.co
• Fractal, a marketplace for gaming NFTs founded by Justin Kan, raised $35m in seed funding. Paradigm and Multicoin Capital co-led, and were joined by Andreessen Horowitz, Solana Labs, Animoca, Coinbase, Play Ventures, Position Ventures, Zynga founder Mark Pincus, Crossover and Shrug Capital. http://axios.link/S8NO
• Amenitiz, a Barcelona-based "Shopify for hotels," raised $30m in Series A funding. Eight Roads led, and was joined by Chalfen Ventures and insiders Point Nine, Backed and Otium Capital. http://axios.link/UC3B
• Thunkable, an SF-based no-code mobile app dev platform, raised $30m in Series B funding. Owl Ventures led, and was joined by Lightspeed Venture Partners, NEA, PJC, Sky9 Capital and Diplo (yeah, that one). www.thunkable.com
• vHive, an Israeli autonomous digital twin software startup, raised $25m in Series B funding. PSG led, and was joined by Octopus Ventures and Telekom Innovation Pool. www.vhive.ai
🚑 Future Family, an SF-based startup combining fertility financing and care support, raised $25m in Series B funding, as first reported by Axios Pro. Munich Re Ventures led, and was joined by TriVentures, MS&AD, Orix and insiders Aspect Ventures, Mindset Ventures, At Inc. and OurCrowd. http://axios.link/RlgG
• Gotrade, a Singapore-based app that lets international users buy fractional shares of U.S. securities, raised $15.5 in Series A funding. Velocity Capital Fintech Ventures led, and was joined by Mitsubishi UFJ Financial Group, BeeNext, Kibo Ventures, Picus Capital, LocalGlobe, Social Leverage and Raptor. http://axios.link/e6pX
• RenoFi, a Philadelphia-based home renovations lender, raised $14m in Series A funding. Canaan Partners led, and was joined by Nyca Partners and CMFG Ventures. http://axios.link/sjeC
• Amplemarket, an SF-based revenue platform, raised $12m in Series A funding. Comcast Ventures and Armilar Venture Partners co-led, and were joined by Flexport and Caixa Capital. www.amplemarket.com
• 8base, a Miami, Fla.-based low-code dev platform, raised $10.6m in Series A funding. Foundry Group led, and was joined by MongoDB Ventures, Techstars, Firebrand Ventures, 11 Tribes Ventures, Argonautic Ventures, LAGO Innovation Fund and Strawberry Creek Ventures. www.8base.com
Private Equity Deals
• Advent International and Centerbridge Partners reportedly are working on another sweetened bid for listed German property lender Aareal Bank, after their €1.86b offer failed to secure enough shareholder approval. http://axios.link/hN2M
• Ariel Alternatives bought a 52.5% stake in Sorenson, a Salt Lake City-based communications provider to people who are deaf or hard of hearing, at a $1.3b valuation from backers like Blackstone Credit, Franklin Mutual Advisors and KKR. http://axios.link/uPbs
• Lone Star Funds bought Senqcia, a Japanese structural building materials company, from The Carlyle Group. www.senqcia.com
• PDFTron Systems, a Canadian portfolio company of Thoma Bravo, bought iText Group, a Belgian open-source PDF tech company. www.pdftron.com
• Stonepeak recapitalized Denver-based data center operator Cologix at a $3b equity value. http://axios.link/BFdp
Liquidity Events
• ID Logistics (Paris: IDL) acquired Kane Logistics, a Scranton, Penn.-based warehouse and distribution services provider, from Harkness Capital. www.kanelogistics.com
• Skillsoft (NYSE:SKIL) completed its $525m cash-and-stock acquisition of Codecademy, a New York-based coding school that had raised over $80 million in VC funding from Owl Ventures, USV, Prosus Ventures, Bloomberg Beta, Flybridge Capital Partners, Index Ventures and Richard Branson. www.codecademy.com
More M&A
• BitMex, a derivatives-focused crypto exchange, reportedly laid off around 75% staffers after plans to buy a 268-year-old German private bank called Bankhaus von der Heydt fell through. http://axios.link/iaKV
• Farfetch (NYSE: FTCH) agreed to invest up to $200m into the parent company of Neiman Marcus and Bergdorf Goodman. http://axios.link/Aioe
• Hasbro (Nasdaq: HAS) named two new directors who weren't the choices of activist investor Alta Fox, which is pushing the company to spin off its Wizards of the Coast division. http://axios.link/sFR5
• IGO (ASX: IGO), an Australian nickel and lithium miner, said its $1.1b takeover of nickel miner Western Areas (ASX: WSA) may collapse due to an independent expert's assessment that the deal is unfair. http://axios.link/RSGt
🚑 Recuro Health, a Richardson, Texas-based digital health platform, acquired WellVia, a virtual health platform connecting physicians and behavioral health specialists. Recuro backers include DeepWork Capital, GPG Ventures and Arch Venture Partners. www.wellvia.com
Fundraising
• Apollo Global Management raised $4.6b for its second "hybrid value fund." http://axios.link/b1Lk
• General Atlantic opened an office in Tel Aviv. www.generalatlantic.com
• Realization Capital Partners, a Menlo Park-based direct and secondary PE firm, has secured around half of the $300m target for its second fund, per an SEC filing. www.realicap.com
It's Personnel
• Giovanni Castaldo left Citigroup to join UBS as head of its Italian financial institutions group, per Bloomberg. http://axios.link/Ev0v
• Makan Delrahim, the DOJ's antitrust chief under President Trump, is joining law firm Latham & Watkins as a partner. http://axios.link/tH5e
• Curt LaBelle and Zina Affas Besse joined AXA IM Alta as head and deputy head, respectively, of healthcare PE. Both were previously was Global Health Investment Fund. www.axa-im.com
• María Auersperg de Lera joined London-based VC firm Felix Ventures. She previously was with Mosaic Ventures. www.felixcap.com
• Spider Capital promoted Minsoo Chi to partner. www.spidercapital.com
• Michael Wiatr (ex-LastObject) joined Antler as a partner focused on Nordic startups. The VC firm also promoted Lavanya Indralingam to associate partner. www.antler.co
Final Numbers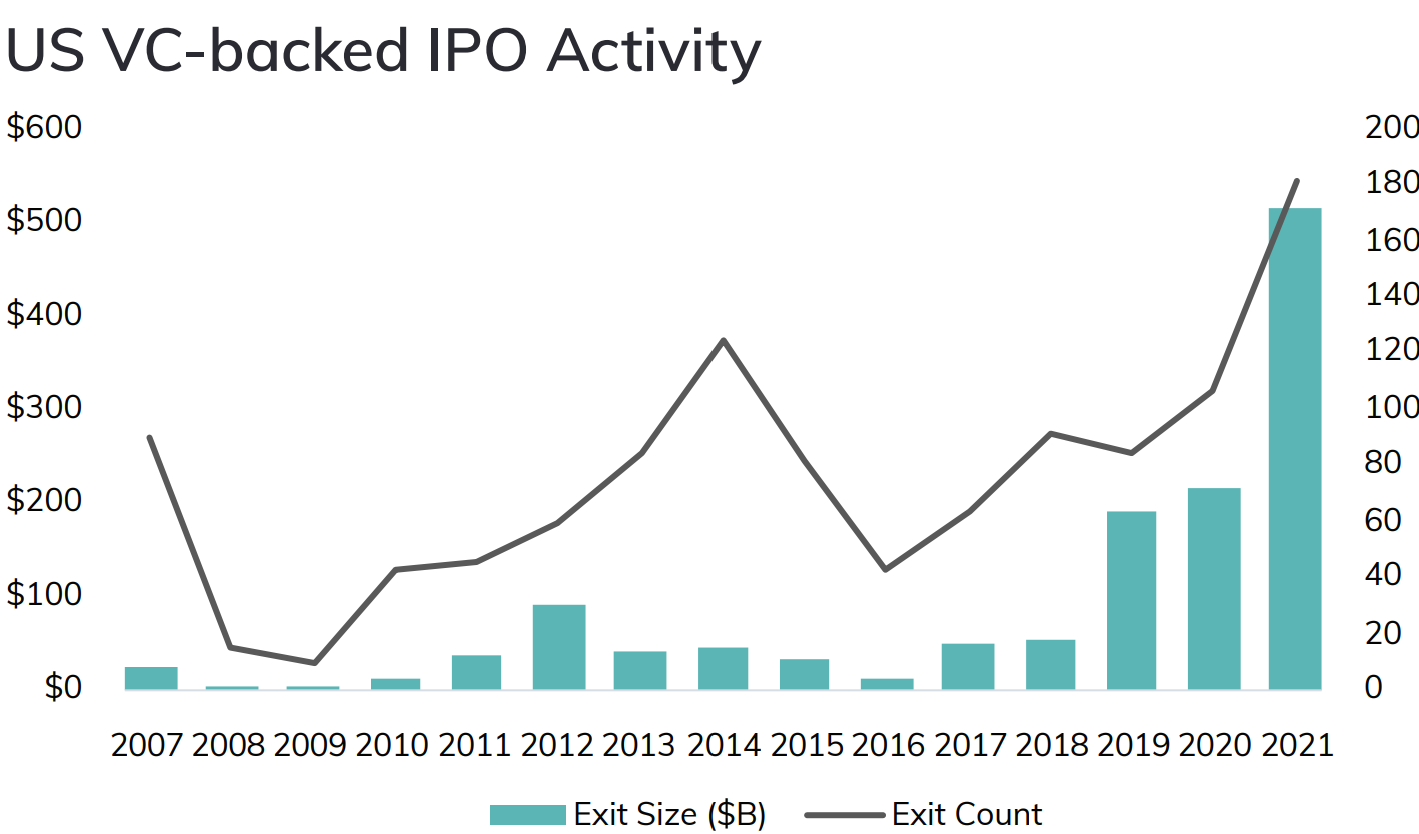 🎂 Happy 10th birthday to The JOBS Act, which was designed to increase the number of startups going public. Kia will have more in Saturday's edition.
✅ Thanks for reading Axios Pro Rata! Please ask your friends, colleagues and What's Next Summit attendees to sign up.