Axios Pro Rata
December 20, 2021
🚨 Situational awareness: The World Economic Forum has postponed its annual Davos event, originally scheduled for January, due to COVID-related health and safety concerns.
Top of the Morning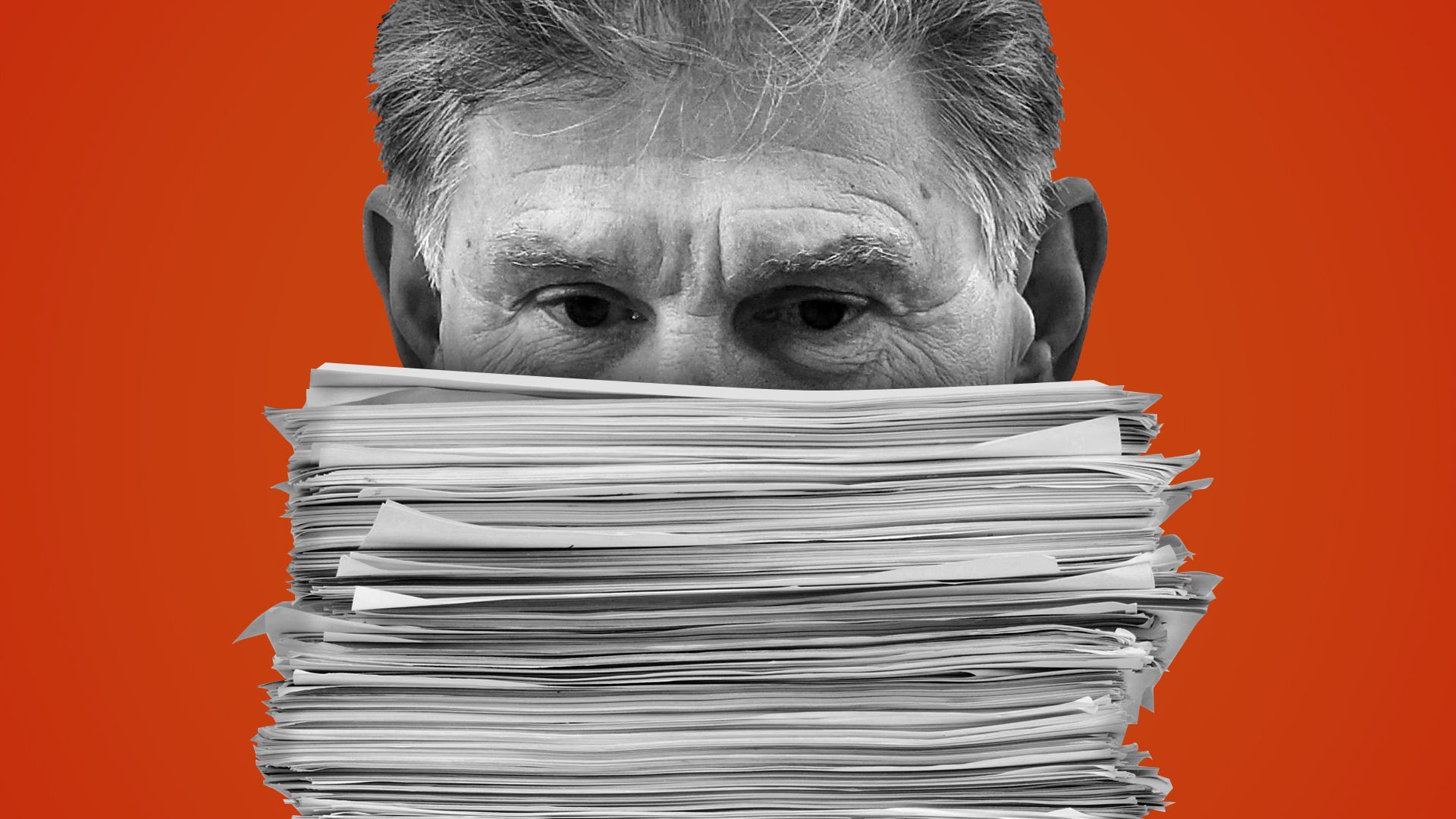 Sen. Joe Manchin yesterday decapitated President Biden's "Build Back Better" legislation and, in so doing, maintained the status quo on business taxation.
The big picture: No changes are coming to carried interest or qualified small business stock, at least for the 2021 tax year. And forget about that 15% minimum tax on large corporations or the 1% excise tax on stock buybacks.
Carried interest tax changes were stripped from the version of BBB that passed the House, but there had been widespread speculation that they'd be reintroduced in the Senate. Maybe that was the ultimate kiss of death, since carried interest is the tax code's consummate cockroach.
Also not in the bill quashed by Manchin was a wealth tax, which remains a progressive priority without a legislative home.
Market reax: Stocks are way down in early trading this morning, although it's hard to know how much of that is BBB vs. Omicron. If the former, it's investors deciding the GDP hit is more important than the corporate profit boon.
The bottom line: Business leaders and investors like to grouse about "uncertainty," particularly around taxes. Take solace in the silence.
The BFD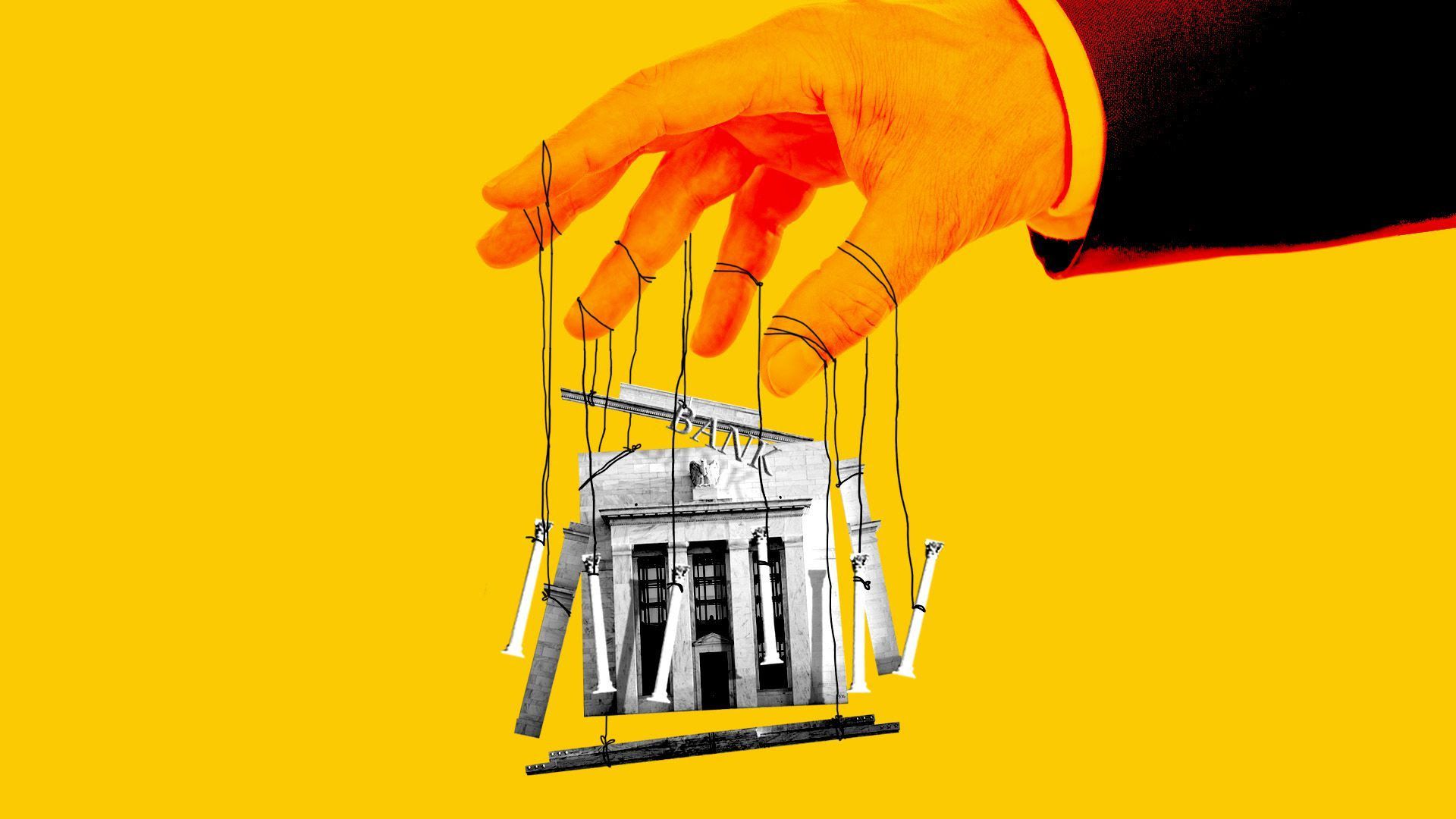 BMO Financial Group (NYSE: BMO) agreed to buy San Francisco-based Bank of the West from BNP Paribas (Paris: BNPP) for $16.3 billion.
Why it's the BFD: This is two banking trends in one deal — European banks retreating from the U.S. and Canadian banks increasing their exposure. It also comes amidst growing chatter that the FDIC or other U.S. regulators could crack down on big bank mergers.
The bottom line: "European lenders that planted flags in the U.S. starting in the late 1980s have failed to gain much ground. Royal Bank of Scotland Group sold out of Citizens Financial Group in 2015. HSBC said last year it would close one-third of its U.S. branches. BBVA of Spain agreed to sell its U.S. arm roughly a year ago to PNC Financial Services Group for around $11.6 billion in a deal that created the fifth-largest retail bank in the U.S." — Cara Lombardo & Orla McCaffrey, WSJ
Venture Capital Deals
• Razorpay, an Indian online payment platform, raised $375 million in Series F funding at a $7 billion valuation. Lone Pine Capital, Alkeon Capital and TCV co-led, and were joined by insiders Tiger Global, Sequoia Capital India, GIC and YC. http://axios.link/58Ho
• Future Meat Technologies, an Israeli developer of cell-grown meat products, raised $347 million in Series B funding. ADM Ventures co-led alongside an undisclosed investor, and was joined by Tyson Foods. http://axios.link/LiiZ
• OfBusiness, an Indian raw material aggregator and procurement finance provider, raised $325 million in Series G funding at a $5 billion valuation co-led by Alpha Wave Global, Tiger Global and SoftBank. http://axios.link/uhXM
• Cars24, an Indian used car marketplace, raised $300 million in Series G equity funding at a $3.3 billion valuation. Alpha Wave Global led, and was joined by DST Global, SoftBank, Alibaba, Tencent, Moore Strategic Ventures, Exor Seeds and Raptor Group. The company also secured $100 million in new debt. http://axios.link/dJuE
• Kurly, a South Korean online grocer, raised $210 million from Anchor Equity Partners at a $3.3 billion valuation. http://axios.link/mO9c
• Rec Room, a Seattle-based social gaming platform, raised $145 million at a $3.5 billion valuation. Coatue led, and was joined by insiders Sequoia Capital, Index Ventures and Madrona Venture Group. http://axios.link/NnY0
• Bizongo, an Indian B2B e-commerce and supply chain enablement platform, raised $110 million in Series D funding. Tiger Global led, and was joined by CDC, IFC EAF and insiders B Capital Group, Chiratae Ventures, Schroder Adveq, IFC and Add Ventures. www.bizongo.com
• Figment, a New York-based blockchain infrastructure and service provider, raised $110 million in Series C funding at a $1.4 billion post-money valuation. Thoma Bravo led, and was joined by Counterpoint Global, Binance, Mirae Asset, ParaFi Capital, Avon Ventures, Fidelity, Bitstamp, CMS Holdings, Two Sigma, B Capital Group, Franklin Templeton, DTCP and StarkWare. www.figment.io
🚑 V-Wave, an Israeli developer of cardiac implants, has raised $98 million in new Series C funding. Deerfield Management led, and was joined by Aperture Venture Partners, BRM Group, Endeavour Vision, J&J Innovation, Pontifax, Pura Vida Investments, GHS Fund, Triventures and Israel Secondary Fund. http://axios.link/vYUw
• Nansen, a Singaporean blockchain analytics startup, raised $75 million. Accel led, and was joined by GIC, Andreessen Horowitz, Tiger Global and SCB 10X. http://axios.link/JRzK
• Taptap Send, a New York-based cross-border financial startup, raised $65 million in Series B funding. Spark Capital led, and was joined by Unbound, Reid Hoffman, Canaan Partners, Slow Ventures, Breyer Capital, Wamda Capital and Flourish Ventures. www.taptapsend.com
• Metro Express Africa, a Nigerian moto-taxi hail startup, raised $31 million in Series B funding. Lightrock led, and was joined by Global Ventures and insiders Novastar Ventures and Proparco. http://axios.link/w6n7
🚑 Formel Skin, a German online dermatology care platform, raised €30 million. Singular led, and was joined by Heal Capital and insiders Cherry Ventures, Heartcore Capital and Vorwerk Ventures. www.formelskin.de
• Stenon, a German developer of real-time soil sensing tech, raised $20 million in Series A funding from Founders Fund, The Production Board and insiders Cherry Ventures and Atlantic Labs. http://axios.link/hmEz
• Bureau, an Indian payments fraud detection startup, raised $12 million. Quona Capital led, and was joined by Commerce Ventures, Okta and insiders XYZ, Blume Ventures, EMVC and Village Global. http://axios.link/97wZ
• Lapse, a British photo collaboration app, raised $11 million in seed funding. GV led, and was joined by Speedinvest. http://axios.link/Yzb4
Private Equity Deals
• Athene (NYSE: ATH), backed by Apollo Global Management, agreed to buy Petros Pace Finance, an Austin, Texas-based provider of commercial property clean energy loans. http://axios.link/4dRp
• Avesi Partners bought Danforth Advisors, a Waltham, Mass.-based provider of financial and operational consulting to life sciences companies, from Stone-Goff Partners. www.danforthadvisors.com
• Bessemer Investors invested in Pet Flavors, a Melbourne, Fla.-based maker of flavor bases and palatants for pet chewable pharmaceuticals. www.petflavors.com
• Entrepreneurial Equity Partners invested in Organic Milling, a San Dimas, Calif.-based contract manufacturer of "better-for-you" cereals, snacks and ingredients. www.organicmilling.com
• Len The Plumber, a Baltimore-based portfolio company of Thompson Street Capital Partners, acquired Russo Bros, an East Hanover, N.J.-based residential HVAC, plumbing and electrical services provider. www.lentheplumber.com
⚡ Pilot Power Group, a San Diego-based portfolio company of Boyne Capital Partners, acquired Trebel Energy, a provider of electricity and natural gas procurement services in Ohio. www.pilotpowergroup.com
• Thoma Bravo agreed to buy Portsmouth, N.H.-based payments firm Bottomline Technologies for around $2.6 billion, or $57 per share (42% premium to where the stock traded before Bottomline said it formed a strategic committee). http://axios.link/eZar
Public Offerings
🚑 CinCor Pharma, a Boston-based biopharma focused on hypertension, filed for an IPO. It plans to list on the Nasdaq (CINC) and raised over $190 million from Sofinnova Ventures (23% pre-IPO stake), Sofinnova Partners (17%), 5AM Ventures (17%) and General Atlantic (10.6%). http://axios.link/zwDi
SPAC Stuff
• Mondee, a San Mateo, Calif.-based online travel marketplace, agreed to go public at an implied $1 billion valuation via ITHAX Acquisition Corp. (Nasdaq: ITHC). It had raised around $110 million (plus got a PPP loan) since becoming independent from GTCR in 2016, from firms like TCW Group, Origami Capital Partners and Morgan Stanley. www.mondee.com
🚑 Senti Biosciences, a South S.F.-based gene circuit company, agreed to go public at an implied $601 million valuation via Dynamics Special Purpose Corp. (Nasdaq: DYNS). Senti had raised around $160 million from firms like Bayer, NEA, Matrix Partners China and 8VC. www.sentibio.com
• ZeroFox, a Baltimore-based provider of social media monitoring solutions, agreed to go public at an implied $1.4 billion valuation via L&F Acquisition Corp. (NYSE: LNFA). It had raised around $230 million from firms like Highland Capital Partners, NEA, Redline Capital Management, Intel Capital, Doorga Capital and Hercules Capital. http://axios.link/si9M
• Aurora Technology Acquisition Corp., a tech SPAC led by Zachary Want (Ascan Investments), filed for a $200 million IPO. http://axios.link/OfEP
⚡ Constitution Acquisition, a natural gas value chain SPAC, filed for a $200 million IPO. http://axios.link/d1S7
• Roman DBDR Tech Acquisition III, a TMT SPAC led by Donald Basile (ex-CEO of Violin Memory and FusionIO) and Dixon Doll Jr. (DBM Cloud Systems), filed for a $250 million IPO. http://axios.link/Y4TF
Liquidity Events
• Rocket Cos. (NYSE: RKT) agreed to buy Truebill, a Silver Spring, Md.-based personal finance app, for $1.3 billion in cash. Truebill had raised around $85 million from backers like Accel, Cota Capital, Bessemer Ventures Partners, Cross Culture Ventures, Eldrige, Preface Ventures and Y Ventures. http://axios.link/iXrn
• Sage Group (LSE: SGE) agreed to buy the 83% stake it doesn't already own in British retail management software provider Brightpearl for $299 million. Sellers include VC firms Notion, Eden Ventures and Verdane. http://axios.link/Qzxq
• Sonoco Products (NYSE: SON) agreed to buy Ball Metalpack, a Broomfield, Colo.-based sustainable metal packaging manufacturer, from Platinum Equity for $1.35 billion in cash. http://axios.link/9arJ
More M&A
🚑 Oracle (NYXSE: ORCL) agreed to buy Kansas City-based electronic medical records firm Cerner (Nasdaq: CERN) for $28 billion, or $95 per share. It is Oracle's largest-ever acquisition. http://axios.link/mIey
• BillerudKorsnas, a Swedish paper and pulp manufacturer, agreed to buy Miamisburg, Ohio-based coated paper producer Verso (NYSE: VRS) for $825 million in cash. http://axios.link/nNvx
Fundraising
• New Voices, a New York-based VC firm, secured $97 million for its $300 million-targeted second fund, per an SEC filing. www.newvoicesfund.com
• Razor's Edge Ventures of Reston, Va. is raising up to $350 million for its third fund, per an SEC filing. www.razorsvc.com
Final Numbers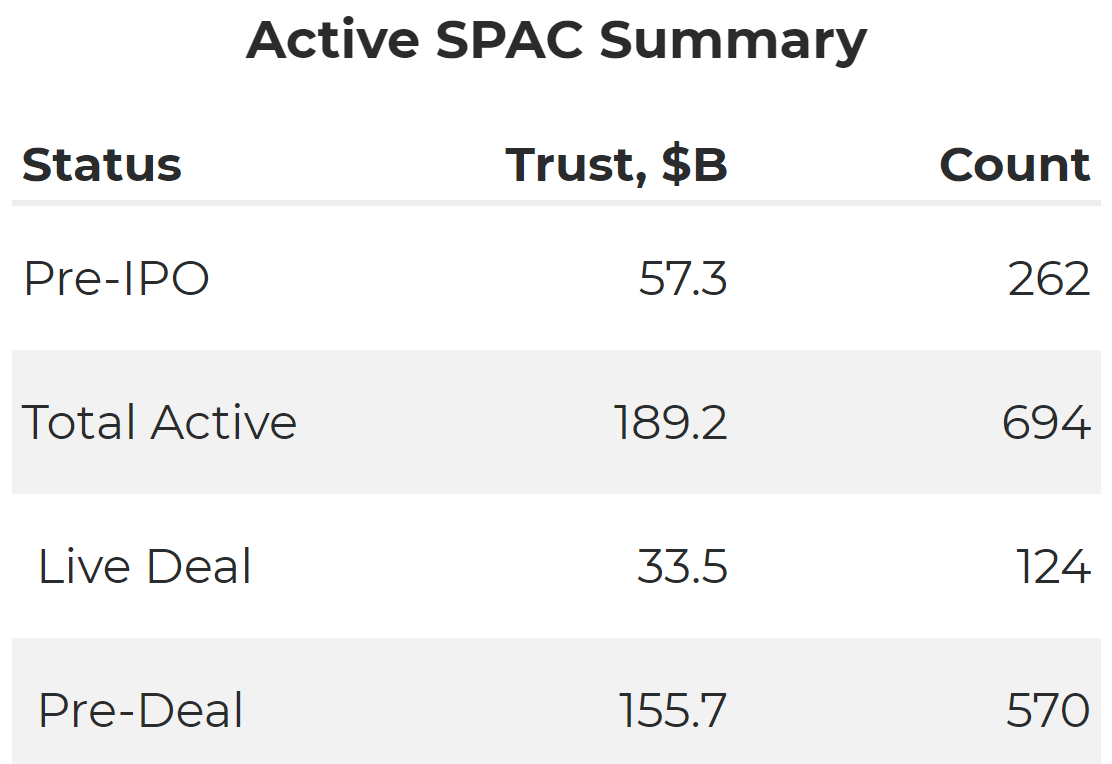 Someone forgot to tell the SPAC market that it peaked, as four new mergers were announced today. And sources say more are expected before we all pack it in for the holidays.
Perhaps the most interesting of today's deals was Forafic, a Moroccan flour and flour products provider, which will go public via Globis Acquisition Corp. at an implied valuation of around $300 million.
It will be the first Morocco-based company to be listed on a U.S. exchange and, if successful, could spark a run on North African companies. Plus, it's a reminder of the power of couscous.
Also, don't be surprised to see Globis raise another SPAC to focus on MENA targets.
🙏 Thanks for reading Axios Pro Rata! Please ask your friends, colleagues and tax accountants to sign up.