May 09, 2022
Top of the Morning
Twenty years ago, I sat down in a Boston lobster shack with a college endowment manager who looked equal parts dazed and triumphant. "They're really going to give the money back," he said before we'd even been offered water. "Can you f**king believe it?"
Fast forward: 2022 is not 2002.
Backstory: My lunch was shortly after the dotcom crash. VC funds had raised record amounts of cash, predicated on a belief that both the number of tech startups and tech startup valuations would continue to grow.
Instead, their existing portfolios were hemorrhaging and their limited partners were panicked. Several brand-name firms essentially cut the sizes of funds they had already raised — usually in the 20–50% range — determining that such large sums couldn't be responsibly invested. Some did so voluntarily, while others did so under intense LP pressure.
Most firms that reduced fund sizes and survived the carnage would be rewarded in future fundraises by appreciative LPs. Some of those that clung to their committed management fees were not so fortunate.
That era's VC fund cuts, which weren't mirrored by private equity, have seeped into this year's social media conversations. And it makes some sense, against the backdrop of record VC fundraising numbers and the tech stock rout.
But I've yet to find any limited partner who expects a redux, or even is agitating for one. Some reasons:
1. Passivity. We've discussed at length how many of this generation's venture capitalists have never dealt with a lengthy downturn, but it's also true of many of this generation's limited partners. VC funds have generated huge returns for over a decade, so newer LPs are most adept at opening checkbooks and simply asking "How big a number can I write?"
2. Timeline: Even for more experienced LPs, a washout of 2021-vintage funds won't be as painful as the dotcom-vintage funds may have been, because VC fund lifecycles have shrunk from three–four years to one–two years. And, for GPs, there's less incentive to reset the clock.
One wrinkle here, however, is that fund life cycles may expand on their own, particularly if denominator effects make fundraising more difficult.
3. Dry powder: LPs won't even consider pressuring VC fund managers until they see major markdowns and/or write-offs, and the massive amount of existing fund capital (particularly in the growth stages) could paradoxically prop up valuations for some time to come.
4. Tech maturity: "Internet" tech was still fairly new in 2002, so the crash caused many potential founders (and investors) to question whether launching a new company even made sense. Thus, a major deal-flow deterioration for VC funds. Today, there are no such doubts.
The bottom line: We're just at the beginning of what may be a multi-year correction. Or maybe just a blip that we'll laugh about by Labor Day. Either way, we're not close to that brief moment when VC funds were giving back more than they were taking in.
The BFD
Todd Boehly, CEO of Eldridge Industries and part-owner of the LA Dodgers, will pay £4.25 billion to buy Chelsea Football Club from Russian oligarch Roman Abramovich, who has pledged to donate his proceeds to charity.
Why it's the BFD: This is a record amount for a pro soccer club acquisition, crushing the £790 million for Manchester United in 2005, and comes after an intense bidding war that saw Boehly prevail over both British suitors and rival U.S. private equity moguls who moonlight as pro sports club owners.
Elsewhere: RedBird Capital Partners, the U.S. PE firm that partially owns Premier League team Liverpool, reportedly is a late entrant into the sale process for AC Milan. This would rival Investcorp, which has been in advanced talks to buy the Italian club from Elliott Management.
The bottom line: "Boehly's group is set to usher in a new era for a club that relied on Abramovich's fortune for two decades as it was transformed into a powerhouse that has won every major honour in football... To protect Chelsea's finances, the deal includes restrictions on management fees, dividend payments and debt." — Financial Times
Venture Capital Deals
• Bucketplace (dba OHouse), a South Korean home decorating and interior app, raised $182m in Series B funding at a $1.4b valuation. Backers include SoftBank Ventures Asia, Vertex Growth, BOND, BRV Capital Management, Korea Development Bank, IMM Investment and Mirae Asset Capital. http://axios.link/u4vy
• Pyramid Analytics, a Dutch business intelligence platform, raised $120m in Series E funding at co-led by H.I.G. Growth Partners, Clal Insurance Enterprises Holdings and General Oriental Investments. http://axios.link/0EvD
• Paymob, an Egyptian fintech that lets merchants accept digital payments in-store, raised $50m in Series B funding. PayPal Ventures, Kora Capital and Clay Point co-led, and were joined by Helios Digital Ventures, British International Investment, Nclude and insiders A15, FMO and Global Ventures. http://axios.link/yAIO
🚑 Imagene, an Israeli developer of cancer biopsy-screening AI, raised $18.5m in Series A funding co-led by David Agus and Larry Ellison co-led. The company was seeded by Blumberg Capital. http://axios.link/aJWM
• PocketLaw, a contract automation SaaS for businesses, raised €10m in Series A funding led by Atomico. http://axios.link/I3QA
• Quality Clouds, a British development governance platform for ServiceNow and Salesforce, raised £5.25m. YFM Equity Partners led, and was joined by Aldea and insider Adara Ventures. www.qualityclouds.com
• Manara, a cohort-based training ­­platform focused on MENA tech talent, raised $3m led by Stripe. http://axios.link/TnGd
• Southie Autonomy, a Boston-based robotic automation startup, raised $2.5m in seed funding. BootstrapLabs led, and was joined by Ocean Azul and Kineo Finance (which also provided $5m in venture debt). www.southie.ai
Private Equity Deals
• Brookfield Asset Management agreed to buy Chicago-based REIT Watermark Lodging Trust for around $3.8b. http://axios.link/5wOT
• Hg Pooled Management agreed to buy British QMS software firm Ideagen (LSE: IDEA) for £1.09b. http://axios.link/bLee
• Netherlands Measurement Institute, a portfolio company of Levine Leichtman Capital Partners, acquired Chamois Metrology, a British provider of legal metrology testing and inspection services. www.nmi.nl
🚑 OncoHealth, an Atlanta-based digital health company focused on oncology, raised funding from Arsenal Capital Partners and McKesson, per Axios Pro. http://axios.link/Vvrv
Public Offerings
• Four companies plan to go public on U.S. exchanges this week: ProFrac, Hanover Bancorp, Actelis Networks and Bright Green (via direct listing). http://axios.link/659q
• Arago Acquisition, a Latin America-focused SPAC formed by Alta Growth Capital, filed for a $75m IPO. http://axios.link/6KGM
• iCIMS, a Holmdel, N.J.-based hiring platform, withdrew IPO registration. This came after the company secured a new investment from TA Associates, which becomes an equal shareholder with Vista Equity Partners. www.icims.com
🚑 PepGen, a Cambridge, Mass.-based developer of therapeutics for Duchenne muscular dystrophy, raised $108m in its IPO. The company priced at $12 (below $13-$15 range), listed on the Nasdaq (PEPG) and had raised $176m from firms like RA Capital Management, University of Oxford, CureDuchenne Ventures and Oxford Sciences Innovation. http://axios.link/BqAs
More M&A
🐮 Danone (Paris: DANO) is ending its partnership with Chinese dairy firm Mengnui (HK: 2319), by selling its 25% stake in milk powder maker Yahili (in exchange for 100% of the Dumex Baby Food infant milk business) and its 20% stake in a joint venture. http://axios.link/FmTX
• Radius Global Infrastructure (Nasdaq: RADI), a New York-based company that leases cell sites to mobile tower and network firms, is considering a sale process, per Bloomberg. Its market cap climbed to $1.55b on the news. http://axios.link/pSHw
• Rogers Communications (NYSE: RCI) said that Canadian antitrust officials oppose its C$16b takeover of rival Shaw Communications (NYSE: SJR). http://axios.link/hC18
Fundraising
• AEA Investors, a New York-based PE firm, is raising its eighth fund, per an SEC filing.
• Chingona Ventures, a Chicago-based VC firm focused on overlooked founders, raised $52m for its second fund. http://axios.link/ninu
• Plexus Capital, a Raleigh, N.C.-based investment firm founded in 2005, raised $204m for its inaugural buyout fund. www.plexuscap.com
🚑 Rock Health, an SF-based VC firm, is raising $50m for a new fund, per an SEC filing.
• Stone-Goff Partners, a New York-based lower midmarket buyout firm, is raising its fourth fund, per an SEC filing.
It's Personnel
• Alex Doñé, the former New York City chief investment officer who resigned late last year, joined Platinum Equity as a managing director. www.platinumequity.com
• Andrew Olinick stepped down as co-head of North American private equity at 3i, to join investment bank LionTree. http://axios.link/Y0Yt
• HKW, an Indianapolis-based midmarket PE firm, promoted Michael Foisy to president. www.hkwinccom
Final Numbers: Deal declines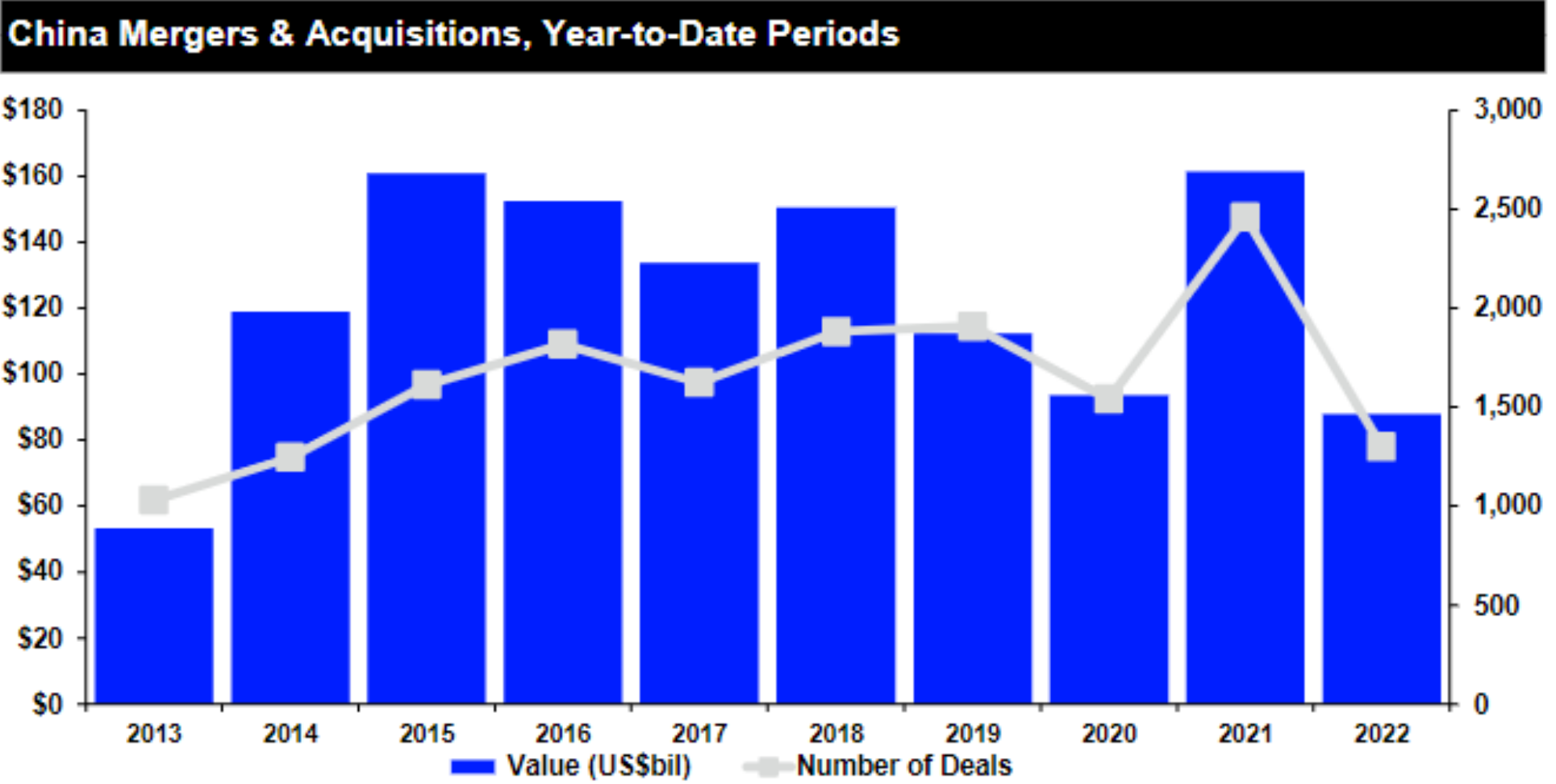 China M&A dollar volume is down 45% year-over-year, a much steeper decline than global deals (-20%) or U.S. deals (-26%), per Refinitiv.
Overall Asia (ex-Japan) M&A is off 9%, inclusive of China, while the only major country with a bigger drop is Canada (-64%).
✅ Thanks for reading Axios Pro Rata! Please ask your friends, colleagues and agitated limited partners to sign up.