Axios Pro Rata
July 27, 2022
It's Wednesday! Which means we're halfway to the weekend, and hours away from an expected Federal Reserve interest rate hike. Anyone have any fun plans? 😎
Top of the morning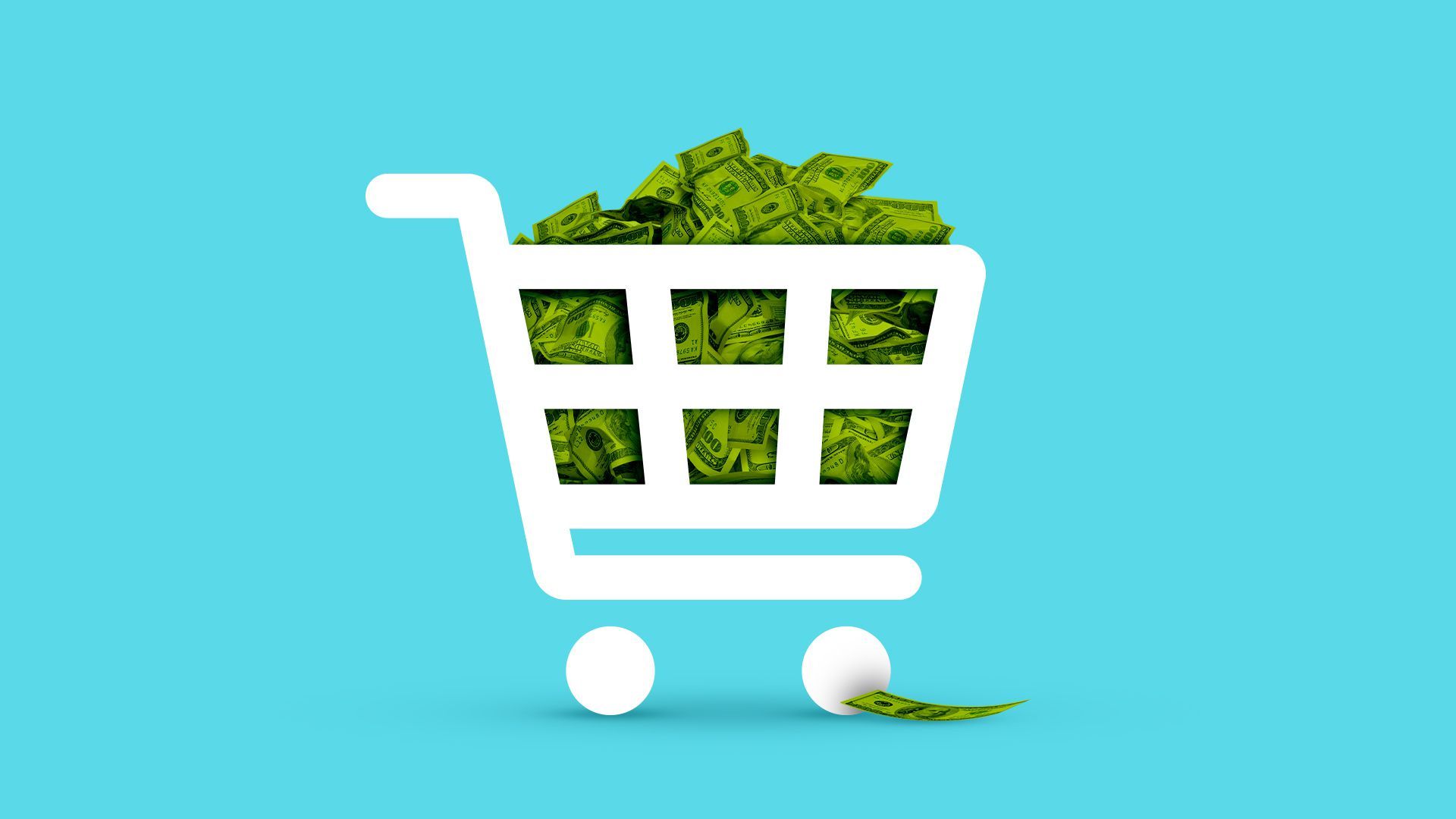 Shopify is laying off 10% of its workforce (roughly 1,000 jobs) CEO Tobi Lütke announced Tuesday. Two years ago, Shopify mistakenly bet that money spent in e-commerce vs. physical retail "would permanently leap ahead by 5 or even 10 years," Lütke acknowledged.
Why it matters: Many startups and their investors made decisions over the last two years, based on the assumption that we've permanently shifted much more of our shopping online.
Online retail was a big winner during the "stay-at-home" phase of the COVID-19 era; many of those bets are now being unwound in a big way.
Venture capital investment in retail tech more than doubled from $46.7 billion in 2020 to $108.6 billion the following year, per CB Insights data.
$36.9 billion has already been invested in the first half of 2022, with a projected total of $72.9 billion for the whole year.
The big picture: As the world figures out which of the pandemic-fueled trends are truly permanent shifts, some suggest that the significant uptick in online shopping may have been more temporary than originally thought.
By the numbers: Wednesday morning, Shopify posted an adjusted quarterly loss per share of $0.03, compared to the $0.03 profit analysts expected, per Bloomberg.
Revenue went up 16% to $1.3 billion from a year ago, in line with expectations of $1.33 billion.
Gross merchandise volume increased 11% to $46.9 billion, missing estimates of $48.6 billion.
Between the lines: It's not just the Shopifys of the world that are finding this out the hard way. A slew of businesses whose customer trends are directly related to online shopping are also taking a hit.
For example, buy now pay later companies have also gotten a reality check across the board, as Axios recently reported.
Klarna recently took an 85% valuation cut, while Affirm has seen a similar drop in market cap, and Zip and Sezzle canceled acquisition plans.
"Affirm's largest customer is Peloton – so as Peloton's fortunes' rose, so did Affirm's fortunes," explains Better Tomorrow Ventures co-founder Sheel Mohnot.
Yes, but: Things are still murky as far as our real shopping habits. Online sales are up overall and on track with pre-pandemic projections of where they'd be today.
Yet signs also point to consumers having returned some of their online shopping to brick-and-mortar stores, impacting the share of sales that happen via the Interwebs.
The bottom line: The world's trip back down to Earth from Planet Pandemic, and all the inflated market conditions it implied, continues.
The BFD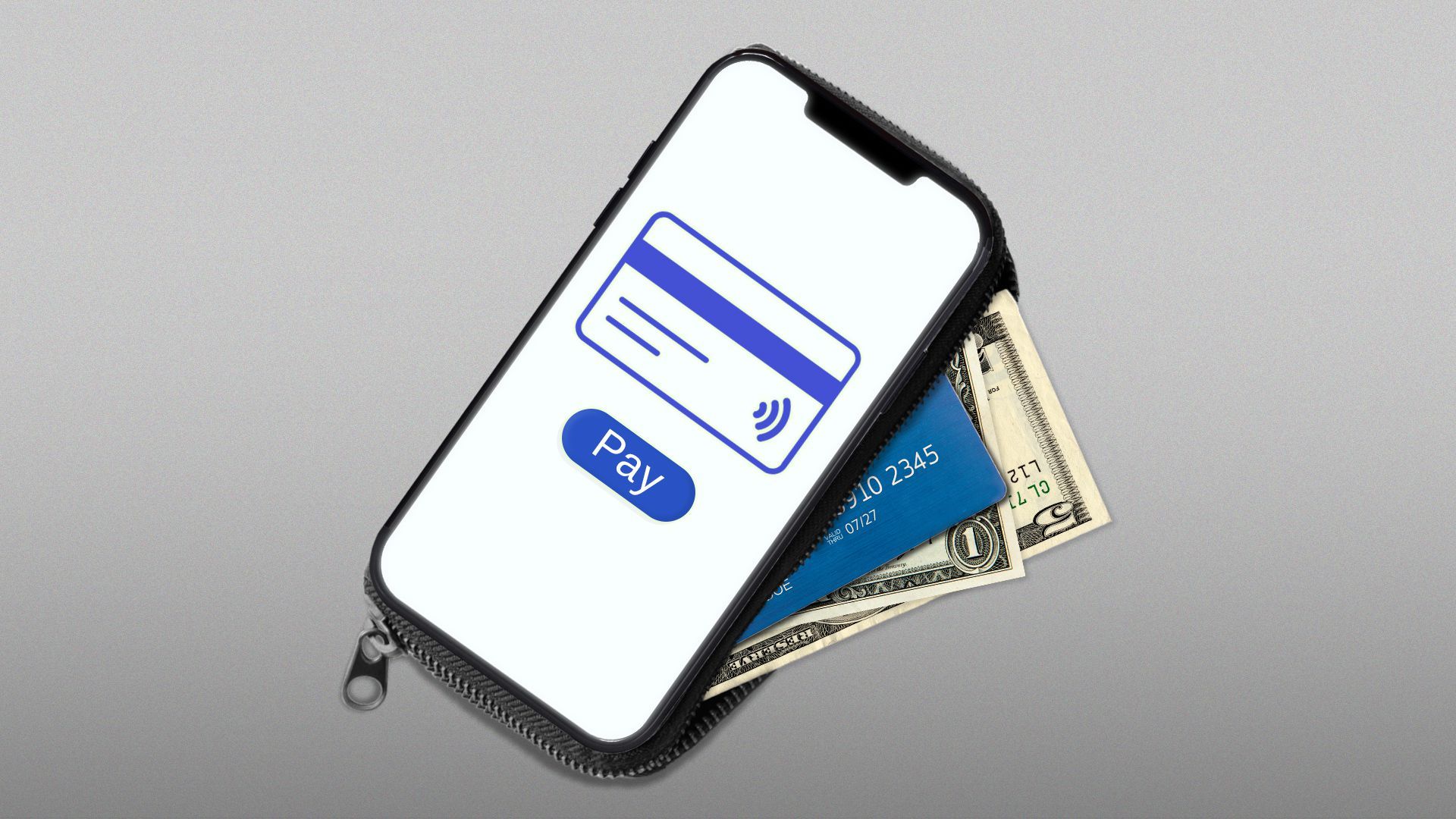 Elliott Management has been amassing a stake in PayPal, the Silicon Valley-based payments company, the Wall Street Journal first reported on Tuesday.
Why it's the BFD: Elliott has been quite busy lately — recently taking up stakes in companies like Pinterest and Swedish Match, and acquiring Nielsen.
Details: Elliott plans to push the company to speed up its cost cutting, per Bloomberg. It could become one of PayPal's five-largest shareholders.
The bottom line: "The company is facing supply chain disruptions and once-in-a-generation levels of inflation that have hindered e-commerce, while more consumers have been returning to in-store shopping. All the while, EBay...has been rapidly moving payments away from its platform. That's forced Chief Executive Officer Dan Schulman to rejigger plans for the year as he seeks to improve operating leverage — or the ability to grow revenue faster than expenses."—Jennifer Surane and Ed Hammond, Bloomberg.
Venture Capital Deals
• Seedtag, a Spanish contextual advertising company, raised more than €250m ($254m) in funding from Advent International. www.seedtag.com
• Spotnana, a New York-based travel startup, raised $75m in Series B funding led by Durable Capital. www.spotnana.com
• Unstoppable Domains, a San Francisco-based NFT domain name provider, raised $65m in Series A funding at a $1bn valuation led by Pantera Capital, with Mayfield, Gaingels, Alchemy Ventures, Redbeard Ventures, Spartan Group, OKG Investments, Polygon, CoinDCX, CoinGecko, We3 syndicate, Rainfall Capital, Broadhaven, EI Ventures, Hard Yaka, Alt Tab Capital, Boost VC, and Draper Associates also participating. Read more.
• Onto, a U.K.-based EV subscription company, raised $60m in Series C funding led by Legal & General. www.on.to Genesis Global, a Miami-based maker of low-code app development tools for finance customers, raised $20m in new funding Bank of America, BNY Mellon and Citi. www.new.genesis.global
• Boston Micro Fabrication, a Boston-based 3D printing company, raised $43m in Series C funding led by Shenzhen Capital Group. Read more.
• PunchListUSA, a Charleston, S.C.-based home repair data and services marketplace, raised $39m in funding led by Sweetwater Private Equity and Morpheus Ventures, with Home Depot Ventures, Second Century Ventures, Palm Drive Capital, IDEA Fund Partners, Meeting Street Capital, Solo Capital Management, VentureSouth, and others also participating. www.punchlistusa.com
• Neon, a San Francisco-based Postgres database services startup, has raised $30m in additional Series A funding led by GGV Capital, with Khosla Ventures, General Catalyst, Founders Fund, Elad Gil, Nat Friedman, Ajeet Singh, Guillermo Rauch, Wes McKinney, Ryan Noon and Søren Brammer Schmidt also participating. Read more.
• Bryte, a Los Altos, Calif.-based connected mattress company, raised $20m in funding led by Tempur Sealy, with ARCHina Capital and others also participating. www.bryte.com
• TestFit, a Dallas-based real estate modeling software company, raised $20m in Series A funding led by Parkway Venture Capital. www.testfit.io
• Topl, an Austin-based blockchain startup, raised $15m in Series A funding led by Mercury, Republic Asia, and Cryptology Asset Group. www.topl.co
• Datch, a leading provider of voice-first AI solutions for industrial operations, announced its $10m Series A funding round led by Blackhorn Ventures alongside existing investors Blue Bear Capital, Stage Venture Partners, Boeing Horizon X, and Plug and Play. www.datch.io
• Nada, a Dallas-based real estate fintech startup, raised $8.1m in seed funding led by LiveOak Venture Partners, with Revolution's Rise of the Rest Seed Fund, Capital Factory, 7BC Venture Capital, Sweater Ventures, LFG Ventures, Badra Capital, and Stonks Fund also participating. www.nada.co
• Resourcely, a San Jose, Calif.-based cloud management software startup, raised $8m in seed funding led by Andreessen Horowitz and Felicis, with Michael Coates, Talha Tariq, Philip Martin, and others also participating. www.resourcely.io
• ChiselStrike, a fully distributed backend software maker, raised $7m in seed funding led by Norwest Venture Partners, with Blumberg Capital, Jamstack Innovation Fund, Essence VC, First Star Ventures, and Mango Capital also participating. www.chiselstrike.com
• Impart Security, a Miami-based API security company, raised $6m in seed funding led by CRV, with Haystack, 8-bit Capital, and O'Reilly AlphaTech Ventures also participating. www.impart.security
• PixieBrix, a New York-based low-code web interface automation startup, raised $5.4m in Series A funding from New Enterprise Associates. www.pixiebrix.com
🚑 RxLive, a St. Petersburg, Fla.-based telehealth pharmacy, raised $5m in Series A funding led by SpringTide with Cardinal Health also participating. www.rxlive.com
🚑 Mable, a San Francisco-based migraine telehealth company, raised $3.2m in seed funding led by Y Combinator and Illumina, with First In Ventures, Arkitekt Ventures, and Inaki Berenguer also participating. Read more.
• Shypyard, a New York-based e-commerce business planning tools makers, raised $3m in seed funding led by Gradient Ventures, with Liquid 2 Ventures, Position Ventures, and others also participating. www.shypyard.com
• Stack, a Dutch maker of a multiplayer spatial browser, raised a $2.5m in seed funding led by Lunar Ventures, with Wayra X, Zemu Venture Capital, Peak Capital, and Charles Songhurst also participating. www.stackbrowser.com
🚑 Remble, a Tulsa, Okla.-based relationship coaching and mental health app, raised $1.4m in pre-seed funding led by Atento Capital. www.remble.com
Private Equity Deals
• Cegid, backed by Silver Lake, agreed to merge with Grupo Primavera, a Spanish cloud business management software company, valuing the combined entity at €6.8bn ($7bn). Oakley Capital, KKR, and AltaOne will remain minority shareholders. www.grupoprimavera.com/en
• HarbourView Equity Partners acquired the recorded music rights catalog of Brad Paisley. www.harbourviewequity.com
• PestCo Holdings, backed by Thompson Street Capital Partners, acquired Alliance Commercial Pest Control, a Tinton Falls, N.J.-based provider of commercial and residential pest control in New Jersey, New York, and Pennsylvania. www.alliancepestpro.com
• Brightstar Capital Partners agreed to invest in WindsorONE, a Petaluma, Calif.-based manufacturer of fabricated wood products for interiors and exteriors. www.windsorone.com
🚑 WindRose Health Investors completed the recap of RevHealth, a Morristown, N.J.-based provider of omnichannel health care communications. www.revhealth.com
• TPG Growth invested in Musixmatch, an Italian music data company. www.musixmatch.com
🚑 Revelstoke Capital Partners won the auction for Monte Nido & Affiliates, a Miami-based eating disorder treatment provider, from Levine Leichtman Capital Partners, per Axios Pro's Sarah Pringle. Read more.
SPAC Stuff
• PROTONIQ Acquisition Corp., a blank check company, filed to raise $100m in an IPO. Read more.
Fundraising
• Spectrum Equity raised $2b for its 10th flagship growth equity fund, as well as $200m for its third discretionary overage fund. www.spectrumequity.com
• Upfront Ventures raised $280m for its seventh early-stage venture fund, $200m for its third growth fund, and $185m for its continuation fund. Read more.
• Cambrian Ventures raised $20m for a fintech-focused venture fund. Read more.
It's Personnel
• Anzu Partners promoted Jimmy Kan to partner. www.anzupartners.com
• Credit Suisse named Ulrich Koerner as its new CEO, replacing Thomas Gottstein on Aug. 1. Read more.
🙏 Thanks for reading Axios Pro Rata! Please ask your friends, colleagues and e-commerce lovers to sign up.