Axios Pro Rata
October 26, 2020
🎧 Axios Re:Cap digs into campaign fundraising, including what happens to leftover money, with election law expert Ciara Torres-Spelliscy. Plus that giant Goldman Sachs settlement. Listen via Apple, Spotify, or Axios.
📺 Axios on HBO tonight includes interviews with Rep. Ilhan Omar, Sen. Ted Cruz (preview clip), and recent Nobel Prize winner Jennifer Doudna. 11:16 pm ET/PT on all HBO platforms.
Top of the Morning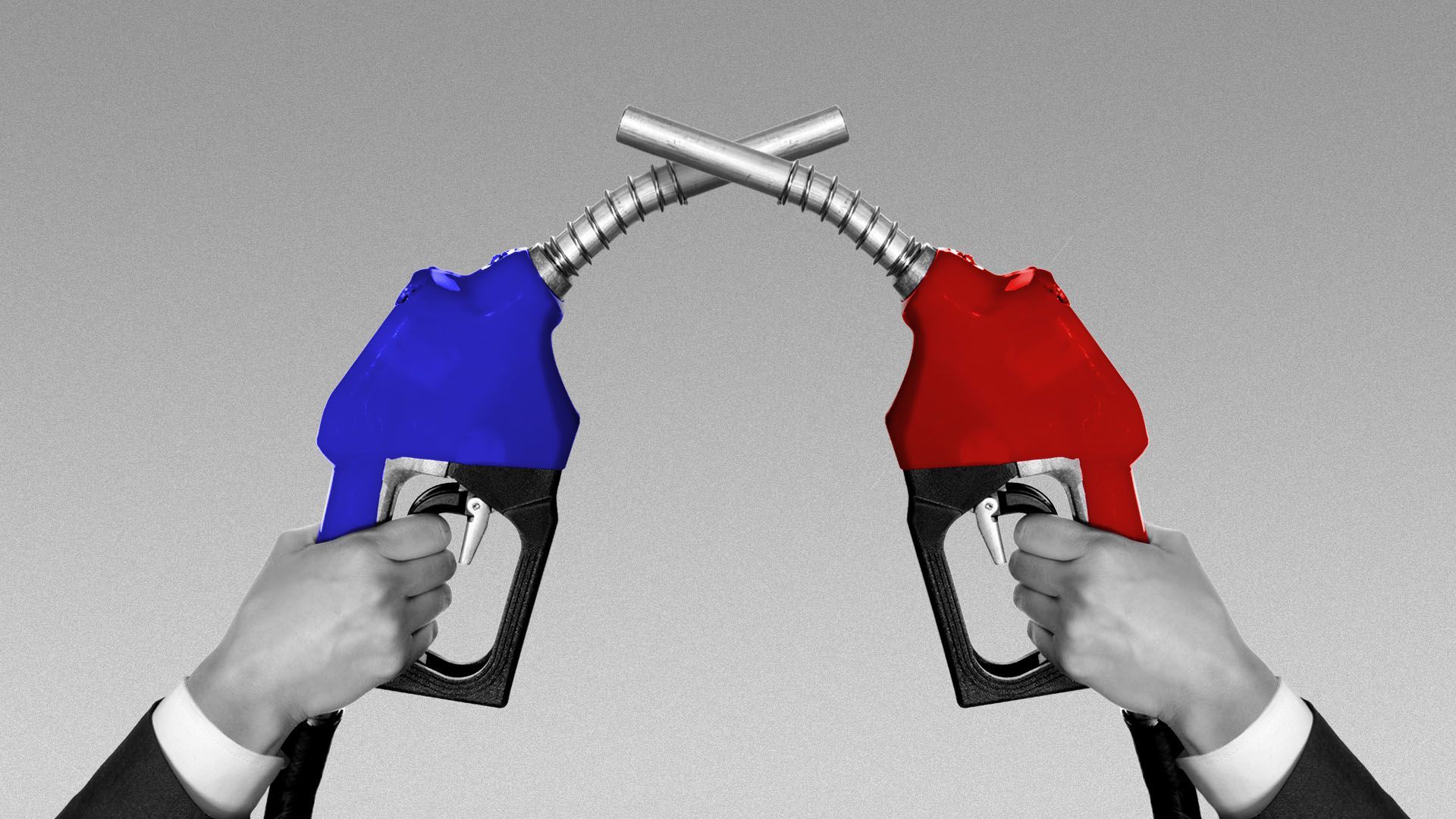 Private equity is watching the consolidation of the North American oil and gas sector from the sidelines, instead focusing its energy efforts on renewables.
Driving the news: Cenovus Energy (TSX: CVE) on Sunday agreed to buy Husky Energy (TSX: HSX) for C$3.8 billion in stock, in a deal that would create Canada's third-largest oil and gas producer.
Last week, ConocoPhillips agreed to pay $9.7 billion for Concho Resources, and Pioneer Natural Resources signed a $4.5 billion deal for Parsley Energy.
In each case, the purchase price was well below what the target companies were worth pre-pandemic, due to the vicious confluence of oversupply and demand destruction. The basic idea is that consolidation could pull costs out of the system, thus letting companies maybe eke out a profit at $40 per barrel prices.
Private equity helped drive the shale boom, buying up acreage and expanding oilfield services companies. But most of that activity has dried up, with new oil and gas investments focused more on propping up existing deals than on expanding production.
"Everyone is getting into renewables," a top energy private equity investor tells me. "It's just a smarter long-term play, particularly as the macro economics of fossil fuels get worse and the macro economics of renewables get better."
"Some areas have become too crowded, like newly built, operating renewables assets, but overall there's plenty of opportunity," says a veteran renewables backer. "Beyond the pandemic, it's that wind and solar have become much more cost efficient — or even cost competitive in some places — at the same time that coal and nuclear plans in the U.S. are being decommissioned."
The election is also being closely watched, with private equity believing that a President Biden could usher in a new era of renewable energy subsidies. Plus his pledge to ban fracking on public lands.
But, but, but: Investors caution that it can take a while for campaign rhetoric to be translated into signed legislation; possibly longer than their anticipated holding periods.
The bottom line: Private equity is exiting fracking just as quickly as it entered.
The BFD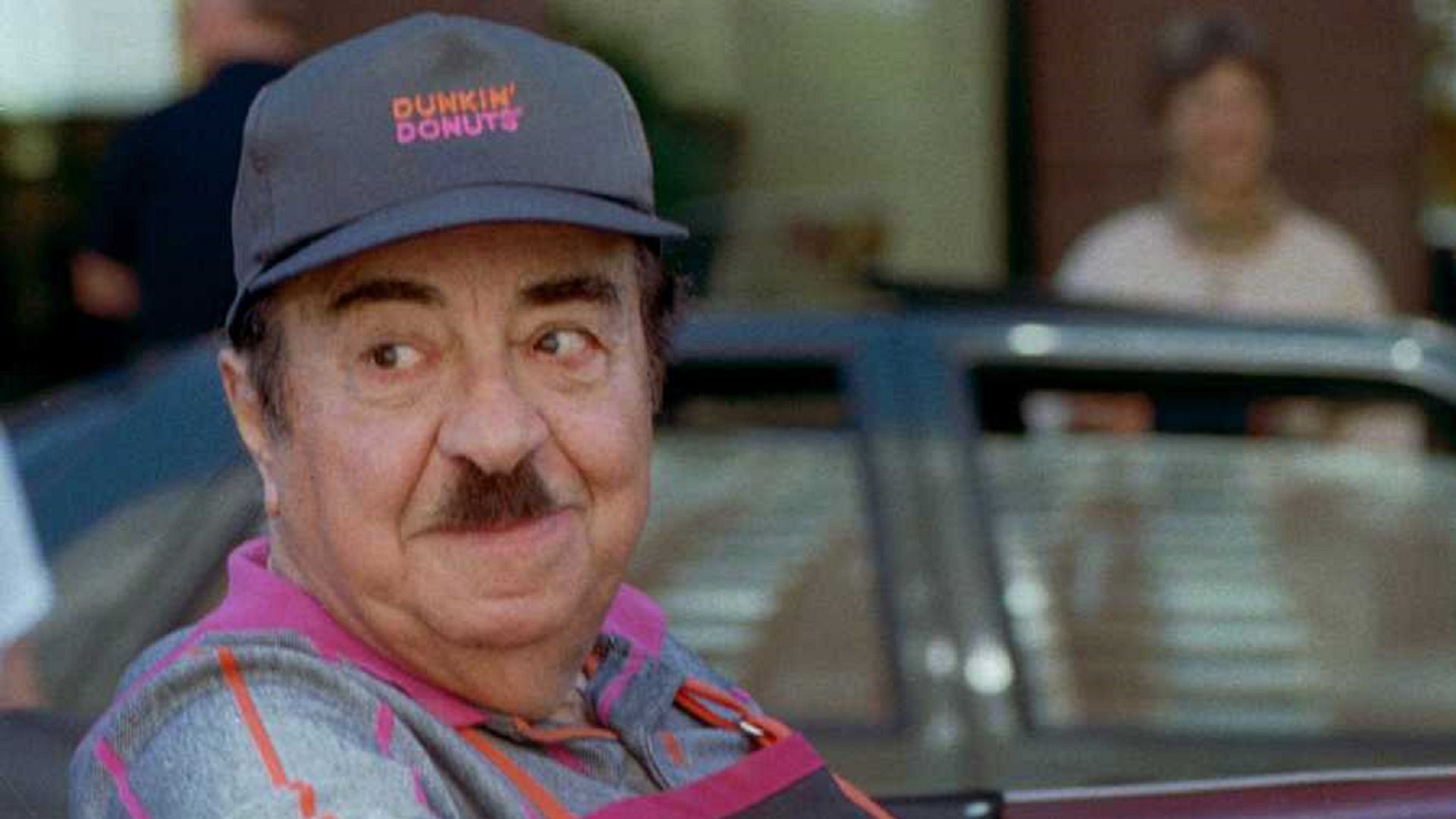 Dunkin' Brands (Nasdaq: DNKN), operator of both Dunkin' Donuts and Baskin-Robbins, is in talks to be taken private for nearly $9 billion by Inspire Brands, a quick-serve restaurant platform sponsored by Roark Capital.
Why it's the BFD: If it weren't for Dunkin' iced coffee, there would be a lot fewer of these morning missives. This also could set up an IPO for Inspire, which already owns Arby's, Jimmy John's, and Buffalo Wild Wings.
History: Dunkin' was private equity-owned before going public in 2011. Two of its former private equity partners, Mark Nunnelly of Bain Capital and Tony DiNovi of THL Partners, remain on its board as independent directors.
Perks: I visited the company's Canton, Mass.-based headquarters several years ago to interview its then-CEO, Nigel Travis. First thing I noticed when stepping off the third-floor elevator was that there was an entire Dunkin/Baskin-Robbins set-up, including rows of fresh donuts. Second, the head of PR had scoured my social media to find the way I took my coffee, and it was waiting for me in the conference room.
The bottom line: "As stay-at-home orders have shifted working patterns, customers have been coming to its stores later in the day than they used to and spending more on newer and more expensive items like espresso and other specialty beverages. Dunkin' already brings in more than half its revenue through drinks, and it dropped 'Donut' from its name last year as it seeks to shift its emphasis to coffee and take on Starbucks more directly." — Lauren Hircsh, NY Times
Venture Capital Deals
🚑 Scorpion Therapeutics, a Boston-based precision oncology startup, raised $108 million in Series A funding. Atlas Venture, Omega Funds, and Vida Ventures co-led, and were joined by Abingworth and Partners HealthCare Innovation. www.scorpiontx.com
🚑 Sirnaomics, a Gaithersburg, Md.-based developer of RNAi therapeutics, raised $105 million in Series D funding from Walvax Biotech, Sunshine Riverhead Capital, Rotating Boulder Fund, Longmen Capital, HongTao Capital, and Alpha Win Capital. http://axios.link/UiqO
• VSPN, a Shanghai-based e-sports tournament organizer, raised nearly $100 million in Series B funding. Tencent led, and was joined by Tiantu Capital, SIG, and Kuaishou. http://axios.link/kb20
• PrimaryBid, a London-based fintech platform for connecting retail investors with public placements, raised $50 million in Series B funding from London Stock Exchange Group, Draper Esprit, OMERS Ventures, Fidelity, and ABN AMRO Ventures. http://axios.link/yQzz
• Grayshift, an Atlanta-based provider of mobile device digital forensics, raised $47 million in Series A funding led by PeakEquity Partners. www.grayshift.com
• Nava, a New York-based employee benefits brokerage, raised $20 million from Thrive Capital. www.nava.io
• Ketos, a Milpitas, Calif.-based provider of water quality and logistics monitoring software, raised $15 million from Citi, Motley Fool Ventures, and Illuminated Funds Group. The company also secured $3 million in debt funding from SVB. http://axios.link/T7fG
• Linktree, an Australian developer of link-centric user profiles, raised US$10.7 million in Series A funding co-led by Insight Partners and AirTree Ventures. http://axios.link/YXpl
• StreetShares, a Reston, Va.-based provider of small business lending software for banks and credit unions, raised $10 million from Motley Fool Ventures and Ally Ventures. http://axios.link/ZXMC
Private Equity Deals
• AE Industrial Partners acquired PCI, a Columbia, Md.-based provider of IT services and support to the intelligence and defense communities. www.gopci.com
• The Blackstone Group agreed to buy Simply Self Storage, an Orlando, Fla.-based self-storage company, from Brookfield Asset Management for around $1.2 billion. http://axios.link/IVLy
• Danoffice, a Denmark-based portfolio company of Agilitas, agreed to buy Npvision Group, a Denmark-based circular IT company. www.danofficeit.com
Public Offerings
• Ant Group, the financial services affiliate of Alibaba, disclosed that it plans to raise up to $34.4 billion in what would be the largest IPO of all time. The company plans to raise around $17.2 billion in both Shanghai and Hong Kong this week, by seeking to price at HK$80 per share.
• ByteDance is in talks to list Douyin in Hong Kong, per Reuters. Douyin is a Chinese short-video app, similar to ByteDance's TikTok. http://axios.link/lMbE
🚑 Atea Pharma, a Boston-based biotech focused on viral infections like COVID-19, set IPO terms to 11 million shares at $22-$24. It would have a market cap of $1.8 billion, were it to price in the middle, and plans to list on the Nasdaq (AVIR). The pre-revenue company has raised over $280 million from firms like Bain Capital Life Sciences, RA Capital Management, Perceptive Advisors, Rock Springs Capital, Adage Capital Management, T. Rowe Price, Redmile Group, Omega Funds, Morningside Ventures, Cormorant Asset Management, Ally Bridge Group, and Sectoral Asset Management. http://axios.link/NLER
🚑 Sotera Health, a Broadview Heights, Ohio-based medical sterilization company backed by GTCR and Warburg Pincus, filed for an IPO that Renaissance Capital estimates could target $750 million. It plans to list on the Nasdaq (SHC) and reports $5.3 million of net income on $401 million in revenue for the first half of 2020. http://axios.link/dfko
🚑 SQZ Biotech, a Watertown, Mass.-based developer of cell therapies for solid tumors, set IPO terms to 4.4 million shares at $16-$18. It would have a market cap of $408 million, were it to price in the middle, and plans to list on the NYSE (SQZ) with BofA and Stifel as lead underwriters. SQZ raised in VC funding from firms like Polaris Partners (14.1% pre-IPO stake) and Temasek (9.7%). http://axios.link/E6QL
SPAC Stuff
• Bluescape Opportunities Acquisition, an energy and industrials-focused SPAC formed by Bluescape Energy Partners, downsized its proposed IPO from $700 million to $575 million. http://axios.link/8GkY
• CONX, a wireless communications-focused SPAC formed by Charlie Ergen, downsized its proposed IPO from $1 billion to $750 million. http://axios.link/0v3N
• Concord Acquisition, a financial services-focused SPAC formed by Atlas Merchant Capital, filed for a $250 million IPO. http://axios.link/0kjC
• FinTech Acquisition V, a fintech-focused SPAC formed by The Bancorp management, filed for a $215 million IPO. http://axios.link/Ngnp
• TS Innovation Acquisitions, a real estate-focused SPAC formed by Tishman Speyer, filed for a $300 million IPO. http://axios.link/yRgd
Liquidity Events
🚑 Bayer agreed to buy AskBio, a Research Triangle Park, N.C.-based cell and gene therapies developer, for upwards of $4 billion (including $2b upfront). AskBio was founded in 2001, and last year raised $235 million in Series A funding from TPG Capital and Vida Ventures. http://axios.link/vmoY
More M&A
• Chorus Aviation (TSX: CHR), a Canadian aircraft repair and overhaul services company with a C$383 million market cap, said it received a non-binding takeover offer. http://axios.link/M4GF
• Coca-Cola European Partners (LSE: CCEPC) offered to buy Australia's Coca-Cola Amatil (ASX: CCL) for A$9.28 billion, in what would be the largest 2020 takeover of an Australian company. http://axios.link/dLj8
• Lesaffre, a French yeast manufacturer with annual revenue north of €2.2 billion, is considering a sale of upwards of 20% of the family-owned business, per Bloomberg. http://axios.link/dNuk
• PT Tokopedia, an Indonesian online marketplace, agreed to raise $350 million from Google and Temasek, per Bloomberg. It had been seeking to raise upwards of $1 billion. http://axios.link/GEKP
• Spirit AeroSystems (NYSE: SPR) and Bombardier (TSX: BBD) agreed to cut the price Spirit is paying for Bombadier's aerostructures unit from $500 million to $275 million. http://axios.link/bQMb
Fundraising
• The Blackstone Group raised $8 billion for its second long-hold private equity fund. www.blackstone.com
• Percheron Capital has been launched by Golden Gate Capital vets Chris Lawler and Chris Collins, per Buyouts. It expects to launch its debut fundraising early next year. http://axios.link/Z7a0
• Thoma Bravo raised $17.8 billion for its fourteenth flagship buyout fund, plus $3.9 billion for its third mid-market and $1.1 billion for its first lower-mid market fund. www.thomabravo.com
It's Personnel
• Raj Krishnan joined Ares Management as a partner and chief investment officer for its insurance clients. He previously was CIO for F&G Annuities & Life. www.aresmgmt.com
• Oliver Thym joined Thoma Bravo as a partner and head of the firm's credit platform. He previously was a partner at Goldman Sachs, where he led the Americas private credit group for GS Merchant Banking. www.thomabravo.com
• David Torrence joined Morgan Stanley as a Menlo Park-based VP of software investment banking, per his LinkedIn page. He previously was a tech banker at RBC Capital Markets. www.ms.com
Final Numbers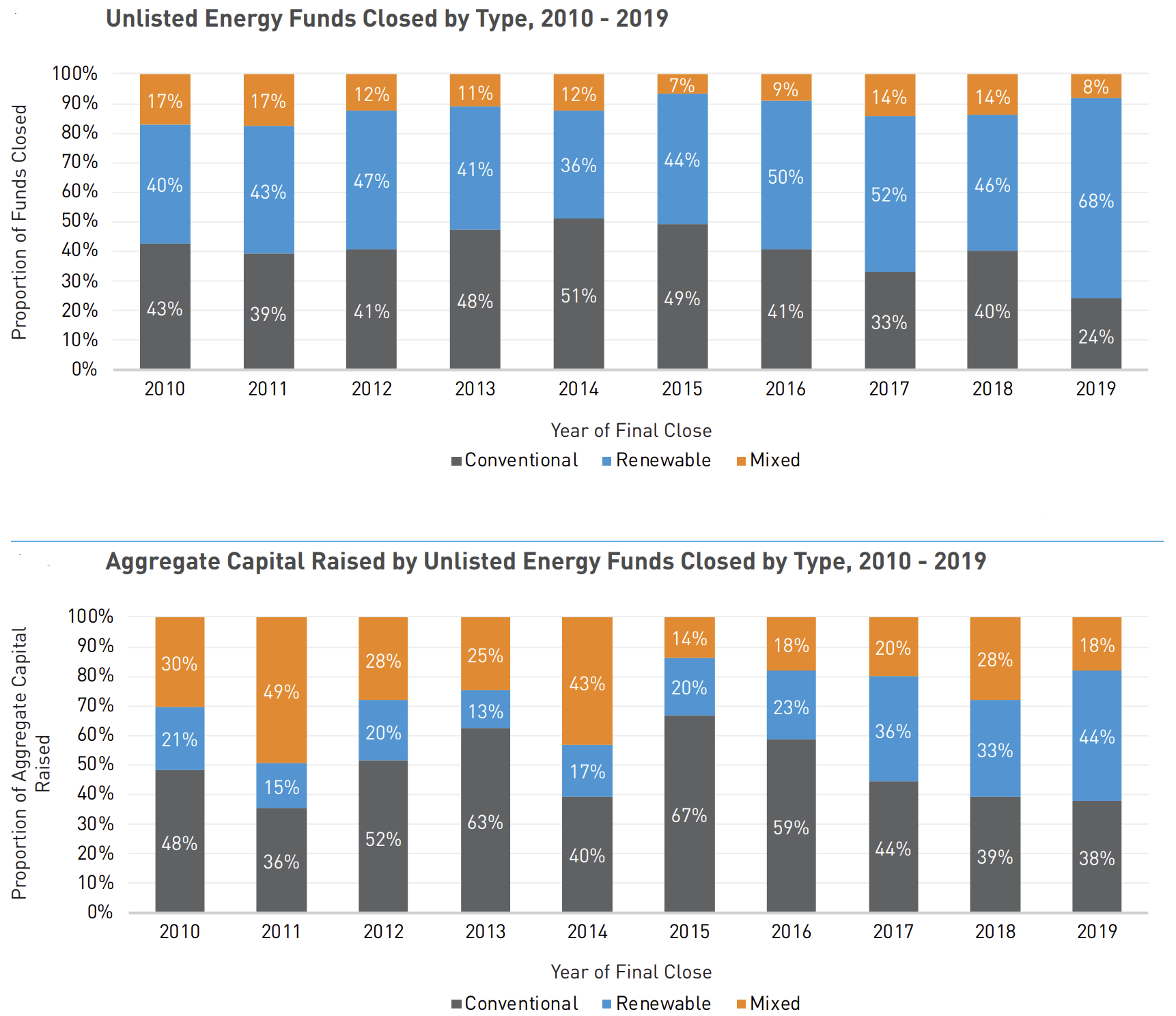 ✔️ Thanks for reading Axios Pro Rata! Please ask your friends, colleagues, and Dunkin' devotees to sign up.