Two quick Friday notes: First, be sure to RSVP at [email protected] if you'd like to attend our 2/26 event in NYC (begins at noon in Midtown), which will include interviews with Susan Lyne and Draymond Green. Second, I'm off next week, meaning that Kia Kokalitcheva will be running Pro Rata. Please follow her on Twitter (@imkialikethecar) and email news, tips, etc. to [email protected].
Top of the Morning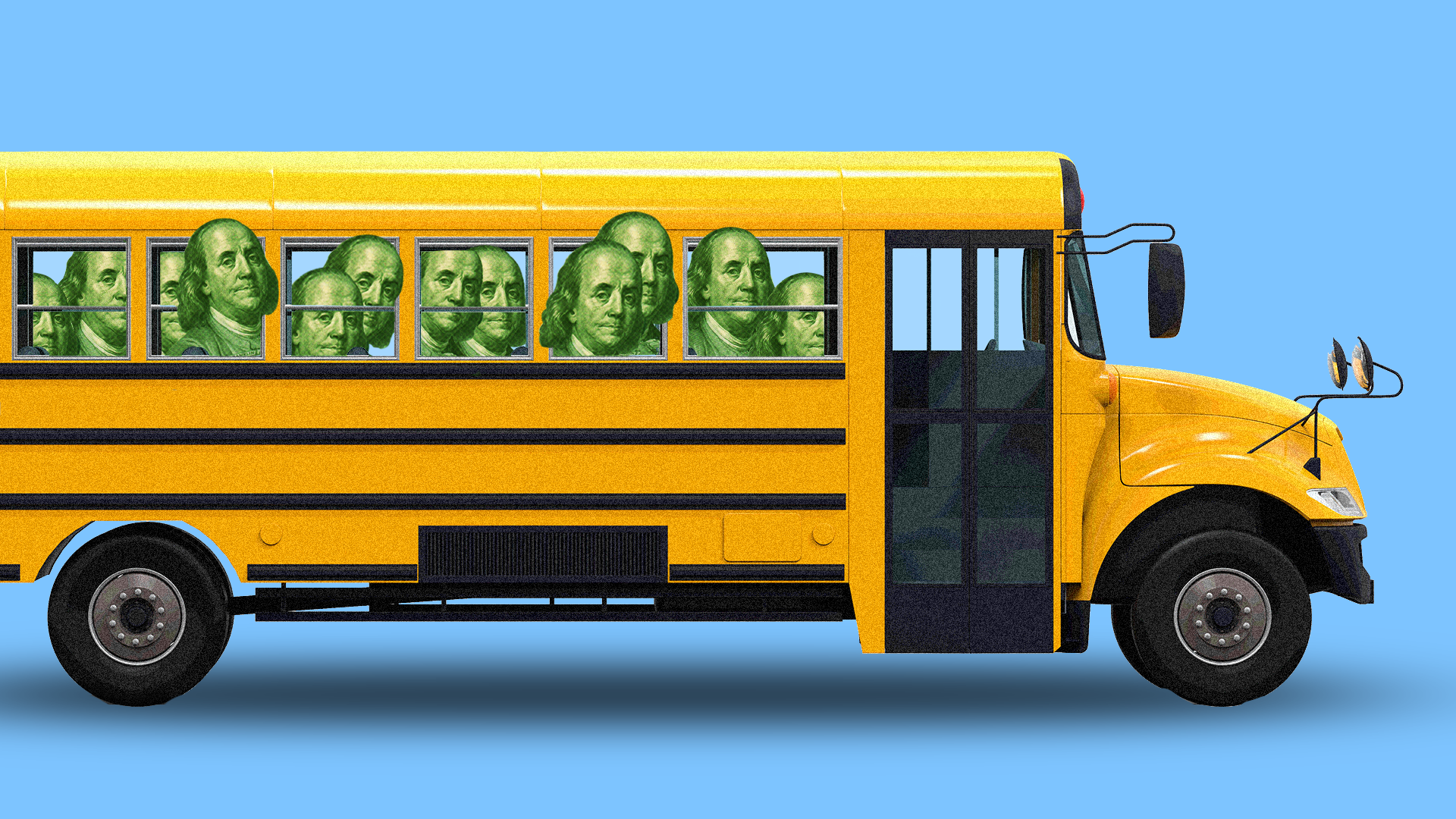 Credit - Illustration: Rebecca Zisser / Axios
Blackstone Group CEO Steve Schwarzman this week donated $25 million to the public high school from which he graduated in 1965. It's believed to be the largest-ever gift of its kind, and Schwarzman hopes it will encourage other public schools to fundraise from their alumni.
More than 90% of America's 56 million K-12 students attend public schools, and 3.3 million of them are expected to graduate this year from high school. Almost none are ever asked for donations, despite clear needs to improve academic proficiency and an increased reliance on student fees to fund extracurricular activities.
Most U.S. public schools don't have any bureaucratic infrastructure in place to raise money, in contrast to dedicated alumni giving and endowment functions at private schools and post-secondary schools. Some of this is related to state and federal regulations, but more is just the inertia of having never done it.
There also is some philosophical pushback, including concerns that public school fundraising would exacerbate inequality.
Go deeper at Axios: The giant pot of money public schools don't touch
• Chip chat: Qualcomm yesterday sent a letter to Broadcom, reiterating its opposition to the current takeover offer, but indicating a willingness to continue conversations.
• IPO watch: Slack yesterday hired its second independent director (Edith Cooper, ex-GS), following up on its recent CFO addition.
• Crypography: CFTC commissioner Brian Quintenz said this week that the crypto industry should self-regulate while regulators try to play catch-up. [Insert incredulous snark here]
Bitcoin topped $10k again, although it's since fallen a bit below.
Berkshire Hathaway vice chairman Charlie Munger said Wednesday that he regards "the bitcoin craze as totally asinine." He also said: It's "time for regulators to let up on Wells Fargo. They've learned." Don't think crypto Redditors didn't pounce on the contrast.
• First mover: Ares Management yesterday announced that it is converting its corporate tax status from a partnership to a corporation, effective March 1. The Los Angeles-based investment firm's shares jumped 7.71% on the news, which also was tied to Q4 earnings and a new dividend policy.
Ares CEO Michael McFerran: "We believe [the conversion] will simplify our structure, broaden our potential investor base, improve our liquidity and trading volume and provide a more attractive currency for strategic acquisitions."
From last week: Listed PE firms consider big structural change
The BFD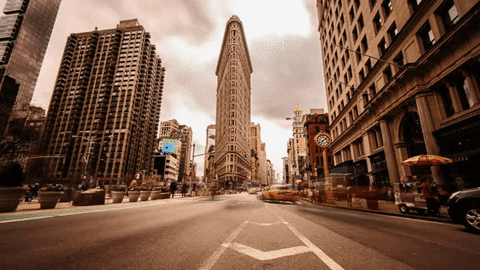 Roche has agreed to acquire Flatiron Health, a New York-based cloud database platform for the oncology market. The deal values Flatiron just north of $2.1 billion, with the Swiss durgmaker paying $1.9 billion in cash for the 87.4% stake it doesn't already own.
Flatiron had raised nearly $330 million in VC funding, most recently at around a $1.1 billion post-money valuation, from firms like Roche, Baillie Gifford, GV, First Round Capital, Allen & Co., BoxGroup, Casdin Capital and Stripes Group.
Why it's the BFD: Because this reflects how legacy pharma, with some prodding from regulators like the FDA, is turning to big data in order to accelerate and improve R&D.
Backstory: Flatiron CEO Nat Turner tells Axios that the company had begun raising a new VC round — even receiving term sheets — but insider Roche broached M&A around Thanksgiving. Deal talks took a while, with Flatiron insisting on such things as having a separate legal entity and being able to work with Roche rivals. By early January word began to leak that Flatiron was open to a sale, and other suitors began ringing Allen & Co. (which never ran an auction process). But Flatiron stuck with Roche, which it believes has the type of global programs that it
Bottom line: "The drug giant seems to be looking at data as the next big thing as it defends its dominance in oncology. " — Matthew Herper, Forbes
Venture Capital Deals
🚑 Cellularity, a Warren, N.J.-based Celgene spinout focused on using human placenta stem cells for applications from oncology to longevity, has raised $250 million. Backers include Celgene, United Therapeutics, Human Longevity, Sorrento Therapeutics and Section32. http://axios.link/fuC8
• Harry's, the razor subscription rival to Dollar Shave Club, has raised $112 million in Series D funding. Alliance Consumer Growth and Temasek co-led, and were joined by Tao Capital Partners and insiders. As we reported in December, some proceeds will be used to invest in complementary categories. http://axios.link/UTP6
• Zoomcar, an on-demand car rental service in India, has raised $40 million in Series C funding. Mahindra & Mahindra led, and was joined by Ford. Existing backers include Sequoia Capital India. http://axios.link/ew7c
• Roostify, a San Francisco-based digital mortgage lending platform, has raised $25 million in Series B funding from Cota Capital, Point72 Ventures, Santander Innoventures and return backers JPMorgan Chase, Colchis Capital and a subsidiary of USAA. http://axios.link/FFPw
• CommonSense Robotics, an Israeli provider of AI and robotic fulfillment and delivery solutions to online grocery retailers, has raised $20 million in Series A funding. Playground Global led, and was joined by return backers Aleph VC and Innovation Endeavors. http://axios.link/IYWO
• Uncommon.co, a Palo Alto, Calif.-based job-matching startup, has raised $18 million in Series A funding from Canaan Partners, Spark Capital and Zeev Ventures. http://axios.link/bmbQ
• Lydia, a French mobile payments startup, has raised €13 million in new funding. CNP Assurances led, and was joined by XAnge, New Alpha AM, Oddo BHF and Groupe Duval. http://axios.link/cSjW
• Miso Robotics, a Pasadena, Calif.-based maker of burger-flipping robots, has raised $10 million in Series B funding led by Acacia Research Corp. http://axios.link/ojUa
• LiveLike, a New York-based provider of VC streaming solutions for broadcasters, has raised $9.6 million in Series B funding co-led by Greycroft Partners and Lepe Partners. http://axios.link/7BEL
• Gr8 People, a Newtown, Penn.-based provider of recruiting process outsourcing software, has raised $8 million in VC funding led by Ascent Venture Partners. http://axios.link/9W9I
Private Equity Deals
• Clearlake Capital Group has completed its previously-announced purchase of Janus International Group, a Temple, Ga.-based maker of interior door and hallway systems for self-storage, industrial and commercial facilities, from Saw Mill Capital. www.janusintl.com
🚑 Insight Venture Partners has invested in CentralReach, a Pompano Beach, Fla.-based provider of electronic health record and practice management software for clinics focused on applied behavioral analysis and speech therapy. www.centralreach.com
Liquidity Events
• Walmart (NYSE: WMT) is in talks to buy more than a 40% stake in Indian e-commerce "unicorn" Flipkart, according to Reuters. The negotiations had been previously reported, but not information on such a large stake. http://axios.link/RmaT
More M&A
💡General Electric (NYSE: GE) has agreed to sell part of its overseas lighting business to a company controlled by former GE exec Joerg Bauer. http://axios.link/hHqk
• HNA Group has sold around a 1.2% stake in Deutsche Bank, worth around $375 million, but will maintain an 8.8% position. http://axios.link/J5oD
• Google has agreed to acquire Xively, an IoT development platform, from LogMeIn (Nasdaq: LOGM) for $50 million. http://axios.link/9apw
• Kraft Heinz CEO Bernardo Hees hinted at his company's interest in acquisitions, saying yesterday during an investor presentation: "With our global presence and financial strength, I think that we'll continue to generate opportunities for us to expand our portfolio." http://axios.link/RBUY
• Joe Ripp, the former Time Inc. CEO and current head of small-cap private equity firm Cannondale Capital Investors, is considering a bid for Fortune, Fortune's conference business and Money magazine, per the NY Post. The assets are currently owned by Meredith Corp. (NYSE: MDP), which recently completed its purchase of Time Inc. http://axios.link/GsVO
• The SEC has blocked a proposed sale of a stake in the Chicago Stock Exchange to a group of Chinese investors. http://axios.link/IrJ3
Fundraising
• Tyson Foods (NYSE: TSN) said that it has formed a partnership with startup incubators Plug and Play (Silicon Valley) and 1871 (Chicago).
It's Personnel
• Victor Echevarria has joined Jackson Square Ventures as a principal. He previously was founder and CEO of Remedy Labs and is the former biz dev head for TaskRabbit. www.jsv.com
Final Numbers