Axios Pro Rata
March 22, 2023
Top of the Morning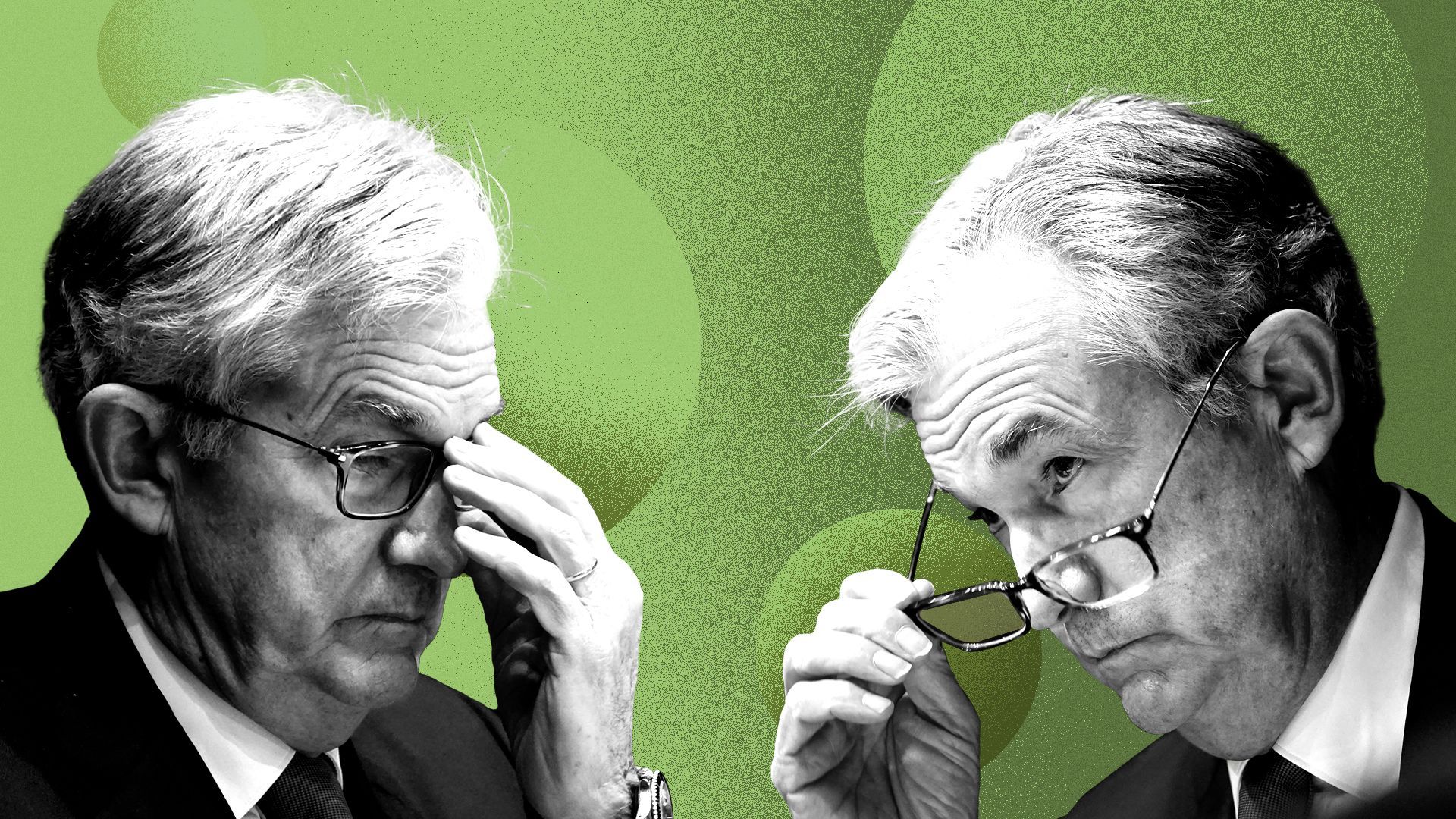 For nearly a decade, the venture capital and private equity markets were turbocharged by bargain-basement interest rates.
When rates finally began to rise, in response to inflation, many of those investment and fundraising strategies began to stumble.
One place that got hit hardest was Silicon Valley Bank, which had gorged on ever-growing deposits from VC/PE investment funds and their portfolio companies.
SVB's failure, however, may cause the Fed to pause its rate hikes. And, in so doing, give at least a brief respite to the VC/PE funds whose struggles contributed to SVB's failure in the first place.
The Fed will announce its policy decision and share new economic projections at 2pm ET this afternoon, followed by a 2:30pm ET press conference with Fed chair Jerome Powell.
If you're betting on the outcome, you're betting blind. There's just no smart money here, because almost any Fed decision is both defensible and subject to legitimate criticism.
The Fed could continue raising rates, as it had been expected to do prior to the SVB situation, by arguing that inflation remains too hot.
It could take a break, for the sake of global banking stability.
Powell also may signal that rapid rate hikes are stopping indefinitely, believing that the banking crisis will chill lending and, in turn, cool both the economy and inflation (note: That's not great news either for VC/PE firms, as their companies would operate in that slowed economy and the fundraising denominator effect could be exacerbated.)
The bottom line: It's inappropriate to draw a direct line from interest rates to private market deal activity. But it certainly sets the background color.
The BFD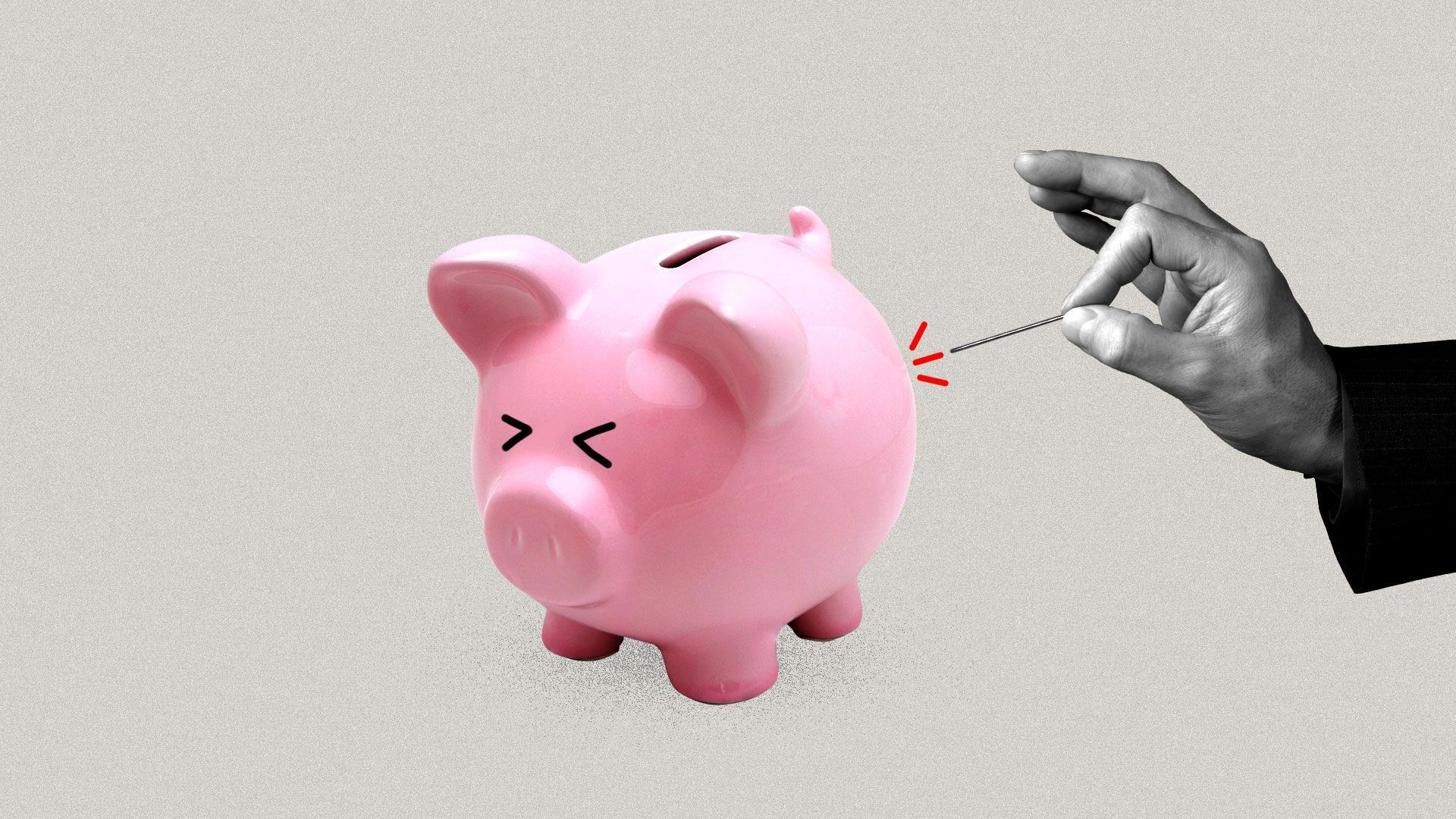 UBS wants to unwind Credit Suisse's agreement to revive and spin out its First Boston investment banking brand to Michael Klein, according to multiple reports.
Why it's the BFD: This could result in more global investment banking consolidation, with UBS keen to grow its own business by hiring select Credit Suisse bankers.
Details: The original deal involved Credit Suisse purchasing Klein's boutique advisory for $175 million, with the First Boston brand set to return in Q2. Also worth noting that Klein, who was on Credit Suisse's board, also secured a $10 million stipend for advising on the deal.
Elsewhere in banking: First Citizens BancShares submitted an offer to buy all of SVB, while First Republic hired Lazard to explore strategic options and PacWest opted for a big borrow that includes $1.4 billion from an Apollo securitized products vehicle.
Plus, several senators are introducing a bill that would let the Treasury Department claw back bonuses and stock sale proceeds from execs of failed banks.
The bottom line: On Monday we noted that Klein has a binding contract with Credit Suisse, but added that the Swiss banking megamerger had introduced redundancy and regulatory complications that could cause him to walk. Klein's First Boston also was counting on an ongoing relationship with Credit Suisse's wealth management and trading units, which no longer seems likely.
According to the FT, UBS could bail by paying a breakup fee; no word, however, on how big that fee is, or if Klein would accept a lower amount.
Venture Capital Deals
⚡ Amogy, a Brooklyn, N.Y.-based developer of ammonia-based fuels for trucks and ships, raised $139m in Series B-1 funding. SK Innovation led, and was joined by Temasek, Korea Zinc, Aramco Ventures, AP Ventures, MOL PLUS, Yanmar Ventures, Zeon Ventures and DCVC. https://axios.link/3lyb1MW
🚑 Flare Therapeutics, a Cambridge, Mass.-based biotech targeting transcription factors, raised $123m in Series B funding. GordonMD Global Investments and Pfizer Ventures co-led, and were joined by Agent Capital, Eli Lilly, Memorial Sloan Kettering Cancer Center, Novartis, Pavilion Capital, ShangBay Capital and insiders Boxer Capital, Casdin Capital, Eventide Asset Management, Invus Financial Advisors, Nextech Invest and Third Rock Ventures. https://axios.link/3z2qs2M
• Rain, an LA-based earned-wage access company, raised $66m at a $250m valuation co-led by QED Investors and Invus Opportunities co-led, and were joined by WndrCo, Tribe Capital and Dreamers VC. The company also secured $50m in debt. https://axios.link/3n46FgR
🚑 Apprentice.io, a Jersey City, N.J.-based life sciences manufacturing platform, raised $65m. Iconiq Growth led, and was joined by insiders Alkeon Capital Management and Insight Partners. https://axios.link/3ZmvGBz
🚑 EpiBiologics, a San Mateo, Calif.-based antibody-based protein degradation platform, raised $50m in Series A funding. Mubadala Capital and Polaris Partners co-led, and were joined by Vivo Capital and GV. www.epibiologics.com
☕ Blank Street Coffee, a Brooklyn, N.Y.-based coffee shop chain, raised $20m from Left Lane Capital, HOF Capital, General Catalyst and Tiger Global. https://axios.link/3Z7EtH6
• Powers Gymnastics, an Austin, Texas-based network of gymnastics gyms, raised $16.8m in Series A funding led by Relevance Ventures. https://axios.link/3na7nsX
• Dope Security, a Mountain View, Clif.-based "fly-direct secure web gateway," raised $16m in Series A funding. GV led, and was joined by Boldstart Ventures and Preface. https://axios.link/3JBmqDJ
• Cocoon Bioscience, a Madrid-based proteins developer for cultivated meat, raised €15m. Columbus Venture Partners and Cleon Capital co-led, and were joined by Viscofan and North South Ventures. https://axios.link/3lsyBdZ
• Revolv, an SF-based vehicle fleet manager, raised $15m in Series A funding led by Greenbacker Capital Management. https://axios.link/3TudRz7
• Caramel, an LA-based checkout platform for car sales, raised $12m in seed funding from Zeev Ventures, Primera Capital and Hearst Ventures. www.drivecaramel.com
🚀 Frontier Aerospace, a Simi Valley, Calif.-based developer of liquid rocket engines for in-space propulsion, raised $10m in Series A funding from AEI HorizonX. www.frontier.us
• Mad Rabbit, an LA-based tattoo skin care brand, raised $10m in Series A funding. Lucas Brand Equity led, and was joined by Mark Cuban. www.madrabbit.com
🌎 Windfall Bio, a climate tech startup seeking to dilute methane emissions into value-add products, raised $9m in seed funding. Mayfield led, and was joined by Untitled, B37 Ventures, Baruch Future Ventures, Breakthrough Energy Ventures, Bessemer Venture Partners and Cavallo Ventures. www.windfall.bio
• Backslash Security, an Israeli solution for enterprise application security teams, raised $8m from StageOne Ventures, First Rays Venture Partners, D.E. Shaw Group. www.backslash.security
• Emma, a Luxembourg-based no-code multi-cloud management application platform, raised $6m in seed funding. RTP Global led, and was joined by AltaIR Capital and CircleRock Capital. www.emma.ms
• Vacation, a Miami-based sunscreen brand, raised $6m in Series A funding. Silas Capital led, and was joined by True Beauty Ventures and BFG Partners. www.vacation.inc
• Butlr Technologies, a Burlingame, Calif.-based developer of people-sensing tech, raised $5m from Qualcomm Ventures and $1m from Carrier Global. www.butlr.io
🚑 Healium, a Menlo Park, Calif.-based VR and AR biofeedback company, raised $3.6m in seed funding from Impact VC, Ambition Fund II, Captain Partners, Astronaut Holdings, Citrine Angels, Coact Capital, Gaingels, KCRise Fund and Mayo Clinic. https://axios.link/3ZZt51x
Aspecta, a developer of AI-vetted coder profiles, raised $3.5m in seed funding. ZhenFund led, and was joined by HashKey Capital and Foresight Ventures. https://axios.link/40lJBIE
🌎 Alcove Labs, a New York-based provider of carbon credit management software, raised $3m in seed funding, per Axios Pro. Seven Seven Six led, and was joined by First Round Capital. https://axios.link/3FH2NZA
🚑 Bionic Clinic, a Durham, N.C.-based "AI health clinic," raised $3m in seed funding from IDEA Fund Partners, Studio VC, Alumni Ventures, Tweener Fund, AI Operator's Fund and Operator.VC. https://axios.link/3K09hoQ
• PoLoPo, an Israeli maker of animal proteins from potatoes, raised $1.75m in pre-seed funding led by FoodLabs. https://axios.link/4047i8O
Private Equity Deals
• Accel-KKR invested in StoreForce, a Toronto-based provider of tools for managing specialty retail stores. www.storeforcesolutions.com
• Argosy Private Equity acquired Vac2Go, a Louisville, Ky.-based provider of equipment to industrial, utility, and municipal customers. www.vac2go.com
• Auxo Investment Partners acquired Morgan Royce Industries (Fremont, Calif.) and TACK Electronics (Grand Rapids, Mich.), two makers of custom wire harnesses, cable assemblies and box builds for multiple end markets. www.morganroyce.com
• GridSource, a Baton Rouge, La.-based portfolio company of Hastings Equity Partners, acquired WiseConnect, an Overland Park, Kan.-based telecom installation and maintenance services provider. www.gogridsource.com
• Guidepost Growth Equity invested in ClassWallet, a Miami-based digital wallet purchasing and reimbursement platform for public funds. www.classwallet.com
• Mood Media, an Austin, Texas-based portfolio company of Vector Capital, acquired Vibenomics, a Fishers, Ind.-based audio ad network that had raised around $23m from firms like Panoramic Ventures, High Alpha and Elevate Ventures. https://axios.link/402qWSL
• WizeHive, a Conshohocken, Pa.-based portfolio company of LLR Partners, acquired WeHero, a Bend, Ore.-based volunteer experience provider. www.wizehive.com
Public Offerings
🚑 Cowell Health, a Chinese pharmacy chain backed by Hillhouse Capital and Tencent, picked Bank of America, Goldman Sachs and Haitong Securities to lead a Hong Kong IPO that could raise more than $500m, per Bloomberg. https://axios.link/3lyU6d5
Liquidity Events
• Exchange Income Corp. (TSX: EIF) agreed to buy BVGlazing, a Canadian provider of residential building glazing systems, for C$95m. Sellers include Hennick & Co. www.bvglazing.com
• Homebot, a Denver-based unit of Alpine SG, bought Quo Finance, a Palo Alto, Calif.-based app for first-time homebuyers that had raised around $14m from firms like SignalFire and Soma Capital. www.quo.com
• Kakao Mobility, the ride-hail subsidiary of South Korean internet giant Kakao, acquired Splyt, a London-based superapp development company that had raised over $30m from firms like SoftBank, Grab and American Express Ventures. https://axios.link/3LGYSja
🚑 Maven Clinic, a women's digital health platform that's raised $300m in VC funding acquired Naytal, a London-based reproductive telehealth startup seeded by firms like Fuel Ventures. https://axios.link/3K6jeS5
• Snoop, a British money saving app, is exploring a sale after receiving a series of unsolicited takeover approaches, per Sky News. Backers include Salesforce Ventures, Paulson & Co. and NM Capital. https://axios.link/3lrSyS9
More M&A
• Liberty Global (Nasdaq: LBTYA) offered €929m for the stake it doesn't already bold in Belgian carrier Telenet. https://axios.link/3YZGsgR
🚀 Virgin Orbit (Nasdaq: VORB), which recently suspended operations, is nearing a $200m capital infusion from Texas-based investor Matthew Brown, per Reuters. https://axios.link/3FIvwgz
It's Personnel
• John Doyle joined Elsewhere Partners as a VP. He previously was with Frontier Growth. www.elsewhere.partners
• Greg Winter joined Berkshire Partners as head of communications and marketing. He previously was with Blue Cross Blue Shield of Massachusetts. https://axios.link/3lsc94K
Final Numbers
Thanks for reading Axios Pro Rata, and to copy editors Mickey Meece and Bryan McBournie! Please ask your friends, colleagues and bank breakers to sign up.