Monday greetings from the home office. Just a quick reminder that you can send me feedback and tips by hitting reply to this email, or by using http://axios.com/tips. Plus all sorts of messaging apps, like Confide, Signal and Telegram (Dan Primack / 857-472-3072). Here we go...
https://www.axios.com/newsletters/axios-pro-rata-84cb1718-a6f2-4df6-9898-fed24e3882f0.html?chunk=0#story0
Folwell's Fee Folly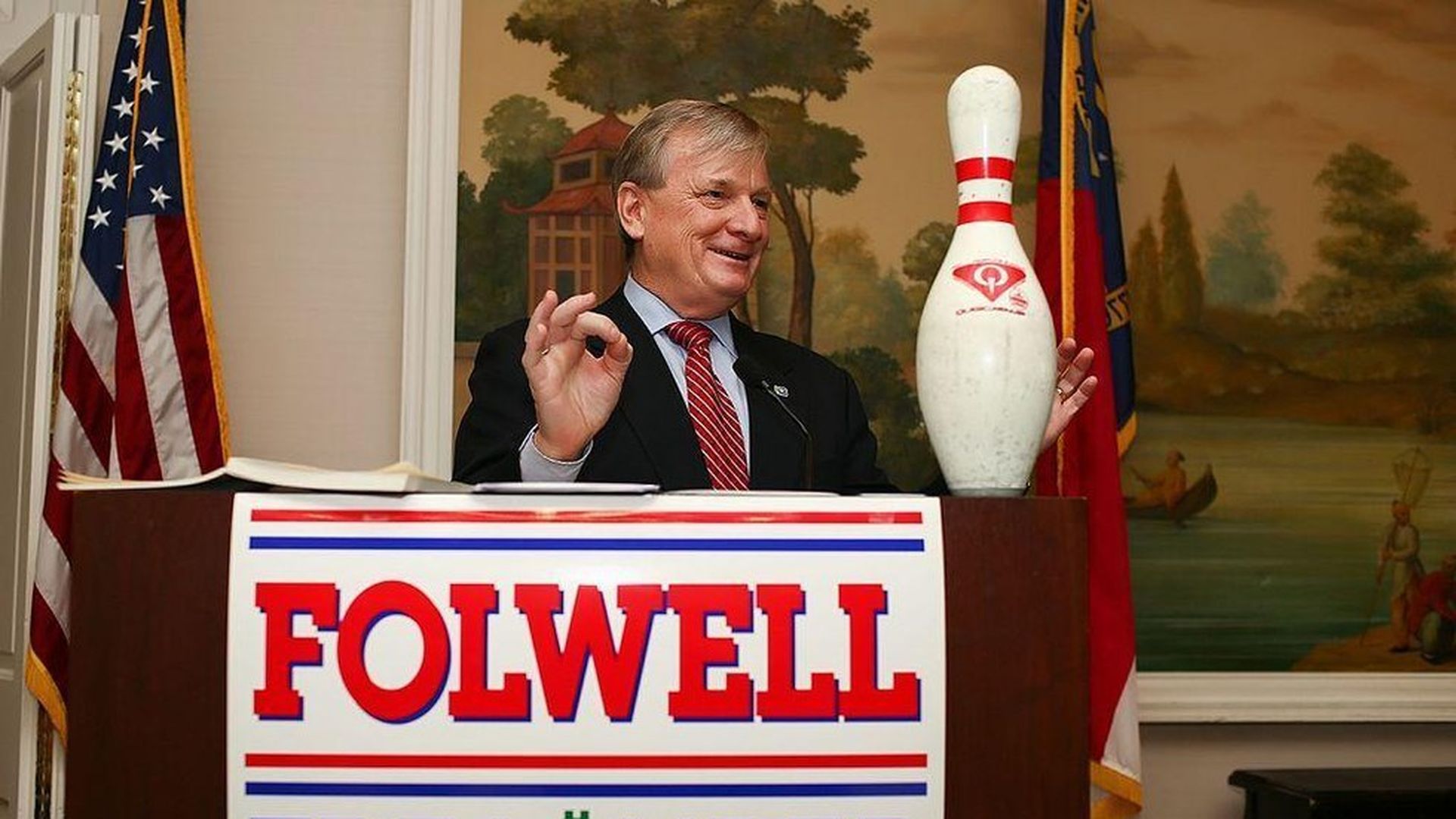 Dale Folwell is North Carolina's new state treasurer, having been elected after a campaign in which he railed against fees being charged by Wall Street money managers. He's also the hero in a new profile from Bloomberg Businessweek, which slobbers over his pledge to save the state retirement system "a minimum of $100 million a year in fees by the end of his four-year term."
Okay, let's deal with this:
Fee data: North Carolina's $90 billion state retirement system last year paid $513 million in management and incentive fees to outside money managers. Of that, $288 million went to real estate ($196m) and private equity managers ($92m). The system also paid out another $90 million in adminstrative expenses, some of which includes outside investment consultants.
That pledge: The $100 million in savings is cumulative over four years (which is different than what Bloomberg reported), per an investment committee meeting note and confirmation from a Treasurer's Office spokesman. Given that Folwell already has saved $17 million per year by dumping four public equities managers, that means he really only has to find $8 million in additional annual savings. This could be done by dumping more active stock managers, or perhaps a secondary sale of private equity interests (which NC has asked Houlihan Lokey to explore). Folwell also has broached renegotiating fee agreements with hundreds of existing fund managers, but to no avail.
Performance: The two asset classes that comprise the bulk of fees ― real estate and private equity ― also are the system's two best performing asset classes (net of fees) over both a three-year and five-year period.
Folwell to Bloomberg: "We don't own alternative investments. They own us... I think they increase complexity and reduce value."
Huh? North Carolina's public pensioners are clearly getting the most bang for their bucks from alternatives (again, net of fees), but their Treasurer says that such investments "reduce value." Moreover, Folwell confirmed to Axios during a Friday interview that has put an indefinite freeze on new investment commitments to alternative funds. When asked if he's concerned that pensioners will consequently lose out on participating in new funds from existing managers like New Enterprise Associates and HgCapital, Folwell said that he hadn't heard of either firm.
Reconciliation: The trouble here is that Folwell isn't connecting the dots between fees and performance, where applicable. He also is mentally merging the 'active vs. passive' argument in public equities with the issue of alternatives fees. To be sure, limited partners in alternatives must be vigilent over fees, particularly given some of the shenanigans that have been uncovered in recent years.
But when I repeatedly asked Folwell if he'd be willing to pay high fees in exchange for outsized performance ― thus creating a net positive for pensioners ― he effectively changed the subject, adding that he'd only been on the job for a couple of months. That simply doesn't cut it, no matter how well-intentioned Folwell appears to be. The new Treasurer had an entire campaign and transition period to examine the data, and several months now to speak with in-house investment staff. If he believes alternatives are going to falter in the long-term, then make that case. But hewing to campaign promises about cutting fees, regardless of performance, is not serving as a proper fiduciary to North Carolina pensioners.
https://www.axios.com/newsletters/axios-pro-rata-84cb1718-a6f2-4df6-9898-fed24e3882f0.html?chunk=1#story1
The BFD
Flipkart, an Indian e-commerce giant, confirmed that it has raised $1.4 billion in new VC funding at an $11.6 billion post-money valuation. eBay, Microsoft, Tencent were joined by return backers Accel, DST Global, Naspers and Tiger Global.
Why it's the BFD: Because this comes amidst what could be major consolidation in the Indian e-commerce sector, with multiple reports saying that Flipkart is in talks to purchase smaller rival Snapdeal from shareholders like SoftBank for around $1 billion. It appears that SoftBank is driving that M&A train, despite holding just a 35% stake in Snapdeal, per a weekend memo from Snapdeal management to employees.
Deep discounts: Flipkart was valued at around $15 billion in mid-2015, while Snapdeal once was valued at around $6.5 billion.
Bottom line: "While the Indian e-commerce market is forecast to grow sharply, Snapdeal, Flipkart and Amazon India have recorded losses as they invest heavily on marketing and logistics in an effort to gain scale. In the year to March 2016, the latest period for which regulatory filings are available, Flipkart, Snapdeal and Amazon India made an aggregate net loss of $1.4 billion." ― The Financial Times
https://www.axios.com/newsletters/axios-pro-rata-84cb1718-a6f2-4df6-9898-fed24e3882f0.html?chunk=2#story2
Venture Capital Deals
• Kymeta Corp., a Redmond, Wash.-based developer of satellite communication antennas and systems, has raised $73.5 million in fifth-round funding. New investors reportedly include Intelsat. The company previously raised over $120 million from Bill Gates, Lux Capital, Kresge Foundation and Osage University Partners. http://bit.ly/2oGkL8N
• Uptake Technologies, a Chicago-based predictive analytics SaaS platform, has raised $50 million in new VC funding. This brings the round total to $90 million, including an earlier close led by Revolution Growth that reportedly valued the company at around $2 billion. http://bit.ly/2nSa51M
• HR Path, a Paris-based provider of HR software and services, has raised €30 million in new VC funding from Activa Capital, Ardian and Société Générale Capital Partenaires. www.hr-path.com
• The Wing, an all-women co-working and networking club, has raised $8 million in Series A funding. NEA led the round, and was joined by Kleiner Perkins Caufield & Byers and return backers BBG Ventures and SoulCycle co-founders Julie Rice and Elizabeth Cutler. http://bit.ly/2nvEM1t
• Bus.com, an organizer of charter busses for events, has raised $5 million in Series A funding from Jackson Square Ventures and BMW iVentures. http://tcrn.ch/2p25QBR
• AeroMobil, a Slovakia-based based flying car startup, has raised €3 million in VC funding from Patrick Hessel (founder of c2i). http://tcrn.ch/2oeql1g
• MetroResidences, a Singapore-based Airbnb for business, has raised around $2.8 million in VC funding from Rakuten. http://tcrn.ch/2nTpZJD
• Saleswhale, a Singapore-based AI startup focused on automating sales emails, has raised $1.2 million in seed funding from Monk's Hill Ventures, Gree Ventures and Wavemaker Partners. http://tcrn.ch/2nYVnal
https://www.axios.com/newsletters/axios-pro-rata-84cb1718-a6f2-4df6-9898-fed24e3882f0.html?chunk=3#story3
Private Equity Deals
• Aspen Skiing Co. and KSL Capital Partners has agreed to acquire Intrawest Resorts (NYSE: SNOW), owner and operator of North American ski resorts like Vermont's Stratton Mountain, for around $1.5 billion (including assumed debt), according to Reuters. Sellers would include Fortress Investment Group. http://reut.rs/2oj96tx
• Bain Capital and Cinven have agreed to acquire listed German generic drugmaker Stada for €5.32 billion. https://bloom.bg/2nSoZW2
• Context, a New York-based health and beauty brand, has raised an undisclosed amount of growth equity funding from Volta Global. www.contextskin.com
• Genstar Capital has acquired a majority stake in Blue Star Sports, a Frisco, Texas-based provider of sports management software and payment solutions. No financial terms were disclosed. Existing shareholders like Providence Strategic Growth will retain minority positions. www.bluestarsports.com
• ProAmpac, a Cincinnati-based portfolio company of Pritzker Group Private Capital, has acquired Trinity Packaging, an Armonk, N.Y.-based provider of large-format packaging for the lawn and garden, food and specialty industrial markets. No financial terms were disclosed. www.proampac.com
• Religare Enterprises of India has agreed to sell its health insurance business for around $200 million to a private equity consortium led by True North. http://reut.rs/2piGTlM
• TSG Consumer Partners has invested £213 million for a 22.3% equity stake in Scottish brewery Brewdog. http://bbc.in/2oXckFR
https://www.axios.com/newsletters/axios-pro-rata-84cb1718-a6f2-4df6-9898-fed24e3882f0.html?chunk=4#story4
Public Offerings
• Five companies are expected to price IPOs on U.S. exchanges this week: Yext, Tocagen, Netshoes, Cadence Bancorp and Warrior Met Coal. http://bit.ly/2oi3b9x
• BioHaven Pharmaceutical, a New Haven, Conn.-based developer of drugs to treat neurological diseases, has filed for a $100 million IPO. It plans to trade on the NYSE under ticker symbol BHVN, with Morgan Stanley listed as left lead underwriter. Shareholders in the pre-revenue company include Portage Biotech (28.3% pre-IPO stake), Vivo Capital (6.7%) and RA Capital (5.1%). http://bit.ly/2nTLSIE
• Five Point Holdings, an Aliso Viejo, Calif.-based homebuilder, has filed for a $100 million IPO. It plans to trade on the NYSE under ticker symbol FPH, with Citigroup and J.P. Morgan serving as lead underwriters. Shareholders include Marathon Asset Management, Och-Ziff, Third Avenue Management, Anchorage VCapital and Castlelake. http://bit.ly/2oie77h
• UroGen Pharma, an Israel-based developer of chemotherapies to treat urological cancers, has filed for a $50 million IPO. It plans to trade on the Nasdaq under ticker symbol URGN, with Jefferies and Cowen & Co. serving as lead underwriters. Shareholders include Arkin Communication (21% pre-IPO stake), Pontifax (16.7%), ProQuest Investments (10.2%), Telomedix (8.4%) and Tatham Investments (5.1%). http://bit.ly/2oXZX9R
https://www.axios.com/newsletters/axios-pro-rata-84cb1718-a6f2-4df6-9898-fed24e3882f0.html?chunk=5#story5
Liquidity Events
• Accel-KKR has sold Abila, an Austin, Texas-based provider of software and services to nonprofits and associations, to Community Brands (in which Accel-KKR will hold a small minority stake). No financial terms were disclosed. http://bit.ly/2onFopj
https://www.axios.com/newsletters/axios-pro-rata-84cb1718-a6f2-4df6-9898-fed24e3882f0.html?chunk=6#story6
More M&A
Capgemini is the stalking horse bidder for Colorado IT company Ciber Inc., which filed for Chapter 11 bankruptcy protection earlier today with listed assets of between $50 million and $100 million. http://reut.rs/2nTg9HC
• Fresenius, a listed German healthcare company, said that it is in talks to acquire Akorn (Nasdaq: AKRX), a Laker Forest, Ill.-based generic drug-maker with a current market cap of around $3.7 billion. http://reut.rs/2oTZtEa
• HNA Group of China has offered to buy Singapore-listed logistics company CWT for $1 billion. http://reut.rs/2nRZqEv
• Samsonite (HK: 1910) has acquired eBags, a Greenwood Village, Colo.-based online luggage retailer, for $105 million. http://dpo.st/2oQ3RVb
• Swift Transportation (NYSE: SWFT) has agreed to merge with fellow U.S. trucking company Knight Transportation (NYSE: KNX) in an all-stock merger that would create a combined company worth more than $5 billion. http://on.wsj.com/2oQmdoW
https://www.axios.com/newsletters/axios-pro-rata-84cb1718-a6f2-4df6-9898-fed24e3882f0.html?chunk=7#story7
Fundraising
• BV Investment Partners has closed its ninth middle-market private equity fund focused on the IT services and business services sectors, with $750 million in capital commitments. The firm also promoted Matt Kinsey to managing director and hired Mike Ricciardelli (ex-BankRate exec) as a managing director and operating partner. www.bvlp.com
• Stonepeak Infrastructure Partners is targeting $5 billion for its third infrastructure private equity fund, according to Bloomberg. https://bloom.bg/2oQvBG1
• Wind Point Partners, a Chicago-based mid-market private equity firm, has secured $827 million of a $950 million target for its eighth fund, per an SEC filing. www.windpointpartners.com
https://www.axios.com/newsletters/axios-pro-rata-84cb1718-a6f2-4df6-9898-fed24e3882f0.html?chunk=8#story8
Congrats!
A big congrats to the team from Georgetown's McDonough School of Business, which won the VCIC Finals on Saturday in Chapel Hill. For the uninitiated, this is an international competition in which biz school teams form VC "firms," and get pitched by real entrepreneurs. They then conduct due diligence, write up term sheets, negotiate with the entrepreneurs and get grilled by a panel of real VCs.
Those participating in the finals beat out dozens of other schools (including intra-school comps in many cases), with Georgetown coming out on top. The Georgetown team members were: Shreya Adiraju, Chris Ahern, Chris Cottrell, Elaine Cheng and Sofocles Pappas. Hey recruiters, take a look...
https://www.axios.com/newsletters/axios-pro-rata-84cb1718-a6f2-4df6-9898-fed24e3882f0.html?chunk=9#story9
Final Numbers: Leveraged Loans