Axios Pro Rata
April 21, 2022
Top of the Morning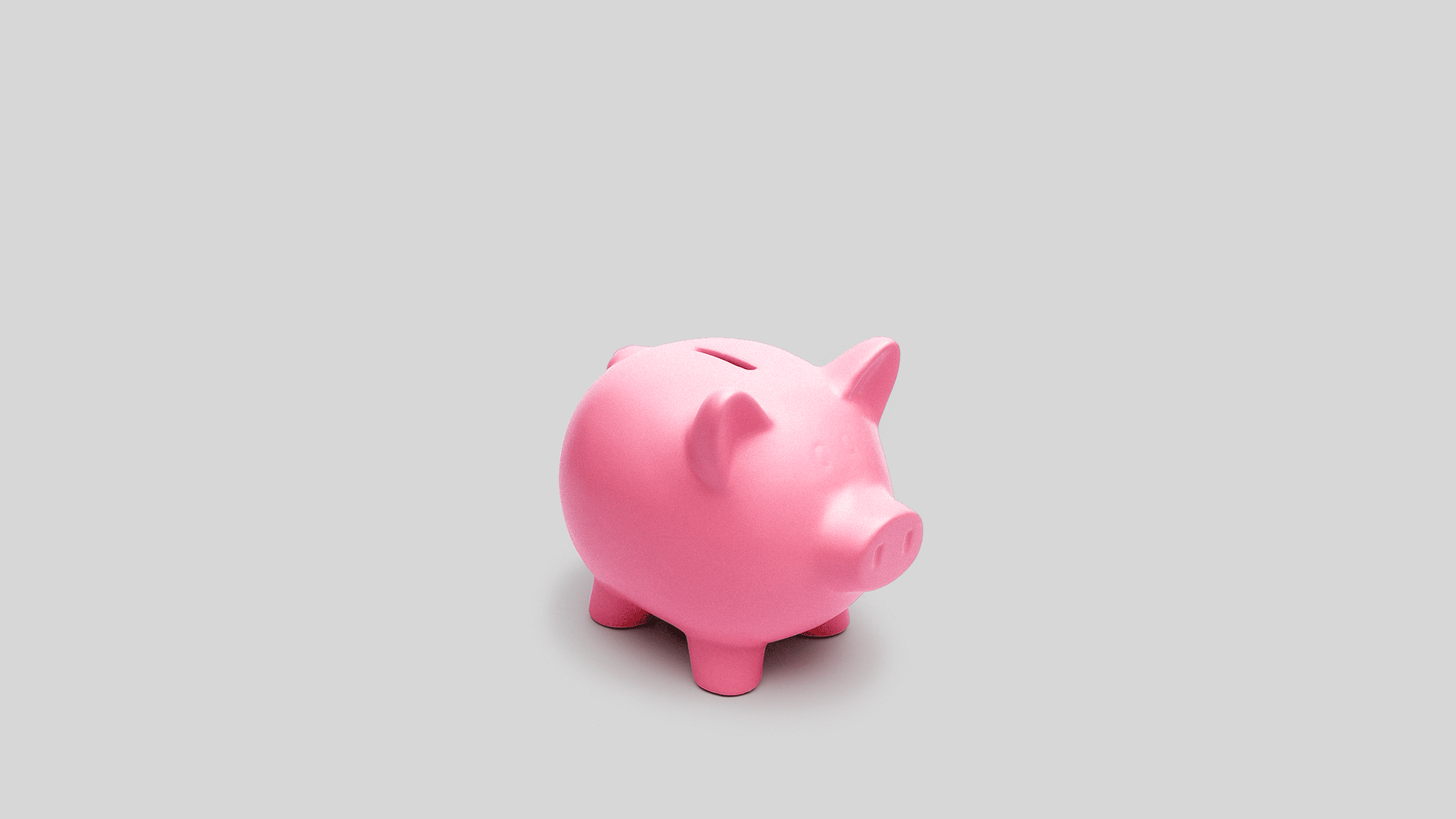 William Hockey in 2012 co-founded Plaid, a fintech company that's since raised over $700 million and was recently valued at $13.4 billion. Now he's back with a new startup called Column, but doesn't want any venture capital investment.
Hockey stepped down as Plaid's president and chief technology officer in 2020, but remains on its board of directors.
Why it matters: Hockey has seen hypergrowth up close, and thinks there may be a better way.
"One of the terrible things Silicon Valley has done is convince founders that the only way to build a big company is by raising lots of money and hiring people constantly," Hockey tells me. "And it can cloud your perspective, like it maybe did with Fast, because you think you've made it just because you have VC money, even if you don't have many customers paying you."
Hockey continues: "I can't go buy a $5 billion company, but I don't think that inhibits our growth. In many ways, it makes us go faster and be more aggressive because we don't have a giant cash cushion to fall back on."
What it does: Column, which Hockey co-founded with his wife Annie, is banking infrastructure for fintech apps.
It bought a nationally chartered bank called NorCal for around $50 million last year and has been rebuilding its core tech from scratch — quietly going live around six months ago as an alternative to middleware providers and core processors, for fintechs or shadow banking firms that are otherwise prohibited by Fed rules from providing banking services to users.
Hockey claims the company is already profitable, with clients like Plaid, Brex and Oxygen. It has around 65 employees.
As an aside: Neither co-founder sounded too concerned about the potential complications of a spousal founding team, arguing that their incentives are inherently aligned.
"We've known we wanted to start a company together since the beginning of our relationship," Annie Hockey says. "Our weekend hikes were filled with ideating companies and ideas."
The bottom line: Column is a bet not only on the future of fintech, but also on the future of unicorn creation.
The BFD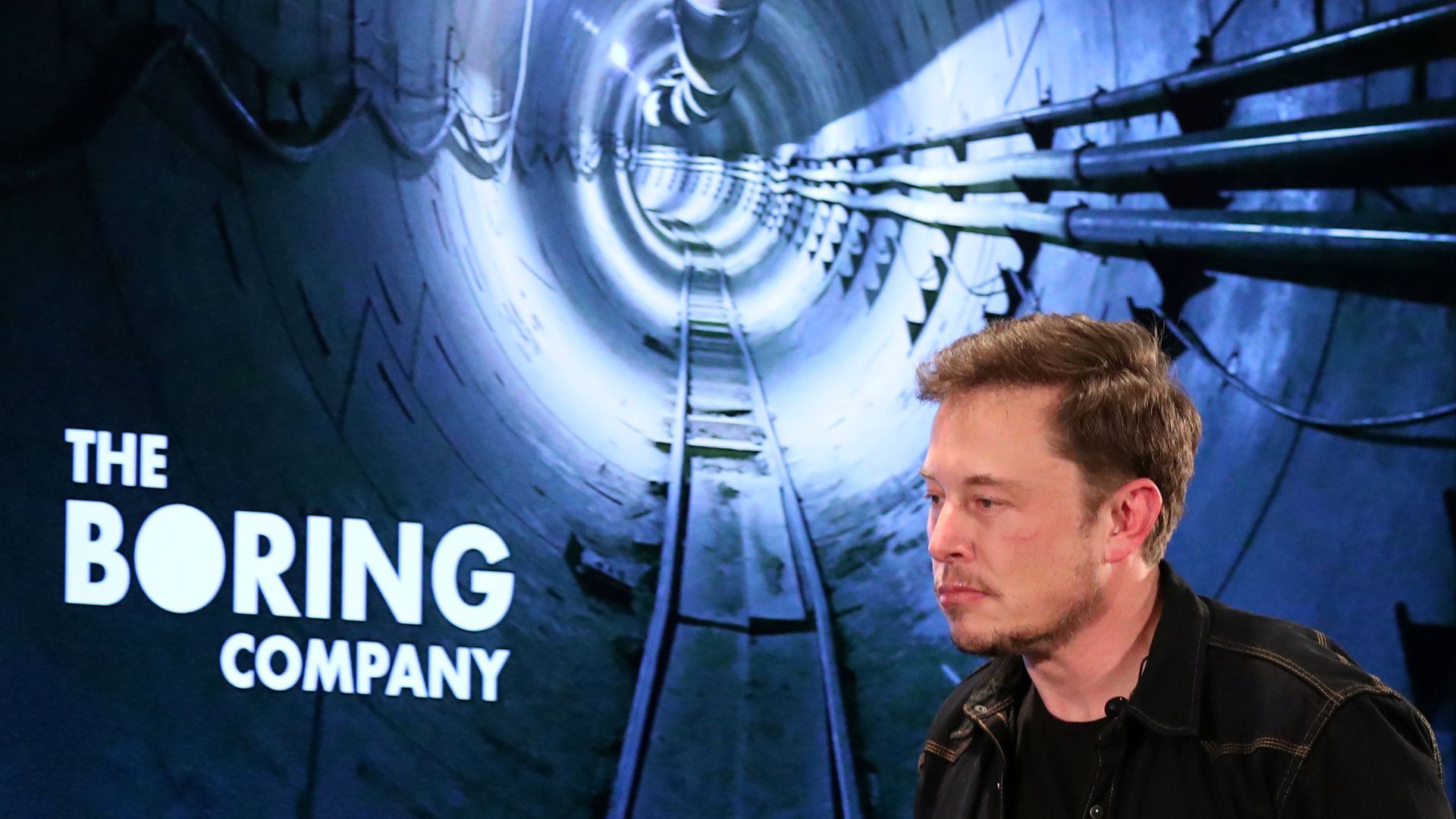 Boring Company, the urban tunneling transportation company founded by Elon Musk, raised $675 million in Series C funding at a $5.68 billion valuation co-led by Sequoia Capital and Vy Capital.
Why it's the BFD: Urban transportation tunnels aren't new, for either cars or trains, but Boring has claimed its shuttles eventually will travel at a breakneck 150 miles per hour. In Las Vegas, which recently approved a 29-mile tunnel network, that could mean more than 55,000 passengers per hour and a significant reduction to Strip traffic.
Other investors include Valor Equity Partners, Founders Fund, 8VC, Craft Ventures and DFJ Growth.
Also: Musk this morning said in an SEC filing that he's considering launching a tender offer for Twitter, which would be backed by $21 billion of his own money, $12.5 billion in margin loans arranged by Morgan Stanley and another $13 billion in debt from Morgan Stanley.
The bottom line: Boring Co.'s in-tunnel tests so far have only managed to hit around 50 mph. But, as Tesla and SpaceX both showed, Musk has a habit of eventually hitting his moonshots.
Venture Capital Deals
• Upside Foods (fka Memphis Meats), a Berkeley, Calif.-based alt meat maker, raised $400m in Series C funding. Temasek led, and was joined by Baillie Gifford, Givaudan, John Doerr, SALT fund, Synthesis Capital and insiders Bill Gates, Cargill, Cercano Management, CPT Capital, Dentsu Ventures, EDBI, Kimbal and Christiana Musk, Norwest Venture Partners, SoftBank, SOSV and Tyson Foods. www.upsidefoods.com
• Convoy, a Seattle-based marketplace that connects truckers and shippers, raised $260m in Series E funding at a $3.8b valuation co-led by Baillie Gifford and T. Rowe Price. The company also secured $100m in venture debt from Hercules Capital and a $150m credit line from JPMorgan. http://axios.link/D57d
• Instabox, a Swedish online shipping platform, raised $160m at a $1b post-money valuation. Verdane led, and was joined by Creades and EQT Ventures. http://axios.link/YfPW
• Oyster, a Charlotte-based HR platform, raised $150m in Series C funding at a valuation north of $1b. Georgian led, and was joined by Salesforce Ventures, LinkedIn, Base10 Partners Advancement Initiative, Okta, Endeavor Catalyst and insiders Stripes, PayPal Ventures, Slack Fund. http://axios.link/jesI
🚑 Satellite Bio, a Cambridge, Mass.-based developer of implantable tissue treatments, raised $110m in seed and Series A funding. aMoon led, and was joined by Lightspeed Venture Partners, Polaris Partners and insiders Section 32, Catalio Capital Management and Waterman Ventures. http://axios.link/91KN
🚑 Octant, an Emeryville, Calif.-based programmable biology and chemistry startup, raised $80m in Series B funding. Catalio Capital Management led, and was joined by Bristol Myers Squibb, Andreessen Horowitz, Allen & Co. and 50 Years VC. www.octant.bio
• Flipside Crypto, a Boston-based blockchain analytics startup, raised $50m at a $350m valuation. Republic Capital led, and was joined by True Ventures, Galaxy, Terra, Dapper Labs, M13 and Blockchain Coinvestors. http://axios.link/t5TS
• Mutiny, an S.F.-based website copy personalization startup, raised $50m in Series B funding co-led by Tiger Global and Insight Partners. http://axios.link/1ESN
🚑 Mendel, a San Jose, Calif.-based clinical AI startup, raised $40m in Series B funding, per Axios Pro. Oak HC/FT led, and was joined by return backer DCM. http://axios.link/WNki
• Zubale, a Mexico City-based marketplace that matches gig workers with e-commerce fulfilment work, raised $40m in Series A funding. QED Investors led, and was joined by firms like GFC, Felicis Ventures, NFX and Maya Capital. http://axios.link/lqYH
• Financepeer, an Indian educational and P2P lender, raised $31m. QED Investors and Aavishkaar Capital co-led, and were joined by Ardent Ventures, DMI Sparkle Fund, DMI, 9Unicorn, LC Nueva AIF and Maxar VC. http://axios.link/yliS
🌎 Greenly, a Paris-based provider of carbon emissions tracking and reduction solutions for SMEs, raised $22m in Series A funding co-led by Energy Impact Partners and Xange. http://axios.link/Ape5
• Noice, an Indonesian audio content startup, raised $22m in Series A funding. Northstar led, and was joined by returning investors Alpha JWC Go-Ventures and Kinesys. http://axios.link/ImWL
• Fresco (fka Drop), a Dublin-based smart kitchen startup, raised $20m in Series B funding. Instant Brands, Vorwerk and MetaLab co-led, and were joined by Act VC, Alpha Edison, Alsop Louie Partners and Morpheus Ventures. www.frescocooks.com
• Tulu, a New York-based provider of on-demand access to appliances and entertainment devices for apartment building tenants, raised $20m in Series A funding. New Era Capital Partners led, and was joined by Robert Bosch VC, Kärcher New Venture and Round Hill Venture http://axios.link/eTBQ
• Jarvis ML, a Cupertino, Calif. personalization engine for brands, raised $16m in seed funding led by Dell Technologies Capital. http://axios.link/gQdQ
• Vaayu, a Berlin-based carbon tracking platform for retailers, raised $11.5m in seed funding. Atomico led, and was joined by CapitalT and Seven Seven Six. http://axios.link/QnRG
🎉 Bach, a group travel planning app for bachelor and bachelorette parties, raised $8m in seed funding led by Corazon Capital. http://axios.link/fR3b
• Privy, a web3 user data security startup, raised $8.3m in seed funding co-led by BlueYard Capital and Sequoia Capital. http://axios.link/gWn
🌎 Carbon Upcycling Tech, a Canadian developer of a CO2-embedded cement and concrete additive, raised C$6m. Clean Energy Ventures led, and was joined by CEMEX Ventures, Amplify Capital and Oxy Low Carbon Ventures. http://axios.link/1gcz
🌎 Tandem PV, a Santa Clara, Calif.-based developer of solar panels that pair perovskite with traditional silicon, raised $6m in Series A funding led by Bioeconomy Capital. http://axios.link/T2P8
• Dassana, a San Jose, Calif.-based startup that "brings cloud-like thinking to logs," raised $5m in seed funding led by Dell Technologies Capital. www.lake.dassana.io
• Influur, a Miami-based marketplace for connecting influencers with brands, raised $5m in seed funding led by Point72 Ventures. http://axios.link/LITq
• MetaLend, a Santa Monica, Calif.-based web3 banking startup, raised $5m in seed funding led by Pantera Capital. www.metalend.tech
🚑 Ordinary Folk, a Singapore-based telehealth startup focused on sexual and mental wellness, raised $5m from Monk's Hill Ventures. http://axios.link/t0AW
• Hedge, a lending protocol on the Solana blockchain, raised $3.7m in seed funding. Race Capital led, and was joined by Pantera Capital, Solana Ventures, ShimaCapital and DCM. http://axios.link/pYK2
AMLo Biosciences, a British medical device startup focused on skin cancer, raised £2.5m from Ascension, Conduit Capital, NorthStar Ventures and Future Planet Capital. www.amlo-biosciences.com
• SellX, a New York-based freelance marketplace for sales reps, raised $2m from GroundUp and State of Mind Ventures. http://axios.link/2rpQ
• SoundMint,, a music collectibles NFT startup raised $1.7m in seed funding. Animoca Brands led, and was joined by Castle Island Ventures, Focus Labs, Sfermion, Sky Vision, Tess Capital and Goodwater Capital. www.soundmint.xyz
🌎 Aisti, a Finnish building materials startup developing new acoustic tiles, raised €1.6m in seed funding led by Maki.vc. http://axios.link/S4r0
Private Equity Deals
• AppHub, a New York-based provider of e-commerce software for merchants, raised $60m from Silversmith Capital Partners. www.apphub.com
• Congruent Investment Partners invested in American Industrial Services, a Waxahachie, Texas-based provider of welding and other industrial plant repair and maintenance services.
• Hitachi (Tokyo: 6501) agreed to sell most of its 40% stake in Hitachi Transport System (T:9086) to KKR for $1.56b, per the Nikkei newspaper. http://axios.link/EjKB
• Insightsoftware, a Raleigh, N.C.-based company valued at around $4b by firms like Hg, acquired Legerity, a London-based provider of accounting rules software. www.insightsoftware.com
• Lonsdale Capital Partners invested in Infrata, a London-based infrastructure consultancy. www.infrata.com
• Partners Group agreed to buy Version 1, a Dublin-based digital transformation firm, from Volpi Capital. www.version1.com
• Rite Aid (NYSE: RAD) said it rejected a takeover proposal from Spear Point Capital Management, saying the offer wasn't credible. http://axios.link/vj9l
SPAC Stuff
• Global Blockchain Acquisition, a SPAC formed by Global Blockchain Ventures execs, filed for a $150m IPO. http://axios.link/cF5T
Liquidity Events
• Blackrock Neurotech, a Salt Lake City-based brain-computer interface startup whose investors include Catalio Capital Management, Peter Thiel and re.Mind Capital, acquired MindX, a Bethesda, Md.-based spatial computing software startup backed by Catalio and Revolution. www.blackrockneurotech.com
• Brex, valued by VCs at $12.3b, paid $90m to buy Pry Financials, an S.F.-based budgeting, bookkeeping and forecasting software maker. Pry had raised over $5m from NOMO Ventures, GFC, Pioneer Fund, Liquid 2 Ventures and Hyphen Capital. http://axios.link/JqsX
• Jefferies is considering a sale of its 10-15% stake in Oak Hill Capital Partners, which it acquired in 2019, per Bloomberg. http://axios.link/5pzG
• L Catterton is seeking a buyer for jewelry brand John Hardy, which could fetch around $200m, per Bloomberg. http://axios.link/PQfj
• Shopify (TSX: SHOP) is in talks to buy Deliverr, an SF-based e-commerce fulfillment company most recently valued at $2b, per Bloomberg. Deliverr backers include Tiger Global, Coatue, 8VC, Activant, Brookfield Technology Partners and GLP. http://axios.link/jGx2
More M&A
• The Hut Group (LSE: THG), a British online retail with a £1.36b market cap, has rejected "numerous" takeover approaches, per The Evening Standard. http://axios.link/41xd
🚑 I-Mab (Nasdaq: IMAB), a Chinese biotech with a $1.2b market cap, hired advisors to explore strategic options after receiving takeover interest from other drugmakers, per Bloomberg. http://axios.link/HOGn
Fundraising
🚑 Blackstone raised $1.6b for a life sciences-focused royalty and structured credit fund. www.blackstone.com
• Creative Juice, a VC-backed banking app for digital creators, launched a $50m fund to underwrite creator businesses. http://axios.link/tsSx
• WndrCo, the VC firm founded by Jeffrey Katzenberg, is raising $450m for its second fund, per an SEC filing.
It's Personnel
• Burke Norton stepped down as a senor managing director with Vista Equity Partners, which he joined nearly five years ago from Salesforce, Axios has learned. Norton had co-led the firm's permanent capital strategy (Perennial), alongside Jim Hickey, a role that now will be filled by Jamie Ford.
• Brad Weirick joined March Capital as a partner and general counsel. He's spent the past 30 years with law firm Gibson Dunn. www.marchcp.com
Final Numbers
✅ Thanks for reading Axios Pro Rata! Please ask your friends, colleagues and tunnel diggers to sign up.