Axios Pro Rata
September 22, 2022
🚨 Breaking: Amazon CEO Andy Jassy and executive chair Jeff Bezos both will be required to testify as part of an FTC probe, despite Amazon's protestations that the request was "unduly burdensome."
Top of the Morning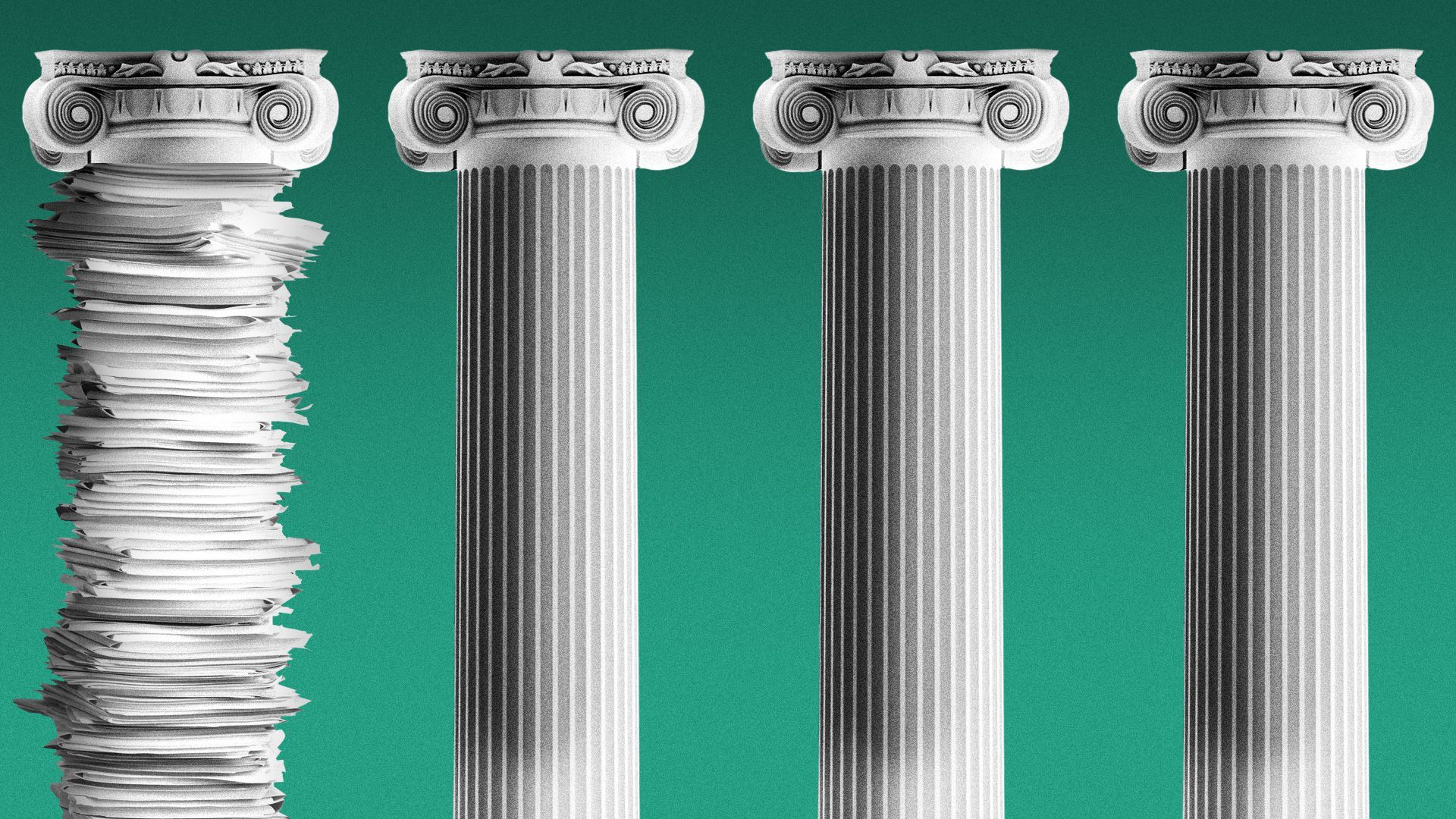 Some legal notes from the private equity landscape...
Opening arguments: Tom Barrack, the founder and former CEO of Colony Capital, and former colleague Matthew Grimes took to the defendants' table this week, at the kickoff of a trial for allegedly acting as unregistered foreign agents for the UAE (a country that plugged money into Colony funds).
Barrack, a longtime friend and adviser to former President Trump, is accused of seeking to advance UAE interests by influencing foreign policy positions of Trump's 2016 campaign and subsequent administration. He's also accused of obstruction of justice and making multiple false statements during a 2019 interview with federal law enforcement agents.
In opening statements, DOJ said Barrack was engaged in the "corrupt pursuit of money and power," while defense attorneys called the accusations "nothing short of ridiculous."
Closing arguments: A Texas federal court recently dismissed the massive tax fraud charges against former software exec Robert Brockman, following Brockman's death in August.
That means we won't hear from Vista Equity Partners founder Robert Smith, who had agreed to testify as part of his own deal with prosecutors over (smaller) tax fraud. (an earlier version referred to it as a plea deal, which is incorrect — it's a non-prosecution agreement).
Footnotes: If you're part of a PE/VC firm that raises fund capital from public pension systems, do not contribute to political candidates who could have any influence over those systems.
Case in point is venture firm Highland Capital Partners, which the SEC just fined for violating such pay-to-play rules.
Just to show how careful firms must be, the violation involves a Highland employee making just a $1,000 contribution in May 2021 to a former college classmate who had declared a run for governor in Massachusetts.
The candidate dropped out before the primary, and Highland hadn't raised money from the state pension system since 2009. But the fund was technically still active, thus the problem.
Open question: Heard recently from a U.S. fund manager who is struggling to understand the EU's new "reverse solicitation" rules, which seem to prevent non-EU fund managers from telling prospective investors (including existing LPs) about new fund offerings. Instead, the LPs must come to them.
So I pinged a few fund formation lawyers, and got several different points-of-view. So let me reverse solicit more from you, dear readers, to create legal consensus.
The BFD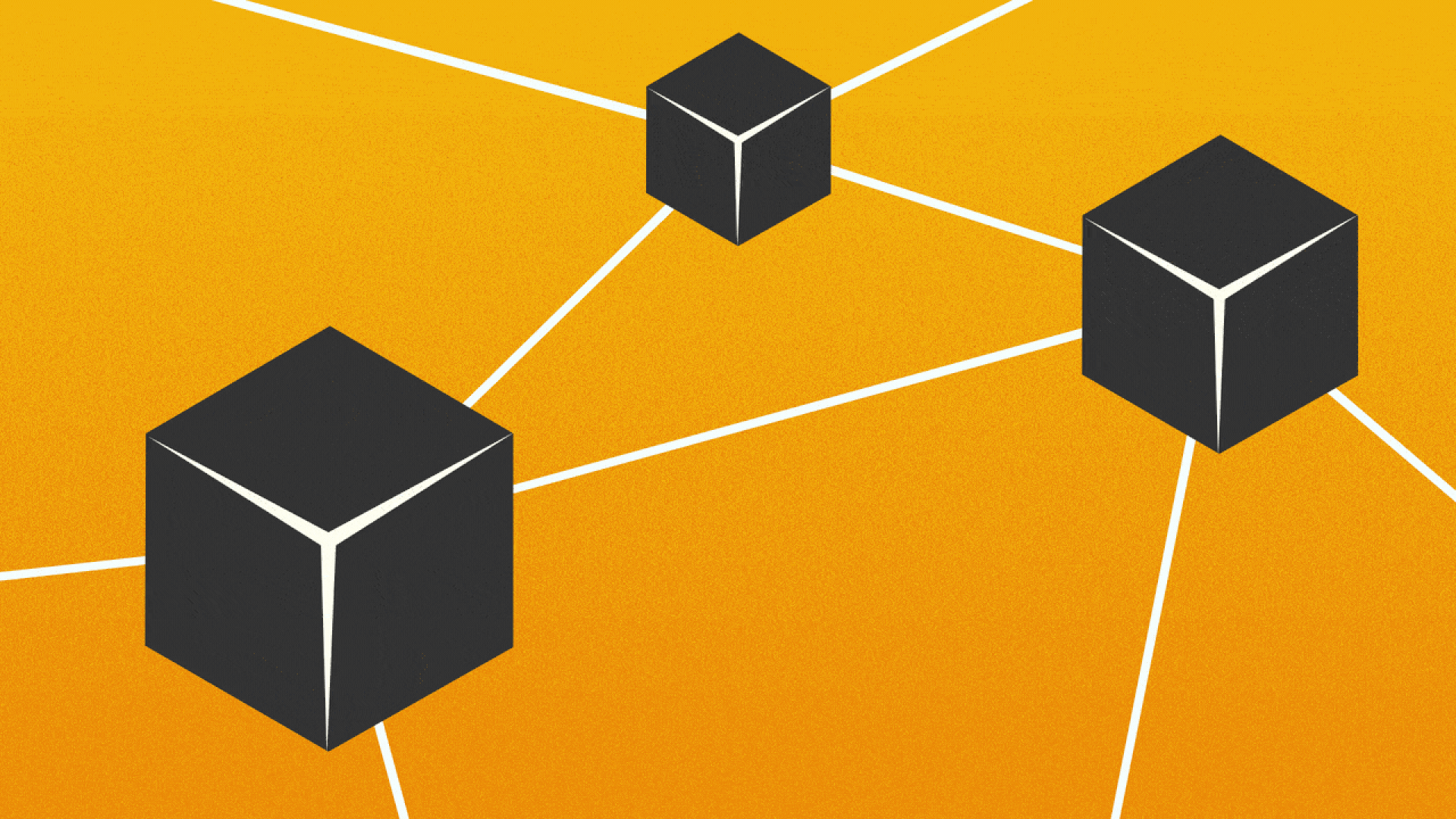 FTX, the crypto giant led by Sam Bankman-Fried, reportedly is raising up to $1 billion at the same $32 billion valuation where it raised back in January, per CNBC.
Why it's the BFD: Bankman-Fried has become the Mr. Plow of crypto winter, scooping up melty assets. Raising new cash suggests a large acquisition is around the corner, perhaps crypto's largest ever, with Axios Pro previously reporting that FTX could eye targets worth $3 billion or more.
Cap table: FTX has a long list of existing investors, including Paradigm, SoftBank, Insight Partners, Tiger Global, Temasek, Sequoia Capital, Ribbit Capital, DCG and BlackRock.
The bottom line: "FTX's revenue soared more than 1,000% in 2021 to $1.02 billion from $89 million the prior year, CNBC reported last month, based on a leaked investor deck. FTX saw net income of $388 million last year, up from just $17 million a year earlier. Momentum continued in the first quarter, as the company reeled in $270 million in revenue." — Kate Rooney, CNBC
Venture Capital Deals
• DataGuard, a Munich-based data protection SaaS startup, raised $61m in Series B funding. Morgan Stanley Expansion Capital led, and was joined by insider One Peak. https://axios.link/3BZBb0k
• AccessFintech, an Israeli trading data and workflow collaboration startup for capital markets, raised $60m in Series C funding, as first reported by Axios Pro. WestCap led, and was joined by BNY Mellon, Bank of America, Dawn Capital, JPMorgan, Goldman Sachs and Citi Group. https://axios.link/3UxWUnx
• Monos, a Canadian D2C travel lifestyle brand, raised US$30m in Series B funding, as first reported by Axios Pro. Venn Growth Partners led, and was joined by Strand Equity and Michele Romanow. https://axios.link/3DHYsVO
• Immunefi, a web3 bug bounty startup, raised $24m in Series A funding. Framework Ventures led, and was joined by Samsung Next, Electric Capital, and Polygon Ventures. www.immunefi.com
• DoorLoop, a Miami-based rental property management software startup, raised $20m from Alpine Software Group. https://axios.link/3SngTDi
• Codacy, a Lisbon, Portugal-based automation startup focused on code reviews, raised $15m in Series B funding led by the corporate VC arm of Sonae Group. https://axios.link/3xIwbe2
• Champ Titles, a Cleveland-based provider of auto title and registration solutions, raised $12.9m in Series B funding from backers like EOS Ventures and Guidewire Software. www.champtitles.com
• Loctax, a London-based maker of software for tax teams in multinational companies, raised $12m in Series A funding. Index Ventures led and was joined by Cavalry Ventures and Seedcamp. https://axios.link/3xGFRpq
• Integral, a real-time finance platform, raised $8.5m. Electric Capital led and was joined by Elad Gil, Balaji Srinivasan, Hustle Fund, Mantis and MapleVC. https://axios.link/3qS3tDx
• CHEQ, a Kirkland, Wash.-based mobile payments platform for the hospitality industry, raised $8m in seed funding. WestRiver Group led, and was joined by Yard Ventures and Flamingo Capital. www.cheqplease.com
• Skip, a crypto miner extractable value startup, raised $6.5m from Bain Capital Crypto, Jump Crypto, Galaxy Digital and Robot Ventures. https://axios.link/3fbs3g2
🌎 Future, a startup that provides companies with cash incentives for lowering their carbon footprints, raised $5.3m in seed funding led by Accomplice, as first reported by Axios Pro. https://axios.link/3UlPX8O
• Nilos, an Israeli crypto and fiat treasury management startup, raised $5.2m co-led by Viola Ventures and Fabric Ventures. Mensch Capital Partners. https://axios.link/3BVeWbQ
• Headquarters, a web3 back office platform, raised $5m from Crypto.com Capital, Forge Ventures and MassMutual Ventures. https://axios.link/3SfLiDq
🚑 Nodal, a "Bumble for surrogacy," raised $4.7m, as first reported by Axios Pro. Amplo led, and was joined by Great Oaks VC, Interplace VC, Scott Belsky and Chelsea Hirschhorn. https://axios.link/3UvfJaI
• Untitled, a platform for music creation and collaboration, raised $4.6m in seed funding, as first reported by Axios Pro. Backers include General Catalyst, Looking Glass Capital, Shine Capital and Not Boring Capital. https://axios.link/3xLp2tp
• Binocs, an India-based crypto tax compliance startup, raised $4m. BEENEXT and Arkam co-led, and were joined by Accel, Saison Capital, Premji Invest, Blume and Better Capital. https://axios.link/3Ux2g28
🚑 Kalogon, a Melbourne, Fla.-based developer of a smart wheelchair cushion, raised $3.3m in seed funding and federal grants. Backers include DeepWork Capital, SeedFundersOrlando and VenVelo. https://axios.link/3Uu5eo2
• Cello, a Munich-based SaaS growth platform, raised €2.3m. ByFounders led, and was joined by TinyVC, Possible Ventures and Notion Capital. www.cello.so
Private Equity Deals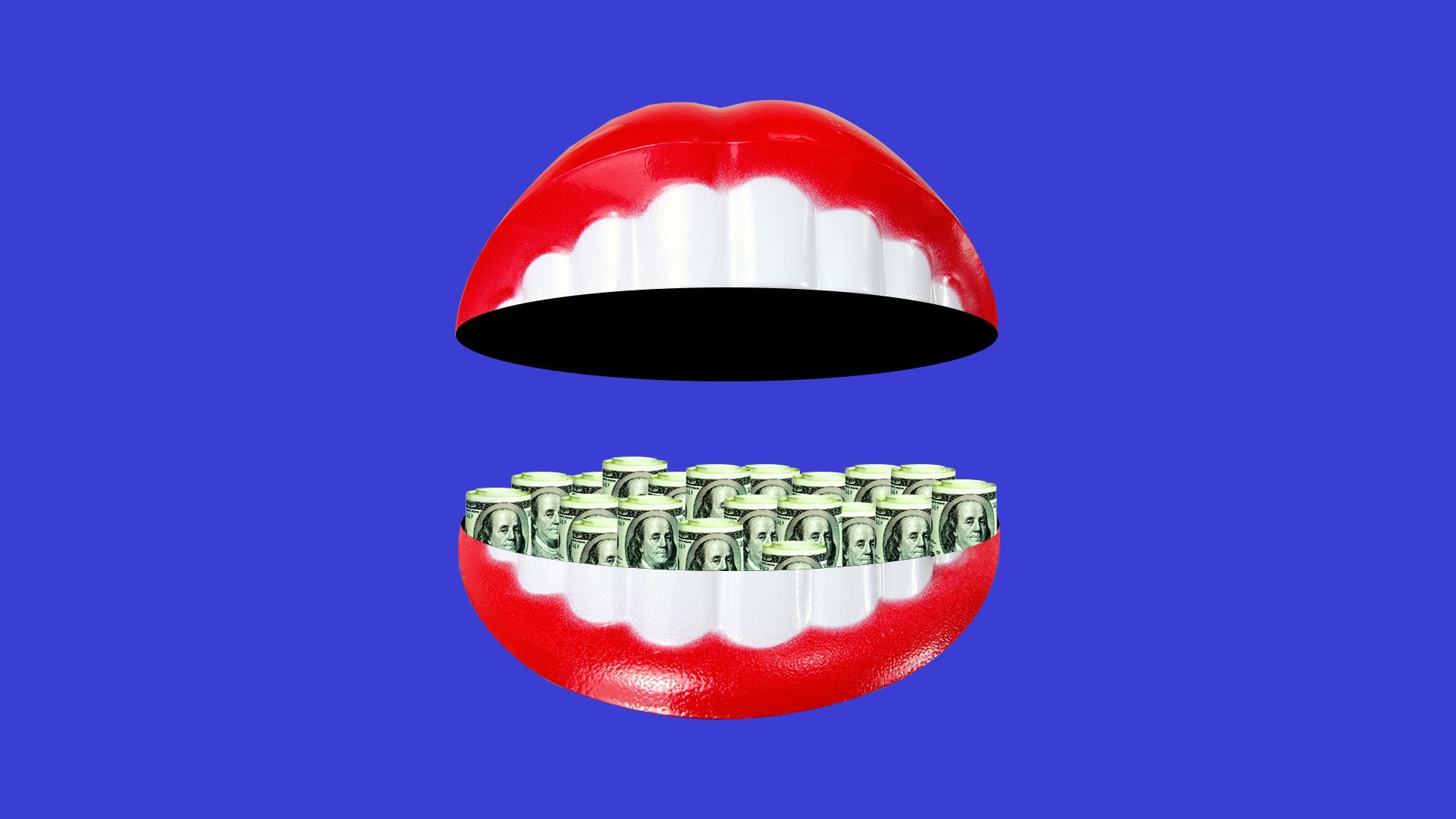 🚑 BlackRock Long Term Private Capital bought Paradigm Oral Health, a Lincoln, Neb.-based oral surgery and digital dentistry platform, from InTandem Capital Partners. www.paradigmoralhealth.com
⚡ Bump, a French EV charging company, secured $180m in equity commitments from DIF Capital Partners, while rival EV charging company ZePlug secured €240m from ICG's infrastructure fund.
• DXC Technology (NYSE: DXC) received takeover interest from at least one PE firm, and now is working with advisers on a possible process, per Bloomberg. The Ashburn, Va.-based IT services provider has a market cap north of $6b. https://axios.link/3qWMJLv
🚑 Zelis Healthcare, a health care IT platform backed by Parthenon Capital and Bain Capital, completed its acquisition of Payer Compass from firms like Spectrum Equity and Health Enterprise Partners. No financial terms were disclosed, but Axios Pro previously pegged the price at around $180m.
Public Offerings
• Rakuten (Tokyo: 4755) picked Goldman Sachs and Daiwa Securities for an IPO of its banking unit, which could come before year-end, per Bloomberg. https://axios.link/3Lv94tf
SPAC Stuff
• PlayUp, an Australian sports betting firm, agreed to go public at an implied $350m valuation via IG Acquisition Corp. (Nasdaq: IGAC), a SPAC led by Bradley Tusk. https://axios.link/3LGjtSY
Liquidity Events
• CVC Capital Partners is seeking a buyer for its 25% stake in the toll road business of China's Road King Infrastructure, which could value the total unit at up to $3b, per Reuters. https://axios.link/3BtP9pG
🚑 Webster Equity Partners plans to launch a 2023 sale process for Retina Consultants of America, a Southlake, Texas-based specialty physician practice management group, per Axios Pro. https://axios.link/3BYJIAD
More M&A
🏀 Robert Sarver is seeking a buyer for the NBA's Phoenix Suns and the WNBA's Phoenix Mercury, following his one-year suspension for workplace abuse. https://axios.link/3By81Uz
🚑 AIA Group, a Hong Kong-listed insurer, is in advanced talks to buy HMO MediCard Philippines for more than $350m, per Bloomberg. https://axios.link/3dxjZpJ
• Ancora Holdings is upping its activist pressure on department store chain Kohl's (NYSE: KSS), calling for the removal of both its chair and CEO. https://axios.link/3BWUasp
• Ball Corp. (NYSE: BALL) sold its beverage packaging unit in Russia to Arnest Group for $530m. https://axios.link/3xILZgM
• FTX and Binance have made the leading bids for the assets of bankrupt crypto-lender Voyager Digital, per the WSJ. https://axios.link/3drLaSV
• Sabadell (Madrid: SAB), a Spanish bank, has received indicative bids for its payments arm from Worldline (Paris: WLN), Nexi (Milan: NEXI) and Fiserv (Nasdaq: FISV), per Reuters. A deal could be valued at around €400m. https://axios.link/3UulUfi
• Sainsbury's (LSE: SBRY), the U.K.'s second-largest grocer, is in talks for a £500m sale-leaseback transaction, per Bloomberg. https://axios.link/3qTPBsr
• Suez beat out Macquarie Group to buy back its former U.K. waste treatment unit from Veolia (Paris: VIE) for around €2.3b, per Bloomberg. https://axios.link/3dwt2XO
Fundraising
• Arbor Ventures, a Singapore-based fintech investor, secured $193m for its third fund, which is seeking upwards of $300m, per an SEC filing. https://axios.link/3Sokf9i
• Avanta Ventures, an investment arm of CSAA Insurance Group, raised $225m for its second early-stage fund. www.avantaventures.com
• C Ventures, a VC firm started by Hong Kong billionaire Adrian Cheng, plans to raise $200m for a blockchain fund and $300m to invest in private equity and private credit, per Bloomberg. https://axios.link/3dxAUbG
• HarbourVest Partners raised $3b for its 12th fund-of-funds, which also can make secondary and direct co-investments. www.harbourvest.com
⚡ Silver Hill Energy Partners raised $1.02b for its third fund focused on U.S. oil and gas investments. www.silverhillenergy.com
It's Personnel
• Janet Bannister is stepping down as managing partner of Real Ventures, after the Montreal-based firm struggled to raise a new fund, per The Globe & Mail. https://axios.link/3R4DfZd
• Bertrand Camus, former CEO of Suez, joined European impact investment firm Summa Equity as a thematic partner. www.summaequity.com
• Nathan Eldridge is joining Platinum Equity as a managing director, per Reuters. He previously was an investment banker with Citigroup. https://axios.link/3dzJNBm
🚑 Matt Johnson joined Gauge Capital as an operating partner. He previously was CEO of medical device company EarlySense. www.gaguecaptial.com
• Luise O'Gorman joined Aon has global head of ESG transaction advisory services. She previously was an independent consultant. www.aon.com
• PwC named Eric Janson as head of global private equity, real assets and sovereign funds. He succeeds Will Jackson-Moore, who becomes PwC's global ESG leader. www.pwc.com
🚑 Zack Scott joined Norwest Venture Partners as a health care-focused general partner. He previously was with Revelation Partners. www.nvp.com
• Visionaries Club, a Berlin-based VC firm that just raised new funds, promoted Sahar Meghani and Marton Sarkadi Nagy to partners.
• Steve Young, former CEO of frozen foods manufacturer Bellisio, joined Manna Tree as a managing director. www.mannatreepartners.com
Final Numbers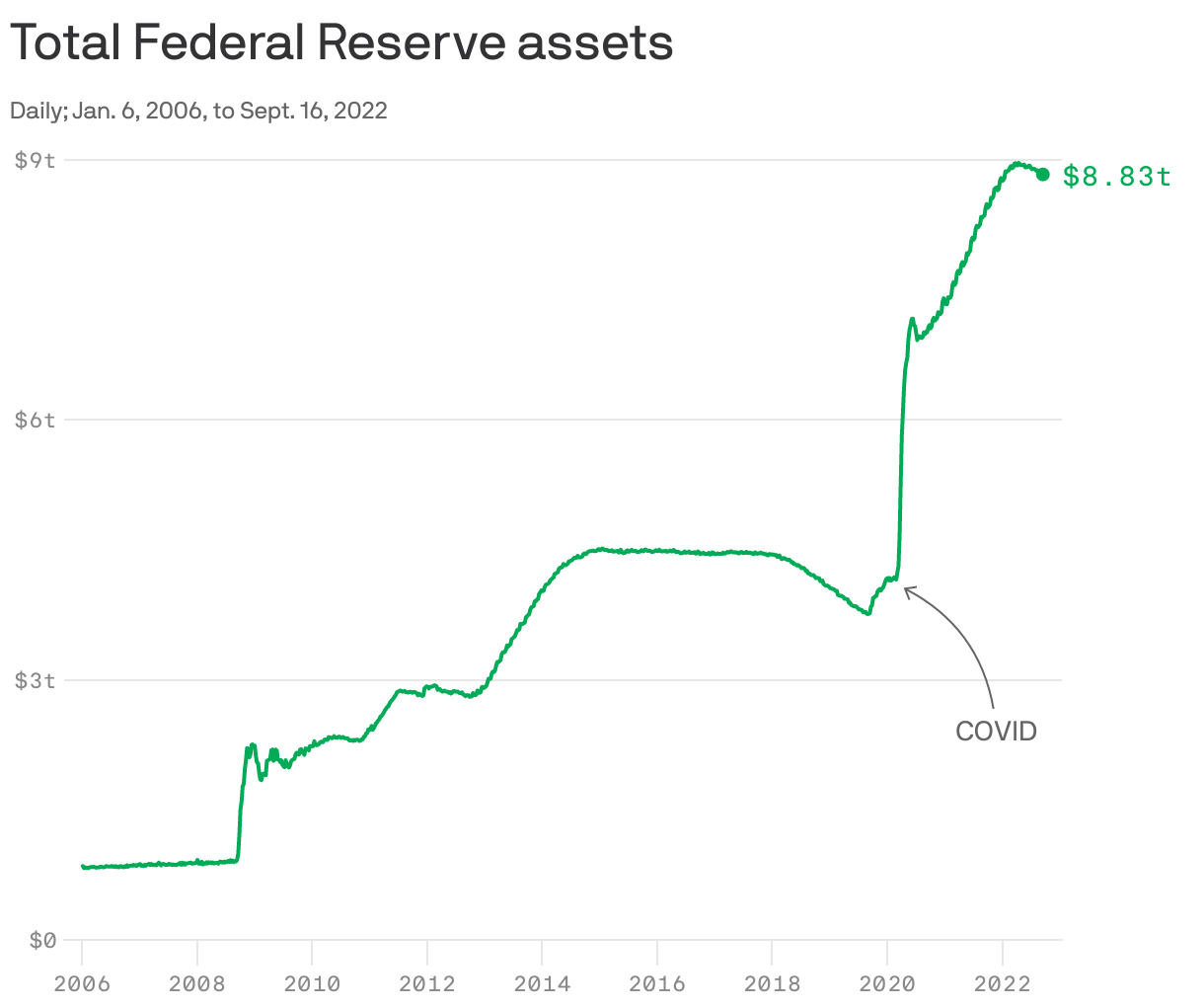 Go deeper: Quantitative frightening
✅ Thanks for reading Axios Pro Rata, and to copy editors Mickey Meece and Bryan McBournie! Please ask your friends, colleagues and the Plow King to sign up.