Axios Pro Rata
January 26, 2023
🚨 Breaking: U.S. GDP grew 2.9% in Q4, besting economist predictions. Go deeper.
Top of the Morning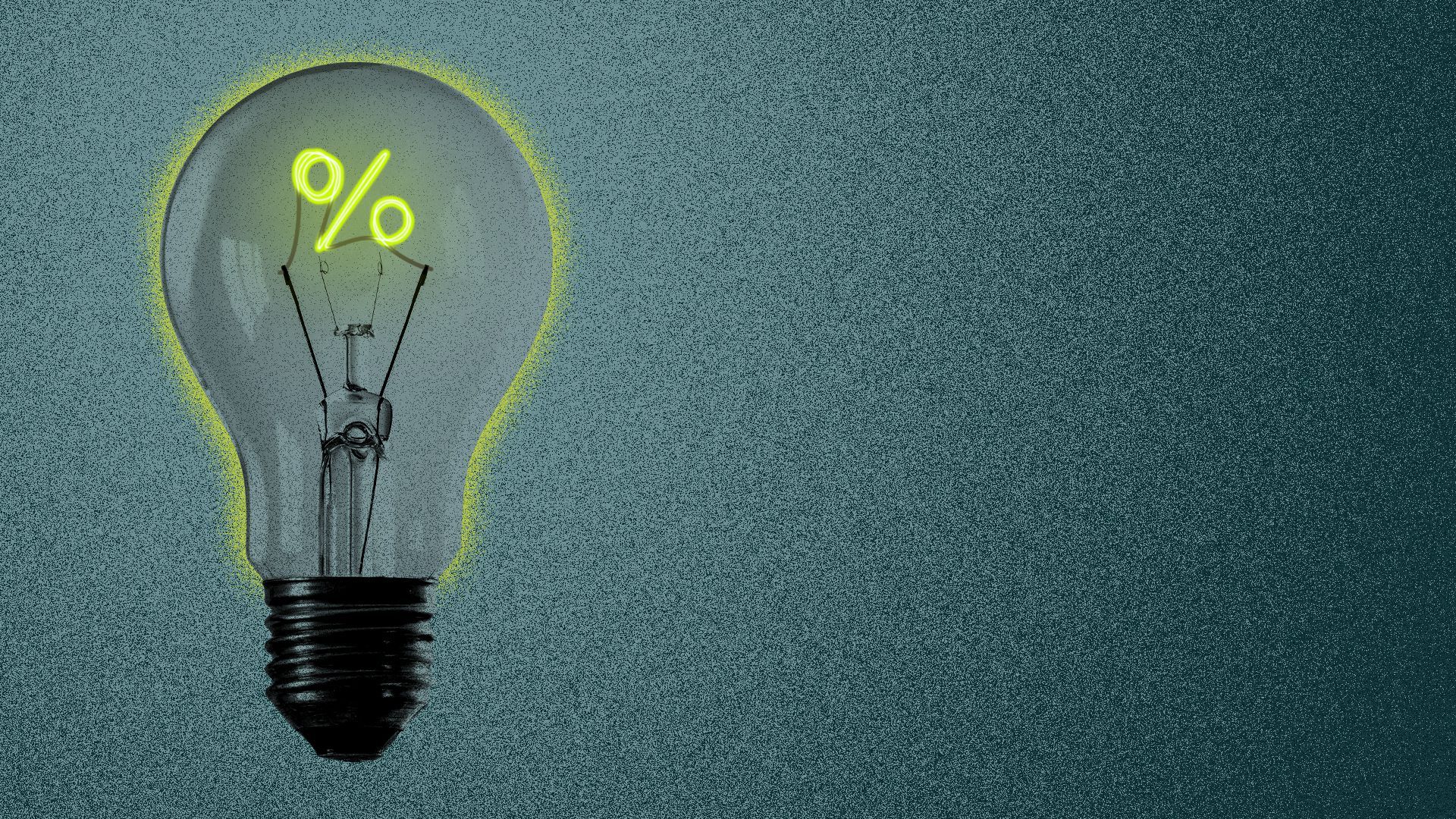 Sequoia Capital in December sent an unusual letter to limited partners in two of its funds, informing them that management fee percentages would be reduced and applied to called capital instead of to committed capital.
Why it matters: Sequoia, despite some recent stumbles, remains the VC industry's most venerable firm, and its move sparked some LP calls for other firms to follow suit.
Details: Sequoia made the changes to a so-called "ecosystem" vehicle, which is basically a VC fund-of-funds, and to its debut crypto fund. It left other funds, including its flagship and global growth efforts, untouched.
The firm isn't commenting, but my understanding is that Sequoia historically has introduced new products like its seed fund with reduced fees. But it didn't do so with ecosystem or crypto because ... well, because the market was going gangbusters and LPs were over a barrel.
Now, as the market has changed and the investment cycle is expected to be much longer for ecosystem and crypto, Sequoia is basically doing a solid for LPs who bet on unproven strategies.
What to know: Do not expect many other VC firms to mimic Sequoia.
Sequoia is unusual in that it has so many different strategies and accumulated wealth that it can easily afford this fee-flow reduction without impacting operations or take-home pay.
Caveat: We are seeing some downward fee pressure on new funds being raised, as denominator effects have caused LPs to become more selective. This is particularly true for first and second-time managers, even though they're often the ones who can least afford the decrease.
Zoom in: There's a certain logic to LPs only having to pay fees on called captial, rather than committed capital. But it can create perverse incentives, encouraging GPs to invest money faster than they otherwise would.
The bottom line: Sequoia is the venture market leader. But that doesn't mean it has many followers.
The BFD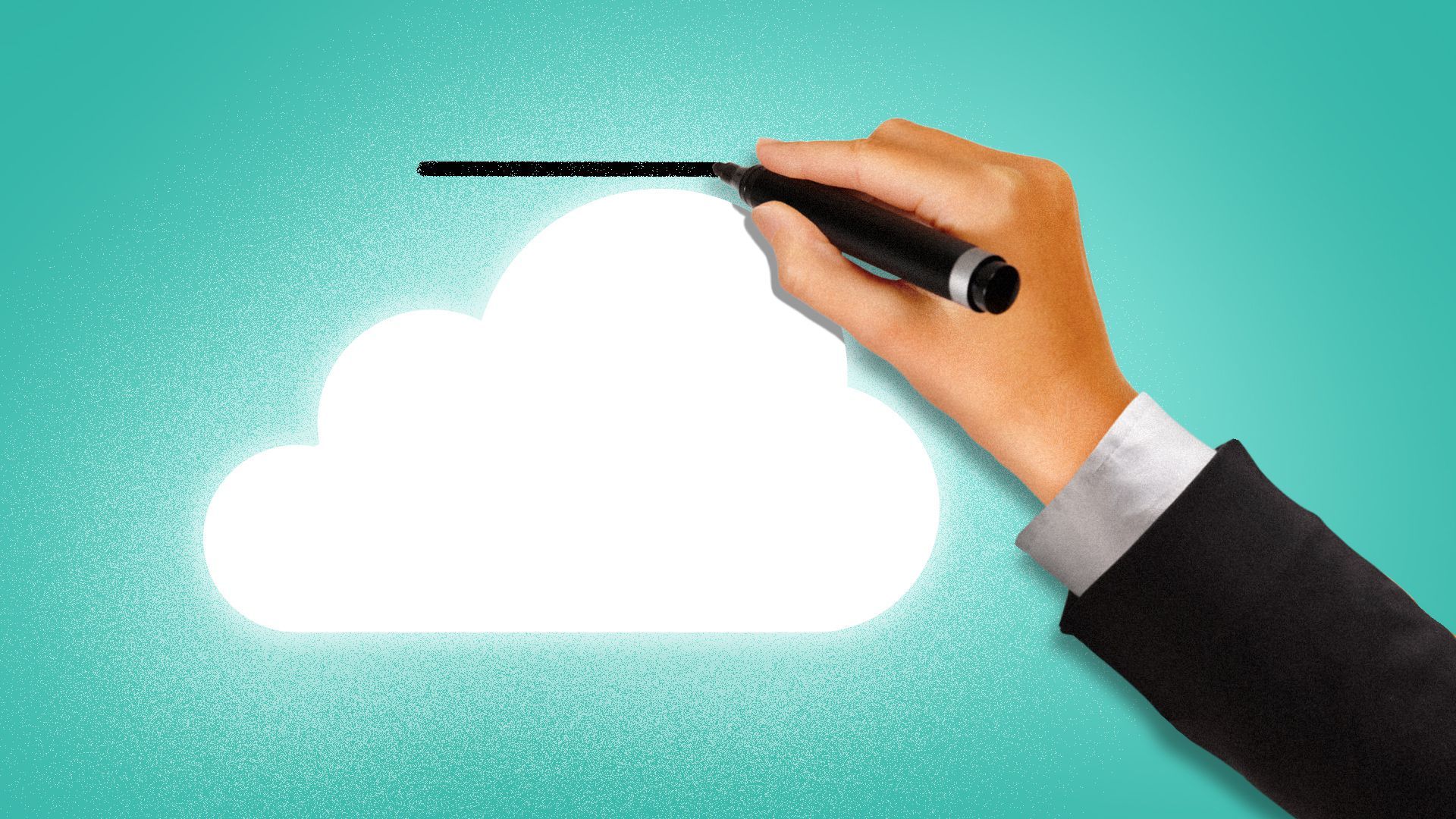 SAP (NYSE: SAP) is exploring a sale of its remaining 71% stake in Qualtrics (Nasdaq: XM), a Utah-based maker of survey and customer experience software, as part of a broader restructuring that includes 3,000 job cuts.
Why it's the BFD: It would be the end of a complicated partnership that began in late 2018, when SAP agreed to buy Qualtrics for $8 billion in cash. At the time, it was the largest-ever acquisition of a VC-backed enterprise software company.
But it also was spearheaded by SAP CEO Bill McDermott, who abruptly resigned just a year later. Under new leadership, SAP soon spun Qualtrics out into an independent company via IPO, while retaining a majority stake.
Now, SAP may unload its remaining 71% position in Qualtrics, under the aegis of refocusing on its core enterprise resource planning (ERP) business.
The bottom line: Qualtrics was valued at $21 billion when SAP took it public. That slumped to $6.6 billion as of yesterday's market close, valuing SAP's remaining stake at $4.74 billion, although shares surged more than 30% at today's market open.
Venture Capital Deals
🚑 Angle Health, an SF-based health insurer, raised $58m in Series A funding. Portage led, and was joined by PruVen Capital, Wing VC, SixThirty Ventures, Mighty Capital, Wormhole Capital, Mindset Ventures, Aloft VC Blumberg Capital, Correlation Ventures, TSVC and YC. https://axios.link/3J9ODmq
• Crux, an SF-based data integration and operations company, raised $50m co-led by Two Sigma and the growth equity arm of Goldman Sachs Asset Management. www.cruxdata.com
• Welcome to the Jungle, a French jobs platform, raised €50m in Series C funding from blisce, Cipio Partners, Groupe ADP, Kostogri, Raise Sherpas and insiders XAnge and Bpifrance. https://axios.link/3Dl3eaP
• Tado, a Munich-based connected thermostat maker, raised €43m from Trill Impact Ventures, Bayern Kapital, Kiko Ventures, and Swisscanto. Last year it had agreed to go public via SPAC at an implied €450m valuation, but the merger was later terminated. https://axios.link/3j50VBX
• Crowdbotics, a Berkeley, Calif.-based software development platform, raised $40m in Series B funding. NEA led, and was joined by Homebrew, JSV, Harrison Metal and Cooley. https://axios.link/3XRzOsG
⚡ Log9 Materials, an Indian developer of EV-focused battery systems, raised $40m in Series B equity and debt funding. Amara Raja Batteries and Petronas Ventures co-led, and were joined by Incred Financial Services, Unity Small Finance Bank, Oxyzo Financial Services and Western Capital Advisors. https://axios.link/3JfNWYS
• Makeup by Mario, a New York-based cosmetics brand, raised $40m from Provenance and Silas Capital. https://axios.link/3Y1f6Xz
• RapidDeploy, an Austin, Texas-based provider of mapping and analytics software for public safety, raised $34m. Edison Partners led, and was joined by from GreatPoint Ventures, Morpheus Ventures, GM Ventures, Ericsson Ventures, Tao Capital Partners, Clearvision Ventures, Tau Ventures and NedBank CIB. www.rapiddeploy.com
• Strata Identity, a Boulder, Colo.-based identity orchestration startup, raised $26m in Series B funding. Telstra Ventures led, and was joined by Menlo Ventures, Forgepoint Capital and Innovating Capital. https://axios.link/3ws6MnS
⚡ Ecozen, an Indian developer of solar cold storage solutions, raised $25m in Series C equity and debt funding. Nuveen and Dare Ventures co-led the equity tranche, and were joined by India EXIM Bank, Caspian and Hivos-Triodos Fund. The round provided partial liquidity for Omnivore and IFA. https://axios.link/406xHmH
• Meati Foods, a Boulder, Colo.-based developer of mushroom proteins, raised $22m in Series C extension finding. Revolution Growth led, and was joined by Rockefeller Capital. https://axios.link/3Ha8qzA
• Hawk AI, a German developer of anti-money laundering and fraud prevention tech, raised $17m in Series B funding. Sands Capital led, and was joined by Picus Capital, DN Capital, Coalition, and BlackFin Capital Partners. https://axios.link/3WNI4Jy
• Method, an embedded fintech startup, raised $16m in Series A funding. Andreessen Horowitz led, and was joined by Abstract Ventures, SV Angel and YC. https://axios.link/3jexBc5
• Terra Drone, a Tokyo-based drone manufacturer, raised $14m from Aramco's venture arm, Wa'ed Ventures, to launch a Saudi subsidiary. https://axios.link/3XCeo3b
• Floodbase, a Menlo Park, Calif.-based flood monitoring startup, raised $12m in Series A funding. Lowercarbon Capital led, and was joined by Collaborative Fund, Floating Point, and Vidavo. https://axios.link/3kMyRnq
• PortPro, a Kearny, N.J.-based developer of tech solutions for drayage carriers, raised $12m led by Avenue Growth Partners. www.portpro.io
• Kitti, a Berlin-based graphic design platform, raised €10.8m in Series A funding. Left Lane Capital led, and was joined by Speedinvest. https://axios.link/3HvLQCO
• Addie, a Norwood, Mass.-based drive-up grocer, raised $10.1m in seed funding led by Rose Park Advisors. https://axios.link/3Dhge1d
• Emperia, a London-based virtual store management SaaS, raised $10m in Series A funding. Base10 Partners led, and was joined by Daphni, Sony Ventures, Background Capital, Stanford Capital Partners and Concept Ventures. www.emperiavr.com
• Spatial Labs, an LA-based web3 infrastructure and hardware startup, raised $10m in seed funding. Blockchain Capital led, and was joined by Marcy Venture Partners. https://axios.link/3H6TkLb
• Supernormal, a Seattle-based meeting transcription and summarization service, raised $10m. Balderton led, and was joined by Acequia Capital and byFounders VC. https://axios.link/3HxYIs0
• Foro, a Charlotte-based commercial lending startup, raised $8m in Series A funding. TTV Capital led, and was joined by Fin Capital, Correlation Ventures and AME Cloud Ventures. www.foro.io
🚑 Mighty Health, an Oakland-based developer of coaching and exercise programs for seniors, raised $7.6m in new seed funding, per Axios Pro. Co-led, and were joined by Will Ventures and GFT Ventures co-led, and were joined by the AARP, Mercury CEO Immad Akhund, Hyper, Baselayer Ventures and Z Venture Capital. https://axios.link/3XY3AMt
🌎 Senken, an online marketplace for on-chain carbon credits, raised $7.5m in seed funding, per Axios Pro. Obvious Ventures led, and was joined by Offline Ventures, Inflection, Kraken Ventures and Climate Capital. https://axios.link/3Jkhchb
💩 Wasted, a Burlington, Vt.-based startup converting human waste from porta-potties into fertilizer, raised $7.5m. Collaborative Fund and Divergent Capital co-led, and were joined by Day One Ventures, Third Sphere, Pure Ventures, Riverstyx Foundation, Gratitude Railroad and Susquehanna Foundation. https://axios.link/3j8GjIX
🌎 WattCarbon, a Lafayette, Calif.-based carbon accounting startup that also manages a virtual power plant network, raised $4.5m in seed funding led by True Ventures. https://axios.link/3wu6NHX
• Suppli, an Austin, Texas-based digital accounts receivable platform for the construction market, raised $3.1m in seed funding. Equal Ventures led, and was joined by Audacious Ventures and Dash Fund. www.gosuppli.com
• Kanpla, a Danish startup seeking to reduce food waste at canteens, raised €2.2m in seed funding led by HenQ. https://axios.link/3ZX7h6S
• GeoComply, a Canadian geolocation security provider, raised funding from Norwest Venture Partners and Arctos Sports Partners. www.geocomply.com
Private Equity Deals
• Apollo Global Management and former SoftBank exec Marcelo Claure are in talks to acquire Millicom International Cellular (Nasdaq: TIGO), a Latin American telco that had around a $2.5b market cap prior to the announcement. https://axios.link/3HyWNUh
• Cetera, an El Segundo, Calif.-based portfolio company of Genstar Capital, agreed to acquire the retail wealth business of St. Paul, Minn.-based Securian Financial. www.cetera.com
• Marlin Equity Partners made a growth equity investment in OpenAsset, a London-based digital asset management provider to the architecture, engineering and construction industries. www.openasset.com
• Micross Components, a Melville, N.Y.-based portfolio company of Behrman Capital, acquired KCB Solutions, a Shirley, Mass.-based maker of RF and microwave technologies, from private equity firm Artemis. www.kcbsolutions.com
• REIC, a Kalispell, Mont.-based portfolio company of Kinderhook Industries, acquired Industrial Drying Solutions, a Franklin Park, Ill.-based provider of heating, dehumidifying and power equipment. www.reicorporation.com
Public Offerings
• QuantaSing, a Chinese online provider of financial literacy and other adult educational content, raised $41m in its IPO. The company priced at $12.50 per share (middle of range), will list on the Nasdaq (QSG) and reports a $33m net loss on $403m in revenue for its fiscal year ending June 30, 2022. Shareholders include DCM and Qiming Venture Partners. https://axios.link/3YIstNi
SPAC Stuff
🚑 Longevity Biomedical, a Bothell, Wash.-based biotech, agreed to go public at an implied $236m equity value via Denali Capital Acquisition Corp. (Nasdaq: DECA), a SPAC led by Lei Huang (US Tiger Securities). https://axios.link/3R7jBxi
• North Atlantic Acquisition Corp. (Nasdaq: NAAC), a SPAC chaired by Andrew Morgan (ex- Diageo) and led by Gary Quin (ex-Blackstone) plans to liquidate. In late 2021 it agreed to buy TeleSign at an implied $1.3b valuation, but the merger was later terminated. https://axios.link/3HvRQeF
Liquidity Events
• Dell (NYSE: DELL) agreed to buy Cloudify, an Israeli cloud orchestration and infrastructure automation company, for upwards of $100m. Cloudify raised around $8m from firms like KPN Ventures and Claridge. https://axios.link/3WBTgIV
More M&A
• British antitrust regulators said they've begun the first phase of the investigation into Broadcom's (Nasdaq: AVGO) proposed $61b takeover of VMWare, with a decision expected by the end of March. https://axios.link/3Di964I
• Rogers Communications (TRSX: RCI) got a boost in its efforts to buy Shaw Communications (TSX: SJR) for C$20b, after a Canadian court dismissed another blockage effort by antitrust regulators. https://axios.link/3XQFfZ0
Fundraising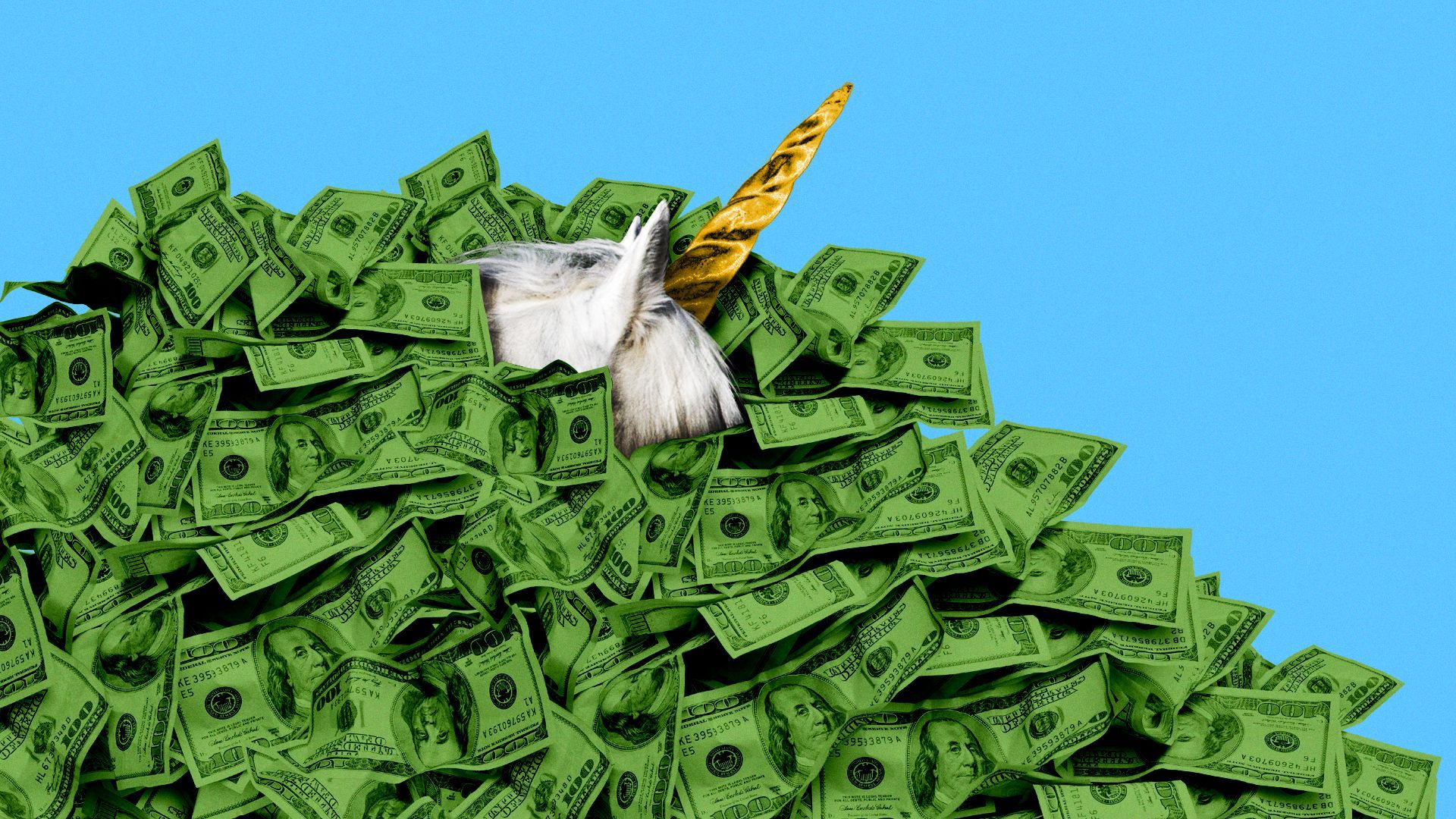 • NEA raised just over $6.2b for a pair of new funds; comprised of $3.05b for its 18th fund, now focused on early-stage deals, and $3.18b for its debut growth equity fund.
That represents a little more than it originally planned to raise for the flagship, and a bit less for the growth equity (reflecting how market conditions changed during the fundraising process).
Scott Sandell, NEA's managing general partner, tells me that the firm has debated raising separate funds — either by stage or sector — "every time we went to market" since he joined in the mid-1990s, but ultimately kept with a one-size-fits-all (save for a single opportunity fund, raised a couple of cycles ago).
What changed this time, he said, was LP demand for dedicated strategies. Sandell adds that NEA looked at its growth equity deal performance for the 10 years before the 2020-2021 run-up, and found data (36% IRR) that could support a dedicated vehicle.
Two other NEA notes: (1) It's become the latest VC firm to apply to become a registered investment advisor. (2) Sandell said he expects VC firms to begin buying and selling portfolio company shares to each other, much as private equity firms have long done, and says he expects a small percentage of the new funds to be used for that purpose on the buyside. Not too surprising, given that NEA once offloaded a big portfolio slice via a secondary transaction.
• FJ Labs, a New York-based VC firm, raised a total of $260m for a new pre-seed fund and an opportunity fund. https://axios.link/3RaAwit
• Injective, a layer-1 blockchain for DeFi apps, is launching a $150m ecosystem fund. https://axios.link/3H9UOEs
• Sapphire Ventures raised $181m for its second Sapphire Sport fund, which focuses on early-stage startups "at the nexus of tech and culture." www.sapphireventures.com
• Vision Ridge Partners, a Boulder, Colo.-based sustainable real assets investment firm, raised $700m for an annex to its $1.25b third fund (closed in April 2021). https://axios.link/3wuOsuv
It's Personnel
• Stewart Hay joined Northleaf Capital Partners as vice chair of global investor solutions. He previously was with abrdn. www.northleafcapital.com
• Jesse Fahy joined Golub Capital as an assistant VP. He previously spent more than nine years at research firm Preqin. https://axios.link/3WFmh6B
• Dan Meade joined J.C. Flowers as a managing director and head of biz dev and IR. He previously was with Castlelake. www.jcfco.com
• David Routh, former vice chancellor for development at UNC Chapel Hill, is joining New Republic Partners as a managing director. www.newrepublicpartners.com
• Slater Stich (ex-Activation fund) and Saanya Ojha (ex-Coatue) joined Bain Capital Ventures as partners. www.baincapitalventures.com
Final Numbers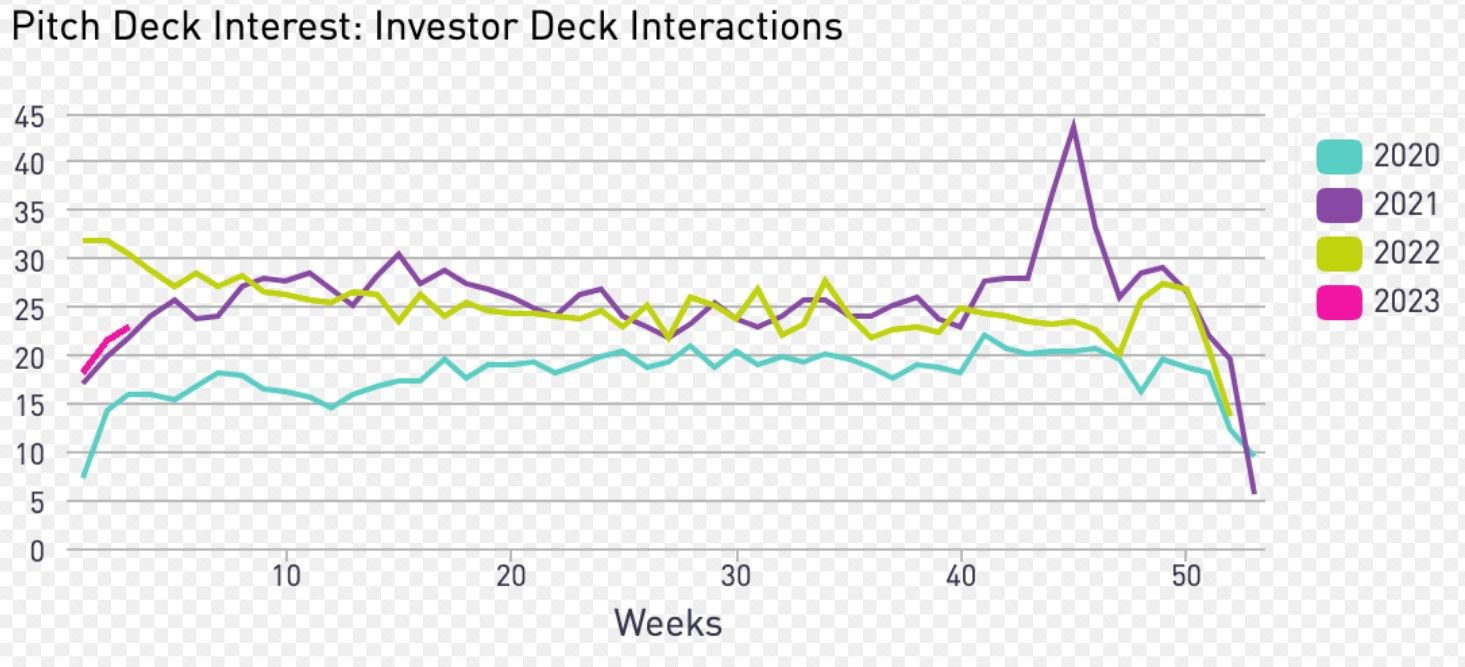 Yesterday I tweeted that VC deal activity seems unexpectedly high for January. The actual phrase I used was "kinda nuts."
Got pushback from folks suggesting a lot of these announcements are Q4 deals with delayed PR, plus someone from Carta saying that last month was the slowest December fundraising for Carta companies since 2018.
Then I was sent the above chart from DocSend, which tracks pitch deck interactions, suggesting that there is indeed a very strong start to 2023. Not last year's level, but just above 2021 and well above pre-pandemic 2020.
My takeaway is that we'll need to wait until the end of Q1 for legit clarity on VC deal activity.
Thanks for reading Axios Pro Rata, and to copy editors Mickey Meece and Bryan McBournie! Please ask your friends, colleagues and LPs to sign up.
Editor's note: A item in Venture Capital Deals has been updated to state that Two Sigma, not Two Sigma Ventures, was involved in the Crux fundraise.