Axios Pro Rata
April 07, 2022
📢 Please join me and Axios' Ashley Gold this morning at 11:15am ET, for a Twitter Spaces conversation with Margrethe Vestager, Europe's top antitrust regulator. Click here.
Send over questions, either in advance or during the conversation, via DM @danprimack.
Top of the Morning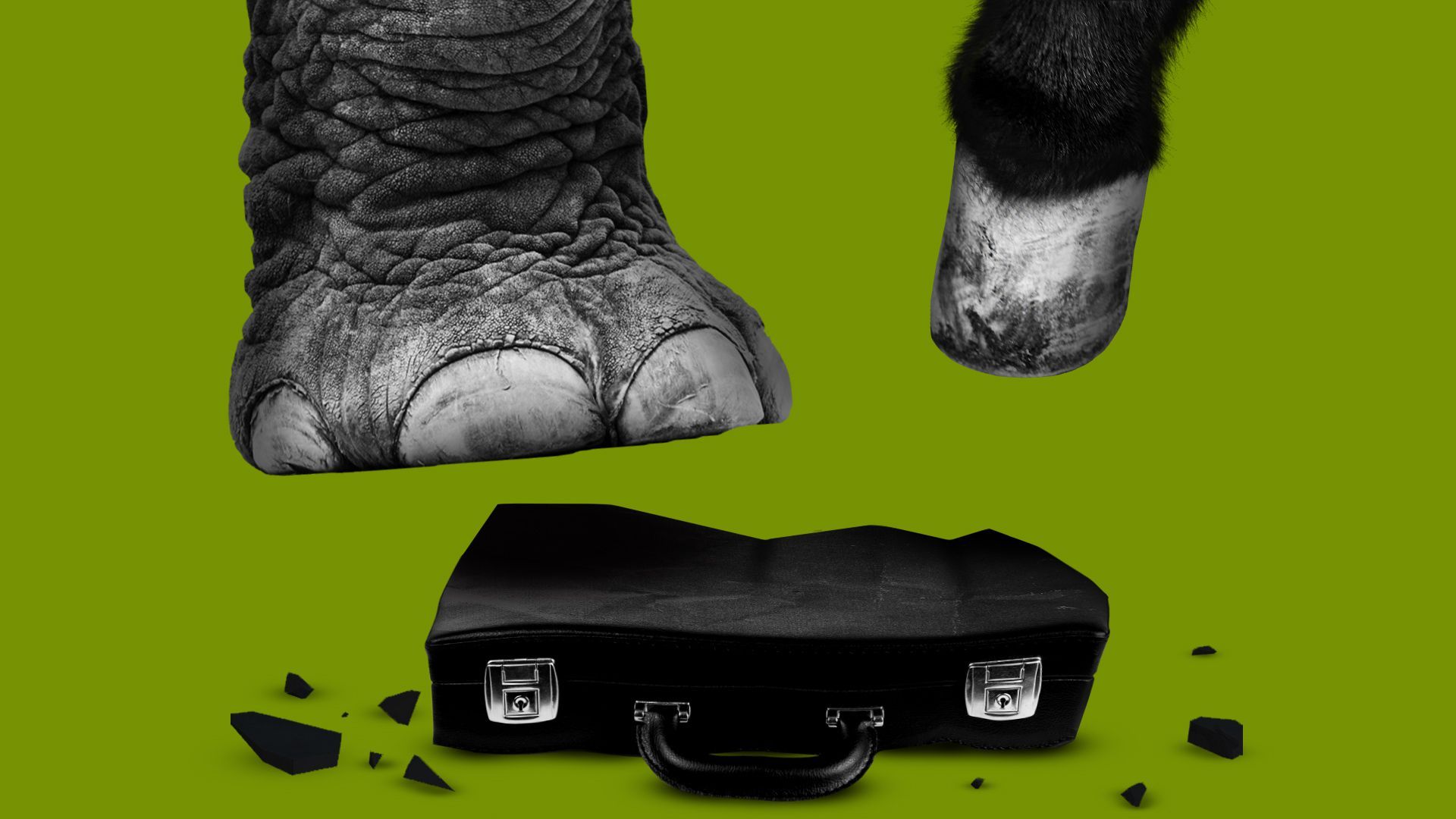 Most political pundits expect at least one house of Congress to switch hands this fall, and there could be more power shifts in 2024.
But one thing won't change, no matter which political party is in charge: antipathy toward big business, which often manifests as antitrust enforcement.
Republicans are no longer Corporate America's ally, with many GOP candidates viewing a Chamber of Commerce endorsement as akin to a scarlet letter. It's a massive transformation, driven by Donald Trump's particular brand of populism, and extends beyond the highest-profile punching bags in Silicon Valley.
Democrats have for decades given big business the side-eye, even when allying on some recent social issues, and the Biden administration has taken an increasingly tough line on corporate mergers.
To be sure, most big businesses did well in the Trump era and also are thriving under Biden. But their ability to grow inorganically is increasingly being challenged.
The bottom line: There is bipartisan unity in reflexively opposing big business mergers. It's not on the list when CEOs gripe about uncertainties, even though they may wish it was.
The BFD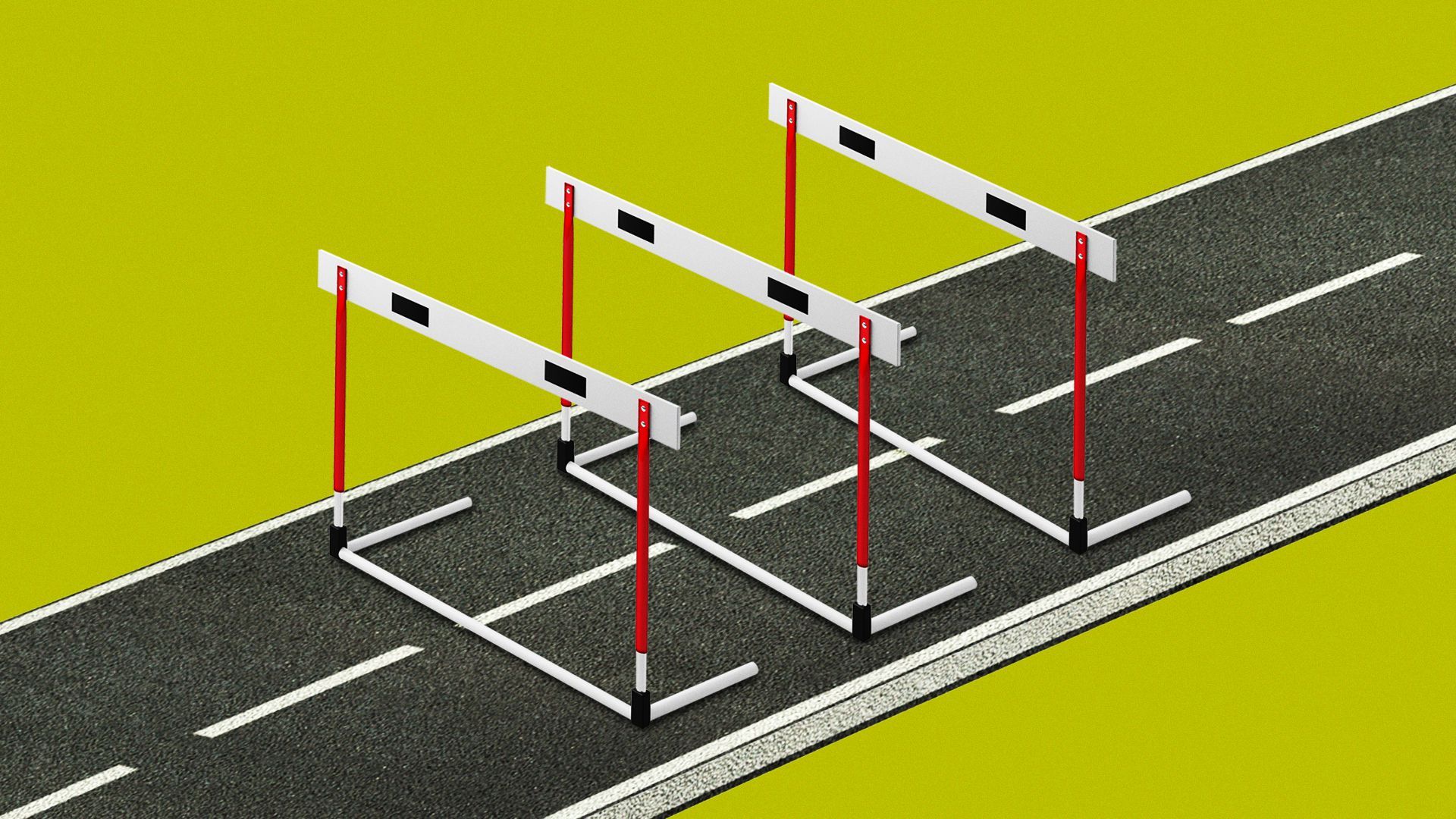 Global Infrastructure Partners and Brookfield Infrastructure offered to buy Italian road and airport operator Atlantia (Milan: ATL), in partnership with Spanish construction mogul and Real Madrid owner Florentino Pérez, but the controlling Benetton family may instead work with Blackstone to take the company private.
Why it's the BFD: This could be the year's largest global acquisition, topping current leader Microsoft/Activision, and one of the all-time richest infrastructure deals. It also could become one of the nastiest, were Pérez and his PE pals to go hostile.
By the numbers: Atlantia's market cap closed up past €17 billion on the news, and its enterprise value is estimated to be well above €50 billion.
The bottom line: "Investors continue to pour money into infrastructure, drawn by the stable, recurring returns these assets can generate. GIP is in talks to raise the world's biggest pool of capital dedicated to the sector ...while Blackstone last year reopened a flagship infrastructure fund to new money." — Bloomberg
Venture Capital Deals
• Fetch Rewards, a Madison, Wis.-based shopping rewards app, raised $240m at a valuation north of $2.5b. Hamilton Lane led, and was joined by SoftBank, Iconiq and DST Global. http://axios.link/RXyd
• Improbable, a British metaverse tech company, raised $150m. Andreessen Horowitz and SoftBank co-led, and were joined by Mirana, DCG, CMT, SIG and Ethereal Ventures. http://axios.link/WHVy
• Grover, a Berlin-based electronics rental subscription service, raised $110m in Series C funding (plus $220m in debt). Energy Impact Partners led, and was joined by Co-Investor Partners, Korelya Capital, LG, Mirae Asset Group, Viola Fintech and Assurant. http://axios.link/cyja
• Nord Security, a London-based VPN provider founded in 20212, raised $100m in its first funding round at a $1.6b valuation. Novator led, and was joined by Burda Principal Investments and General Catalyst. http://axios.link/JVOu
• CertiK, a New York-based web3 and blockchain security company, raised $88m in Series B3 funding at a $2b valuation from Insight Partners, Tiger Global, Advent International, Goldman Sachs and insiders Sequoia Capital and Lightspeed Venture Partners. http://axios.link/MpNr
• EDO, a Culver City, Calif.-based TV ad measurement company, raised $80m from Shamrock Capital at a pre-money valuation north of $200m, per the WSJ. http://axios.link/TADx
🚑 Avi Medical, a German primary care provider, raised €50m in Series B funding led by Balderton Capital. www.avimedical.com
• Data.world, an Austin, Texas-based enterprise data catalog, raised $50m in Series C funding. Goldman Sachs led, and was joined by Prologis Ventures, Shasta Ventures, Vopak Ventures and Sandbox Insurtech Ventures. www.data.world
• OpenPhone, an SF-based business communications startup, raised $40m in Series B funding. Tiger Global led, and was joined by insiders Craft Ventures, Slow Ventures, Garage Capital and Worklife Ventures. http://axios.link/AyYB
• Coin Metrics, a Boston-based crypto financial intelligence startup, raised $35m in Series C funding. Acrew Capital and BNY Mellon co-led, and were joined by Goldman Sachs, Fidelity Investments, Highland Capital Partners, Avon Ventures and Morningside Technology Ventures. http://axios.link/T1GK
• Groups360, a Nashville-based group travel booking site, raised $35m. Zigg Capital led, and was joined by Blackstone Innovations Investments and Fir Tree Partners. www.groups360.com
🚑 Evernow, an SF-based telehealth company focused on perimenopause and menopause, raised $28.5m in Series A funding led by NEA. http://axios.link/jdqM
• The Parentinc, a Singapore-based online parenting community and DTC product line, raised $22m in equity and debt funding. East Ventures led, and was joined by Central Retail Corp., WHG Holdings and lender DBS. http://axios.link/LWa7
• Loaded, an LA-based startup that supports creators and brands in gaming, raised $20m led by Coral Tree Partners, per Axios Pro's Kerry Flynn. http://axios.link/yrSF
• Kumo, an SF-based predictive AI SaaS for businesses, raised $18.5m in Series A funding led by Sequoia Capital. www.kumo.ai
• Hivemapper, an SF-based decentralized mapping network, raised $18m in Series A funding. Multicoin Capital led, and was joined by Craft Ventures, Solana Capital, Shine Capital, 75 and Sunny Ventures and insiders Spark Capital, Founder Collective and Homebrew. www.hivemapper.com
• Better Origin, a British developer of insect mini-farms, raised $16m in Series A funding. Balderton Capital led, and was joined by insiders Fly Ventures and Metavallon VC. www.betterorigin.co.uk
🚑 Eon, a Denver-based provider of incidental findings and screening patient management software, raised $16m led by Integrity Growth Partners. www.eonhealth.com
• Cottage, an SF-based marketplace for building accessory dwelling units, raised $15m in Series A funding led by Fifth Wall. http://axios.link/AQyF
• KarmaCheck, an SF-based employee background check startup led by LinkedIn co-founder Eric Ly, raised $15m in Series A funding. Velvet Sea Ventures led, and was joined by Parameter Ventures, One Way Ventures, NextView Ventures and Dash Fund. www.karmacheck.com
🌎 Brilliant Planet, a carbon capture startup that uses algae, raised $12m. USV and Toyota Ventures co-led, and were joined by Future Positive Capital, AiiM Partners, S2G Ventures, Hatch and Pegasus Tech Ventures. http://axios.link/Zvga
• Vested Finance, an app for Indian investors to participate in the U.S. stock market, raised $12m in Series A funding. Ayon Capital led and was joined by Tenoneten, Ovo Fund, Wedbush Ventures, IPV and Upscale. http://axios.link/wsqJ
• Docyt, a Santa Clara, Calif.-based provider of accounting automation software for SMBs, raised $11.5m in Series A funding. Lobby Capital led, and was joined by First Rays Venture Partners and Morado Ventures. www.docyt.com
🚑 Doceree, a Parsippany, N.J.-based provider of marketing messaging services to physicians, raised $11m in Series A funding. Eight Roads Ventures led, and was joined by F-Prime Capital and Alkemi Growth Capital. www.doceree.com
⚡Liminal, an Emeryville, Calif.-based battery manufacturing intelligence startup, raised $8m in Series A funding. Good Growth Capital and UTEC co-led, and were joined by Volta Energy Technologies, Helios Capital Ventures and Impact Science Ventures, Chrysalix Ventures, Elemental Excelerator and Incite.org. www.liminalinsights.com
• StackBlitz, an SF-based instant devs environments startup, raised $7.9m in seed funding. Greylock led, and was joined by GV. http://axios.link/fP0l
• Landed, an SF-based recruitment startup for the restaurant and hospitality industries, raised $7m in seed funding. Javelin Venture Partners and Blockchain Capital co-led, and were joined by Lightspeed Venture Partners, ThinkFoods Group and Good Friends. www.gotlanded.com
• SeeMetrics, an Israeli cybersecurity management platform for CISOs, raised $6m in seed funding from Work-Bench, 8VC, AGP, Essence VC, K5 Global and Verissimo. http://axios.link/gED2
• Songfinch, a Chicago-based personalized music creation startup, raised $5m in seed funding led by Corazon Capital. www.songfinch.com
🚑 Conceive, a fertility startup led by former Andreessen Horowitz investor Lauren Berson, raised $3.7m in seed funding. Kindred Ventures led, and was joined by Great Oaks and Founder Collective. www.weconceive.com
• Trustap, an Irish digital transaction platform, raised $3.4m in seed funding. MiddleGame Ventures led, and was joined by Act and Atlantic Bridge. www.tristap.com
• ImaliPay, a fintech for gig workers in Africa, raised $3m in seed equity and debt funding from Ten 13, Uncovered Fund, MyAsia VC, Jedar Capital, Logos Ventures, Plug N Play Ventures, Untapped Global, Latam Ventures, Cliff Angels, Chandaria Capital and Changecom. http://axios.link/fVyf
• Wisewell, a Brooklyn-based drinking water filtration startup, raised $2m led by BECO Capital. www.wisewell.com
Private Equity Deals
• Actis is in talks to buy an Indian road assets portfolio from Welspun Group for around $400m, per Bloomberg. http://axios.link/xN8e
• CAIS, a New York-based alternative investment platform, raised $100m from Reverence Capital Partners. www.caisgroup.com
🐶 The Honest Kitchen, a San Diego-based pet food maker, raised $150m. Monarch Alternative Capital led, and was joined by Alliance Consumer Growth and White Road Investments. http://axios.link/iC3x
• LogicSource, a Norwalk, Conn.-based provider of procurement tech, raised $180m from FTV Capital. www.logicsource.com
• Millennium Trust, a retirement services provider owned by Parthenon Capital Partners and ABRY Partners, agreed to buy PayFlex, a provider of health savings accounts, from CVS Health. www.mtrustcompany.com
🚑 Patient Square Capital completed its $340m take-private buyout of SOC Telemed (Nasdaq: TLMD), a Virginia-based provider of acute care telemedicine. http://axios.link/UIFR
• UserZoom, a San Jose, Calif.-based user experience insights company, raised an undisclosed amount of funding from Thoma Bravo at an $800m valuation. www.userzoom.com
Public Offerings
• iFIT Health & Fitness, a Logan, Utah-based connected fitness company whose brands include NordicTrack, officially withdrew papers for an IPO designed to raise $600m at a $6.4b valuation. The company, whose shareholders include Pamplona Capital Management and L Catterton, previously postponed the float because of "market conditions." http://axios.link/M4Ii
SPAC Stuff
• Denali Capital Acquisition, a SPAC led by Lei Huang (US Tiger Securities), raised $75m in its IPO. http://axios.link/R4Oi
• Cyxtera (Nasdaq: CYXT), a Coral Gables, Fla.-based data center operator that last year went public via a Starboard Value SPAC, is exploring a possible sale, per Bloomberg. http://axios.link/9hZM
• Spinning Eagle Acquisition, the eighth SPAC led by Jeff Sagansky and Harry Sloan, withdrew registration for a $2 billion IPO. http://axios.link/BP31
• Think Elevation Capital Growth Opportunities, an Indian tech SPAC, withdrew registration for a $225m IPO. http://axios.link/g8wF
Liquidity Events
🚑 Charles River Laboratories (NYSE: CRL) will pay $295m to buy Explora BioLabs, a San Diego-based provider of contract vivarium services, from an investor group that includes Seabright Fund, The Operand Group, Milk Street Ventures, Aspect Investors, Kinderhook Industries and Housatonic Partners. http://axios.link/i6vp
• Macquarie is seeking a buyer for part of its 40% stake in Maryland Express Lanes, a project aimed at reducing traffic congestion, at a $1.25b total valuation, per Bloomberg. http://axios.link/HbAW
• Marshalls (LSE: MSLH), a concrete products maker, agreed to buy Marley Group, a British maker of pitched roof systems, for £535m from Inflexion. http://axios.link/WTpM
⚡ Midcoast Energy, backed by ArcLight Capital Partners, is seeking a buyer for its Haynesville Shale pipeline assets in East Texas, which could fetch up to $2b (including debt), per Reuters. http://axios.link/QAaR
🚑 Pfizer (NYSE: PFE) agreed to buy ReViral, a British developer of antivirals that target respiratory syncytial virus, for up to $525m. Reviral had raised over $125m from firms like New Leaf Ventures, Orbimed, Novo Holdings, Andera Partners, China Resources Capital, Charoen Pokphand Group, Brace Pharma Capital, Green Sands Equity and Perceptive Advisors. http://axios.link/CrLu
More M&A
⚡ Euronav, a listed Belgian oil tanker firm, agreed to merge with smaller, Oslo-listed rival Frontline in a $4.2b all-stock deal. http://axios.link/6MB0
⚡ Porsche invested $75m for a 12.5% stake in HIF Global, a Chilean developer of synthetic fuels. http://axios.link/QQcl
It's Personnel
• Wale Ayeni stepped down as head of Africa VC for the International Finance Corp., per TechCrunch. http://axios.link/wyJX
• Ashley MacNeill is stepping down as Morgan Stanley's co-head of Americas tech equity banking, to join Vista Equity Partners, per Bloomberg. http://axios.link/3MBZ
• Craig Russell is stepping down as vice chair of Goldman Sachs Asset Management to join Blackstone, per Bloomberg. http://axios.link/iXiU
• Ash Williams, former CIO at the Florida State Board of Administration, joined JPMorgan Asset Management as vice chair. http://axios.link/Qcs8
• Partech promoted André François-Poncet to partner on its growth team and hired Elena Moneta (ex-Hambro Perks) as a principal on its VC team. Both are based in Paris. www.partechpartners.com
Final Numbers
A Russian bond default is back in play after the U.S. Treasury on Monday blocked Russia from accessing funds to use for interest payments, per Axios' Kate Marino.
Trading levels on Russia's bonds, already distressed, dropped even further on the news. One of the bonds with a payment due Monday (charted above) is now worth around 25 cents on the dollar.
Go deeper: Depleting Russia's war resources
✅ Thanks for reading Axios Pro Rata! Please ask your friends, colleagues and toll road drivers to sign up.