May 31, 2022
ICYMI: The SEC on Friday disclosed that it's investigating Elon Musk's early April disclosure of an ownership stake in Twitter, which came ahead of his agreement to acquire the company. Also, Twitter's board rejected the resignation of director and Silver Lake partner Egon Durban. Go deeper.
Top of the Morning
The baby formula industry is in crisis, as supply chain logjams and regulatory recalls have emptied U.S. shelves and panicked parents. Some top makers also are facing the added, and voluntary, complication of merger talks.
Driving the news: Reckitt Benckiser last month kicked off a sale process for what remains of the baby formula business it acquired five years ago via the purchase of Mead Johnson.
This would include the popular Enfamil brand, with initial price talk for the unit ranging from $7 billion to $10 billion.
Now it's looking much closer to the bottom of that range, with Bloomberg reporting that several big buyout firms have passed; in part "spooked" by the ongoing U.S. shortages. Clayton Dubilier & Rice is among the exceptions, having submitted a non-binding bid.
Final offers had been expected by this week, but it's possible that London-listed Reckitt Benckiser will push the deadline.
Reckitt Benckiser late last year sold its Chinese baby formula biz to private equity firm Primavera for $2.2 billion.
Elsewhere: Royal FrieslandCampina, a Dutch dairy cooperative with PE backing, earlier this year launched a $2 billion auction for its infant nutrition business, including the Friso brand. The last update was in March, with reported bidders including Baring Private Equity Asia and a group that included both Sequoia Capital China and the Junlebao Dairy Co.
Bain Capital and Carlyle were both reported to have at least early interest in both the Reckitt Benckiser and Royal FrieslandCampina deals, but neither seems to still be involved.
What to know: Other major suppliers are keeping their infant formula efforts in house. This includes Abbott, which arguably caused this mess after four babies suffered bacterial infections from formula made in the company's Sturgis, Mich. factory, and Nestlé, which has been divesting other business lines.
The bottom line: Even the smoothest ownership changes cause some operational disruption, if only because of frayed employee nerves. Given the stakes, including for shareholders, there's a pretty strong case to put these sale processes on ice until supply shortages are solved.
The BFD
Gold Fields (JSE: GFI) of South Africa agreed to buy Canada's Yamana Gold (TSX: YRI) for US$6.7 billion in stock.
Why it's the BFD: This creates the world's fourth-largest gold miner, and comes as gold prices (and gold miner stocks) have faded after a brief surge when Russia first attacked Ukraine.
Details: The deal represents a 33.8% premium over the 10-day volume-weighted average price of Yamana shares, with Yamana shareholders to own a 39% stake in the combined company. A final close is expected by year-end, pending regulatory approvals.
The bottom line: "Gold Fields has been working to diversify its operations outside of South Africa, where it faces declining and increasingly hard-to-reach gold reserves and other issues." — WSJ
Venture Capital Deals
• Mohalla Tech, the parent company of Indian social media apps ShareChat and Moj, raised nearly $300m at almost a $5b valuation, per Reuters. Backers include Google, Times Group and Temasek. http://axios.link/1CSx
• Vestaron, a Durham, N.C.-based developer of peptide-based crop protection products, raised $82m in Series C funding. Ordway Selections and Cavallo Ventures co-led, and were joined by iSelect, Northpond Ventures, Novo Holdings, Sygnenta Group Ventures and CGC Ventures. http://axios.link/ZMtq
• Onramp Funds, an Austin, Texas-based provider of financing solutions to ecommerce sellers, raised $42m in equity and debt funding led by Luther King Capital Headwater Investments. http://axios.link/X4On
• Seemplicity, an Israeli cybersecurity workflow consolidator, raised $32m in Series A funding. Glilot Capital Partners led, and was joined by NTTVC, Atlantic Bridge and insiders S Capital and Rain Capital. http://axios.link/vh9R
• Vendia, an SF-based code-sharing platform via blockchain, raised $30m in Series B funding. NewView Capital led, and was joined by Neotribe Ventures, Canvas Ventures, Sorenson Capital, Aspenwood Ventures and BMW iVentures. http://axios.link/hgWt
• Railway, an SF-based software deployment platform, raised $20m in Series A funding led by Redpoint Ventures. http://axios.link/4a29
• Strong Compute, an Australian ML training pipeline acceleration startup, raised A$7.8m in seed funding from Sequoia Capital India, Blackbird, Folklore, Skip Capital, YC and Starburst Ventures. http://axios.link/W1dW
• Checkstep, a British provider of content moderation solutions, raised $5m in seed funding co-led by Dawn Ventures and Form Ventures. www.checkstep.com
🚑 Two Front, an LA-based orthodontics services startup, raised $3.5m in seed funding led by Craft Ventures, per Axios Pro. http://axios.link/9uqz
• Mintlify, an Ithaca, N.Y.-based documentation automation startup, raised $2.8m in seed funding. Bain Capital Ventures led and was joined by TwentyTwo Ventures and Sourcegraph co-founder Quinn Slack. www.mintlify.com
• Kapaga, a London-based cross-border payments startup, raised £1.5m led by Target Global. http://axios.link/dxQv
• Debbie, a Miami-based behavioral savings startup, raised $1.2m from One Way Ventures, BDMI, TA Ventures, Village Global, Green Egg Ventures, Liquid2 Ventures and If Then Ventures. http://axios.link/7IFK
• Jetty, a New York-based real estate insurance startup, raised an undisclosed amount of funding from Wilshire Lane Capital, PayPal Ventures, Experian Ventures and Morgan Properties. www.jetty.com
Private Equity Deals
• Advent International and Lanxess (ETR: LXS) agreed to buy the engineering materials business of Royal DSM for around €3.7b. http://axios.link/QVUK
🚑 Astorg agreed to buy Open Health, a London-based medical communications firm, from Amulet Capital Partners. www.openhealthgroup.com
• Authentic Brands Group, the retail and brand management valued at $12.7b by PE investors, is in talks to buy British fashion retailer Ted Baker (LSE: TED) for around £300m, per Sky News. http://axios.link/QNnR
• Brookfield Asset Management is in talks to partner with Cellnex Telecom (Madrid: CLNX) on a bid for Deutsche Telekom's (DE: DTE) towers unit, which could fetch around €20b, per Bloomberg. http://axios.link/0K3o
• Countryside Partnerships (LSE: CSPC), a British homebuilder, rejected a $1.86b takeover offer from Jeffrey Ubben's Inclusive Capital. http://axios.link/5LTq
🚑 EW Healthcare Partners agreed to buy TherapeuticsMD (Nasdaq: TXMD), a Boca Raton, Fla.-based maker of drugs for women, for around $87m, or $10 per share (367% premium to Friday's closing price). www.therapeuticsmd.com
• H.I.G. Capital agreed to buy Terra Millennium, a Salt Lake City-based provider of outsourced industrial maintenance services, from Court Square Capital Partners. www.tmcorp.us
• Sun Capital Partners acquired Tenax, an Italian maker of chemicals, abrasives and tooling for treating stone and tile. www.tenax.it
Public Offerings
• No companies plan to price IPOs on U.S. exchanges this week. Nor were there any last week, which Renaissance Capital says was the first week with no IPOs or SPAC listings in over to years. http://axios.link/3yOi
• Forbes has until the end of business today to either close its SPAC merger with Magnum Opus (NYSE: OPA) or agree to a third extension. Otherwise, either side could walk away, Axios' Sara Fischer reports.
• Inkstone Feibo Acquisition, a biotech and green tech SPAC led by I-Fa Chang (Inkstone Capital), filed for a $60m IPO. http://axios.link/e4PR
Liquidity Events
🚑 GlaxoSmithKline (NYSE: GSK) agreed to buy Affinivax, a Cambridge, Mass.-based developer of pneumococcal vaccines, for up to $3.3b (including $2.1b upfront). Affinivax had raised $360m in VC funding from Rock Springs Capital, Foresite Capital, T. Rowe Price, Wellington Management, Blackrock, Cormorant, Perceptive Advisors, EcoR1 Capital, Surveyor Capital, Logos Capital and insiders Viking Global Investors, Bain Capital Life Sciences and Ziff Capital Healthcare Ventures. http://axios.link/JKJZ
• IK Partners agreed to sell Bahr Modultechnik, a German maker of modular positioning systems, IMI (LSE: IMI). www.bahr-modultechnik.de
• L Catterton is seeking a buyer for Princess Yachts, Britain's largest yachtmaker, per Sky News. http://axios.link/uJqN
• Moneta Money Bank (Prague: MONET) terminated its $1.1b deal to buy Air Bank and other assets from Dutch private equity firm PPF. http://axios.link/ReQ4
🚑 Pritzker Private Capital is prepping a sale process for KabaFusion, a Cerritos, Calif.-based home infusion provider with around $50m of EBITDA, per Axios Pro. http://axios.link/L7mH
More M&A
• Rogers Communications (NYSE: RCI) said that it will hold off on closing its C$16b takeover of rival Shaw Communications (NYSE: SJR) until there is a resolution to opposition from Canadian antitrust officials. http://axios.link/GUij
• GIC and U.S. property developer Greystar won the auction for Student Roost, a £3b portfolio of British student housing assets, from Brookfield Asset Management. Losing bidders include Blackstone, United Students and GSSA. http://axios.link/SBrZ
• Unilever (LSE: ULVR) added activist investor Nelson Peltz to its board of directors. http://axios.link/FdTQ
Fundraising
• Bonfire Ventures, an LA-based firm focused on business software startups, raised $168m for its third flagship seed fund and $63m for a second opportunity fund. http://axios.link/Bw13
• Carlyle is targeting $8.5b for its sixth Asia buyout fund, per Bloomberg. http://axios.link/fZaD
• StepStone Group raised $2.6b for its fifth VC secondaries fund and held a $1b first close on its fifth PE secondaries fund. http://axios.link/lJYZ
• Vista Equity Partners has circled more than $9b of commitments for its eighth flagship fund, which is targeting $20b, per Bloomberg. http://axios.link/Cepi
It's Personnel
• Don Hoang, a former exec with both Revolut and Uber, joined Atomico as a partner. www.atomico.com
• Oliver Pabst joined Zurich-based VC firm Redalpine as a general partner. http://axios.link/Iw2U
• Anderson Thees, who spent the past decade as managing partner of Redpoint eVentures Brazil, joined Banco Itaú to make VC investments. http://axios.link/sqa6
Final Numbers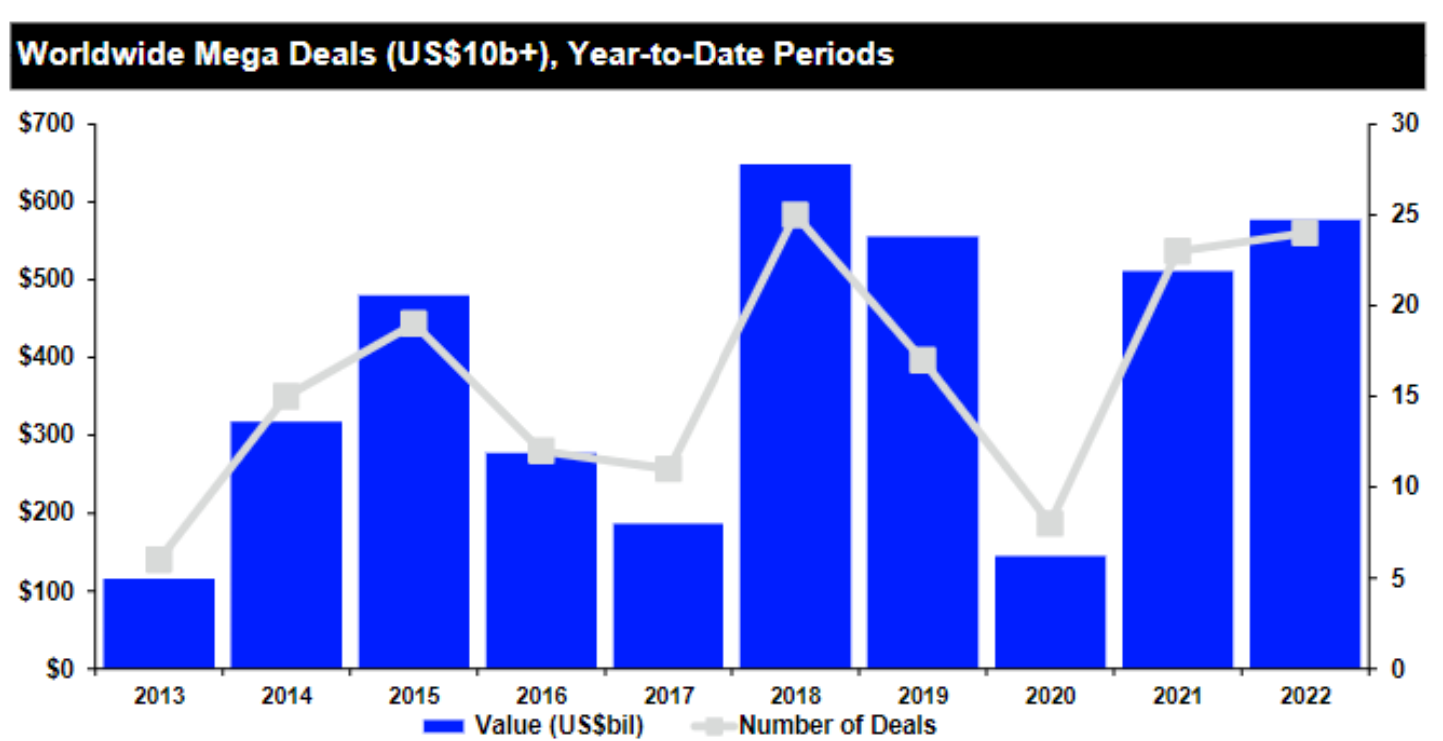 Global M&A activity is down 13% year-to-date, and off 25% in the U.S., but it isn't for lack of mega-deals.
Instead, the loss seems to be coming from a dearth of sub-$10 billion strategic acquisitions, as global private equity volume is up — 16% worldwide and 5% for U.S. targets.
✅ Thanks for reading Axios Pro Rata! Please ask your friends, colleagues and Ime Udoka to sign up.