Axios Pro Rata
April 12, 2023
Situational awareness: Inflation cooled a bit last month, with the Consumer Price Index rising 0.1% and core CPI up 0.4%.
Also, a judge yesterday affirmed that Elizabeth Holmes must report to prison later this month. The Theranos founder had been seeking to delay her sentence while appealing her conviction.
Top of the Morning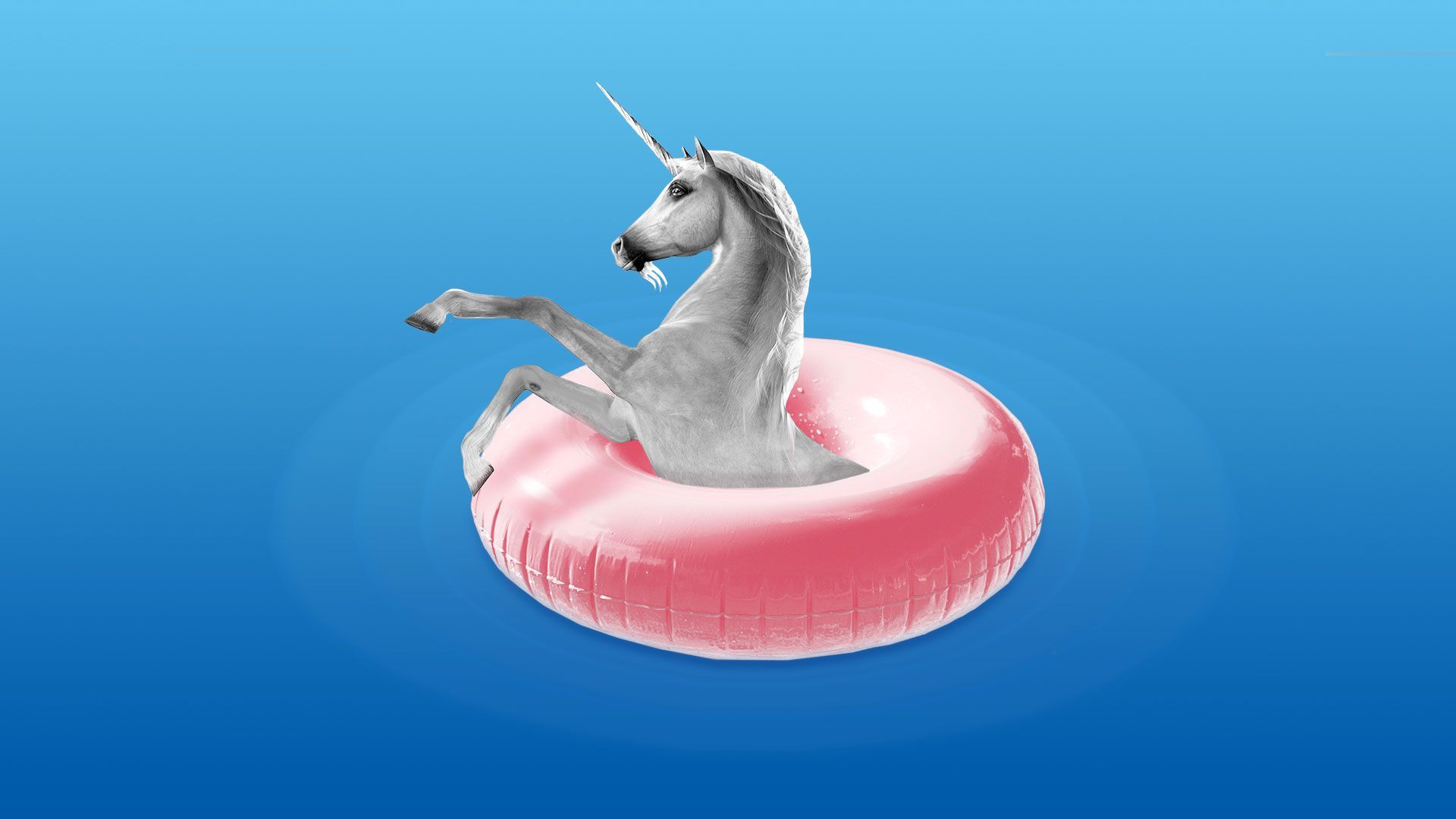 Venture capitalists are galloping through 2023 with blinders, dodging bank collapses and recession projections to invest tens of billions of dollars.
Why it matters: There's a brick wall ahead, covered in thorns and the jagged remnants of neon "exit" signs.
By the numbers: VC funds invested $58.6 billion globally and $32.5 billion into U.S. startups during Q1, according to data released this morning by CB Insights.
That's a major drop from all recent comps, including Q4 and Q1 2022.
But it remains high by historical standards. Quarterly U.S. venture disbursements never topped $30 billion until the beginning of 2018, although it briefly got there during the 2000 dotcom boom if using inflation-adjusted dollars.
Zoom out: Venture capitalists are optimistic by nature, and are being buoyed by a rising Nasdaq (+16% YTD), generative AI buzz and the latest Bitcoin summer (back above 30k).
What they're whistling past, however, is the exit graveyard.
Venture-backed IPOs are a nonentity, the SPAC balloon has deflated, and acquirers are scared of both antitrust regulators and an economic slowdown.
At some point, the amount of money going in (still a lot) must get more severely tempered by the amount of money coming out (virtually nothing). There's an old maxim about how a VC fund only needs one home run per ten at-bats, but right now most funds are being blanked.
The bottom line: Limited partners aren't screaming too loudly yet, in part thanks to waning denominator effects, but expect that to change if exits don't accelerate by the end of Q3.
The BFD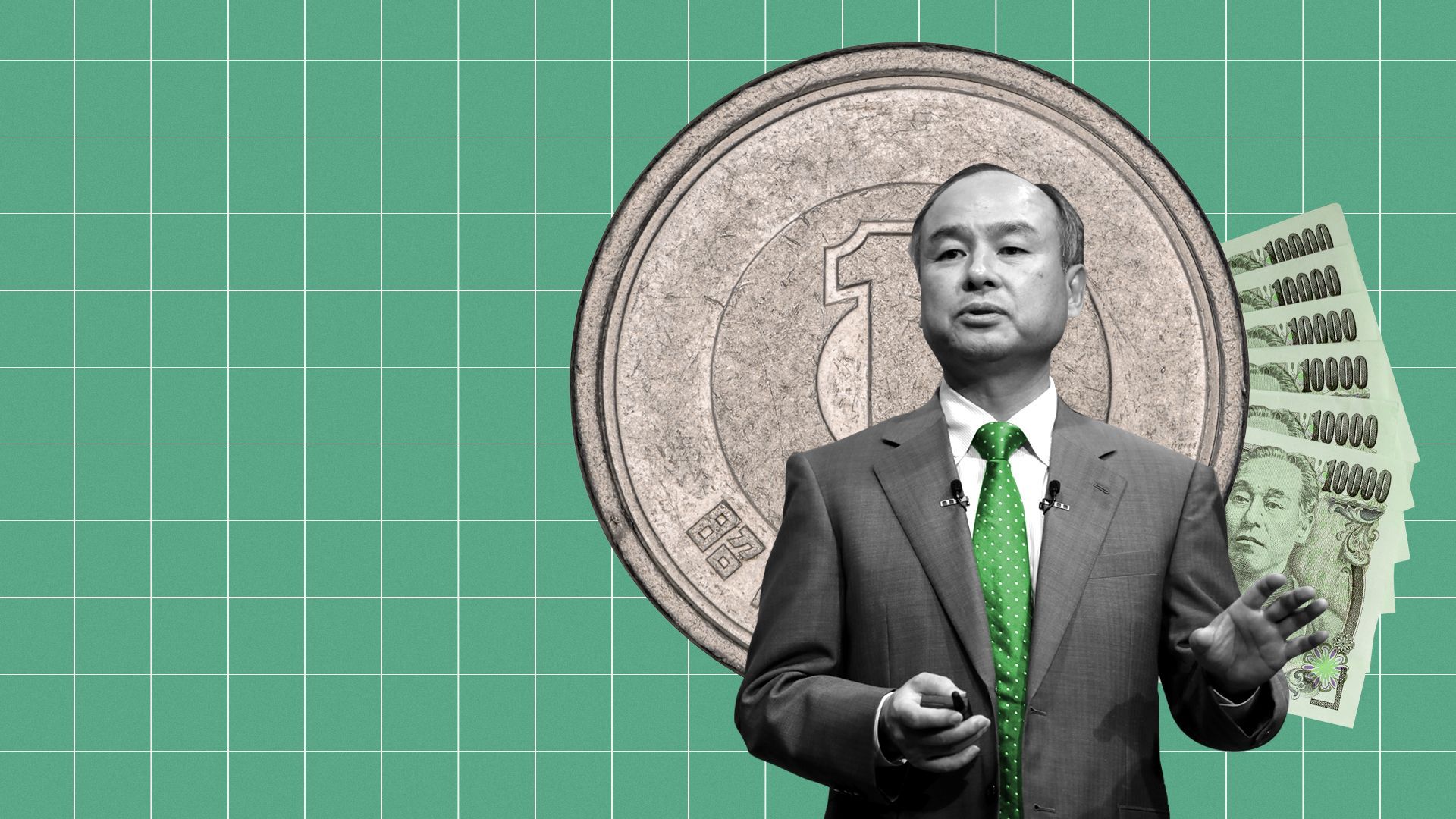 SoftBank Group has agreed to sell SoftBank Ventures Asia to a new entity co-founded by Taizo Son, the younger brother of SoftBank founder and CEO Masayoshi Son.
Why it's the BFD: Beyond the nepotism, this is SoftBank walking away from one of its oldest venture capital efforts. SBVA was launched in 2000 and reports over $2 billion in funds under management.
Details: The Singapore-based acquiring entity is called The Edgeof, and is led by Taizo Son and Atsushi Taira. They previously worked together at a Japanese tech incubator and investment firm called Mistletoe.
The bottom line: "The two brothers have partnered on deals in the past, with SoftBank buying Finnish gamemaker Supercell in 2013 with funding from games maker GungHo Entertainment, then led by the younger Son. The elder Son has also used SoftBank shares as collateral for loans to support Taizo Son's business ventures." — Min Jeong Lee, Bloomberg
Venture Capital Deals
• Clear Street, a New York-based capital markets infrastructure startup, raised $270m in new Series B funding led by Prysm Capital at a $2b valuation. The round total is now $435m. https://axios.link/41189aG
• Altruist, a Culver City, Calif.-based custodian and software provider to the investment adviser industry, raised $112m in Series D funding led by insider Insight Partners, as first reported by Axios Pro. https://axios.link/3KvFXWC
🌎 Infogrid, a London-based building monitoring startup, raised $90m in Series B funding. Insider Northzone led, and was joined by Original Capital, SoftBank Vision Fund 2, Northzone, TVC, JLL Spark, Committed Capital and Pictet. https://axios.link/3mkOQdB
⚡ EnergyX, an Austin, Texas-based lithium extraction startup, raised $50m in Series B funding led by GM Ventures, as first reported by Axios Pro. https://axios.link/43nkkAl
• Carbon, a Seattle-based developer of weeding robots, raised $30m in Series C funding. Sozo Ventures led, and was joined by Anthos Capital, Fuse Venture Capital, Ignition Partners, Liquid 2 and Voyager Capital. https://axios.link/3A8xQKV
• Sei, a layer-1 blockchain focused on trading, raised $30m at what TechCrunch reports is an $800m valuation. Backers include Jump Crypto, Distributed Global, Multicoin Capital, Asymmetric Capital Partners, Flow Traders, Hypersphere Ventures and Bixin Ventures. https://axios.link/3zRMDtg
• NetBox Labs, a New York-based open source spinout from IBM-owned NS1, raised $20m in Series A funding. Flybridge Capital led, and was joined by IBM, Salesforce Ventures, GGV Capital, Mango Capital, Two Sigma Ventures, the Founder Collective, Entrée Capital and Raj Dutt. https://axios.link/3MD6Vhx
⚡ Ryse Energy, an Abu Dhabi-based developer of decentralized renewable energy systems, raised $15m led by RWE Energy Transition. www.ryse.energy
• Alice Technologies, an SF-based construction simulation platform, raised $13m in Series B extension funding from Swire Properties. It also secured debt from Bridge Bank. www.alicetechnologies.com
🚑 ImmuneBridge, an SF-based developer of immunotherapies for hematologic malignancies and solid tumors, raised $12m in seed funding. Insight Partners and M Ventures co-led, and were joined by Merck KGaA, Darmstadt, Germany. One Way Ventures and Gaingels. www.immunebridge.com
🌎 Noya PBC, an SF-based direct air capture startup, raised $11 million in Series A funding, as first reported by Axios Pro. Union Square Ventures and Collaborative Fund co-led, and were joined by Lowercarbon Capital, Fifty Years, MCJ Collective, EQT Foundation, Climate Capital and Nexwell Group. https://axios.link/3zNF5HE
• Kintra Fibers, a maker of bio-based polyester alternatives, raised $8m in Series A funding from H&M and Bestseller's Invest Fwd. https://axios.link/40ZyupB
🚑 MedArrive, a New York-based in-home care enabler, raised $8m led by Cobalt Ventures. https://axios.link/3ZZpEab
• Rupert, a New York-based analytics distribution platform, raised $8m in seed funding. Cortical Ventures and IA Ventures co-led, and were joined by Citi Ventures and Joule Ventures. www.hirupert.com
• DBeaver, an open-source database admin tool, raised $6m in seed funding. Headline led, and was joined by PTV. https://axios.link/3o5auD5
• Martini.ai, a Santa Clara, Calif.-based corporate credit monitoring startup, raised $6m in seed funding. Neotribe led, and was joined by Rocketship.vc. www.martini.ai
• HUG, a Randi Zuckerberg-founded social discovery platform for digital art NFTs, raised $5m in seed funding from OKX Ventures, DIGITAL, L'Oreal's Bold Ventures, Venrex, Jae Holdings, Cryptology and Aa Sons. www.thehug.xyz
🌎 TablePointer, a Singapore-based provider of energy efficiency SaaS, raised $3m in seed funding co-led by Wavemaker Partners, AgFunder and Engie. https://axios.link/3mqPN3Y
• TrustibleTM, a Washington, D.C.-based AI governance startup, raised $1.6m in pre-seed funding. Harlem Capital led, and was joined by VamosVentures. www.trustible.ai
🚑 Nolea Health, a London-based health care jobs marketplace, raised £1m in seed funding led by Frontline Ventures. www.getnolea.com
Private Equity Deals
🚑 Blue Point Capital Partners acquired Eyebobs, a Minneapolis-based reading glasses provider. www.eyebobs.com
• Brookfield Infrastructure Partners agreed to buy Triton International (NYSE: TRTN), the world's largest owner of shipping containers, for $4.7b in cash and stock (35% premium to yesterday's closing price). https://axios.link/3Kthh0R
🚑 The Carlyle Group ended talks around a $15b buyout bid for Cotiviti, Utah-based health care analytics company owned by Veritas Capital, per Bloomberg.
• H.I.G. Capital acquired a majority stake in Office People, a German personnel management and temporary staffing firm that had been backed by Headway Capital Partners. www.office-people.de
• Hunter Point Capital acquired a passive minority stake in Coller Capital, a private equity secondaries firm. www.collercap.com
• Lee Equity Partners and Twin Point Capital agreed to buy Maryland-based wireless infrastructure products provider Tessco Technologies (Nasdaq: TESS) for $161.4m, or $9 per share, and merge it with existing portfolio companies Alliance Corp. and GetWireless. www.tessco.com
• Mitratech, an Austin, Texas-based portfolio company of Ontario Teachers, acquired Seattle-based employee lifecycle platform Trakstar from Turn/River Capital. www.mitratech.com
• OuterBox, an Akron, Ohio-based portfolio company of WILsquare Capital, acquired Trinity Insight, a digital marketing agency with offices in Rochester, Minn. and Philadelphia. www.trinity.one
• PhonePe, an Indian payments and financial services firm, raised $100m from existing backer General Atlantic. https://axios.link/3mlNQWF
• Summit Partners and Peugeot Invest acquired a majority stake in Doctrine, a French legal intelligence company that had raised VC funding from such firms as Bouygues Telecom Initiatives, Frst Capital and Otium Capital. www.doctrine.fr
🚑 Technical Safety Services, a Berkeley, Calif.-based portfolio company of LLCP, acquired Precision Air Technology, a Morrisville, N.C.-based provider of controlled environment testing and certification services for health care and pharma. www.techsafety.com
• Vander-Bend Manufacturing, a San Jose, Calif.-based portfolio company of Aterian Investment Partners, acquired Omni Components, a Hudson, N.H.-based maker of precision mechanical medical products. www.vander-bend.com
SPAC Stuff
🚑 Spectral MD (LSE: SMD), a Dallas-based provider of predictive analytics for clinicians, agreed to merge with Rosecliff Acquisition Corp I (Nasdaq: RCLF), a SPAC that previously agreed to buy B2B on-demand ride company GETT. The deal implies a $170m enterprise value for Spectral MD. https://axios.link/3KSxGx2
Liquidity Events
• Macquarie Group is seeking a buyer for a portfolio of nine Indian highway projects, which could fetch more than $1.5b, per Bloomberg. https://axios.link/43qUjAg
More M&A
• Emerson Electric (NYSE: EMR) agreed to buy National Instruments (Nasdaq: NATI), an Austin, Texas-based maker of testing and measuring equipment, for $8.2b in cash.
Emerson previously made an unsolicited $7.6b cash takeover bid, which caused National Instruments to launch a sale process that would include interest from Fortive (NYSE: FTV) and Keysight (NYSE: KEYS).
• EY called off plans to split its audit and consulting groups into independent companies. https://axios.link/3mr5o3y
• Glencore (LSE: GLEN) restructured its unsolicited $22.5b takeover bid for Canadian miner Teck Resources (TSX: TECK) to now include $8.2b in cash. https://axios.link/3zXBhUg
• Tyler and Cameron Winklevoss lent $100m to their crypto exchange Gemini Trust Co., per Bloomberg. https://axios.link/3MsRybz
Fundraising
• Future Ventures, a firm co-led by Steve Jurvetson and Maryanna Saenko, raised $200m for its third fund. https://axios.link/3mq3kss
• HPS Investment Partners raised $17b for its fifth flagship junior credit fund. www.hpspartners.com
• Overwater Ventures, led by Kristina Simmons (ex-a16z, Khosla Ventures), raised $20m for its debut fund. www.overwater.vc
• Pantheon raised $2.4b for its fifth private equity co-investment fund. www.pantheon.com
It's Personnel
• HSBC USA said it has hired more than 40 bankers from Silicon Valley Bank, with plans to "establish a dedicated banking practice focused on the innovation economy."
The new effort will be led by David Sabow, who's joined by other SVB vets like Sunita Patel (investor coverage/biz dev), Katherine Andersen (head of life sciences/health) and Melissa Stepanis (head of tech).
• Chris Crampton joined Blue Owl Capital as head of a new strategic equity strategy, which will focus on single-asset, GP-led secondaries. He previously was with Goldman Sachs. www.blueowl.com
• Morgan LeConey joined Macquarie Capital as a managing director and head of U.S. consumer and retail. He previously was with Nomura. www.macquarie.com
• Michael Olson joined Deepwater Asset Management as a venture partner. He previously was CFO of esports and gaming contest firm Version1. www.deepwatermgmt.com
• Mark Shafir is stepping down as Citigroup's co-head of global M&A, per the WSJ. https://axios.link/40g18lr
Final Numbers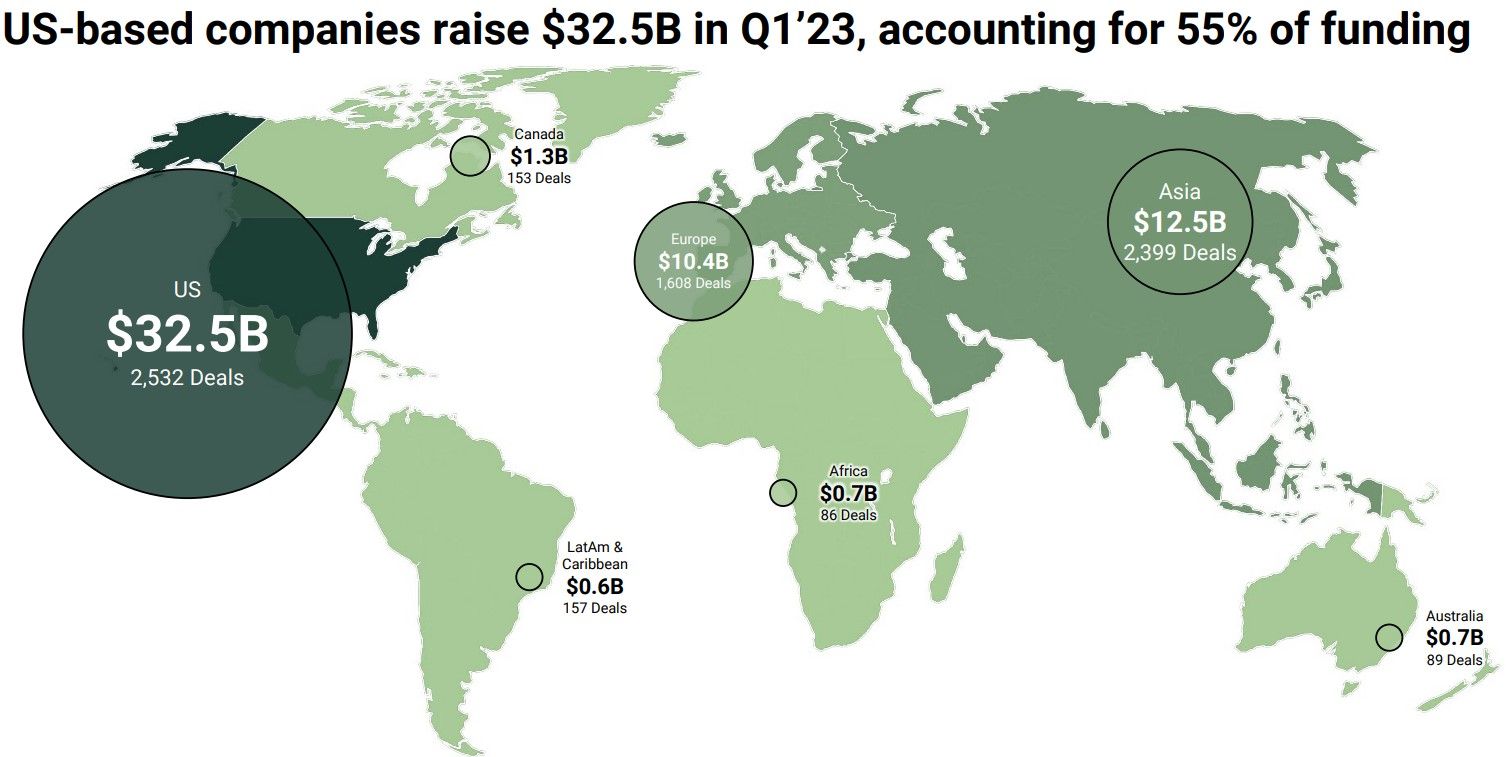 Thanks for reading Axios Pro Rata, and to copy editor Mickey Meece! Please ask your friends, colleagues and inflation watchers to sign up.