Axios Pro Rata
June 09, 2023
Top of the Morning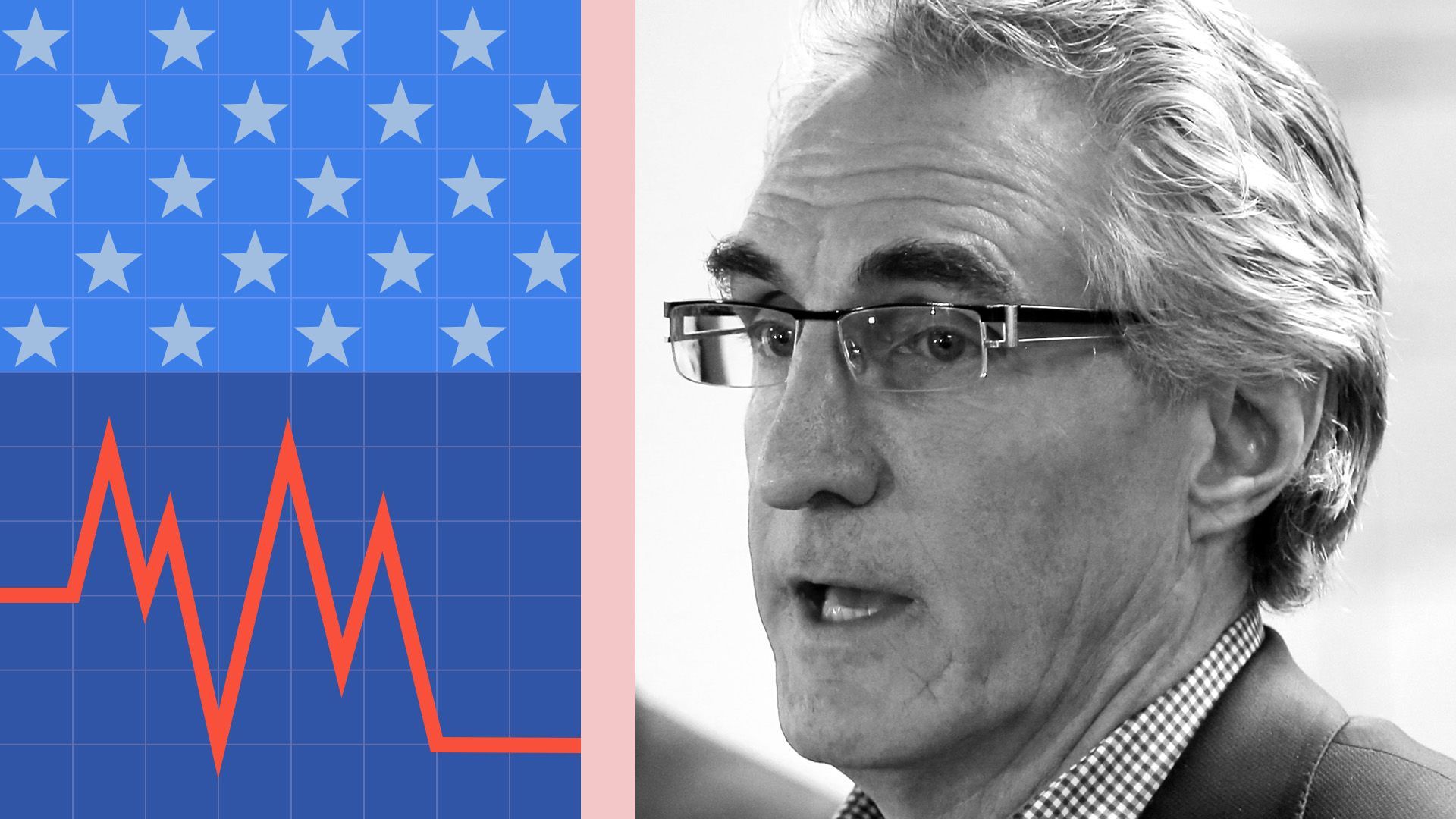 Yesterday we discussed how some venture capitalists are supporting a longshot presidential candidate.
Today it's worth noting that there's also a longshot presidential candidate who used to be a venture capitalist.
Driving the news: North Dakota Gov. Doug Burgum this week launched his bid for the GOP nomination, first via a WSJ op-ed and then a Wednesday event in Fargo.
Burgum in 1983 founded Great Plains Software, which Microsoft acquired in 2001 for $1.1 billion. That's right, a North Dakota unicorn.
He'd remain with Microsoft until 2007, after which he and his son James launched a venture capital firm called Arthur Ventures (named after the small farming town where Burgum was raised).
Arthur Ventures focuses on B2B software startups based outside of Silicon Valley. It's raised around $1.1 billion for its funds, including $300 million for its fifth flagship fund and $170 million for its fourth growth fund earlier this year.
What they're saying: Patrick Meenan, a general partner with Arthur Ventures who previously worked on M&A deals for Microsoft, says of Burgum: "His entrepreneurial spirit, software expertise, and experience building market-leading businesses have had a long-lasting impact on our firm. Doug stepped back from a day-to-day role in 2016 in conjunction with his run for Governor of North Dakota and solely serves in a limited partner role today."
The big picture: Burgum is eschewing social issues to focus his campaign on energy and the economy, even joking in his kickoff speech that "woke" to North Dakotans just means waking up at 5am.
As an aside: An eagle-eyed reader remembered that RFK Jr. also once had a VC gig, as a venture partner with VantagePoint Capital Partners.
The bottom line: Burgum may look at RFK Jr.'s paltry poll numbers and name recognition with envy, prompting speculation that his real goal is to raise North Dakota's economic profile. But Burgum does have a small town success story that could play in Iowa, and the personal fortune to stick with it.
The BFD
Uncommon, a British cultivated bacon startup previously known as Higher Steaks, raised $30 million in Series A funding co-led by Balderton Capital and Lowercarbon Capital.
Why it's the BFD: Venture capitalists continue to plug big money into lab-grown meat startups, even though the products themselves remain illegal in every country but Singapore.
The U.S. FDA last fall completed its first pre-market consultation of cultivated food, focused on poultry developed by VC-backed "unicorn" Upside Foods. It found the product to be safe for human consumption, but there still are numerous steps before it could hit store shelves, including a full USDA inspection.
Other investors include Redalpine, East Alpha and Sam and Max Altman.
The bottom line: "Being able to produce large enough quantities of cultured meat at a low enough price is problematic, with some companies pursuing a hybrid lab-grown meat / plant-based protein approach to get their products to market faster. Uncommon, though, says it's using a technique ... which essentially contains 'instructions' that enable cells to make proteins from its own internal functions." — Paul Sawers, TechCrunch
Venture Capital Deals
🚑 Upstream Bio, a Waltham, Mass.-based developer of therapies to treat inflammation, raised $200m in Series B funding. Enavate Sciences and Venrock co-led, and were joined by Bain Capital Life Sciences, Wellington Management and insiders OrbiMed, Access Biotechnology, Decheng Capital, Altshuler Shaham Provident Funds, TCG X, HBM Healthcare Investments, Omega Funds and Samsara BioCapital. www.upstreambio.com
🚑 Carta Healthcare, an SF-based clinical data company, raised $25m in Series B funding from Memorial Hermann Health System and UnityPoint Health. www.carta.healthcare
🚑 Yuvo Health, a New York-based provider of admin software for community health centers, raised $20.2m in Series A funding. Mastry Ventures led, and was joined by AlleyCorp, AV8 Ventures, New York Ventures, HLM Venture Partners, Route 66 Ventures, VamosVentures and Social Innovation Fund. www.yuvohealth.com
• Lens Protocol, developer of a decentralized social networking ecosystem, raised $15m. IDEO CoLab Ventures led, and was joined by General Catalyst, Variant and Blockchain Capital as a group of DAOs. https://axios.link/3CjFN0Q
• HyperPlay, a web3 game launcher, closed a $12m Series A round co-led by Griffin Gaming Partners and Bitkraft Ventures. https://axios.link/3MWbfHo
• Driver Technologies, a New York-based developer of driver safety solutions, raised $6m from IA Capital, CT Innovations, Liberty Mutual Strategic Ventures, State Auto Labs, Social Entrepreneurs' Fund, ID8 Investments, C2 Ventures and Kapoor Capital. www.drivertechnologies.com
Private Equity Deals
• Bain Capital invested in KP Aviation, a Mesa, Ariz.-based provider of aviation aftermarket materials and services. Sellers include Balmoral Funds. https://axios.link/3Xdtz3z
• Brookfield Asset Management agreed to buy MENA-focused digital commerce firm Network International Holdings (LSE: NTW) for around £2.2b. https://axios.link/448V5Bx
🚀 Firefly Aerospace, a Cedar Park, Texas-based portfolio company of AE Industrial Partners, acquired orbital vehicle maker Spaceflight. https://axios.link/3Js979t
• PSG made a growth investment in Loopback Analytics, a Dallas-based provider of health system and academic medical center analytics. www.loopbackanalytics.com
Liquidity Events
• Kingsway Capital is considering a sale or IPO of Dubai-based tobacco business Advanced Inhalation Rituals, per Reuters. https://axios.link/45XwvoE
• Permira is considering a sale or IPO of Golden Goose, an Italian luxury sneaker maker that could fetch more than €2.5b, per Bloomberg. https://axios.link/3J4cVgB
• Visa (NYSE: V) is in advanced talks to buy Brazilian banking and payments startup Pismo, which could fetch $1b, per Bloomberg. Pismo has raised over $100m from backers like Accel, Amazon and SoftBank. https://axios.link/3oUKFGx
More M&A
• Batory Foods, a Rosemont, Ill.-based food and ingredients distributor, acquired Tri-State Companies, a food ingredients broker, distributor and logistics provider. https://axios.link/3Cg3CXc
• BuzzFeed (Nasdaq: BZFD) is exploring a sale of Complex Networks, per The Information. https://axios.link/3WRJEM5
• Casino (Paris: CO), a French supermarket chain, ended merger talks with Teract (Paris: TRACT), and three French businessmen (including Xavier Niel) reportedly are prepping their own bid for Casino. https://axios.link/45VoOzu
⚡ Energy Income Partners said it plans to vote against ONEOK's (NYSE: OKE) $18.8b acquisition offer for Tulsa, Okla.-based pipeline operator Magellan Midstream Partners (NYSE: MMP). EIP is one of Magellan's top shareholders with a 3.1% stake. https://axios.link/42ymEmu
• Investec (LSE: INVP) acquired a majority stake in Capitalmind, a Dutch corporate finance advisory. https://axios.link/3MY7ZLv
⚡ Irving Oil, owner of Canada's largest refinery, launched a strategic review that could include a full or partial company sale. https://axios.link/3WYzGIT
🚲 Ivan Glasenberg, former Glencore CEO, is in talks to buy Italian bicycle maker Cicli Pinarello, per Bloomberg. https://axios.link/42x2sS3
Fundraising
• NOVA Infrastructure, a New York-based midmarket infrastructure PE firm, is raising $1b for its second fund, per the WSJ. https://axios.link/3P3OZOh
It's Personnel
• Julien Bek is joining Sequoia Capital as a London-based partner, per Insider. He previously was a principal with Accel. https://axios.link/3WTJ0xy
• Hafize Gaye Erkan, former co-CEO of First Republic Bank, was named a governor of Turkey's central bank. https://axios.link/43IeKIk
• Peter Mahoney joined HarbourVest Partners as a managing director and head of fund accounting. He previously was with Vanguard. www.harbourvest.com
• Prudential Financial named Nina So and Jonathan Raskin as co-heads of private equity, succeeding the retiring Susan Garrett, per Buyouts. https://axios.link/3N1Ggtu
• Tracey Zaccone (ex-Paul Weiss) and David Teh (Latham & Watkins) joined Simpson Thatcher as co-head of the law firm's alternative capital and private credit practice. www.simpsonthatcher.com
Final Numbers
Dealmakers are on pins and needles ahead of next week's Fed decision on rates, but Axios' Neil Irwin suggests that we can get some clues from the bond markets. In short, he writes, the central bank's war on inflation is effectively won.
The five-year breakeven rate is consistent with the Fed's 2% inflation rate, whereas last spring it was running much higher.
One big caveat, however, is that bond investors have been wrong before, including in the spring of 2021.
Thanks for reading Axios Pro Rata, and to copy editor Mickey Meece! Please ask your friends, colleagues and bacon cultivators to sign up.