Axios Pro Rata
August 21, 2020
Top of the Morning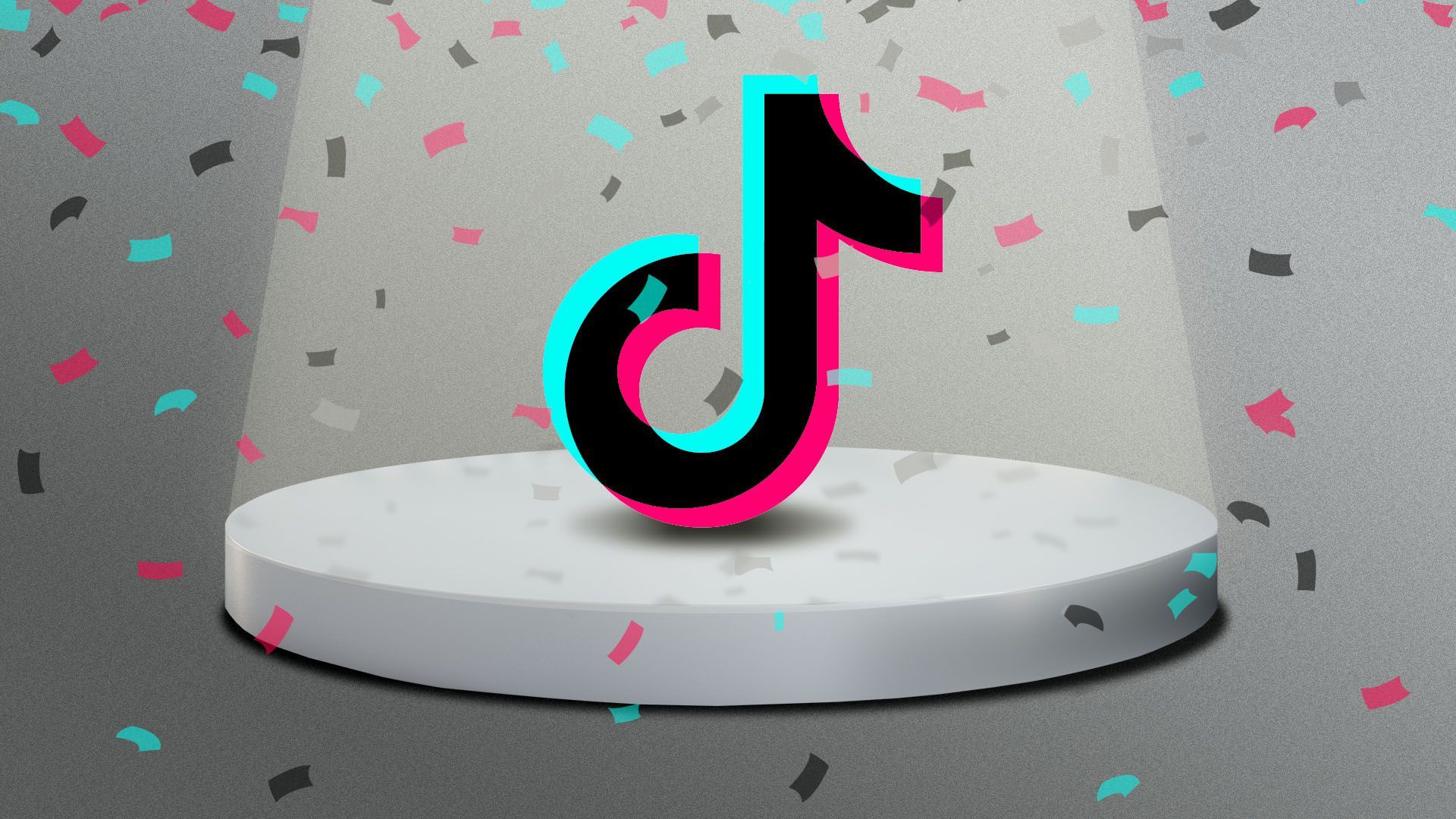 The TikTok shot clock is down to just 25 days, by which time it either has a deal for its U.S. business or has a presidential shutdown notice pinned to its back.
The state of play: Everyone is taking this timeline very seriously. It's possible that President Trump would give an extension, or find another rhetorical wriggle to save millennial face, but those close to the situation say it's a risk they have no intention of taking.
This situation is unique, which means regular M&A rules don't really apply. The negotiations are trilateral, but perhaps thought of as quadrilateral. So, with all of that in mind, here are the current odds:
Microsoft: 2-1
Microsoft was first to this party, spending weeks negotiating with the White House before word of its involvement leaked. When the shot clock began, it felt it had its D.C. ducks in order, giving it a chance to work unimpeded with ByteDance, TikTok's parent company in China, which appeared to have a binary choice of Microsoft or bust.
It remains the favorite, with by far the largest bankroll, but is no longer the only legitimate contender.
Oracle: 5-2
This is about Oracle's desire to dominate in the cloud. And it doesn't hurt that Oracle chairman Larry Ellison and CEO Safra Catz are presidential pals. Catz also is on the board of Walt Disney Co., the former home of TikTok CEO Kevin Mayer. Its involvement is very serious, but it got a late start.
One wildcard is Oracle's apparent plan to partner with existing several U.S. VC firms that have current stakes in ByteDance. That helps Oracle in terms of affording the deal, but may make it harder to prove separation from China.
Twitter: 20-1
Twitter really has been kicking the tires, which is Jack Dorsey's way of admitting he really messed up by killing Vine instead of nurturing it. And it makes all sorts of synergistic sense.
But the challenges are huge. For starters, Twitter isn't rich enough to just reach into its checkbook. It either needs a financial sponsor or other way to avoid ByteDance from maintaining an equity interest. And then there's the whole Twitter vs. Trump drama — and this President is unlikely to separate the personal from the political.
No deal at all: 30-1
ByteDance is between a rock and a hard place, and has a fiduciary duty to get value for TikTok. But it could decide that no deal is better than a bad deal, if the politics at home get too hot. There's also the possibility that it will reach an agreement, but not one that the White House approves of.
Oracle involvement makes the consummation of a deal much more likely, because it should boost the price, and ByteDance gets the consolation prize of TikTok business outside of the four or five countries expected to be carved out.
The bottom line: There's never been a deal process like this before. So if this was Vegas, all bets might be off.
Also...
Robert Smith, the philanthropist billionaire who founded and leads Vista Equity Partners, is under federal investigation for tax crimes, as reported by Bloomberg and confirmed by Axios.
The alleged improprieties relate to early Vista proceeds that Smith directed to his charitable foundation.
This has been roiling Vista for more than a year, given that there does not seem to be a formal succession plan were Smith to step down or be asked to step down.
I have spoken to numerous Vista limited partners over the past few months about this situation, only one of whom claimed to know about it.
Smith is widely believed to have political aspirations, possibly in Texas, and any criminal finding would certainly put a crimp in those plans.
To reiterate: No charges have yet been filed, nor has there been a settlement. It's possible this will all blow over.
Read the Bloomberg piece by going here.
The BFD
Former House Speaker Paul Ryan is preparing to lead a $300 million SPAC, sponsored by private equity firm Solamere Capital, as reported yesterday by the Wall Street Journal.
Why it's the BFD: A bit humbling for Ryan to be in the headlines for a SPAC on the very same day that Joe Biden, against whom he ran for VP eight years ago, was giving his presidential nomination acceptance speech.
Details: Solamere is led by Tagg Romney, the son of former Ryan running mate Mitt Romney, who once chaired the firm. Ryan will serve as SPAC chairman, while its CEO will be Alex Dunn (ex-president of Vivint Smart Home) and the lead undwriter is Evercore.
Bottom line: "ENPC, which will serve as the new vehicle's ticker symbol, will be a twist on the traditional SPAC, with longer-term incentives for its backers and potentially slimmer fees for underwriters." — Maureen Farrell, WSJ
Venture Capital Deals
• Lambda School, a San Ramon, Calif.-based coding school, raised $74 million in Series C funding led by Gigafund. Past BFD coverage.
• BlockFi, a Jersey City, N.H.-based cryptocurrency lender, raised $50 million in Series C funding. Morgan Creek Digital led, and was joined by Valar Ventures, CMT Digital, Castle Island Ventures, Winklevoss Capital, SCB 10X, Avon Ventures, Purple Arch Ventures, Kenetic Capital, HashKey, and two unnamed university endowments. http://axios.link/nkNl
• Drizly, a Boston-based alcohol e-commerce and delivery service, raised $50 million in Series C funding. Avenir led, and was joined by Tiger Global Management. http://axios.link/OLL4
🚑 Exo, a Redwood City, Calif.-based developer of a handheld ultrasound device, raised $40 million in new Series B funding co-led by affiliates of Magnetar Capital and Action Potential VC. Others backers include TDK Ventures, Solasta Ventures, Intel Capital, and Applied Ventures. http://axios.link/9p0O
• Quuppa, a Finnish developer of real-time locating systems, raised €20 million from Bocap and TCG. http://axios.link/mb8C
• Fetch, an off-site package solution for apartment communities, raised $18 million in Series B funding. Iron Gate Capital and Pando Ventures co-led, and were joined by return backers Signal Peak Ventures, Silverton Partners, Seamless, and Venn Ventures. www.fetchpackage.com
• Yalochat, a Mexico City-based conversational commerce platform, raised $15 million in Series B funding. B Capital Group led, and was joined by return backer Sierra Ventures. http://axios.link/4b1m
• FarEye, an Indian mobile field workforce management platform, raised $13 million in new Series D funding from Fundamentum Partnership and KB Global Platform Fund. http://axios.link/7pzJ
• Shef, a San Francisco-based homemade food marketplace, raised $8.8 million in seed funding from Craft Ventures, M13, and YC. http://axios.link/4a4S
• iFarm, a Finland-based developer of vertical farming tech, raised $4 million in seed funding. Gagarin Capital led, and was joined by Matrix Capital, Impulse VC, and IMI.vc. http://axios.link/5Co3
Private Equity Deals
🚑 CTS Bioprocessing, a British maker of silicone rubber components owned by 3i Group, acquired Sani-Tech West, a Camarillo, Calif.-based maker of single-use products for bioprocessing. www.silalt.co.uk
• Despegar (NYSE:DESP), an Argentina-based travel booking site, raised $150 million from L Catterton. http://axios.link/IySM
Public Offerings
🚑 Kymera Therapeutics, a Watertown, Mass.-based biotech focused on protein degradation, raised $174 million in its IPO. The company priced 8.7 million shares at $20, versus plans to offer 7.4 million at $16–$18, and will trade on the Nasdaq (KYMR) with Morgan Stanley as lead underwriter. It had raised over $200 million in VC funding from Atlas Venture (26.7% pre-IPO stake), Vertex Pharma (7.3%), Lilly Ventures (6.5%), Pfizer (5.2%), 6 Dimensions (5.2%), Bessemer Venture Partners (5.2%), Redmile Group, Bain Capital Life Sciences, Wellington Management, Janus Henderson, BlackRock, and Rock Springs Capital. http://axios.link/RwcO
SPAC Stuff
• Horizon Acquisition, a financial services-focused SPAC formed by Todd Boehly of Eldridge Industries, raised $500 million in its IPO. http://axios.link/fF9e
• FAST Acquisition, a restaurant/hospitality-focused SPAC, raised $200 million in its IPO. http://axios.link/0Vwc
More M&A
• Apple (Nasdaq: AAPL) acquired and shuttered Camerai (fka Tipit), an Israeli AR and computer vision startup. http://axios.link/8sz4
• China Baowu Steel Group, China's largest steelmaker, agreed to acquire a 51% stake in listed Chinese stainless steelmaker TISCO. The position is valued at around $2.1 billion. http://axios.link/FQTw
• Kadenwood, a Newport Beach, Calif.-based provider of CBD products, agreed to buy hemp seed manufacturer EcoGen Laboratories. http://axios.link/Jrkz
• MobileIron (Nasdaq: MOBL) is exploring strategic options that could include a sale, per Bloomberg. The infrastructure software company closed trading yesterday with around a $700 million market cap, but shares climbed upwards of 21% in aftermarket trading on the news. http://axios.link/bgl0
🚑 Relx (LSE: REL) agreed to buy SciBite, a British provider of big data analytics to the life sciences market, for a reported £65 million. http://axios.link/tDAL
⛽ Royal Dutch Shell said it's considering a sale of Gasnor, a Norwegian natural gas supplier. http://axios.link/hXIb
• Wuthelam Group of Singapore agreed to increase its stake in Nippon Paint Holdings (Tokyo: 4612) for around $12.2 billion. http://axios.link/8smL
It's Personnel
• Brittany Cash left Edelman to join Ares Management as VP of public IR and communications. www.aresmgmt.com
Final Numbers
⛽ Go deeper: Biden emphasizes climate during his biggest moment
🎧 Axios Re:Cap digs into Joe Biden's plans for green energy jobs and fracking with New Mexico Gov. Michelle Lujan Grisham, whose state is a major player in both renewable energy and fossil fuels. Listen via Apple or via Axios.
🙏 Thanks for reading Axios Pro Rata! Please ask your friends, colleagues, and TikTok influencers to sign up.