Axios Pro Rata
April 08, 2022
🍀 Good luck today to all the teams competing in the VCIC Global Finals in Chapel Hill. Sorry I'm not there. Remember, aim for second place — because first place buys the first round tomorrow night at Top of the Hill...
Top of the Morning
Today's column didn't quite come together in time, so a few assorted notebook items as we head into the weekend:
🍅 Shots fired: Peter Thiel yesterday played to the crypto crowd in Miami, insulting skeptics like Jamie Dimon and Larry Fink. But he saved his sharpest barbs for Warren Buffett, who he called "the sociopathic grandpa from Omaha."
Sure it was all childish. And agist. But it also was a reminder of the sharp lines drawn around web3. Believers and nonbelievers can't both be right, and there will be financial consequences for whichever side is wrong.
🗣️ European competition commissioner Margrethe Vestager yesterday emphasized that she prefers Big Tech compliance, not breakups, during a Twitter Spaces conversation with me and Axios' Ashley Gold.
She also disputed the idea that Finnish crane companies Cargotec and Konecranes were jurisdiction shopping when they got EU approval for the megamerger that was later scrapped due to U.K. and U.S. opposition.
Listen to a full reply. Skip past the first few minutes, as Vestager was delayed because her iPhone's microphone had been disabled for Twitter by her privacy settings.
💰 More crypto: One-stop checkout company Bolt yesterday announced plans to acquire VC-backed crypto infrastructure company Wyre, with sources pegging the price tag at $1.5 billion.
That makes it the largest-ever crypto merger that doesn't involve a SPAC, and also is what exec chair Ryan Breslow teased during our Axios What's Next Summit interview in D.C.
It's also worth noting that Bolt is no longer raising that Series E-2 round at a $14 billion valuation. Word is it's holding off a bit to pin down more big customers and, thus, a larger valuation. Unclear how that effort will be impacted by Fast's failure; positively because of less competition, or negatively because it's a well-funded failure in the sector.
💼 Trust but verify: Yesterday we noted a $15m Series A round for an employee background check startup called KarmaCheck. Worth mentioning that it's led by a LinkedIn co-founder named Eric Ly, who argues the startup is needed because so much resume data on LinkedIn is bogus.
"When I did my research, I was surprised by the level of faked information on LinkedIn profiles," Ly tells me. "I don't think they've fallen down on the job, and LinkedIn was essential in getting people's professional and educational information online, but the next evolution is adding robustness and verification to the data."
The BFD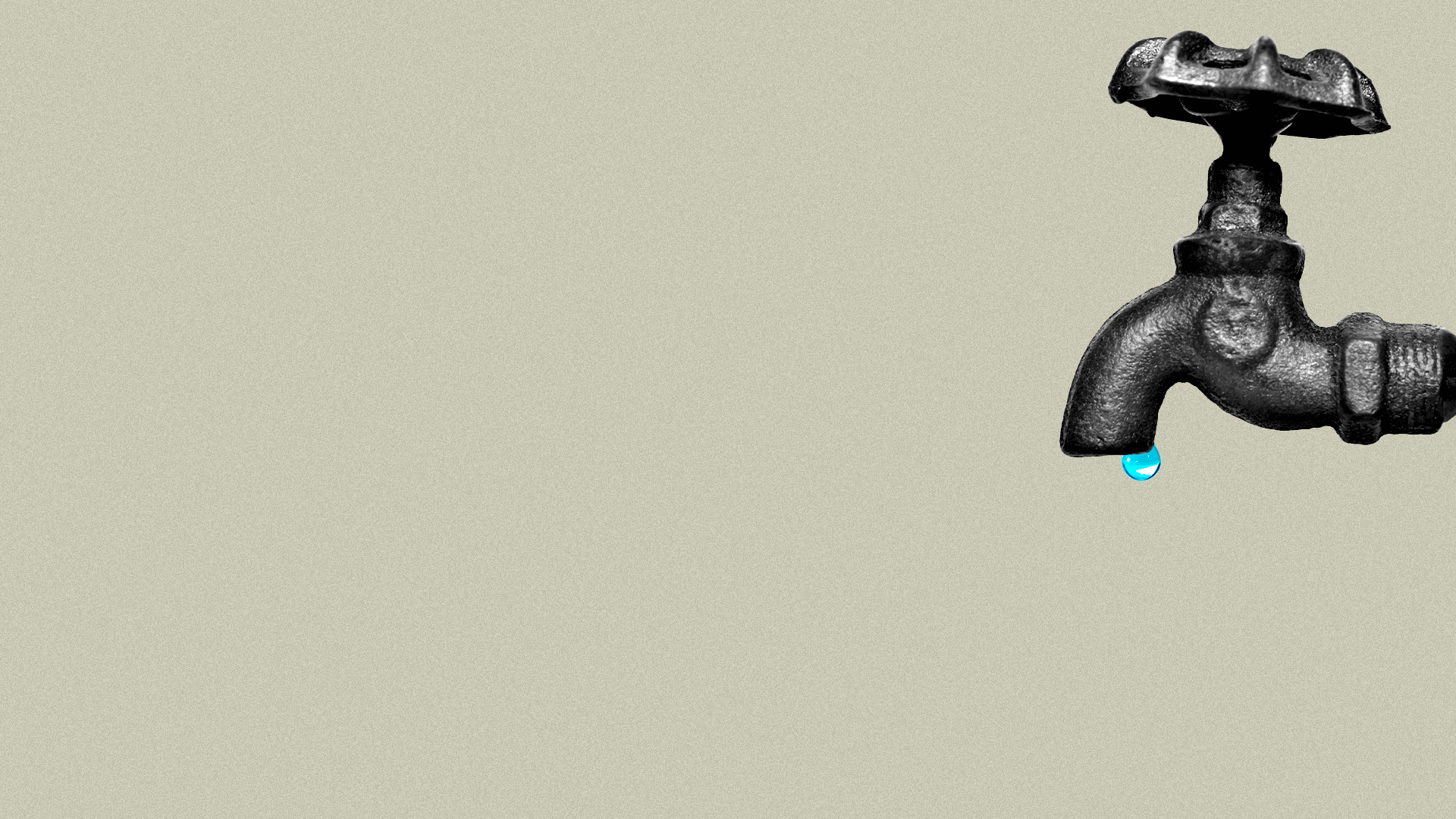 Aclarity, a Hadley, Mass.-based solution for eliminating PFAS (aka forever chemicals) from drinking water and wastewater, raised $3.3m in seed funding.
Why it's the BFD: PFAS have been tied to numerous forms of cancer, which is why the federal government has devoted increased spend and attention on cleanup. Right now that means filtering the chemicals and then disposing of them elsewhere, like in landfills or deep-injection wells, but Aclarity claims its tech can actually destroy PFAS.
Other investors include DCVC, MassVentures and UMass Maroon Fund.
The bottom line: "The company's target customers are owners of centralized waste treatment facilities that process multiple streams of concentrated industrial wastewater and landfill leachate. While PFAS is not regulated as hazardous waste, customers are paying $60 per 1,000 gallons, including changing out filters every other day." — Jeff Kart, Forbes
Venture Capital Deals
• Netomnia, a British fiber broadband startup, raised £295m. DigitalBridge Investment Management led, and was joined by Advencap and Soho Square Capital. http://axios.link/uY3u
🌎 Enerkem, a Montreal-based developer of renewable fuels and chemicals from waste, raised $255m in new equity and convertible debt funding. Repsol led ($75m equity/$95m debt), and was joined by Suncor Energy, Monarch Alternative Capital and Avenue Capital Group. http://axios.link/IJ88
• Jüsto, a Mexico City-based online grocer, raised $152m in Series B funding. General Atlantic led, and was joined by Tarsadia Capital, Citius, Arago Capital, Foundation Capital and Quiet Capital. http://axios.link/UzZq
🚑 Viz.ai, an AI to detect aneurysms, raised $100m in Series D funding at a $1.2b valuation. Tiger Global and Insight Partners co-led, and were joined by Scale Ventures, Kleiner Perkins, Threshold, GV, Sozo Ventures, CRV and Susa Ventures. http://axios.link/8qgB
• SamCart, an Austin, Texas-based sales platform aimed at content creators, raised $82m, as first reported by Axios Pro. Eldridge led, and was joined by TTV Capital, Fin VC, the George Kaiser Foundation and eGateway Capital. http://axios.link/MbSS
• Lilt, an Stanford, Calif.-based enterprise translation software and services company, raised $55m in Series C funding. Four Rivers led, and was joined by Sorenson Capital, CLEAR Ventures, Wipro Ventures and insiders Sequoia Capital, Intel Capital, Redpoint Ventures and XSeed Capital. www.lilt.com
🚑 Eleanor Health, a Mooresville, N.C.-based addiction support startup, raised $50 million in Series C funding, as first reported by Axios Pro. General Catalyst led, and was joined by Warburg Pincus, Town Hall Ventures, NorthPond Ventures and Rethink Impact. http://axios.link/HEqM
• Landline, a bus service for airlines, raised $28m in Series A funding. Drive Capital led, and was joined by Upfront Ventures, Tusk Venture Partners and Matchstick Ventures.
🌎 E-Zinc, a Toronto-based developer of zinc-air batteries, raised US$25m in Series A funding. Anzu Partners led, and was joined by BDC Capital, Toyota Ventures, Eni Next and insider Energy Foundry. www.e-zinc.com
• Leaft Foods, a New Zealand-based alt protein startup, raised $15m led by Khosla Ventures, as first reported by Axios Pro. http://axios.link/9U11
• Dyte, an Indian video call infrastructure startup, raised $11.6m in seed funding from Unbound, Surge and Nexus Venture Partners. http://axios.link/aI5H
• Overwatch Imaging, a Hood River, Ore.-based provider of airborne imaging systems for piloted aircraft and drones, raised $11m in Series A funding. Squadra Ventures and Shield Capital co-led, and were joined by L3Harris Technologies and Bridger Aerospace. www.overwatchimaging.com
• Finkargo, a Bogota-based SME import finance platform that provides credit underwriting, raised $7.5m in seed funding. Quona Capital and MAYA co-led, and were joined by OneVC, FlyBridge, Pear VC, Latitud and Angel Ventures. www.finkargo.com
• Revea, an SF-based skin care startup, raised $6m in seed funding. Alpha Edison led, and was joined by Ulta Beauty, WaldenCast Ventures, GISEV, Verlinvest and Kathaka. www.myrevea.com
• Flow Club, an SF-based virtual community for remote and flexible workers, raised $5m in seed funding led by Worklife Ventures. www.flow.club
• Peeba, a Hong Kong-based B2B wholesale marketplace startup, raised $3.2m in seed funding led by Headline Ventures. http://axios.link/miu
• Lucky, a product merchandising software startup, raised $3m led by Unusual Ventures. http://axios.link/JUBg
🚑 NationsBenefits, a Plantation, Fla.-based provider of supplemental benefits to health plans, raised an undisclosed amount of growth funding led by General Atlantic. Return backers included The Pritzker Organization and Denali Growth Partners. www.nationsbenefits.com
🐉 Correction: Fanatics yesterday disclosed that the NFL invested $320m to lead its latest funding round, $1.5b at a $27b valuation, but this was part of the same $1.5b round that Fanatics first disclosed last month.
Private Equity Deals
• Brookfield Business Partners agreed to buy CDK Global (Nasdaq: CDK), an Illinois-based provider of auto dealership software, for $6.4b, or $54.87 per share (30% premium to CDK stock before February reports of a possible deal). http://axios.link/KQ1s
• BV Investment Partners bought a majority stake in Source Advisors, a Ft. Worth, Texas-based provider of SMB tax software. www.sourceadvisors.com
🚑 Gryphon Investors bought Vision Innovation Partners, an Annapolis, Md.-based eye care services provider, from Centre Partners. www.visioninnovation-partners.com
• Hellman & Friedman agreed to buy a majority stake in Information Resources, a Chicago-based market analytics firm owned by New Mountain Capital and Vestar Capital Partners, and merge it with existing portfolio company NPD Group. The combined company would be valued at more than $8b (including debt), with NMC and Vestar remaining minority shareholders, per Bloomberg. http://axios.link/FCoz
• Huron Capital Partners agreed to buy the parent company of Indianapolis-based Hoosier Logistics, which will be merged with existing portfolio company Direct Connect Logistix. www.hoosierlogistics.net
• Peak Technologies, a Columbia, Md.-based portfolio company of Sole Source Capital, acquired Graphic Label, a Yakima, Wash.-based automatic identification and data capture company. www.peaktech.com
🚑 GrowthCurve Capital agreed to buy Revecore, a Franklin, Tenn.-based provider of hospital revenue cycle management software, at what Axios Pro reports is a valuation north of $500m. http://axios.link/tLNC
⚡ Sentinel Capital Partners bought SPL, a Houston-based provider of testing, inspection, and certification for the energy and environmental markets, from Industrial Growth Partners. www.spl-inc.com
• Toshiba (Tokyo: 6502) said it will form a special committee to evaluate offers from private equity firms (e.g., Bain Capital) and other investors, two weeks after company management failed to secure shareholder support for a breakup plan. http://axios.link/jOmJ
• TSG Consumer Partners acquired a majority stake in Cadogan Tate, a London-based packaging and logistics firm, from H2 Equity Partners. www.cadogantate.com
• U.K. competition officials suggested that Clayton Dubilier & Rice will get approval for its £7b buyout of grocer Wm Morrison, based on its offer to dispose of affiliated gas stations. http://axios.link/fTWD
🚑 Vistria Group and Excellere Partners agreed to buy SCA Pharma, a Little Rock, Ark.-based outsourced drug compounder, for $125m. www.scapharma.com
• Worldwise, a Novato, Calif.-based portfolio company of A&M Capital Partners, bought Pet Factory, a Mundelein, Ill.-based maker of pet chews and treats. www.worldwise.com
Public Offerings
🚑 HilleVax, a Boston-based Takeda Pharma spinout with a norovax candidate, filed for an IPO. It plans to list on the Nasdaq (HLVX) and had raised $135m from firms like Frazier Healthcare Partners. http://axios.link/7Hgu
• Kokusai Electric, a Japanese chip equipment maker owned by KKR, is prepping what could be Tokyo's largest IPO in three years, per Reuters. http://axios.link/8BGI
• Vinfast, an EV automaker spun out of Vietnam's Vingroup, filed confidential U.S. IPO papers. http://axios.link/muiL
SPAC Stuff
• Caravelle Group, a provider of international ocean shopping and wood desiccation services, agreed to go public at an implied $527m valuation via Pacifico Acquisition Corp. (Nasdaq: PAFO). http://axios.link/ga7S
Liquidity Events
• Airbyte, an SF-based data connector platform valued at $1.5b by VCs, acquired Grouparoo, an SF-based data synchronization startup seeded by Eniac Ventures and Fuel Capital. http://axios.link/ERMN
⚡ Delek Group of Israel agreed to buy Siccar Point Energy, a British E&P behind the Cambo oilfield, from Blue Water Energy and Blackstone for nearly $1.5b. http://axios.link/rWAN
⚡ Denham Capital seeking a buyer for Nexif Energy, operator of wind farms and other energy projects in Australia and Southeast Asia, which could fetch more than A$500m, per The Australian. www.nexifenergy.com
• NetApp (Nasdaq: NTAP) bought Instaclustr, a Redwood City, Calif.-based database infrastructure management platform that had raised $24m from firms like Level Equity and Bailador Technology Investments. http://axios.link/9dDv
• Sun Capital Partners agreed to sell C&K, a Waltham, Mass.-based maker of electromechanical switches, to Littelfuse (Nasdaq: LFUS) for $540m. www.ckswitches.com
More M&A
• Indotek-Investments of Hungary agreed to buy a 43% stake in Croatian retailer Fortenova Grupa from Russia's Sberbank. http://axios.link/wNGt
• WideOpenWest (NYSE: WOW), an Englewood, Colo.-based broadband provider with a $1.76b market cap, is considering a sale process, per Bloomberg. http://axios.link/HvQ5
Fundraising
• Atomic Labs of Miami is raising $300m for its fourth fund, per an SEC filing. www.atomic.vc
• FirstMark Capital is raising $600m for its sixth flagship fund and $600m for its fourth opportunities fund, per SEC filings. www.firstmarkcap.com
🚑 Havencrest Capital Management, a Dallas-based healthcare PE firm, raised $365m for its second fund. www.havencrest.com
• Imaginary Ventures raised $500m for its third fund, and promoted Kelly Dill and Logan Langberg to partner. www.imaginary.co
• Silas Capital Partners, a New York-based growth equity firm, is raising $150m for its second fund, per an SEC filing. www.silascapital.com
🌎 Wireframe Ventures, a new VC firm focused on climate tech, raised $77m for its debut fund, as first reported by Axios Pro. http://axios.link/EahJ
It's Personnel
• Jodi Olson is stepping down as communications and marketing partner at Google Ventures, after a 10-year run.
• Sydney Sykes and Faraz Fatemi joined Lightspeed Venture Partners as consumer-focused partners. Sykes co-founded BLCK VC, while Fatemi previously was in biz ops at Clubhouse. www.lsvp.com
• Tom Woelfel joined HCAP Partners as senior director of impact. He previously was with Pacific Community Ventures. www.hcap.com
Final Numbers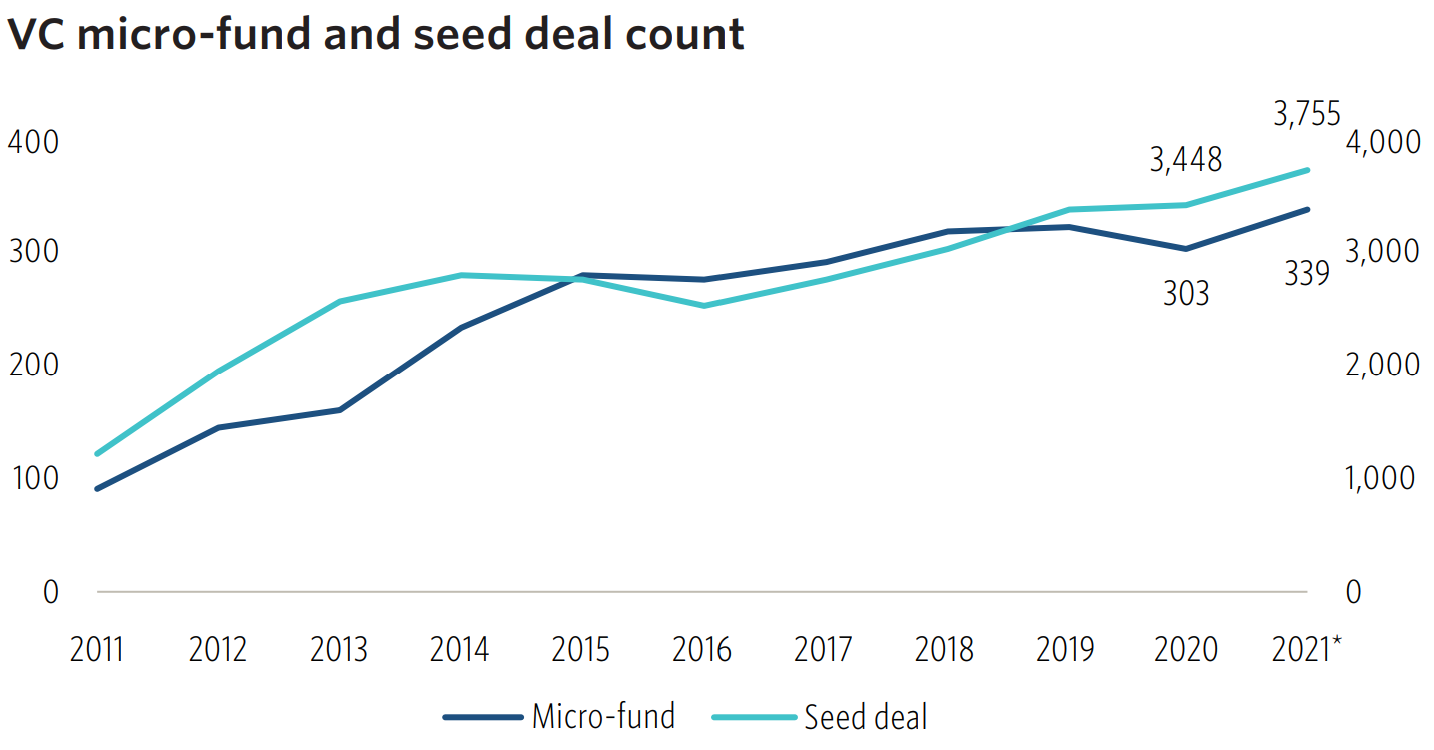 2021 was a record year for U.S. VC fundraising, with nearly $130 billion raised.
Within that was a boom year for micro-funds (<$50m), with a record 339 raised, per a new report from PitchBook.
PitchBook adds: "The rise of seed deals and micro-funds is very much correlated, sporting a correlation coefficient of 0.95."
✅ Thanks for reading Axios Pro Rata! Please ask your friends, colleagues and Red Sox fans in the Bronx to sign up.