Axios Pro Rata
August 16, 2021
Greetings from the home office, where it's good to be back after two weeks of beach break.
Big thanks to Kia and company for handling Pro Rata in my absence, and a reminder that you can send me news, feedback or scoops via [email protected] or anonymously via http://tips.axios.com. Okay, here we go.
Top of the Morning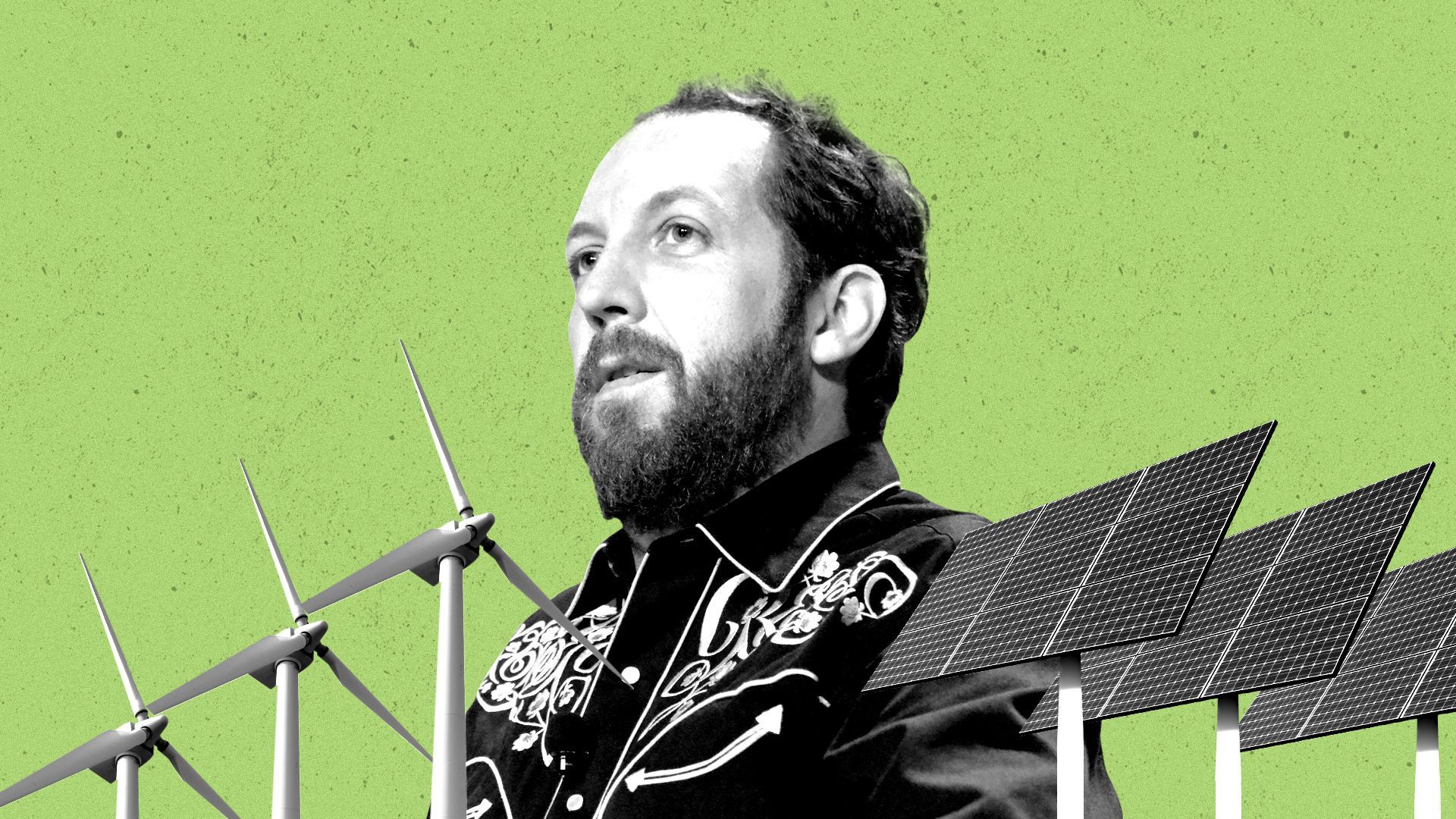 "The climate is f'd. Even worse than it seems."
That's from the opening page of a 12-page letter sent by venture capitalist Chris Sacca to potential investors in Lowercarbon Capital, the climate-focused firm he launched last year after a brief retirement.
What's new: Lowercarbon, which initially funded more than 50 startups via money from Sacca and his wife Crystal, last week announced that it raised $800 million in outside capital.
The $800 million is split among four funds, two early-stage and two later-stage. Each strategy includes a small fund that contains a slice of existing Lowercarbon portfolio companies, so that LP and GP interests are more aligned (plus, it was a marketing sweetener).
Why it matters: Both institutional and individual investors have gotten over ROI PTSD from the initial green-tech investing boom, with Sacca telling me that the funds were more than 2x oversubscribed in just a matter of days.
"Carbon is an expensive, inefficient thing," Sacca argues. "Anywhere we can remove it from the process, it's cheaper. That means customers. We're not running a nonprofit here."
"One big difference between now and years ago is that current tech makes it so much faster for startups to get to the binary point of understanding if something works or not. Biotech's binary moment usually comes much later, and even web/app stuff can take a couple years to build something that you don't actually know if it will catch on."
Big picture: There is still a relative dearth of early-stage firms investing in green tech, despite an emerging consensus that climate change is an existential threat and that it can't be stemmed (let alone reversed) via policy change alone.
Sacca believes we'll know the money is matching the opportunity when we see more VC firms hire climate scientists like Lowercarbon's Clea Kolster.
"I'm seeing more traditional VCs who do care and want to be proud of what they do. But we're still not seeing too much competition, because most of these firms are clustering around lower-impact, consumer-facing technologies like basic reuse and recycling because they don't yet have the skill set for deeper tech."
Also: Lowercarbon had planned to offer some fund allocations to Historically Black Colleges and Universities on a no-fee/no-carry basis. But it hasn't happened yet, as Sacca says it's proven surprisingly difficult to find "decision-makers" at schools that haven't traditionally had access to top VC funds.
"Our goal now is to donate a few million of each fund to HBCUs, while setting up direct relationships with the schools so they can get similar deals with other big VC funds. It's kind of an open invitation because we have a chunk of these funds waiting for them. Maybe this interview will help get the word out."
The bottom line: If we're going to innovate our way out of global climate catastrophe, venture capital must play a key role. Right now.
The BFD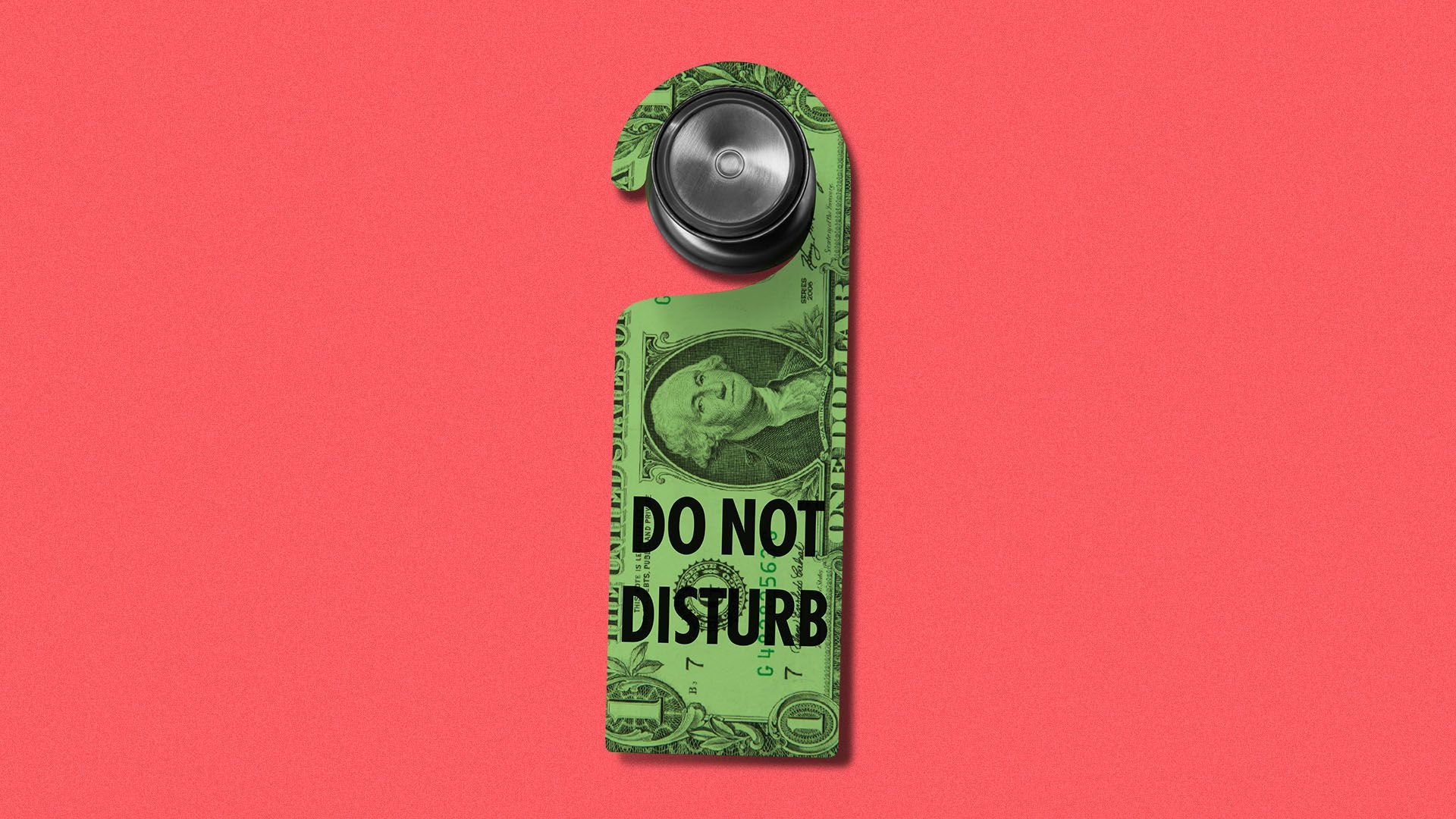 Hyatt Hotels (NYSE: H) agreed to buy resort operator Apple Leisure Group from KKR and KSL Capital Partners for $2.7 billion in cash.
Why it's the BFD: The vacation travel market remains optimistic about future growth, despite the resurgent coronavirus pandemic.
Details: Pennsylvania-based ALG operates around 100 hotels, most of which are all-inclusive luxury resorts in the Americas and Europe. It was acquired by KKR and KSL in 2017 from Bain Capital for an undisclosed amount.
The bottom line: "The deal would bolster [Hyatt's] already considerable resort-management portfolio and give it one of the biggest U.S. providers of charter flights and vacation packages for travel to Mexico, the Dominican Republic, Jamaica and the Caribbean. It also would accelerate Hyatt's transformation, long under way, to a more asset-light business model, focusing on generating an ongoing stream of steady and predictable fees." — Miriam Gottfried, WSJ
Venture Capital Deals
🚑 XtalPi, an AI-based drug molecule designer with offices in Shenzhen and Massachusetts, raised $400 million in Series D funding co-led by OrbiMed and HOPU Investments co-led, and were joined by Sino Biopharma and insiders Sequoia Capital China and 5Y Capital. http://axios.link/LEAo
• Gelato, an Oslo-based on-demand printing platform, raised $240 million at a valuation just north of $1 billion. Goldman Sachs and SoftBank co-led, and were joined by insiders Dawn Capital and SEB Pension Fund. http://axios.link/esEg
• Adverity, an Austrian online marketing company, raised $120 million led by SoftBank Vision Fund 2. http://axios.link/dxAG
• Innovusion, a Sunnyvale, Calif.-based LiDAR developer, raised $66 million in Series B funding. GTJAI led, and was joined by Shunwei Capital and insiders Nio Capital, F-Prime Capital, Eight Roads Ventures and Temasek. http://axios.link/xLwr
• Rapido, an Indian bike taxi aggregator, raised $52 million in Series C funding from Shell Ventures, Yamaha, Positive Moves Consulting and insiders Westbridge, Nexus Venture Partners and Everblue Management. http://axios.link/Ofvw
• Baffle, a Santa Clara, Calif.-based data breach prevention startup, raised $20 million in Series B funding. Celesta Capital led, and was joined by National Grid Partners, Lytical Ventures and Nepenthe Capital. http://axios.link/yOJ3
Private Equity Deals
• Anexinet, a Blue Bell, Pa.-based portfolio company of Mill Point Capital, agreed to buy Light Networks, an Atlanta-based provider of customer experience and workplace modernization solutions. www.anexinet.com
• Baring Private Equity Asia is in advanced talks to buy Straive, a Philippines-based content outsourcer, from Partners Group for around $1 billion, per Bloomberg. http://axios.link/3lIR
• Cobham, a British defense group owned by Advent International, agreed to buy rival Ultra Electronics (LSE: ULE) for $3.56 billion. http://axios.link/lsgW
• CVC Capital Partners agreed to buy British vodka maker Stock Spirits (LSE: STCK) for £767 million ($1.1 billion). http://axios.link/sXjv
• Delivery Hero (DE: DHER) of Germany agreed to sell its South Korean food delivery app (Yogiyo) for $685 million to Affinity Equity Partners, Permira and South Korea's GS Retail. http://axios.link/n6gr
🐶 Hellman & Friedman offered to buy listed German online pet supplies retailer Zooplus for around €2.8 billion ($3.3 billion), or €390 per share (40% premium over last Thursday's closing price). http://axios.link/Ew7z
• Hudson Hill Capital acquired a minority stake in VTrips, a Ponte Vedra Beach, Fla.-based vacation rentals manager. www.vtrips.com
• Partners Group agreed to buy Indian broadband services provider Atria Convergence Technologies at nearly a $1.2 billion enterprise value from Argan and TA Associates (which will retain a small equity stake). http://axios.link/Ub7A
• SGT Capital agreed to buy German cybersecurity company Utimaco from EQT for around $500 million, per Bloomberg. http://axios.link/784q
• Sydney Airport Holdings (ASX: SYD) rejected a sweetened A$22.8 billion ($16.81 billion) takeover offer from a group that includes IFM Investors, QSuper and Global Infrastructure Partners. http://axios.link/D2gs
Public Offerings
• No companies are expected to price IPOs on U.S. exchanges this week.
• Madero Indústria e Comércio, a Brazilian restaurant chain backed by The Carlyle Group, plans to seek a $1.3 billion valuation in its IPO, per Bloomberg. http://axios.link/3XXb
SPAC Stuff
• Phoenix Acquisition, a TMT SPAC led by Wayne Farmer (Cobalt Equity Partners), filed for a $40 million IPO. http://axios.link/fVbD
Liquidity Events
• Exponent agreed to sell British media group Dennis, publisher of The Week, to Future PLC (LSE: FUTR) for £300 million. http://axios.link/ftYH
• Partners Group agreed to sell Brazilian grocery chain Hortifruti Natural da Terra to Lojas Americanas for $456 million. http://axios.link/wc2C
More M&A
• Axa (Paris: AXAF) agreed to sell its Singapore assets for $575 million to HSBC (LSE: HSBA). http://axios.link/K4Vq
• Faurecia (Paris: EO) agreed to buy a majority stake in listed German auto lighting company Hella at a €6.7 billion enterprise value. Losing bidders reportedly included Cie Plastic Omnium and Mahle. http://axios.link/KcjF
🛢️ Saudi Aramco is in advanced talks to buy around a 20% stake in Reliance Industries' oil refining and chemicals unit, in an all-stock deal that could be valued at up to $25 billion, per Bloomberg. http://axios.link/RZ94
Fundraising
• Eastlink Capital, a Menlo Park-based VC firm, is raising $120 million for its second fund, per an SEC filing. www.eastlinkcap.com
• Enlight Growth Partners, a Chinese VC firm, is raising $225 million for its second fund, per an SEC filing. www.egpvc.com
• Jungle Ventures of Singapore is raising its fourth fund, per an SEC filing. www.jungle.vc
• Top Tier Capital Partners is raising $600 million for its 10th VC fund-of-funds and direct investment fund, per an SEC filing. www.ttcp.com
It's Personnel
• Christina Bechhold, a co-founder of Empire Angels, joined Truist Ventures as an SVP and director of strategic investment initiatives. www.truist.com
• Ellie Javadi joined Sapphire Ventures as chief marketing officer. She previously was with Norwest Venture Partners. http://axios.link/kRtL
• Kendra Perlitz joined Playground Global as an operating partner. She previously was a managing director of IR and operations with SVB Capital. http://axios.link/nolg
• Carlos Reyes (ex-IFC Asset Management) joined Palladium Equity Partners as a managing director. Palladium also promoted Dominick Barbieri to general counsel and chief compliance officer, to succeed Eugenie-Cesar Fabian (who becomes head of ESG and sustainability). www.palladiumequity.com
• David Su stepped down as a partner with Norwest Venture Partners, to join Apax Partners as a partner and co-head of its global impact unit. http://axios.link/DMX2
Final Numbers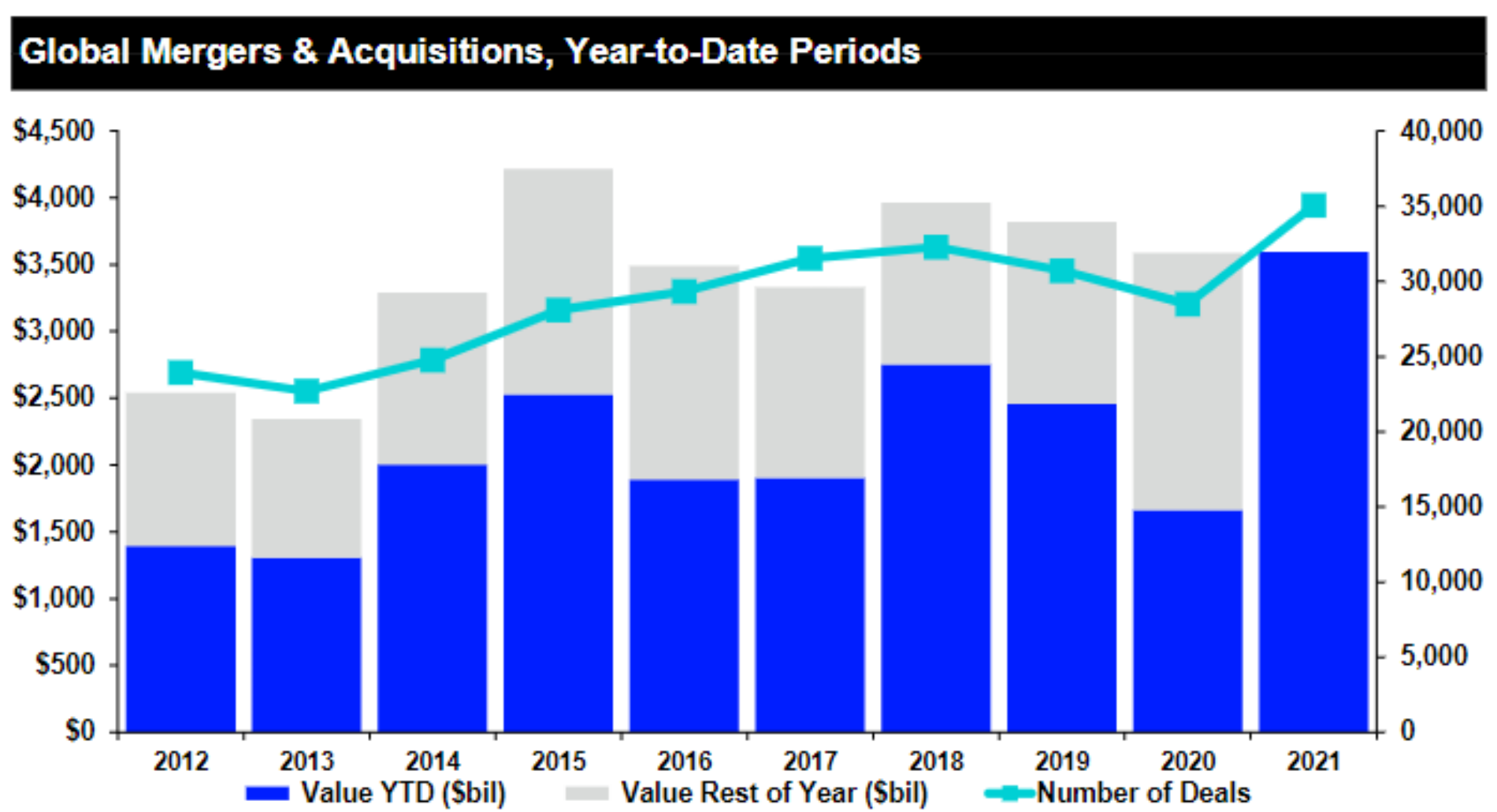 Inside the numbers:
Year-to-date global M&A activity has already topped the full-year total for 2020.
There's no change to the top four deal advisers between YTD 2020 and YTD 2021: Goldman Sachs, Morgan Stanley, JPM and Citi.
YTD global private equity activity is up 160%, with U.S. activity up 218%.
🙏 Thanks for reading Axios Pro Rata! Please ask your friends, colleagues and carbon capturers to sign up.