January 12, 2022
🔔 Our first three Axios Pro newsletters launch a week from today, focused on fintech, retail and health tech. Subscribe at AxiosPro.com.
🚨 Situational awareness: The core Consumer Price Index rose 0.6% in December, while overall CPI rose 0.5%. Go deeper.
Top of the Morning
Most readers of this newsletter aren't legally able to trade stocks on non-public information, such as mergers or C-suite hires. Your humble correspondent is under a similar obligation.
But there is a glaring exception: Members of Congress, who have great power to impact stock prices and great financial incentives to do so.
Perhaps by inserting a line into a regulatory bill, or by threatening to do so. Maybe by grilling or going soft on a testifying CEO.
Backstory: Legislation called The Stock Act was passed in 2012 to stop lawmakers from trading on inside information, such as things heard in closed session, but it was later watered down, has broad loopholes and is rarely enforced.
Driving the news: One solution is to ban sitting lawmakers from trading stocks altogether, and it's gaining support from Senate candidates who'd identify themselves both as progressive Democrats and MAGA Republicans, Axios' Sophia Cai and I report.
The most stringent of these proposals is expected imminently from Sen. Jon Ossoff (D-Ga.), who also would ban stock trades by spouses and dependent children. He's still seeking out a Republican co-sponsor before formally introducing the bill, with all eyes on Sens. Josh Hawley (R-Mo.) and John Hoeven (R-N.D.).
"Democrats and Republicans equally take advantage of this and it is wrong," Tom Nelson, a Democrat running for Senate in Wisconsin, tells Axios. "They don't need to be trading like Gordon Gekko or Bud Fox. Just get mutual funds and CDs like the rest of us. How difficult can that be?"
Blake Masters, a Republican running for Senate in Arizona, recently told Fox News: "We just have to ban it. We need to ban individual Congress members from owning and trading stocks. It's just that simple."
The problem is that current leadership doesn't seem to have any interest in bringing such a bill to the floor. House Speaker Nancy Pelosi (D-Calif.) — whose husband Paul recently bought millions of dollars worth of tech stocks — last month dismissed the idea as belying a "free market economy."
The bottom line: This unusual political coalition has an uphill legislative fight ahead, but it's the right one to wage. Both ethically and electorally.
The BFD
Citigroup (NYSE: C) said it plans to exit its Mexican retail banking business, called Banamex, via either a sale or an IPO.
Why it's the BFD: The earth is no longer flat when it comes to retail banking, with only Santander still trying to make a global go of it. Banamex, which was Citi's savior during the financial crisis and later the source of scandal, was the U.S.-based bank's last foreign consumer operation, having last spring announced plans to exit 13 overseas markets.
Bonus: This is something of a black eye for Citi CEO Jane Fraser, who said "there's a lot to like" about Banamex, while announcing the other country departures.
The bottom line: "Banamex is a deep part of Mexico, literally standing for Banco Nacional de México. There's going to be a very strong attempt to try to bring it back into Mexican hands, as no one there loves the fact that all three of the country's biggest banks are owned by foreigners." — Felix Salmon, Axios
Venture Capital Deals
🐉 Checkout.com, a London-based online payments platform, raised $1 billion at a $40 billion valuation, per the WSJ and confirmed by Axios. Franklin Templeton and the Qatar Investment Authority were joined by insiders Insight Partners and Tiger Global. http://axios.link/5q3o
• Back Market, a Paris-based marketplace for refurbished electronics devices, raised $510 million in Series E funding at a $5.7 billion valuation. Sprints Capital led, and was joined by insiders Eurazeo, Aglaé Ventures, General Atlantic and Generation Investment Management. http://axios.link/I1oT
• Accelerant, an Atlanta-based insurance risk exchange, raised $193 million at a $2.2 billion valuation. Eldridge Industries led, and was joined by Deer Park, Marshall Wace, MS&AD Ventures and insider Altamont Capital Partners. http://axios.link/fH7o
🐼 BigPanda, a Mountain View, Calif.-based autonomous ops platform, raised $190 million at a $1.2 billion valuation co-led by Advent International and insider Insight Partners. http://axios.link/2otA
• TravelPerk, a Barcelona-based business trip booking platform, raised $115 million in new Series D funding at a $1.3 billion valuation. General Catalyst led and was joined by insider Kinnevik. http://axios.link/NTOK
• Placer.ai, a Walnut, Calif.-based location data analytics startup, raised $100 million at a $1 billion valuation. Josh Buckley led, and was joined by WndrCo, Lachy Groom, MMC Technology Ventures, Fifth Wall Ventures and Array Ventures. http://axios.link/ZbGF
• Refyne, an Indian earned wage access platform, raised $82 million in Series B funding from QED Investors, DST Global partners, RTP Global, Jigsaw VC and XYZ Capital. http://axios.link/3INw
• Tecovas, an Austin, Texas-based western footwear and apparel brand, raised $56 million in Series C funding. Elephant led, and was joined by Access Capital, Seamless Capital, and Kemmons Wilson Companies. www.tecovas.com
• Merit, a digital credentialing platform, raised $50 million in Series B funding. Rose Park Advisors led, and was joined by Andreessen Horowitz, Bow Capital and Govtech Fund, along with new investors Experian Ventures, Spike Ventures, InState Capital, Collier Fund, Metaplanet Holdings. http://axios.link/NdWI
• Twig, a London-based cash-out app for lifestyle assets like fashion, raised $35 million in Series A funding led by Fasanara Capital. http://axios.link/gJfP
• PassiveLogic, a Salt Lake City-based autonomous building platform, raised $34 million in Series B funding. Addition and Keyframe co-led, and were joined by RET Ventures, Brookfield Growth, Era Ventures and A/O PropTech. www.passivelogic.com
• DeepScribe, an S.F.-based AI scribe service for healthcare, raised $30 million. Index Ventures led, and was joined by insiders Bee Partners, Stage 2 Capital and 1984 Ventures. http://axios.link/JTRw
• AmazeVR, a West Hollywood-based VR concert platform, raised $15 million co-led by Partners Investment and Murex Partners. http://axios.link/U39d
• SeamlessHR, a Nigerian provider of HR and payroll software, raised $10 million in Series A funding. TLcom Capital led, and was joined by Capria Ventures, Lateral Frontier Ventures, Enza Capital and Ingressive Capital. http://axios.link/XhH6
• Acorn Finance, a Sacramento-based marketplace for home improvement financing, raised $8.4 million in Series A funding. MassMutual Ventures led, and was joined by Moderne Ventures and insiders Vestigo Ventures, Accomplice and MetaProp. www.acornfinance.com
• Garden Society, a Cloverdale, Calif.-based cannabis brand, raised $7 million in Series A funding led by RJ Primo. http://axios.link/5nRO
• Assemble, an employee comp analysis platform, raised $5 million in seed funding from Susa Ventures and Goldcrest Capital. http://axios.link/5Em0
• Arcade, a try-before-you-buy tech startup, raised $2.5 million in seed funding led by Upfront Ventures. http://axios.link/5iPA
🚑 Fertelis, an Australian IVF embryo culturing startup, raised around US$2 million led by Horizons Ventures. http://axios.link/n2L3
• Anotherblock, a Swedish marketplace for music rights, raised $1.2 million led by J12. www.anotherblock.io
Private Equity Deals
• Antelope, an S.F.-based omnichannel retailer of pet products, raised $100 million from Alpine Investors. www.antelopepets.com
• Audax Private Equity bought Centerline Communications, a West Bridgewater, Mass.-based wireless telecom infrastructure services provider, from Stone-Goff Partners. www.centerlinecommunications.com
🚑 Bain Capital and CVC Capital Partners are working on a joint bid for British pharmacy chain Boots, which is being shopped by Walgreens Boots Alliance (Nasdaq: WBA), per the FT. http://axios.link/aJoQ
• Battery Ventures agreed to buy a majority stake in MadCap Software, a La Jolla, Calif.-based provider of multi-channel content authoring and publishing software. www.madcapsoftware.com
• DCP Capital and Ocean Link submitted a yet another downwardly-revised takeover proposal for Chinese recruitment site 51job (Nasdaq: JOBS), valuing the company at around $3.9 billion. http://axios.link/L6qx
• Dyal Capital Partners agreed to pay around $1 billion for a 13% passive stake in MBK Partners, a North Asia-focused private equity firm, per Bloomberg. http://axios.link/DRkV
• XLerate, a Carmel, Ind.-based portfolio company of Brightstar Capital Partners, acquired vehicle remarketing company America's Auto Auction and affiliated floor plan financing company Auction Credit Enterprises from Trinity Hunt Partners. www.xlererategroup.com
🚑 Water Street Healthcare Partners invested in Renovo Solutions, an Irvine, Calif.-based provider of medical equipment maintenance and management services. www.renovo1.com
Public Offerings
• Justworks, a New York-based provider of HR management software, this morning said it will delay an IPO that had been set to raise over $200 million at nearly a $2 billion market cap. Backers include Bain Capital Ventures, Index Ventures, Redpoint Ventures, Spark Capital, Thrive Capital, USV and FirstMark Capital
TPG continues to be on tap to price its IPO tonight.
🍷 Cooper's Hawk Winery & Restaurants, backed by Ares Management, is prepping a 2022 IPO, per Bloomberg. http://axios.link/VT3m
SPAC Stuff
• RMG Acquisition, a SPAC platform led by former Carlyle Group energy investor Robert Mancini and Riverside Management's James Carpenter, withdrew IPOs registration for three SPACs that had originally filed last March.
🚑 Suneva Medical, a San Diego-based seller of anti-aging products, is in talks to go public at an implied $511 million valuation via Viveon Health Acquisition Corp. (NYSE: VHAQ), per Bloomberg. Suneva has raised nearly $200 million (including a 2019 recap) from firms like EW Healthcare Partners, Healthcare Royalty Partners and Polaris Partners. http://axios.link/Ej53
Liquidity Events
• Citic Capital and FountainVest Partners are seeking a buyer for the Australia and New Zealand assets for pallet maker Loscam Asia Pacific, in which they hold a combined 55% stake, per Bloomberg. A deal could fetch more than $1 billion. http://axios.link/BEv0
• Manga (NYSE: MGA) acquired the assets of Optimus Ride, a Boston-based autonomous electric shuttle startup that had raised over $80 million from firms like Greycroft, Energize Ventures, FM Capital and FirstMark Capital. http://axios.link/v34z
More M&A
🚑 Aledade, a Bethesda, Md.-based network of accountable care organizations, bought Iris Healthcare, an Austin, Texas-based provider of advance care planning solutions. Aledade has raised nearly $300 million from firms like Venrock and Biomatics Capital, while Iris was backed by Hatteras Venture Partners and Activate Venture Partners. www.irishealthcare.com
• Janus Henderson has come out against Zendesk's (NYSE: ZEN) plans to buy SurveyMonkey parent Momentive (Nasdaq: MNTV), joining fellow Zendesk investor Jana Partners. The all-stock deal was valued at $4.1 billion when announced last October, but it's since fallen to around $3.3 billion. http://axios.link/JQLQ
• Mercado Bitcoin, a Brazilian crypto exchange backed by firms like SoftBank and Tribe Capital, agreed to buy a control stake in Lisbon-based crypto exchange CriptoLoja. http://axios.link/vHEt
Fundraising
• Apollo Global Management raised more than $1 billion from individuals for a BDC-structured fund that will lend to large corporations. http://axios.link/in9N
• Susa Ventures raised $7.5 million for its first scout fund. www.susaventures.com
• The Westly Group raised $300 million for its fourth VC fund. www.westlygroup.com
It's Personnel
• Gary Lindsay and Tom Mitchell will become managing partners of British buyout firm TDR Partners, per Bloomberg, taking over from founding partners Stephen Robertson and Manjit Dale, per Bloomberg. Robertson will remain on TDR's investment committee. http://axios.link/jWi8
• Marcos Kantt, a longtime Latin America M&A investment banker at BofA, joined real estate tech company Habi as CFO. www.habi.co
• Tadasu Matsuo is heaving HarbourVest to lead alternative investments at a new $87 billion Japanese university endowment. http://axios.link/9vTJ
• Matt McLain joined Victor Capital Partners as an investment partner. He previously was with Access Holdings. www.victorcapitalpartners.com
• Sverica Capital Management promoted Michael Dougherty to principal and Doug Patrican to VP. www.sverica.com
Final Numbers: U.S. VC by founder gender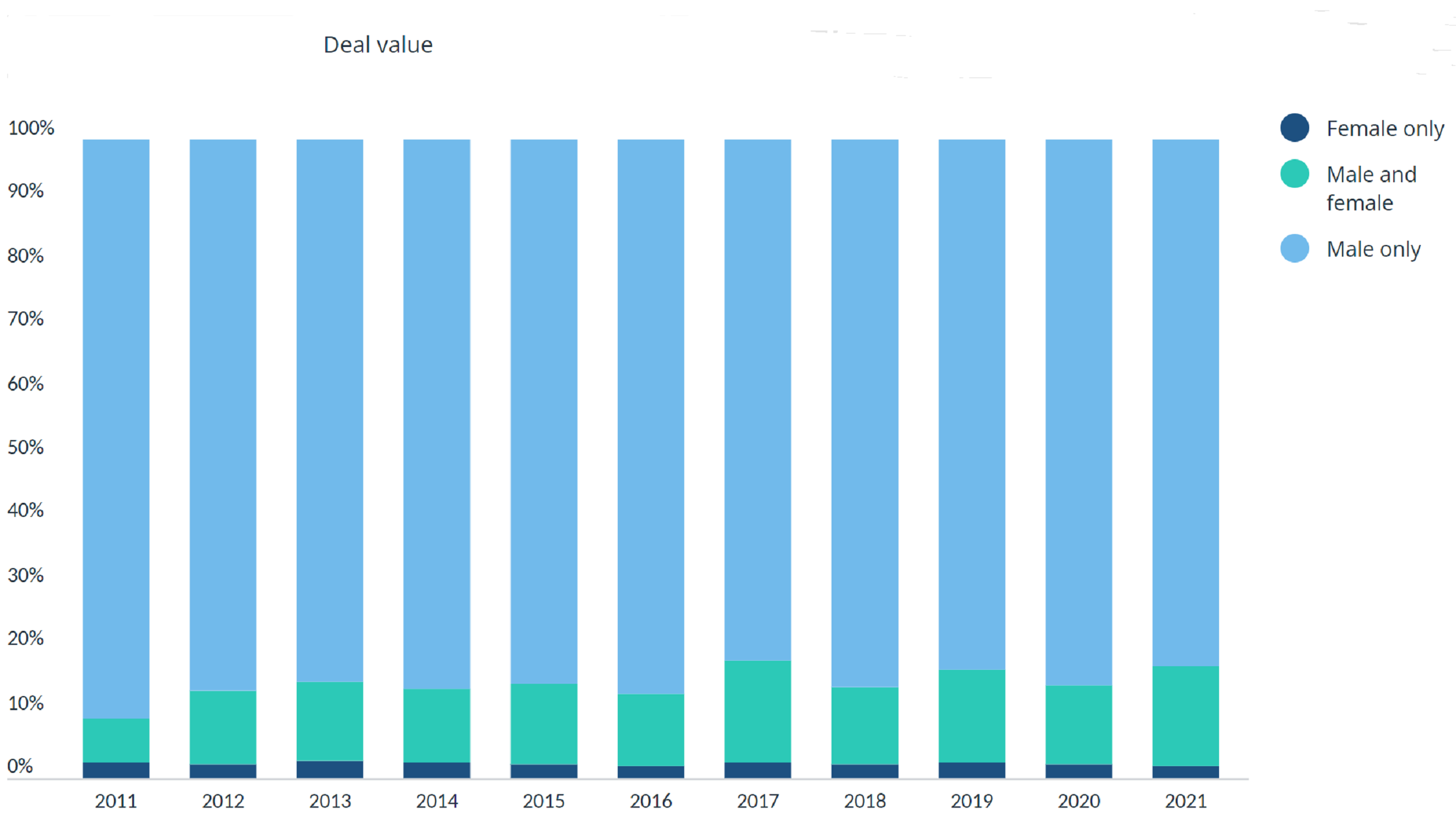 The good news: U.S. startups founded solely by women raised 83% more venture capital in 2021 than in 2020, per PitchBook.
The bad news: The 2021 total represented just 2% of all VC raised by U.S. startups, with startups founded solely by men securing 82.4%.
The split narrows slightly when it comes to deal count, with 6.5% for women-founded startups, versus 74.7% for men-founded.
Healthcare continues to be the strongest industry sector for women founders, in terms of securing funding.
🙏 Thanks for reading Axios Pro Rata! Please ask your friends, colleagues and bank tellers to sign up.