Axios Pro Rata
January 06, 2022
Top of the Morning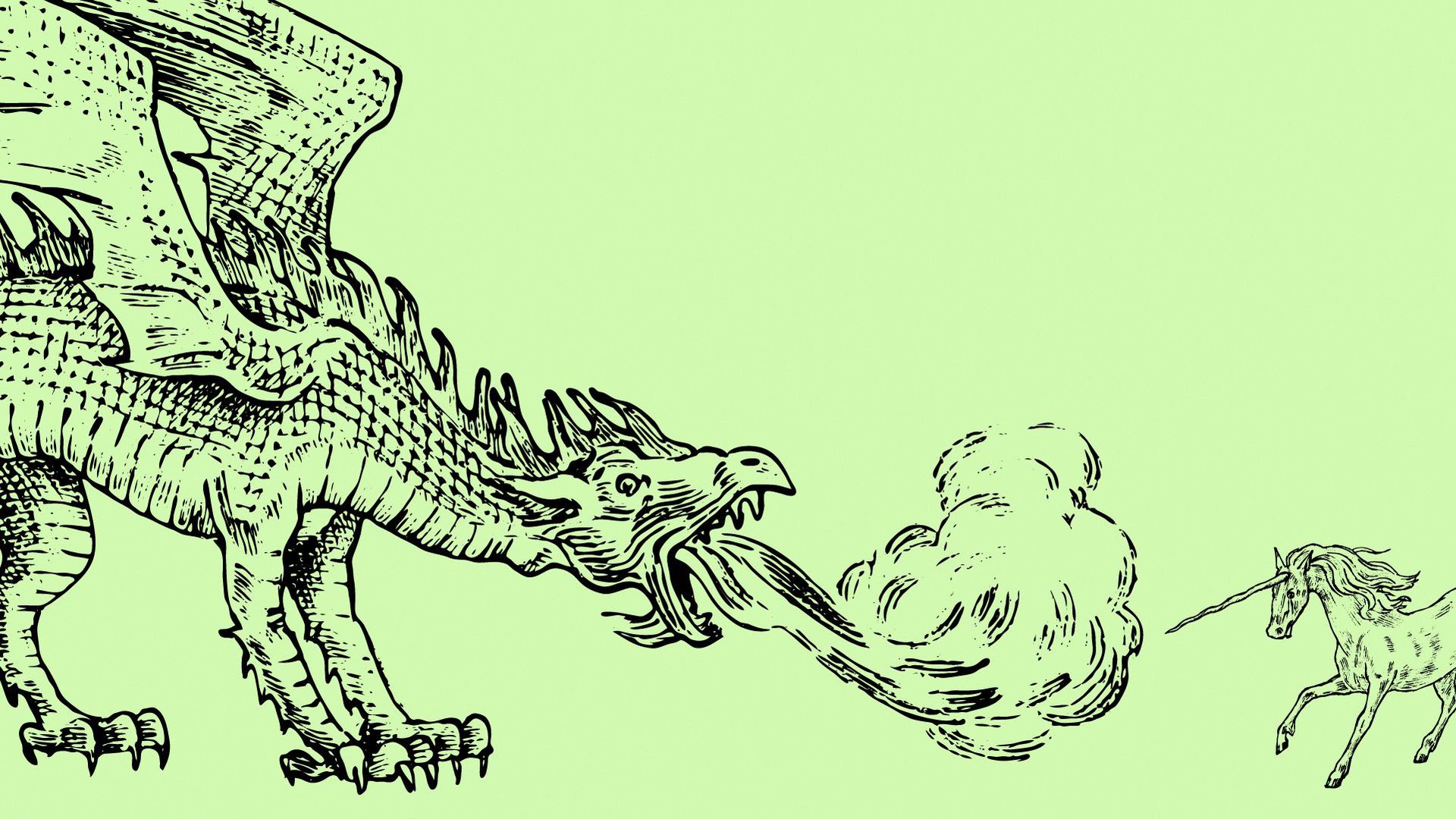 Last summer we coined a new term for mega-cap startups, as "unicorns" had become paradoxically ordinary. It was "dragons," used to describe private companies valued at $12 billion or more, net of capital raised.
Some of you loved it, and thanked me. Some of you mocked it, and insulted me.
Why it matters: The venture industry is about ROI, both percentage and cash. Particularly when it comes to the latter metric, dragons are the most significant; sometimes able to return multiples on entire funds.
At least on paper, as dragons also have a proclivity for staying private longer (e.g., SpaceX, Stripe, etc.).
By the numbers: There are now 24 dragons, 11 of which are based in the U.S.
This compares to 19 and nine from last August. The only August dragon to leave the flight is Rivian, which went public via IPO in November.
There are more than 960 unicorns, per CB Insights. The prior figure was just north of 800.
This morning we learned from PitchBook that U.S. venture deal-making hit a record $330 billion last year, and expectations are that global totals will be similarly dizzying.
The current U.S. dragons are: Stripe, SpaceX, Instacart, Epic Games, Databricks, Chime, Fanatics, Plaid, OpenSea, Miro and Grammarly.
China has six, led by ByteDance. Dragons also are based in Australia, the Bahamas, India, Indonesia, The Bahamas and the U.K.
The bottom line: Not all VC funds are top-decile, despite claims to the contrary, but most of them lately have been winners. Having a dragon or two is what really separates the tiers.
The BFD
ViacomCBS (Nasdaq: VIAC) and AT&T's (NYSE: T) WarnerMedia are seeking a buyer for the CW Network, whose programming its aimed at teens and young adults, as first reported by the WSJ.
Why it's the BFD: This is part of the entertainment content gold rush, as CW's value is more about its shows, like "Riverdale" and "The Flash," than its unprofitable broadcast business.
Suitors: The likeliest buyer, at least for a control stake, appears to be Nextar Media Group, whose recent Tribune purchase made it the CW's top affiliate.
The bottom line: "None of the architects of the CW, which replaced the WB and UPN in 2006, are still around, most notably former CBS CEO Les Moonves, who was the driving force behind it. Since the CW's creation, CBS merged with Viacom while WarnerMedia was acquired by AT&T which is now selling it to Discovery." — Nellie Andreeva, Deadline
Venture Capital Deals
🚑 Eikon Therapeutics, a Hayward, Calif.-based live-cell microscopy startup, raised $518 million in Series B funding from T. Rowe Price, CPP Investments, EcoR1 Capital, UC regents, ADIA, StepStone Group, Soros Capital, Schroders Capital, General Catalyst, Harel Insurance, Hartford HealthCare Endowment and AME Cloud Ventures. Return backers include The Column Group, Foresite Capital, Innovation Endeavors, Lux Capital and Horizons Ventures. http://axios.link/gYK1
• PayFit, a French provider of payroll and HR management solutions for SMEs, raised €254 million in Series E funding at a €1.82 billion valuation. General Atlantic led, and was joined by Eurazeo, Bpifrance and Accel. http://axios.link/RYg0
• Dunzo, an Indian hyperlocal delivery service, raised $240 million at a $775 million valuation. Reliance Retail led, and was joined by insiders Lightbox, Lightrock, 3L Capital and Alteria Capital. http://axios.link/O2Th
• Petal, a New York-based credit card startup, raised $140 million at an $800 million valuation. Tarsadia Investments led, and was joined by Valar Ventures, CUNA Mutual, Encore Bank, Volery Capital Partners, Gopher Asset Management, RiverPark Ventures, Afore Capital and Gaingels. http://axios.link/s0En
• Sygnum, a digital asset bank and trading platform based in Switzerland and Singapore, raised $90 million at an $800 million valuation. Sun Hung Kai & Co. led, and was joined by Animoca Brands and Meta Investments. http://axios.link/FjDb
• iProov, a London-based biometric facial authentication company, raised $70 million led by Sumeru Equity Partners. www.iproov.com
• Doosan Robotics, a South Korean collaborative robotics company, raised $33.7 million co-led by Praxis Capital Partners and Korea Investment Partners. http://axios.link/rH3M
⚡ Xage, a startup that secures operational components of the electrical grid, raised $30 million in Series B funding. Piva led, and was joined by Momenta, Valor Equity Partners and OurCrowd, along with existing investors March Capital, City Light Capital, Saints Capital and Saudi Aramco Energy Ventures. http://axios.link/koBp
• Formant, an S.F.-based robot fleet management platform, raised $18 million from Hillsven, Pelion, Goodyear Ventures, Thursday Ventures, Ericsson, Picus Capital and Holman Strategic Ventures. http://axios.link/2JM9
🚑 Little Otter, an S.F.-based digital mental health startup for kids and their families, raised $22 million in Series A funding. CRV led, and was joined by Torch Capital, Vast Ventures, Hinsdale, Boxgroup, _Able, Carrie Penner Walton, G9 and Springbank Collective. www.littleotterhealth.com
• Brankas, an Indonesia-based open banking startup, raised $20 million in Series B funding. Insignia Ventures Partners led the round and was joined by investors including Beenext and Integra Partners. http://axios.link/RsbH
• Livepeer, a decentralized video streaming platform, raised $20 million in a Series B extension. Alan Howard and Tiger Global were joined by insiders Digital Currency Group, Northzone and Warburg Serres. http://axios.link/dQXI
• Timo, a Vietnamese digital banking startup, raised $20 million. Square Peg led, and was joined by Jungle Ventures, Granite Oak, FinAccel, Phoenix Holdings and others. www.timo.vn
🚑 Kiddo, an S.F.-based remote pediatric patient monitoring startup, raised $16 million in Series A funding led by Vive Collective (portfolio company of Clearlake Capital). http://axios.link/6qaW
• Finexio, an Orlando, Fla.-based accounts payable payments-as-a-service startup, raised $10 million from Patriot Financial Partners and Mendon Venture Partners. www.finexio.com
• CryptoSlam, a Kansas City-based NFT data aggregator, raised $9 million in seed funding. Animoca Brands led, and was joined by Sound Ventures, Mark Cuban, Reid Hoffman and KCRise Fund. http://axios.link/bGh3
• JABU, a Namibian last-mile e-commerce distribution startup, raised $3.2 million in seed funding from Afore Capital, Y Combinator, FJ Labs, Quiet Capital, Kli Capital and Pareto Capital. http://axios.link/iolJ
Private Equity Deals
• Assent Compliance, a Canadian supply chain sustainability management company backed by Warburg Pincus, raised US$350 million at a valuation north of $1 billion led by Vista Equity Partners. http://axios.link/FoRQ
• Auchan, a privately held French retailer, is talking to PE firms about partnering on a restarted takeover effort for Carrefour (Paris: CA), per Bloomberg. http://axios.link/BTNb
• BPOC and Five Arrows Capital bought Basys, a Baltimore-based benefits administration software provider, from WindRose Health Investors. www.basys.com
⚡ CES Power, a Memphis-based portfolio company of Allied Industrial Partners, bought Production Power, a Ft Lauderdale, Fla.-based provider of power generation and temperature control services. www.cespowwer.com
• CommentSold, a Huntsville, Ala.-based digital commerce company backed by Zelnick Media Capital, acquired Vizzlie, a marketing message customization and scheduling tool. www.commentsold.com
• IK Partners agreed to buy Stein HGS, a German provider of B2B e-commerce for road assistance and construction site equipment, from Lennertz & Co. www.stein-hgs.de
• Kinderhook Industries acquired REIC, a Kalispell, Mont.-based rental equipment services platform. www.reicorporation.com
• One Equity Partners acquired a majority stake in Rosboro, a Springfield, Ore.-based maker of engineered wood products, from Wynnchurch Capital. www.rosboro.com
🚑 Percheron Capital bought a majority stake in Animal Dermatology Group, a veterinary dermatology group with locations in 12 states. www.animaldermatology.com
⚡ Post Oak Energy Capital invested in UpCurve Energy Partners II, a Houston-based E&P that will focus on the Southern Delaware Basin. www.upcurveenergy.com
• RoadSafe Traffic Systems, a Romeoville, Ill.-based portfolio company of Trilantic North America and Investcorp, acquired Clark Pavement Markings, an Apex, N.C.-based provider of pavement marking products and services. www.roadsafetraffic.com
⚡ Silicon Ranch, a Nashville-based renewable power producer, raised $775 million in equity funding. Manulife led with a $400 million commitment, and was joined by insiders Shell, TD Greystone Infrastructure Fund and Mountain Group Partners. www.siliconranch.com
• Vista Equity Partners invested in BlueConic, a Boston-based customer data platform whose existing backers include Spring Lake Equity Partners, Sigma Prime Ventures and Converge Venture Partners. www.blueconic.com
• Wheel Pros, a portfolio company of Clearlake Capital, acquired Throtl, a San Diego-based aftermarket e-commerce platform for auto and off-roading enthusiasts. www.throtl.com
Public Offerings
• Authentic Brands Group, the brand management firm whose portfolio includes Forever21, Reebok and Sports Illustrated, withdrew registration for a $1.5 billion IPO. This follows a recent agreement whereby CVC Capital Partners and HPS Investment Partners agreed to invest $3.5 billion in ABG at a $12.7 billion valuation.
Liquidity Events
• ALD, the listed car-leasing unit of Société Générale, agreed to buy Dutch fleet management firm LeasePlan for €4.9 billion in cash and stock from an investor group led by TDR Capital. http://axios.link/KrTD
🚑 Nomi Health, an Orem, Utah-based direct healthcare startup, acquired Artemis Health, a Salt Lake City-based benefit optimization data platform for employers, for $200 million. Nomi recently raised $110 million in Series A funding co-led by Rose Park Advisors and Arbor Ventures, while Artemis had raised $59 million from firms like Rose Park, Bessemer Venture Partners, Hearst Ventures, F-Prime Capital and Maverick Ventures. http://axios.link/EW0c
More M&A
• AGBO, the production company co-founded by "Avengers: Endgame" directors Anthony and Joe Russo, said it sold a minority stake to Tokyo-based video game company Nexon (Tokyo: 3659). The deal is valued at $400 million on a $900 million pre-money valuation. http://axios.link/jNvH
⚡ JLL (NYSE: JLL) acquired Hank, a virtual engineering platform for energy efficiency in commercial real estate. www.hank.re
• Latitude Group (ASX: LFS) offered to buy the consumer unit of Humm Group (ASX: HUM), including its BNPL business, for A$335 million. http://axios.link/nGjH
• Redbrick, a Canadian software development services firm, bought Delivra, an Indianapolis-based email marketing automation company. www.rdbrck.com
🚑 Stryker (NYSE: SYK) agreed to buy communications and workflow optimization firm Vocera Communications (NYSE: VCRA) for around $3 billion. http://axios.link/jiul
Fundraising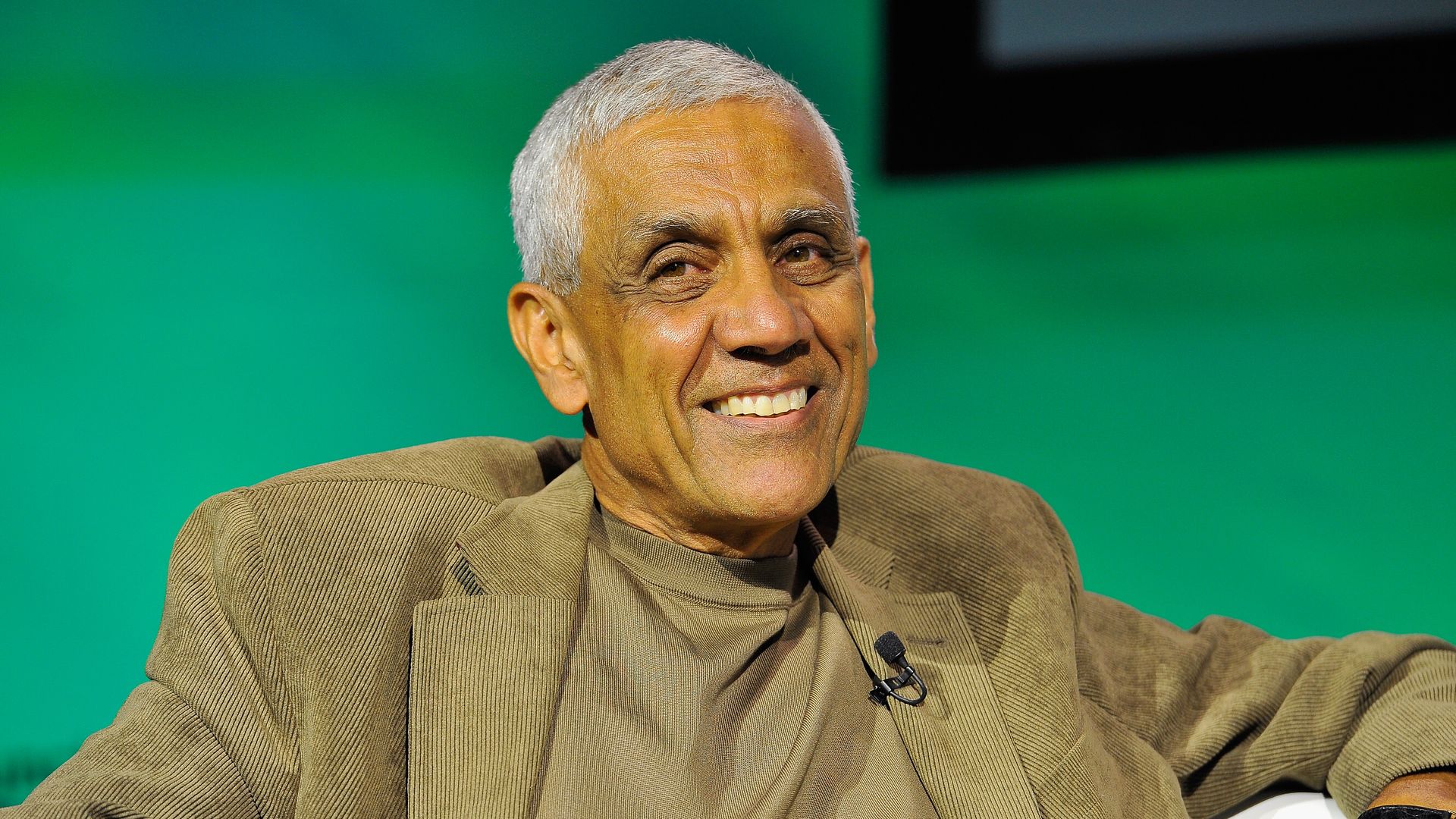 Khosla Ventures has raised $557 million for its first-ever opportunities fund, the firm tells Axios. Most of the money will go toward existing portfolio companies, although the fund also can invest in new companies.
KV, which last year raised $1.4 billion for its latest flagship and seed funds, recently hired Bryan Gartner away from Sidewalk Infrastructure Partners to focus on growth deals.
"As we put our regular fundraising decks together, we took a good hard look at the numbers and realized that if we'd even just kept our pro rata it would have been a win/win for everybody," says KV partner Samir Kaul. "Instead, we basically handed tremendous IRRs to other firms' growth funds."
Some of KV's bigger early-stage hits include Affirm, DoorDash, Instacart, Rocket Labs and Square.
• Launch House, a company that hosts month-long programs for entrepreneurs at its communal houses, is raising $10 million for a fund to invest in startups. http://axios.link/yzXj
It's Personnel
• Customers Bank (NYSE: CUBI) launched a tech and venture banking group co-led by Sean McGah (ex-Cambridge Trust) and Bobby Bryant (Comerica). www.customersbank.com
• Craig Phillips joined PE firm Grain Management as chief operating and growth officer. He most recently served as counselor to former U.S. Treasury Sec. Steve Mnuchin, and before that was a managing director at BlackRock, Morgan Stanley and Credit Suisse. www.graingp.com
🚑 Jim Hinton is joining Welsh, Carson, Anderson & Stowe as an operating partner. He previously was CEO of Baylor Scott & White Health. www.wcas.com
• Fazeela Abdul Rashid is joining Revolution Growth as a partner. She previously was with Temasek as managing director of consumer and Americas. www.revolution.com/growth
• Chris Ritchie joined Ethos Capital as a partner. He previously was with ABRY Partners. www.ethoscapital.com
• Berkshire Partners promoted five to managing director: Justin Hupp, Josh Johnson, Jon Nuger, Nii Amaah Ofuso-Amaah and Terry Thompson. www.berkshirepartners.com
• Crossplane Capital, a Dallas-based PE firm, promoted Greg Balliro to managing director. www.crossplanecapital.com
• Flexpoint Ford promoted Chris Ackerman to managing partner. He joined the PE firm in 2005. www.flexpointford.com
• Next Frontier Capital, a Bozeman, Mont.-based VC firm, promoted Kirsten Suddath to general partner and head of a new Boulder, Colo. office. www.nextfrontiercapital.com
Final Numbers
🙏 Thanks for reading Axios Pro Rata! Please ask your friends, colleagues and everyone who remembers the WB or UPN to sign up.