Axios Pro Rata
August 17, 2021
📣 Please join me and Axios' Courtenay Brown tomorrow at 12:30pm ET for a virtual event on the future of companies going public. Our guests include Nasdaq president Nelson Griggs and venture capitalist Bill Gurley. Register here.
🎧 SpaceX next month will send an all-civilian crew into orbit, and Axios space reporter Miriam Kramer brings you along for the ride. Listen to the prologue for "How It Happened: The Next Astronauts" here. 
Top of the Morning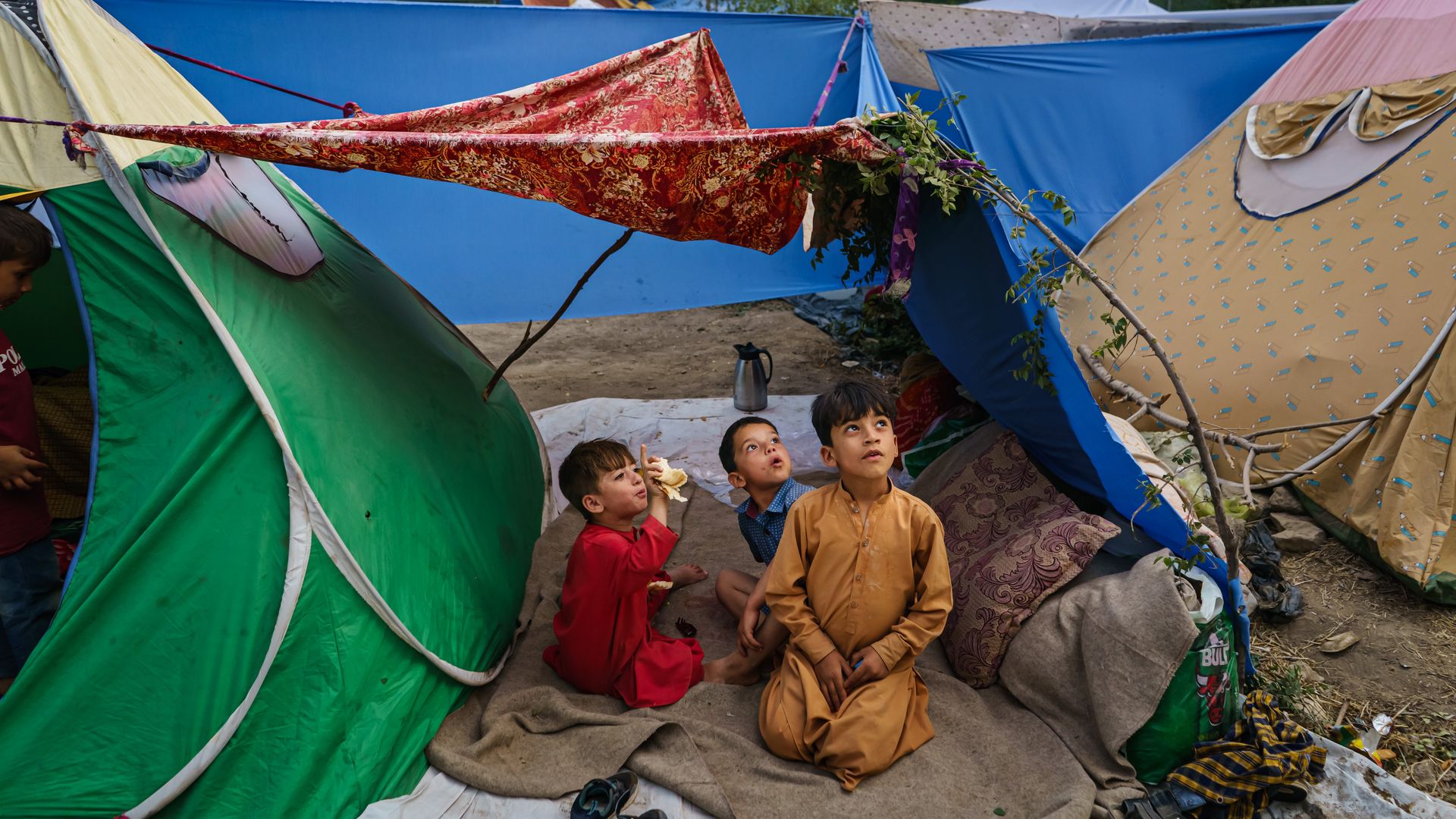 When I spoke to venture capitalist Peter Pham last night, he knew he had to call his father, to discuss the situation in Afghanistan. But he was nervous about conjuring tough memories and painful empathies.
"I know this stuff's hard for him, particularly the idea of people being left in the lurch ... Hopefully we can all agree that those people who truly put their lives at risk to be on our side aren't left behind."
Pham is best-known as an extroverted staple of the Los Angeles startup scene, co-founding a venture incubator/VC firm whose portfolio companies have included Dollar Shave Club, Bird, Liquid Death Mountain Water and PlayVS.
He's also a refugee, born in a Pennsylvania camp just one month after the fall of Saigon.
His father was a commander in the South Vietnamese navy, and his final military responsibility was evacuating more than two dozen ships on April 29, 1975. These were relatively small boats that should have each held hundreds of people, but in total carried tens of thousands. "It's like those airport videos out of Kabul, packing every possible inch of space," Pham says.
They set sail to the Philippines, but were unable to port until swapping out Vietnamese flags for American flags they managed to secure. Then onto Guam, where Pham's mother lied about how far along her pregnancy was in order to board a flight to the U.S.
In Pennsylvania, the Pham family was sponsored by an associate of John F. Lehman — a future U.S. Navy secretary and private equity investor who had flown a couple of missions with Pham's father.
Pham's father went from commanding naval ships to initially working at a fried chicken fast-food restaurant. His mother would become a social worker (as would his father). His brother would become his high school's valedictorian, but held off on going to a four-year college so that he could help work and support the family.
Pham says he and his family are "proud Americans" and "beyond, constantly grateful" that the U.S. kept its promises in 1975 to those who fought alongside it. But he sounds downright disgusted with what's happened over the past few days.
"How could we be leaving the translators behind? These people and their families who had been applying for visas for months, who picked a side — our side — knowing that they'd become enemies of the state and targets if the side they picked lost? Vietnam was different. It was a real surprise, and people still got out."
The bottom line: Peter Pham is a quintessential U.S. success story, rising from a refugee camp into the 1%; helping to create innovative new businesses and jobs for other Americans. The question now for America, including its politicians and pundits, is if it will enable future Peter Phams, or leave them to die in the streets of Kabul.
The BFD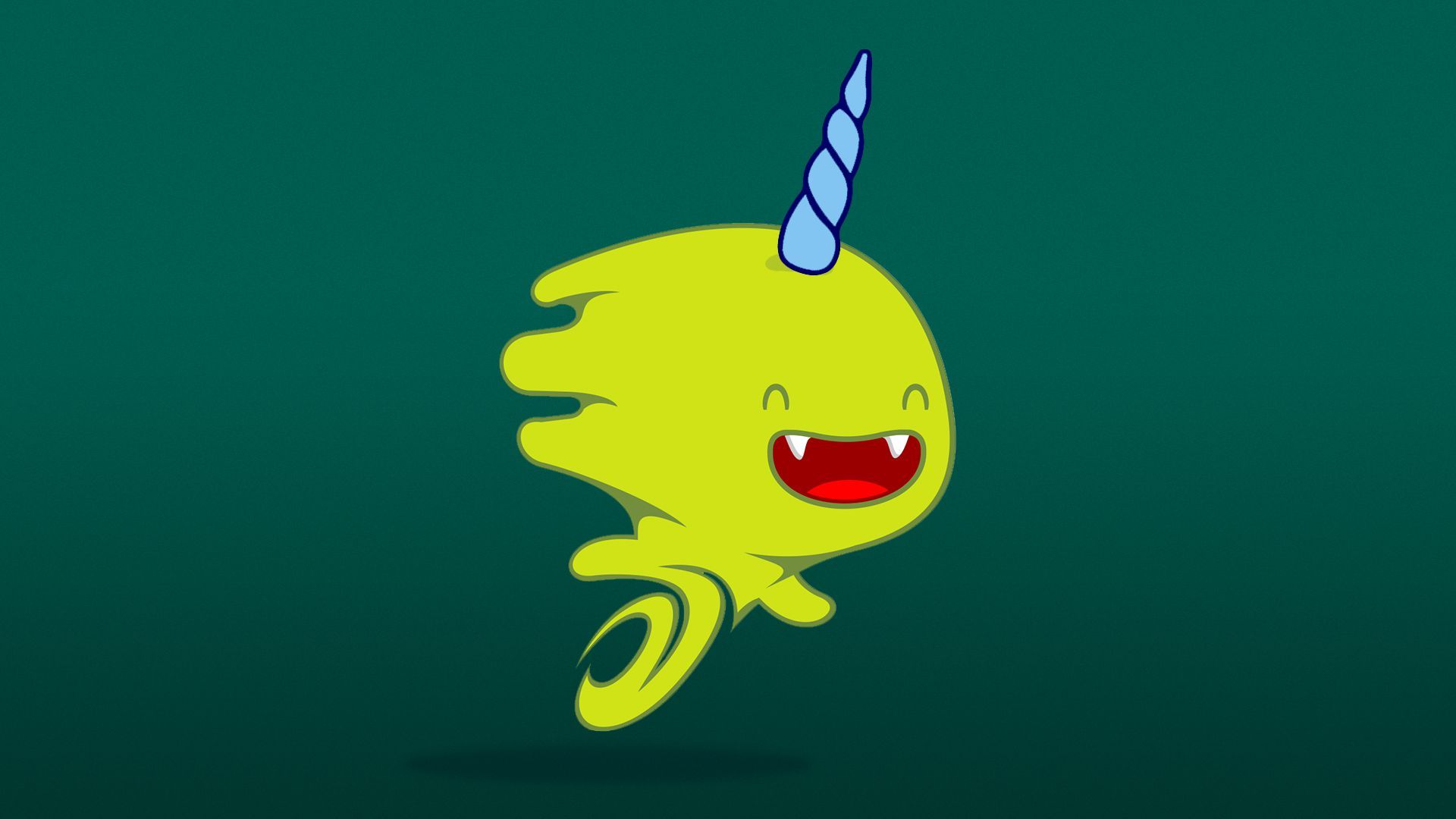 DistroKid, a New York-based music distribution platform, raised funding from Insight Partners at a $1.3 billion valuation.
Why it's the BFD: DistroKid founder Philip Kaplan is best known to us olds as the creator of FuckedCompany.com, a snarky and scoopy website that chronicled the dotcom bust. It's just too delicious that he now runs a unicorn startup that's cashing in on a VC funding boom that puts 1999 to shame.
Details: Axios has learned from multiple sources that Insight structured the deal as a majority recapitalization. Existing DistroKid investors Silversmith Capital Partners and Spotify sold shares to Insight, but maintain ownership stakes.
Backstories: Insight managing director Deven Parekh declined to discuss the deal structure, but did tell me that his son (a senior in high school) had used DistroKid to upload his own music to Spotify. For his part, Kaplan is said to have founded DistroKid after struggling to release music for a death metal band in which he plays drums.
The bottom line: "While DistroKid handles music, it's at its core a technology company. It plans to use the money from Insight to build new tools for the more than 2 million artists that use its services. The company has built tools that allow artists to more easily split earnings, and something called the vault that enables the unlimited free backups for their master recordings. A tool called social phone allows artists to post a phone number publicly so they can send texts to hundreds of fans to alert them to a new album." — Lucas Shaw, Bloomberg
Venture Capital Deals
• Bitpanda, a Vienna-based crypto exchange, raised $263 million in Series C funding at a $4.1 billion valuation. Valar Ventures led, and was joined by Alan Howard, REDO Ventures and insiders LeadBlock Partners and Jump Capital. http://axios.link/yv6H
• Automattic, the parent company of WordPress.com and Tumblr, raised $288 million in new primary funding from BlackRock, Wellington Management, Schondeld, Alta Park and insiders Iconiq and Aglaé. It also closed a $250 million secondary share buyback at a $7.5 billion valuation. http://axios.link/seP1
• Hopper, a Montreal-based travel booking app, raised US$175 million in Series G funding at a valuation north of US$3.5 billion. GPI Capital led, and was joined by Glade Brook Capital, WestCap, Goldman Sachs Growth and Accomplice. http://axios.link/477l
• Seismic, a San Diego-based sales process automation company, raised $170 million in Series G funding at a $3 billion valuation. Permira led, and was joined by JMI Equity, Lightspeed Venture Partners, Jackson Square Ventures, Ameriprise and T. Rowe Price.
Seismic also acquired Lessonly, an Indianapolis-based corporate training and coaching platform that had raised over $35 million from firms like AXA Venture Partners, Zendesk, Atlas Peak Capital, Allos Ventures, Alumni Ventures Group and Rethink Capital Partners. http://axios.link/0EHm
• Moloco, a Redwood City, Calif.-based programmatic ad platform, raised $150 million in Series C funding led by Tiger Global at a $1.5 billion valuation. http://axios.link/OoDA
• Apollo GraphQL, a San Francisco-based provider of open source and commercial GraphQL technologies, raised $130 million in Series D funding. Insight Partners led, and was joined by insiders Andreessen Horowitz, Matrix Partners and Trinity Ventures. www.apollographql.com
🚑 Carrot Fertility, a San Francisco-based fertility benefits provider for employers,, raised $75 million in Series C funding. Tiger Global led, and was joined by OrbiMed, F-Prime, CRV, U.S. Venture Partners and Silicon Valley Bank. www.get-carrot.com
• InfoSum, a New York-based data collaboration platform, raised $65 million in Series B funding led by Chrysalis Investments. www.infosum.com
• Monte Carlo, a San Francisco-based data observability platform, raised $60 million in Series C funding. Iconiq led, ad was joined by Salesforce Ventures and insiders GGV Capital and Redpoint Ventures. http://axios.link/3szS
🚑 Beckley Psytech, a British developer of psychedelic treatments for depression, raised £58 million from Prime Movers Lab, Adage Capital Management, Palo Santo, Delphi VC, Leafy Tunnel, Negev Capital and Bicycle Day. http://axios.link/PsOC
• Split.io, a Redwood City, Calif.-based feature flag platform, raised $50 million in Series D funding. Owl Rock led, and was joined by Northgate Capital and insiders Accel, Lightspeed Venture Partners, Harmony Partners, M12, Atlassian Ventures and ServiceNow. http://axios.link/ZDTc
🚑 BrainQ, an Israeli developer of electromagnetic field therapy devices for stroke recovery, raised $40 million. Hanaco Ventures led, and was joined by Dexcel Pharma and Peregrine Ventures. http://axios.link/s7XD
• ClosedLoop.ai, an Austin, Texas-based healthcare data science platform, raised $34 million in Series B funding. Telstra Ventures led, and was joined by Breyer Capital, Greycroft Ventures, .406 Ventures and Healthfirst. www.closedoop.ai
• Ultrahuman, an Indian fitness platform, raised $17.5 million in Series B funding from Alpha Wave Incubation, Steadview Capital, Nexus Venture Partners, Blume Ventures and the iSeed fund. http://axios.link/PPPD
🚑 Element5, a San Jose, Calif.-based automation-as-a-service solution for post-acute care, raised $15 million in Series A funding. Insight Partners led, and was joined by Maxwell Investment Partners. www.35.ai
• Pngme, a financial data infrastructure startup, raised $15 million in Series A funding. Octopus Ventures led, and was joined by Lateral Capital, EchoVC, Raptor Group, Unshackled Ventures, Future Africa and Two Small Fish Ventures. http://axios.link/sfJd
• Jenfi, a revenue-based financing startup for Southeast Asian companies, raised $6.3 million in Series A funding. Monk's Hill Ventures led, and was joined by Korea Investment Partners, Golden Equator Capital, 8VC, ICU Ventures and Taurus Ventures. http://axios.link/vv5L
Private Equity Deals
• Canada Pension Plan Investment Board is in talks to buy German technical ceramics maker CeramTec from BC Partners for around €3.8 billion, per Bloomberg. http://axios.link/c1zr
🐱 Kinderhook Industries acquired Primal Pet Foods, a Fairfield, Calif.-based premium pet food maker that will be merged with existing Kinderhook portfolio company Prairie Dog Pet Products. www.primalpetfoods.com
• L Squared Capital Partners acquired Crane 1, a Franklin, Ohio-based provider of overhead crane services and equipment, from Pfingsten Partners. www.crane1.com
• Mechanix Wear, a Valencia, Calif.-based portfolio company of Gryphon Investors, acquired Chicago Protective Apparel, a Skokie, Ill.-based maker of personal protective equipment. www.mechanix.com
• Nexa Equity acquired AutoReturn, a San Francisco-based provider of towing and parking enforcement SaaS. www.autoreturn.com
• Odyssey Investment Partners acquired Painters Supply & Equipment, a Taylor, Mich.-based distributor of paints and coatings for the auto and industrial markets, from PNC Riverarch Capital and Skyline Global Partners. www.painters-supply.com
• Pavement Partners, a portfolio company of Shoreline, acquired Dominion Paving & Sealing, a Purcellville, Va.-based provider of asphalt and concrete solutions.
🚑 Periscope Equity sponsored a recap of CyberMaxx, a Nashville-based provider of cyberattack protection solutions for the healthcare industry. www.cybermaxx.com
• Primus Capital invested in Bloomfire, an Austin, Texas-based provider of knowledge engagement software. www.bloomfire.com
• Spectra A&D Holdings, an Alpharetta, Ga.-based portfolio company of Vance Street Capital, acquired Galleon, an Oslo-based provider of embedded computing solutions for military and commercial applications. www.galleonec.com
Public Offerings
• SenseTime, a Chinese developer of facial recognition technologies backed by firms like SoftBank, picked HSBC and CICC to help manage a Hong Kong IPO that could raise at least $2 billion, per Bloomberg. http://axios.link/rbqm
SPAC Stuff
• Syniverse Technologies, a Tampa, Fla.-based telecom services firm owned by The Carlyle Group and Scotiabank Private Equity, agreed to go public at an implied $2.85 billion enterprise value via M3-Brigade Acquisition II Corp. (NYSE: MBAC). http://axios.link/jbjy
Liquidity Events
• Cisco (Nasdaq: CSCO) is paying $500 million to buy Epsagon, an Israeli provider of monitoring solutions for modern dev environments that had raised $26 million in Series A funding from USVP, DTCP, Lightspeed Venture Partners and StageOne Ventures. http://axios.link/9TwQ
• Roblox (NYSEL RBLX) bought Guilded, a San Francisco-based chat platform for gamers that had raised over $10 million from firms like Matrix Partners, Initialized Capital and Susa Ventures. http://axios.link/ZWbh
More M&A
🛢️ Saudi Aramco is seeking to raise at least $17 billion through the sale of a minority stake in its gas pipelines, per Reuters. This would top the $12.4 billion it raised from its oil pipeline stake sale. http://axios.link/G160
Fundraising
• Accolade Partners is raising $175 million for its second crypto fund-of-funds, per WSJ. http://axios.link/hwgn
• Px3 Partners, a pan-European PE firm led by three former Rhône Group managing directors, is targeting €750 million for its debut fund, per PE International. http://axios.link/JdQG
• Whitehorse Liquidity Partners, a Toronto-based private equity secondaries firm, is targeting US$5 billion for its fifth fund. http://axios.link/z3yF
It's Personnel
• Tom Brown joined VC firm Nyca Partners as a partner. He previously was an attorney with Paul Hastings. www.nyca.com
• Jim Conti (ex-Sprout Social, dscout) joined Hyde Park Venture Partners as its first talent partner. www.hydeparkvp.com
• Michael Stewart joined M12 as a San Francisco-based investment partner. He previously was with Applied Ventures. www.m12.vc
Final Numbers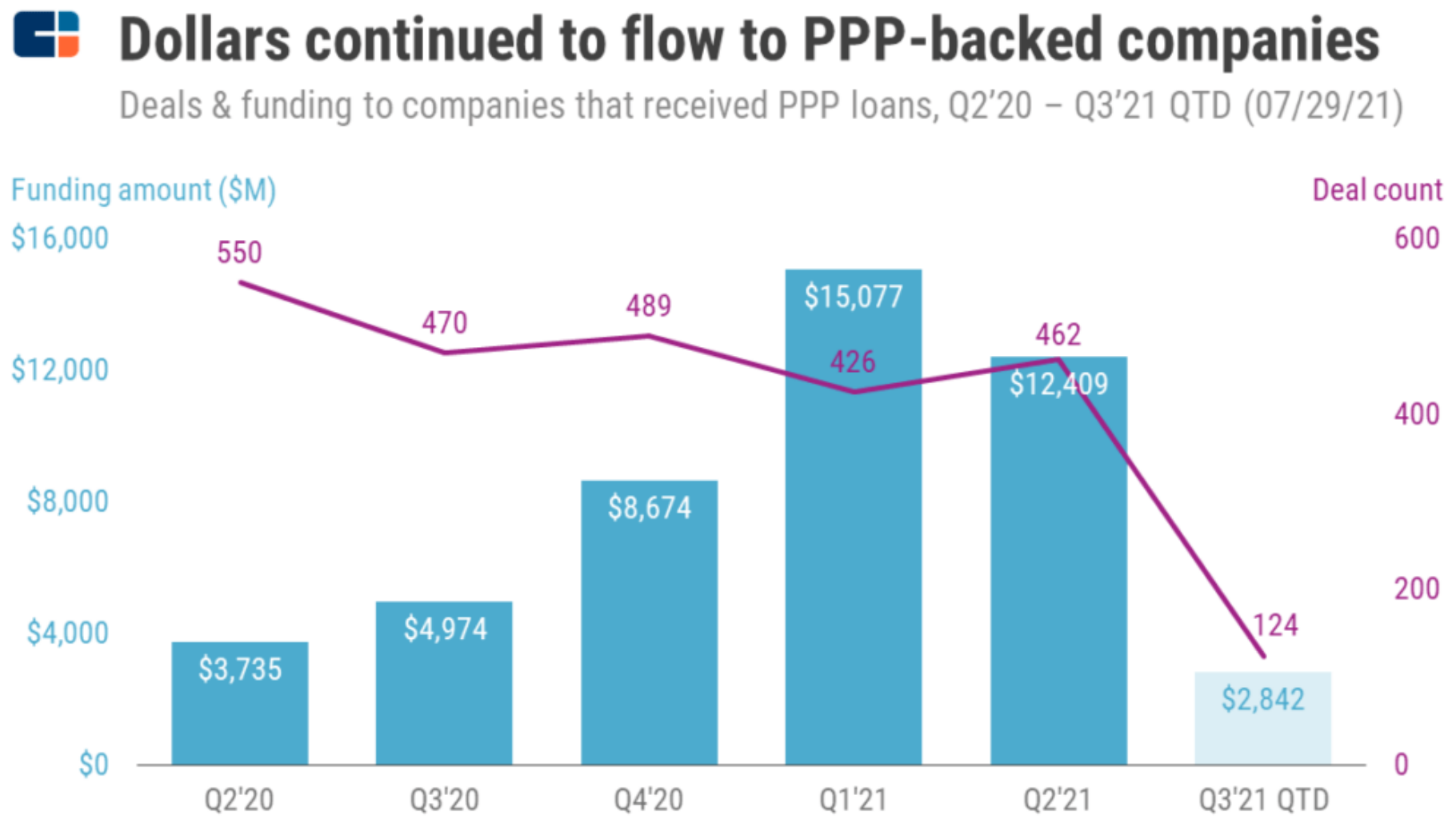 CBInsights this morning reported that 9,674 VC-backed companies received Paycheck Protection Program (PPP) loans. Of those:
1,762 went on to raise new funding rounds, 17 of which did so at valuation of at least $1 billion.
677 companies exited via M&A, IPO or SPAC.
Only 30 have gone out of business.
🙏 Thanks for reading Axios Pro Rata! Please ask your friends, colleagues and f'd company founders to sign up.