Axios Pro Rata
November 02, 2022
Today's edition includes no mention of Elon Musk or Twitter. Well, except for just then. OK, here we go…
Top of the Morning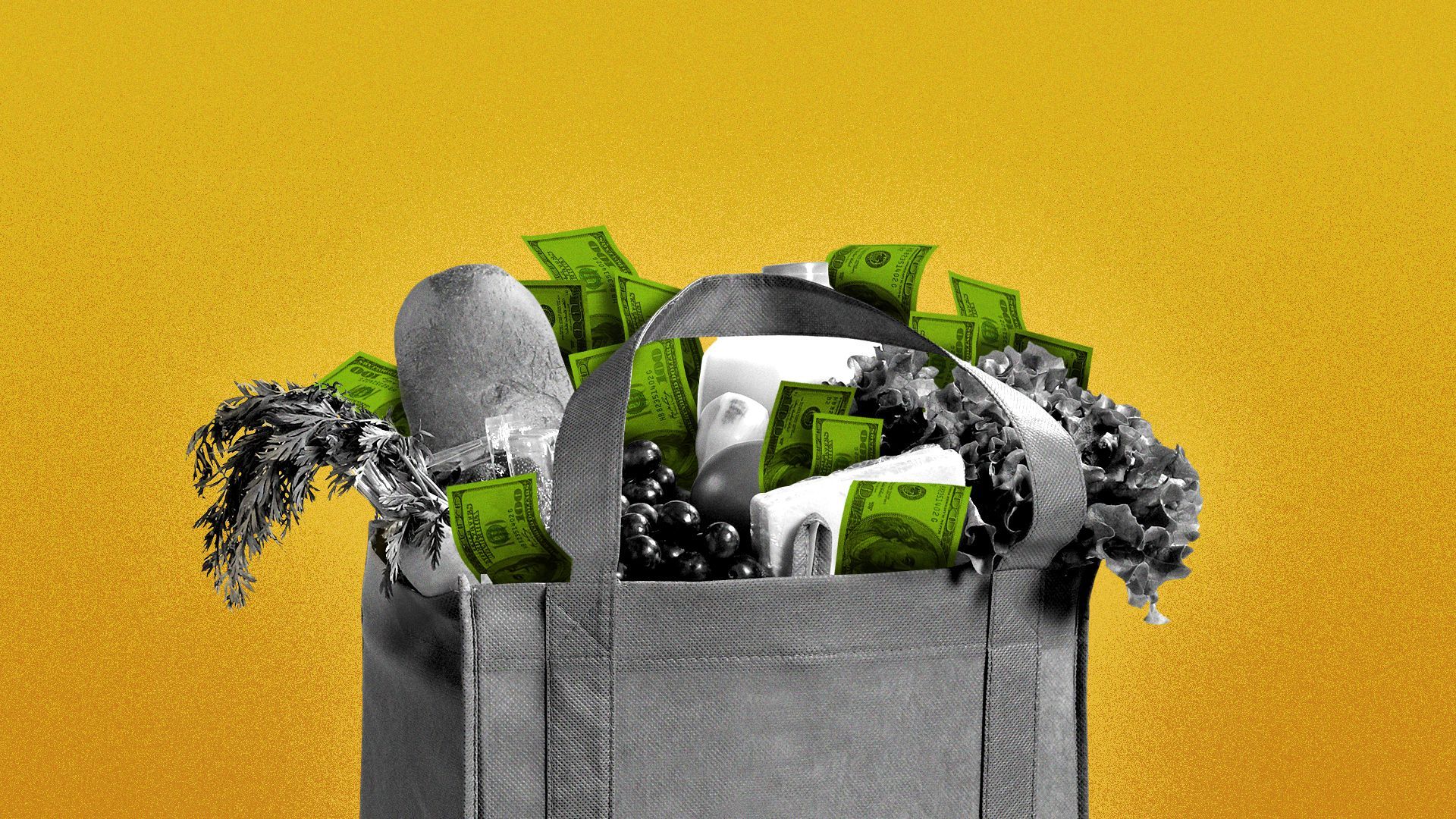 Cerberus Capital Management may need to wait on its grocery windfall.
Driving the news: Washington state's attorney general yesterday filed a lawsuit seeking to block supermarket chain Albertsons from paying a $4 billion cash dividend to shareholders on Nov. 7.
Backstory: Cerberus invested just $100 million for control of Albertsons in 2013, later taking it public in 2020 at a $9.3 billion market cap (not including around $8.5 billion in debt). Albertsons recently agreed to be acquired by rival Kroger at more than double the $16 per share IPO price.
Cerberus currently holds a 28.37% stake in Albertsons, worth around $5.18 billion via the Kroger deal. It also has two of the company's 11 board seats, including a co-chair.
But it's in line to get more than $1 billion of that total next week, via a special dividend that was announced at the exact same time as the Kroger merger. That money, or set to be paid out next week, and wouldn't be clawed back if the Kroger merger is blocked by antitrust regulators or otherwise doesn't close.
The dividend is worth $6.85 per Albertsons share, which would be subtracted from the $34.10 per share Kroger payout. Again, if there ever is a Kroger payout.
Lawsuit: Washington state Attorney General Bob Ferguson argues that Albertsons would be putting itself at a competitive disadvantage to Kroger by paying out the dividend, and thus is seeking a temporary restraining order.
In a press release, Ferguson said: "Corporations proposing a merger cannot sabotage their ability to compete while that merger is under review."
Albertsons reportedly has called the lawsuit "meritless," and recently told a group of state AGs that the dividend is "independent" of the merger.
But here's the thing: Albertsons last month said the dividend was "in connection with" the merger, in its press release announcing the deal. Kroger's press release called the dividend "part of the transaction."
The bottom line: Albertsons and Cerberus are seeking to take some money off the table ahead of a very tricky regulatory negotiation, which is certain to require divestitures.
The big question may become if a dividend blockage causes any renegotiation of the overall merger agreement. Or if the two transactions really are "independent."
The BFD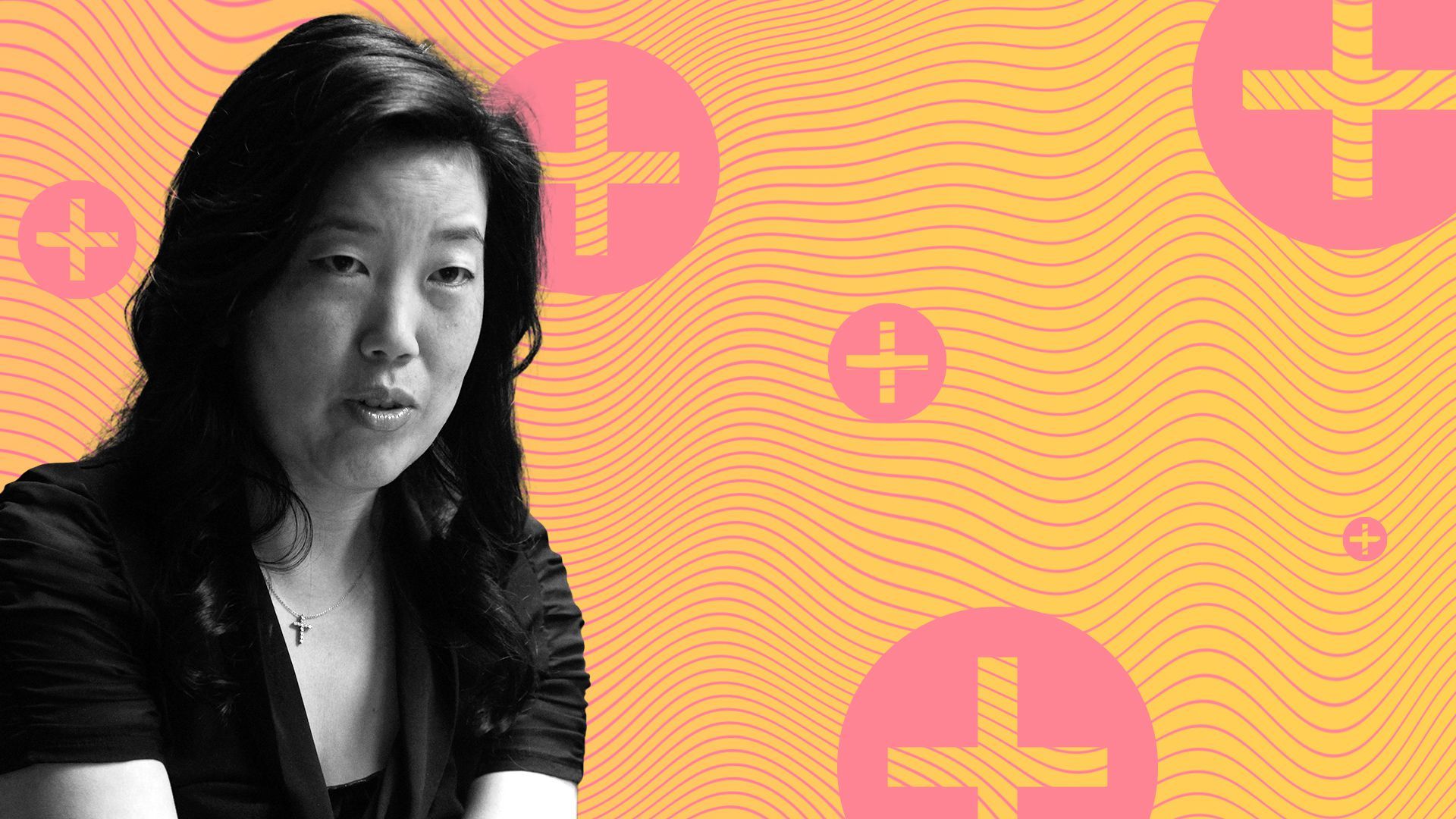 BuildWithin, a Washington, D.C.-based developer of apprenticeship management software, tells Axios that it's raised $2.4 million in pre-seed funding. Dundee Venture Capital led, and was joined by Black Capital.
Why it's the BFD: The company is co-founded by Michelle Rhee, one of the most polarizing figures in American education. It's her first for-profit startup, and says she hopes to apply some of her K-12 learnings to workforce training — at a time when there are still millions of unfilled tech jobs.
Rhee's co-founder is CEO Ximena Hartsock, a tech entrepreneur (Phone2Action), who previously worked with Rhee in the D.C. public school system and as part of an education reform lobbying group called StudentsFirst.
Details: The round was structured as an unpriced SAFE note, and the startup plans to seek between $5 million and $7 million in seed funding by the middle of next year. It currently has a $1 million ARR.
The bottom line: Apprenticeship programs are regulated by the Labor Department, and BuildWithin is an approved intermediary. It sells not only to companies, but also to municipalities that may invest in local workforce development (workshops, conferences, etc.) but then lack systems to track what happens next.
Venture Capital Deals
• Alation, a Redwood City, Calif.-based provider of data-cataloging software, raised $123m in Series E funding. Thoma Bravo, Sanabil Investments and Costanoa Ventures co-led, and were joined by Databricks Ventures, Dell Technologies Capital, HPE, Icon Ventures, Queensland Investment Corp., Riverwood Capital, Salesforce Ventures, Sapphire Ventures and Union Grove. https://axios.link/3gYEJbb
🌎 Samsara Eco, an Australian plastic recycling startup, raised A$54m in Series A funding from Breakthrough Victoria, Temasek, Assembly Climate Capital, DCVC, INP Capital and insiders Main Sequence, Woolworths Group and Clean Energy Finance Corp. https://axios.link/3NxpL8f
• Roam, a virtual office space startup led by Howard Lerman (ex-Yext CEO), raised $30m in Series A funding led by IVP. https://axios.link/3DBPWpY
• Evmos, an Ethereum virtual machine hub startup, raised $27m in seed funding via a token sale led by Polychain Capital. https://axios.link/3fnJEC9
🌎 Vaxess, a Cambridge, Mass.-based developer of patch-based vaccine delivery solutions, raised $27m in Series B funding. RA Capital Management led, and was joined by The Engine, Mission BioCapital, and Global Health Investment Corporation. https://axios.link/3SYBE8c
• Attain (fka Klover), a Chicago-based commerce data platform, raised $25m in Series B funding led by Mercato Partners. www.attaindata.io
🚑 MedCrypt, a San Diego-based provider of medical device cybersecurity solutions, raised $25m in Series B funding. Intuitive Ventures and J&J Innovation co-led, and were joined by Section 32, Eniac Ventures, Anzu Partners and Dolby Family Ventures. https://axios.link/3zA3cdm
🌎 Starfire Energy, a Denver-based maker of parts for ammonia manufacturers, raised $24m in Series B funding led by Samsung Ventures, as first reported by Axios Pro. https://axios.link/3U2Pmsk
• Orum, a sales prospecting startup, raised $22m in Series B funding. Tribe Capital led, and was joined by Craft Ventures and Unusual Ventures. https://axios.link/3FEDsAm
🚑 Carta Healthcare, an SF-based provider of clinical data to health systems, raised $20m in Series B funding from Paramark Ventures, Frist Cressey Ventures, American College of Cardiology, Asset Management Ventures, CU Healthcare Innovation Fund, Mass General Brigham, Maverick Ventures Investment Fund and Storm Ventures. www.carta.healthcare
🌎 Protein Evolution, a New York-based textile and mixed-plastic waste recycling startup, raised $20m from Collaborative Fund, New Climate Ventures, Eldridge, Nextrans and Good. www.pei.bio
🌎 Cruz Foam, a Santa Cruz, Calif.-based maker of biodegradable Styrofoam alternatives, raised $18m in Series A funding. Helena led, and was joined by One Small Planet, Regeneration.VC, At One Ventures and SoundWaves. www.cruzfoam.com
• Galileo, a platform for AI model development, raised $18m in Series A funding. Battery Ventures led, and was joined by The Factory, Walden Catalyst and FPV Ventures. https://axios.link/3DqIq0Q
🚑 Galen Robotics, a Baltimore-based digital surgery robotics startup, raised $15m in Series A funding from Ambix Healthcare Partners. https://axios.link/3UfaeMG
• AiDash, a San Jose, Calif.-based AI platform for satellite-powered operations and maintenance, raised $10m from SE Ventures. www.aidash.com
🚑 Floreo, a Rockville, Md.-based developer of VR behavioral therapy content, raised $10m in Series A funding. Tenfore Holdings led, and was joined by the Felton Group, the Autism Impact Fund and the Disability Opportunity Fund. https://axios.link/3FR209B
• Software Defined Automation, an industrial manufacturing software startup with offices in Boston and Germany, raised $10m in seed funding. Insight Partners led, and was joined by Baukunst VC, Fly Ventures, and First Momentum. www.softwaredefinedautomation.io
• Haven, a Newark, N.J.-based mortgage servicing software startup, raised $8m in Series A funding, as first reported by Axios Pro. Fifth Wall led, and was joined by Fidelity National Financial, RWT Horizons, 1Sharpe Ventures, Conversion Capital, BoxGroup, AME Cloud Ventures and Operator Partners. https://axios.link/3UdINCS
• Metrist, an SF-based provider of app availability SaaS, raised $5.5m in seed funding from Heavybit and Morado Ventures. https://axios.link/3DmhzTE
• NiftyApes, an NFT-focused lending startup, raised $4.2m in seed funding. Variant and FinTech Collective co-led, and were joined by Robot Ventures, Polygon, Coinbase Ventures, The LAO and FlamingoDAO. https://axios.link/3WeD15L
• Travtus, a New York-based provider of multifamily property management software, raised $4m led by RET Ventures. www.travtus.com
• TAGS Commerce, a Calabasas, Calif.-based instant checkout company, raised $3.5m from XRC Labs, Gaingels, Not Boring and Tiny Capital. https://axios.link/3sTLRrS
• Flowers Software, a Munich-based provider of workflow automation solutions for SMBs, raised $3.2m in seed funding. La Famiglia led, and was joined by LEA Partners and Collective Ventures. https://axios.link/3WmLEv1
Private Equity Deals
• Aurora Capital Partners acquired Universal Pure, a Villa Rica, Ga.-based provider of high pressure processing services for cold chain-oriented human and pet food customers, from Tilia Holding. www.universalpure.com
🚑 Avista Capital Partners acquired Taconic Biosciences, a Rensselaer, N.Y.-based provider of genetically engineered research models, from H.I.G. Capital. www.taconic.com
🚑 GTCR invested in Biocoat, a Horsham, Pa.-based medical device contract manufacturing organization. www.biocoat.com
• China Merchants Group is considering a buyout bid for Chindata Group, a Chinese data center operator backed by Bain Capital, per Bloomberg. https://axios.link/3Ul219p
• Cornell Capital and TorQuest Partners invested in S.i. Systems, a Canadian IT staffing company. www.sisystems.com
• EQT is the frontrunner to buy a 45% stake in French telecom tower owner TDF from Brookfield Asset Management, per Bloomberg. The deal could value TDF at around €9b (including debt). https://axios.link/3Wr83qU
• Greenbriar Equity Group acquired a majority stake in RANDYS Worldwide, an Everett, Wash.-based maker of branded drivetrain, suspension, and undercar products to the vehicle aftermarket. Existing backer Tailwind Capital will reinvest. www.randysworldwide.com
• H.I.G. Capital invested in ThoughtFocus, a Milwaukee-based provider of digital services to the financial services market. www.thoughtfocus.com
🚑 Medical Manufacturing Technologies, a Charlotte-based portfolio company of Arcline Investment, acquired the balloon-forming and catheter equipment manufacturing unit of Confluent Medical Technologies, a Scottsdale, Ariz.-based portfolio company of TPG. www.mmt-inc.com
• NEC, a portfolio company of Pfingsten, acquired Eastern Communications, a Bloomfield, Conn.-based provider of maintenance and repair services to telecom infrastructure. www.easterncomm.com
• Pacific Equity Partners offered to buy ReadyTech (ASX: RDY), an Australian provider of education and workforce software, for A$481.4m. https://axios.link/3DTwiHi
• Providence Equity Partners invested in Wasserman, an LA-based sports, music and culture agency. Sellers include RedBird Capital Partners and Madrone Capital Partners, while founder and CEO Casey Wasserman will retain his control ownership stake. https://axios.link/3UdLvIs
• Puzzel, a Norway-based portfolio company of Marlin Equity Partners, acquired S2 Communications, a Swedish provider of outbound campaign management and sales functionality solutions. www.puzzel.com
• Thoma Bravo invested in SMA Technologies, a Houston-based provider of automation solutions for financial services. www.smatechnologies.com
Public Offerings
🚑 Artiva Biotherapeutics, a San Diego-based developer of allogeneic natural killer cell therapies, withdrew registration for a $100m IPO. The pre-revenue company planned to list on the Nasdaq and has raised nearly $200m from GC LabCell (28% pre-IPO stake), 5AM Ventures (15.3%), venBio Partners (15.3%), RA Capital (15.3%), Venrock (6%) and Medivate Partners. www.artivabio.com
• Byju's, an Indian ed-tech firm, is talking with bankers about a $1b IPO for in-person tutoring chain Aaskash, per TechCrunch. https://axios.link/3Nu2Bjh
SPAC Stuff
• Iron Horse Acquisitions, a media and entertainment SPAC, filed for a $100m IPO. It's chaired by Brian Turner (ex-CFO of Coinstar) and its CFO is Jane Waxman (ex-Deputy CEO of 20th Century Fox). https://axios.link/3DwP4Tp
Liquidity Events
🥨 CenterOak Partners agreed to sell Pasadena, Calif.-based snack-maker Weztel's Pretzels to MTY Food Group (TSX: MTY) for $207m in cash. www.wetzels.com
• Gulf Capital sold Dubai-based food-service distribution business Chef Middle East to Connecticut-based The Chefs' Warehouse (Nasdaq: CHEF) for around $100m. https://axios.link/3NtqPKv
More M&A
• Bertelsmann, the owner of book publisher Penguin Random House, said it will appeal a U.S. federal judge's ruling that blocked Penguin's nearly $2.2b purchase of Simon & Schuster. https://axios.link/3sOo8cJ
• Celanese (NYSE: CE) completed its $11b acquisition of the majority of DuPont's mobility and materials unit. www.celanese.com
• DuPont (NYSE: DD) scrapped its $5.2b buyout of U.S. engineering materials maker Rogers Corp. (NYSE: ROG), after failing to secure Chinese regulatory approval. https://axios.link/3UetsBW
🚑 Google (Nasdaq: GOOG) acquired Seattle-based digital health breathing monitoring startup Sound Life Sciences. https://axios.link/3Nnj095
🚑 Hint Health, an SF-based primary care software provider that's raised $60m in VC funding, acquired Denver-based health record company AeroDPC, per Axios Pro. https://axios.link/3sPias1
⚡ Hurricane Energy (LSE: HUR), a North Sea oil and gas producer, said it's launched a sale process after receiving an unsolicited takeover bid. https://axios.link/3DTsYMc
• Terran Orbital (NYSE: LLAP), an Irvine, Calif.-based small satellite company that went public via SPAC, secured a $100m investment from early backer Lockheed Martin (NYSE: LMT).
• Turquoise Hill Resources (TSX: TRQ), a Canadian copper miner, delayed by a week its shareholder vote on Rio Tinto's (LSE: RIO) $3.3b agreement to buy the 49% stake it doesn't already hold. https://axios.link/3FJ39Q6
• Wemade, a listed South Korean video game developer, raised $46m in convertible note funding from Microsoft, Shinhan Asset Management and Kiwoom Securities https://axios.link/3zBd9Hs
Fundraising
• Blackbird Ventures of Australia raised over A$1b for its fifth fund, the largest ever raised by an Australian firm. https://axios.link/3zAAOYu
🌎 Business Development Bank of Canada raised C$400m for a new climate tech VC fund. https://axios.link/3NzmmpC
• Double Down, a Miami-based web3 VC firm led by Mags Kala (ex-Bain Capital), raised around $30m for its debut fund. https://axios.link/3NqaCFO
🚑 JPMorgan is launching a health care VC group, which will operate under JPMorgan Private Capital. https://axios.link/3FLaZsu
• Mozilla is launching a $35m corporate VC fund. https://axios.link/3SYtInq
• Neo, the VC firm led by Ali Partovi, is raising $140m for its third flagship fund and $60m for an opportunities fund, per SEC filings. www.neo.com
It's Personnel
• Clinton Senkow joined Invest Alberta as director of investment, tech and innovation. He previously was with Senkow Ventures. https://axios.link/3UcKXT6
• Francesca Whitehead joined venture firm Fifth Wall as a VP. She previously was with G2 Venture Partners. https://axios.link/3sLYGEK
• Ted Ullyot, the former head of policy and regulatory operation at Andreessen Horowitz, is launching a boutique law and consulting firm with former U.S. Attorney General Bill Barr, per Axios. https://axios.link/3h3H98D
• Jeff Zucker, whose nine-year run atop CNN ended this past February, is in advanced talks to join private equity firm RedBird Capital Partners. https://axios.link/3WgLLbD
Final Numbers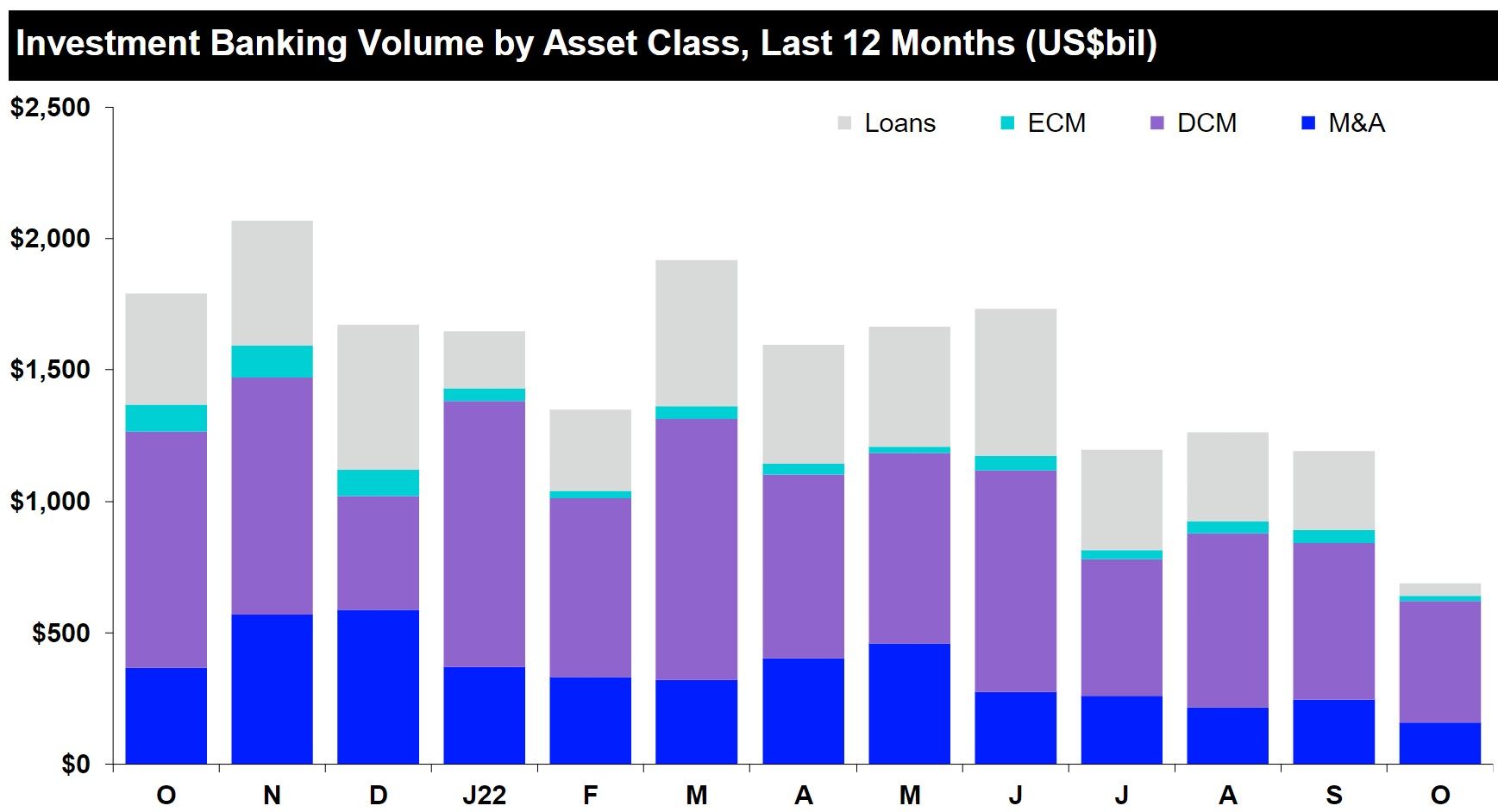 ✅ Thanks for reading Axios Pro Rata, and to copy editors Mickey Meece and Bryan McBournie! Please ask your friends, colleagues and apprentices to sign up.