Axios Pro Rata
May 03, 2021
🎧 Axios Re:Cap focuses on the global chips shortage with Gregory Bryant, head of Intel's PC biz. Take a listen.
🎮 Axios Gaming launches today! Written by Stephen Totilo and Megan Farokhmanesh. Sign up here.
Top of the Morning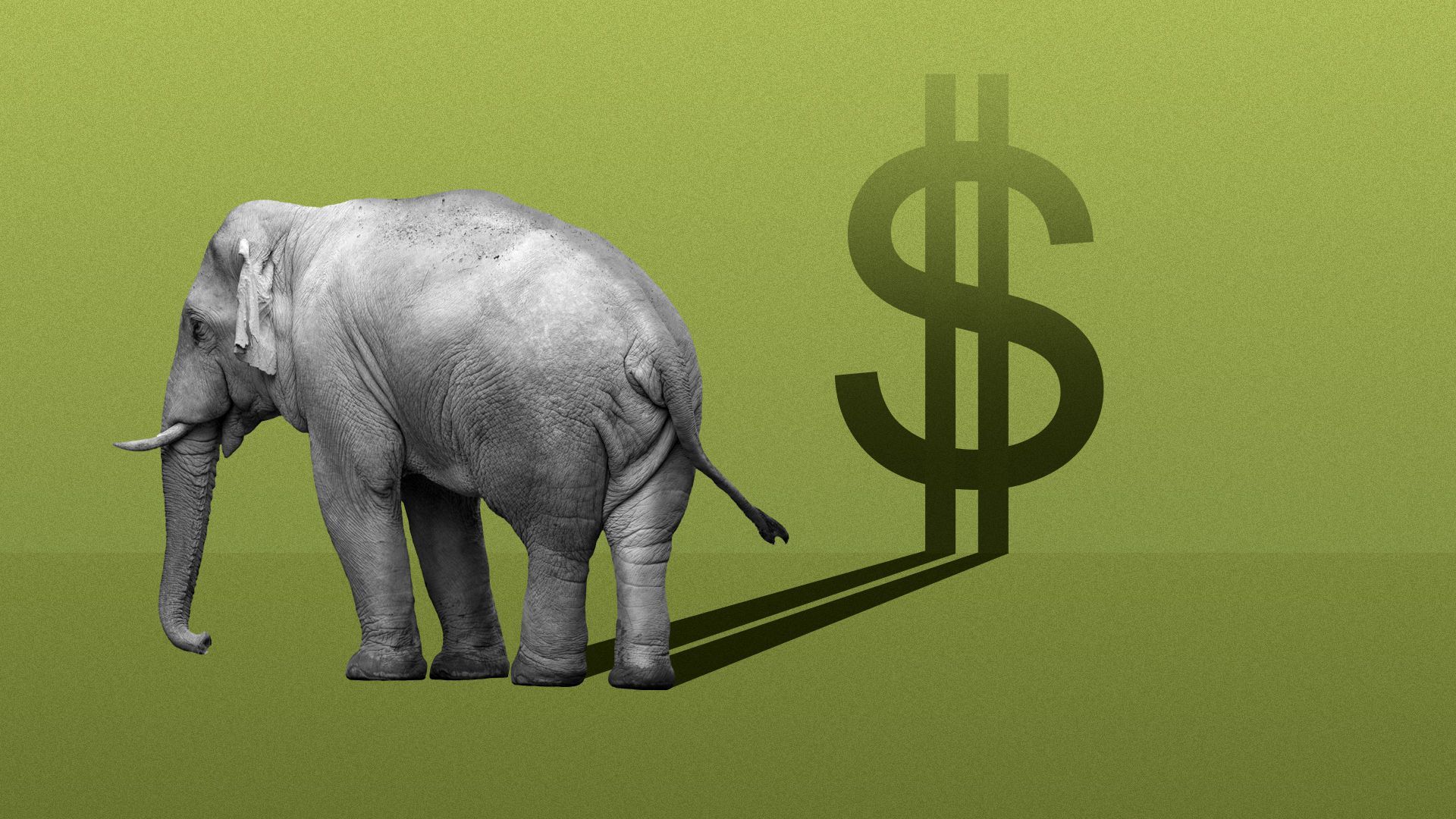 Warren Buffett doesn't have much use for unicorns, instead building his Berkshire Hathaway empire by hunting for the sort of asset-heavy megadeals that he calls "elephants."
Driving the news: Berkshire hasn't fired a shot from its elephant gun in quite some time. Not even last spring, when many thought it would become the bailout partner of first resort, much like the role in played in 2008.
Yes, Berkshire did pay $10 billion for Dominion Energy's gas transmission and storage business last July, but that's still a small deal by its standards.
It reports having over $145 billion in cash at the end of March.
What happened: Buffett over the weekend said that his spring 2020 inaction was partially due to rapid and robust government intervention — from both the Fed and Congress — and his own caution over how the pandemic would play out.
He also noted worry that Berkshire's presence could have caused government to delay aid to specific companies or sectors, which is why he sold out of airlines at a loss.
Buffett and Charlie Munger also cited the influence of SPACs. That one didn't ring terribly true, since Berkshire should be playing in a bigger league than the vast majority of SPAC mergers.
The bottom line: Buffett has said the elephant deals make his "heart beat faster." But he's still sitting on stable, as the broader merger market's EKG machine is spiking.
The BFD
Verizon (NYSE: VZ) agreed to sell its digital media unit, including Yahoo and AOL, to Apollo Global Management for $5 billion.
Why it's the BFD: Yahoo remains one of the world's most-trafficked web properties, although revenue has been stagnant for years. This deal also creates the possibility of Yahoo Sports-branded sportsbooks or casinos, given its large (and largely unmonetized) user base and Apollo's past experience in those areas.
Details: Apollo will pay $5 billion for a 90% stake, with Verizon retaining the rest. It's a slightly higher price than what was expected, but still far short of the $9 billion that Verizon paid to acquire the businesses. The newly independent company will be called Yahoo (without an exclamation point).
Backstory: This is the culmination of more than five years of due diligence for Apollo, which sniffed around Yahoo before Verizon bought it in 2017. The private equity firm told Verizon to give a call if it was ever interested in selling, and discussions began last summer.
Bonus media deal: Meredith Corp. (NYSE: MDP) this morning agreed to sell its local media group for $2.7 billion to Gray Television (NYSE: GTN).
Bottom line: "We make our money by looking at things that others ignore or write off." — David Sambur, Apollo's co-head of private equity, to Axios
Venture Capital Deals
• Wealthsimple, a Canadian robo-advisor, raised C$750 million at a C$5 billion post-money valuation. Insiders Meritech Capital Partners and Greylock co-led, and were joined by Inovia, Sagard, Redpoint Ventures, TSV, Drake, Ryan Reynolds and Michael J. Fox. http://axios.link/DenQ
• Prescient, a Mebane, N.C-based architectural design and building technology platform, raised $190 million from Eldridge and JE Dunn. www.prescientco.com
🚑 Affinia Therapeutics, a Waltham, Mass.-based gene therapy startup, raised $110 million in Series B funding. EcoR1 Capital and Farallon Capital Management co-led, and were joined by Avidity Partners, Casdin Capital, GV, Octagon Capital, Perceptive Advisors, RA Capital Management, TCG Crossover, Woodline Partners and insiders Atlas Venture, F-Prime Capital, Lonza, Mass General Brigham Ventures and NEA. www.affiniatx.com
• SafetyCulture, an Australian enterprise compliance checking platform, raised US$73 million at a $1.6 billion valuation. Insight Partners led, and was joined by insiders Tiger Global, Index Ventures and Blackbird Ventures. http://axios.link/JcHm
• Bibit, an Indonesian robo-adviser, raised $65 million. Existing backer Sequoia Capital India led, and was joined by Prosus Ventures, Tencent, Harvard Management Co., AC Ventures and East Ventures. http://axios.link/0z3x
• Path Robotics, the Columbus, Ohio-based developer of autonomous robotic welding systems, raised $56 million in Series B funding. Addition led, and was joined by Drive Capital, Basis Set and Lemnos Lab. www.path-robotics.com
🚑 Ceribell, a Mountain View-based developer of rain monitors to detect hidden seizures, raised $53 million in Series C funding. Longitude Capital and The Rise Fund co-led, and were joined by RA Capital, Redmile Group and Red Tree VC. http://axios.link/jita
• Catch Co., a Chicago-based fishing supplies e-commerce company, raised $38 million in Series B funding. True Ventures led the round, which included primary and secondary capital, and was joined by TechNexus. http://axios.link/8EpA
• Hangry, an Indonesian cloud kitchen startup, raised $13 million in Series A funding. Alpha JWC Ventures led, and was joined by Atlas Pacific Capital, Salt Ventures and Heyokha Brothers. http://axios.link/So0Q
🚑 OnLume Surgical, a Madison, Wis.-based developer of surgical imaging systems, raised $7 million in Series A funding. Cambridge Investment Group led, and was joined by WARF Ventures and Investment Partners (WIP). www.onlume.com
Private Equity Deals
• Bold Orange, a Minneapolis-based portfolio company of Mountaingate Capital, acquired Three Deep, a St. Paul, Minn.-based provider of performance marketing solutions. www.boldorange.com
• Francisco Partners and TPG agreed to buy Boomi, a Chesterbrook, Pa.-based provider of cloud-connected business software, from Dell Technologies (NYSE: DELL) for $4 billion. http://axios.link/mHGm
• J.C. Flowers & Co. completed its previously announced purchase of iLending, an Englewood, Colo.-based auto refinance marketing company. www.ilendingdirect.com
• KKR bought Natural Pet Food Group, a New Zealand-based premium pet food maker. www.naturalpetfoodgroup.com
• Royal KPN (Amst: KPN), a Dutch telecom giant, rejected an unsolicited takeover offer from EQT and Stonepeak Infrastructure Partners. No specifics were disclosed, but earlier reports suggested the bid would top $15 billion. http://axios.link/Brv7
Public Offerings
• Eight companies plan to price IPOs on U.S. exchanges this week: The Honest Co., Waterdrop, iPower, Onion Global, Five Star Bancorp, Valneva, Bowman Consulting and Anebulo Pharma. http://axios.link/Jc1r
🍺 Australian Venue Co., a Melbourne-based pub operator backed by KKR, launched an IPO process that could raise A$352 million. http://axios.link/RQiA
• Flywire, a Boston-based vertical payments company, filed for a $100 million IPO. Reuters previously suggested it could seek a $3 billion valuation, and Flywire reports an $11 million net loss for 2020 on $132 million in revenue. The company raised $263 million from Bain Capital Ventures (15.5% pre-IPO stake), Spark Capital (14.5%), Temasek (11.7%), F-Prime Capital (7%), Goldman Sachs (6.7%), Tiger Global and Adage Capital Management. http://axios.link/RRtk
• MeridianLink, a Costa Mesa, Calif.-based credit reporting and lending platform owned by Thoma Bravo, filed for an IPO that Renaissance Capital estimates could raise $350 million. It plans to list on the NYSE (MLNK) and reports a $9 million profit for 2020 on $199 million in revenue. http://axios.link/aPb3
• On, a Swiss sneaker maker, hired banks for a 2021 that could value the company at around $5 billion, per Bloomberg. Backers include Bond Capital, G9 Ventures and Roger Federer. http://axios.link/hzzl
• Paymentus, a Charlotte-based electronic payments company owned by Accel-KKR, filed for an IPO that Renaissance Capital estimates could raise $250 million. It plans to list on the NYSE (PAY), and reports a $14 million profit for 2020 on $302 million in revenue. http://axios.link/BXBc
• Qinio, a Chinese provider of enterprise cloud services for media and data applications, filed for a $100 million IPO. It plans to list on the Nasdaq (QNIU) and reports a $3 million net loss for 2020 on $166 million in revenue. Qinio raised nearly $300 million in VC funding from firms like Alibaba, Yunfeng Capital, Qiming Venture Partners, Matrix Partners China and China Broadband Partners. http://axios.link/EQYN
🚑 Waterdrop, a Chinese health insurance and healthcare crowdfunding platform, set IPO terms to 30 million shares at $10-$12. It would have a fully diluted value of $4.6 billion, were it to price in the middle, plans to list on the NYSE (WDP) and reports a $102 million net loss for 2020 on $464 million in revenue. Shareholders include Tencent, Boyu Capital, Gaorong Capital and Swiss Re. http://axios.link/YUj3
• Ximalaya, a Chinese online voice audio platform, filed for an IPO that Renaissance Capital estimates could raise $500 million. It plans to list on the NYSE (XIMA) and reports a $93 million net loss for 2020 on $621 million in revenue. Shareholders include Trustbridge Partners (7.5% pre-IPO stake). http://axios.link/PYMJ
• ZipRecruiter, a Santa Monica, Calif.-based hiring marketplace, picked May 26 for its direct listing on the NYSE. It reports an $86 million profit on $418 million in revenue for 2020, versus a $6.5 million net loss on $430 million in revenue for 2019, while shareholders include IVP and Wellington Management. http://axios.link/i9Hc
SPAC Stuff
🚑 Roviant Sciences, a New York-based drug development company, agreed to go public at an implied $7.3 billion valuation via Montes Archimedes Acquisition Corp. (Nasdaq: MAAC), a SPAC sponsored by Patient Square Capital. Roviant had raised nearly $5 billion from backers like SoftBank Vision Fund, Founders Fund, NovaQuest, Dexcel Pharma, Viking Global Investors and Dainippon Sumitomo Pharma. http://axios.link/d6EI
• WayRay, a Swiss developer of holographic AR technology for connected cars, is seeking to go public via SPAC, per Bloomberg. It's raised $98 million from firms like Porsche, China Merchants Kunlun Capital and Alibaba. http://axios.link/bTKO
• Ascendant Mobility Acquisition I, a mobility SPAC, filed for a $350 million IPO. http://axios.link/cT8H
Liquidity Events
• AEA Investors is seeking a buyer for Springs Window Fashions, a Middleton, Wis.-based window products maker, that could fetch more than $3 billion, per Bloomberg. http://axios.link/lZaB
• Chausson Matériaux acquired Paris-based building materials distributor Bois & Matériaux from OpenGate Capital. www.boisetmateriaux.com
• Permira is considering a sale process for Tricor Group, a Hong Kong-based investor services provider which could fetch $2 billion, per Bloomberg. http://axios.link/fe2c
More M&A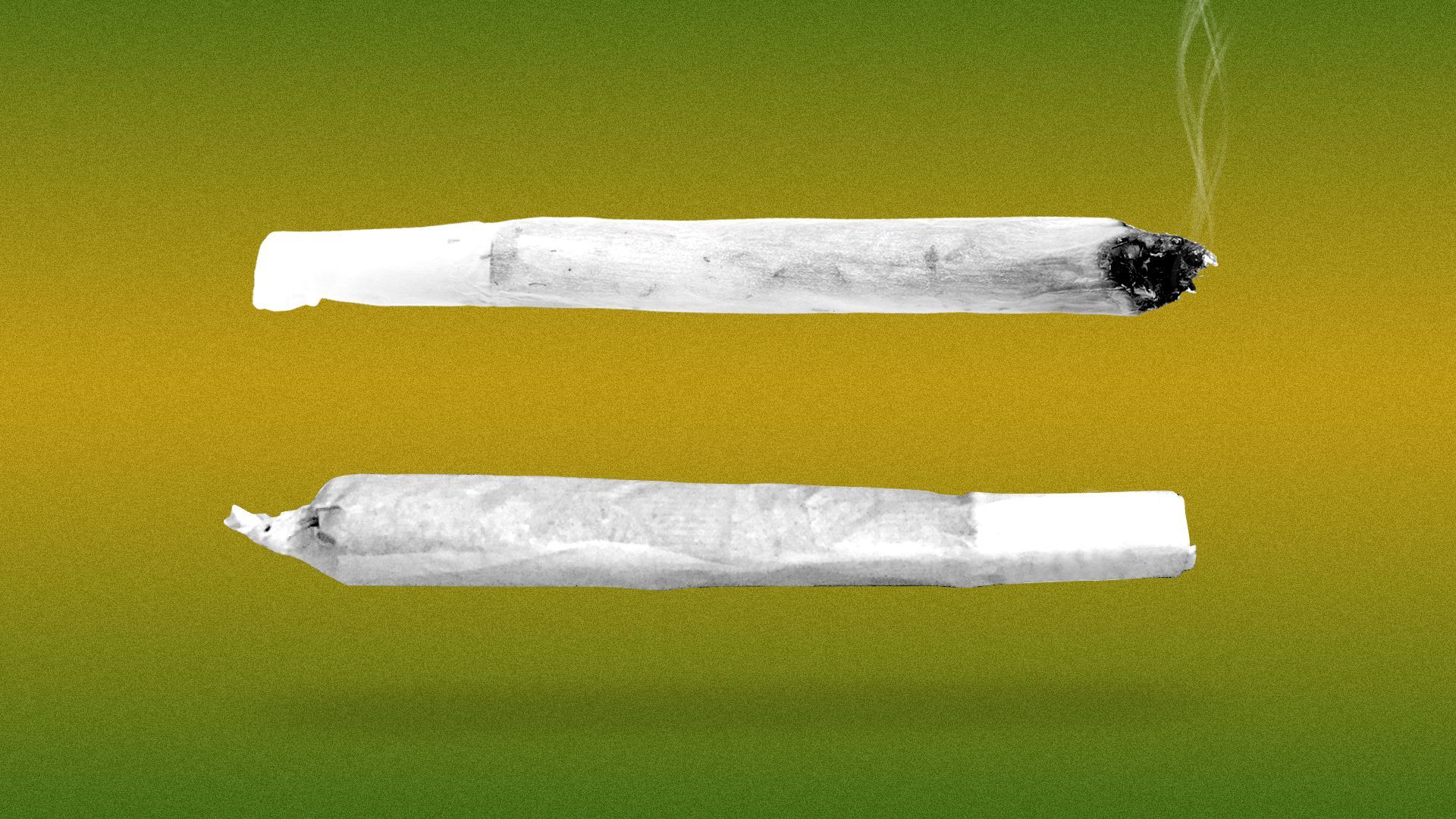 • Aphria completed its US$3.9 billion merger with Tilray, creating the world's largest cannabis company by sales. It will trade on the Nasdaq (TLRY).
Flashback: Axios Re:Cap spoke with the CEOs of both companies, when the deal was first announced. Take a listen.
• Bank of Montreal (TSX: BMO) sold its Hong Kong and Singapore private banking units to J. Safra Sarasin Group. http://axios.link/iZrf
• Genius Sports (NYSE: GENI) agreed to buy FanHub, a Brooklyn-based provider of free-to-play games and fan engagement solutions. www.geniussports.com
Fundraising
• MiddleGround Capital, a Kentucky-based midmarket PE firm focused on B2B industrial and specialty distribution companies, raised $736 million for a new series of funds. www.middlegroundcapital.com
• New State Capital Partners, a Larchmont, N.Y.-based PE firm, raised $450 million for its third fund. www.newstatecp.com
It's Personnel
• Marty Chavez, former CFO of Goldman Sachs, joined Sixth Street as a partner and vice chairman. www.sixthstreet.com
• Michael Wasserman joined Maverix Private Equity, a new Toronto-based private equity firm, as a managing partner. He previously spent 17 years with H.I.G. Capital. www.maverixpe.com
Final Numbers
✔️ Thanks for reading Axios Pro Rata! Please ask your friends, colleagues and to sign up.
✏️ This newsletter is written in Smart Brevity®. Learn how your team can communicate in the same smart, clear style with Axios HQ.