Axios Pro Rata
August 09, 2019
Happy Friday — hope everyone's looking forward to the weekend! I sure am because HBO's excellent show "Succession," about a fictitious (but not really) media empire and the family that runs it, comes back for a second season on Sunday.
Alright, let's do this...
Top of the Morning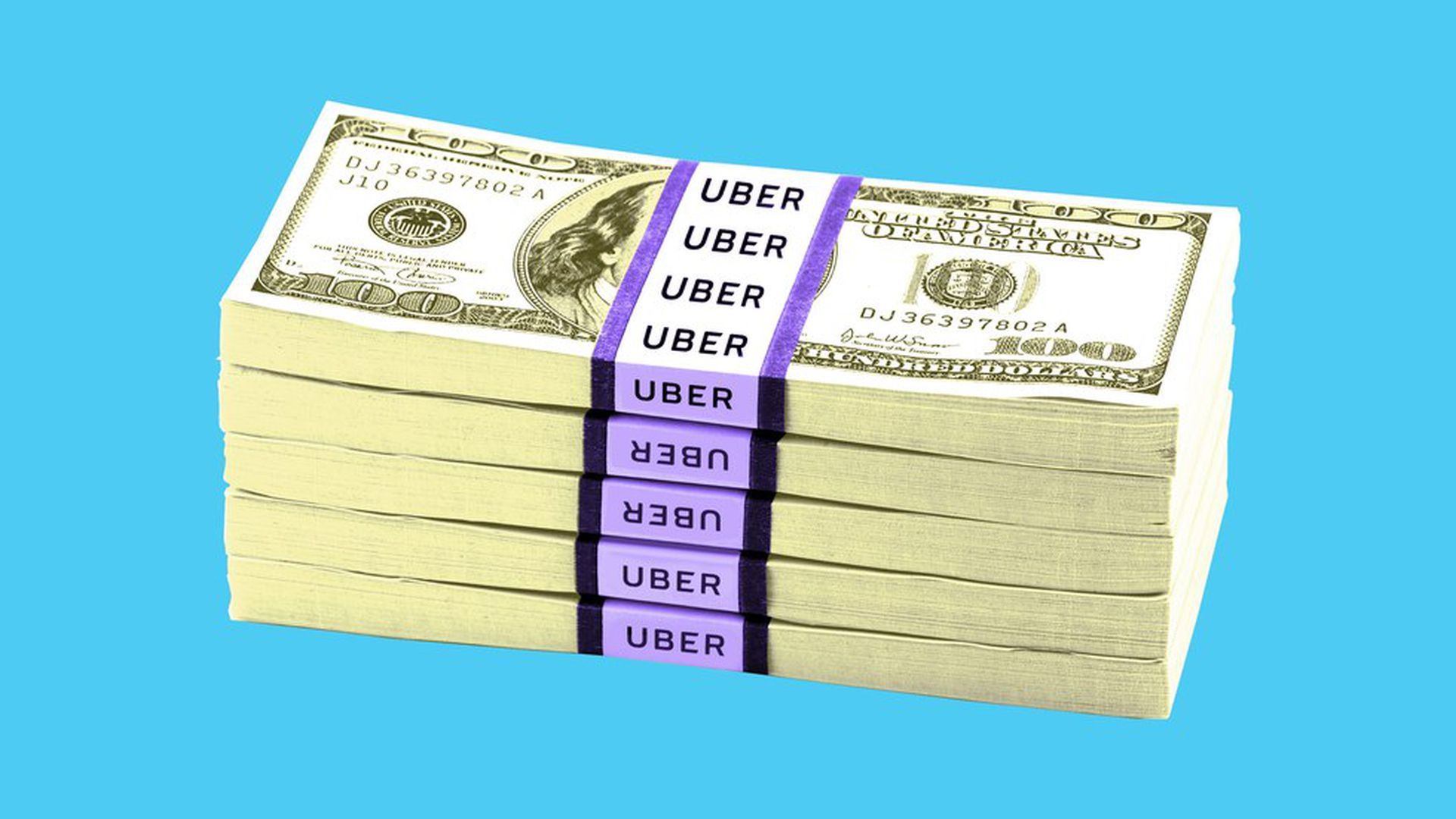 A tale of two ride-hailing companies...
Yesterday, Uber posted its Q2 earnings and investors were not happy: Its stock price took an immediate 12% dip in after-hours trading.
The ugly number was $5.2 billion in net losses for the quarter, though Uber chalked up more than $4 billion of that to IPO-related driver rewards and employee RSUs. That still leaves us with a loss of $1.3 billion for the quarter, much more than the $878 million loss in Q2 of last year.
It also posted $3.16 billion in revenue, growing only 14% year-over-year — Uber's slowest growth level since it started releasing financials in 2017. The company prefers to look at its adjusted net revenue ($2.87 billion in Q2), which shows a 26% year-over-year growth rate, and argues it's the clearest representation of the revenue it collects.
Meanwhile: Lyft, which posted its own Q2 earnings on Wednesday, made off much better: Its stock price went up 11%. Lyft beat analysts' revenue expectations, raised its guidance for the rest of 2019, and announced that — guess what — 2018 was its "peak losses" year, not 2019.
Still, Lyft is far from being profitable. Far.
Price competition: After leaving hints in the spring, Lyft confirmed that it had started to ease back from aggressive ride discounts and has slightly raised some prices. Uber also said it reduced its ride discounts this past quarter, though it's still aggressively competing in the food delivery market. UberEats has "very low to negative" take rates in India, so the company isn't out of the woods at all.
• SEC updates: The Securities and Exchange Commission yesterday proposed some changes to disclosure rules for public companies in S and K filings. Chairman Jay Clayton has been an advocate for modernizing the listing process and subsequent requirements.
Additionally, the National Venture Capital Association, which has been working with the SEC on loosening some of the rules for VC funds, tells Axios that it's had to tweak some of its requests. While it still wants token purchases from startups to be treated as equity investments, it's dropping the idea that cryptocurrency holdings (Bitcoin, Ether) be counted as cash equivalents.
It's also modifying its proposal to let VCs invest in emerging growth companies without being limited by the 20% rule, to only allow them in cases in which they already backed a company while it was private. (The idea is to help VCs continue to back these portfolio companies even once they're public.)
• IPO watch: Saudi Aramco is reportedly ramping up its plans to go public as soon as early next year, according to the WSJ. It would likely be the biggest listing in history.
🎧Podcast: Corporate America has an opportunity to make meaningful changes to the firearms industry while Congress dithers. But, so far, businesses are staying on the sidelines. Dan chats with Axios's Erica Pandey about Walmart's gun policies. Listen here.
The BFD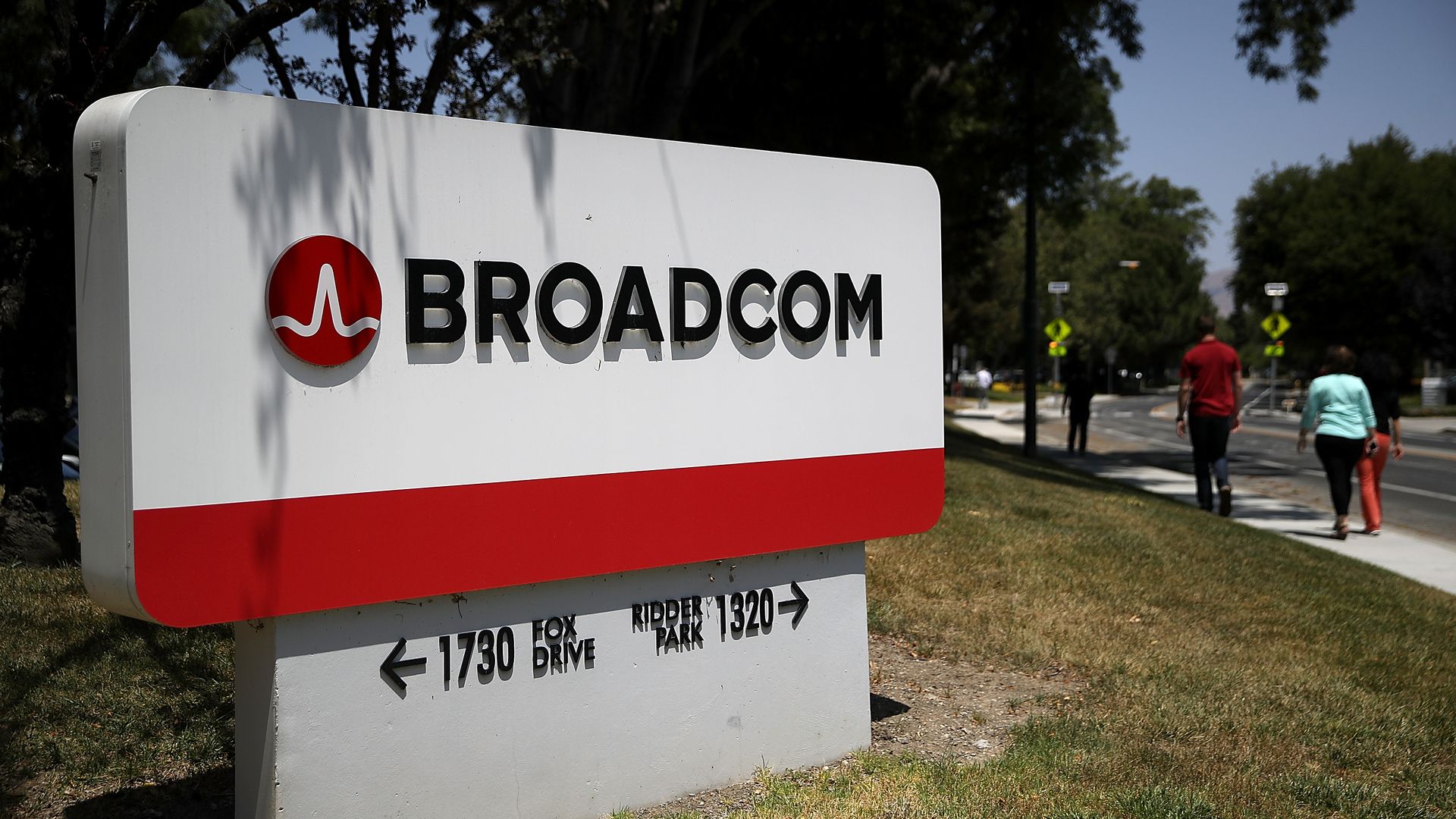 Broadcom officially announced it will acquire Symantec's enterprise security business for $10.7 billion in cash. It recently ended talks to acquire Symantec in its entirety.
Why it's the BFD: Broadcom has been aggressively trying (but not always succeeding) to make some big acquisitions in the last couple of years.
Bottom line: "Symantec is the world's largest provider of cybersecurity software, while Broadcom is seeking to expand beyond its core competency of chips." —Dan Primack, Axios.
Venture Capital Deals
• Viva Republica, a South Korea-based parent company of mobile financial service platform Toss, has raised $64 million in new funding at a valuation of $2.2 billion led by Aspex Management. http://axios.link/AFAa
• ScaleFactor, an Austin, Texas-based maker of online financial software for SMBs, has raised $60 million in Series C funding led by Coatue led the round, with Vulcan, Stripes Group, NextPlay Capital, Bessemer Venture Partners, Canaan, Broadhaven Ventures, and Firebrand Ventures also participating. http://axios.link/9ckC
• Securiti.ai, a San Jose, Calif.-based maker of tools to automate cybersecurity and compliance processes, has raised $31 million in new funding led by Mayfield, with General Catalyst also participating. http://axios.link/Xb6m
• Lendingkart, an India-based lender for small businesses, has raised $30 million as part of its Series D financing round from Fullerton Financial Holdings, Bertelsmann India Investments, and India Quotient. www.lendingkart.com
⛽️ Sunverge, a San Francisco-based maker of energy management systems for utilities, has raised $11 million in funding led by Ecosystem Integrity Fund, with Equinor Energy Ventures and Evergy Ventures also participating. www.sunverge.com
• Opsani, a Redwood City, Calif.–based maker of tools for the continuous optimization of cloud applications, has raised $10 million in Series A funding led by Redpoint Ventures, with Zetta Ventures and Bain Capital also participating. www.opsani.com
• Ramp Financial, a New York-based company that offers credit to other startups, has raised $7 million from Founders Fund, BoxGroup and Coatue Management, according to TechCrunch. http://axios.link/LnlA
• Curbio, a Potomac, Md.-based real estate technology startup, has raised $7 million in Series A funding co-led by Camber Creek and Brick & Mortar. www.curbio.com
• Capsule8, a New York-based startup that offers cybersecurity protection for Linux production environments, has raised raised an estimated $6.5 million in funding from Intel Capital, according to VentureBeat. http://axios.link/fHSn
• Statespace, a New York-based company that helps assess and train esports athletes, has raised $2.5 million in seed funding led by FirstMark Capital, with Expa, Lux Capital and WndrCo also participating. http://axios.link/bCg3
• Voxel51, an Ann Arbor, Mi.-based startup making video analysis tools, has raised $2 million in seed funding from eLab Ventures. http://axios.link/FcZD
• Glow, a Seattle-based company that provides tools to podcasters, has raised $2.3 million in seed funding led by Greycroft, with Norwest Venture Partners, PSL Ventures, WndrCo and Revolution's Rise of the Rest Seed Fund also participating. http://axios.link/dwdE
• Beynd, a Draper, Utah-based startup making software for customer onboarding, has raised $2 million in seed funding led by Peak Ventures, with Prelude Ventures also participating. http://axios.link/I1B7
Private Equity Deals
• Henley Investments has acquired five Water Works carwash locations in the Greenboro, N.C. area. www.waterworkscarwashes.com
🚑 CapStreet Group LLC has recapitalized Surgical Notes, a Dallas-based company that provides software for ambulatory surgical centers. www.surgicalnotes.com
🚑 DW Healthcare Partners has acquired CEFALY Technology SPRL, a Belgium-based maker of devices for preventing and treating migraines. www.cefalytechnology.com
🚑 Care Advantage, backed by BelHealth Investment Partners, has acquired Allegiance Home Care, a Virginia-based provider of in-home personal care services. www.allegianceva.com
Public Offerings
• 9F, a Chinese online consumer lending platform in China, plans to raise $76 million by offering 8.9 million ADSs (24% insider) at a price range of $7.50 to $9.50. At the midpoint of the proposed range, 9F would command a fully diluted market value of $1.7 billion. It plans to list on the NYSE under the symbol JFG. Credit Suisse, Haitong International, CITIC CLSA, China Investment Securities International, and 9F Primasia Securities are the joint bookrunners on the deal. www.9fgroup.com
• Thunder Bridge Acquisition II, a blank check company led by Gary Simanson targeting the fintech industry, raised $300 million by offering 30 million units at $10. Each unit consists of one ordinary share and one-half of one warrant exercisable at $11.50 per share. It plans to list on the Nasdaq under the symbol THBRU. Morgan Stanley and Cantor Fitzgerald acted as joint bookrunners on the deal. http://axios.link/TL4t
🚑 BioVie, a Los Angeles-based early stage biotech developing therapies for cirrhosis, revised terms for its upcoming IPO on Thursday. It now plans to raise $15 million by offering 1.3 million shares at a price of $11.44, the as-converted last close of its shares on the OTC. It has issued additional shares, causing its fully diluted market value to increase to $77 million. It previously would have commanded a fully diluted market value of $63 million. The company plans to list on the Nasdaq under the symbol BIVI. ThinkEquity is the sole bookrunner on the deal. It is expected to price during the week of August 12, 2019. www.biovieinc.com
Liquidity Events
• Thoma Bravo has agreed to sell iPipeline, an Exton, Penn.-based provider of cloud-based software for insurance and financial services, to Roper Technologies for $1.625 billion. www.ipipeline.com
More M&A
⛽️ Shareholders of Anadarko Petroleum on Thursday voted overwhelmingly to sell the company for $38 billion to rival Occidental Petroleum. www.oxy.com
• Assured Guaranty US Holdings has agreed to acquire BlueMountain Capital Management, a New York-based alternative assets management firm, for about $160 million. www.bluemountaincapital.com
Fundraising
• A. Capital Partners, founded by Ronny Conway, is targeting $140 million for its third fund, according to an SEC filing.
It's Personnel
• Katherine Wu has joined Notation Capital as a principal. Previously she ran business development at Messari. www.notation.vc
• Neil Constable has joined CircleUp as its first chief investment officer. He was previously at Grantham, Mayo, Van Otterloo & Co where he was head of global equity and quantitative research. www.circleup.com
Final Numbers