Axios Pro Rata
December 09, 2021
🚨 Some news: Our upcoming Axios Pro newsletter on fintech deals will be co-authored by Ryan Lawler and Lucinda Shen.
Ryan is known to many of you for his work at TechCrunch, and he's also spent time leading content for Samsung NEXT and as a venture partner at 500 Startups. Lucinda joins us from Fortune, where she wrote the Term Sheet newsletter and co-chaired the Fortune Brainstorm Tech event series.
Please join the Axios Pro waitlist.
Top of the Morning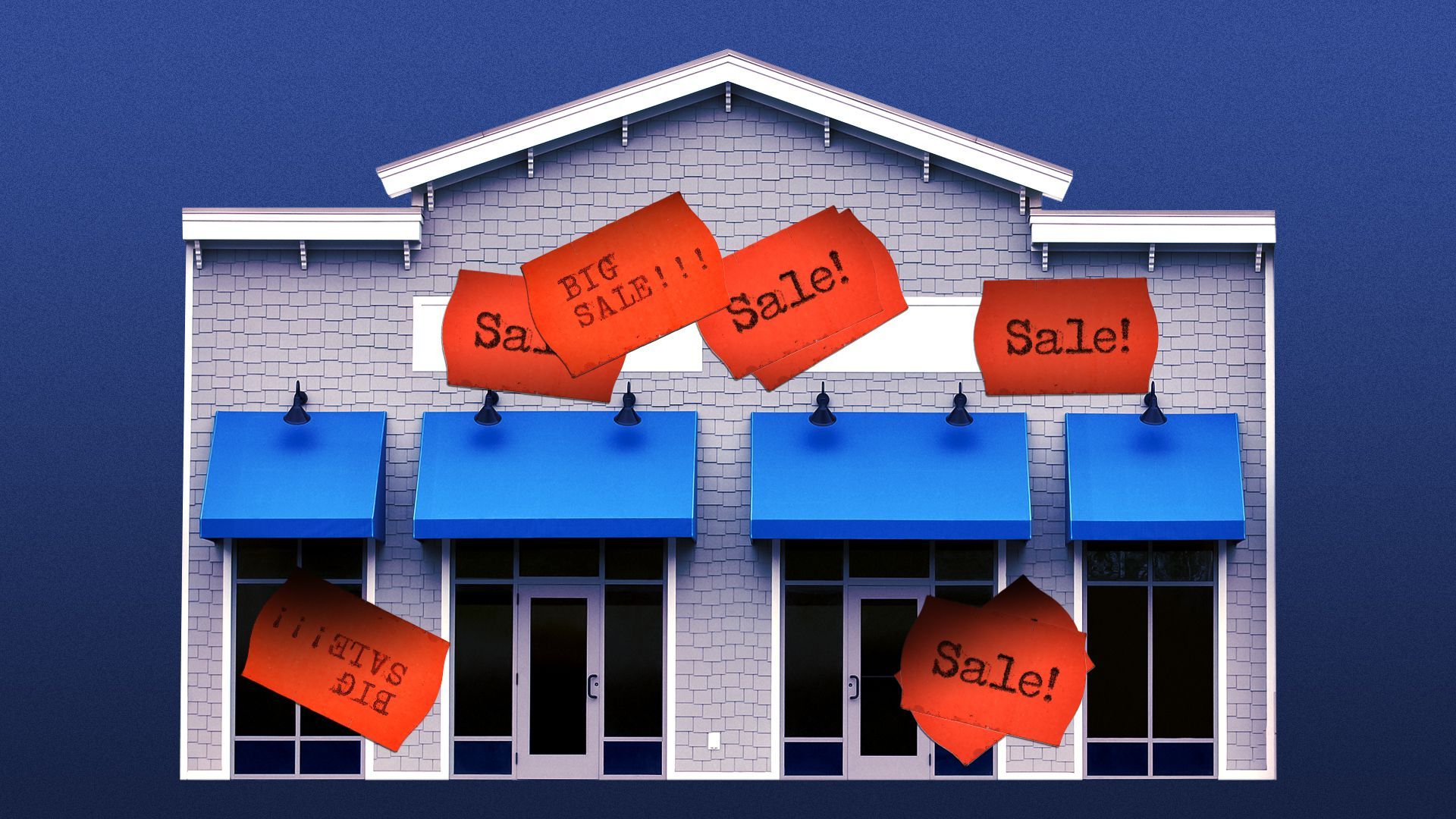 The traditional retail LBO is dying, Axios' Richard Collings reports.
The old model was to lever up, cut costs, monetize real estate, use cash flow to service debt, extract dividends, rinse and repeat.
But that's no longer flying, even as the industry emerges from the pandemic, due to rich valuations and a low appetite for credit risk.
By the numbers: North American retail buyout volume sunk to less than $1 billion in Q3, per Mergermarket data.
Industry sources said credit markets are only willing to lever traditional retailers up to 2.5 X EBITDA, a decrease from up to 4.5x in the first half of this year when buyouts of both Michaels and At Home group were transacted.
Lenders are increasingly risk averse when it comes to retail because they consider operational costs such as the amount of owed rent, in turn tied to lease agreements, as a form of debt.
Some apparel retailers, however, have restructured/shortened their leases to address the issue.
What they're saying: "There are three types of retail investments that will continue to attract investor attention: site-based services, experiential concepts that can drive traffic and brand banner stores that serve as customer acquisition channels in a more diversified channel landscape," says Ryan Cotton, global head of consumer at Bain Capital.
2021 deals by Sycamore Partners, a firm historically dedicated to retail LBOs, consisted of providing debt financing to apparel retailer Express, purchasing cruise ship assets from Royal Caribbean Cruises in an all-cash deal, acquiring Ste. Michelle Wine Estates and adding a bolt-on to portfolio company Pure Fishing.
The bottom line: PE firms with dedicated retail practices will have to be more creative about how they invest in the sector going forward.
The BFD
Lee Enterprises (Nasdaq: LEE) said its board unanimously rejected a $141 million hostile takeover offer from Alden Global Capital, saying the $24 per share bid undervalues the local newspaper publisher and isn't in its best interests.
Why it's the BFD: The local newspaper industry views Alden as both Scrooge and the Ghost of Christmas Future, cutting costs to the point that readers are no longer well-informed.
Context: Lee's move today isn't a stunner, given that it previously adopted a poison pill, and that the investment adviser to one of Lee's largest shareholders on Wednesday wrote that the company's shares should be valued "north of $100."
The bottom line: "Any argument that shares of a local newspaper chain should be trading at 'north of $100' is a difficult one to make at a time when newspapers are in terminal decline. But there's so much societal pressure against Alden's bid that stakeholders may feel pressure to continue pushing off the hostile takeover offer." — Sara Fischer, Axios
Venture Capital Deals
🚑 Cerebral, a Walnut, Calif.-based online mental health services provider, raised $300 million at a $4.8 billion valuation. SoftBank led, and was joined by Prysm Capital, Len Blavatnik's Access Industries, WestCap Group and Artis Ventures. http://axios.link/QPBK
• Mambu, a Dutch provider of embedded financial services and banking APIs, raised €235 million in Series E funding at a €4.9 billion valuation led by EQT Growth. http://axios.link/H0A8
• Robotic Research, a Clarksburg, Md.-based autonomous commercial trucking startup, raised $228 million in Series A funding from SoftBank, Enlightenment Capital, Crescent Cove Advisors, Henry Crown and Co. and Luminar Technologies. www.rr.ai
• Pleo, a Danish provider of expense management software and smart company cards, raised $200 million at a $4.7 billion valuation. Coatue led, and was joined by Alkeon Capital and insiders Bain Capital Ventures, Thrive Capital, Creandum, Kinnevik, Founders, Stripes and Seedcamp. http://axios.link/B7uQ
• Tradeshift, an SF-based procure-to-pay platform, raised $200 million in equity and debt funding from such backers as Koch Industries, IDC Ventures, LUN Partners, Private Shares and Fuel Capital. www.tradeshift.com
• CloudBees, a San Jose, Calif.-based enterprise software delivery platform, raised $150 million in Series F funding at a $1 billion pre-money valuation. Goldman Sachs led, and was joined by Morgan Stanley, Bridgepoint Capital and insiders HSBC, Golub Capital, and Delta-v Capital. www.cloudbees.com
• Ola, an Indian ride-hail firm, raised $139 million at a $7.34 billion valuation. Edelweiss led, and was joined by FL, Siddhant Partners, Tejal Merchantile and Hero Enterprise. http://axios.link/YkP2
• NZXT, a City of Industry, Calif.-based PC gaming hardware and services company, raised $100 million led by Francisco Partners. http://axios.link/Qhvc
• Rho, ​​a New York-based corporate spend and cash management startup, raised $75 million in Series B funding. Dragoneer led, and was joined by DFJ Growth and insiders M13, Inspired Capital and Torch Capital. www.rho.co
🚑 Exai Bio, an S.F.-based liquid biopsy startup, raised $67.5 million in Series A funding. Section 32 and Casdin Capital co-led, and were joined by Two Sigma Ventures. www.exai.com
• Synthesia, a London-based AI platform for making synthetic videos, raised $50 million in Series B funding. Kleiner Perkins led, and was joined by GV and insiders Firstmark Capital, LDV Capital, Seedcamp and MMC Ventures. http://axios.link/kTXM
• Celigo, a San Mateo, Calif.-based integration platform as a service startup (IPaaS), raised $48 million in Series C funding. OMERS led, and was joined by NewSpring Capital. http://axios.link/3dsd
• NewtonX, a New York-based B2B insights company, raised $32 million in Series B funding. Marbruck Ventures led, and was joined by Level One, UBS O'Connor, Gaingels, Heliad Partners and insiders Two Sigma, Third Prime, XFund, Story Ventures and Switch. http://axios.link/Jad0
🚑 K36 Therapeutics, a Cambridge, Mass.-based biotech focused on multiple myeloma patients, raised $30 million in Series A funding co-led by F-Prime Capital and Atlas Venture with Eight Roads Ventures. www.k36tx.com
• Petra, a maker of tunnel-boring robots, raised $30 million in Series A funding. DCVC led, and was joined by ACME Capital, Congruent Ventures, 8VC, Real Ventures, Elementum Ventures and Mac Venture Capital. http://axios.link/sJWH
• Universe, a Brooklyn, N.Y.-based website building platform, raised over $30 million in Series B funding. Addition led, and was joined by Google Ventures, Javelin Venture Partners, Box Group. http://axios.link/yba5
• Atom Learning, a London-based provider of online ed materials for elementary school-aged kids, raised $25 million from SoftBank. http://axios.link/8zdD
• Resolve, an embedded BNPL solutions provider that spiun out of Affirm in 2019, raised $25 million. Insight Partners led, and was joined by insiders Initialized Capital, KSD Capital, Haystack VC, Commerce Ventures and Clocktower Ventures. http://axios.link/C3Qg
• Cassini Systems, a London-based margin analytics platform for the derivatives market, raised $20.5 million. Ten Coves Capital led, and was joined by Mosaik Partners. www.cassinisystems.com
🚑 Nomic, a Canadian high-throughput protein profiling startup, raised $17 million in Series A funding. Lux Capital led, and was joined by SR One and Casdin Capital. http://axios.link/vz8L
• Perchwell, a New York-based data and workflow platform for residential real estate, raised $15 million in Series A funding. Founders Fund led, and was joined by include Lux Capital, Matterport and California Regional MLS. www.perchwell.com
• uLesson, a Nigeria-based K-12 ed-tech startup, raised $15 million in Series B funding from Tencent, Nielsen Ventures, Owl Ventures, TLcom Capital and Founder Collective. http://axios.link/ERiP
• Mindbox, a Russian marketing automation platform, raised $13 million from Baring Vostok. www.mindbox.ru
• Passbase, a German digital identity startup, raised $10 million in Series A fundung. Costanoa Ventures led, and was joined by Lakestar, Eniac Ventures, Cowboy Ventures and Seedcamp. http://axios.link/uJgV
• Upmesh, a Singapore-based livestream shopping app, raised $7.5 million in seed funding led by Monk's Hill Ventures. http://axios.link/tGxk
• Pontoro, a Mountain View, Calif.-based digital asset securitization and liquidity platform, raised $6 million in seed funding led by Ulu Ventures. www.pontoro.com
• Sympl, an Egyptian BNPL startup, raised $6 million in seed funding. Beco Capital led, and was joined by A15 and Global Ventures. http://axios.link/awn1
• LiveBuy, a Berlin-based live shopping startup, raised $5.6 million in seed funding led by RTP Global. www.livebuy.io
• Crack the Code, a Peruvian provider of K-12 computer science training, raised $2.7 million in seed funding led by Kaszek. www.crackthecode.ia
Private Equity Deals
• Accel-KKR invested in Entersekt, a South African provider of device identity and authentication solutions. www.entersekt.com
🚑 EQT bought a 20% stake in 3Shape, a Danish maker of 3D scanners for dentists. www.3shape.com
• L2 Capital Partners acquired YakAttack, a Farmville, Va.-based maker of mounted aftermarket accessories. www.yakattack.us
• Moa Capital bought TeleGeography, a Carlsbad, Calif.-based telecom market research and consulting firm. www.telegreography.com
• Silver Lake led a $1.2 billion investment in Integrity Marketing Group, a Dallas-based omnichannel insurer. Harvest Partners will remain the company's largest outside investor, with HGGC also retaining a position. www.integritymarketing.com
• Spectrum Equity bought a majority strake in PresenceLearning, a New York-based provider of teletherapy and software for special ed and mental health providers in K-12 schools. The company had raised over $65 million from firms like Bain Capital Double Impact. Catalyst Investors, Red House Education, New Markets Venture Partners and Catamount Ventures. www.presencelearning.com
• Sydney Airport Holdings received Australian antitrust regulator approval for its A$23.6 billion takeover by an investor group that includes IFM Investors, QSuper, AustralianSuper and Global Infrastructure Partners. http://axios.link/zV75
Public Offerings
• HashiCorp, a S.F.-based provider of multi-cloud automation software, raised $1.2 billion in its IPO. It priced at $80 per share (above $68-$72 range), for a $14 billion market cap. It will list on the NYSE (HCP) and had raised around $350 million in VC funding, most recently at a $5.1 billion valuation, from backers like Mayfield, GGV Capital, Redpoint Ventures, True Ventures, Franklin Templeton, T. Rowe Price, Geodesic Capital, Haystack, and IVP. http://axios.link/FkMD
• Nubank, a Brazilian challenger bank, raised $2.6 billion in its IPO. The company priced at $9 per share, after having cut its original $10-$11 range, for a $41 billion market cap. It will list on the NYSE (NU) and in São Paulo, while backers include Berkshire Hathaway. http://axios.link/t64v
SPAC Stuff
🚑 Jackson Acquisition, a healthcare SPAC led by Jeb Bush, raised $200 million in its IPO. The SPAC's directors include former U.S. Senator David Perdue, who this week announced his candidacy for governor of Georgia.
Fellow Georgia gubernatorial candidate Stacey Abrams also is on the board of one SPAC and agreed to join the board of Heliogen once it's acquired by a different SPAC. Her spokesperson says she plans to maintain those seats while campaigning.
Liquidity Events
• Adobe (Nasdaq: ADBE) agreed to buy ContentCal, a British social media marketing startup that had raised over $13 million from Fuel Ventures, Guinness Asset Management and Perivoli Innovations Trust. http://axios.link/7Msx
• CPP Investments is seeking to sell insurance companies Wilton Re (which could fetch $4 billion) and Ascot Group, per Reuters. http://axios.link/lANO
🚑 EBOS Group, a listed New Zealand healthcare products distributor, agreed to buy Australian peer LifeHealthcare for A$1.17 billion from Pacific Equity Partners. http://axios.link/tl7c
• Ingram Micro, an Irvine, Calif.-based portfolio company of Platinum Equity, agreed too sell most of its commerce and lifecycle services business for $3 billion to CMA CGM, a French marine transport and logistics firm. http://axios.link/WYaw
• L'Oréal (Paris: OR) agreed to buy Youth to the People, an LA-based skincare brand, from backers like Sandbridge Capital and Strand Equity Partners. www.youthtothepeople.com
More M&A
🚑 City of Hope, a Duarte, Calif.-based nonprofit cancer research center, agreed to pay $390 million to buy Boca Raton, Fla.-based Cancer Treatment Centers of America. http://axios.link/Jl4P
⚡ ConocoPhillips (NYSE: COP) agreed to sell its Indonesia assets for $1.36 billion to France's MedcoEnergi. http://axios.link/CKXQ
• Criteo (Nasdaq: CRTO) agreed to buy Iponweb, a London-based online ad infrastructure company, for $380 million. www.iponweb.com
⚾ Endeavor (NYSE: EDR) agreed to buy nine minor league baseball teams, including clubs affiliated with the Cardinals, Cubs, Giants and Yankees. http://axios.link/F4UN
⚡ New Mexico utility regulators voted unanimously to reject Avangrid's (NYSE: AGR) proposed $8 billion purchase of PNM Resources (NYSE: PNM). http://axios.link/07Sa
• Stanley Black & Decker (NYSE: SWK) agreed to sell its e-security solutions unit to Stockholm-listed Securitas for $3.2 billion. http://axios.link/6T31
Fundraising
• Advent International raised $4 billion for its second tech growth equity fund. www.adventinternational.com
• Apollo Global Management will target $25 billion for its 10th flagship private equity fund, per Bloomberg. http://axios.link/pXnR
• Antler of Singapore raised £21.4 million for a new fund focused on U.K. startups. www.antler.co
🚑 Ascend Partners, a healthcare-focused PE firm co-led by Seon Hwang (ex-Warburg Pincus) and Richard Park (founder and ex-CEO of CityMd), raised $570 million for its debut fund. www.ascendpartners.com
• Corazon Capital, a Chicago-based early-stage VC firm, raised $134 million for its third fund. www.corazoncap.com
🚑 Eir Ventures raised €122 million for a fund focused on Nordic biotech startups. http://axios.link/L1NZ
• Flint Capital raised $103 million for its second fund focused on European and Israeli tech startups seeking to enter the U.S. market. www.flintcap.com
• Hollyport Capital is raising $2 billion for new secondary PE funds that focus on buying stakes in older funds, per the WSJ. http://axios.link/xuSy
• Twilio (NYSW: TWLO) launched a $50 million corporate VC fund. www.twilio.com/ventures
• Whitecap Venture Partners raised C$140 million for its fifth fund. www.whitecapvp.com
It's Personnel
• Lily Bernicker (ex-Collaborative Fund) joined Wireframe Ventures as a principal to focus on climate startups. www.wireframevc.com
• Ray Durand joined Star Mountain Capital as director of finance. He previously was with JPMorgan. www.starmountaincapital.com
🚑 Jennifer Griffin joined Mission BioCapital as a partner for strategy and investor relations. She previously was with the Massachusetts Life Sciences Center. The firm also promoted both Cassidy Blundell and Zach Collins to principals. www.missionbiocapital.com
• Sean Joffe (ex-Sixpoint Partners) and Peter Greenwood (Anchorage Capital) joined Greenhill & Company as a managing director and principal, respectively, of private capital advisory. www.greenhill.com
Final Numbers
🙏 Thanks for reading Axios Pro Rata! Please ask your friends, colleagues and ink-stained wretches to sign up.