Axios Pro Rata
April 19, 2022
Promise made on Friday. Promise kept on Monday. Now let's talk Twitter.
Top of the Morning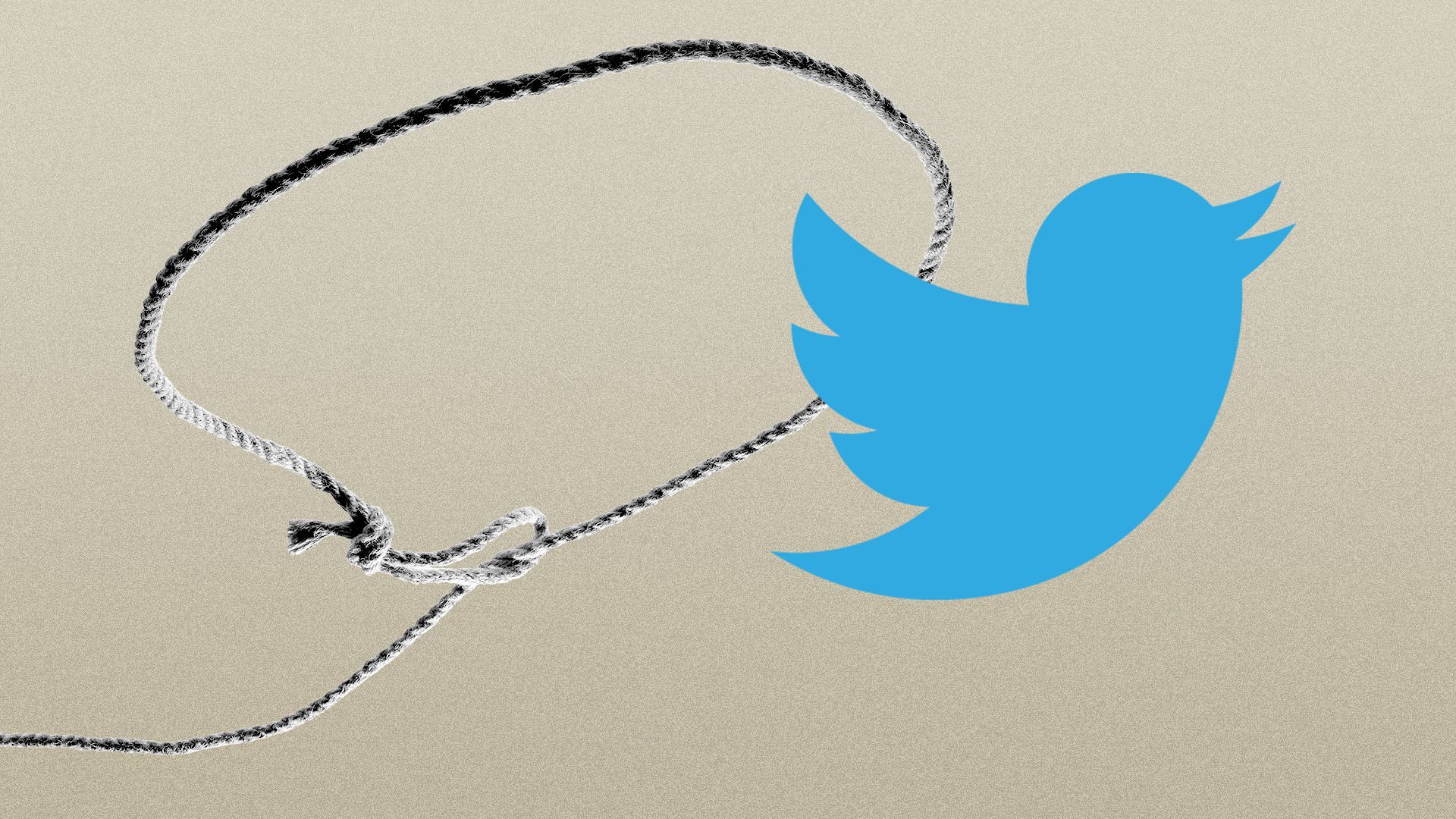 Private equity firms are kicking the tires on Twitter, either as solo efforts or as financing partners to Elon Musk.
Be smart: Of course they are. Twitter is screeching for a white knight, and Musk can't be excited about the Tesla stock sales/loans it would take to cover his own unsolicited bid. For PE to not do basic due diligence would (almost) be irresponsible.
Some of the players:
Silver Lake. The firm in 2020 helped facilitate the compromise between Twitter and activist investor Elliott Management, which included a $1 billion investment from Silver Lake and a board seat for partner Egon Durban.
The NY Times reports that Silver Lake may help Twitter fend off Musk, although it's unclear if that would be on the equity or debt side (Silver Lake can do both). Worth noting, however, that the tech-focused firm has history in both camps, as it once was in talks with Musk to take Tesla private.
Elliott Management: It's cut back its original position and succeeded in ousting Jack Dorsey as CEO, but it still has a quasi presence on the board and a recent penchant for tech buyouts. At the very least, it's always got very deep pockets and lots of strategic ideas.
KKR: An occasional co-investor with Silver Lake that also could play on the equity or credit side.
Thoma Bravo: No tech buyout firm has been busier this year, having agreed to buy Anaplan for $10.7 billion and SailPoint for $6.9 billion. It feels like the Chicago-based firm wants to take the tech volume (and fundraising) crown from Vista Equity, and buying Twitter might be the ticket.
Apollo Global Management: It's interested, but only as a lender and not yet tied exclusively to any specific suitor.
Wildcards: All of those big VC firms that recently became registered investment advisers, which gives their funds more flexibility to buy public equities. Plus Blackstone, TPG, et al.
The bottom line: It's still very hard to see a PE firm partner with Musk, given what he said last week about not caring about the economics. Plus the general PE antipathy toward going hostile.
But, at the very least, Musk got firms looking at a buzzy company with EBITDA and relatively low leverage, despite its recent unprofitability, and someone might be able to talk themselves into it.
The BFD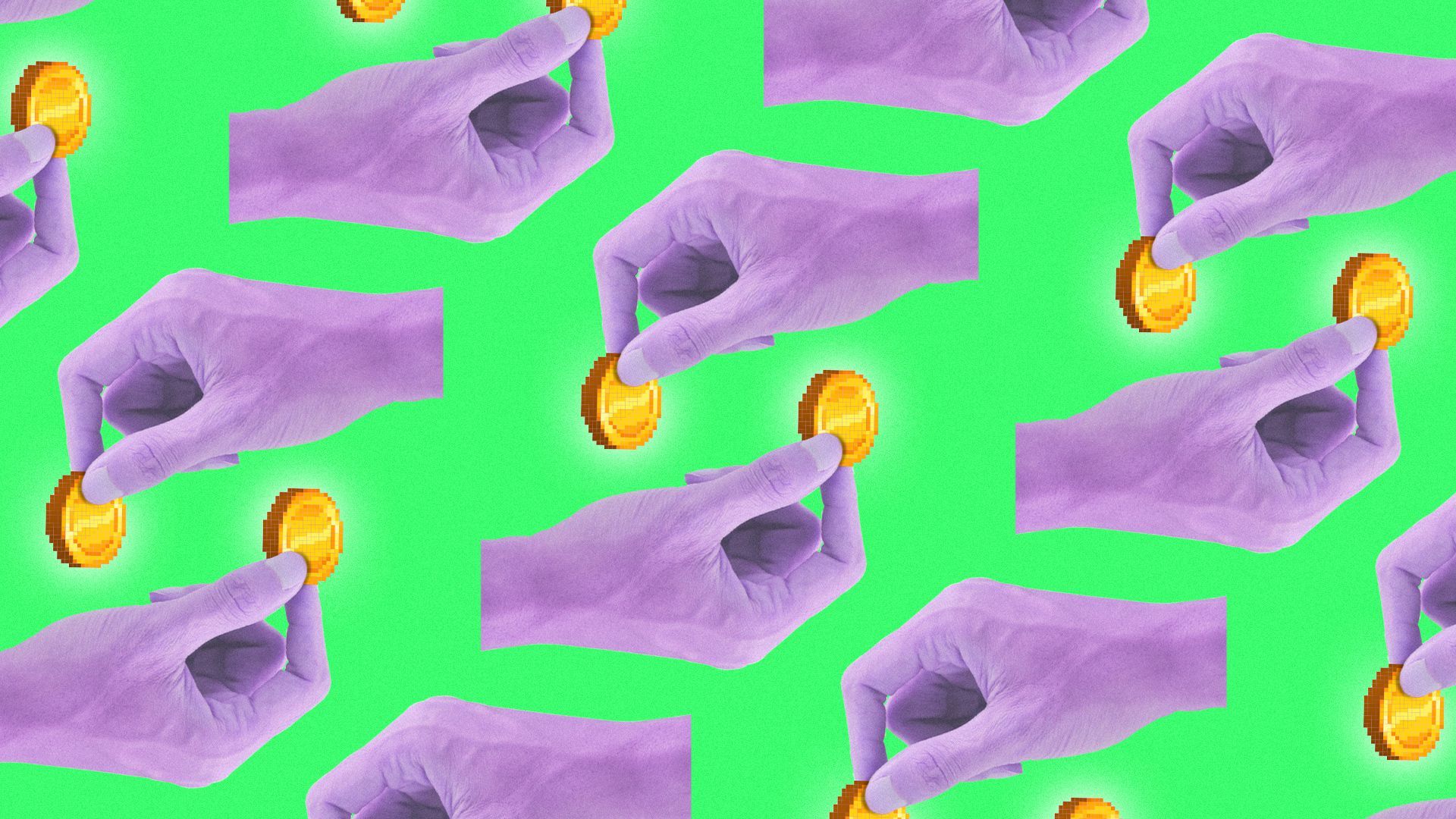 CoinDCX, an Indian cryptocurrency exchange, raised $135 million in Series D funding at a $2.15 billion post-money valuation co-led by Steadview and Pantera.
Why it's the BFD: This comes just weeks after the implementation of India's new crypto tax rules, including a 30% capital gains tax rate and a 1% at-source tax on transactions above a certain size. Those regs have cut deep into trading volumes, particularly slowing down high-frequency plays.
Other investors include Coinbase Ventures, Kingsway, DraperDragon, Republic and Kindred Ventures.
The bottom line: Venture capitalists are betting that TAM > taxes.
Venture Capital Deals
🚑 Tessera Therapeutics, a Cambridge, Mass.-based programmable genetics startup, raised over $300m in Series C funding. from ADIA, Alaska Permanent, Altitude Life Sciences, Artis Ventures, Cormorant Asset Management, Flagship Pioneering, Hanwha Impact Partners; Longevity Vision Fund, March Capital; SALT Fund and SoftBank. www.tesseratherapeutics.com
• Laiye, a Chinese office task automation startup, raised $160m in Series C funding. Hopu Magnolia led, and was joined by VMS Group, Youshan Capital, Lightspeed China and Lightspeed Venture Partners. http://axios.link/BNyr
• SEON, a London-based online fraud prevention startup, raised $94m in Series B funding. IVP led, and was joined by Creandum and PortfoLion. www.seon.io
• Kinara Capital, an Indian MSME fintech, raised $50m in Series E funding. Nuveen led, and was joined by Triple Jump. www.kinaracapital.com
🚑 Unlearn.ai, an SF-based developer of digital twins for clinical trials, raised $50m in Series B funding from Insight Partners, Radical Ventures, 8VC, DCVC, DCVC Bio and Mubadala Capital Ventures. http://axios.link/4kRA
• BlockApps, a New York-based enterprise blockchain platform, raised $41m, per TechCrunch. Liberty City Ventures led, and was joined by Morgan Creek Digital, Eidetic Ventures, Givic and insiders ConsenSys, Bloccelerate, Fitz Gate Ventures, Arab Angels, Kenetic Capital and PropelX. http://axios.link/36CC
🚑 Blue Spark, a Westlake, Ohio-based maker of remote patient monitoring wearables, raised $40m led by GT Investment Partners. http://axios.link/CNmn
🚑 Vetster, a Toronto-based pet care marketplace, raised US$30m in Series B funding. Kensington Capital Partners led, and was joined by X&Y and insiders Whitecap Venture Partners and Brightspark Ventures. www.vetster.com
🚑 NUE Life Health, a remote mental health platform that incorporates psychedelics, raised $23m in Series A funding led by Obvious Ventures. http://axios.link/M7ME
• NovoPayment, a Miami-based full-stack banking API provider founded in 2007, raised $19m in Series A funding. Fuel VC and IDC Ventures co-led, and were joined by Visa and Endeavor Catalyst. http://axios.link/VTLn
• Abhi, a Pakistani financial wellness startup, raised $17m in Series A funding. Speedinvest led, and was joined by Global Ventures, VentureSouq, VEF, Sturgeon Capital, Rallycap, FJ Labs, Fatima Gobi, Sarmayacar and i2i Ventures. www.abhi.com/pk
• Soter Analytics, a British ergonomics startup, raised $12m. AV8 Ventures led, and was joined by OTB Ventures, btov Industrial Technologies Fund and Verve Ventures. www.soteranalytics.com
🚑 Forge Health, a New York-based virtual behavioral health provider, raised $11m in growth funding led by HC9 Ventures. www.forgehealth.com
• Beamy, a French SaaS app installation simplification startup, raised $9m co-led by Aglaé Ventures and ISAI. http://axios.link/3Kvq
• Ellis, a neobank for international students studying in the U.S., raised $5.6m in seed funding. Kindred Ventures led, and was joined by Castle Island Ventures, 20VC, Dreamers VC and V1.VC. http://axios.link/fFtZ
• Vyng, an L.A.-based Android app that lets users earn bitcoin when making phone calls, raised $5m from March Capital Partners, Newbound Venture Capital, Alpha Edison and Omidyar Network. www.vyng.me
• The Food Lab, an Egyptian cloud kitchen startup, raised $4.5m co-led by 4DX Ventures, Nuwa Capital and Shorooq Partners. http://axios.link/9Irj
• Experify, a consumer product review platform, raised $4m in seed funding. Vertex Ventures US led, and was joined by Sonae Investment Management and Berkeley SkyDeck Fund. www.experify.io
• U.S. Integrity, a VC-backed sports betting integrity startup, raised funding from Las Vegas Sands. www.usitegrity.com
Private Equity Deals
• Arcadea Group sponsored a recap of Spidertracks, a New Zealand-based provider of aircraft tracking and fleet management software. www.spidertracks.com
• Blackstone agreed to buy student housing owner American Campus Communities (NYSE: ACC) for around $12.8b, per the WSJ. http://axios.link/CEMY
• Eagle Merchant Partners invested in Enviro-Master Services, a Charlotte-based franchisor of deep cleaning services. www.enviro-master.info
🚑 FFL Partners invested in Perlman Clinic, a primary care provider in the Greater San Diego area. www.perlmanclinic.com
• Fortress Information Security, an Orlando-based supply chain cybersecurity company, raised $125m from Goldman Sachs Asset Management. http://axios.link/UlL1
• HomeTown Ticketing, a Columbus, Ohio-based provider of digital ticketing and event software to schools and conferences, raised $75m from Nexa Equity. www.hometownticketing.com
🥒 Patriot Pickle, a Wayne, N.J.-based portfolio company of Swander Pace Capital, acquired the pickle assets of Islandia, N.Y.-based Farm Ridge Foods. www.patriotpickle.com
SPAC Stuff
🚑 Coeptis Therapeutics, a Wexford, Pa.-based cancer drug developer, agreed to go public at an implied $175m valuation via a merger with Bull Horn Holdings, a SPAC that was raised to focused on sports and entertainment. http://axios.link/XBct
🎵 Deezer, a French music streamer, agreed to go public at an implied $1.1b valuation via I2PO, a Paris-listed SPAC led by former WarnerMedia exec Iris Knobloch. Deezer raised around $187m in VC funding, most recently at a $1.4b valuation, from firms like Access Industries, TV Azteca, Kingdom Holding Company, Orange and LBO France. http://axios.link/P64P
Liquidity Events
• American Securities is seeking a buyer for Milk Specialties Global, an Eden Prairie, Minn.-based ingredients firm that could fetch more than $1.5b, per Bloomberg. http://axios.link/EV3F
• Navis Capital Partners hired Rothschild & Co. to find a buyer for The Food Purveyor, an upscale Malaysian grocery chain that could fetch more than $235m, per Bloomberg. http://axios.link/K9Go
• Robinhood (Nasdaq: HOOD) agreed to buy Ziglu, a British electronic money institution and cryptoasset firm that raised over $40m from crowdfunding and firms like Bigspace Investments and Seedrs. www.ziglu.io
More M&A
🏈 Five bidders, including Rob Walton, Josh Harris and Todd Boehly, submitted nonbinding offers for the Denver Broncos, per Sportico. The team could sell for around $4b. http://axios.link/H8WP
🚑 Regeneron (Nasdaq: REGN) agreed to buy Cambridge, Mass.-based cancer drugmaker Checkmate Pharma (Nasdaq: CMPI) for around $250m, or $10.50 per share. www.checkmatepharma.com
• Tupy, a listed Brazilian auto parts company, agreed to buy Brazilian motor maker MWM for around $184m. http://axios.link/ssTU
• WonderFi, a Canadian DeFi firm, agreed to buy Toronto-based crypto trading platform Coinberry for $38.3m in stock.
• Zendesk (NYSE: ZEN), the customer engagement software provider the whose shareholders recently rejected a takeover of SurveyMonkey parent Momentive (Nasdaq: MNTV), hired Qatalyst Partners to explore a possible sale, per Reuters. Zendesk has around a $14.8b market cap. http://axios.link/7QBZ
Fundraising
• Gold House, a nonprofit collective of Asian and Pacific Islander investors and business leaders, launched a $30 million VC fund to back founders of API descent. Partners include Eric Feng (ex-Kleiner Perkins). Go deeper.
🌯 Chipotle launched a $50m venture capital fund. http://axios.link/qIhd
• Conductive Ventures raised $200m for its third fund. http://axios.link/V7e7
• Mainsail Partners raised $915m for its sixth growth equity fund. www.mainsailpartners.com
• Tokio Marine, a Japanese insurer, launched a $42m venture capital fund based in Palo Alto. http://axios.link/ioj6
• Rallyday Partners, a Denver-based PE firm, raised $205m for its second fund. www.rallydaypartners.com
• Square Peg Capital, an Australian VC firm, is raising US$550m for its fourth fund. http://axios.link/GSfJ
It's Personnel
• Meera Clark joined Redpoint Ventures as a principal. She previously was with Obvious Ventures. www.redpoint.vc
• Ara Partners promoted Katy Boettcher to principal and hired Ken Nguyen (ex-Altos Partners) as a senior associate. www.arapartners.com
🙏 Thanks for reading Axios Pro Rata! Please ask your friends, colleagues and Twitter tire-kickers to sign up.