Axios Pro Rata
November 14, 2022
💰 You're invited: On Wednesday at 12:30pm ET, please join Axios Pro retail and media deals reporters for a virtual conversation on marketing and the creator economy with AB InBev global CMO Marcel Marcondes and Spotter founder and CEO Aaron DeBevoise. RSVP here.
Top of the Morning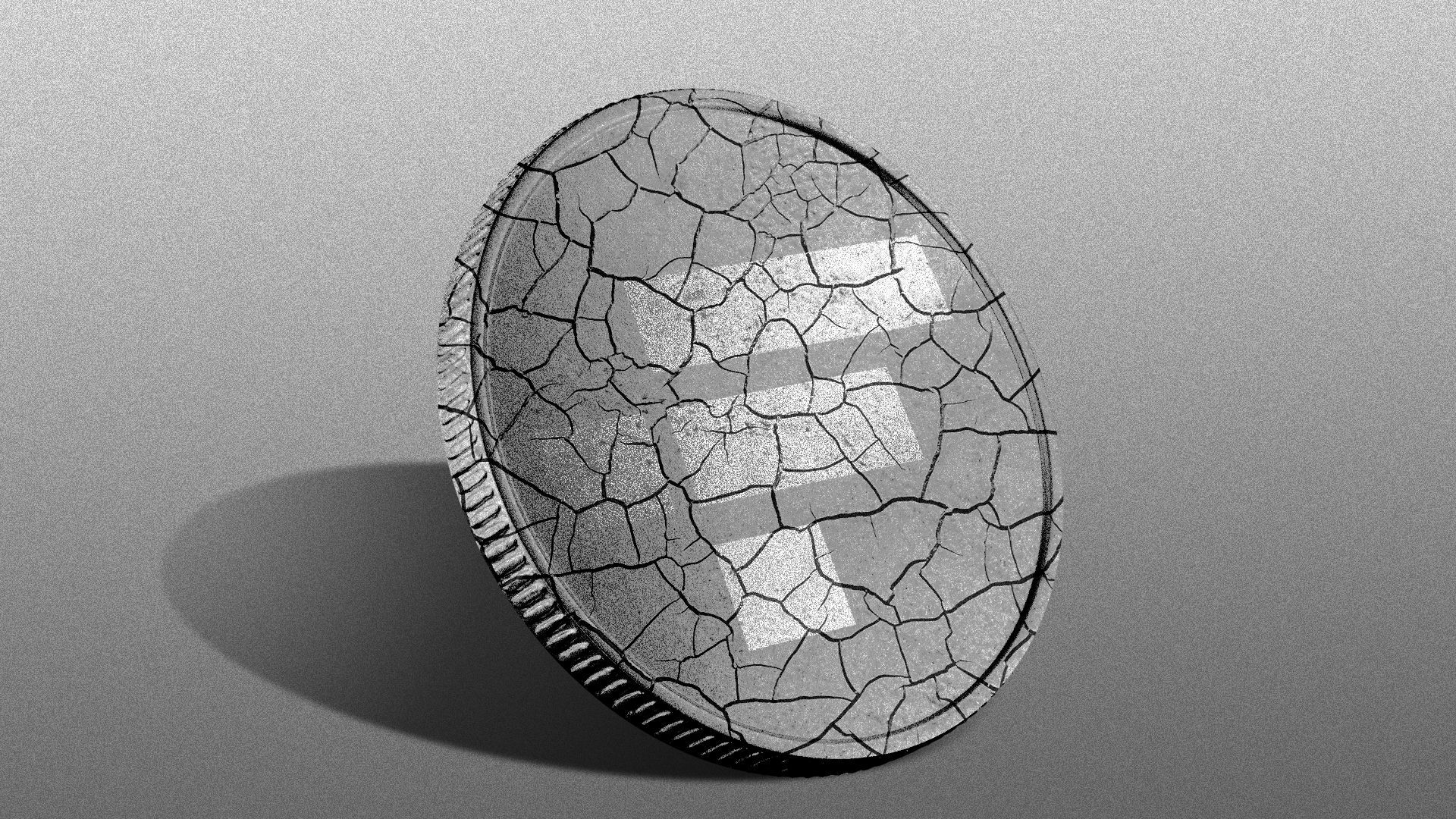 "Sam, if I said I need a million dollars to cure world hunger, could you get it in an hour?"
That's a question I asked Sam Bankman-Fried last October, after having read that the "billionaire" FTX founder had relatively little cash in his personal bank account.
His reply, after a pause: "I could. What I would be doing is I would basically be withdrawing it from companies. So, you know, you could dividend it out from FTX."
Why it matters: This exchange has been ringing in my head for days, as FTX and its U.S. affiliate both filed for Chapter 11 bankruptcy protection and everyone has sought to understand what went so wrong so fast.
Yes, he was replying to a hypothetical and what he said wasn't necessarily illegal. He was majority owner and CEO of FTX, a company that had raised $2 billion in venture capital without even the most basic financial or corporate governance controls. Plus, there's a moral case to be made that almost any means would justify ending world hunger.
But his mind went first to pulling money from FTX. Not to asking a wealthy friend to wire the money. Not to digging into his Alameda Trading account, which everyone at the time believed to be flush. No, he would take it from FTX.
State of play: At the moment, FTX is looking like a full employment act for forensic accountants.
One thorny question they'll be charged with answering is how Bankman-Fried got so liquid.
Remember, he donated more than $40 million to political campaigns during the most recent election cycle. He also personally bankrolled FTX Ventures, which put big money into dozens of startups, and also committed hundreds of millions of his own money to actual venture capital funds (some managed by firms that also invested in FTX).
None of this is normal for the CEO of a young, venture-backed company, even one valued at $32 billion.
FTX investors still have never seen a balance sheet, even though the company used to send large quarterly performance packages that included all sorts of other financial data.
Due diligence: Some FTX investors, speaking on the condition of anonymity, say they assumed Bankman-Fried was using money he earned via Alameda earnings.
But they also admit that they didn't dig deeper into the relationship between Alameda and FTX; now realizing that even if Bankman-Fried's cash came from Alameda, that likely means that at least some of it originated with FTX and, quite possibly, FTX customer funds.
There also are questions if there was a bank on the other side of Bankman-Fried's personal giving.
The bottom line: We're just one week into this debacle, and still months away from untangling the money web of FTX, Alameda and Bankman-Fried.
The BFD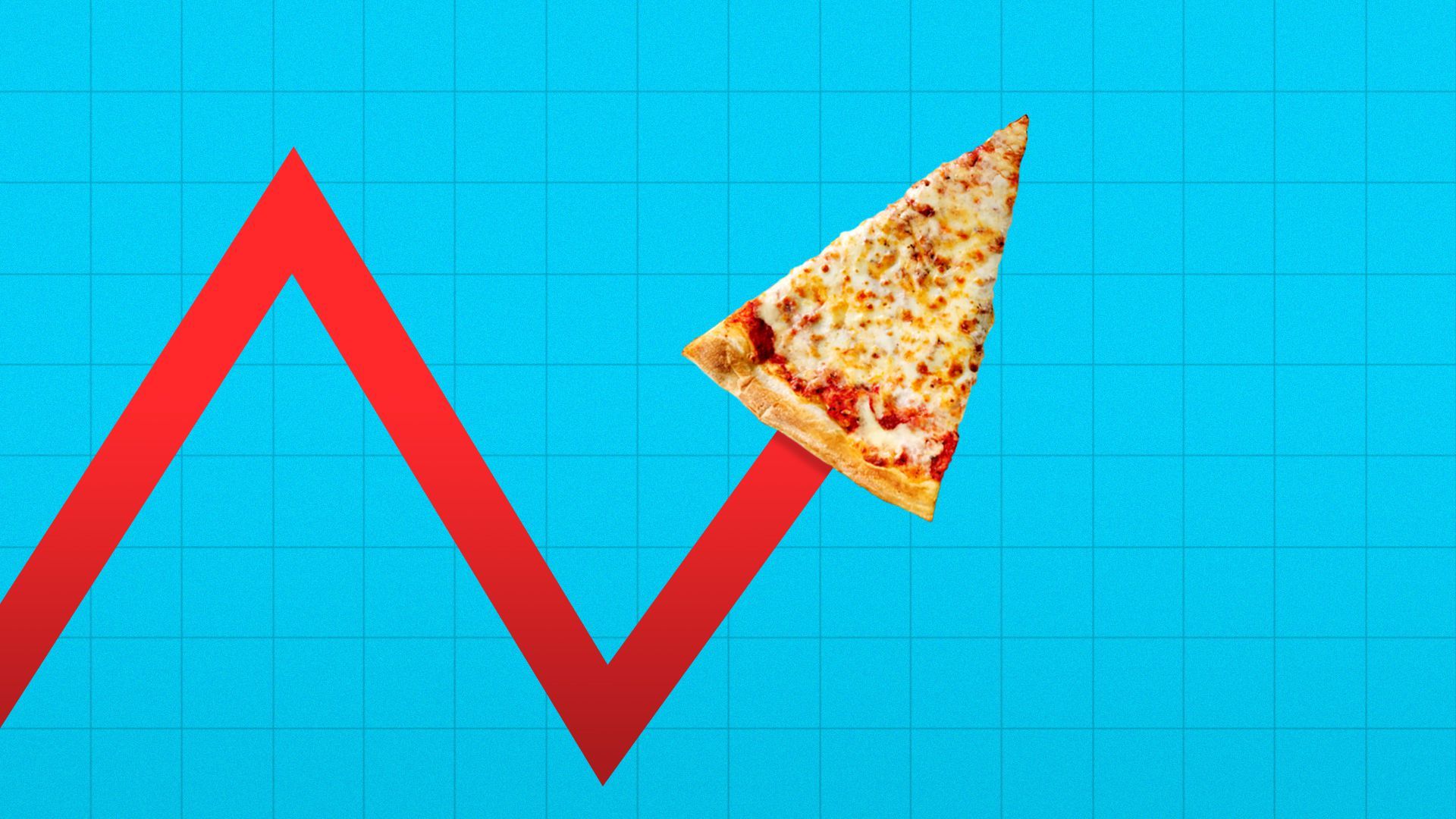 Americana Restaurants International, the operator of KFC and Pizza Hut shops in the Middle East, had its IPO oversubscribed within hours, per Bloomberg.
Why it's the BFD: This is expected to be the year's largest Saudi IPO, with plans to raise upwards of $1.8 billion, and the first-ever joint listing in Saudi Arabia and Dubai.
It's also the latest example of how the Middle East's IPO market remains vibrant, whereas the rest of the world's is moribund.
Cap table: Major shareholders include Saudi Arabia's Public Investment Fund and Emirati property tycoon Mohamed Alabbar.
The bottom line: "A surge in oil prices through 2021 and the early months of this year, coupled with a rotation by investors into the region following Russia's invasion of Ukraine, have helped underpin IPOs. Saudi Arabia and the UAE are also seeking to sell stakes in state assets to fund the diversification of their oil-dependent economies." — Julia Fioretti, Bloomberg
Venture Capital Deals
🚑 MBX Biosciences, a Carmel, Ind.-based biotech focused on endocrine disorders, raised $115m in Series B funding. Wellington Management led, and was joined by RA Capital Management, Norwest Ventures Partners and insiders NEA, OrbiMed and Frazier Life Sciences. www.mbxbio.com
🚑 Maven Clinic, a New York-based startup that connects users to virtual maternal and family health care providers, raised $90m in Series E funding, per Axios Pro. General Catalyst led, and was joined by La Famiglia, Intermountain Ventures and insiders Sequoia Capital, Oak HC/FT, Icon Ventures, Dragoneer Investment Group and Lux Capital. https://axios.link/3TEKTea
• Lentra, an Indian embedded finance startup, raised $60m in Series B funding at a valuation north of $400m. Bessemer Venture Partners and SIG co-led, and were joined by Citi Ventures. https://axios.link/3UsxsPL
• Vow, an Australian cultured meat startup, raised $49.2m in Series A funding. Blackbird and Prosperity7 Ventures co-led, and were joined by Toyota Ventures, Square Peg Capital, Grok Ventures, Cavallo Ventures, Peakbridge, Tenacious Ventures, HostPlus Super, NGS Super and Pavilion Capital. https://axios.link/3G9Mx4t
• Brightside, an SF-based financial care platform for employers, raised $33m in Series B funding. Obvious Ventures led, and was joined by Andreessen Horowitz, Trinity Ventures, Clocktower Technology Ventures and Chestnut Street Ventures. www.gobrightside.com
• Quix, a British platform for building and running event-driven data apps, raised £11m in Series A funding. MCM Ventures led, and was joined by Project A Ventures and Passion Capital. https://axios.link/3ttbctd
• Recess, an LA-based experiential marketplace that connects brands with events and venues, raised $5m in Series A funding co-led by Data Point Capital and Spring Mountain Capital. www.recess.is
🐶 Pet's Table, a Mexican DTC fresh dog food company, raised $2m in seed funding led by Left Lane Capital. www.petstable.mx
Private Equity Deals
• AE Industrial Partners completed its purchase of a majority stake in York Space Systems, a Denver-based provider of small satellites, satellite parts and mission operation solutions. BlackRock Private Equity Partners also participated. www.yorkspacesystems.com
⚡ Alberta Investment Management Corp. increased its stake from 28% to 87% in Howard Energy Partners, a San Antonio, Texas-based provider of midstream energy solutions, via a stake purchase from Asatine Investment Partners. https://axios.link/3O46sDF
• Aurelius is in talks to buy the LSG Sky Chefs airline catering business from Lufthansa, per Bloomberg. https://axios.link/3tr4nbx
🚑 Centre Partners and Health Enterprise Partners invested in Tampa, Fla.-based Toney Healthcare Consulting. www.toneyhealthcare.com
• CVC Capital Partners is considering a takeover bid for Ibex (Nasdaq: IBEX), a Washington, D.C.-based business process outsourcing firm with a $408m market cap, per Bloomberg. https://axios.link/3tu8ALM
• ID Images, a Brunswick, Ohio-based portfolio company of Sole Source Capital, acquired Hickman Label, a Lebanon, Tenn.-based provider of label solutions for the on-demand inkjet market. www.idimages.com
⚡ KKR is in talks to invest around $500m into Norway's Freyr Battery, per Bloomberg. https://axios.link/3GeKHzm
• Kohlberg & Co. acquired a 50% stake in USIC, an Indianapolis-based provider of location and maintenance services for underground utility infrastructure, from Partners Group (which retains the other 50%). www.usicllc.com
• Partners Group agreed to buy a majority stake in EdgeCore Digital Infrastructure, a Broomfield, Colo.-based data center operator, for upwards of $1.2b. https://axios.link/3O7ALK0
• Sealed Air (NYSE: SEE) agreed to buy Liquibox, a Richmond, Va.-based provider of liquid packaging and dispensing solutions, from Olympus Partners. www.liquibox.com
⚡ TC Energy (TSX: TRP) is expected to get bids from both private equity and Indigenous investors for C$5b in assets it expects to sell by the end of next year, including a pair of Alberta oil sands projects, per The Globe & Mail. https://axios.link/3TAR7M9
Public Offerings
• Atour Lifestyle Holdings, a Chinese upper-midscale hotel chain, raised $52m in its IPO. It priced at the low end of its $11-$13 range, and will list on the Nasdaq (ATAT). Backers include Legend Capital, Qunar.com and Divine Capital. https://axios.link/3tsMGIG
SPAC Stuff
• Qenta, an asset digitization company, agreed to go public at an implied $622m enterprise value via Blockchain Coinvestors Acquisition Corp. I (Nasdaq: BCSA), a SPAC led by crypto entrepreneur Lou Kerner. https://axios.link/3UPHwlE
🚑 TriSalus Life Sciences, a Westminster, Colo.-based developer of immunotherapies and treatment devices for liver and pancreatic cancer, agreed to go public at an implied $244.4m post-merger market cap via MedTech Acquisition Corp. (Nasdaq: MTAC). The company has raised around $170m in VC funding from backers like Tullis Health Investors. https://axios.link/3WXMyyq
• Alkaid Acquisition, an IoT, smart manufacturing and renewable energy SPAC, filed for a $50m IPO. https://axios.link/3hFjTxI
• Plutonian Acquisition, a SPAC led by Wei Kwang Ng (Singapore Post), raised $50m in its IPO. https://axios.link/3TssQb2
• Pono Capital Three, a Japanese tech SPAC, filed for a $100m IPO. https://axios.link/3trVmiv
Liquidity Events
• Rheinmetall, a listed German military equipment manufacturer, agreed to buy Spanish ammunitions maker Expal Systems for £1.2b from a portfolio company of Rhone Capital. https://axios.link/3Ty2uo3
More M&A
• Commonwealth Bank of Australia (ASX: CBA) is seeking a buyer for its Indonesian unit, per Bloomberg. https://axios.link/3g0lFJp
• Estée Lauder (NYSE: EL) is nearing a $2.8b takeover of fashion label Tom Ford, per the FT. This is lower than the $3b price tag estimated over the summer.
• Fosun International is considering strategic alternatives for French resort chain Club Med, including a possible sale, per Bloomberg. https://axios.link/3O3faSG
• Frasers Group (LSE: FRAS) is in talks to buy luxury men's apparel retailer Gieves & Hawkes, per Bloomberg. https://axios.link/3WY0mJ7
🚑 Indivior (LSE: INDV) agreed to buy Opiant Pharmaceuticals (Nasdaq: OPNT), a Santa Monica, Calif.-based drugmaker focused on substance abuse, for around $145m in cash, or $20 per share (113% premium over Friday's closing price). www.opiant.com
• Schneider Electric (Paris: SCHN) sweetened its takeover offer for industrial software maker Aveva (LSE: AVV) to £9.86b from £9.5b. https://axios.link/3Aaxrbe
Fundraising
⚡ Alcazar Energy Partners, a Dubai-based PE firm focused on wind and solar projects, held a $337m interim close for a second fund targeting $500m ($650m hard cap). www.alcazarenergy.com
• Brighton Park Capital, a growth equity fund led by Mark Dzialga (ex-General Atlantic), raised $1.8b for its second fund. https://axios.link/3GdMWD8
It's Personnel
• Sandra Cadiou joined French growth equity investor Revaia as head of communications. She previously was an independent PR consultant. www.revaia.com
• Jon Chait joined In-Q-Tel, the CIA-affiliated venture capital firm, as a Boston-based partner, per his LinkedIn. He's a longtime general partner with Dace Ventures. https://axios.link/3AcrWZo
• Juriaan Duizendstraal joined Index Ventures as an Israel-based partner. He previously was with Team8 Capital and Liberty Media. https://axios.link/3UG4Cvy
• Mats Eklund (ex-NREP, Sprints Capital) joined Sofinnova Partners as a partner and COO. www.sofinnovapartners.com
Final Numbers ⬇️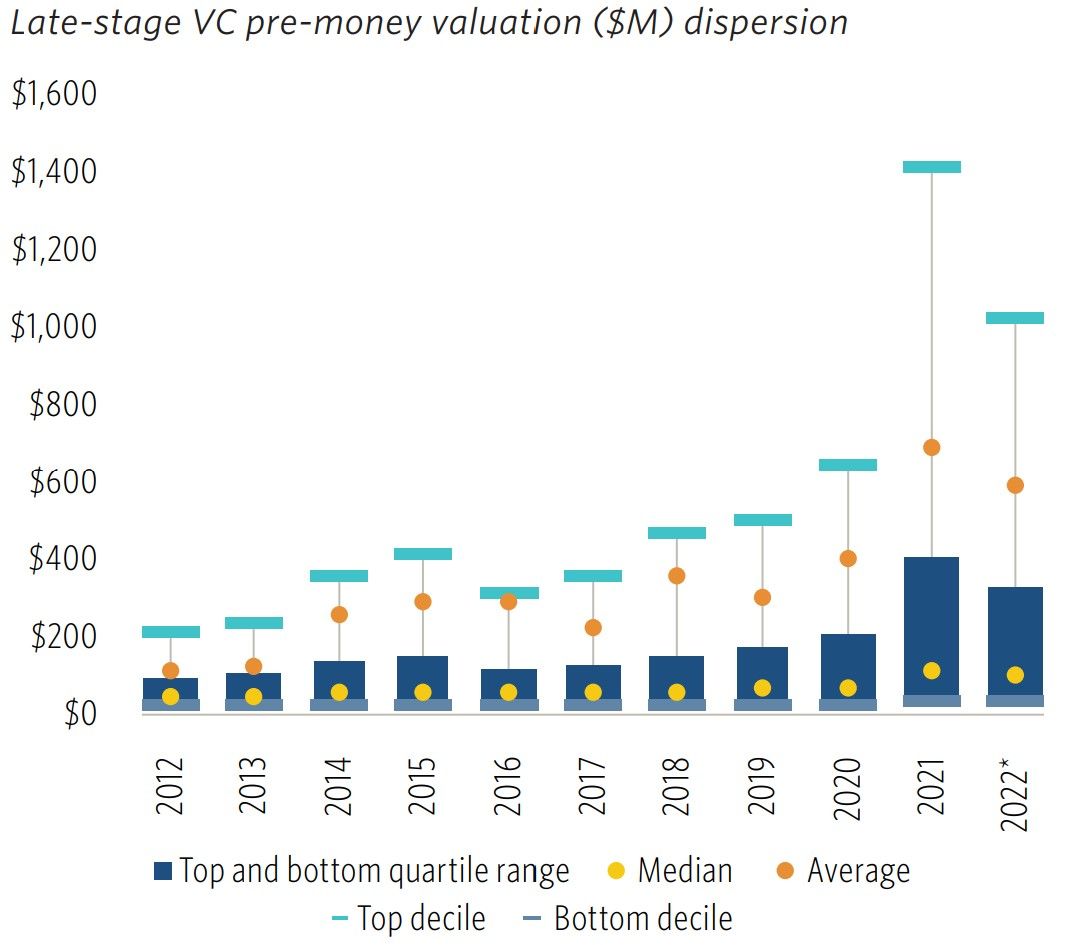 Venture valuations for later-stage rounds are way down, per new data from PitchBook.
Early-stage deal valuations declined between the second and third quarters, but the 2022 median remains higher than 2021.
✔️ Thanks for reading Axios Pro Rata, and to copy editors Mickey Meece and Nick Aspinwall! Please ask your friends, colleagues and Bahamian bankruptcy lawyers to sign up.