September 30, 2022
A reminder to request your invite to The Axios BFD, taking place on Wednesday, Oct. 26 in New York City. More guests to be announced next week.
Top of the Morning
We all knew that deal activity slowed in the third quarter, but it still hits different when the meager tally arrives.
Driving the news: Global M&A volume was $642 billion between July and September, a 42% drop from the prior quarter and the lowest Q3 figure in a decade, per preliminary figures from Refinitiv. It's also the slowest overall quarter since pandemic-ravaged Q2 2020.
U.S. deals were down by a similar percentage, to $278 billion.
The number of global deals was at its lowest mark since Q1 2015. That's notable because it illustrates how the volume declines weren't just tied to falling valuations.
Pick your poison for the Q3 lethargy: Public stock market declines, which pulled some potential sellers out of market. Rising interest rates, which chilled deal financing (particularly for leveraged buyouts). Inflation and the ongoing Ukraine war, which complicates everyone's math.
Plus, the lure of summer vacation, after several straight years of nonstop deal activity.
Inside the numbers: Down arrows didn't discriminate by industry or geography.
Each of the 13 macro industry sectors tracked by Refinitiv is down year-over-year through three quarters. The largest dollar decline was media/entertainment (-59.9%), although it had the second-best deal volume decline (8.8%, trailing only real estate's -6.7%).
All five target regions were negative year-over-year, as were 15 of the top 20 countries (gainers included India and Italy).
Private equity-backed M&A dollar volume is down 25.5% year-over-year, while deal number is off 27.4%. Private equity's share of the overall M&A dollar pie climbed to 23.3% from 20.5%.
There were some winners: Adobe's takeover of Figma was the third quarter's largest announced deal.
Goldman Sachs, JPMorgan and Morgan Stanley lead the global advisory league tables for the first nine months of 2022, as they did for 2021.
Sullivan & Cromwell retained the top legal adviser spot, with Simpson Thacher & Bartlett taking over second place from Latham & Watkins.
The bottom line: Fourth quarters typically top third quarters, although there's no macro reason to expect a particularly high rebound this year.
The BFD
Banks have canceled a $3.9 billion debt sale tied to Apollo Global Management's $7.5 billion deal for the ILEC assets of Lumen Technologies (NYSE: LUMN), after failing to find enough investor interest.
Why it's the BFD: This is a rapid devolution of the "debt ceiling" we discussed on Monday, after banks took a $700 million loss on Citrix debt, and creates new questions for other existing agreements (including Elon Musk's limbo deal for Twitter).
Details: Bank of America and Barclays were leading a bank consortium that planned to sell a $2 billion leveraged loan and a $1.9 billion high-yield bond, per Reuters.
Brightspeed, the Apollo-owned platform in which the Lumen assets would sit, said in a statement that it still plans to close on the acquisition "in early October using an equity contribution from Apollo and proceeds from the committed financing obtained at the time of deal announcement."
The bottom line: "Wall Street banks face significant losses on tens of billions of dollars in high-risk leveraged buyout debt that they're trying to offload, and are finding it increasingly tough to lure investors as yields surge." — Bloomberg
Venture Capital Deals
🚑 Grow Therapy, a New York-based startup that helps therapists launch private practices covered by insurance, raised $75m in Series B funding. TCV and Transformation Capital co-led, and were joined by insiders SignalFire and SVB. www.growtherapy.com
• Cortex, a Brazilian big data analytics SaaS, raised around $48m. Lightrock led, and was joined by insiders SoftBank and Riverwood Capital. www.cortex-intelligence.com
• Path Water, a Fremont, Calif.-based provider of bottled water in recyclable aluminum bottles, raised $30m in Series A funding led by Altos Ventures, as first reported by Axios Pro. https://axios.link/3xYZNUA
• Noodle.ai, an SF-based supply chain intelligence startup, raised $25m in Series C funding from Honeywell and ServiceNow. www.noodle.ai
• Toqio, a London-based fintech white label SaaS, raised €18.7m in Series A funding. AlbionVC led, and was joined by Aldea Ventures, Seaya Ventures, Speedinvest and SIX FinTech Ventures. https://axios.link/3Sqo7a2
• Songfinch, a Chicago-based musician monetization startup, raised $17m in Series A funding, as first reported by Axios Pro. Valor Siren Ventures led, and was joined by Corazon Capital. https://axios.link/3BV8a4T
• Re, a decentralized reinsurance protocol, raised $14m in seed funding from Tribe Capital, Framework Ventures, Morgan Creek Digital and SiriusPoint. https://axios.link/3Spi8SP
• Nova Credit, an SF-based startup focused on immigrant credit history, raised $10m from HSBC. https://axios.link/3Cl57UI
• TeachFX, a Menlo Park, Calif.-based teaching feedback app, raised $10m in Series A funding led by Reach Capital. https://axios.link/3LSK6UO
• 3AM Innovations, a Buffalo, New York-based emergency response software company, raised $9m in Series A funding from Grand Oaks Capital. https://axios.link/3ULiUeu
• CoRise, an SF-based online upskilling platform, raised $8.5m in seed funding. Greylock and GSV Ventures co-led, and were joined by Cowboy Ventures. www.corise.com
• Everstores, a Berlin-based Shopify merchant aggregator, raised €8m in equity funding led by Earlybird VC and €10m in debt led by Viola Credit. https://axios.link/3BWICUW
• Arcade, a product-demo building platform, raised $7.5m in seed funding from backers like Foundation Capital and Upfront Ventures. https://axios.link/3BTf1vp
🚑 Climate Club, a New York-based provider of employer-focused sustainability software, raised $6.5m in seed funding. XYZ VC and Vestigo Ventures co-led, and were joined by Red Sea Ventures and MCJ Collective. www.climateclub.com
• Bizbaz, a Singaporean customer intelligence and risk management startup, raised $4m in seed funding led by HSBC Asset Management. https://axios.link/3CmyTZq
• Solvo, a mobile crypto investment app, raised $3.5m in seed funding. Index Ventures led, and was joined by CoinFund and FJ Labs. https://axios.link/3SKfB5o
• Scout, an LA-based investing app initially focused on college athletes, raised $2.6m in seed funding led by Chingona Ventures. https://axios.link/3SEjKbP
• Ripe, a Swedish B2B sales leads startup, raised $2m co-led by Earlybird VC and Alliance Ventures. https://axios.link/3dN6thW
• Uniswap Labs, a Monsey, New York-based maker of crypto infrastructure apps, is in talks to raise upwards of $200m in new funding, per TechCrunch. https://axios.link/3E5J8T6
Private Equity Deals
• Concord Music Group, a portfolio company of Wood Creek Capital Management, agreed to buy a music rights portfolio from Phil Collins and Genesis. The WSJ pegs the deal value at over $300m. https://axios.link/3BZywCR
• Atos (Paris: ATO) said its rejected €4.2b takeover interest in its identity access and management software arm (Evidian) from PE firm ICG and rival Onepoint. https://axios.link/3US5SMw
⚡ Brookfield Renewable Partners bought Scout Clean Energy, a Boulder, Colo.-based renewable energy developer and operator, from Quinbrook Infrastructure Partners for $1b. Brookfield also paid $540m to buy Rockville, Md.-based Standard Solar from Israel's Energir. https://axios.link/3SpD0t8
🚑 Great Point Partners invested in iXCells, a San Diego-based provider of cell-based products and discovery services. www.ixcellsbiotech.com
⚡ Grey Rock Investment Partners invested in Rebellion Energy Solutions, a Tulsa-based oil and gas developer focused on reducing methane emissions from legacy wells. https://www.rebellionenergysolutions.com/
• Max Solutions, a Richmond, Va.-based packaging company owned by Jefferson Capital, acquired The Ellis Group, a Canadian folding carton manufacturer. www.biggerthanpackaging.com
🚑 Olympus Partners bought EyeSouth, an Atlanta-based eye care management services group, from Shore Capital Partners. www.eyesouthpartners.com
• Thoma Bravo agreed to buy a majority stake in SMA Technologies, a Houston-based provider of automation solutions for financial services, from ParkerGale Capital (which retains a minority stake). www.smatechnologies.com
• Zero Motorcycles, a Scotts Valley, Calif.-based maker of electric motorcycles and powertrains, raised $107m from Polaris, Exor and Hero MotoCorp. https://axios.link/3CeW4np
Public Offerings
🚑 Burjeel, an Abu Dhabi-based health care services firm, will seek to raise $368m via a local IPO. https://axios.link/3fkmCvp
• HSBC (NYSE: HSBC) has begun speaking with investors about a potential IPO for its Indonesian unit, per Reuters. https://axios.link/3rkjbb6
• Leonardo DRS, a Virginia-based satellite firm, withdrew registration for a $670m IPO that it had postponed in 2021. https://axios.link/3RmyXwE
Liquidity Events
⚡ Actis is seeking to sell South African renewable energy firm BTE Renewables, with South African coal miner Exxaro Resources among the likely bidders, per Bloomberg. A deal could be worth around $800m. https://axios.link/3LUMz0Q
• Veritas Capital is considering early 2023 options for Guidehouse, a Tysons Corner, Va.-based management consultancy that could be valued at around $7b in a sale or IPO, per Bloomberg. https://axios.link/3dVc1qw
More M&A
🚑 Dentive, a Provo, Utah-based dental support org with around $40m in EBITDA, is seeking a buyer, per Axios Pro. https://axios.link/3y687BX
⚡ Enbridge (TSX: ENE), a Canadian pipeline operator, acquired Dallas-based renewable energy developer Tri Global Energy for $270m (plus assumed debt). https://axios.link/3SIt5yS
• Geely, the Chinese automaker that also controls foreign brands like Volvo, bought a 7.6% stake in British luxury carmaker Aston Martin (LSE: AML). https://axios.link/3LVYE5R
• Public.com, valued at $1.2m by firms like Tiger Global, reportedly is in talks to acquire Bux, a Dutch broker that has raised over $100m from firms like HV Capital, Tencent and Prosus Ventures. https://axios.link/3y22gh8
• Shiseido (Tokyo: 4911) agreed to acquire London-based microbiome skin care brand Gallinée. https://axios.link/3y1eVks
It's Personnel
• BlackRock is promoting Lynn Baranski and John Seeg to head of its $35b private equity unit, with group founder Russ Steenberg to become chairman, per the WSJ. https://axios.link/3dYDtDF
🌎 John Holl joined Clear Sky Advisers as president of North American carbon and president of environmental trading. He previously was with ACT Commodities. www.clearskyim.com
• Charly Mwangi, former EVP of manufacturing at Rivian, joined Eclipse Ventures as a partner. www.eclipse.vc
• Kristan O'Connor joined Brightwood Capital Advisors as a managing director of portfolio management and risk. She previously was with Bank Leumi. www.brightwoodlp.com
• SoftBank has laid off 30% of its Vision Fund staff, or around 150 people, per the FT. https://axios.link/3rh5fym
Final Numbers: Global M&A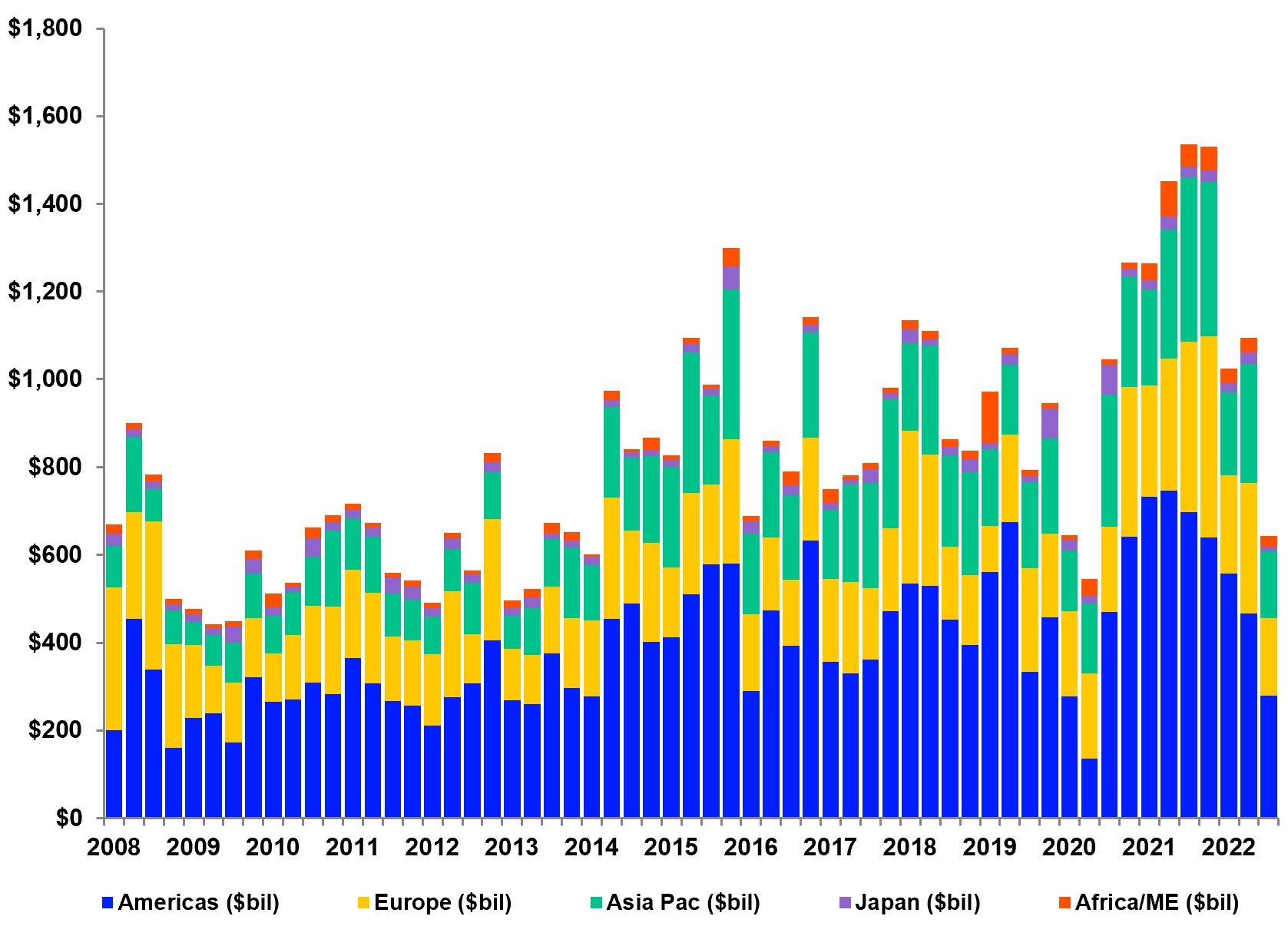 ✔️ Thanks for reading Axios Pro Rata, and Phoebe Neidl for copy editing. Please ask your friends, colleagues and data devourers to sign up.