Axios Pro Rata
September 12, 2023
Top of the Morning
Jack Dorsey had second thoughts about supporting Elon Musk's takeover of Twitter so Musk made Dorsey a secret offer he couldn't refuse.
That's according to the new Musk biography by Walter Isaacson, released today.
Dorsey and Musk were longtime acquaintances and mutual admirers.
In fact, the former Twitter CEO had suggested to his successor, Parag Agrawal, that Musk be added to the social network's board of directors — well before the buyout talks began.
Dorsey also was part of a Twitter board that in April 2022 accepted Musk's $54.20 per share takeover offer, valuing the company at $44 billion, but no longer on that board when it sued Musk to enforce the agreement.
Most importantly, Dorsey agreed to roll his 2.4% equity stake into the buyout, which helped Musk lower his own capital contribution by around $1 billion.
As the takeover got closer, however, Isaacson reports that Dorsey began getting cold feet.
Some of his concerns were borne of Musk's impulsiveness, which threatened to destroy what Dorsey had spent so many years building.
"Musk had called [Dorsey] almost daily over the past week, reassuring Dorsey that he truly loved Twitter and wouldn't harm it."
Dorsey was also worried about his own pocketbook and future liquidity needs, despite still being that largest outside shareholder in Block (fka Square).
Musk's solution was a promise: Were Dorsey to ever need money, Musk would buy back his Twitter shares at the original takeover price of $54.20 per share. In other words, $44 billion became Dorsey's valuation floor.
Neither Dorsey nor an X spokesperson returned a request for comment on if Dorsey still holds all of his X shares.
The bottom line: Dorsey is leading a nascent social network called BlueSky, but hasn't issued many public statements on Musk's stewardship of his former company.
One exception came in July, when Dorsey tweeted: "Running Twitter is hard. I don't wish that stress upon anyone. I trust that the team is doing their best under the constraints they have, which are immense. It's easy to critique the decisions from afar…which I'm guilty of…but I know the goal is to see Twitter thrive. It will."
The BFD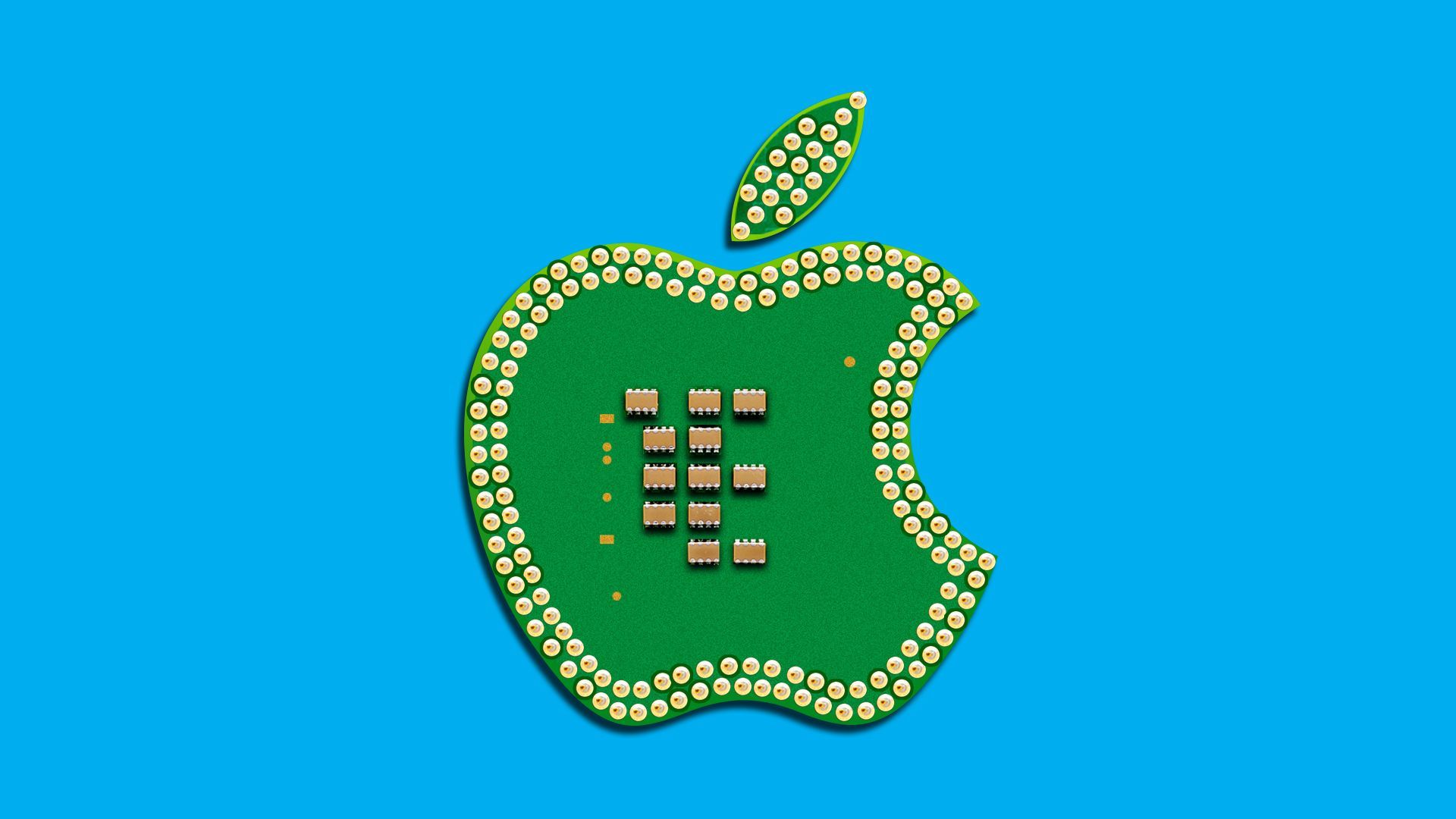 Apple (Nasdaq: AAPL) signed a new chip supply agreement with Qualcomm (Nasdaq: QCOM), which will apply to iPhones being launched between 2024 and 2026.
Why it's the BFD: This comes three years after Apple spent $1 billion to buy Intel's smartphone modem business — a move intended to let Apple displace Qualcomm when their existing agreement ended at the end of 2023.
Elsewhere: It also comes ahead of this week's highly anticipated U.S. IPO for British chip design giant Arm, which reportedly is already oversubscribed.
Apple licenses its iPhone chip design architecture from Arm, with the two sides recently extended that relationship through 2040 (as disclosed in a regulatory filing).
Arm, meanwhile, generates around 11% of its revenue via royalties from Qualcomm, but also is suing the chipmaker for breach of contract and trademark infringement.
The bottom line: Apple has spent both money and ink on moving its chip supply chain in-house. But just hours before the unveiling of iPhone 15, it seems that Infinite Loop will remain reliant on outsiders for years to come.
Venture Capital Deals
⚡ Lyten, a San Jose, Calif.-based developer of a new form of graphene for battery manufacturing, raised $200m in Series B funding. Prime Movers Lab led, and was joined by Stellantis, FedEx, Honeywell and The Walbridge Group. https://axios.link/468jM1W
• Enfabrica, a Mountain View, Calif.-based AI chips startup, raised $125m in Series B funding. Atreides Management led, and was joined by Sutter Hill Ventures, Nvidia, IAG Capital Partners, Liberty Global Ventures, Valor Equity Partners, Infinitum Partners and Alumni Ventures. https://axios.link/3PmLAZI
🚑 Arialys Therapeutics, a La Jolla, Calif.-based developer of therapies for autoimmune neuropsychiatry, raised $58m in seed funding from Avalon BioVentures, Catalys Pacific, MPM BioImpact, Johnson & Johnson Innovation and Alexandria Venture Investments. www.arialystx.com
• Mighty Buildings, an Oakland, Calif.-based maker of 3D-printed homes, raised $52m. Waed Ventures and Bold Capital co-led, and were joined by Kholsa Ventures. https://axios.link/3Rd68Gs
• FloLive, a London-based IoT connectivity startup, raised $47m in Series C funding. Greenfield Partners and insider 83North co-led, and were joined by Qualcomm Ventures, Dell Technologies Capital, Saban Ventures and Hazelnut Partners. https://axios.link/3rfWiZF
• Kale Logistics Solutions, an Indian logistics SaaS startup, raised $30m in Series B funding led by Creaegis Advisors. https://axios.link/3LeaFVq
• ELSA, a Los Gatos, Calif.-based English language learning platform, raised $22.5m in Series C funding. UOB Venture Management led, and was joined by UniPresident, Aozora Bank, Vietnam Investments Group, Development Bank of Japan and insiders Gradient Ventures, Monk's Hill Ventures and Global Ventures. https://axios.link/45O9NPx
• CertifID, an Austin, Texas-based startup that products against wire fraud in real estate transactions, raised $20m led by Arthur Ventures. https://axios.link/3rajj0d
🚑 Bold, an LA-based provider of virtual exercise programs for Medicare Advantage members, raised $17m in Series A funding, per Axios Pro. Rethink Impact led, and was joined by Samsung Next and insiders Andreessen Horowitz, Khosla Ventures, GingerBread Capital and Primetime Partners. https://axios.link/3sOb7TZ
• Proven, an SF-based personalized fragrance startup, raised $12.2m in Series A funding led by NewH2 Ventures. www.provenskincare.com
🚑 Sonera, a Berkeley, Calif.-based developer of sensors for non-invasive human-machine interfaces, raised $11m in seed funding led by Amplify Partners. https://axios.link/3EBAStc
• AuthMind, a Bethesda, Md.-based identity security ops startup, raised $8.5m in seed funding. Ballistic Ventures led, and was joined by IBM Ventures. https://axios.link/48cGMhV
• GamePhilos Studio, a Singapore-based mobile game publisher, raised $8m in seed funding from Xterio, Animoca Ventures, SevenX Ventures, Chain Hill Capital, Hashkey Capital, Sanctor Capital, Game7, Bas1s, GSR Markets and GSG Ventures. https://axios.link/3LGD5HV
• Trident Digital Group, a Connecticut-based digital asset lender, raised $8m in seed funding. New Form and White Star Capital co-led, and were joined by CMT Digital, Joint Effects and Permit Ventures. www.tridig.io
🚑 DeLorean AI, a Miami-based patient outcomes prediction startup, raised $7.55m in Series A funding. Sopris VC led, and was joined by Pinta Capital Partners and James Chow. www.deloreanai.com
• Alix, a Los Gatos, Calif.-based estate settlement automation tool, raised $5.5m in seed funding. Initialized Capital led, and was joined by Magnify, Scribble, American Family Ventures and Alumni Ventures. https://axios.link/3EzOMMl
🚑 Glass Health, an SF-based digital notebook for clinicians, raised $5m led by Initialized Capital. https://axios.link/3sPx8BF
🚑 Thirona, a Dutch thoracic CT image analysis startup, raised $5m from Heran Partners and the Borski Fund. www.thirona.eu
• Prewitt Ridge, an LA-based requirements management and digital thread startup, raised $4.1m in seed funding. Squadra Ventures led, and was joined by Stage Venture Partners, Aurelia Foundry, Wonder Ventures, Haystack, Acequia, TechStars and GC&H. www.prewittridge.com
• OpenCover, a decentralized insurance startup, raised $4m in seed funding co-led by NFX and Jump Crypto. https://axios.link/3EvG7uu
🚑 Co:Helm, a New York-based prior authorizations automation startup, raised $3.2m in seed funding, per Axios Pro. Sequoia Capital led, and was joined by Blue Lion Global, Nebular, Ventures Together, Four Acres and Anamcara. https://axios.link/48cnOrS
• Common Trust, an SF-based employee ownership buyout option for small business owners, raised $2.6m in seed funding. Crossbeam Venture Partners led, and was joined by Schmidt Futures. https://axios.link/3rajB7k
• GoCharlie, a developer of generative AI models for marketing, raised $2m in seed funding from Goodwater Capital, SRI International, XRC Ventures, Geek Ventures, Textbook.vc and Hawke Ventures, per Axios Pro. https://axios.link/48cMBMv
• Hadrius, a New York-based SEC compliance automation startup, raised $2m in seed funding from YC, Lynett Capital, Singularity Capital, Dorm Room Fund and Unpopular Ventures. www.hadrius.com
• Glass, an NFT video startup, is shutting down after raising $5m from firms like TCG Crypto and 1kx. https://axios.link/3Rfw3x4
🚑 Mavida Health, an LA-based maternal mental health platform, raised $1.5m in pre-seed funding led by, per Axios Pro. https://axios.link/3sPziRN
Private Equity Deals
• Arjun Infrastructure Partners, a London-based PE firm with €5.5b in AUM, is considering either a full or partial firm sale, per Bloomberg. https://axios.link/45MQZ2Z
• Bregal Sagemount invested in Bradford Airport Logistics, a Houston-based provider of logistics services to airports and other transportation. www.airportlogistics.org
• CenterOak Partners acquired Guardian Access Solutions, a Nashville-based provider of maintenance, repair, and installation services for exterior access control equipment. www.guardianaccess.com
• Cetera, an El Segundo, Calif.-based portfolio company of Genstar Capital, agreed to buy Avantax (Nasdaq: AVTA), a Dallas-based wealth management software maker, for around $1.2b, or $26 per share in cash https://axios.link/3Ey2wqP
🚑 Cimarron Healthcare Capital invested in Forward Health, an Owings Mills, Md.-based provider of solutions for patients with obstructive sleep apnea. www.fwdhealthcare.com
• Comvest Partners reinvested in existing portfolio company ClearOne, a Baltimore-based debt resolution services provider. www.clearoneadvantage.com
• J.D. Power, a portfolio company of Thoma Bravo, agreed to buy Autovista Group, a provider of European and Australian automotive data and analytics, from Hayfin Capital Management. https://axios.link/3LlZNoe
• KKR agreed to invest another $249m into India's Reliance Retail Ventures, bringing its total equity stake up to 1.42%. https://axios.link/3Zu827T
⚡ US Light Energy, a Latham, N.Y.-based distributed generation solar developer, raised $15m from Kimmeridge. www.uslightenergy.com
• Walpole Outdoors, a Foxborough, Mass.-based portfolio company of Argosy Private Equity, acquired Finyl Sales, an Ocala, Fla.-based maker of cellular PVC exterior trim products. www.walpoleoutdoors.com
Public Offerings
🚑 RayzeBio, a San Diego-based developer of targeted radiopharmaceuticals, set IPO terms to 14.4m shares at $16-$18. It would have a $1b fully diluted market value, were it to price in the middle, and plans to list on the Nasdaq (RYZB). The pre-revenue raised over $400m in VC funding from Viking Global (12.5% pre-IPO stake), Versant Ventures (12.2%), VenBio (12.2%), Venrock (6.4%), Sofinnova Investments and Wellington Management. https://axios.link/3svRtvS
• Renk, a German military gearbox maker owned by Triton, confirmed that it plans to go public in Frankfurt this year. https://axios.link/3RiqaPP
• TKO Group, the Endeavour (NYSE: EDR) live events spinout that merges UFC with newly-acquired World Wrestling Entertainment, was officially formed and will begin trading today on the NYSE.
Liquidity Events
• Byju's, the Indian education giant valued last year by VCs at $22b, is seeking to raise around $1b by selling Great Learning and Epic — two companies it acquired in 2021 — per Reuters. https://axios.link/3r0n3l2
• Capgemini (Paris: CAP) agreed to acquire the financial crime compliance unit of Exiger, a New York-based portfolio company of Carrick Capital Partners. www.exiger.com
More M&A
• Citi (NYSE: C) is spinning out Bridge, an SMB lending startup incubated within the bank, per Axios Pro. https://axios.link/3r994JE
• FunNow, a Taiwan-based activities booking app, merged with Thailand-based restaurant booking app Eatigo. FundNow has raised over $20m from firms like Ascendo Ventures and Perfect Hexagon, while Eatigo raised nearly $30m from firms like TripAdvisor and Choco Up. https://axios.link/3LiPAJk
⚡ Shell (NYSE: SHEL) agreed to sell its 30% stake in the British North Sea's Cambo oil and gas field to Ithaca Energy (LSE: ITH). https://axios.link/44J0xLa
• Smurfit Kappa (LSE: SKG), an Irish paper packaging company, agreed to merge with Atlanta-based rival WestRock (NYSE: WRK) for $11.2b in cash and stock. Flashback.
Fundraising
• 9900 Capital, an early-stage VC firm co-founded by Christopher Corbishley (ex-Hedosophia) and Rory Mounsey-Heysham (ex-Gates Foundation), raised $100m for its debut fund. https://axios.link/4671huF
• Brookfield Asset Management and Societe Generale are partnering on a new "high quality" private debt fund that includes a €2.5b cornerstone investment and is targeting a total of €10b. https://axios.link/3Ri1KWM
• BV Investment Partners raised $1.75b for its 11th fund, focused on tech-enabled business services companies. www.bvlp.com
• H.I.G. Capital raised $6b for its fourth U.S. midmarket buyout fund. https://axios.link/44O0Xjp
• Mubadala Investment Co. committed $1b to Blue Owl Capital's credit strategy, with an initial focus on tech lending, as part of a new strategic partnership. https://axios.link/45OAC5W
• NordicNinja, a VC firm focused on European startups within the climate tech and deep-tech sectors, raised 200m for its second fund. www.nordicninja.com
• Sierra Ventures raised $265m for its 13th fund, focused on seed and Series A deals for B2B startups. www.sierraventures.com
• Vertex Ventures Southeast Asia & India raised $541m for its fifth fund. https://axios.link/48cKgRx
It's Personnel
• Hamilton Lane announced that Erik Hirsch and Juan Delgado-Moreira will become co-CEOs on Jan. 1, succeeding Mario Giannini (who becomes executive co-chair, alongside Hartley Rogers). www.hamiltonlane.com
• Richard Haass, former president of the Council on Foreign Relations, joined Centerview Partners as a senior counselor, per Bloomberg. https://axios.link/3RjbNut
• Lee Landrum joined Comvest Partners as a partner and head of investor relations. He previously was with Tennenbaum Capital Partners. www.comvest.com
• Stephen Lovegrove, former U.K. national security adviser is joining Lazardas a senior adviser. https://axios.link/3r7bw3j
• Joshua Niedner joined Apogem Capital as head of credit and a senior managing director. He previously was with Vista Credit Partners. www.apogemcapital.com
• Karen Parks joined Charger Investment Partners as a managing director. She previously was with Gallant Capital and Levine Leichtman Capital Partners. www.chargerinv.com
• Hoshrav Patel joined CVC Capital Partners as a London-based director. He previously was with Bridgepoint. https://axios.link/3PAqxE3
• Julia Perroni joined Houlihan Lokey as a Paris-based managing director in the firm's capital markets group. She previously led France leveraged finance for Credit Suisse. www.hl.com
• Natalie Sportelli joined consumer brand-focused VC firm Bullish as a director. She previously was with Thingtesting and Lerer Hippeau. www.bullish.co
Final Numbers
Acelyrin shares collapsed this morning, five months after raising $540 million in an upsized IPO.
Driving the news: The LA-area biotech, which develops therapies for inflammatory diseases, reported a clinical failure of its lead drug candidate izokibep.
Per FierceBiotech: "Acelyrin has the cash to work through the setback in the first phase 2b/3 study. The biotech ended June with $823 million to its name and has additional data drops that could reinvigorate investor enthusiasm for izokibep coming up. Top-line data from a phase 2b/3 clinical trial in psoriatic arthritis are due in the first quarter of next year."
Thanks for reading Axios Pro Rata, and to copy editor Bryan McBournie! Please ask your friends, colleagues and X shareholders to sign up.